Can't decide between banana bread or carrot cake? Get the best of both worlds with these Moist Banana Carrot Muffins.
The real banana and carrot baked in make a beautifully fluffy and moist texture, and the brown sugar and cinnamon help to boost their naturally sweet flavors.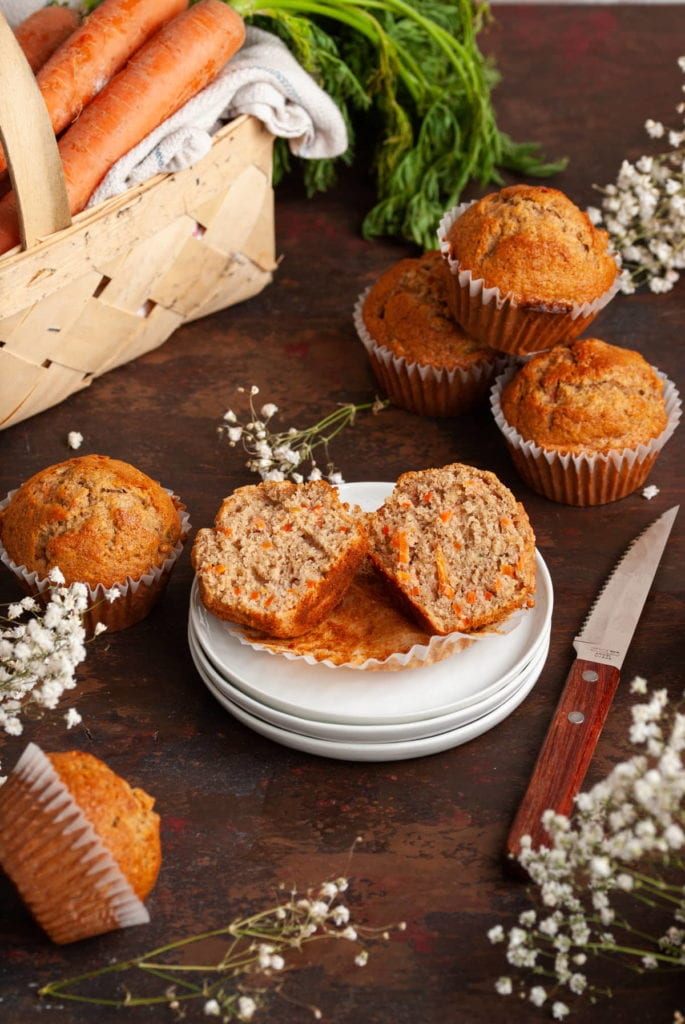 As an environmental scientist, I am always looking for ways to reduce food waste at home. Bananas are one of those produce items that go from not ready to entirely overripe seemingly overnight.
But have no fear, there's no need to chuck those overripe bananas! Use them up in these delicious Banana Carrot Muffins!
Banana Carrot Muffin Ingredients
---
---
Here's everything you need:
Overripe bananas. As bananas ripen, they get super sweet and soft, making them perfect to bake with.
Oil. Vegetable, canola, and coconut oil all work.
Eggs. To bind the muffins and help them rise.
Vanilla Extract. For flavor.
Brown Sugar. For sweetness and caramel flavor.
All-purpose flour. You can also opt to sub 1 3/4 cups whole wheat flour.
Baking Powder. To get that fluffy texture.
Cinnamon. For spice.
Salt. To enhance the other flavors.
Matchstick Carrots. For moisture, texture, and flavor. You can buy matchstick carrots pre-cut or you can julienne carrots at home.
Banana Carrot Muffins Tips and Tricks
---
---
Use Overripe Bananas
As your banana ripens, its flavor actually gets bolder and more fruity. So in order to get the banana flavor in your muffins, it's best to use riper bananas.
In fact, if the peel is showing brown spots, then your bananas are perfect for this recipe! They'll not only be packed with flavor but also a little bit softer, which makes them easier to mash.
If you are using bananas that aren't quite overripe yet, you can quickly brown them in the oven. While your oven is preheating, stick the bananas in, still in their peels, on a baking sheet for about 3 minutes or until the peel turns black.
Green tip: It is estimated that 50% of food waste happens at home. Instead of tossing overripe bananas, use them to make this delicious 4 ingredient banana bread!
Want to sharpen your kitchen skills?
The first step in this recipe is to peel your bananas and place them in a large bowl. Since they are nice and ripe and soft, it should be very easy to mash them with a fork.
Mash your bananas against the bottom of a large mixing bowl until they are broken down. It's okay to have a couple of lumps!
Mix Your Wet Ingredients and Sugar First
Not only is this the easiest and most seamless way to integrate your ingredients, but it will also result in a fluffier muffin.
Whisking together your mashed banana, oil, eggs, vanilla extract, and sugar first will actually aerate the batter.
Mix the wet ingredients and then beat with a whisk or a hand mixer until smooth.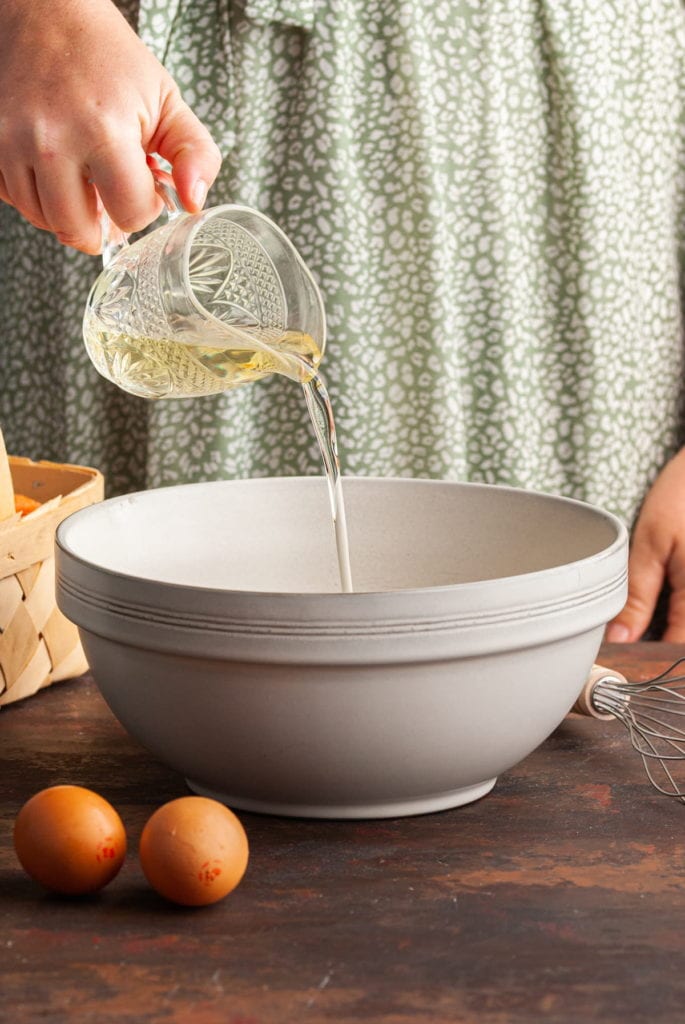 Add Your Dry Ingredients Next
Next, you'll whisk in your flour, baking powder, cinnamon, and salt.
Use your whisk or hand mixer again to fully integrate the dry ingredients into the wet.
Your batter should be pretty smooth, with maybe a couple of bigger pieces of banana in there.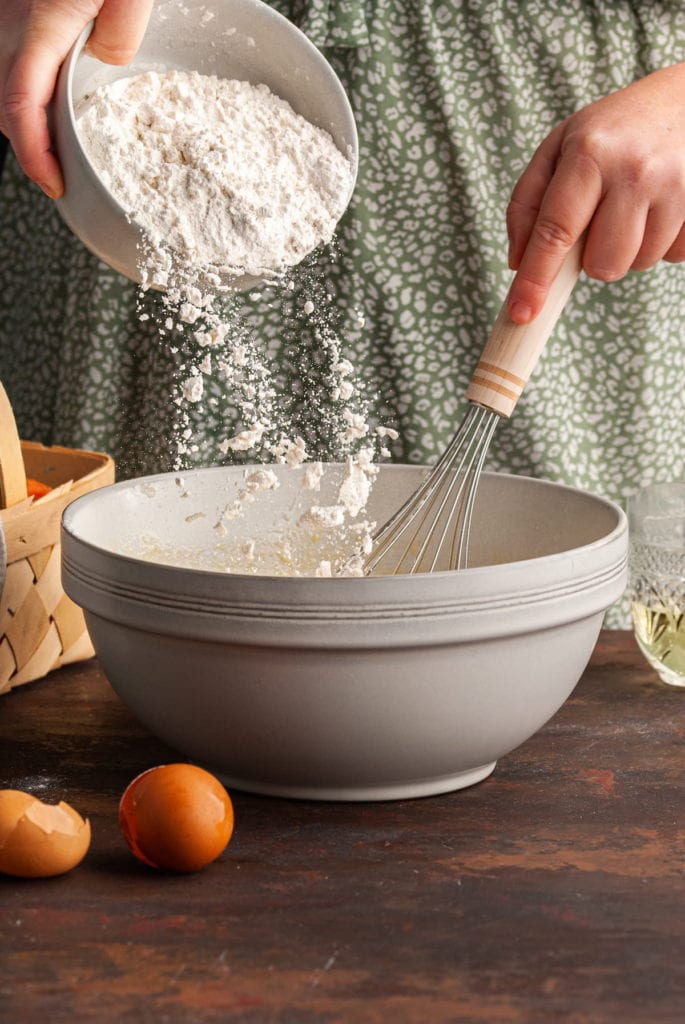 Fold In Your Carrots
Save this step for last. Once all of the rest of your batter ingredients are combined, slowly fold in your matchstick carrots.
Use a spatula to continue to fold the carrots into the batter until you feel they are evenly distributed.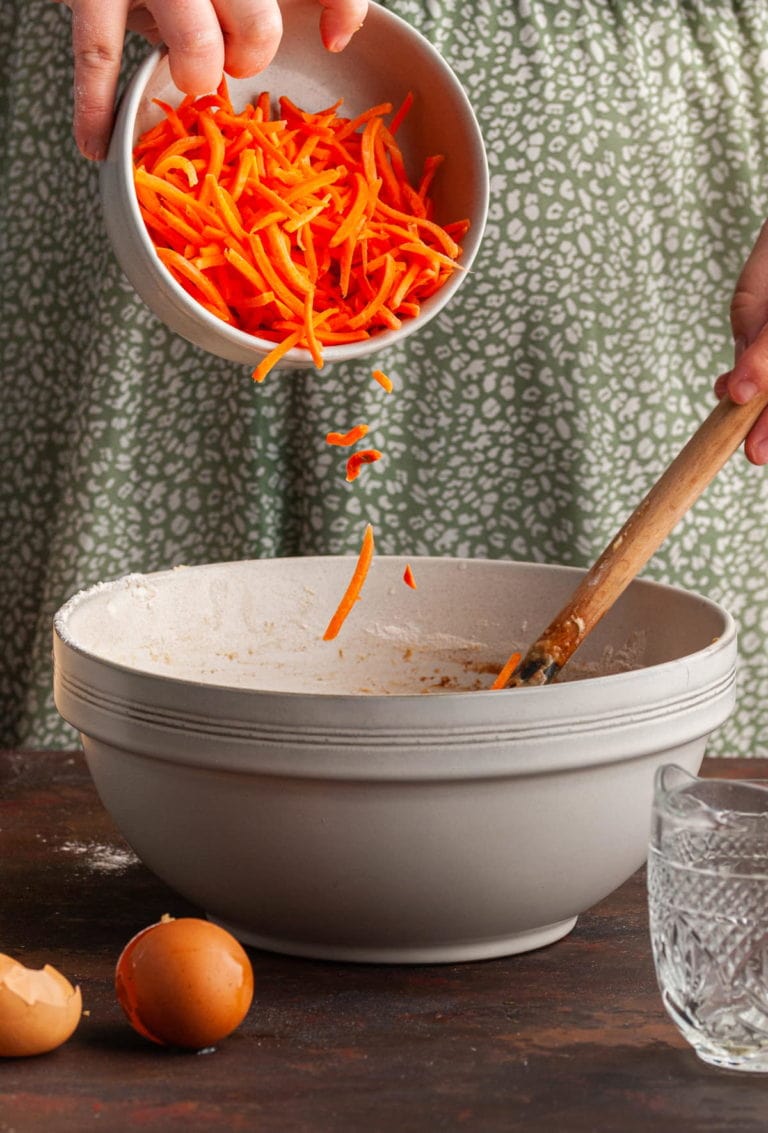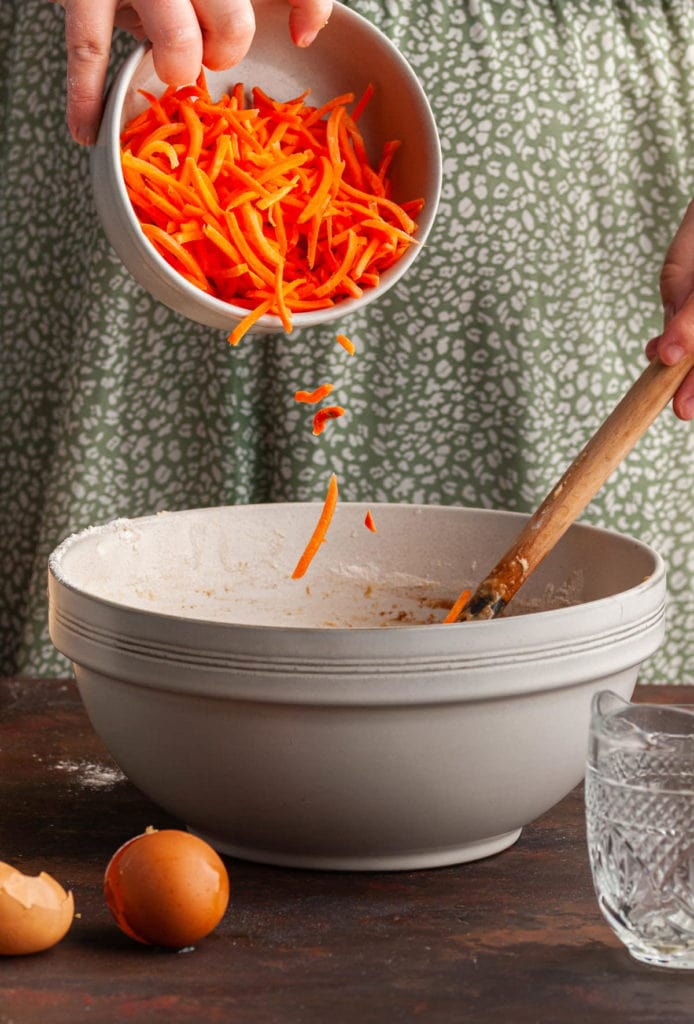 Line or Spray Your Muffin Tin
To avoid your muffins sticking in the muffin tin, it's best to line or spray it first.
You can use little pre-cut muffin liners, shape your own muffin liners, or use cooking spray or oil to add a nonstick layer to your muffin tin cups.
Green tip: Consider filling your own reusable oil sprayer to avoid extra pesky aerosol cans, that aren't always recyclable.
Fill 'Em Up
These muffins will rise slightly, so fill them up most of the way.
Most of your rise will happen outside the muffin tin, in the form of a delicious muffin top. Still, you don't want any batter spilling over, so leave about 1/2-inch space in each little muffin tin cup.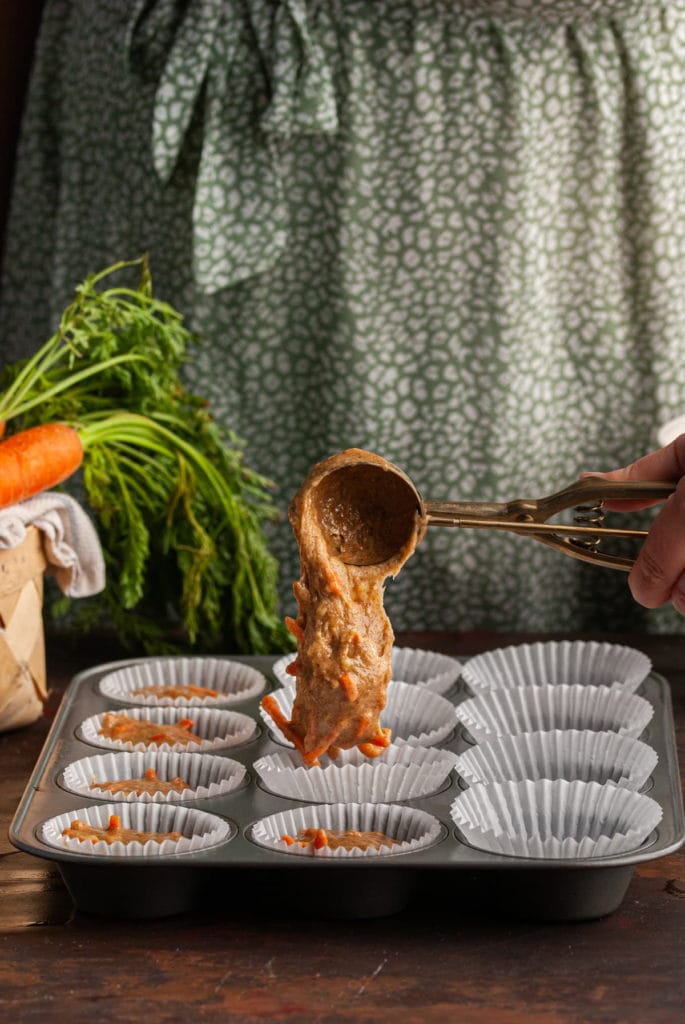 Storing Your Banana Carrot Muffins
These banana carrot muffins should be covered or stored in an airtight container to get the most life out of them. They will stay fresh at room temperature for 3-4 days before they start to dry out.
You can also opt to freeze these muffins for up to 6 months. Just allow them to thaw out before diving into one.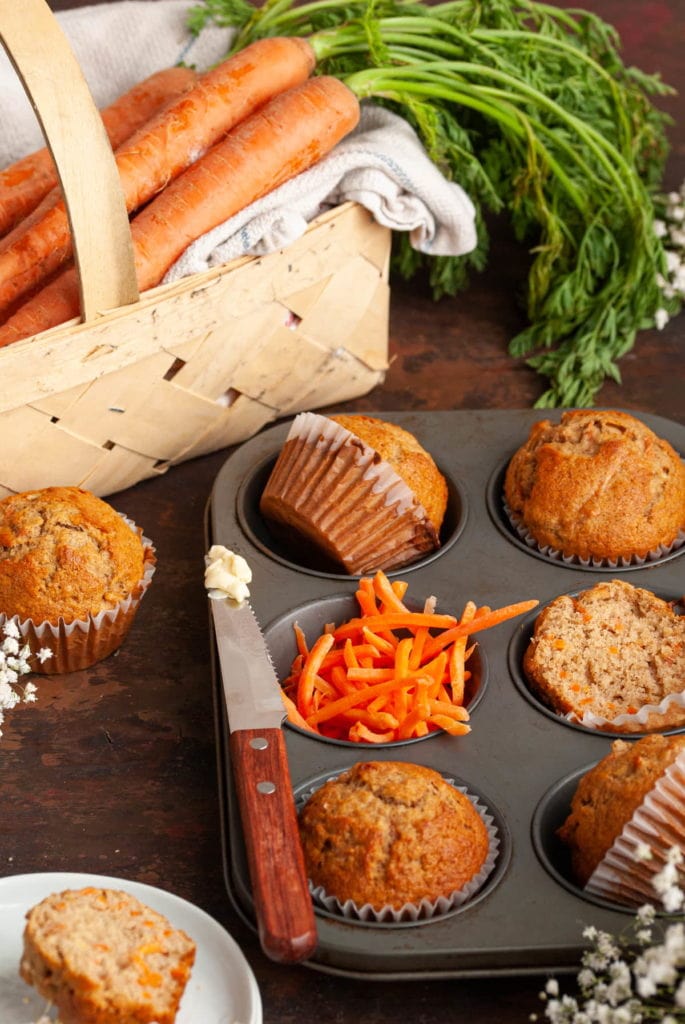 Why You Should Make these Banana Carrot Muffins
---
---
The texture. A moist and fluffy muffin with extra bite from the real carrot bits folded in.
The flavors. Banana, carrot, sugar, and cinnamon are the best combination.
They're packed with nutrients! 2 whole bananas and 2 cups of matchstick carrots in the batter.
If you're loving these Banana Carrot Muffins and want more delicious muffin recipes, check out these Fluffy Vegan Blackberry Muffins and these Blueberry Banana Oatmeal Muffins.