Ready to level up your brownies? These Fudgy Matcha Brownies bring your favorite chocolatey dessert up a notch!
With the perfect earthy and caffeinated flavor addition swirled into the best-ever brownie batter, this unique brownie will have you totally obsessed with matcha-flavored baked goods. They're gooey, fudgy, and out-of-this-world delish.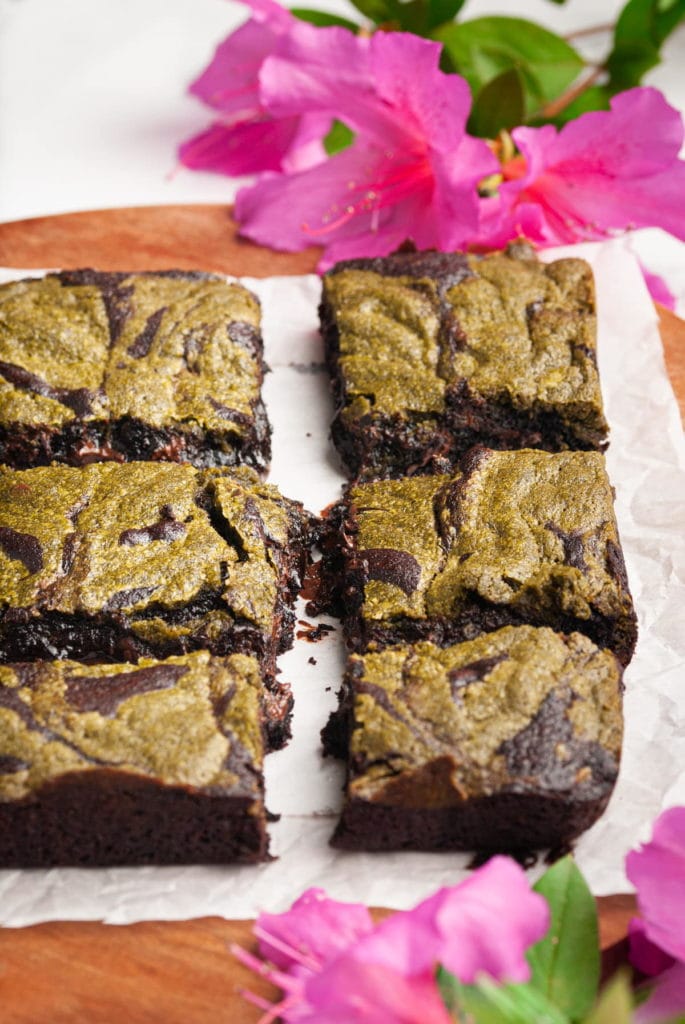 Whether you're new to matcha or regularly enjoy it in lattes and matcha cocktails, these brownies are a great way to get the tasty superfood into food!
Matcha Brownies Ingredients
---
Here's everything you need:
Unsalted butter. This recipe works best with softened butter.
Granulated sugar. For sweetness. You can also use coconut sugar, but they will be a little less sweet.
Oil. For extra moisture. I love to use coconut oil in this recipe, but you can also use canola, vegetable, grapeseed, or a very mild olive oil.
Eggs. For moisture, leavening, and binding.
Vanilla Extract. For flavor and a little extra liquid.
All-purpose flour. This acts as the base for your brownie batter. You can substitute whole wheat flour but use 1/2 cup minus one tablespoon if you are doing so.
Salt. To enhance the flavor of your chocolate and matcha.
Cocoa Powder. What's a brownie without it? I use dark cocoa powder for extra chocolatiness.
Chocolate Chips. To get them extra fudgy.
Matcha Powder. The fun, colorful, and caffeinated addition to your new favorite brownies!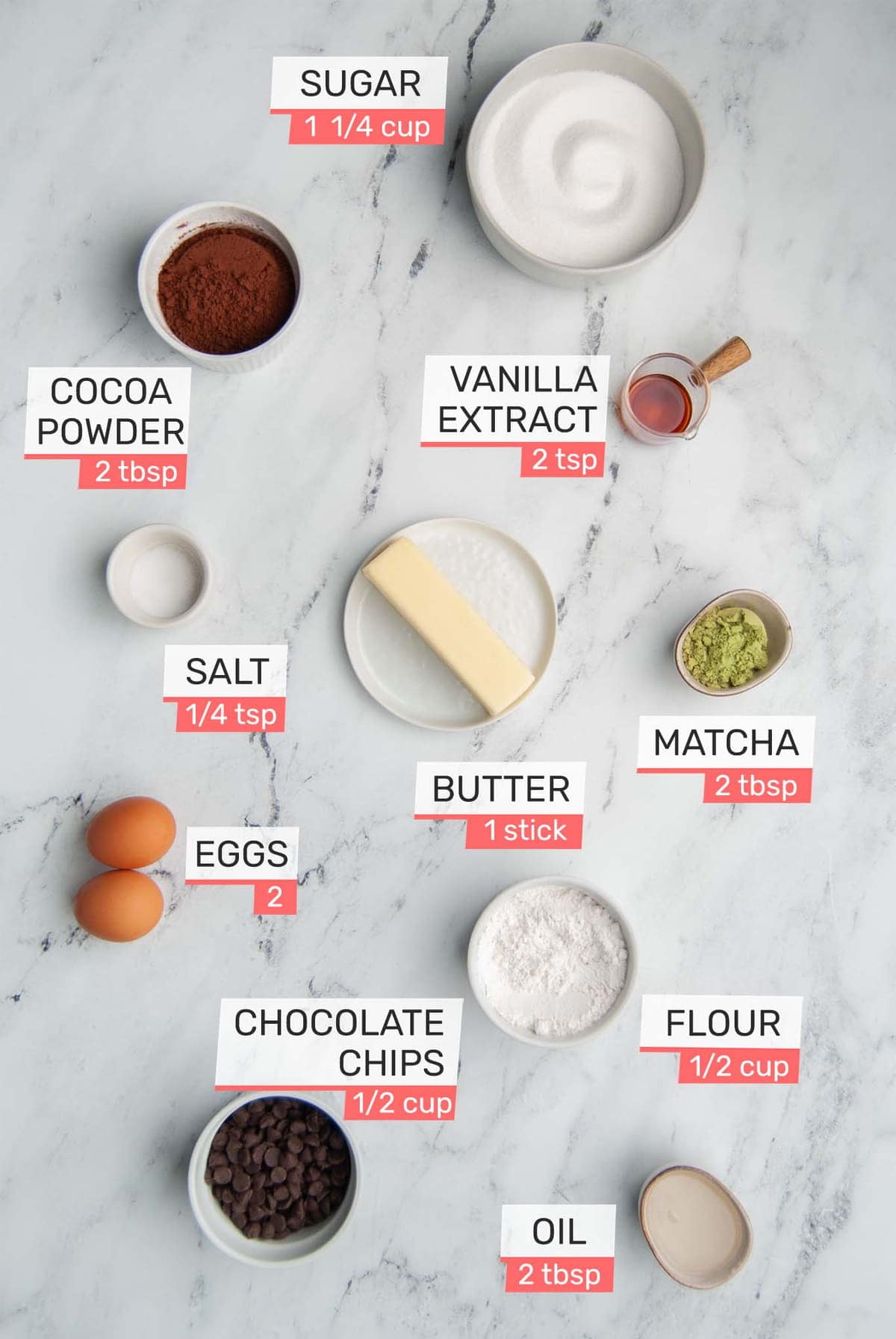 Matcha Brownies Tips and Tricks
---
The Secret is in the Softening
The butter you use should be unsalted. This will allow you to control the amount of salt you are adding to your Matcha Brownies. It's also imperative that your butter is softened—not melted, and not too solid.
If you take your stick of butter out of the fridge before you get started and set it near your oven while it's preheating, that should be plenty of time for it to soften.
But if you forget to take it out—don't worry! Just microwave it until you get the right consistency.
Start with 15 seconds. Test it, and if it's still not done, give it another 10 seconds. From there, drop down to 5-second intervals.
You'll know your butter is softened when your finger leaves an imprint when you poke it.
Green tip: Look for organic and palm oil-free butter if you can. Buying organic means you are supporting farms that do not use damaging pesticides and fertilizers, and palm oil production is a huge driver behind deforestation.
Want to sharpen your kitchen skills?
Cream Your Butter, Sugar, and Oil First
Creaming your fat (in this case butter and oil) and the sugar together doesn't just combine these ingredients together smoothly, it actually aerates them.
Adding these air pockets is a super-effective way to get that soft and chewy fudgy brownie texture. Use your hand mixer on high to get the butter-oil-sugar mixture nice and smooth.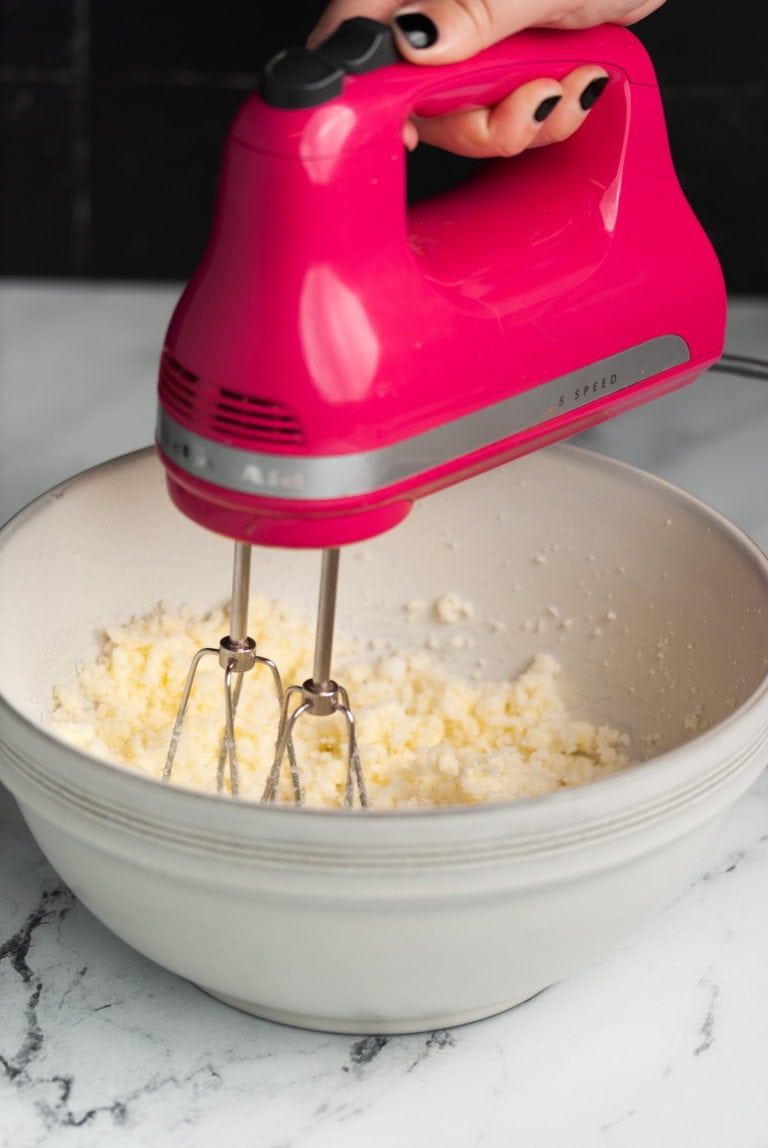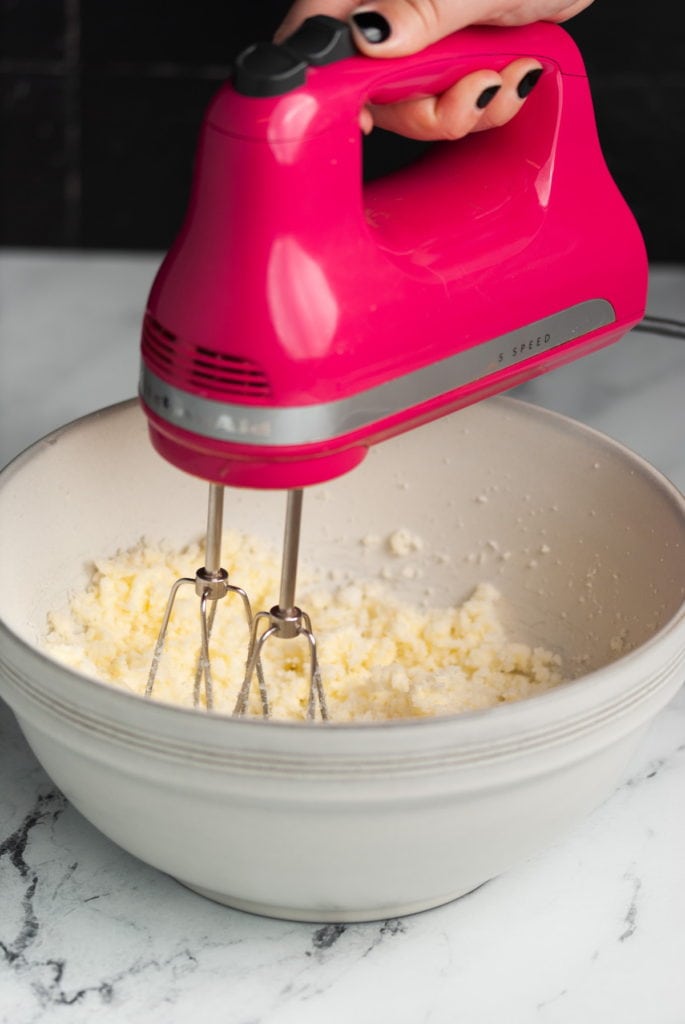 Add Your Eggs and Vanilla Next
Next up—more moisture. Add your eggs and vanilla extract and beat again with your hand mixer until well-combined.
It's always a great idea to crack your eggs into a separate bowl first to avoid eggshells. But hey, if you wanna live on the wild side, who am I to judge?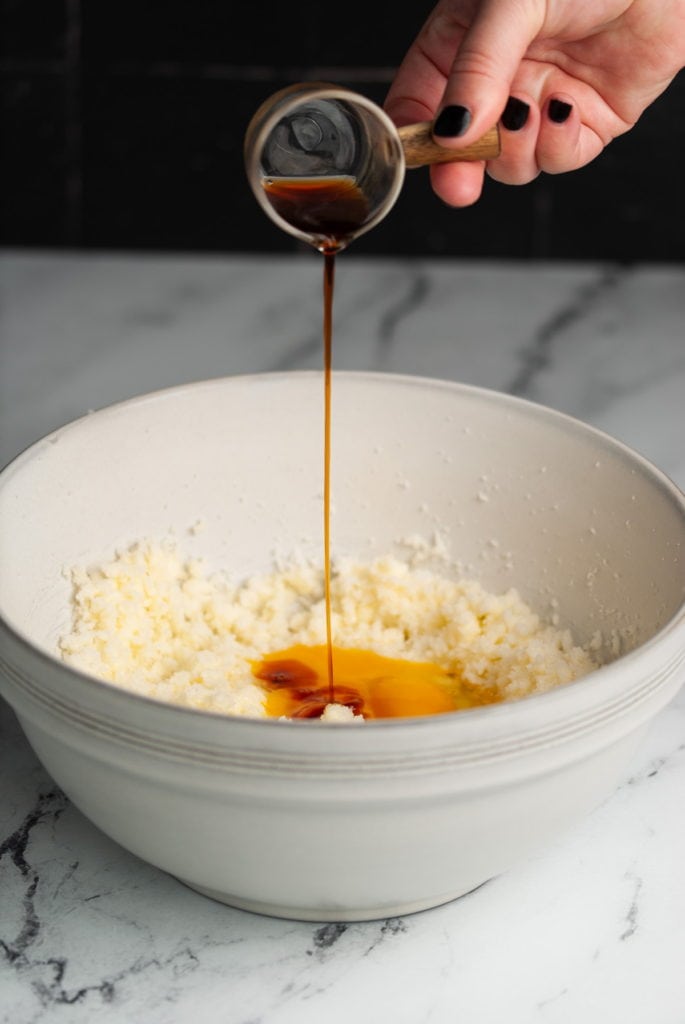 Mix in Your Flour and Salt
Add in these two dry ingredients and mix again until you have a smooth, clump-free batter.
At this point, it should resemble a yellow cake batter.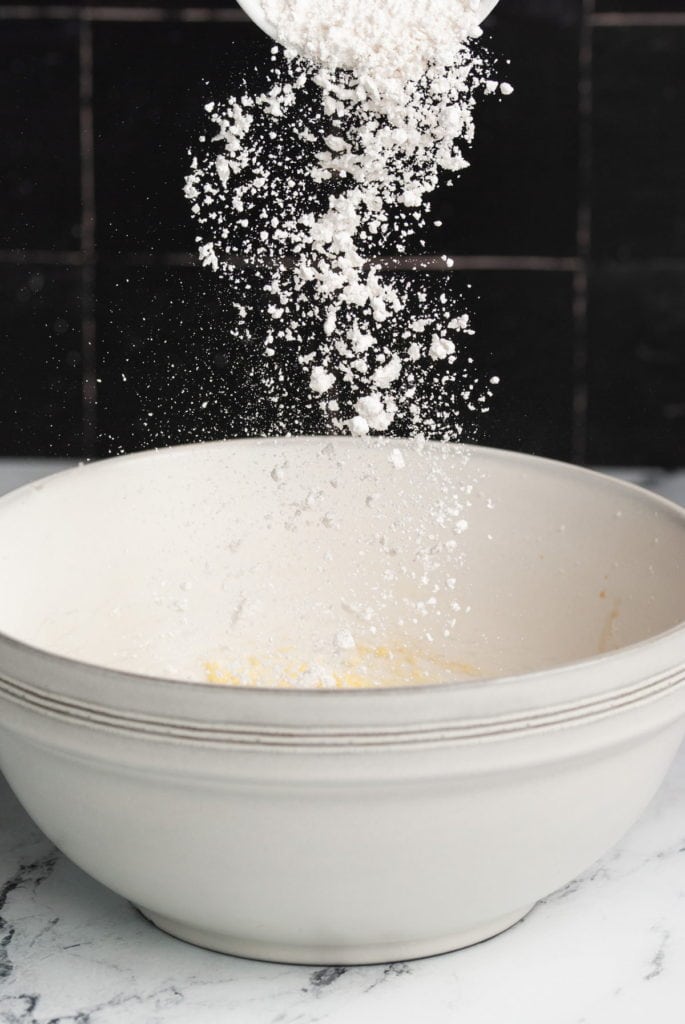 Scoop Out Some Batter
Use a measuring cup to scoop out about 1/2 cup of the batter and put it into a separate, smaller bowl. This separated batter will be used to make your matcha swirl.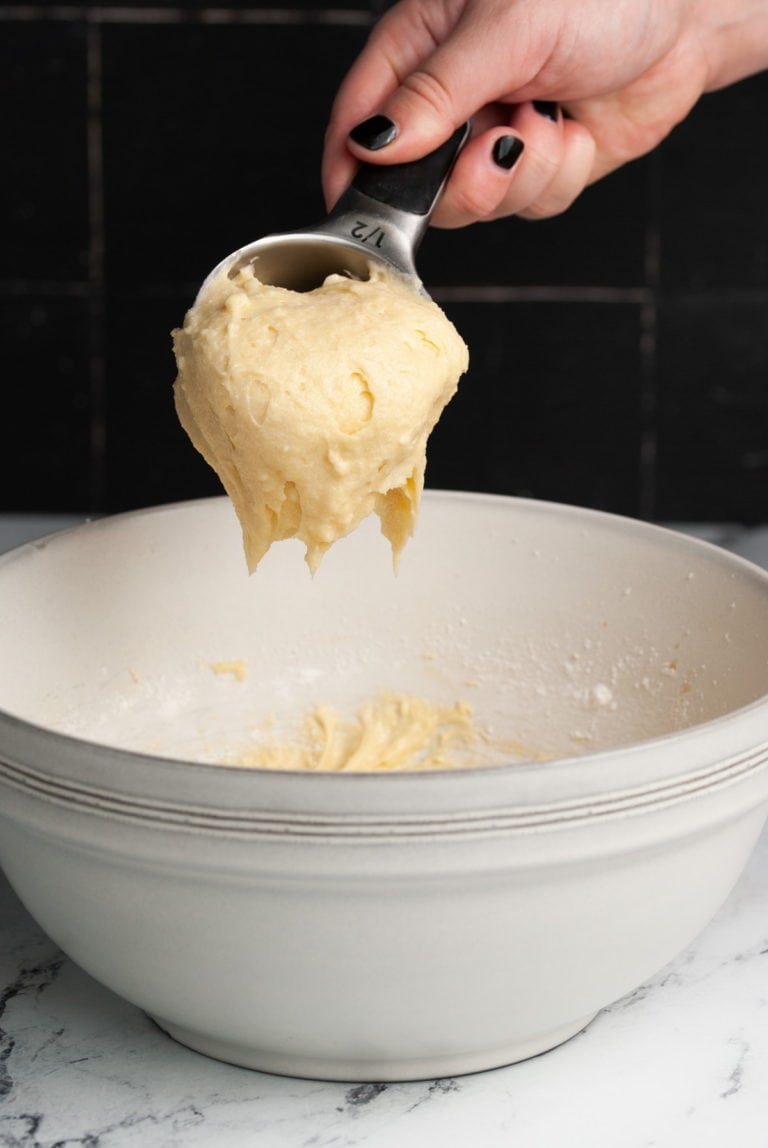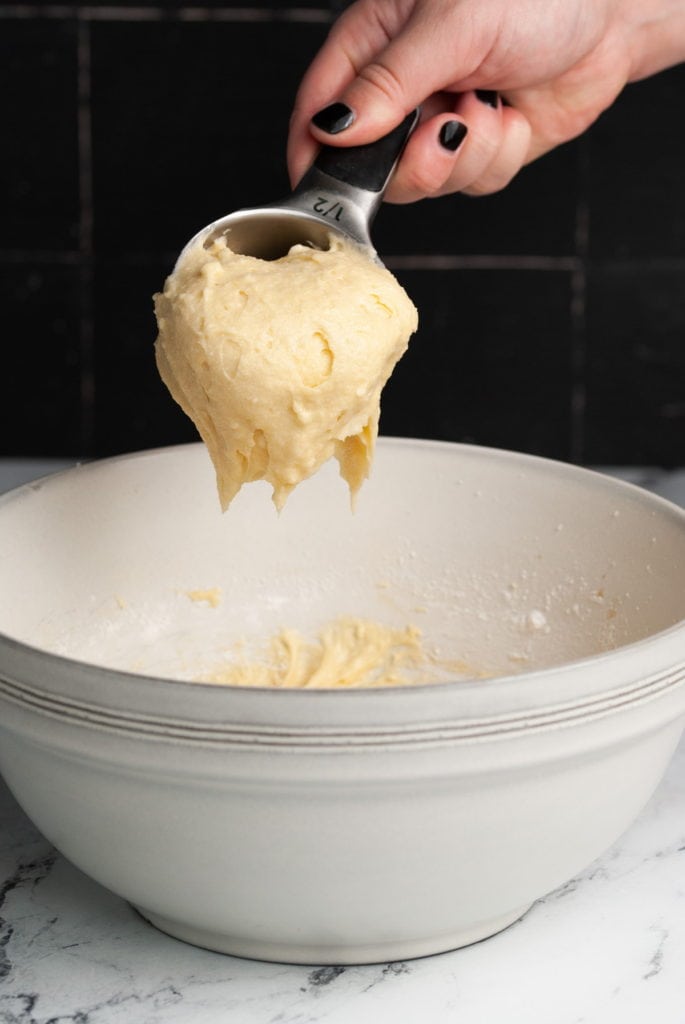 Add Cocoa and Matcha Separately
Add your matcha powder to the smaller bowl with the batter you scooped out. Use your hand mixer, a whisk, or a spatula to combine, ensuring there are no clumps of matcha left behind.
Then, add the cocoa powder and chocolate chips to the larger mixing bowl with the remaining batter. Mix well.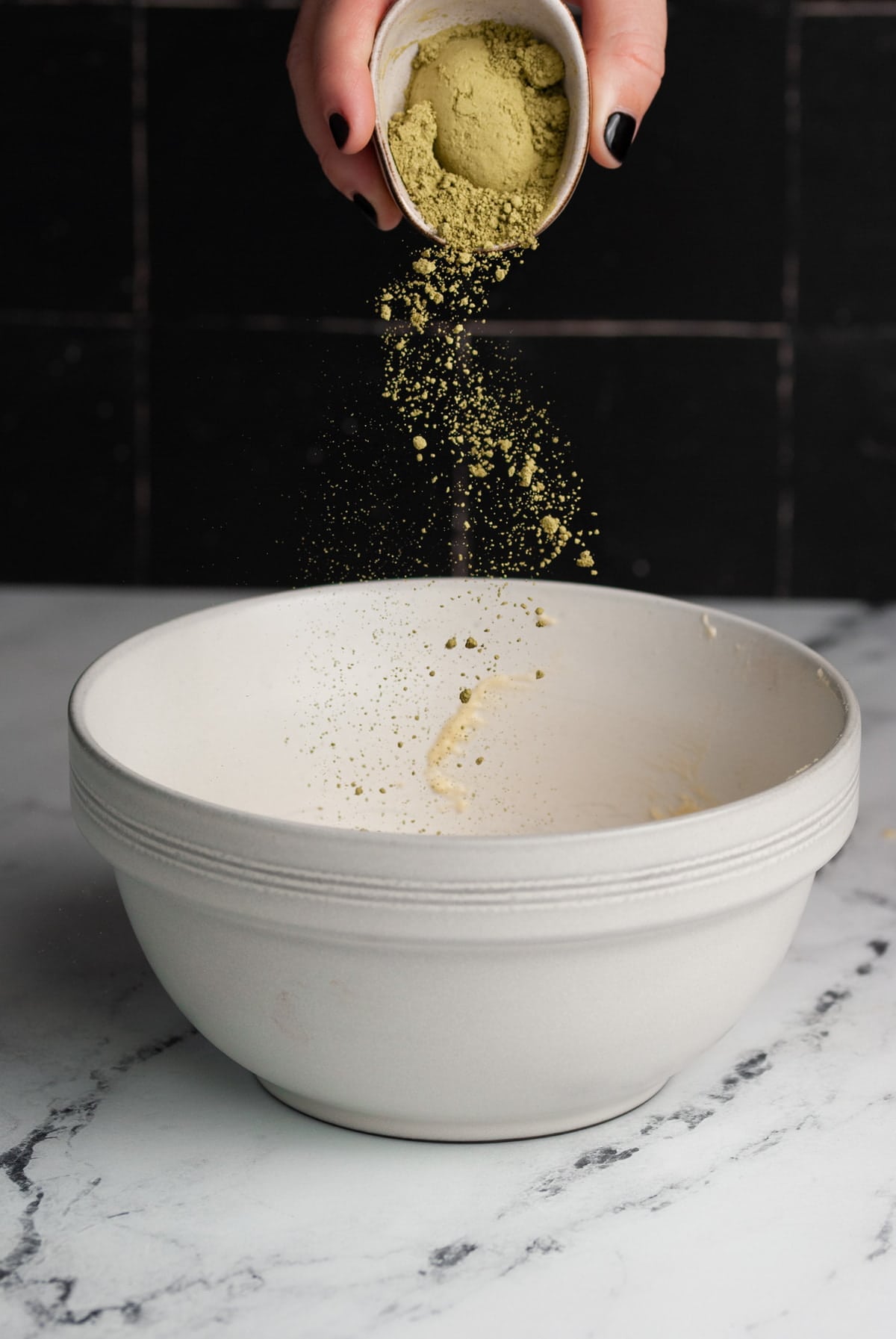 Line or Grease Your Pan
I find the perfect pan to bake these brownies in is a 9 x 9 inch. You can spray it with cooking spray or oil, line it with parchment paper, or run some butter around the inside to ensure that you can easily remove your brownies once they are baked.
Green tip: Consider filling your own reusable oil sprayer to avoid extra pesky aerosol cans, that aren't always recyclable.
Swirl Your Batters
Add the chocolate brownie batter first and use a spatula to smooth it out. Then scoop your matcha batter sporadically on top.
Use a spoon, knife, or icing spatula to swirl the batters together.
Now it's time to bake!
Are you an ooey-gooey middle brownie person? Try baking for 30 minutes and leave them slightly underbaked, but allow them to cool and solidify before cutting them.
If you're an edge brownie fan, give these a good 30 minutes before checking if a toothpick comes out clean.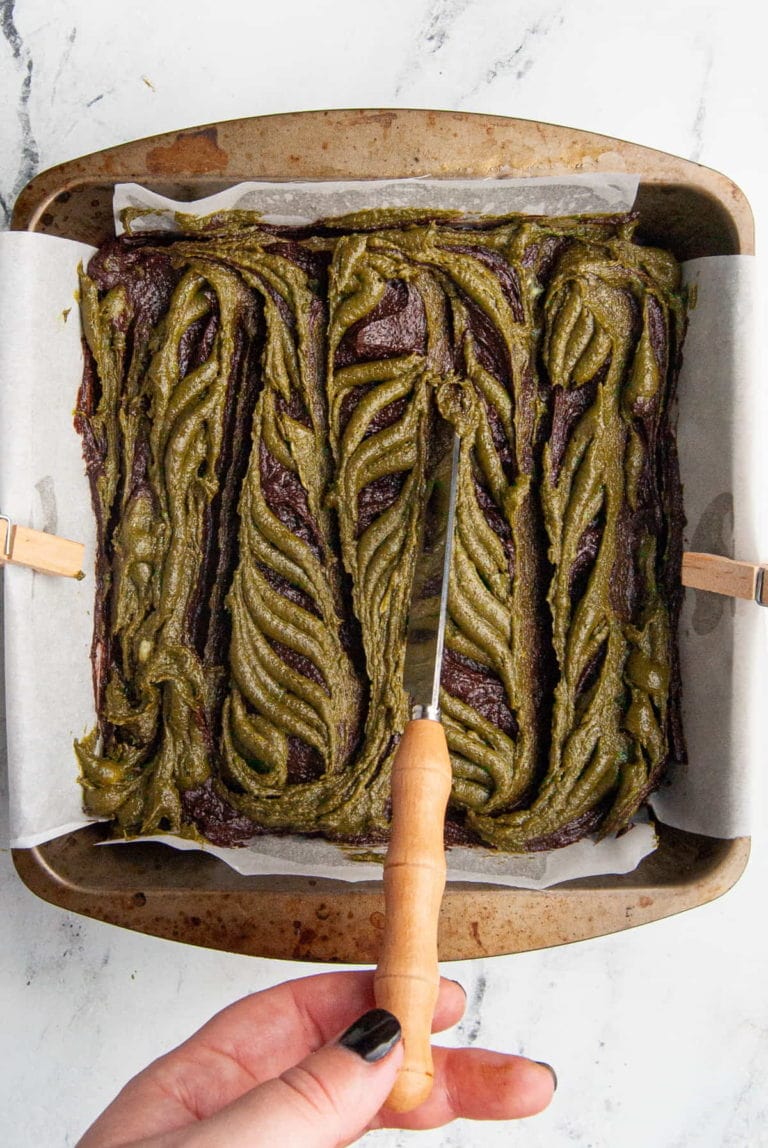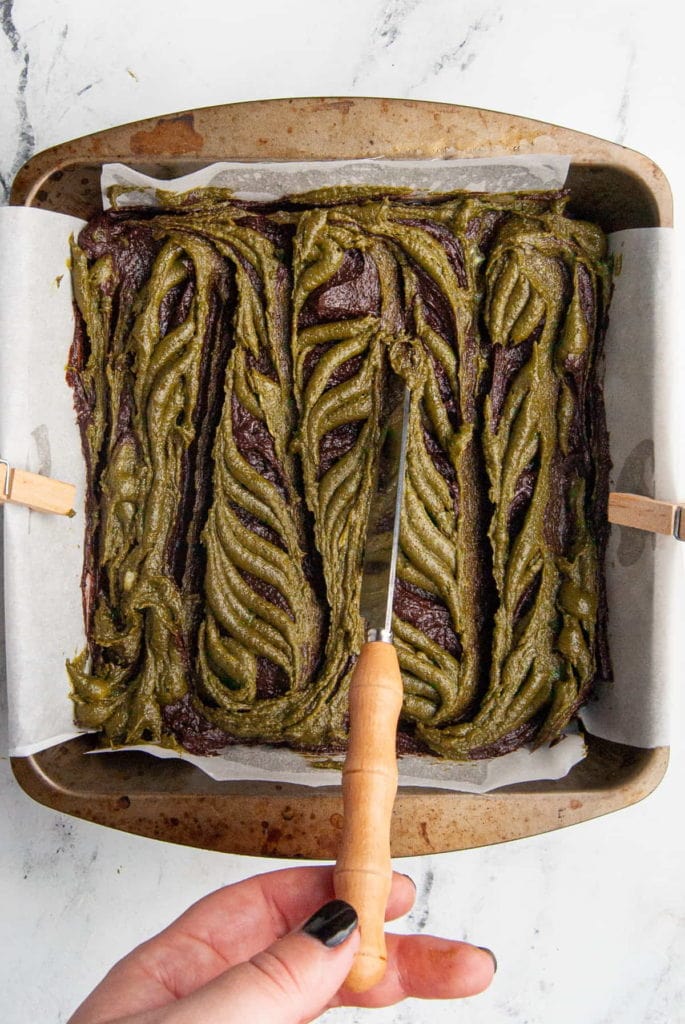 How to Store and Save Fudgy Matcha Brownies
Keep your brownies in an airtight container or cover them to store. At room temperature, these matcha brownies will stay nice and fresh for 3-4 days.
To extend the life of your brownies, freeze them! They will last up to 4 months in an airtight container in the freezer. Just allow them to thaw at room temperature before digging in.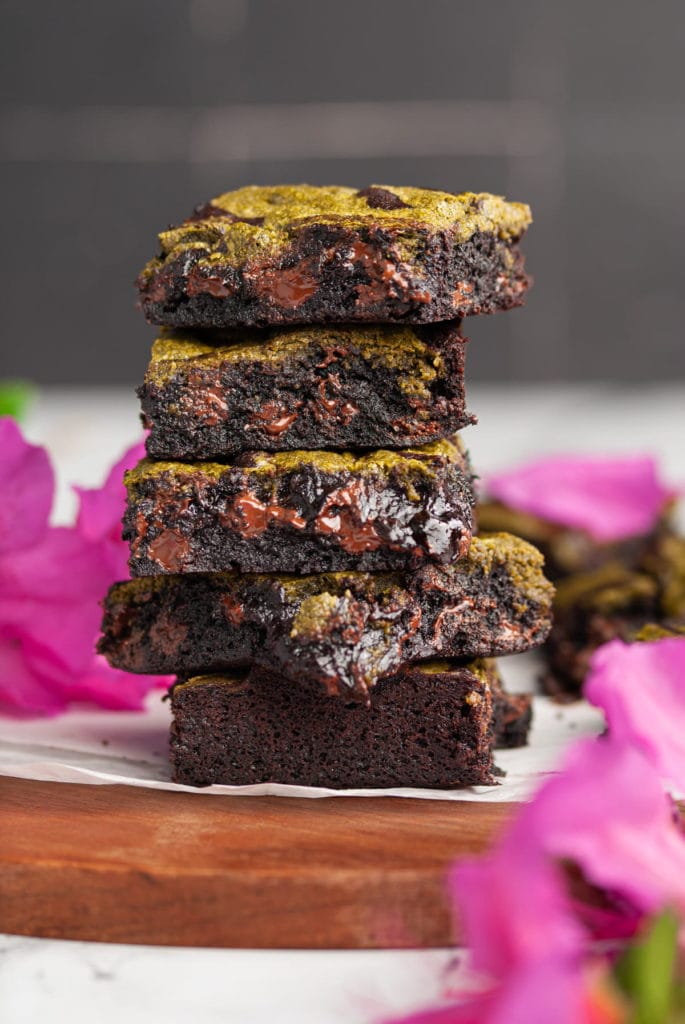 Matcha Brownies Frequently Asked Questions
---
Does chocolate and matcha go together?
Yes! Chocolate and matcha are a great flavor combination. The bitterness from the chocolate and earthiness from the matcha come together beautifully with a bit of sugar, like in these Matcha Brownies.
Does matcha actually taste good?
Matcha has a grassy, earthy, and herbal flavor—almost like a very pungent tea. Its distinct flavor makes it very memorable and popular!
It has a bitterness that is often offset by a sweetener like sugar or honey, giving it an overall balanced flavor.
What does matcha smell like?
Matcha smells a lot like green tea, with a strong grassy and herbal aroma.
Why You Should Make These Chocolate Matcha Brownies
---
They're unique. The colorful and flavorful addition of matcha to these otherwise fudgy brownies is a fun new take on the chocolate-y classic.
They're caffeinated. Add a little pep to your step.
The texture. Fudgy on the inside with a crackly top.
If you're loving these Fudgy Matcha Brownies and are looking for more brownie recipes, check out these One Bowl Fudgy Chocolate Brownies and these Raspberry Swirl Cheesecake Brownies!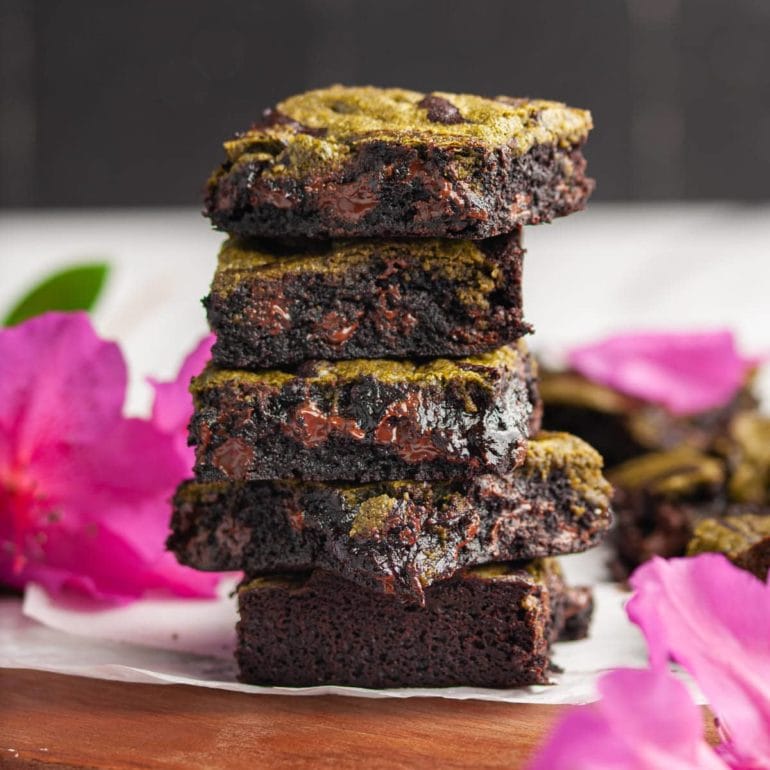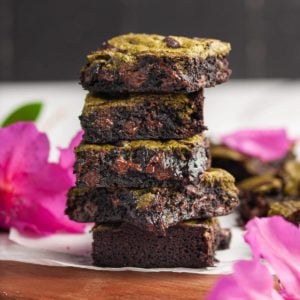 Fudgy Matcha Brownies
PRINT
PIN
RATE
These fudgy Matcha Brownies are a fun twist on the classic with a vibrant tea flavor addition to compliment the otherwise chocolatey treat.
Ingredients
½

cup

unsalted butter, softened

(½ cup usually = 1 stick)

1 ¼

cup

granulated sugar

2

tablespoons

oil

(coconut, canola, vegetable, or grapeseed)

2

teaspoons

vanilla extract

2

large

eggs

½

cup

all-purpose flour

¼

teaspoon

salt

2

tablespoons

matcha powder

½

cup

cocoa powder

½

cup

chocolate chips
Instructions
Preheat your oven to 350°F and line or spray a 9 x 9-inch square pan.

In a large mixing bowl, cream together butter, oil, and sugar with a hand mixer on high until the mixture is smooth.

Add vanilla extract and eggs and mix again until combined.

Next, add your flour and salt and mix again until well-combined and no clumps remain.

Use a measuring cup to scoop out about 1/2 cup of your batter and place it in a separate mixing bowl. Add your matcha powder and stir until smooth.

Add the cocoa powder and chocolate chips to the leftover batter to create a smooth, fudgy brownie batter.

Add the chocolate brownie batter to the prepped pan first and use a spatula to smooth it out. Then, add the matcha batter on top sporadically, and use a spoon, knife, or spatula to swirl the two batter together, creating a marbling effect.

Bake for 30 minutes if you like your brownies gooey. Leave them slightly underbaked but allow them to cool and solidify before cutting them. If you are more of an edge brownie person, bake for 35 minutes or until a toothpick comes out clean.
Pro Tips
To quickly soften butter, microwave it in 15-second intervals until your finger leaves an imprint in the butter when you poke it.
I used culinary-grade matcha for this recipe and found it was potent enough to lend a vibrant matcha flavor. If you are using ceremonial-grade matcha powder, you may want to slightly reduce the amount of matcha you add to your batter, unless you are looking for a super matcha-forward brownie.
If you enjoyed this recipe, you gotta check out the collection of my best recipes that use matcha!
And if you love brownies as much as I do, you'll love this selection of my greatest brownie recipes!
Did you make this recipe?
Let me know by leaving a recipe rating below, or by tagging @marleysmenu on Instagram.