This Green Irish drink is a Matcha Vodka Cocktail you won't want to miss! With its beautiful color, earthy taste, and velvety finish, it's somehow simultaneously both refreshing and creamy.
Think a White Russian, but green. And matcha instead of coffee. And vanilla liqueur instead of Kahlua. Oh, but keep the cream. Definitely keep the cream. Yup, that pretty much sums it up!
If this cocktail piqued your interest, you may be matcha-obsessed like me! And I certainly can't blame you. It's earthy and refreshing, and gives you a great punch of caffeinated energy!
And as the awesomeness of this green little powder is catching on, integrating it into cocktails has become more and more popular (check out this Matcha Gin Fizz)!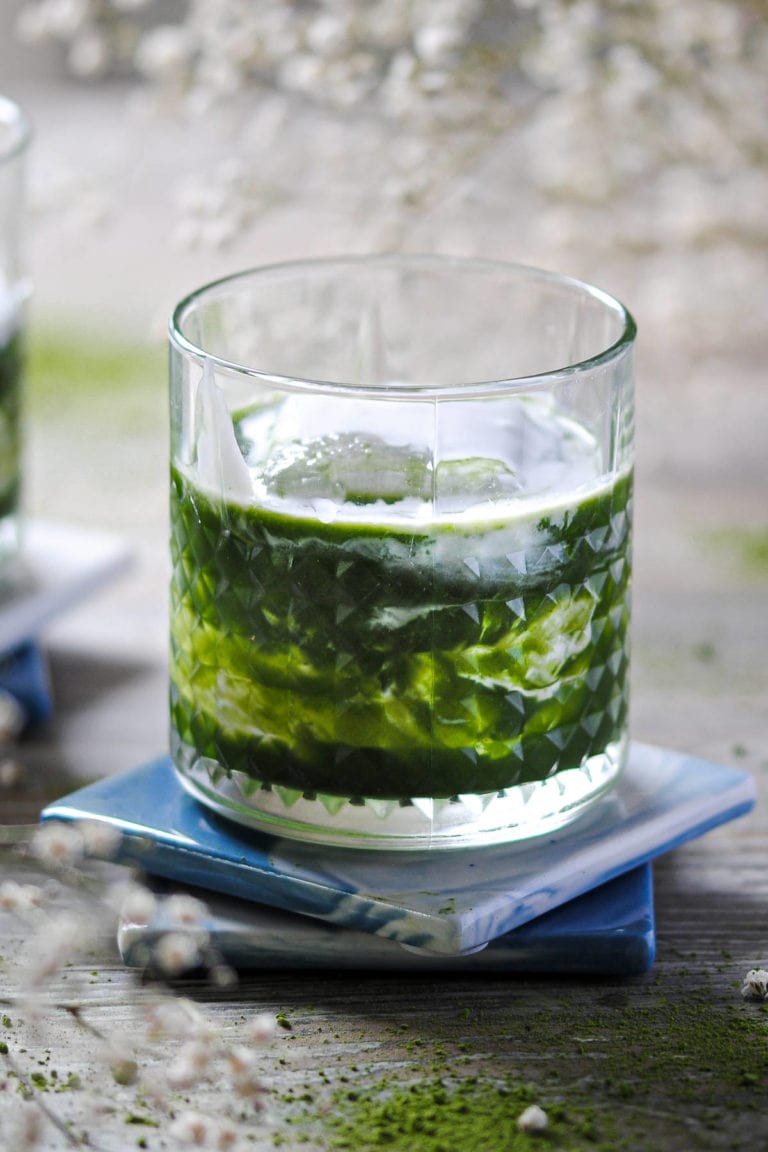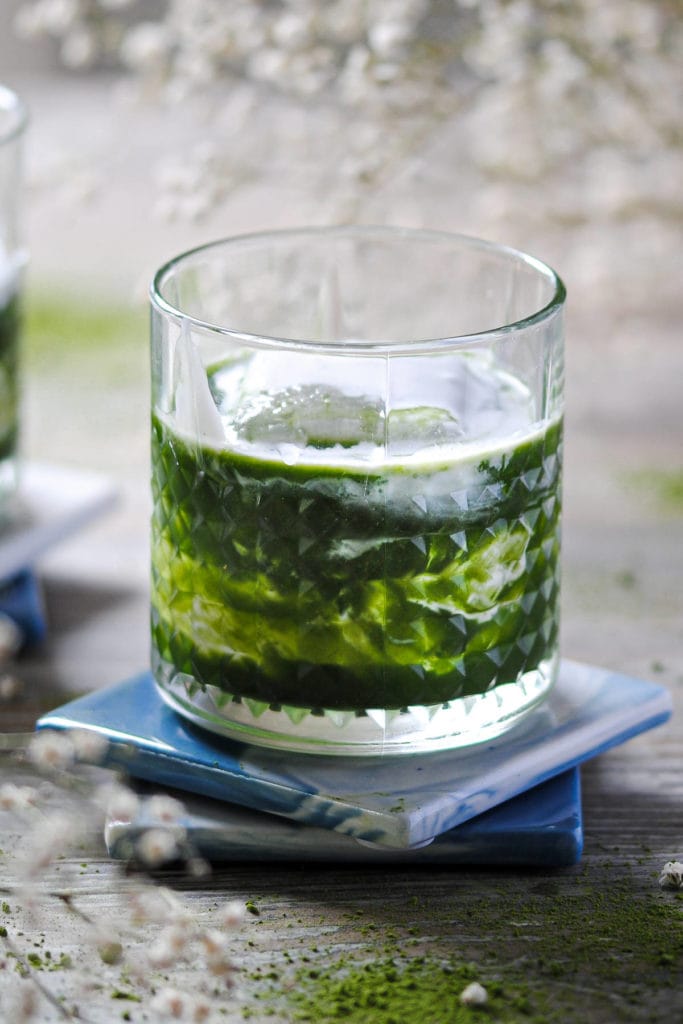 Green Irish Matcha Vodka Cocktail Tips and Tricks
---
---
Make Sure The Powder is Mixed In
You'll add your matcha powder to your vodka first. Make sure it's mixed well to avoid any powder lumps. I actually use my milk frother to make sure my matcha vodka mixture is perfectly smooth.
Green tip: Try buying raw, locally sourced honey. Generally, smaller-scale honeybee operations harvest honey in the fall, when the bees produce it in excess. They often have higher quality control standards and keep the bees safe from pesticides.
If you're adding honey, you'll do it in this step, too. Add honey only if you normally add sweetener to your tea or cocktails. I drink my tea and coffee black, and this matcha cocktail is no exception!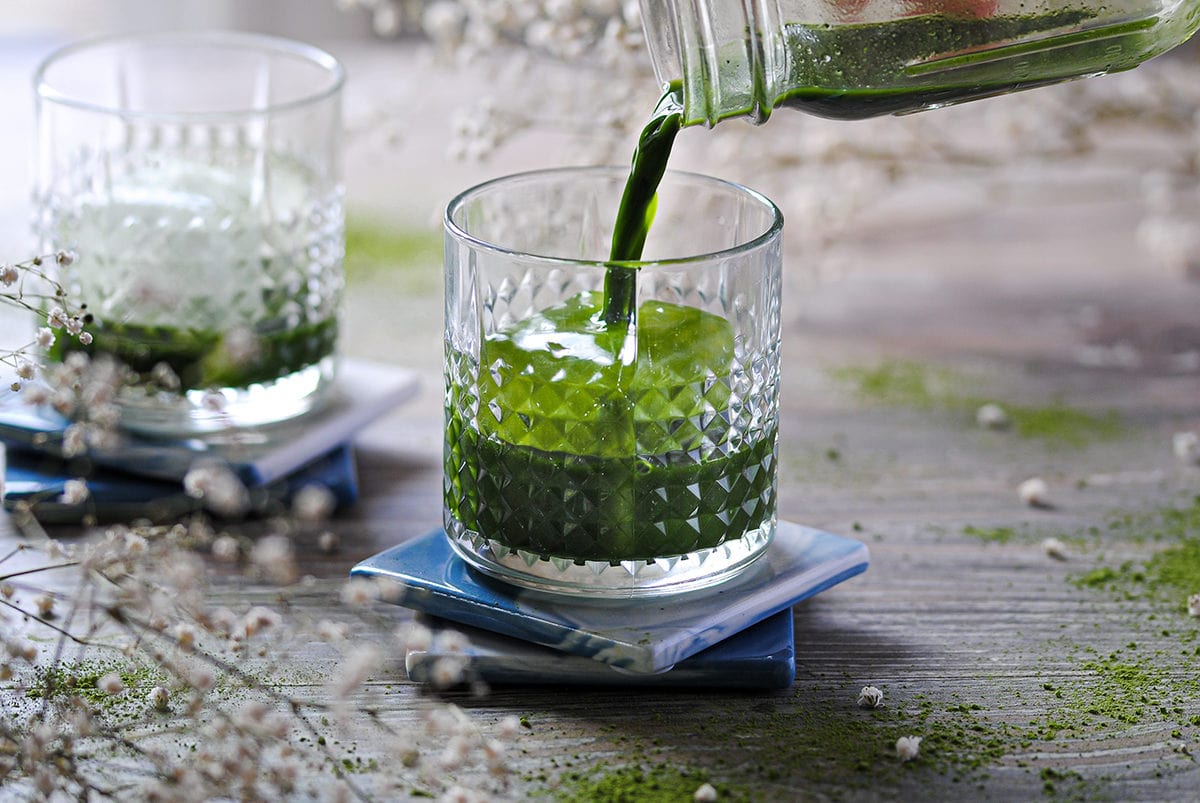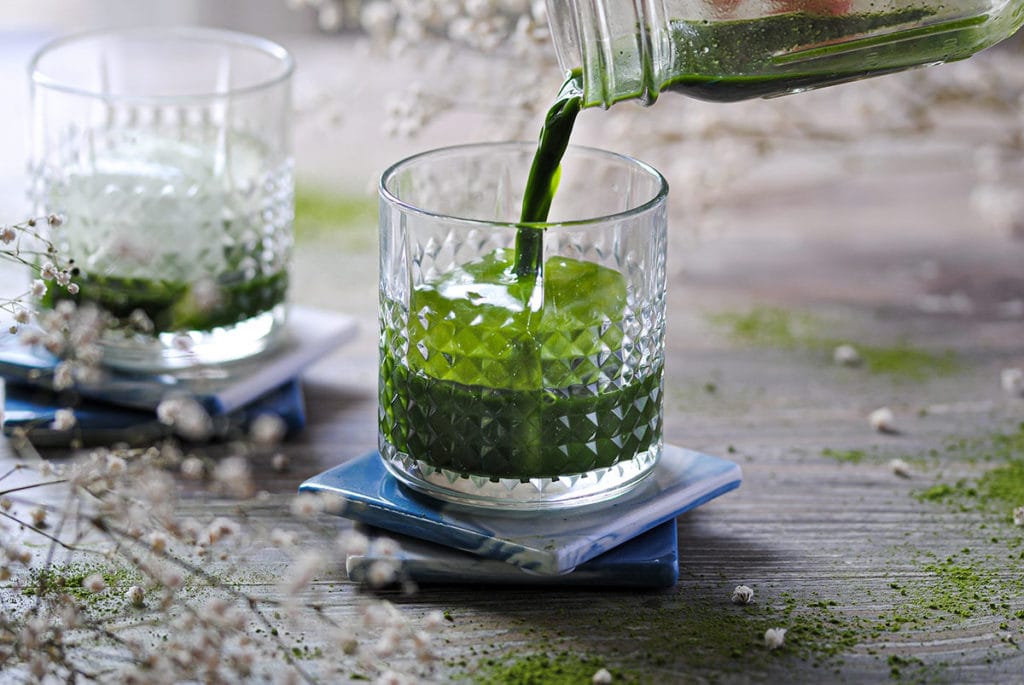 Consider Whiskey Ice
One of the greatest things about this cocktail is it's creamy consistency. If you like to nurse your drinks, melting ice may disturb that perfect creaminess.
Consider whiskey ice—the bigger the ice, the slower it will melt, and the longer you can enjoy your drink before it starts to get watered down. I use these ice trays and absolutely love them.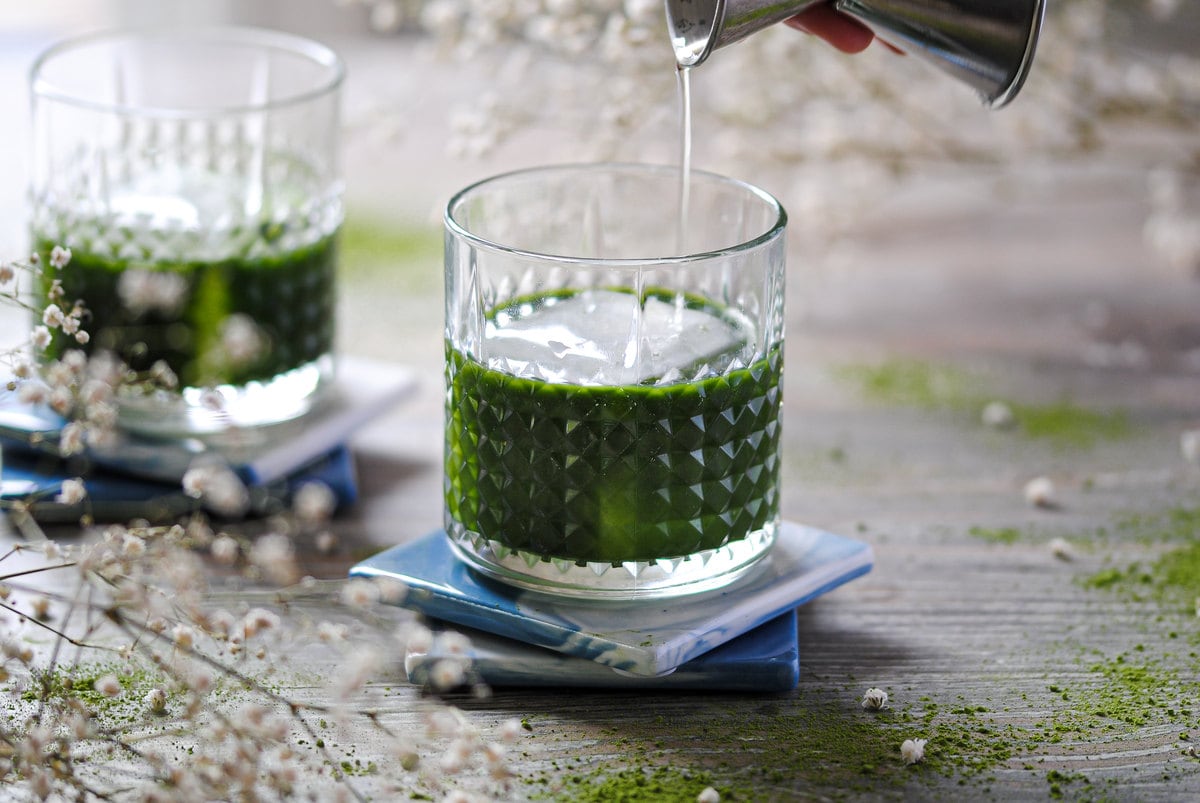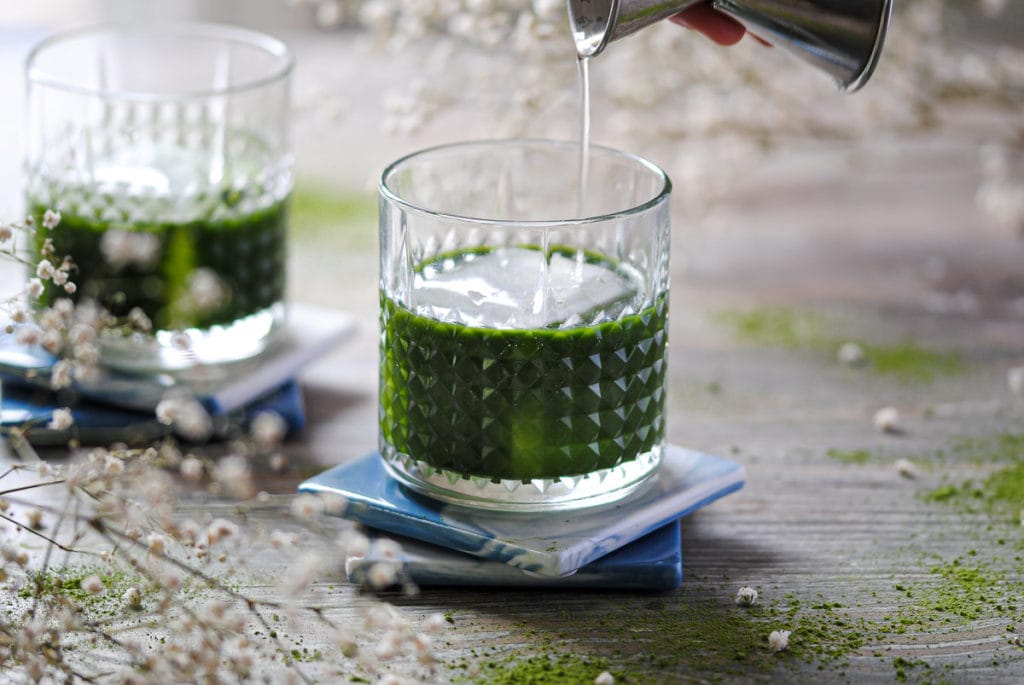 Add Your Cream Last
The vodka-matcha-vanilla mixture is more dense than your cream, leaving the green mixture on the bottom and allowing your cream to float on top, showcasing your bartending skills!
Stir it just enough to form a swirl effect, giving you a really nice, creamy mouthfeel.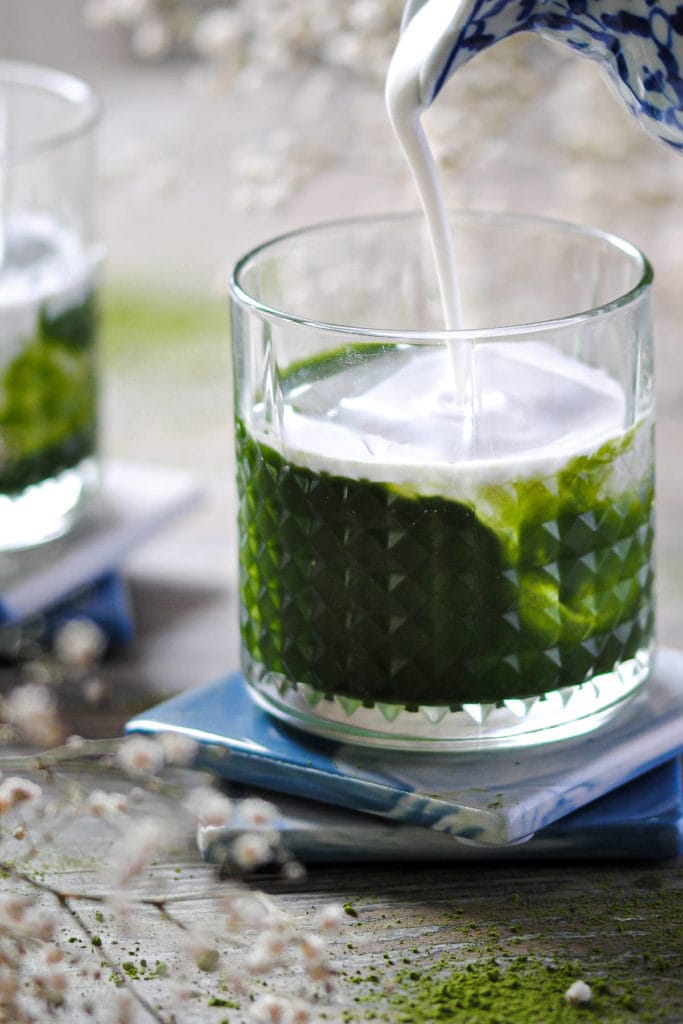 Matcha Vodka Cocktail Frequently Asked Questions
Why is this called a Green Irish?
It's a fresh take on a classic White Russian, but green and perfect for St. Patrick's Day!
What is matcha?
Matcha is a powder made of finely ground green tea leaves.
What kind of cream should I use?
You can really use any cream for this recipe! I use coconut cream and it adds a subtle hint of coconut flavor, but the cream here is all about the consistency.
Green tip: reducing your dairy consumption is a great way to decrease your ecological footprint. Try using coconut cream in this cocktail instead of dairy cream!
Why You Should Make this Green Irish Cocktail
---
---
It's colorful! That green, I mean, come on!
It's new. A fresh new take on a White Russian, but make it colorful.
It's energizing. A little caffeine kick from that matcha is a great extra perk.
It's creamy. That coconut cream finish is EVERYTHING.
If you love this Matcha Vodka Cocktail recipe and need more fun cocktails, check out this list of 10+ Mixology Cocktails To Try At Home!