Splash into summer with this party-ready Sangria Watermelon. It's refreshing, sweet, uses the watermelon to it's fullest potential, and pretty much, it's a whole vibe.
The sweet watermelon and white wine are balanced out beautifully by the citrus, and the vodka just brings it home. It is without a doubt one of my favorite summer Sangria's.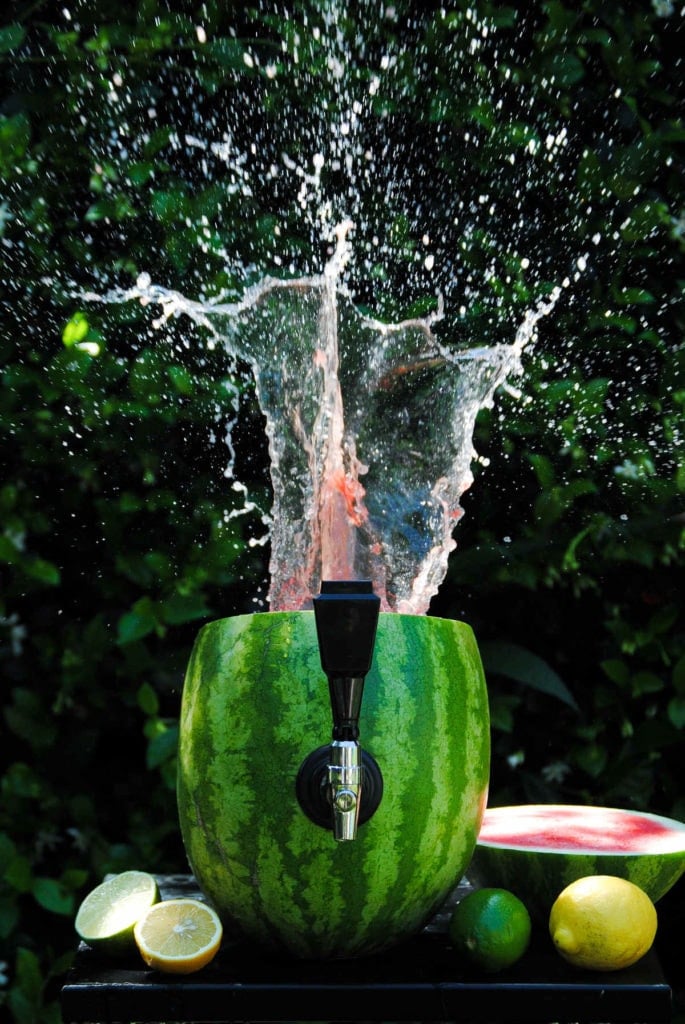 Sangria Watermelon Tips and Tricks
---
---
You'll Need a Melon Spicket
If you want to make your Sangria inside the watermelon, you'll need a special melon spicket. They are super affordable and easy to use, and they last forever!
I use this Watermelon Tap Kit (affiliate link), which comes with a corer as well that I use all the time! You can absolutely make this in a pitcher instead, but this makes it so fun!
Use a Big Watermelon
It has to hold about 6 full glasses of Sangria, so you need the space. It's best to leave some of the pink flesh when you dig out the core for your Sangria, so you get the most watermelon flavor infused into your drink.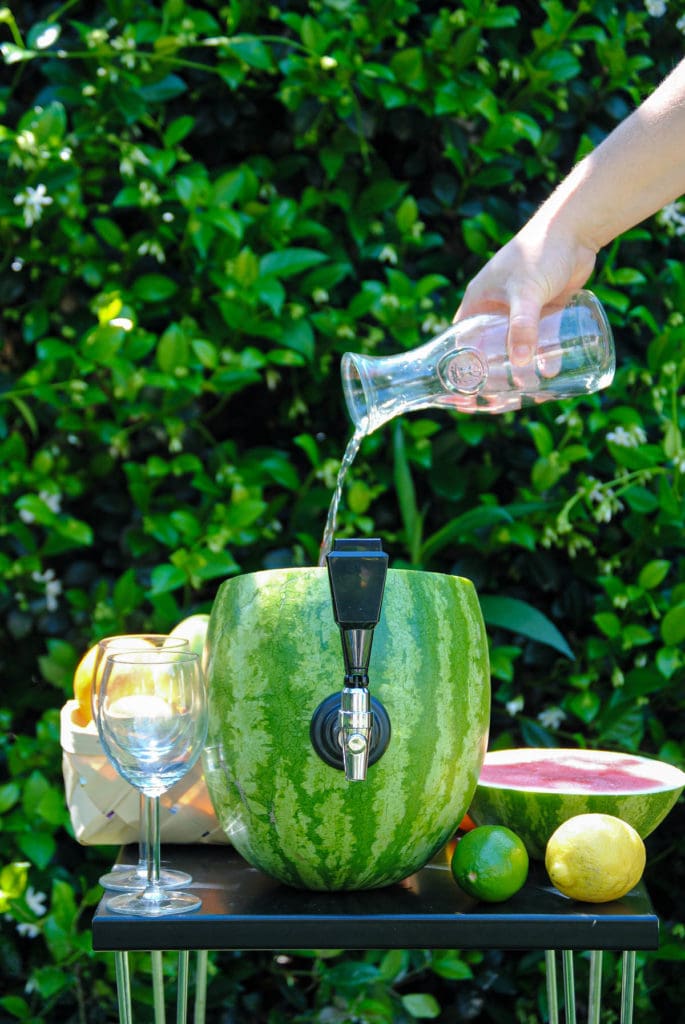 If You're Not Serving it Inside a Watermelon
If you don't want to use a whole watermelon to serve your Sangria, you can easily make this Sangria Watermelon in a pitcher. Just use about a cup of chopped watermelon in the pitcher, and stir with a wooden spoon.
Easy as that!
Green tip: Eating seasonally is one of the best (and most delicious) ways to support local and decrease your carbon footprint. Local foods have less associated transportation costs and fuel emissions. Simply put, eating seasonally = less environmental impact. Check when watermelon is in season near you with this Seasonal Food Guide.
Making Your Own Simple Syrup
If you don't have simple syrup in the house, you can easily whip up your own! To make a simple syrup, just use water and sugar in a 1:1 ratio.
This recipe calls for 1/4 cup simple syrup. Simply Boil 1/4 cup water in a small pot, add 1/4 cup granulated, brown, or coconut sugar, and stir until all of the sugar is dissolved. Allow it to cool and keep it in the refrigerator for up to 1 month.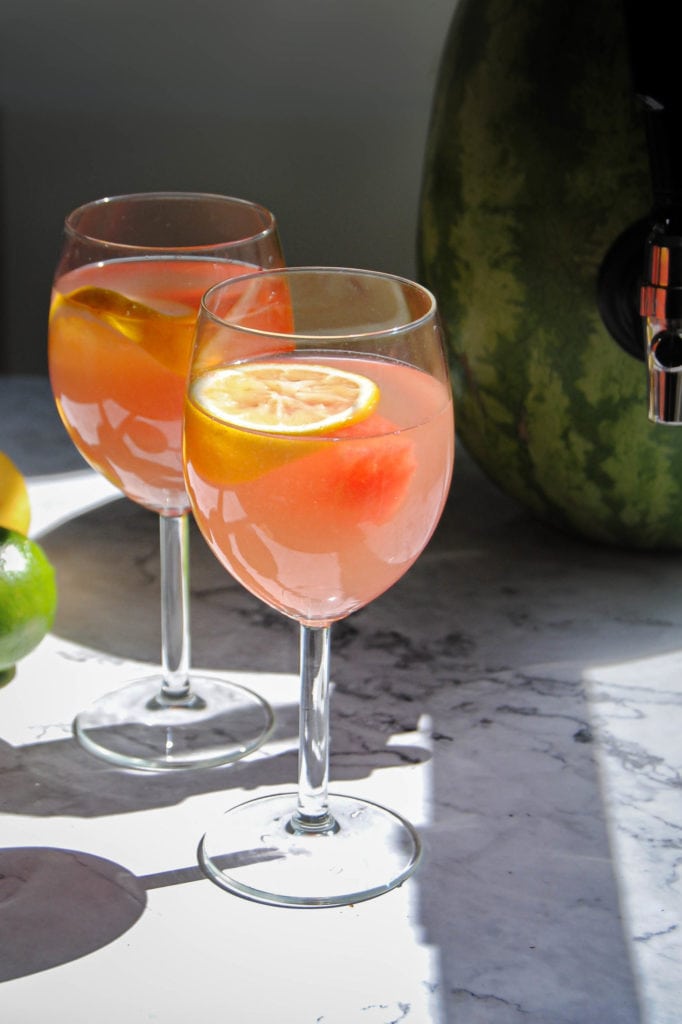 How to Core a Watermelon
Help It Stand On Its Own
First you'll chop the bottom off, so the watermelon can easily stand on a flat surface. Use a sharp knife to slice about 1/4 of an inch off the bottom of your watermelon. So how do you know which is the bottom and which is the top?
It's up to you! If the watermelon is perfectly symmetrical, just choose either end! If one end is a little larger than the other, use the larger end as the bottom.
Cut Off the Top
Slice about 2 inches off the top of your watermelon so you can access the inside. Set it aside to put back on later.
Carve a Hole for the Sangria
Use a large spoon to carve a circle in the center of the pink flesh, leaving about an inch or two of flesh around the outside. Then use the spoon to dig down to the bottom of the watermelon, creating a hole.
Set the watermelon you use aside to enjoy later. You can use a couple of slices of this scooped-out watermelon to garnish your glasses.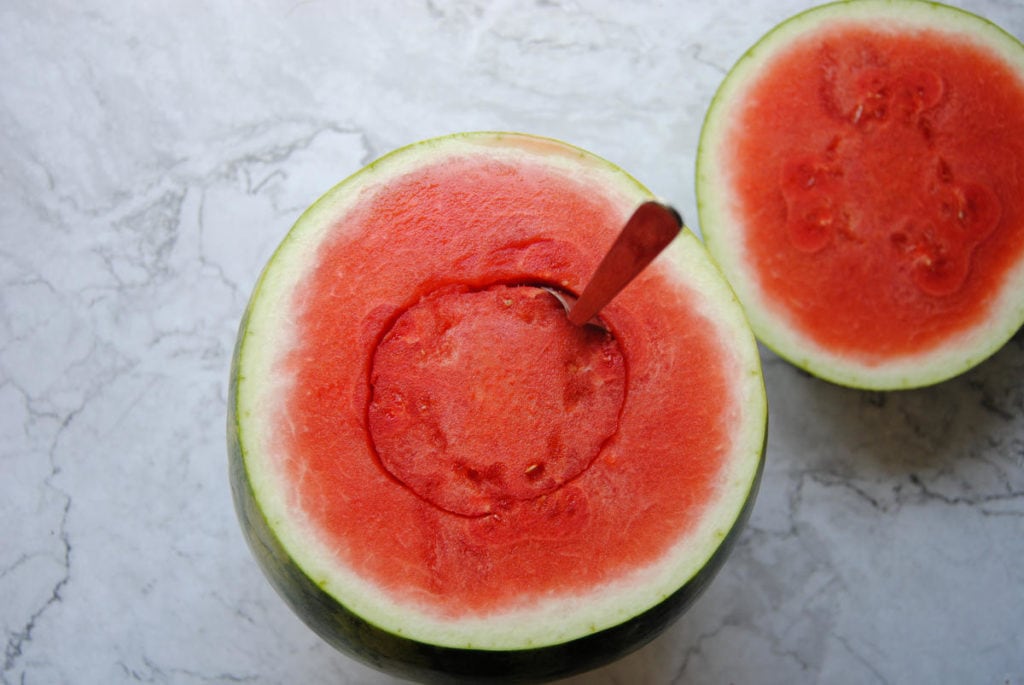 Insert the Spicket
Core a hole about 3 inches from the bottom of the watermelon and insert and secure your faucet. It makes it super easy to access your delicious summer Sangria.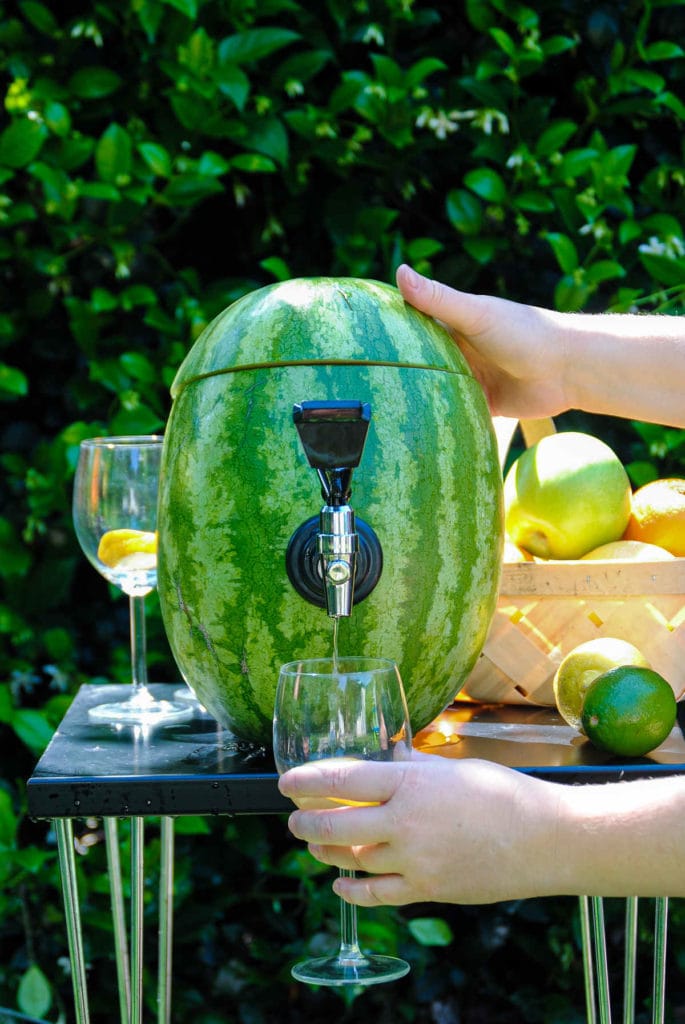 Why You Should Make this Sangria Watermelon
---
---
It's fun! Perfect for a party.
It's summery! The epitome of sweet summer Sangria.
It's fresh. Between the watermelon pitcher and the added citrus, this is so refreshing on a hot day!
If you love this Sangria Watermelon and need more refreshing drink inspiration, check out this Coconut Daiquiri and this Ginger Beer Mojito.