Looking for a fun new addition to your favorite classic mojito? This Refreshing Muddled Kiwi Mojito uses real kiwi to add fruity flavor to an already delicious and refreshing fruit-forward cocktail.
The combination of kiwi, mint, and lime lends a wonderful balance of sweet and sour. Plus, the subtle hint of sugar and rum and bubbly finish is sure to tickle your tastebuds!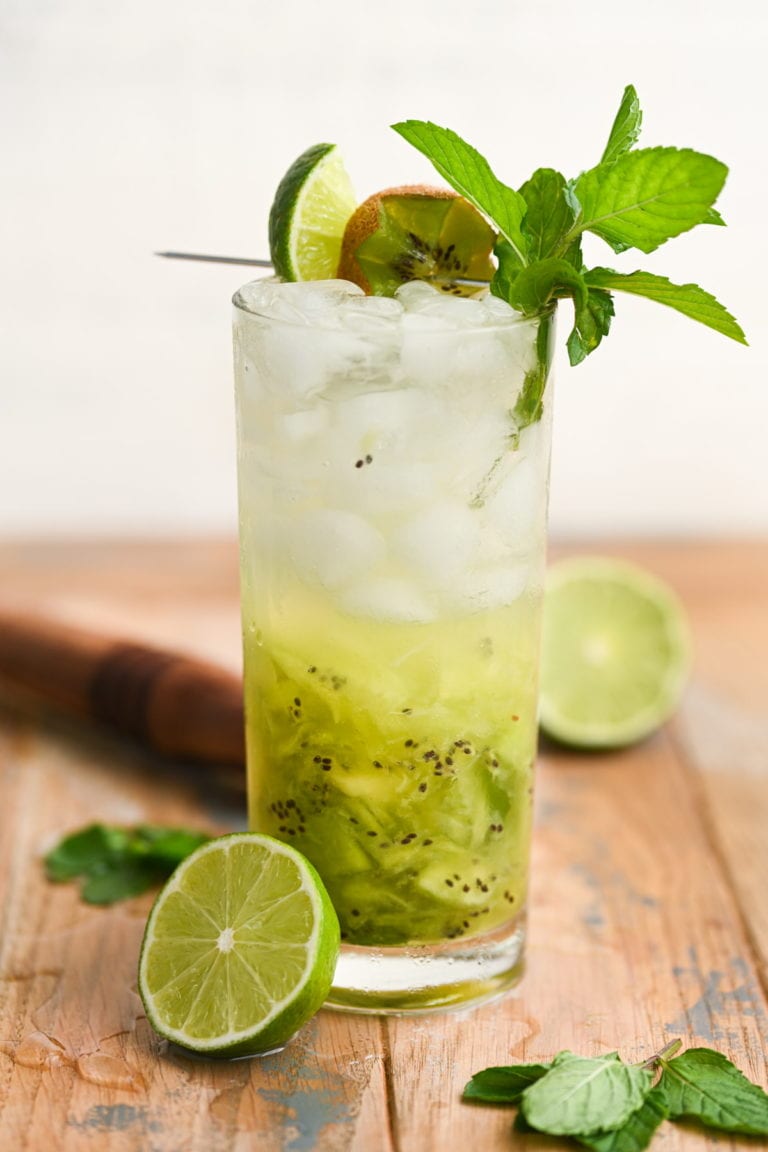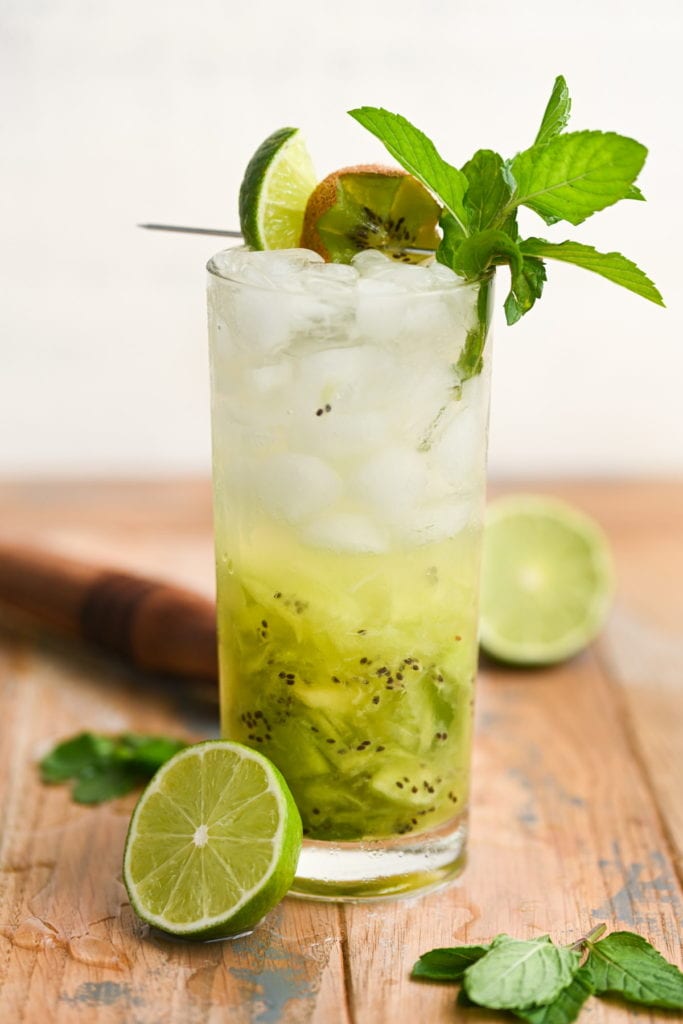 Kiwi is one of my favorite spring fruits and I love incorporating it into refreshing cocktails!
Green tip: Eating seasonally is such a great way to improve your carbon footprint. Check when kiwi is in season near you with this Seasonal Food Guide.
Kiwi Mojito Ingredients
---
---
Here's everything you need:
Kiwi. The star of this fruit-forward cocktail!
White Rum. Dark Rum also works! I prefer white rum because the taste is slightly more subtle, allowing for the kiwi to shine.
Simple Syrup. A little sweetness balances out this cocktail perfectly. You can make your own or buy it, or even sub honey or agave in equal amounts.
Lime. Juice from a fresh lime goes a long way in this cocktail.
Mint. Spearmint leaves are my preference, but you can also use peppermint leaves here!
Club Soda. For the bubbles. You can use carbonated water or tonic water instead (though this will change the taste a bit).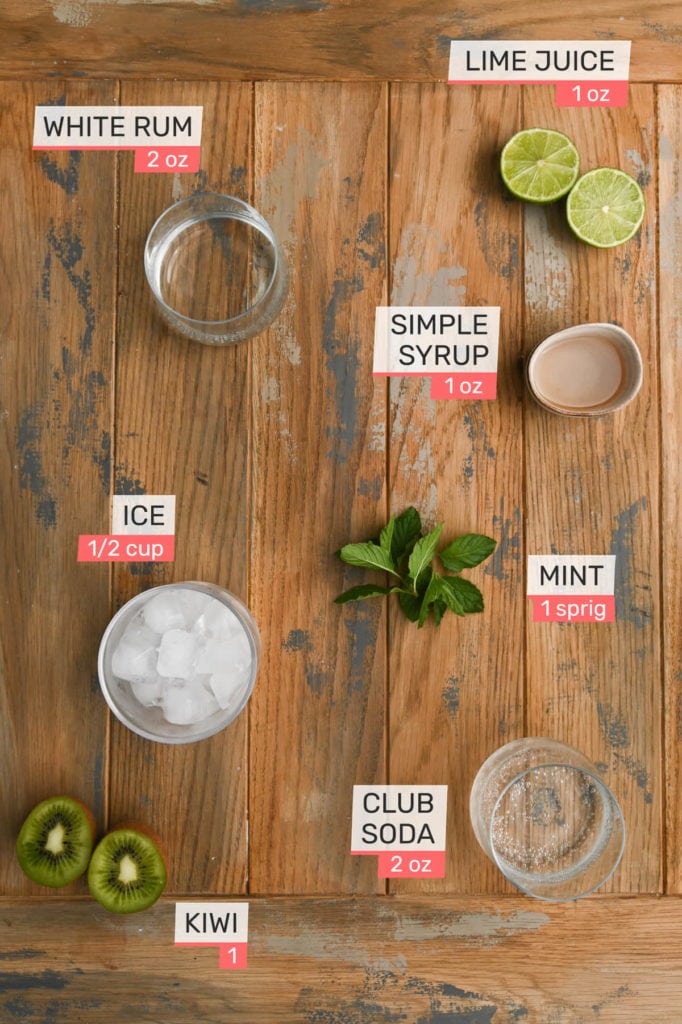 Kiwi Mojito Tips and Tricks
---
---
Remove Your Kiwi from the Skin First
I find the easiest way to do this is with a spoon! Use a sharp knife to slice your kiwi in half first.
Then, take a small spoon and pierce the green fruit right next to the brown skin, sliding your spoon down the inside of the skin.
Then, hold your spoon steady while rotating the kiwi 360°, until the spoon has lifted the fruit from all of the skin. You should now be able to easily scoop the fruit out, leaving the skin behind.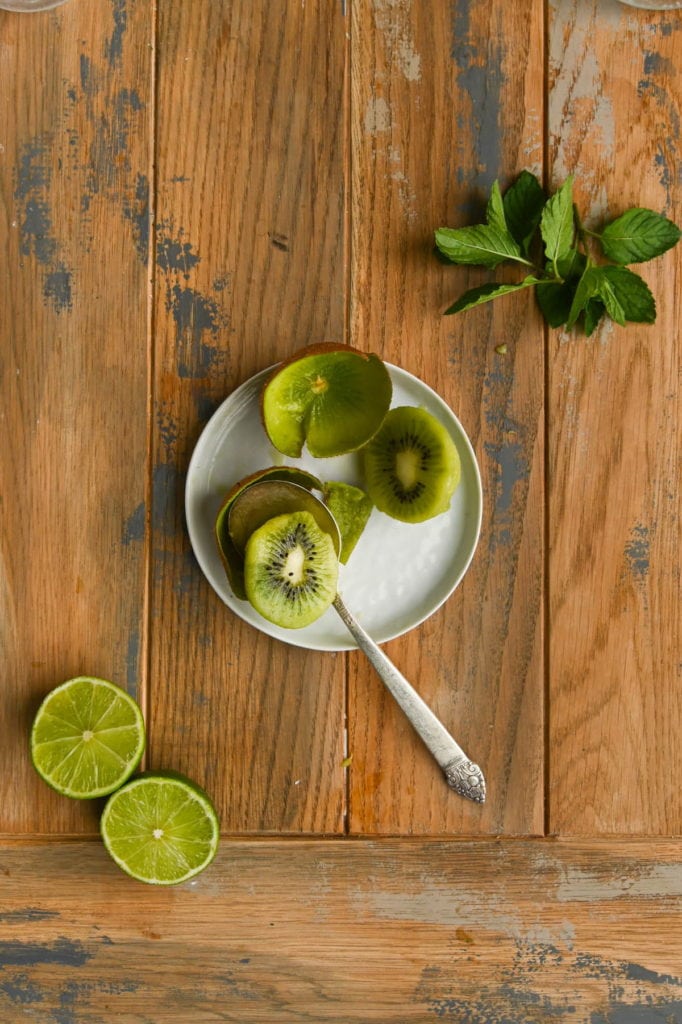 Muddle Your Kiwi and Mint
Once you've removed your kiwi from the skin, slice it into 4 or 5 big chunks. Drop it into a highball glass with fresh mint and use a muddler or wooden spoon to muddle the kiwi and mint, expressing the juices and oils.
I love to leave the smashed kiwi at the bottom of the glass, but if you want a smoother cocktail, you can choose to strain the juices out into a separate glass.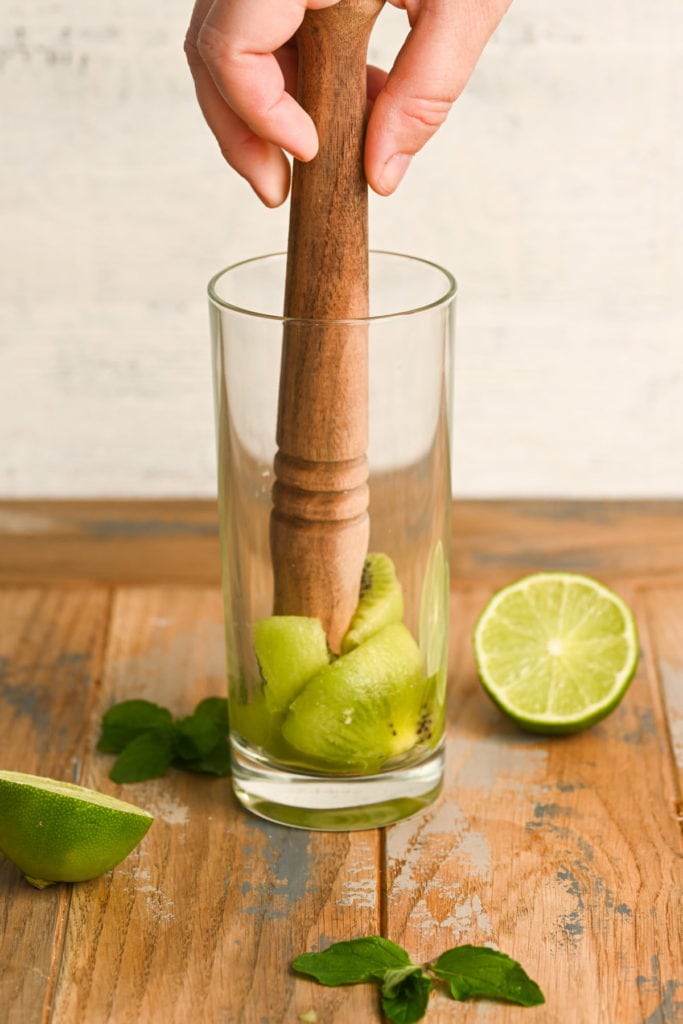 Making Your Own Simple Syrup
No simple syrup at home? No worries! You can make your own quickly and easily with just sugar and water. You can even use brown sugar, granulated sugar, or coconut sugar to make simple syrup, depending on your preference.
In my opinion, this recipe works best with granulated sugar. It has the most one-dimensional flavor, allowing the mint, lime, and kiwi to shine!
Brown sugar adds a subtle caramel flavor, which, while still delicious, takes away from the other fresh flavors.
To make your own simple syrup, just add equal parts of water and sugar to a small pot over high heat and whisk continuously until the sugar is dissolved. Then, transfer it to a heat-safe glass and allow it to cool completely before adding it to your Kiwi Mojito.
Green tip: Making your own sauces and syrups is a great way to avoid extra plastic packaging that eventually ends up in landfills or makes its way into the environment and becomes microplastics.
Use a Fresh Lime
I highly recommend using juice from fresh lime as opposed to pre-squeezed lime juice in this Kiwi Mojito.
The fresh-squeezed citrus enhances the taste of the kiwi and the mint and really rounds out this cocktail. You can usually get 1 ounce (or 2 tablespoons) of lime juice out of 1 fresh lime.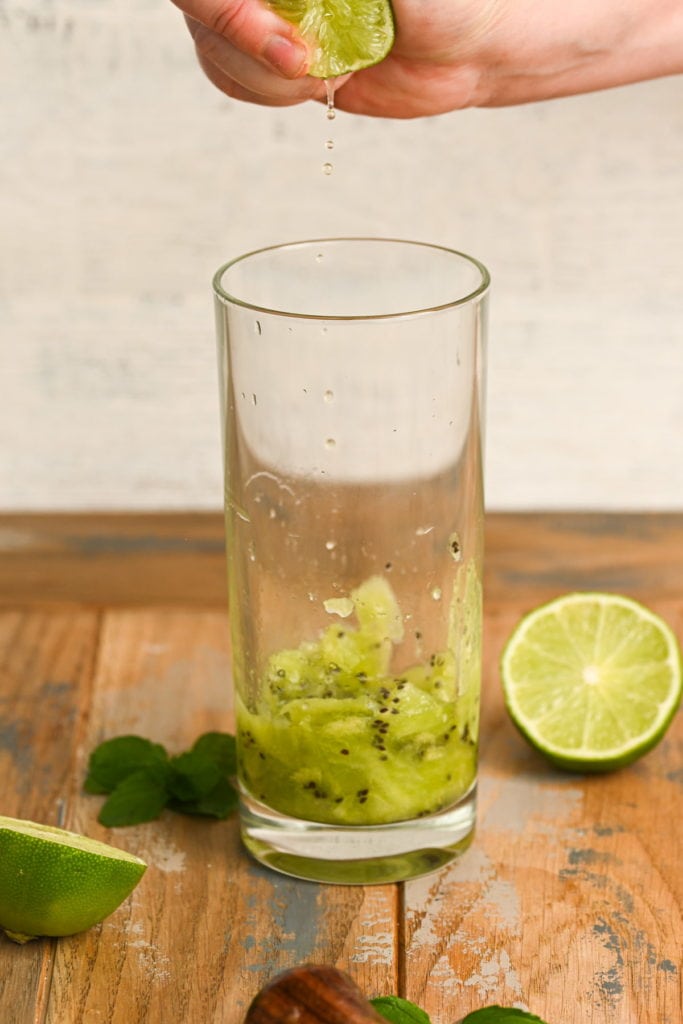 Serve it Ice Cold
Throw some ice and some extra lime wedges over the muddled kiwi and mint so the leaves don't get in the way of your smooth sip.
This cocktail is best-served ice cold!
Green tip: Consider buying your alcohol in glass bottles to avoid extra plastic packaging, and always recycle your rum bottles!
Top it with Bubbles
Time to add some fizz to this Kiwi Mojito! Top with club soda for that classic crisp, bubbly finish.
You can use tonic water or sparkling water instead if you have one of those options on hand!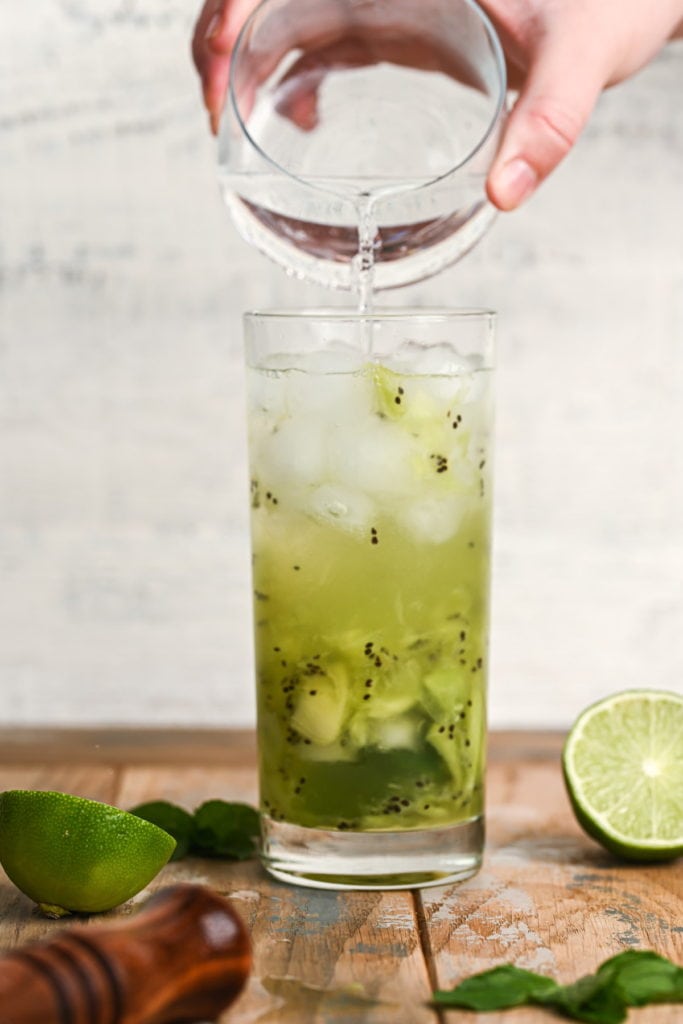 Kiwi Mojito Frequently Asked Questions
---
---
Is Mojito rum or tequila?
Typically, mojitos are made of mint, lime, sugar, rum, and club soda. Rum is the classic spirit found in a mojito!
Can mojito be made without mint leaves?
Mojitos are always best with fresh mint, but there are a couple of substitutes you can try in a pinch.
If you don't have fresh mint, try 1/2 ounce of peppermint schnapps or 2 drops of peppermint extract.
Want to sharpen your kitchen skills?
Why You Should Make this Kiwi Mojito
---
---
It's crisp. Served ice-cold, mint fresh, and with a fizzy finish, this drink is perfect for summer!
It's fruity. The addition of Kiwi to a classic mojito gives it an extra punch of fruity flavor.
It's refreshing. Between the mint, citrus, and fresh fruit, the refreshing flavors help quench your thirst.
If you're loving this Kiwi Mojito, check out this Ginger Beer Mojito, Gin Mojito, and Matcha Mojito, too!