Looking for an ultra-rich and fudgy brownie with a deep chocolatey taste and without butter? These Fudgy Olive Oil Brownies use olive oil to bring moisture to the center, crispiness on the corners, and lean into the natural bittersweet taste of chocolate.
Naturally dairy free, the use of olive oil instead of butter in these homemade brownies gives them a uniquely fudgy texture on the inside, with a crinkly top and crisp edges. Olive oil also has a subtle natural fruity flavor, which enhances the flavor of your chocolate.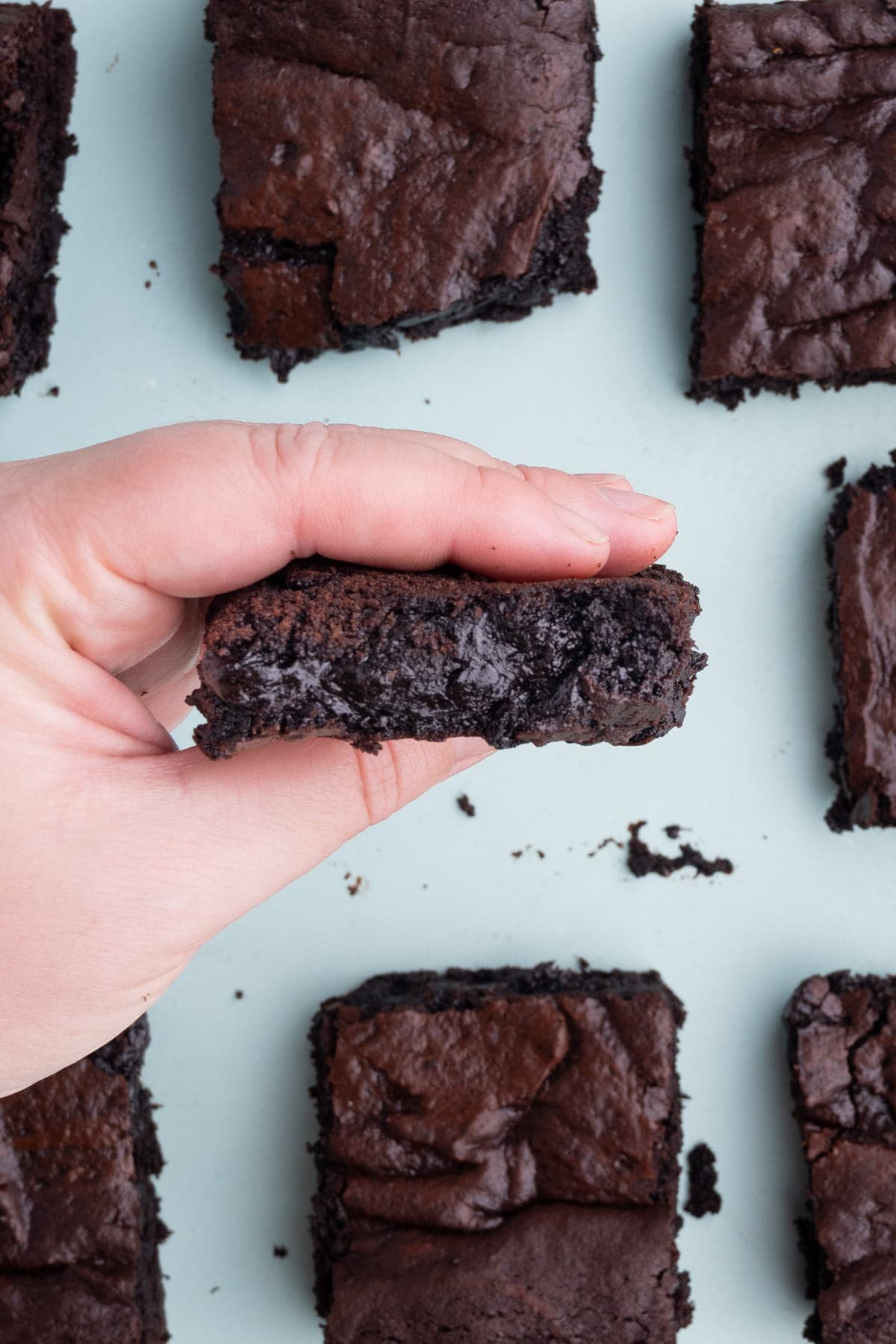 As an environmental scientist, I try to eat ingredients that have a higher impact on the environment in moderation. That means, I cut dairy when I can.
This dairy-free brownie recipe uses olive oil instead of butter and does not shy away from the natural flavor the olive oil brings to the brownies. Instead, it celebrates that intensity of the olive oil!
Green tip: Industrial dairy production has a huge impact on the environment, especially because of the amount of land it takes to sustain and its high amount of greenhouse gas emissions. Reducing your dairy consumption is one great way to improve your ecological footprint.
Olive Oil Brownies Ingredients
---
Here's everything you need:
Olive oil. Use mild olive oil for a barely-there olive oil taste, or a bold olive oil if you really want to taste the flavor of the olive oil in each bite.
Granulated sugar. You can also opt to substitute date or coconut sugar for a less-sweet option. If you only have brown sugar on hand, that will work, too. Just make sure to tightly pack it when you measure.
Vanilla extract. For a little extra flavor.
Eggs. For both leavening and binding the brownies together.
All-purpose flour. This acts as the base of your brownie batter.
Cocoa powder. I love using dark cocoa powder, but any unsweetened cocoa powder works!
Baking powder. To give your brownies a little lift.
Salt. To bring out the flavor of the chocolate.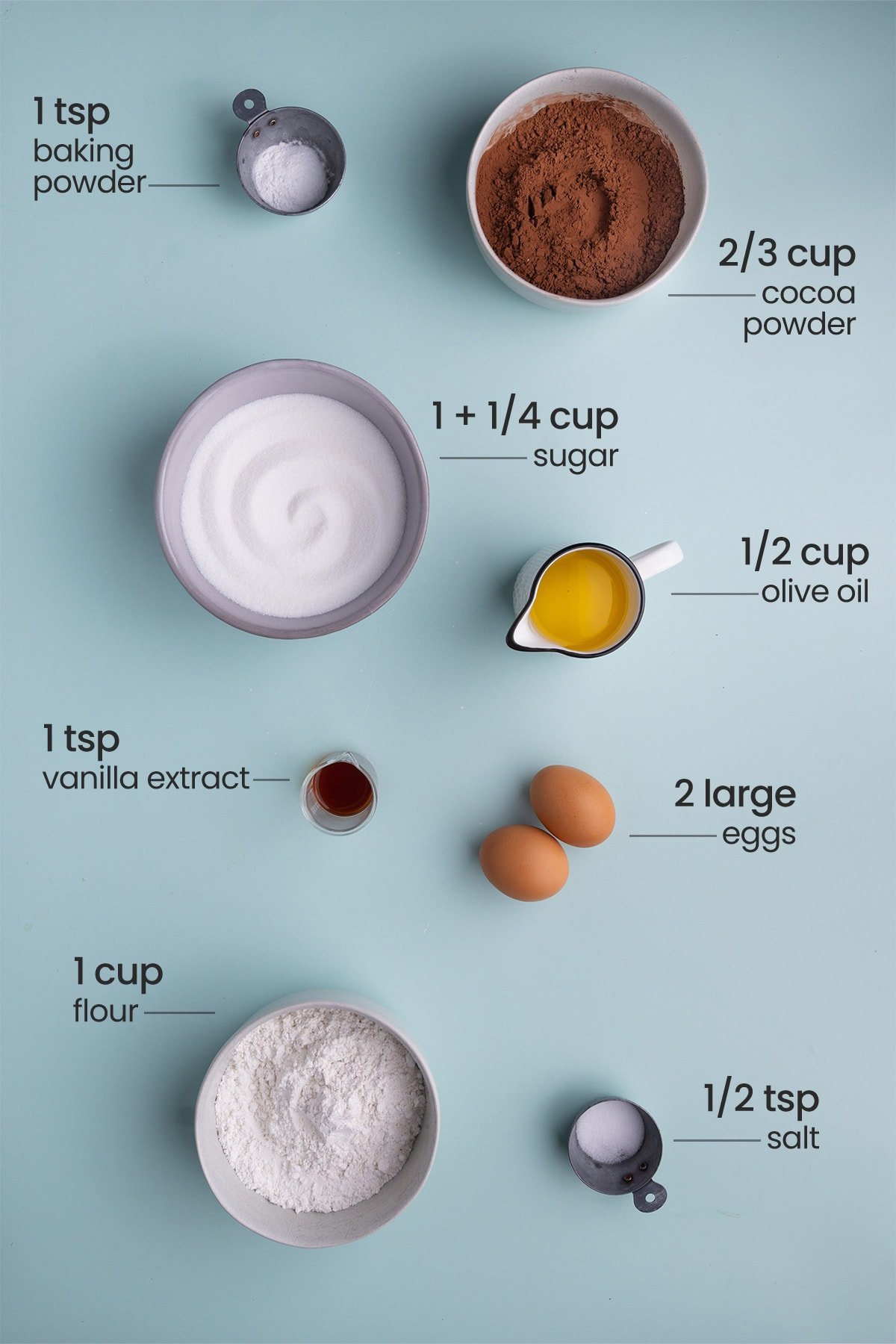 Brownies with Olive Oil Tips and Tricks
---
Line Your Pan with Parchment Paper for Easy Removal
The first step to making these fudgy brownies is preheating the oven to 350°F and prepping your baking pan.
For the easiest removal and quickest cooling time on these brownies, line the baking dish with parchment paper. The easiest way to prep your paper is to cut a piece that is about 1-2 inches larger than your baking dish on all four sides.
Then, use scissors to cut out each corner of the parchment paper as pictured below.
You should then easily be able to place the parchment paper into your baking dish, folding the edges of the parchment paper up to fit snuggly in the dish.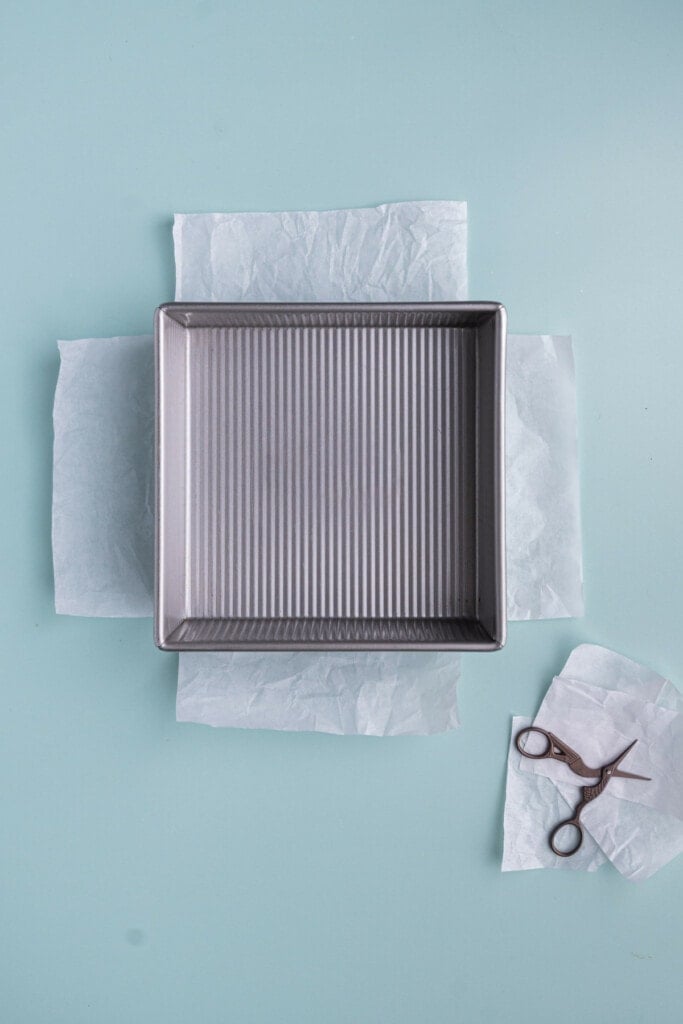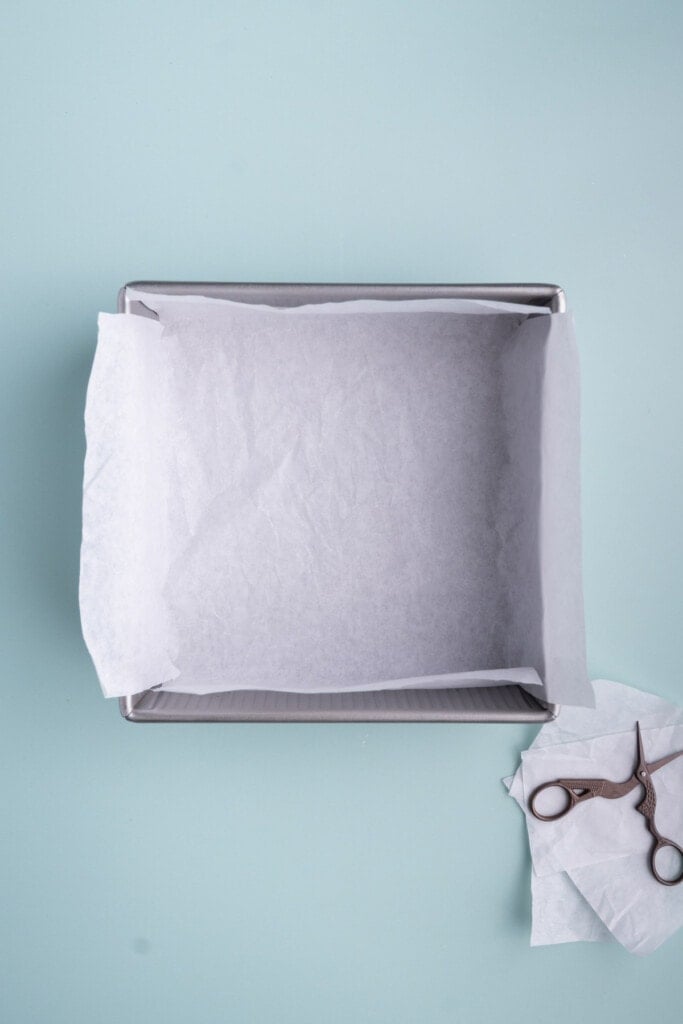 Cream the Olive Oil and Sugar Together
Use a hand mixer on high to cream together the olive oil and sugar.
Creaming your fat (in this case the olive oil) and the granulated sugar together doesn't just combine these ingredients together smoothly, but it also adds little air pockets to the batter.
Aerating the batter is a very effective way to get that fudgy texture you expect from olive oil brownies.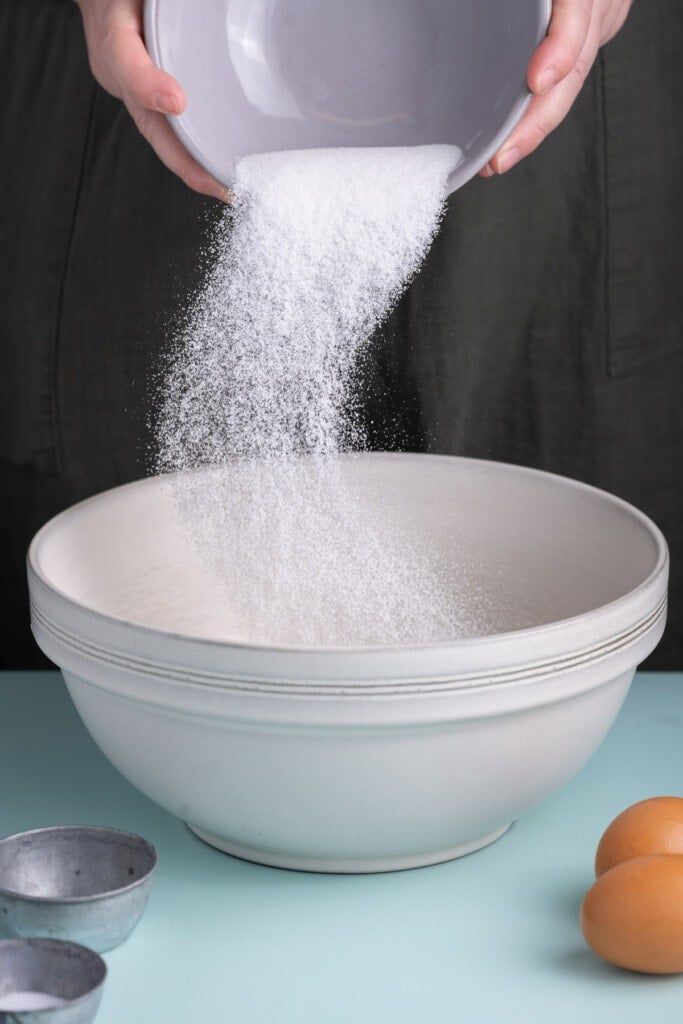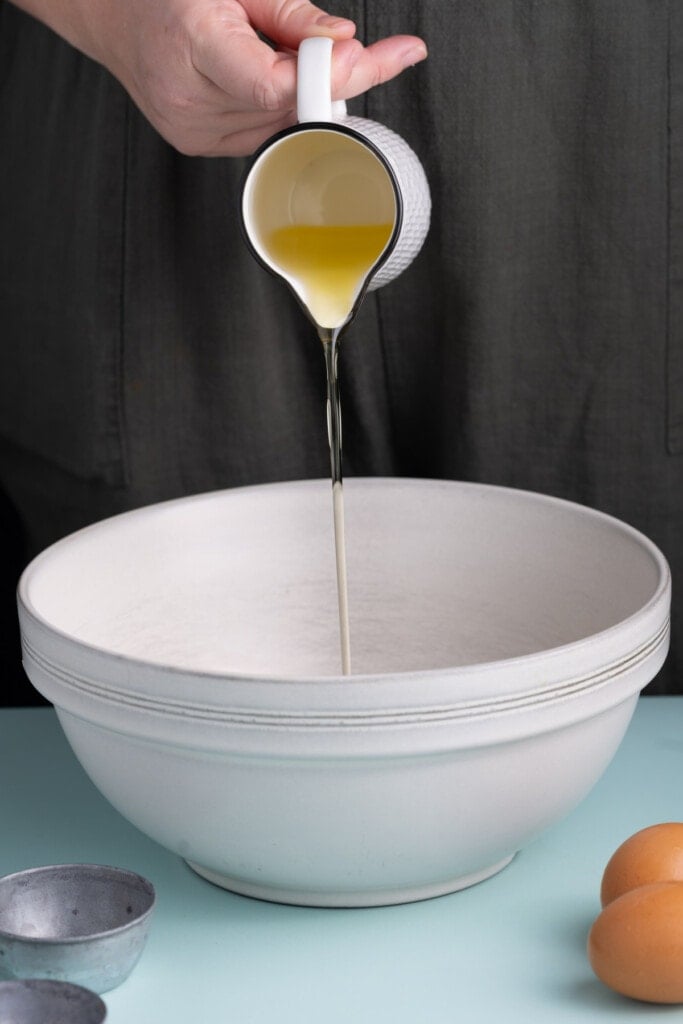 Add Your Eggs and Vanilla Extract Next
Once you've creamed together your olive oil and sugar, you're ready to add your eggs and vanilla extract.
As a general rule of thumb, it's always safest to crack your eggs into a separate bowl first, rather than adding them directly to your brownie batter. It's simply the best way to avoid eggshells or a bloody egg.
But I must confess, I often "live on the edge" and crack 'em right in. You've been warned!
Use your hand mixer again on low to combine the eggs and vanilla extract into your batter until it is nice and smooth once again.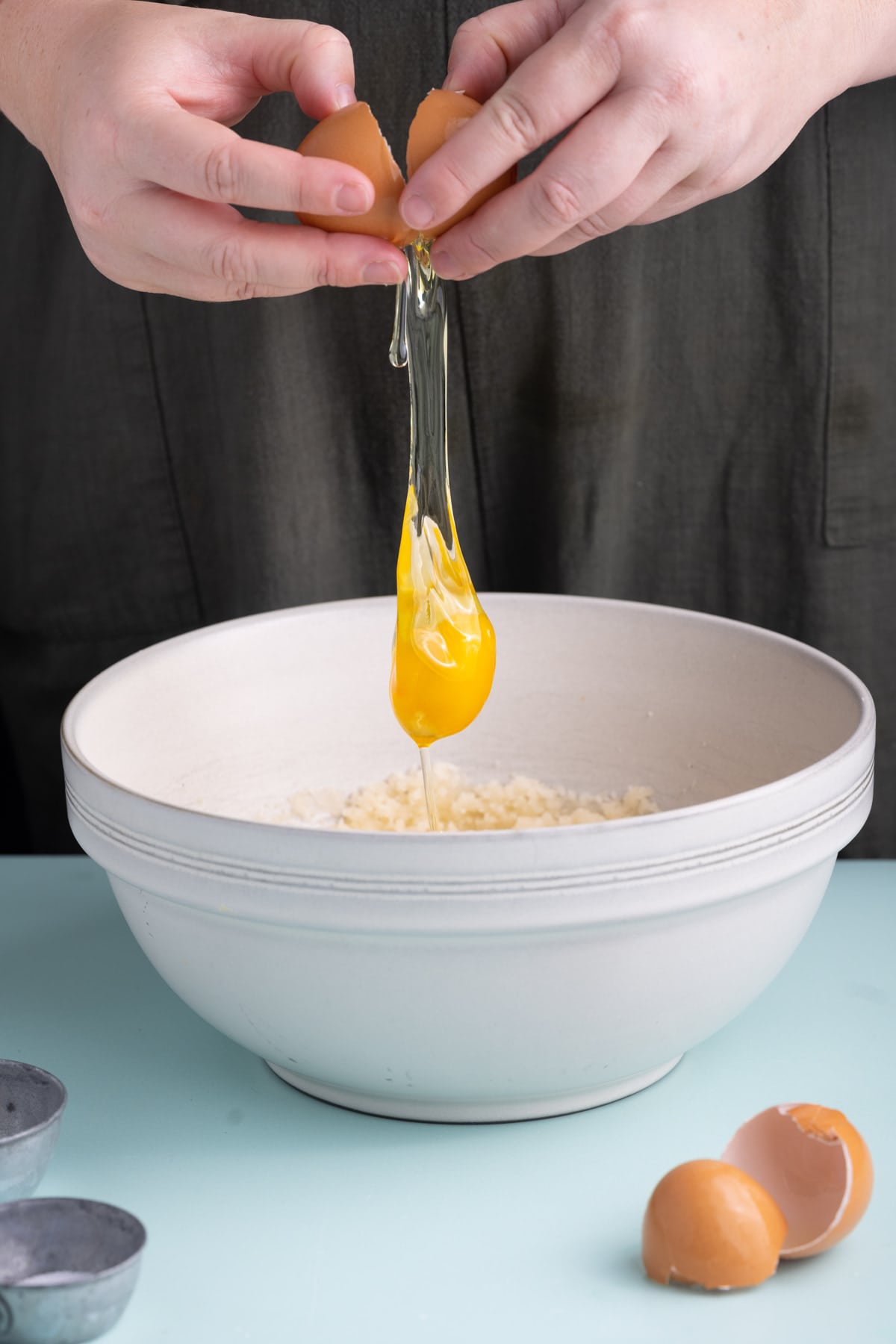 Add the Dry Ingredients Last
Time for your flour, cocoa powder, baking powder, and salt. Well, you guessed it—your hand mixer is once again your best friend here!
Use it on high to integrate your dry ingredients, mixing until there are no visible clumps. Biting into a lump of cocoa powder or baking powder makes for a bitter, unpleasant taste.
Use a rubber spatula to scrape down any dry ingredients that get stuck to the insides of the bowl, ensuring everything is mixed well.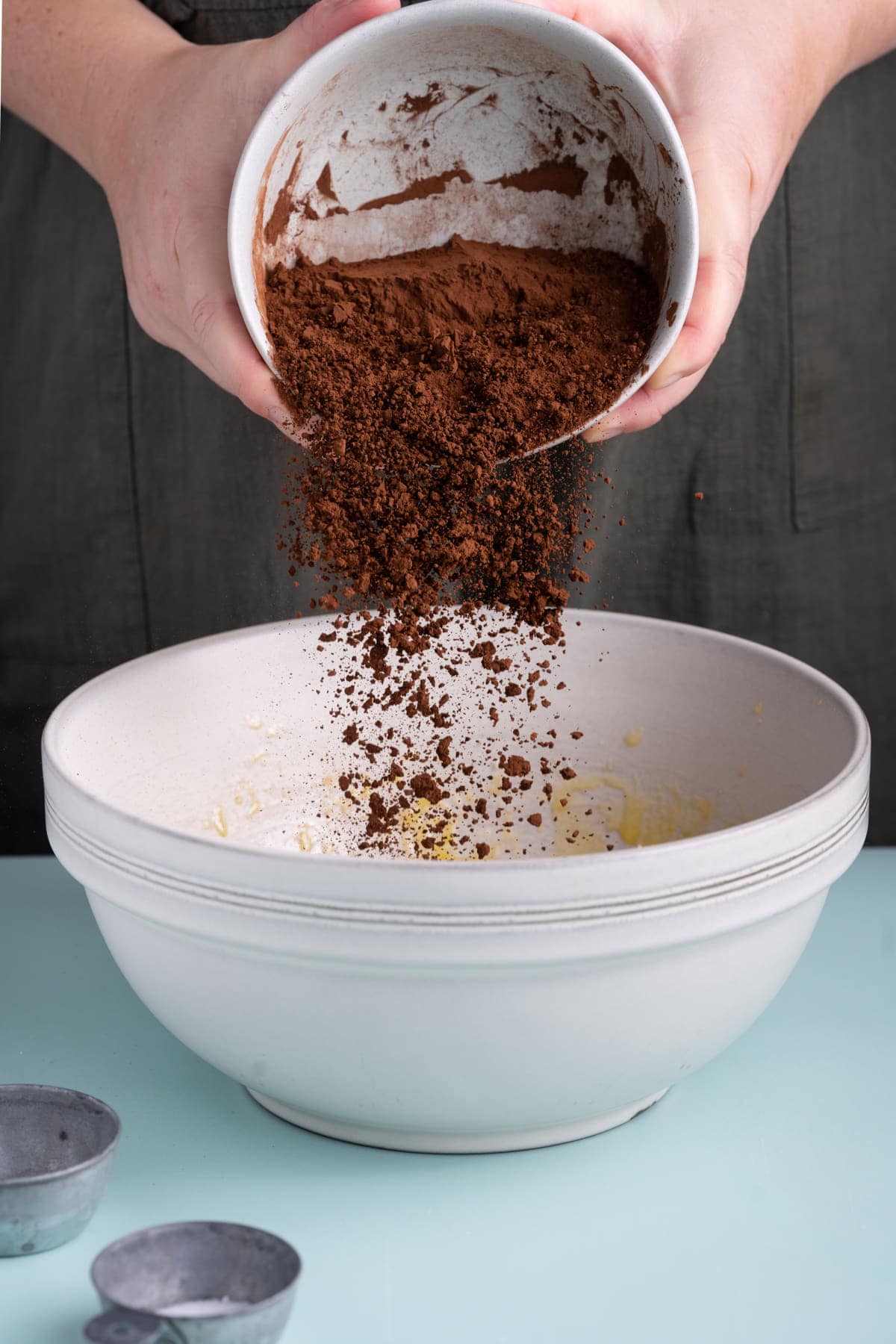 Add the Brownie Batter to the Prepped Pan
These olive oil brownies come from a thick and sticky batter. Use a rubber spatula to help you scrape the sticky batter out of the mixing bowl and into your prepped pan.
You'll also need the spatula to spread the batter out evenly in the pan, ensuring it reaches all four corners.
Storing Brownies with Olive Oil
Keep your brownies with olive oil in an airtight container or cover them up to keep them fresh. At room temperature, these moist chocolatey squares will stay delicious for 3-4 days.
If you want to extend the life of your brownies, you can freeze them for up to 4 months in an airtight container. Of course, make sure to allow them to thaw at room temperature before diving into them.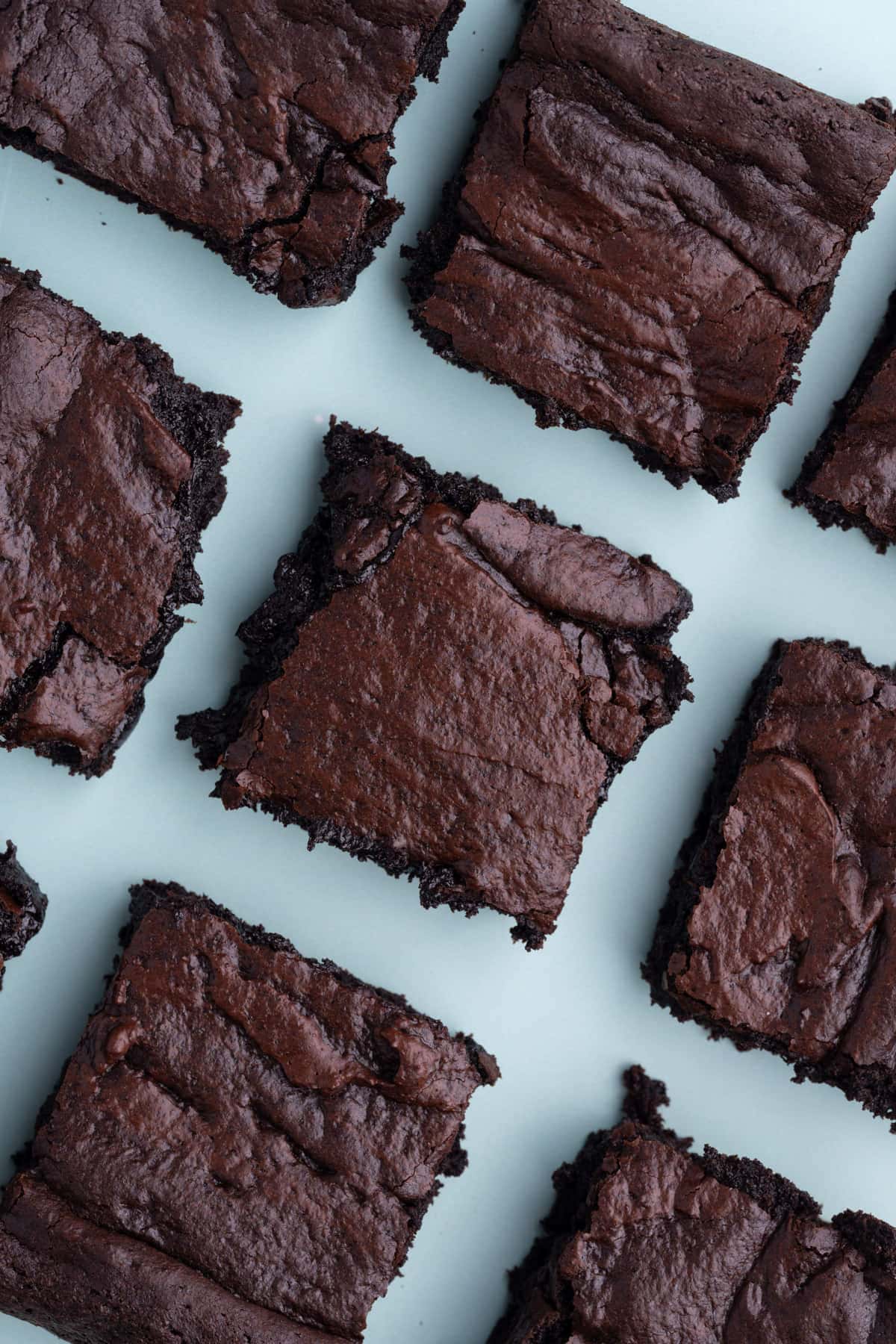 Olive Oil Brownies Frequently Asked Questions
---
Can olive oil be used in brownies?
Yes! Olive oil adds deep flavor and a lot of moisture to brownies. For a barely-there olive oil taste, use mild olive oil. If you really want to taste the complex flavors of the olive oil, use a bold olive oil.
Is olive oil better than butter in brownies?
Olive oil is a delicious substitute for butter for dairy free brownies. It also lends a different texture to your brownies. While brownies with butter are chewier, olive oil brownies are a little bit moister, giving them an extra fudgy center with a crinkled top and crisp edges.
Want to sharpen your kitchen skills?
Why You Should Make these Fudgy Olive Oil Brownies
---
They're rich. The olive oil brings out the bittersweet flavor of the chocolate, enhancing it.
They're fudgy. They have an extra-moist center and crisp edges.
They're dairy free. Olive oil is a great substitute for butter for a rich and fudgy brownie.
If you're loving these Olive Oil Brownies and want more chocolatey treats, check out these Whiskey Chocolate Truffles and this Chocolate Chip Bread Pudding.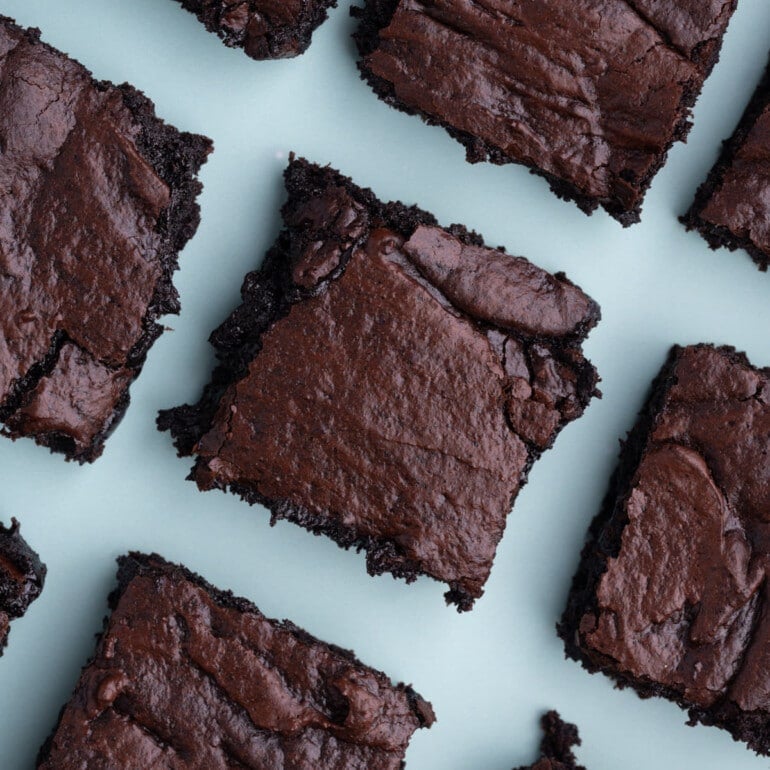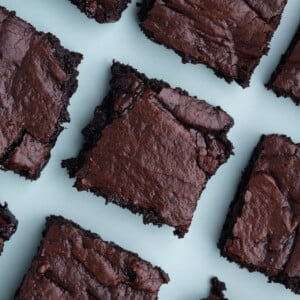 Fudgy Olive Oil Brownies
PRINT
PIN
RATE
These Olive Oil Brownies use olive oil instead of butter to bring you a dairy-free brownie with bold flavor and an ultra-moist and fudgy center with a crinkly top and crispy edges.
Ingredients
½

cup

extra-virgin olive oil

(see notes)

1 ¼

cup

granulated sugar

1

teaspoon

vanilla extract

2

large

eggs

1

cup

all-purpose flour

⅔

cup

unsweetened cocoa powder

(I use dark)

1

teaspoon

baking powder

½

teaspoon

salt
Instructions
Preheat your oven to 350°F and line a 9×9-inch square pan with parchment paper.

To a large mixing bowl, add the olive oil and sugar and use a hand-mixer on high to cream together until well-combined and aerated (3-5 minutes).

Add the egg and vanilla extract and use the hand-mixer on low to integrate.

Next, add the flour, cocoa powder, baking powder, and salt and mix again on high to combine, using a spatula to scrape down the sides of the bowl if necessary. You'll be left with a thick and sticky batter.

With the help of your rubber spatula, add the batter to the prepped baking dish, pushing the batter to the sides until it is distributed equally throughout the pan.

Bake at 350°F for 25-30 minutes until the brownies are set when you wobble the pan. Allow them to cool before cutting. Enjoy!
Pro Tips
For a subtle olive oil flavor, use mild olive oil. Use robust olive oil if you really want a deep olive oil flavor. 
You can add chocolate chips or nuts to this recipe by folding them into the batter before transferring the batter to your baking pan. 
If you love brownies as much as I do, you'll love this collection of my greatest brownie recipes!
Did you make this recipe?
Let me know by leaving a recipe rating below, or by tagging @marleysmenu on Instagram.