Looking for the perfect Fall muffin? These moist and tender Pumpkin Banana Muffins combine the rich, earthy essence of pumpkin with the natural sweetness and subtle fruitiness of ripe bananas, creating a harmonious blend that will tantalize your taste buds.
Plus, they have a delicious crumbly top, adding a satisfying crunch to every bite. Crafted with a mixture of buttery streusel, hints of warm cinnamon, and a touch of nutmeg from the pumpkin pie spice, the crumbly topping creates a textural contrast that perfectly complements the muffin's soft interior.
Ideal for a cozy breakfast or a comforting snack, these muffins offer an autumnal flavor profile that can be enjoyed year-round. Whether paired with a cup of your favorite coffee or savored on its own, these Pumpkin Banana Muffins with a crumbly top are a delightful treat that embodies the essence of comfort and warmth in every mouthful.
In this recipe, you will learn how to turn overripe bananas and a can of pumpkin puree into perfectly moist muffins, and how to create a foolproof crumble top that will enhance any and all muffins you bake!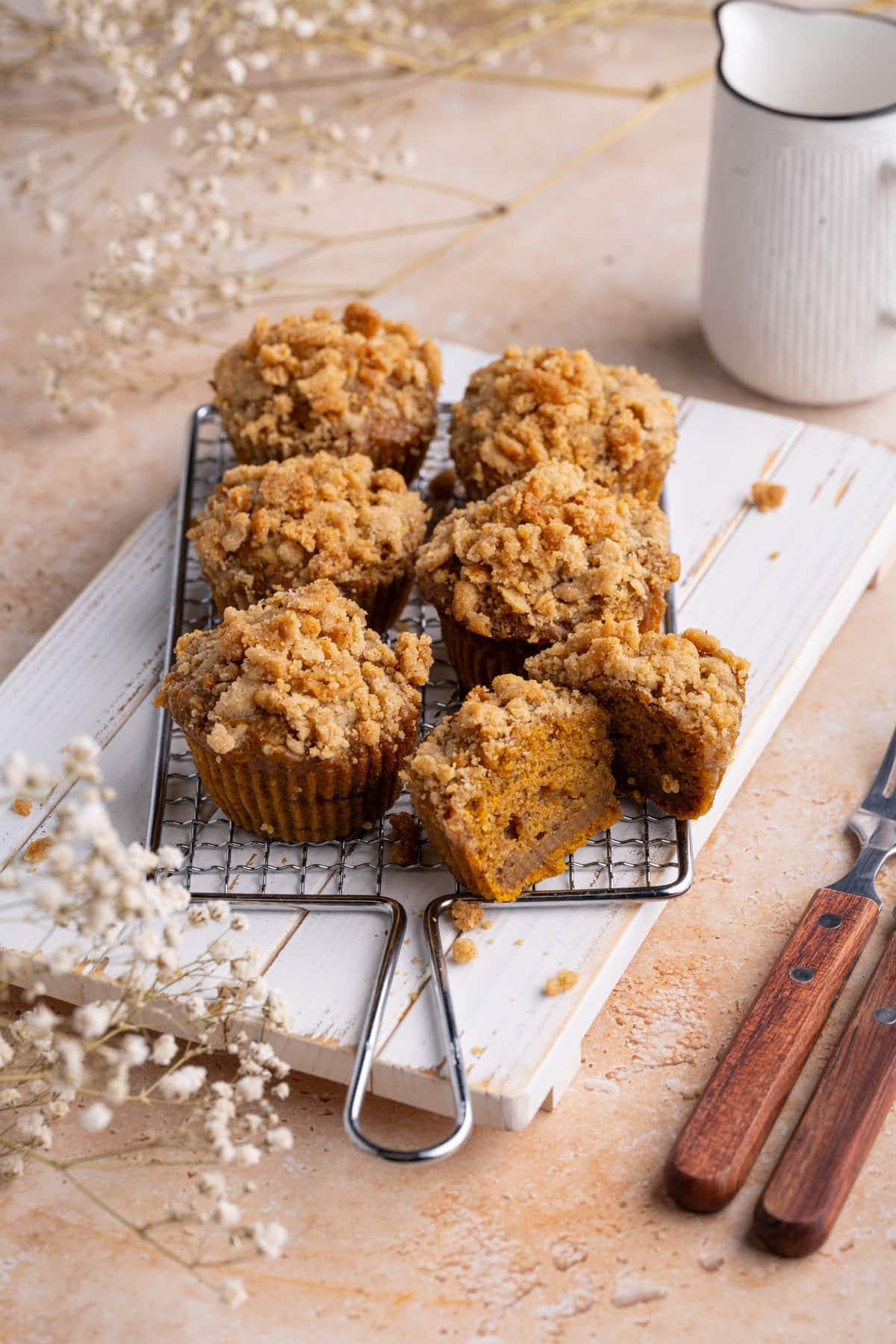 As an environmental scientist, I am always striving to reduce my food waste. Bananas are one of those produce items that go from perfect to entirely overripe seemingly overnight.
So, I'm always on the lookout for fun ways to use up overripe bananas, and this incredibly easy muffin recipe is undoubtedly one of my favorites!
Green tip: Did you know that of the billions of pounds of food wasted annually, it is estimated that 50% of it happens in our homes? Reduce your contribution to food waste by using up overripe bananas while baking!
Pumpkin Banana Muffins Ingredients
---
Here's everything you need for your Moist Banana Pumpkin Muffins:
Bananas. The best bananas for baking are a little bit overripe. Look for brown spots on the peel.
Pumpkin puree. This recipe uses a whole can of pumpkin puree to bring tons of flavor and moisture to these muffins.
Unsalted butter. Make sure the butter is softened. Not melted, and not too solid.
Vanilla extract. For flavor.
Granulated sugar & light brown sugar. The perfect mixture of sweetness and caramel-y goodness. Dark brown sugar can be used in place of light brown sugar.
All-purpose flour. The base of your muffin batter.
Baking soda. To give your muffins a little lift.
Salt. To enhance all the other flavors.
Pumpkin pie spice. To bring out those Fall flavors. If you don't have any on hand, you can easily make your own or use a substitute.
Milk. Any dairy milk or unsweetened plant-based milk will work to help thin out your batter.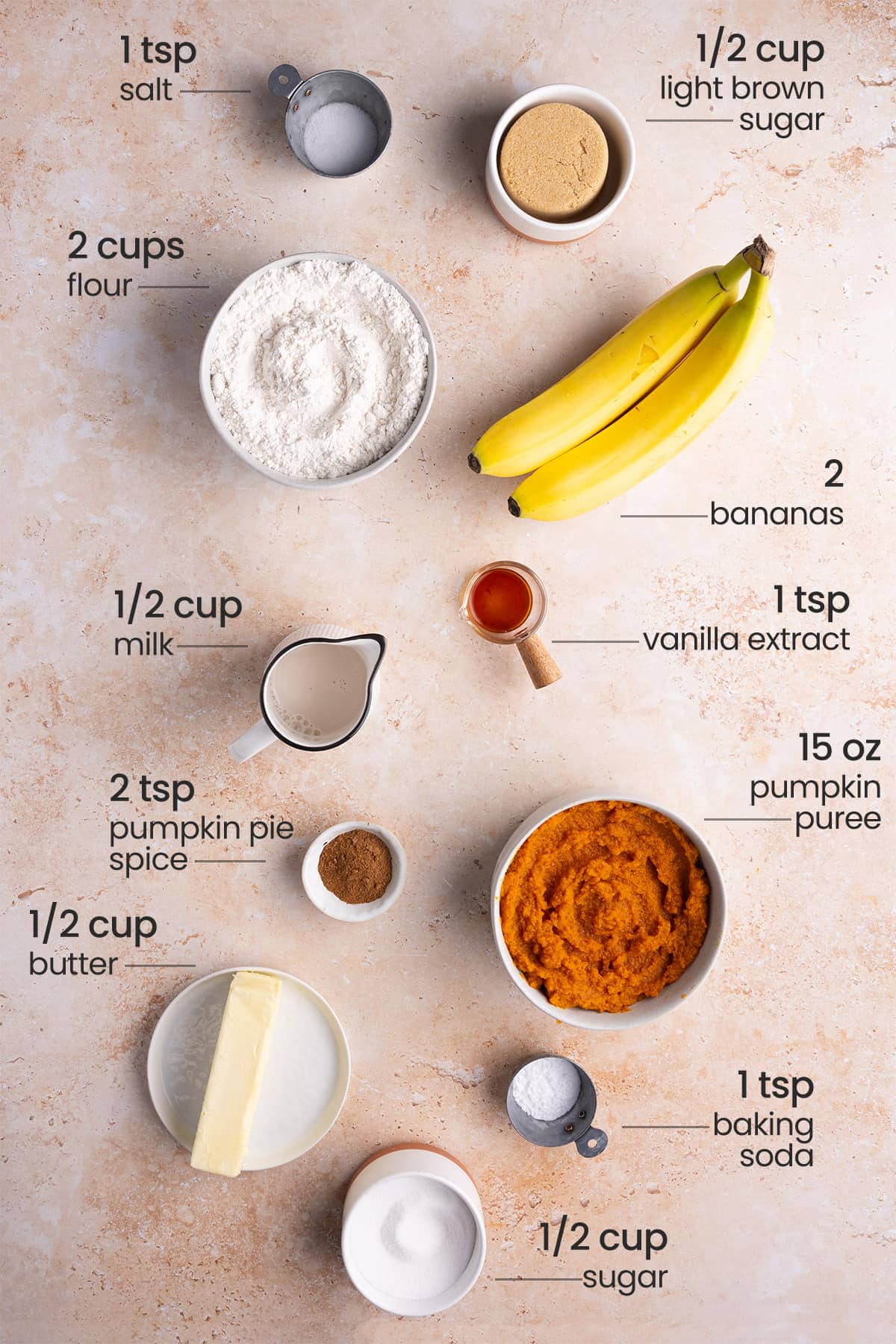 Here's everything you need for the optional muffin crumble top:
All-purpose flour. To get that perfect crumble texture.
Brown sugar. Either light or dark brown sugar work here. I used light.
Pumpkin Pie Spice. This is optional in the crumble mix but brings so much flavor and a nice aromatic finish to every bite of your muffin.
Unsalted butter. It will need to be slightly melted. More on this later.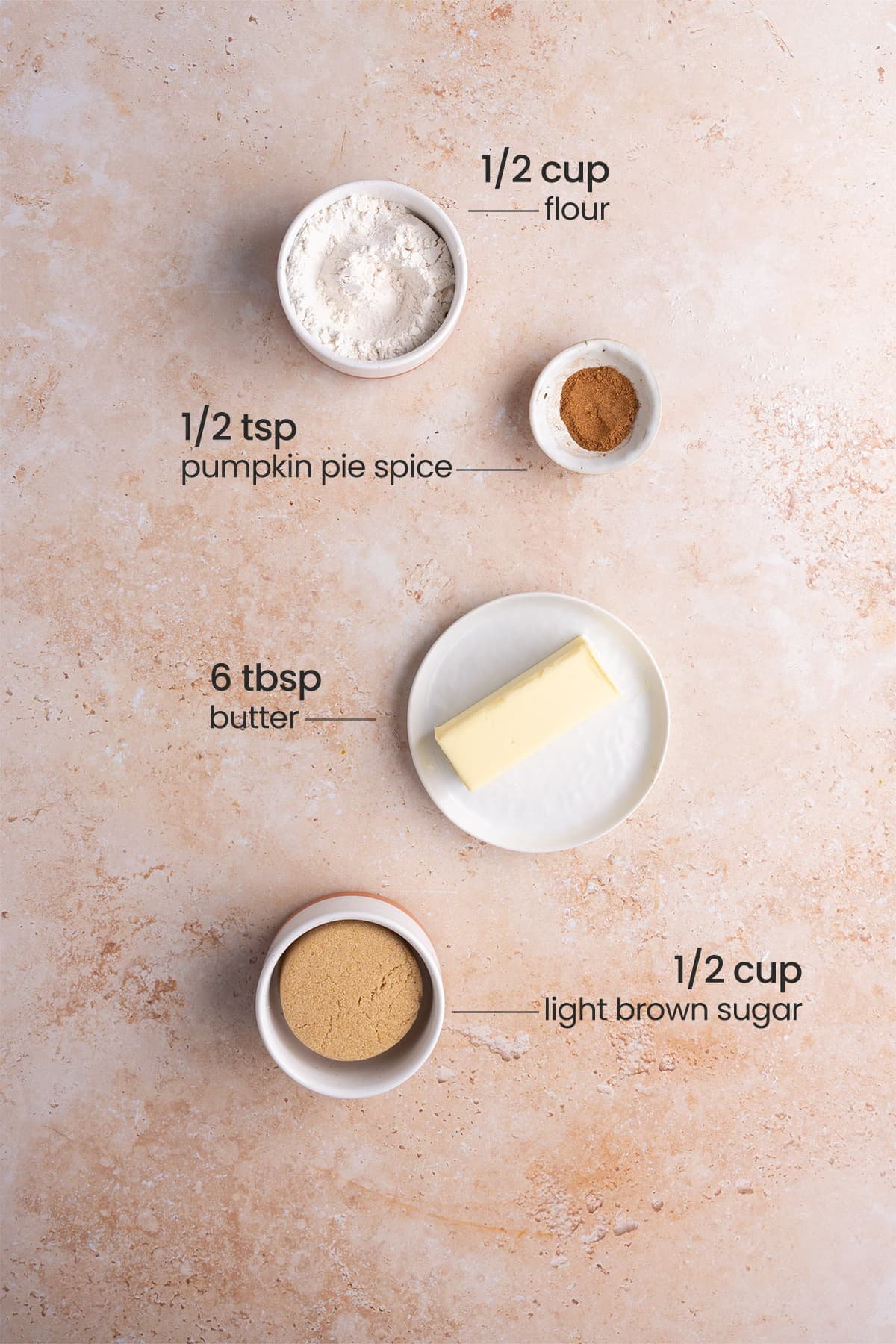 Banana Pumpkin Muffins Tips and Tricks
---
Always Use Ripened Bananas
When those bananas of yours start getting all ripe and juicy, their flavor goes from meh to amazing – sweeter and more intense, making them perfect for baking.
So, for the ultimate banana-infused muffins, you wanna use up those bananas that are rockin' those brown spots on their peel. Yeah, those ones that might look a bit too chill – they're actually the baking heroes.
They're bursting with flavor, plus they're all soft and mushy, perfect for mashing into that killer banana muffin batter.
But hey, don't panic if your bananas aren't quite there yet. We've got a trick to speed things up.
Toss those not-so-ripe bananas in the oven as it's warming up. Just let them hang out on a baking tray for about 3 to 7 minutes until the peel starts to turn black as pictured below.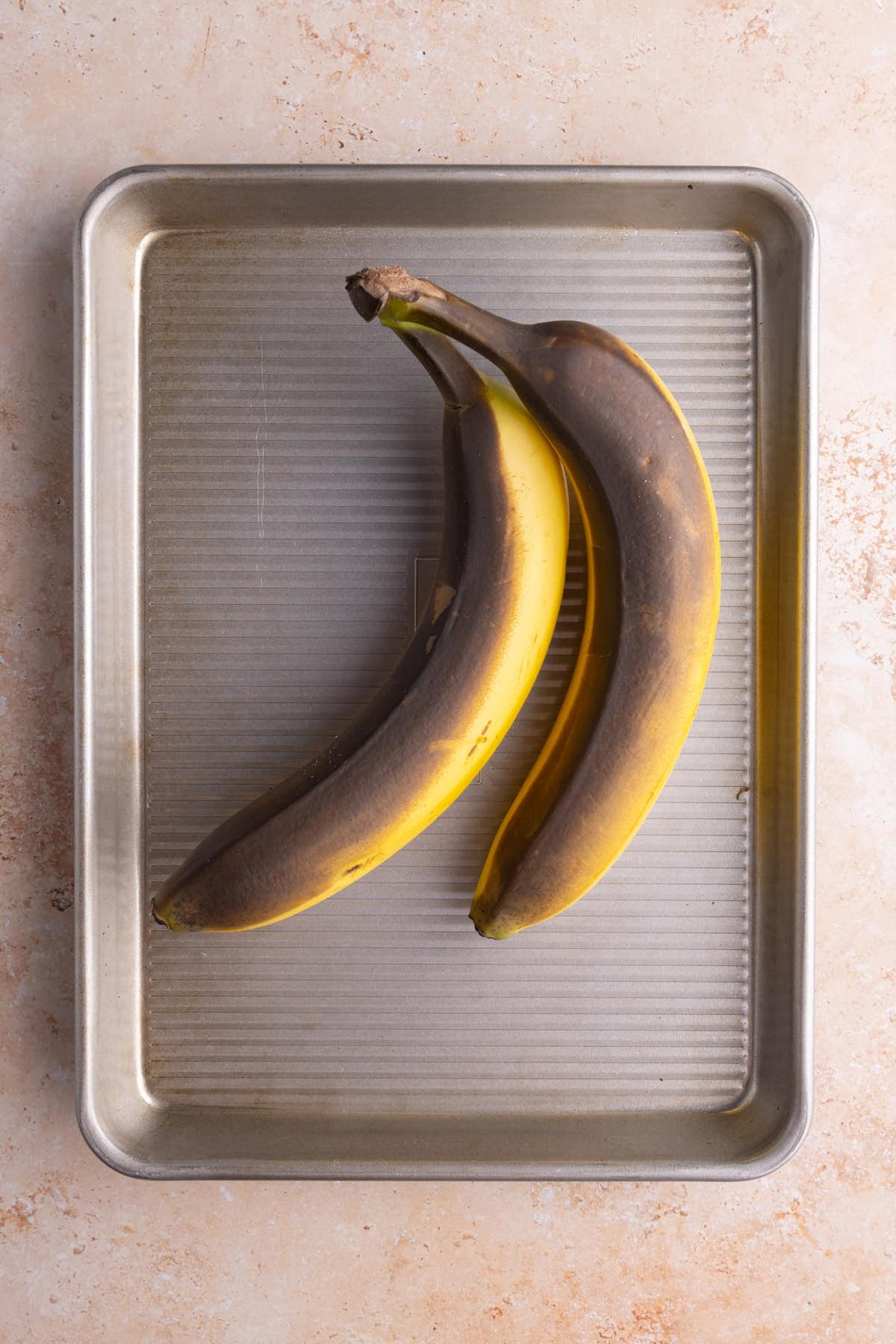 Prepping is Key for the Best Muffins!
The first step to a perfect execution of these banana-based muffins is properly prepping. Start by preheating your oven to 400°F and prepping your muffin tin.
Make sure to line or spray your muffin tin for easy removal. You can make your own muffin cups out of parchment paper, or, for a more sustainable option, consider reusable muffin liners!
Green tip: Consider these reusable muffin liners to reduce your kitchen waste!
Use a Fork to Mash Your Bananas
Alright, time to get this pumpkin-packed muffin party started! Once you've got everything lined up and your oven is doing its preheating, grab those bananas and let's make some magic.
Peel those bad boys and toss them into a roomy mixing bowl. Now, here's where the fun begins – since we're working with ripened (or even overripe) bananas, they should very easily mash from a little pressure with your fork.
Give them a good squish with that fork until they're all smushy and almost completely liquefied. And don't sweat it if there's a few lumps left behind – actually, it's totally cool (and even preferred) to leave some texture in the mix!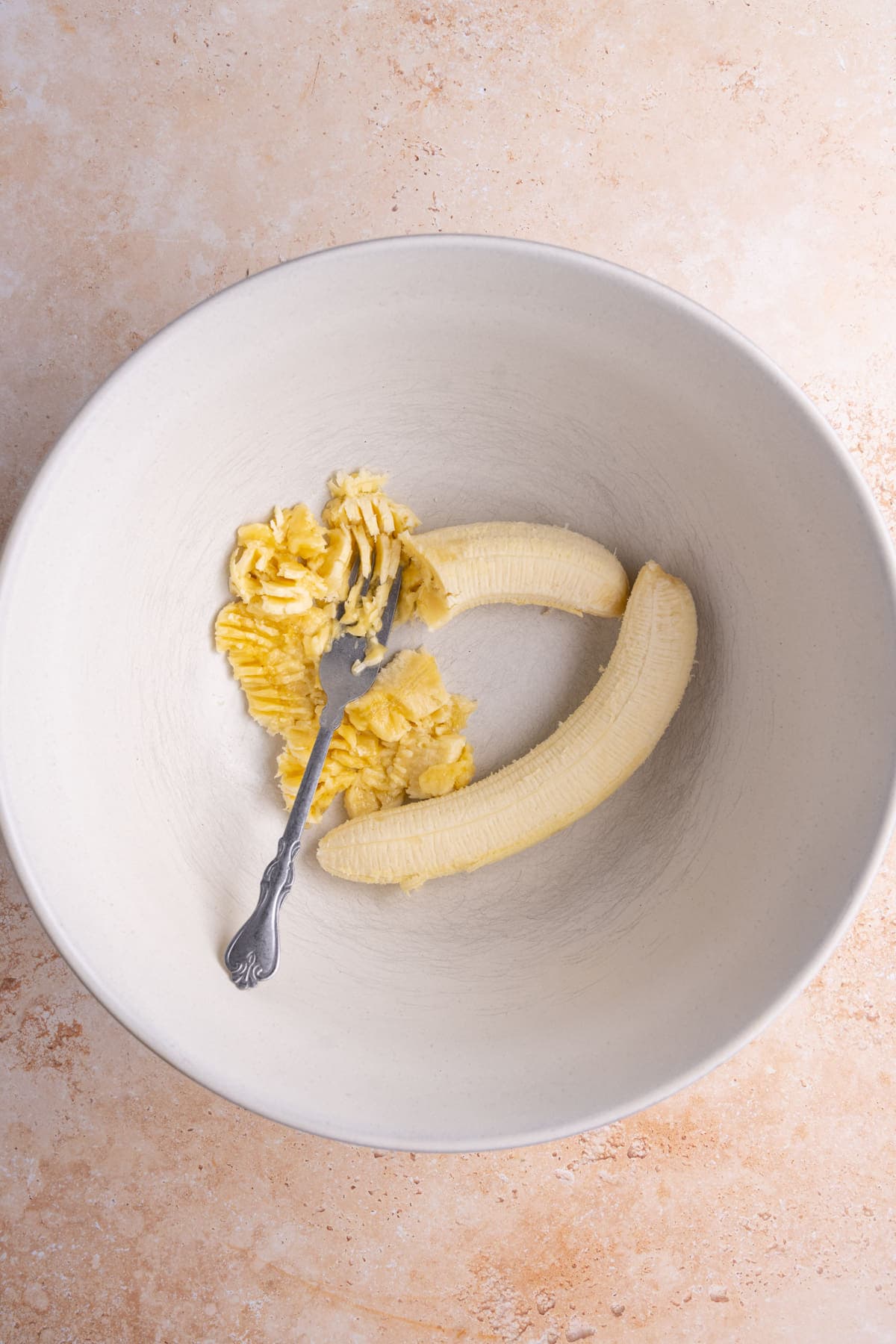 Make Sure Your Butter is Softened
Here's the deal: we need that butter to be perfectly softened, not too chilly and not too gooey.
The easiest way to soften the butter is to let it sit at room temperature for about 30-45 minutes. Allow it to do its thing and naturally get soft.
But, if patience isn't your thing or you're caught in a baking whirlwind, no worries! We've got a butter-softening express lane for you. Pop that butter stick in the microwave on high for around 15 seconds.
Check in on it – if it's still a bit too solid, hit it with 5-second rounds until it's just right.
And here's a nifty trick: the butter poking test! Give it a gentle poke – if your finger leaves a mark, you know your butter is softened!
And if the microwave's not your jam, no sweat. I've got more tricks up my sleeve. Check out this article on how to find butter softening success – it's a treasure trove of tips.
Green tip: Look for organic and palm oil-free butter if you can. Buying organic means you are supporting farms that do not use damaging pesticides and fertilizers, and palm oil production is a huge driver behind deforestation.
Add the Pumpkin, Butter, Vanilla, and Both Sugars
Once you've got that butter in its softened glory, it's time for the next step. Mix that butter into the mashed banana, along with the pumpkin puree, vanilla extract, and both the granulated and brown sugar.
Imagine it like a gathering of old pals – the butter adds its smooth charm, bananas bring that familiar comfort, pumpkin steps in with its unique flair, vanilla's like the friendly neighbor who spices things up, and those sugars? Well, they're the buddies who make sure everyone's having a good time.
Use that fork or a whisk to combine it all together. It may not be perfectly smooth, as you'll see little chunks of banana in there, but make sure everything is nicely distributed.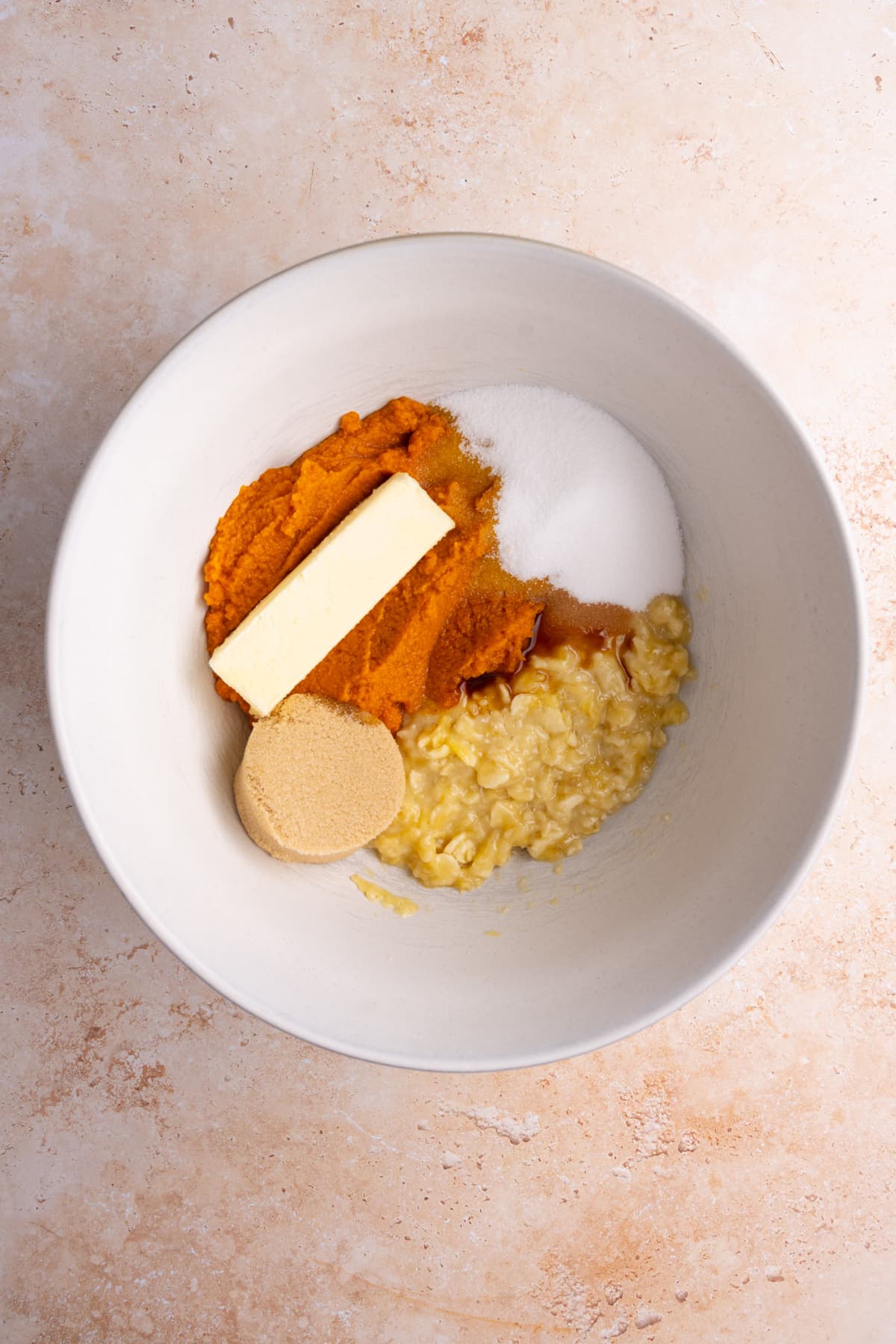 Add the Dry Ingredients Next
Now it's time for your dry ingredients! Grab that flour, baking soda, a pinch of salt, and a dash of pumpkin pie spice – these guys are your flavor heroes.
If you don't have pumpkin pie spice on hand, you can easily make your own, or use a substitute. Check out my article on every pumpkin pie spice substitute to help you work with what you have!
Once you dump the dry ingredients, grab that fork or whisk again. Give everything a good mix-up, making no clumps of flour or baking soda remain.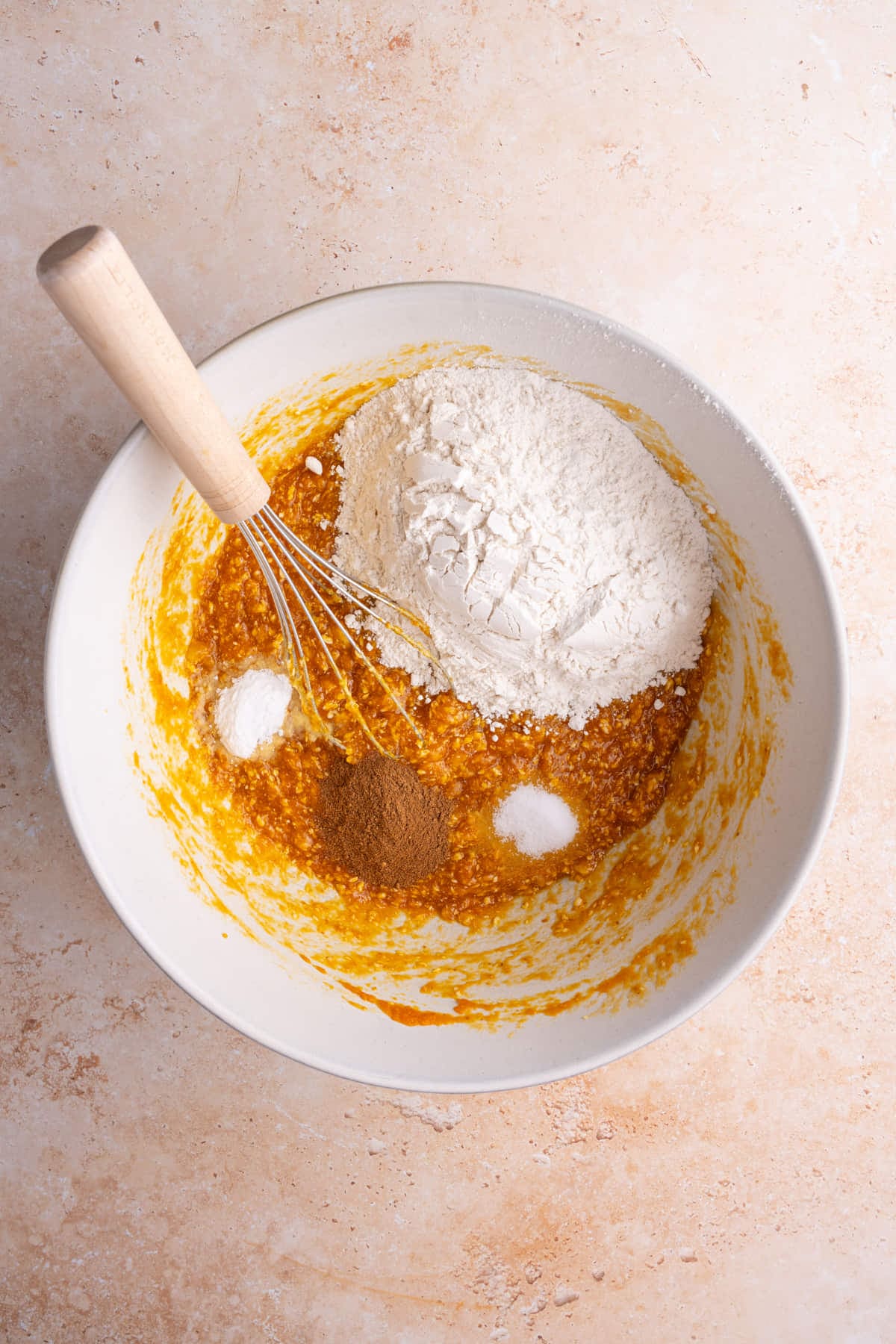 Thin The Muffin Batter Out with Milk
The last step to getting that perfect pumpkin banana muffin batter is thinning it out with some milk.
You can use any dairy milk from skim to whole, or any variety of plant-based milk, so long as it is unsweetened (and preferably unflavored, though vanilla works, here!).
Add the milk and use the fork or whisk one last time to integrate it into the batter to thin it out.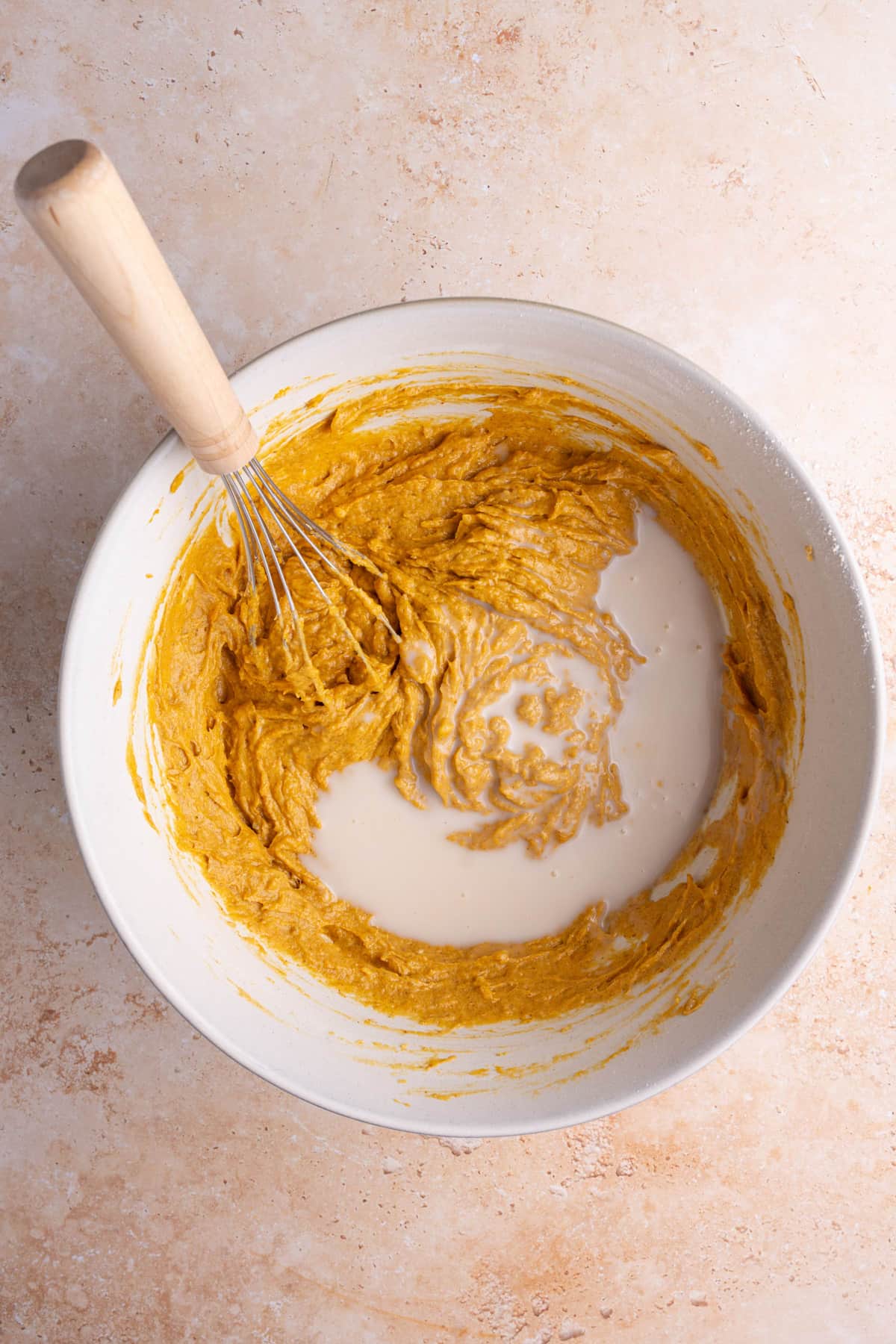 Add the Batter to Your Muffin Tin
Time to talk muffin filling strategy! These little delights will do a bit of rising, so make sure to give those muffin cups a little room on top.
We're looking for about 1/2-inch buffer, so fill your muffin cups about 3/4 of the way. You can pour, use a spoon, or use my favorite technique for the most even-muffins with little mess — add the muffin batter using a large cookie scoop.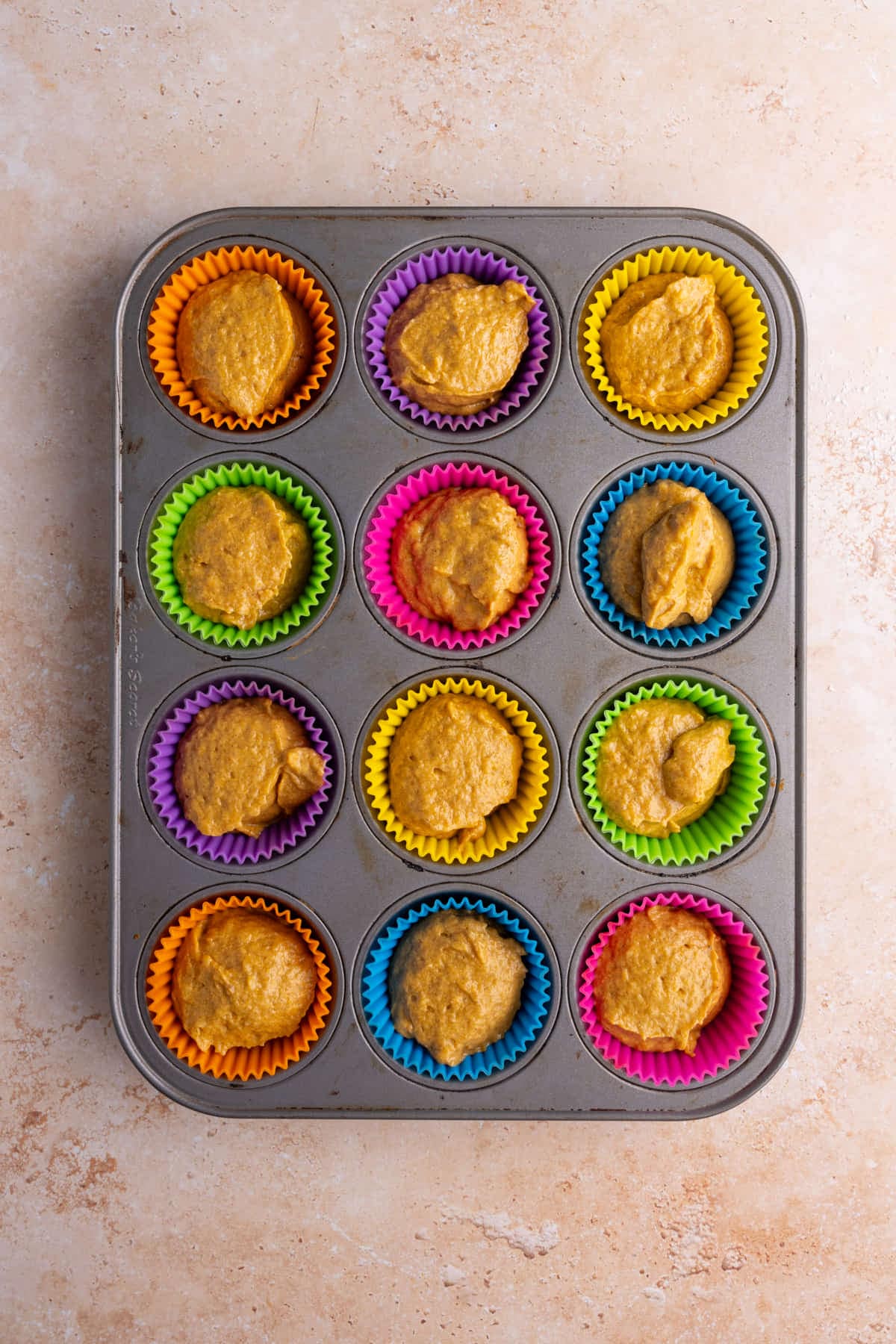 How to Make a Delicious Muffin Crumble Top
---
The Butter Should Be Just Slightly Melted
The consistency of the butter is the key to getting this crumble right. If the butter is too solid or too melted, it simply won't work.
So, don't worry, I'm going to hold your hand through this! We're going to use the microwave to get the butter just right, mostly because it's the easiest and quickest way, but also because we can have complete control over the timing and intervals.
Of course, you can use the stovetop if you don't like using the microwave, but it's a little easier to over-melt it this way, as the pot stays hot even when you remove it from heat. Just make sure you watch it very closely.
But if you're using the microwave like me, it's super simple. Add the butter to a microwave-safe bowl and heat it in 5-scond intervals. Check the butter every time in between and stop heating as soon as you see any melted butter in the bowl.
This will give you butter that is somewhere in between softened and liquefied, which is the ONLY way to make this crumble.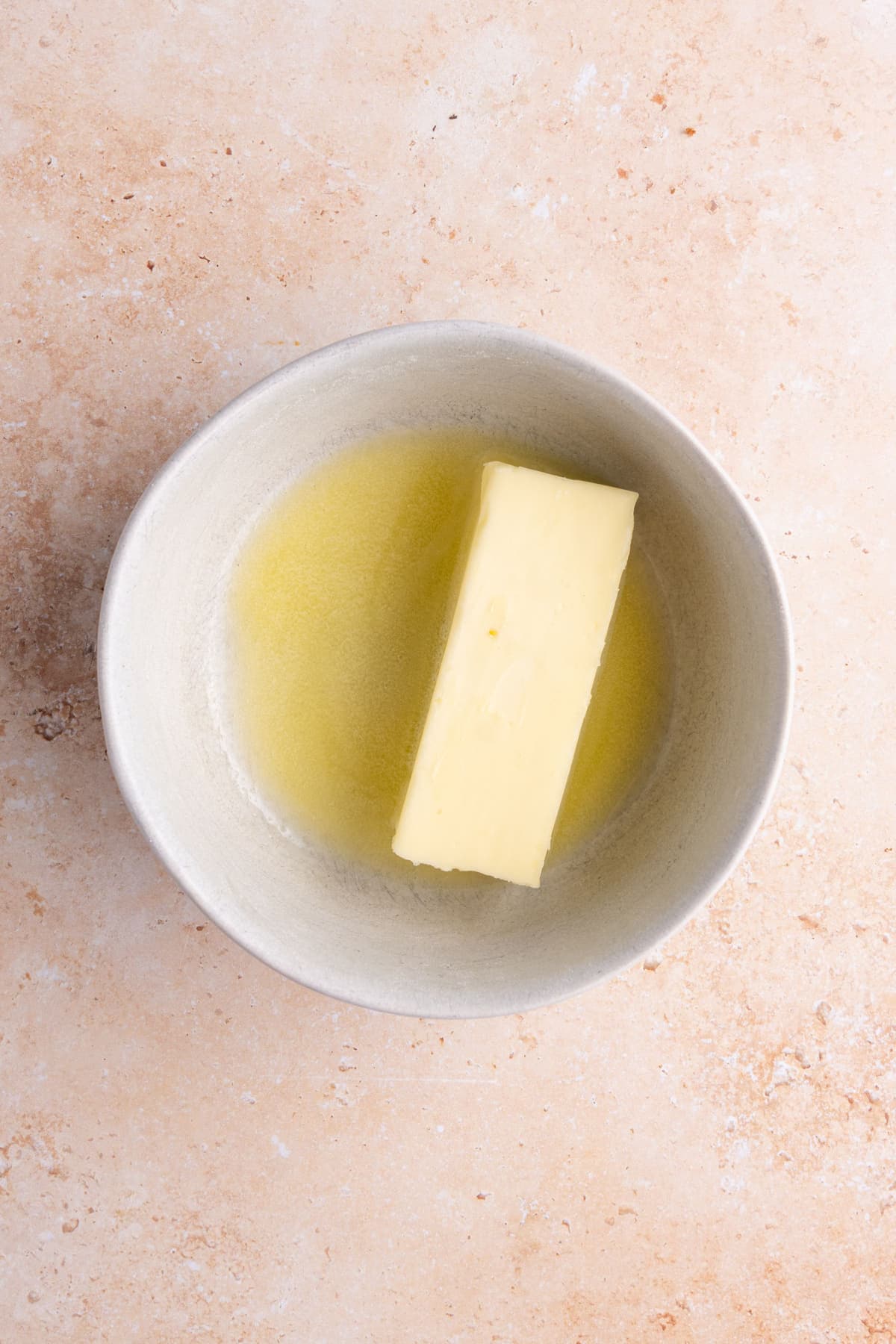 Mix Together the Muffin Crumble Top Dry Ingredients
To a mixing bowl, add the flour, brown sugar, and pumpkin pie spice. Use your trusty fork or whisk to combine these three ingredients until there are absolutely no lumps.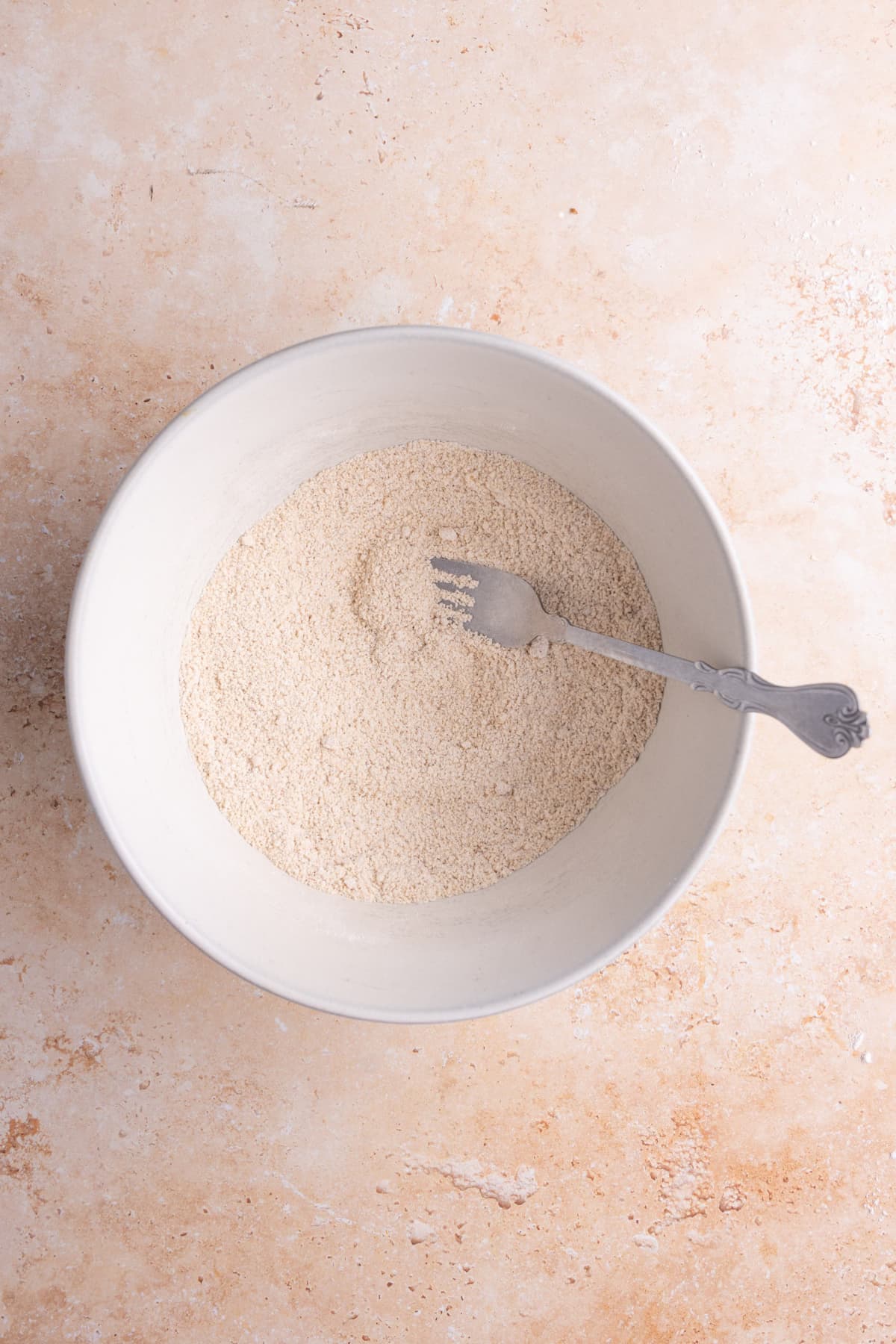 Slowly Add the Butter Until You Get that Perfect Crumble
Once your butter is just the right consistency, slowly add it to the flour, sugar, and pumpkin pie spice mixture. Use your fork to whisk as you add the butter about 1 tablespoon at a time.
Continue to slowly add the butter and whisk, until you have a nice crumbly texture. You may not need to use all 6 tablespoons of butter, so just continue to monitor the texture of the crumble as you add the butter.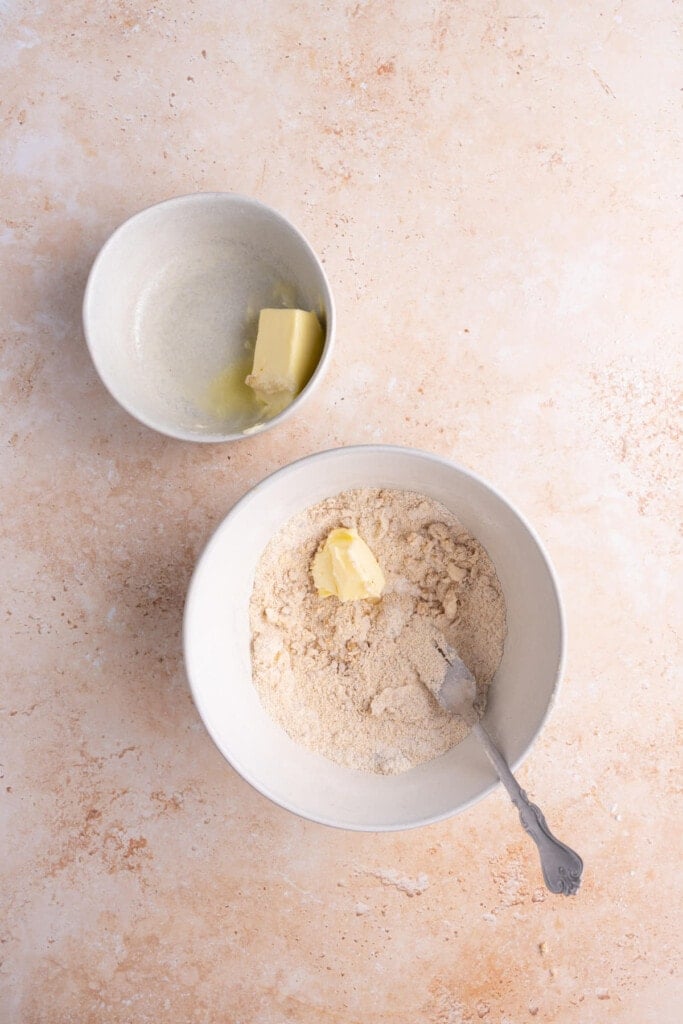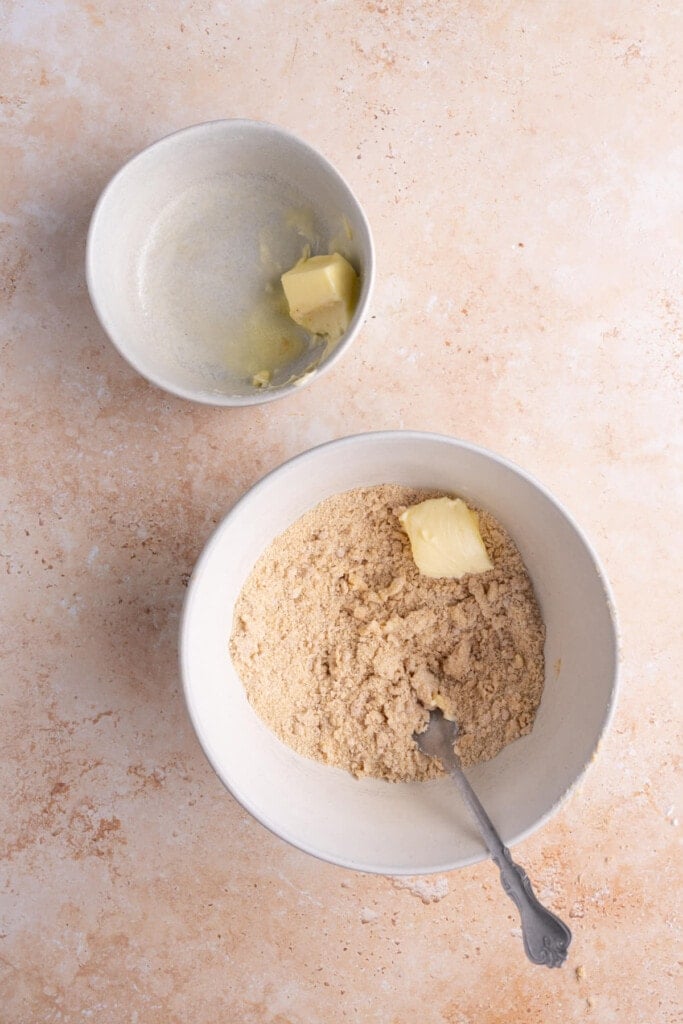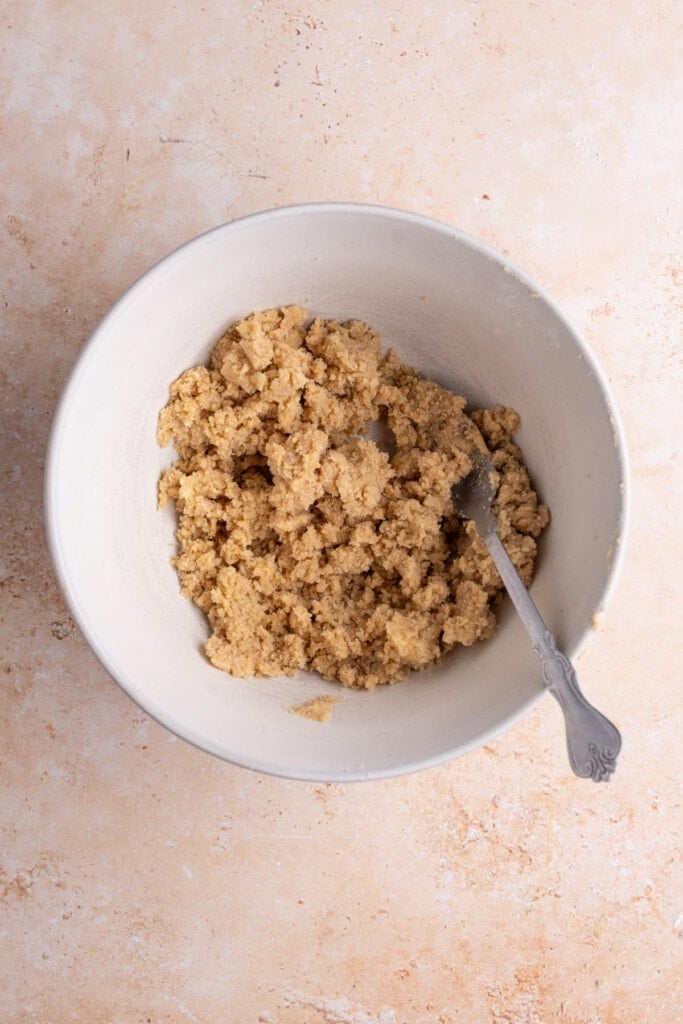 Add the Crumble Mixture on Top
Use about 1 tablespoon of the crumble mixture to top each muffin, layering it right on top of your batter.
This just gives a little extra crunch and flavor to each muffin.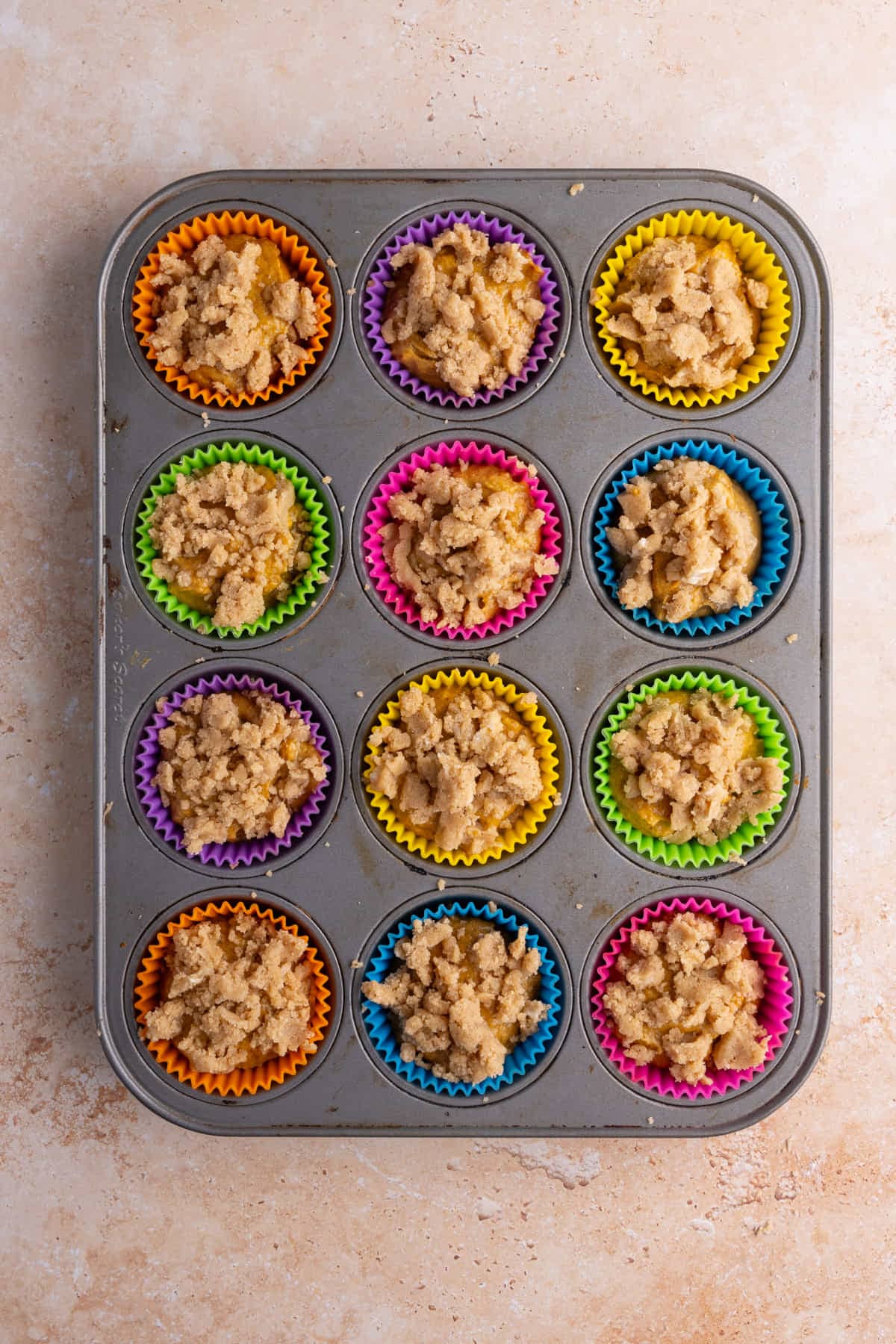 How to Perfectly Bake Your Banana Pumpkin Muffins
Now, all there is left to do is bake them! Place them on the top rack of your preheated oven, baking for about 30-35 minutes, until the top is nice and firm (and crumbly!) and a toothpick comes out clean.
These muffins are ultra-moist, so you may get some moisture on the toothpick, but you shouldn't see any raw batter when you poke on into the center of the muffin.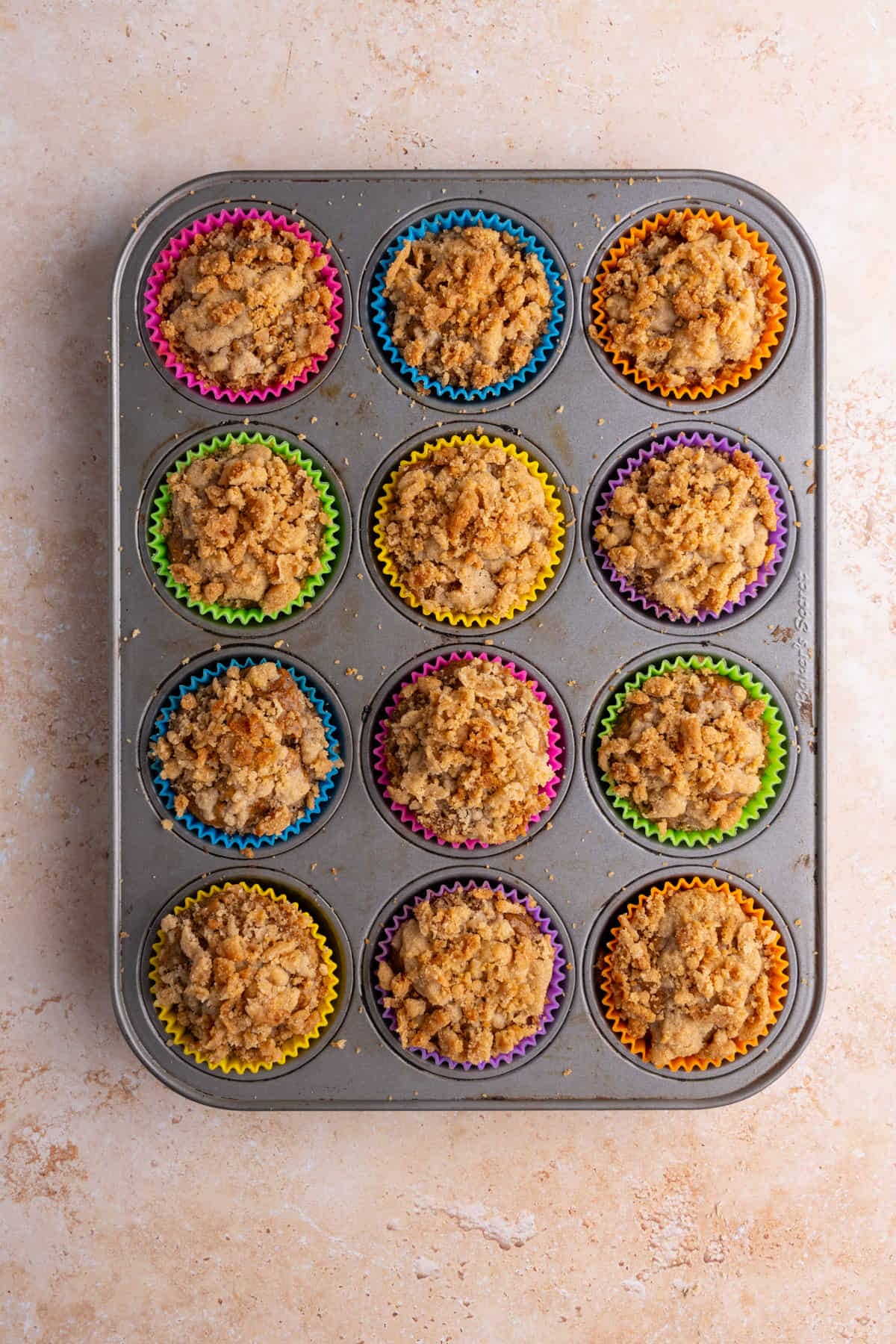 How to Properly Store Banana Pumpkin Muffins
These banana pumpkin muffins should be covered or stored in an airtight container to keep them fresh longest. They will stay fresh at room temperature for 3-4 days before they start to dry out.
You can store them in the refrigerator to get an extra 3-4 days out of them or if you like to enjoy them cold.
You can also opt to freeze these muffins for up to 6 months. Just allow them to thaw out before biting into one.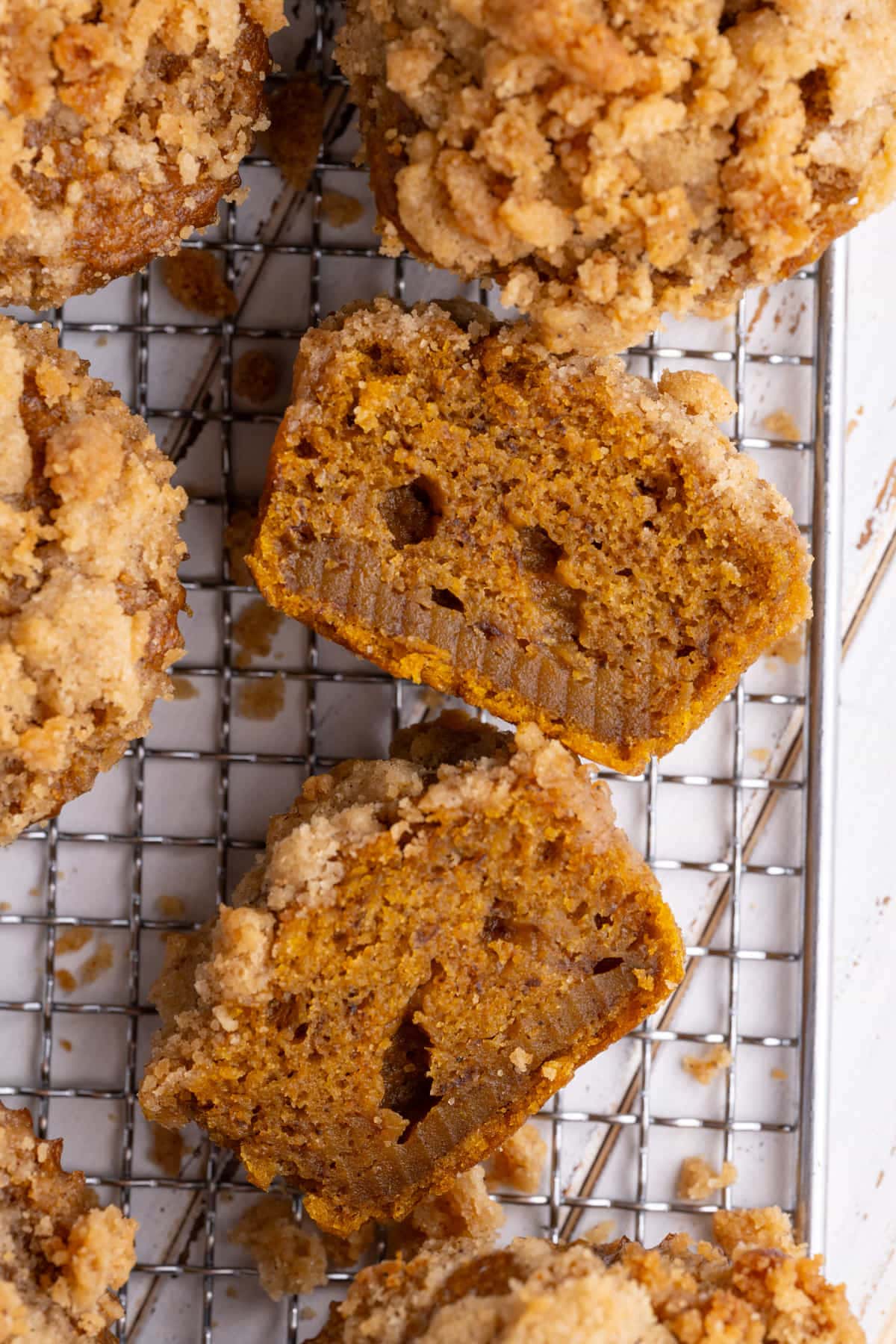 Pumpkin Banana Muffins Frequently Asked Questions
---
Can you substitute bananas for eggs in muffins?
A lot of muffin recipes contain eggs to add moisture, bind the muffins together, and assist in rising. Both bananas and pumpkins are great replacements for eggs in muffins for those same functions.
Because these muffins contain both bananas and pumpkin puree, eggs aren't necessary.
Want to sharpen your kitchen skills?
Why You Should Make these Moist Pumpkin Banana Muffins with Crumble Top
---
The texture. These are ultra moist with a crunch on top from the crumble top.
The flavors. Real pumpkin and banana bring tons of flavor to your muffins.
They're packed with nutrients! The use of real pumpkin and banana not only infuses tons of flavor and locks in moisture, it also adds a lot of nutrients.
If you're loving these Pumpkin Banana Muffins and want more delicious muffin recipes, check out these Blueberry Chocolate Chip Muffins and Pistachio Muffins!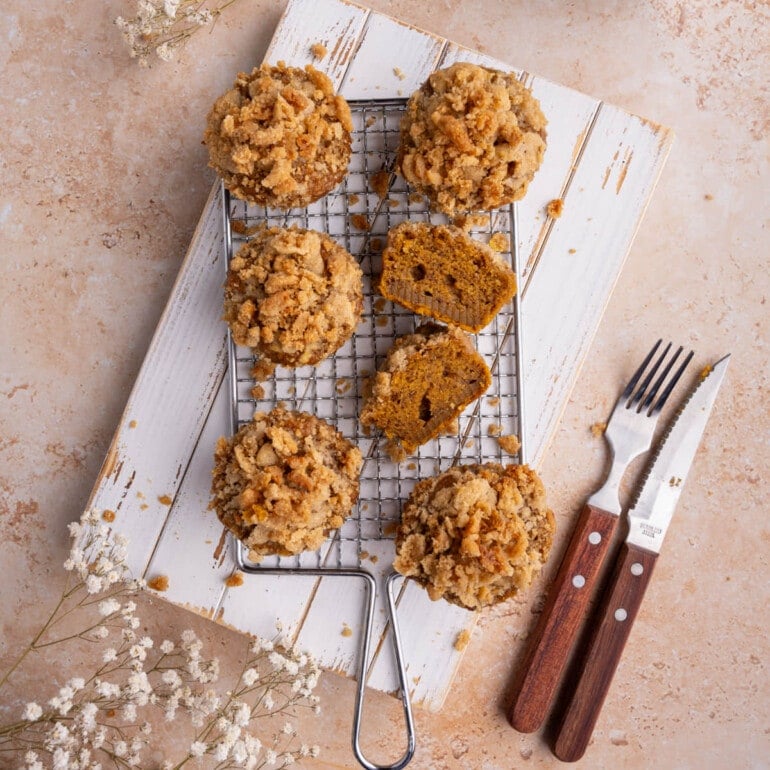 Moist Pumpkin Banana Muffins with Crumble Top
PRINT
PIN
RATE
Savor the delightful blend of real pumpkin and banana in every bite of these moist Pumpkin Banana Muffins, crowned with a delectably crumbly topping.
Ingredients
Pumpkin Banana Muffins
2

large

overripe bananas

15

ounces

pumpkin puree

(15 oz = 1 can)

½

cup

softened unsalted butter

(½ cup = 1 stick)

1

teaspoon

vanilla extract

½

cup

granulated sugar

½

cup

light brown sugar

2

cups

all-purpose flour

1

teaspoon

baking soda

1

teaspoon

salt

2

teaspoons

pumpkin pie spice

½

cup

milk

(dairy or unsweetened plant-based)
Optional Crumble Top
½

cup

all-purpose flour

½

cup

light brown sugar

½

teaspoon

pumpkin pie spice

6

tablespoons

unsalted butter
Instructions
Moist Banana Pumpkin Muffins
Preheat your oven to 400°F and line or spray your muffin tin.

Peel your bananas and add them to a large mixing bowl. Use a fork to mash the banana, until completely broken down.

Add your pumpkin puree, butter, vanilla extract, and both sugars to the bowl with your mashed bananas. Use a whisk or hand mixer to combine until mostly smooth (a couple of larger pieces of banana is okay!).

Add flour, baking soda, salt, and pumpkin pie spice and again use your whisk or hand mixer to combine until there are no lumps of powder present.

Lastly, add the milk and whisk to combine to thin out your batter until it's smooth (again, some banana chunks are okay!).

Fill your muffin cups with batter, almost all the way to the top, leaving only about 1/2-inch of space.

Add crumble topping (optional, recipe below) and bake for 30-35 minutes until toothpick comes out clean.
Crumble Muffin Top (Optional)
Use the microwave to slightly melt your butter, heating in 5-second intervals and checking in between. It's important that the butter has JUST started to melt as pictured, rather than it being completely melted. This shouldn't take any longer than 20-seconds total.

In a small mixing bowl, use a fork or whisk to combine the flour, sugar, and pumpkin pie spice.

Slowly add the butter, 1 tablespoon at a time, using the fork or whisk to stir in between until you reach a crumbly consistency (you may not need all 6 tablespoons).

Place about 1 tablespoon of the crumble mixture on top of each raw muffin before baking.
Pro Tips
The crumble top is optional, but highly encouraged for a little contrast in texture and an added aroma and sweetness to each bite!
Bananas for bananas? Hate waste? You'll love this collection of the best ripened banana recipes!
And if you're craving more pumpkin, you gotta carve your way across to my Favorite Pumpkin Recipes!
Need more muffins to fill your basket? Check out the selection of my best muffin recipes for every type of diet and occasion!
Did you make this recipe?
Let me know by leaving a recipe rating below, or by tagging @marleysmenu on Instagram.