Need a snack but can't choose between salty and sweet? These Peanut Butter Chocolate Chip Muffins are the perfect balance of both!
Moist, nutty, salty, sweet, and chocolatey all at once, these muffins are delicious any time of day. Plus, these little guys are dangerously quick and easy to make—the best thing to whip up on a whim!
Peanut butter and chocolate is such a classic combination, and definitely one of my favorite flavor profiles (see these Peanut Butter Rice Krispie Treats dipped in chocolate)!
The addition of peanut butter to your chocolate chip muffins gives them a nutty, salty taste that just cant be beat!
Peanut Butter Chocolate Chip Muffins Tips and Tricks
---
---
Gather Your Ingredients First
This recipe is super flexible, with leniency on the milk and oil you choose to use, and the option to substitute a flax egg. I do, however, suggest using creamy peanut butter rather than crunchy.
Any peanut butter will do! If you're using natural peanut butter, give it a good stir first, as it tends to separate from the oil. You can also opt to make your own peanut butter.
Here's everything you need:
Don't Forget to Line or Grease
The last thing you want is to make this tempting batter, pour them into the tin, smell their deliciousness wafting from the oven, wait anxiously for them to cool and then NOT be able to remove them!
Always grease your muffin tin completely with butter, oil, or nonstick spray. You could also opt for muffin tin liners!
Green tip: To reduce your waste, consider a reusable oil sprayer! You can refill it over and over with your oil of choice instead of buying spray oil in single-use aerosol containers.
Cream Your Peanut Butter, Oil, and Sugar Together
Creaming your fat (in this case peanut butter and coconut oil) and the sugar together doesn't just combine these ingredients together, it actually aerates them.
Adding these air pockets is a super-effective way to get a lighter, fluffier muffin.
Add Your Dry Ingredients and Then Your Wet
No more science here, it just makes it easier to stir. As a busy mom and sustainability advocate, I'm all for one-bowl baking recipes. Less clean-up simply means you save on both time and water.
But in order to mix everything effectively with no lumps, it's best to do so with some methodology.
Once your peanut butter, oil, and sugar are creamed together, add all your dry ingredients and use a whisk to turn your mixture a couple of times, ensuring to whisk away any lumps of flour or sugar.
Then add your milk, vanilla extract, and egg, and use a whisk or your hand mixer to combine until smooth before adding your chocolate chips.
Fold Your Chocolate Chips In Last
The key is not to overbeat your egg, so once you integrate it into your batter, you'll just want to lightly fold your chocolate chips in.
You can easily do so with a spatula or a spoon, turning gently a few times until the chocolate chips are roughly evenly dispersed.
Fill Your Muffin Tin
These muffins don't get too much of a rise, so you can fill them almost to the top. I like to reserve some chocolate chips to add to the top once my batter is snug in the tin.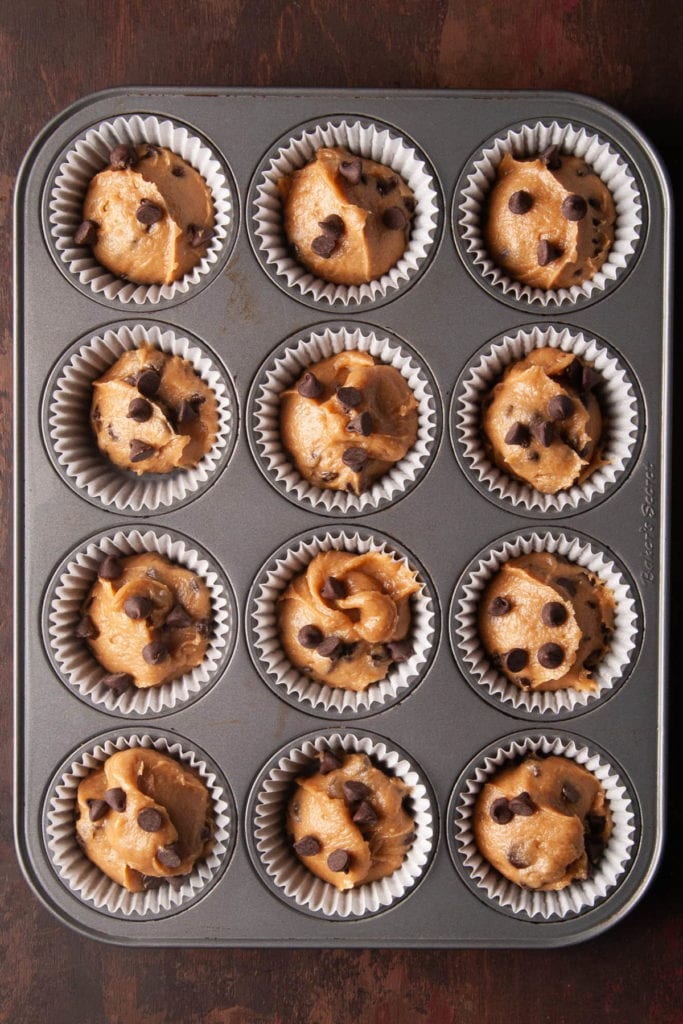 Bake and Cool
It's important to do your toothpick test when you take these out of the oven. If the muffins are undercooked in the center they will sink down.
Check your muffins after 20 minutes by removing them from the oven and sticking a toothpick right in the center. If the toothpick comes out with any batter on it, you know your muffins need more time in the oven.
Try another 2 minutes and if they're still not quite done, 2 more. I actually like when mine get a little golden brown on top because it adds to the depth of flavor, but overcooking the muffins will make them dry, so watch closely!
Storing Your Muffins
These muffins will stay delicious for 2 days covered at room temperature or about a week covered in the refrigerator.
If you want to freeze some for later, put them in an airtight container and store them in the freezer for up to 3 months. Just allow them to thaw naturally before enjoying.
You can also store your batter for up to 3 months in the refrigerator, using a large spoon or cookie scoop to transfer the frozen dough into your muffin tin. Add 2-3 minutes to your baking time and voila! Freshly baked muffins!
Green tip: It is estimated that 50% of food waste happens at home. Properly storing and then consuming leftovers will help you lessen your personal contribution to food waste!
Tested Substitutions
My favorite thing about this recipe is it's not at all finicky. It's my go-to when I want to whip something up real quick to satisfy my chocolate or peanut butter cravings. Yes, I get them often. It's just so versatile and non-fussy (why hello one-bowl baking, I'm back again!).
You can get away with using any oil. I usually use coconut oil because it is always in my pantry, but canola, vegetable, and olive oil work, too. Just make sure to avoid robust or flavored oils—they'll take away from the peanut buttery flavor!
You can also replace any nut butter for peanut butter in this recipe. Cashew and almond butter have a more subtle taste, but are all great alternatives for this recipe!
For a more hearty muffin, substitute 3/4 cup whole wheat flour for the 1 cup of all-purpose flour.
Making these vegan is a great way to reduce your dairy consumption and lower your ecological footprint.
Just use any unsweetened non-dairy milk and a flax egg in place of a chicken's egg. It works perfectly as a binder and still gives you a moist muffin!
Why You Should Make These Peanut Butter Chocolate Chip Muffins
---
---
They're balanced. The perfect mix of salty and sweet.
They're not fussy. Just one bowl and no fancy specitaly ingredients.
They're quick. Ready in just about 30 minutes for decadent snacking in a hurry.
If you're loving these peanut butter chocolate chip muffins and are looking for more delicious muffin recipes, check out these Blueberry Banana Oatmeal Muffins and One-Bowl Chocolate Chip Muffins.
Peanut Butter Chocolate Chip Muffins
PRINT
PIN
RATE
These quick and easy Peanut Butter Chocolate Chip Muffins are the perfect snack to whip up in 30 minutes and in just one bowl!
Ingredients
¾

cup

granulated sugar

¾

cup

creamy peanut butter

¼

cup

coconut oil, in solid form

1

cup

all-purpose flour

2

teaspoons

baking powder

½

teaspoon

salt

½

cup

milk

(cows or non-dairy)

1

teaspoon

vanilla extract

1

large

egg

(or flax egg for vegan)

1

pinch

sea salt to top

(optional)

1

cup

chocolate chips

(semi-semi or dark)
Instructions
Preheat your oven to 400°F and line your muffin tin.

In a large mixing bowl, cream your peanut butter, coconut oil, and sugar together with a hand mixer on low until combined.

Add the flour, baking powder, and salt and stir a couple of times with your hand mixer or a whisk, just to ensure there are no lumps in your batter.

Add the milk, vanilla extract, and egg, and use your hand mixer to combine until smooth.

Fold in 3/4 cup of the chocolate chips, reserving the rest to sprinkle on top.

Use a spoon or cookie scoop to add batter to your lined muffin tin, filling each cup almost all the way. Sprinkle on the remaining chocolate chips.

Bake on the top rack for 20-24 minutes, until a toothpick comes out clean.

Remove them from the oven and add a pinch of sea salt (optional).
Pro Tips
Need more muffins to fill your basket? Check out the selection of my best muffin recipes

for every type of diet and occasion

!
Did you make this recipe?
Let me know by leaving a recipe rating below, or by tagging @marleysmenu on Instagram.