Looking to uplevel your desserts, treats and beverages with a touch of airy velvety texture and fresh peppermint? This 3-Ingredient Peppermint Whipped Cream will take your culinary creations to new heights!
Think perfectly pillowy subtly sweet homemade whipped cream with just a touch of peppermint that's the perfect touch to elevate pancakes, cakes, coffees, and hot chocolate.
In this recipe, you will learn my best tips for making homemade whipped cream at home and how to use peppermint extract to infuse the perfect amount of peppermint flavor to it. Plus, you'll be given serving ideas (this is the perfect topping for Peppermint Hot Chocolate). and storage instructions.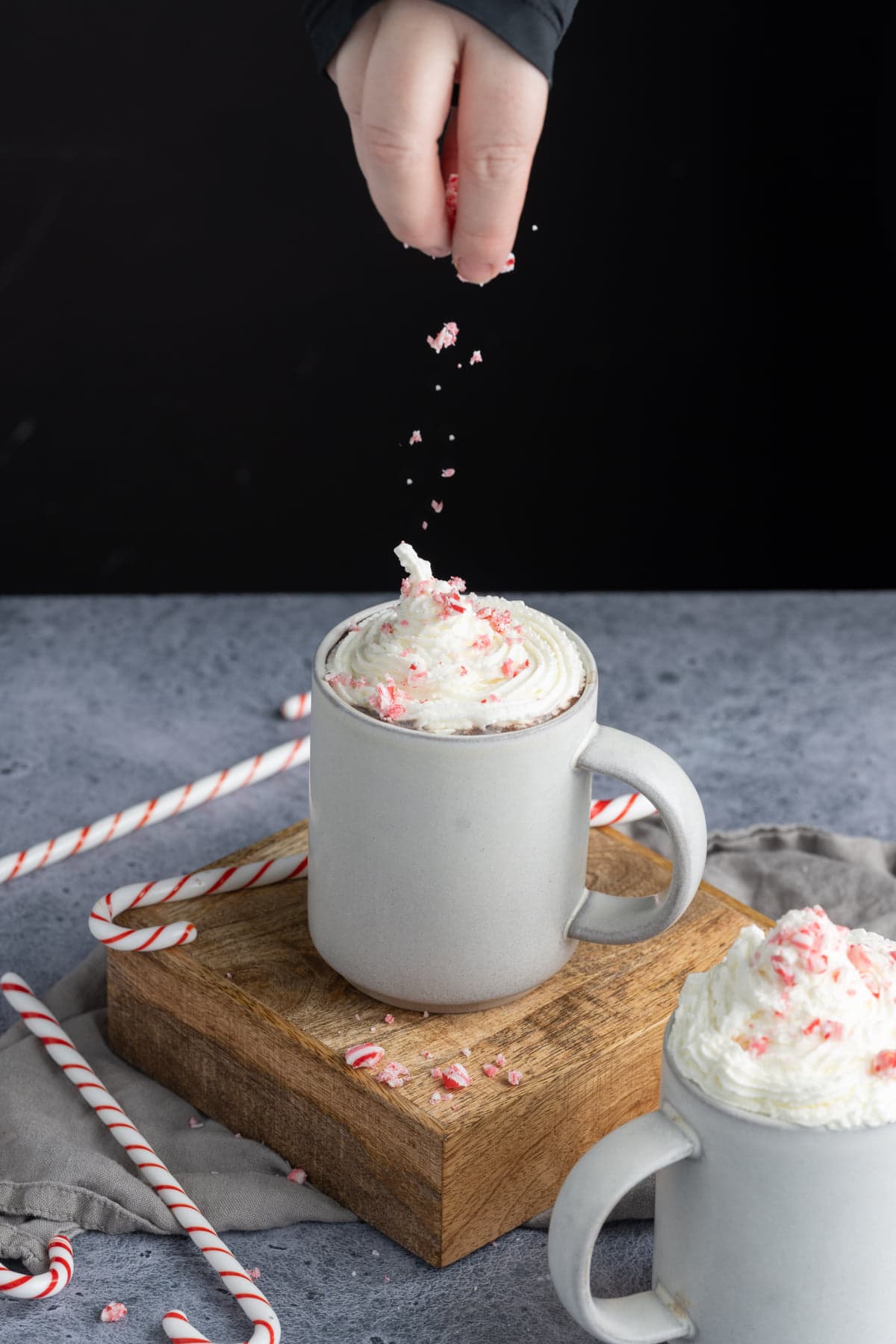 As an environmental scientist, I try to think about sustainability in the kitchen as small changes that can make a bigger impact over time. For something like whipped cream, I like to think about how I can minimize my impact while still indulging in my cravings.
When it comes to whipped cream, homemade is the way to go! It's free from preservatives and helps you avoid waste with those pesky aerosol cans.
Green tip: Food preservatives, like pesticides, are harmful to the environment. They contain toxins that are harmful to plants, animals, and soil. Homemade food with all-natural ingredients that allows you to avoid preservatives lowers your ecological footprint.
Peppermint Whipped Cream Ingredients
---
Here's everything you need:
Heavy whipping cream. The base of any delicious homemade whipped cream! Your cream should be cold for quicker whipping.
Powdered sugar. Aka icing sugar or confectioners' sugar. This adds sweetness and helps to stabilize the whipped cream.
Peppermint extract. Just a small amount will go a long way to infuse peppermint flavor to your cream.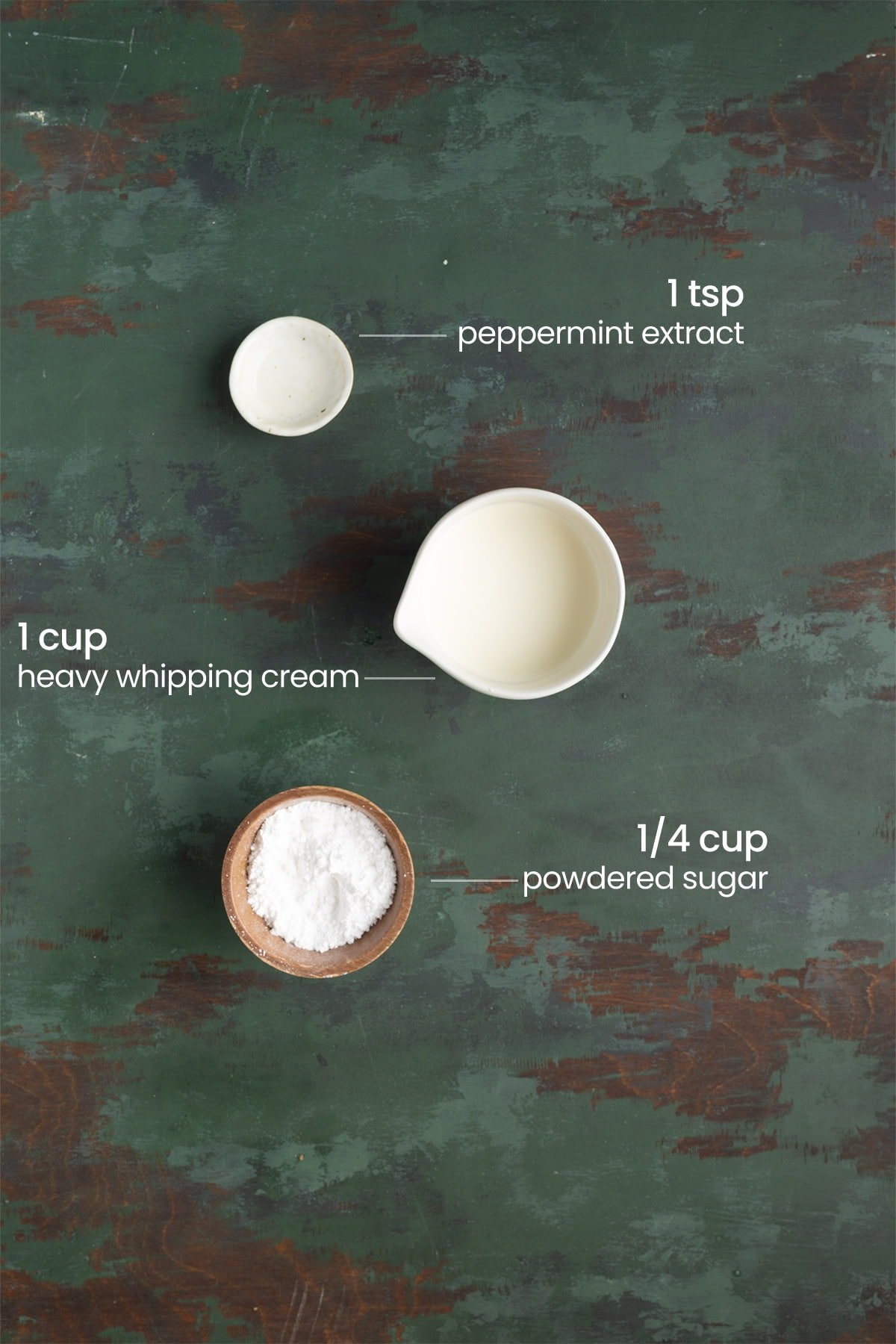 Peppermint Whipped Cream Tips and Tricks
---
Make Your Whipped Cream in Metal, Glass, or Ceramic
Ideally, you will use a stainless steel or metal bowl to whip your cream in! This is because it will keep the cream cold as you whip it, which will thicken it quicker.
If you don't have a metal bowl, a glass bowl or ceramic bowl will absolutely work, too! It may just take a little bit longer. There is one caveat to metal to look out for: copper! Always avoid copper and plastic bowls while you are making homemade whipped cream.
Quick tip: Avoid copper and plastic mixing bowls while making homemade whipped cream as they can cause a chemical reaction that inhibits your cream from thickening.
While making whipped cream in a plastic bowl is not impossible, it makes it a lot harder on you and takes a long time. As for copper, the same chemical reaction that makes copper bowls ideal for whipping egg whites, actually inhibits the whipping of your heavy cream.
Avoid copper altogether for this and every homemade whipped cream recipe. It's also imperative that your heavy cream is cold!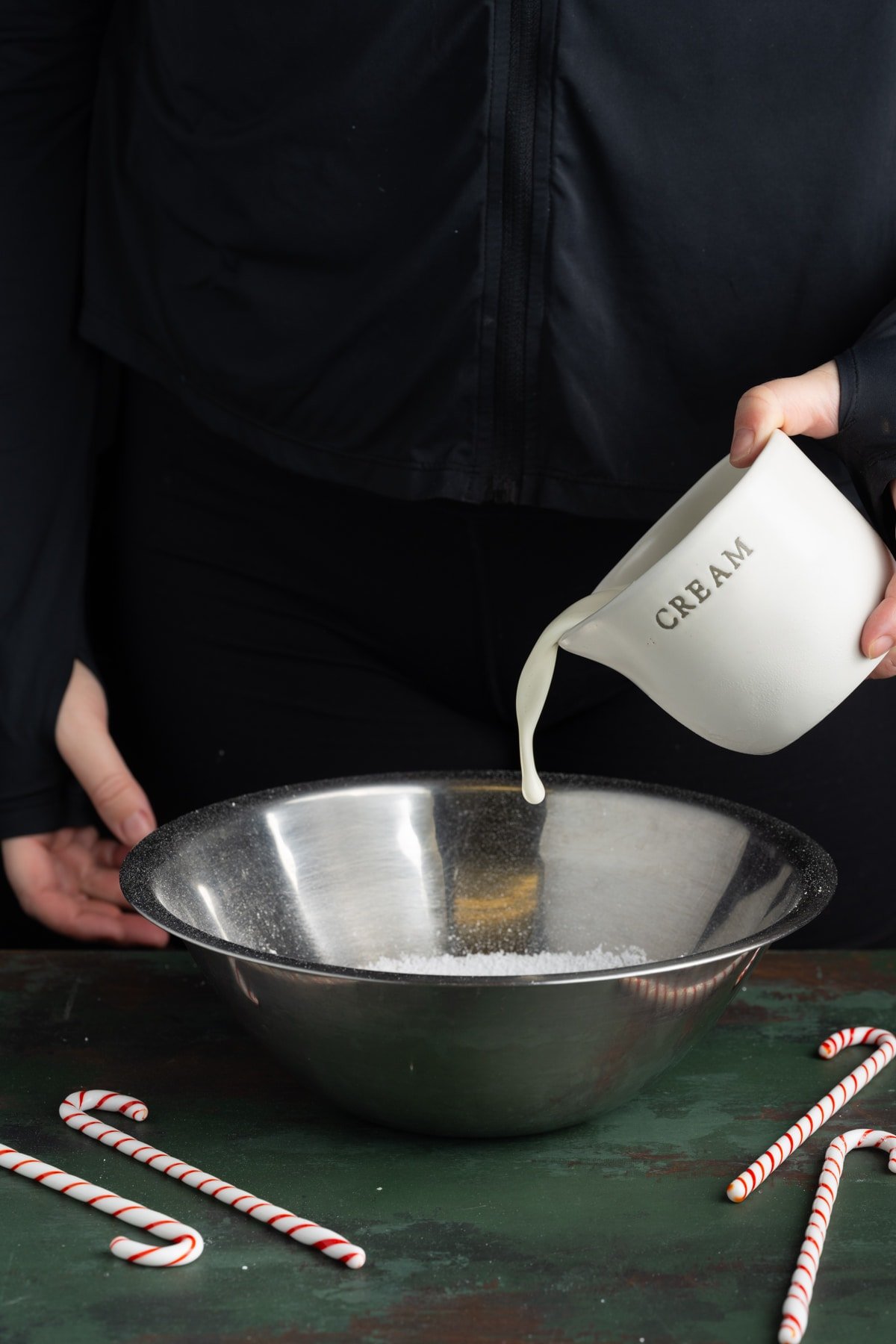 Sift Your Powdered Sugar
The best way to ensure you have a silky smooth homemade whipped cream with no lumps or clumps is sifting your powdered sugar.
You can use a sifter or a mesh sieve to sift the powdered sugar directly into the bowl with the heavy cream.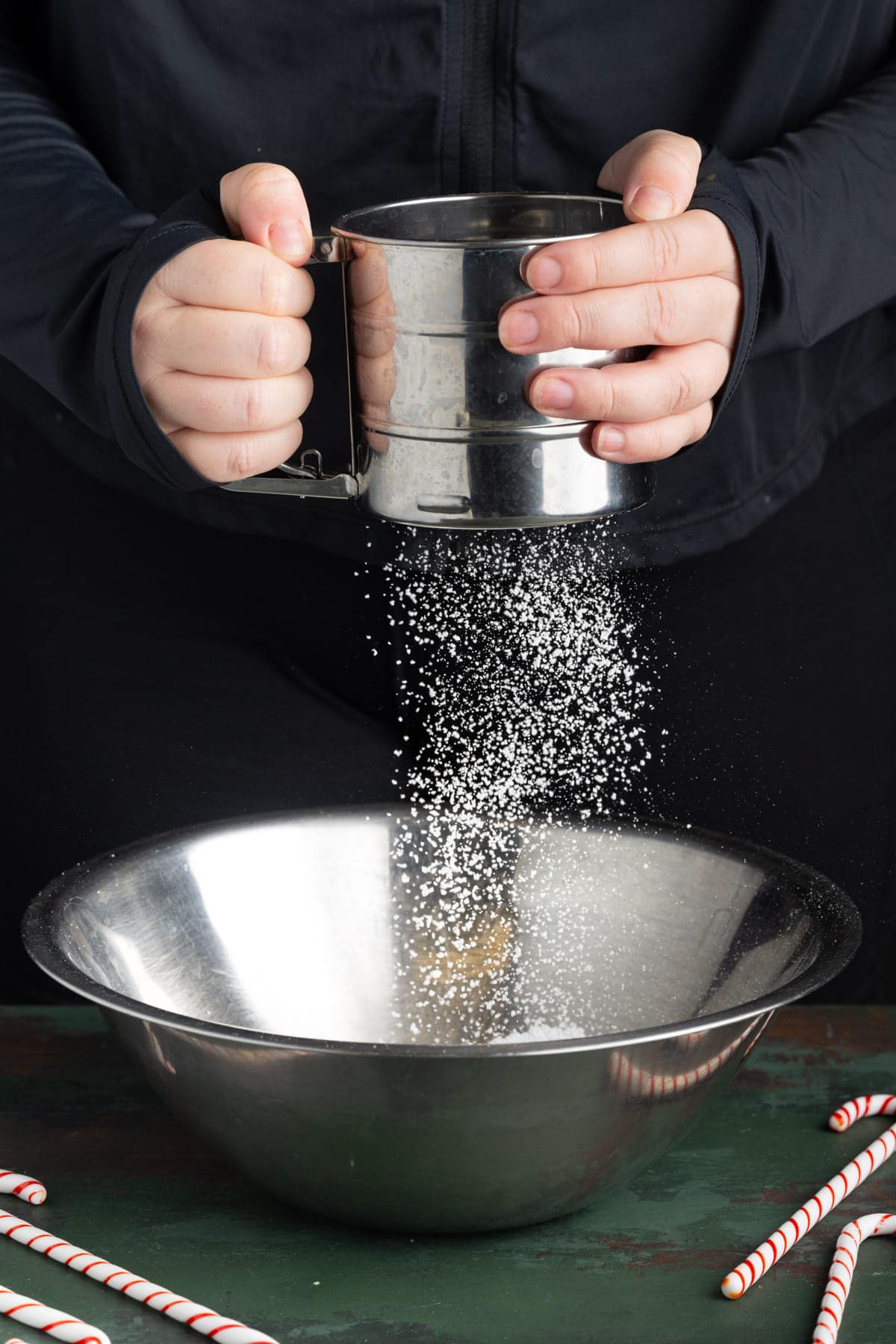 Getting the Right Amount of Peppermint
The amount of peppermint you add to your whipped cream will depend on a couple of factors.
First, your personal preference and taste. This is something only you can decide for yourself!
Second, it depends on what you are serving it with!
If you're serving it with something that's already peppermint-y like this Chocolate Mint Pie, you may want just a hint of peppermint and not it to be too overboard.
In this case, you may just want to add 1/2 teaspoon of peppermint extract.
If you're serving it with something that you want to add a stronger hit of peppermint to, you will likely want to add one whole teaspoon peppermint extract.
My advice is to start with 1/2 teaspoon peppermint extract before whipping your cream. Then, taste it, and you can always add more. You shouldn't need more than 1 teaspoon total.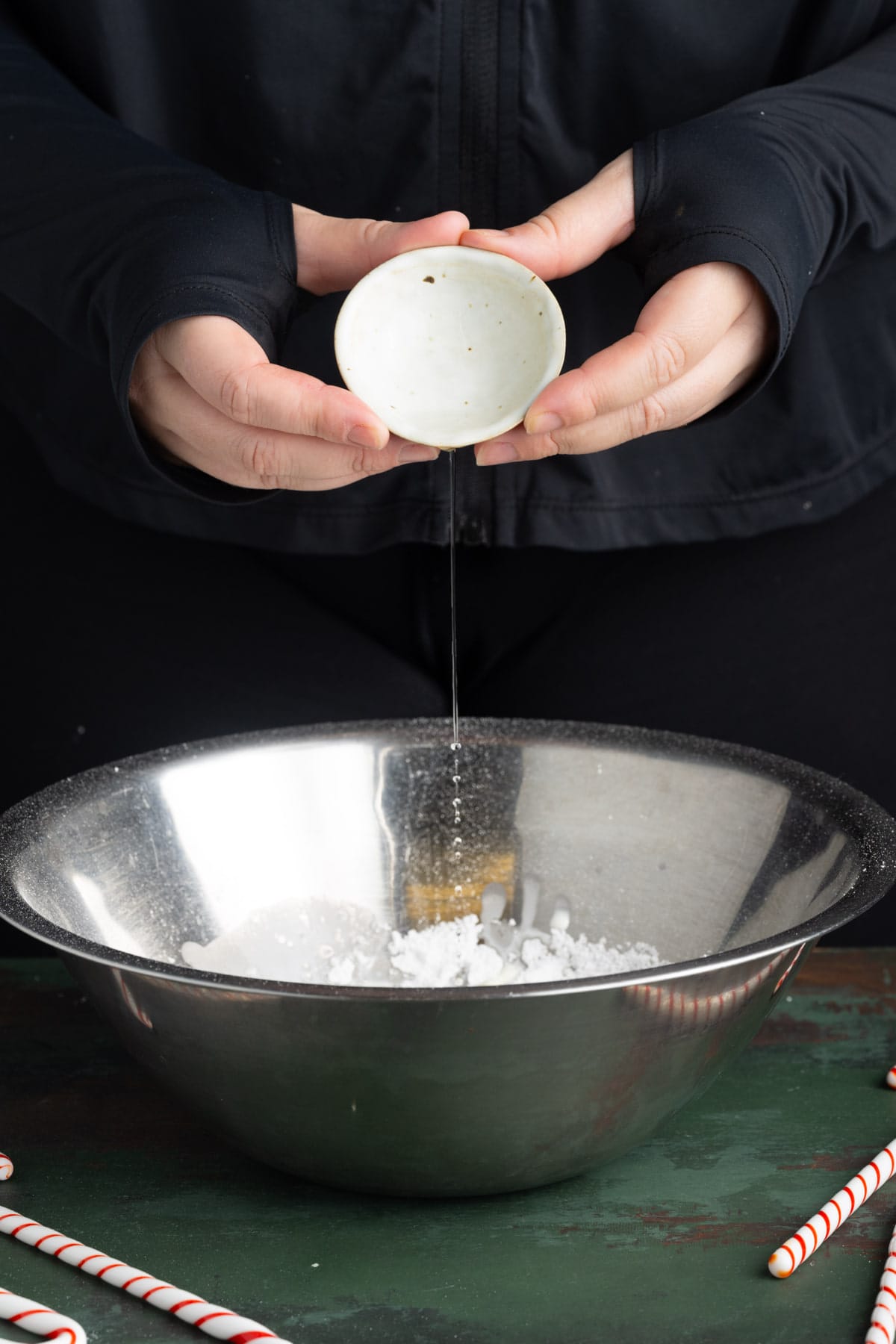 How to Whip Heavy Cream into Whipped Cream
Once you've added the heavy cream, powdered sugar, and peppermint extract to your bowl, it's time to whip it up! You can use a hand mixer or a stand mixer to do so. You can even hand-whisk it, though this will take quite a while (and a lot of muscle power!).
My preference is a hand mixer, as you can have a little more control and monitor it more closely and stop whipping quickly once stiff peaks form. You actually can over-whip it, so stopping at the right time is key.
It usually takes around 3-4 minutes. You'll know it's ready when it starts to take on volume. Your mixer will also leave little ripple trails in the cream and if you scoop some up with your whisk, it should stay on it as pictured below.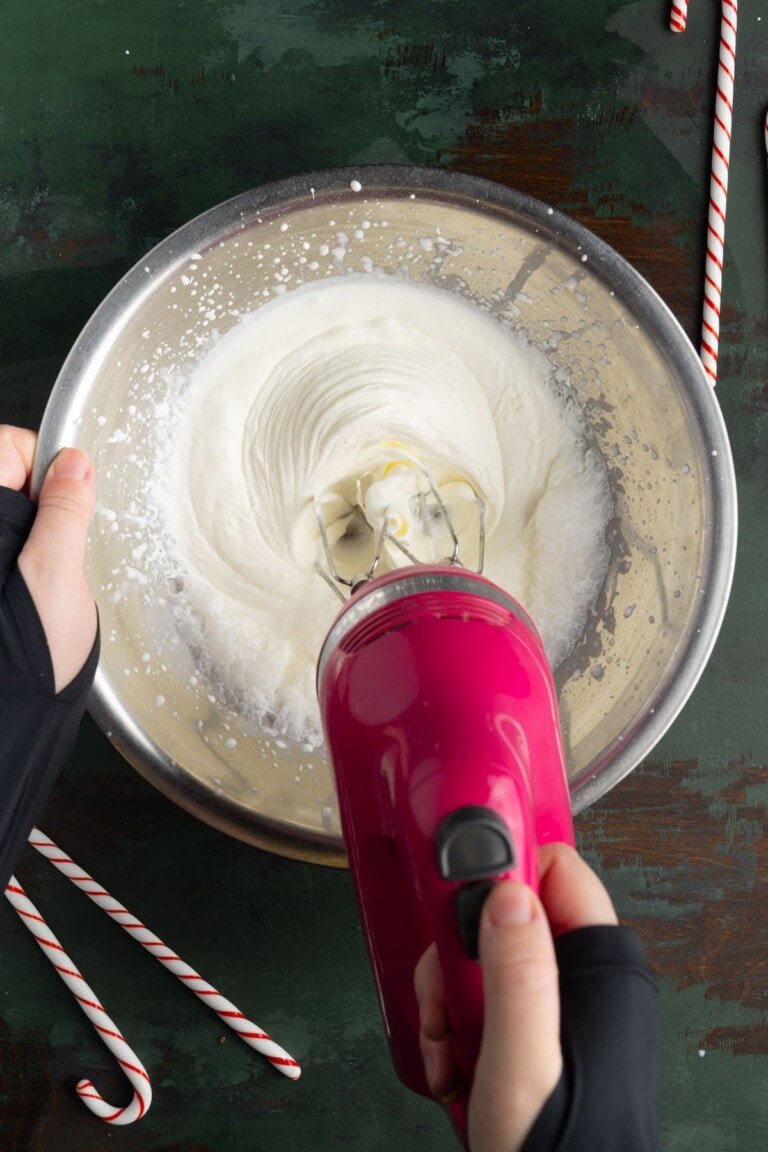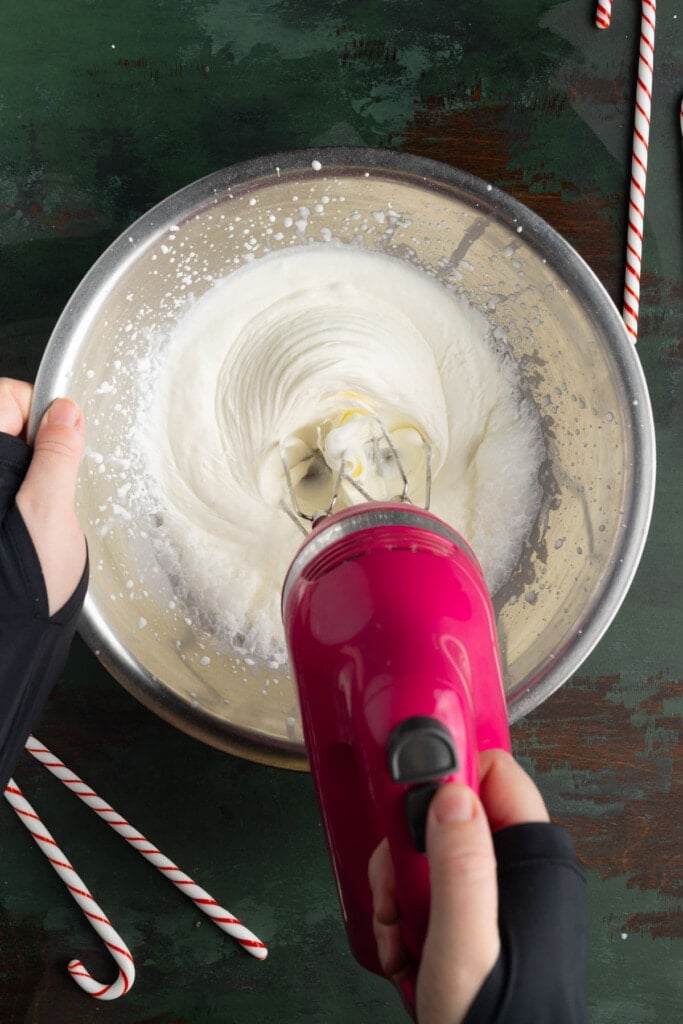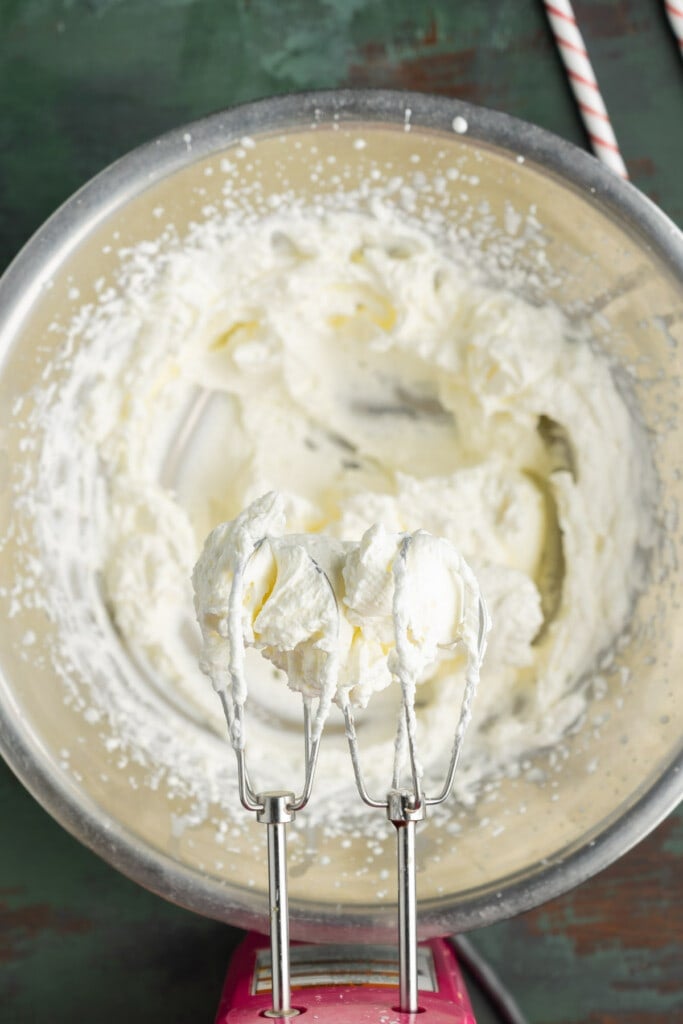 Peppermint Whipped Cream Serving Ideas
Honestly this Peppermint Whipped Cream is delicious on its own with a spoon, but here are some of my favorite things to serve it up with: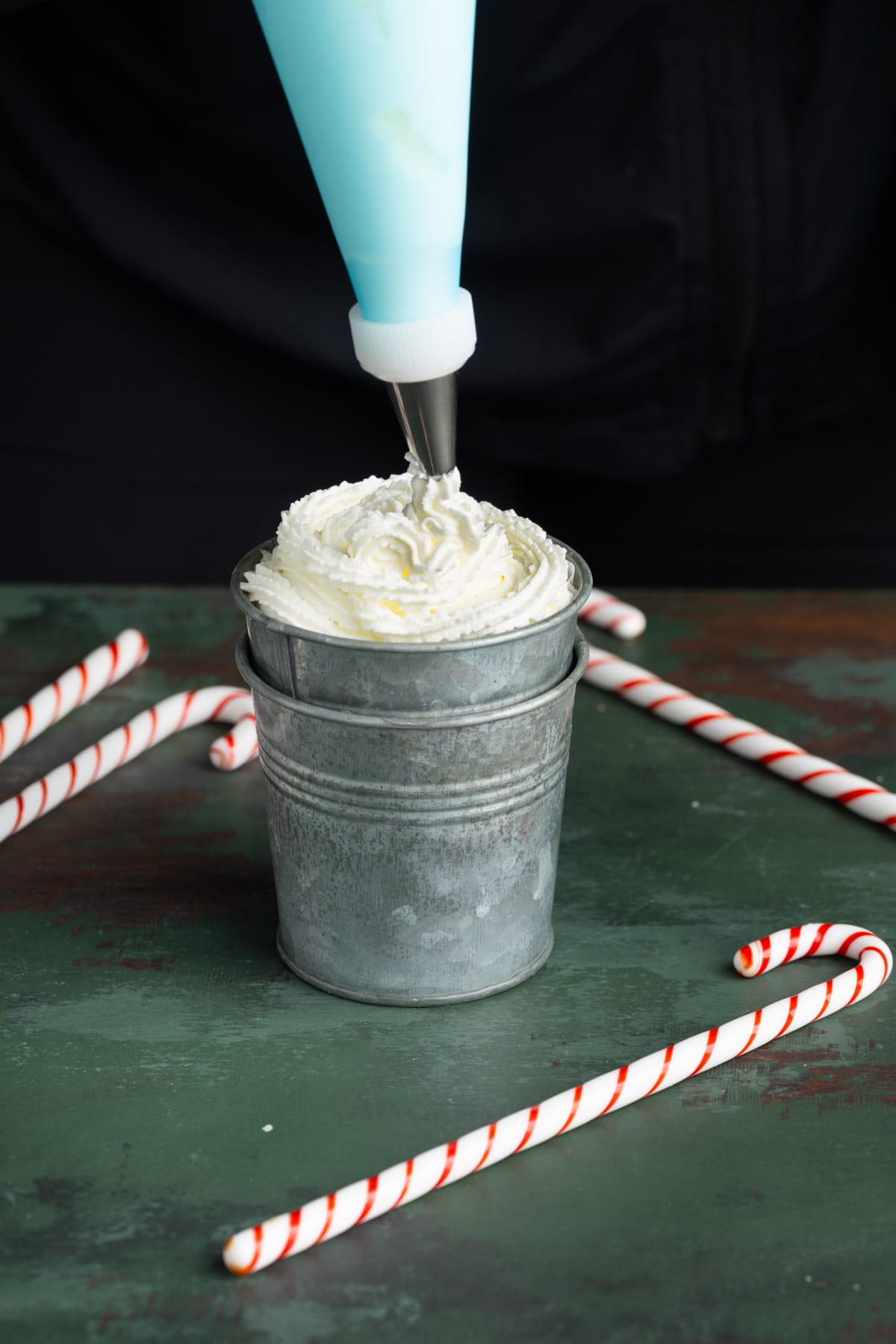 How to Properly Store Homemade Whipped Cream
Leftover homemade whipped cream will last for 5-7 days in the refrigerator stored in an airtight container. It can also be frozen for up to 3 months.
Freezing the whipped cream is great for making it last longer, but it's also a really nice way to make it a little firmer for serving it with hot desserts or hot drinks.
Green tip: Of the billions of tons of food wasted annually, 50% of food waste happens at home. Reduce your contribution to food waste by properly storing and consuming leftovers.
Whipped Cream with Peppermint Frequently Asked Questions
---
What does cornstarch do to whipped cream?
Cornstarch is often used to stabilize whipped cream, but is not always necessary, especially when you are using powdered sugar. Commercial powdered sugar often contains cornstarch already, and too much cornstarch can add a gritty texture to your whipped cream.
Want to sharpen your kitchen skills?
Why You Should Make this 3-Ingredient Peppermint Whipped Cream
---
It's easy! Just throw everything in a bowl and whip it up! Less than 10 minutes and you're done!
It's simple. Only 3 ingredients required and no added preservatives.
It's customizable. Get the perfect amount of peppermint to suit your taste and to mesh with what you are serving it with!
If you're loving 3-Ingredient Peppermint Whipped Cream and want more peppermint treats, check out these Candy Cane Shortbread Cookies and Chocolate Peppermint Christmas Tree Cookies.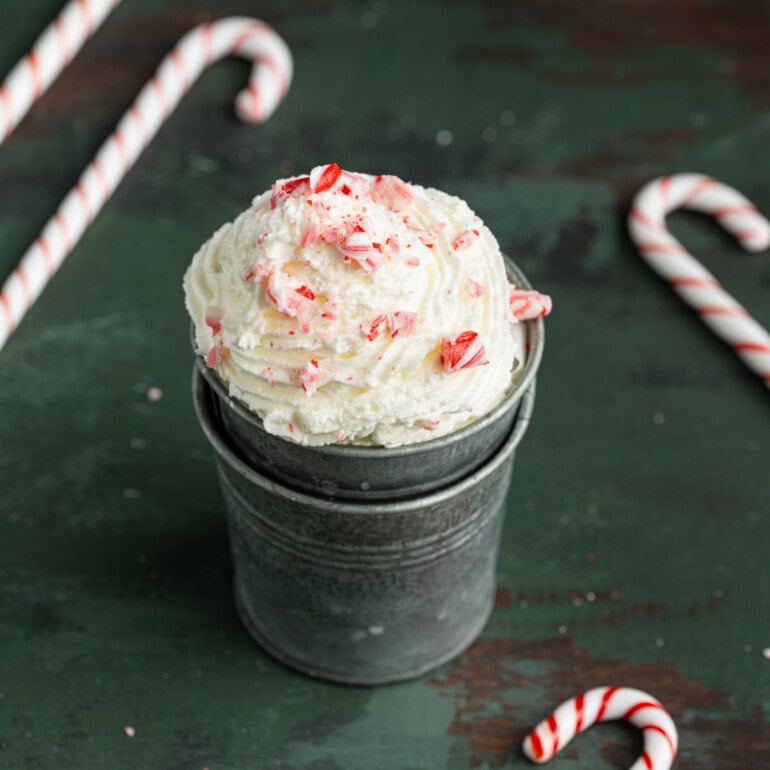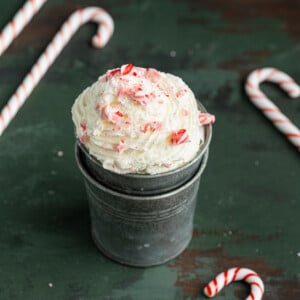 3-Ingredient Peppermint Whipped Cream
PRINT
PIN
RATE
This simple, velvety 3-Ingredient Peppermint Whipped Cream is delicious enough to eat on its own, and is the easiest way to uplevel your desserts, coffee, and other beverages!
Ingredients
1

cup

heavy whipping cream

(it should be cold!)

¼

cup

powdered sugar

1

teaspoon

peppermint extract

1

mini

crushed candy cane

(for garnish)
Instructions
To a large stainless steel, ceramic, or glass mixing bowl, add the heavy cream, ½ teaspoon peppermint extract, and sift in the powdered sugar.

Use a hand mixer (or stand mixer) to whip until the cream takes on volume and the mixer leaves trails in your cream.

Taste the whipped cream to make sure it has enough peppermint to your liking. You can add up to ½ teaspoon more if you want a stronger peppermint flavor. If adding more, whip a couple more times to evenly distribute.

Serve immediately or store in the refrigerator in an airtight container for 3-5 days.
Pro Tips
If you don't have a glass or stainless steel bowl, but do have a metal bowl, that works, too! Avoid copper or plastic bowls while making whipped cream. 
Use anywhere from 1/2 to 1 whole teaspoon of peppermint extract depending on how strong you want the peppermint flavor.
Try this Peppermint Whipped Cream with this Peppermint Hot Chocolate.
Did you make this recipe?
Let me know by leaving a recipe rating below, or by tagging @marleysmenu on Instagram.