Trick or treat? I don't know about you, but I would choose treat EVERY. SINGLE. TIME. Especially when the treat is these fun and easy Double Chocolate Halloween M&M Cookies.
Their decadent chocolate flavor, chewy texture, and festive finish make this my go-to homemade cookie recipe every year. Plus, they come together in under 30 minutes and require just one bowl to prepare.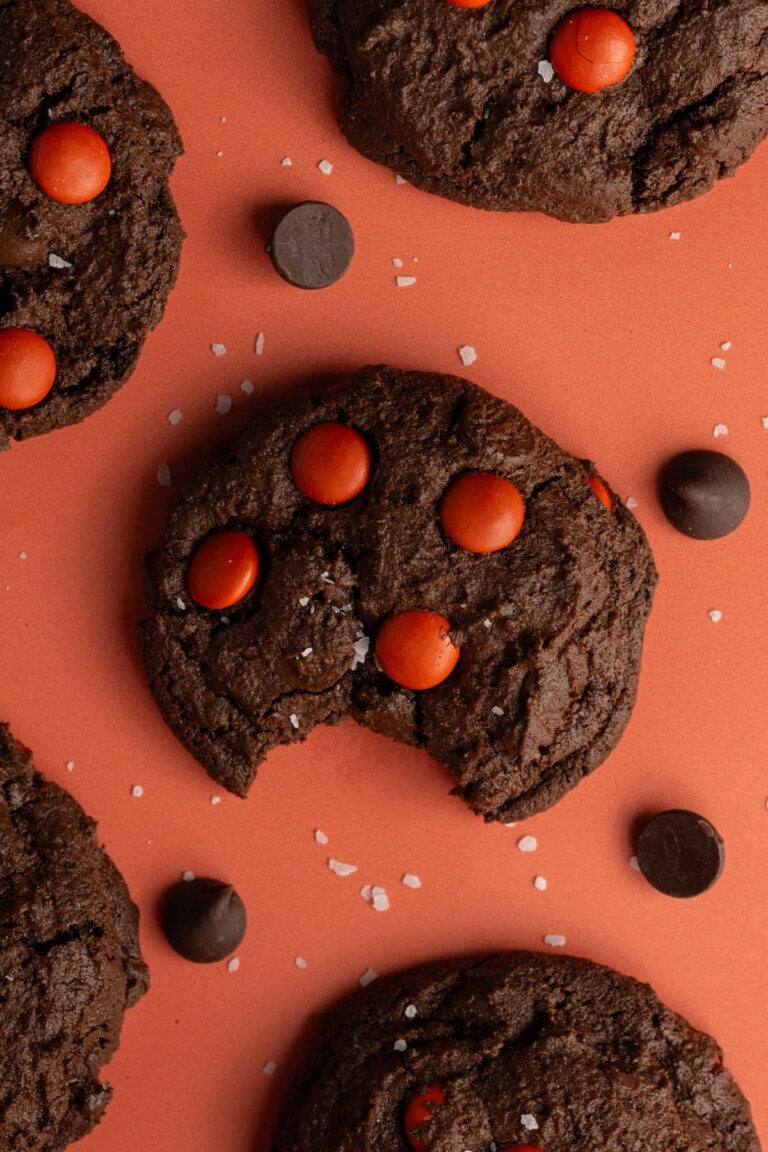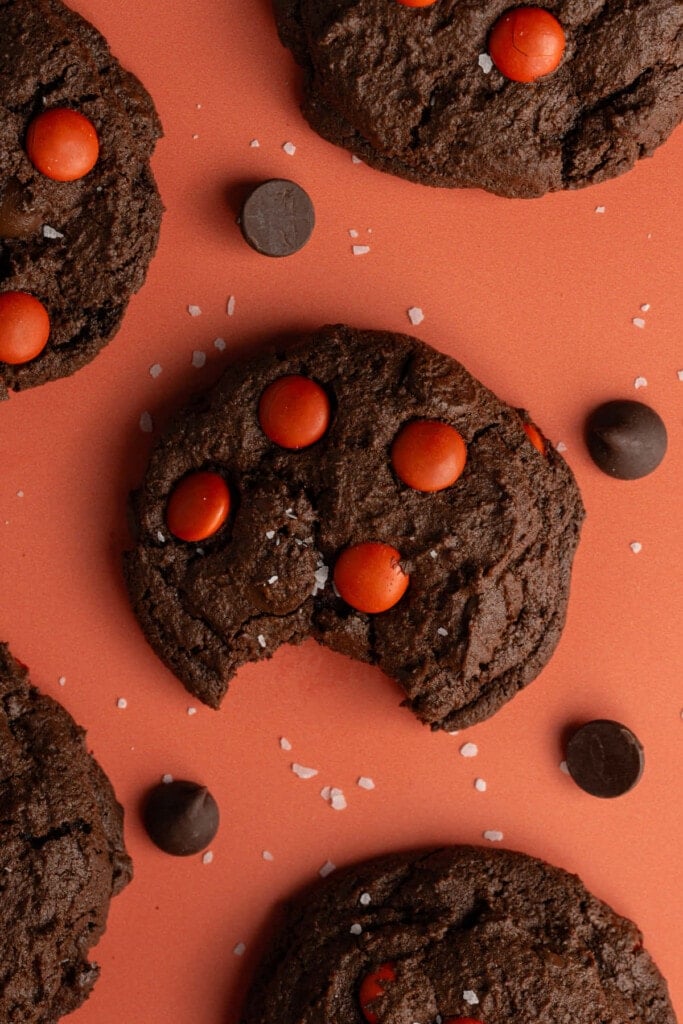 As a busy mom and environmental scientist, one-bowl recipes are my absolute favorite! Less clean-up means we save on both time and water! A total win, win!
Green tip: Speaking of cleanup, if you have a dishwasher-use it! Comparing dishwashing to handwashing, using an efficient dishwasher uses 1/6th the amount of water to get your dishes clean!
Halloween M&M Cookies Ingredients
---
Here's everything you need:
Unsalted butter. Using unsalted butter allows you to control the amount of salt added to your cookies. Make sure your butter is softened (not melted!) to get the perfect consistency in your dough.
Granulated sugar. This cookie recipe uses granulated sugar for sweetness to balance out the bitterness of the cocoa powder.
Vanilla extract. For a flavor boost.
Egg. To bind your cookies together and work with the baking powder to give them a little lift.
All-purpose flour. The base of your cookie dough.
Unsweetened Cocoa Powder. Dark cocoa powder is preferred for a richer chocolate flavor and a deeper color.
Salt. To enhance all of the other flavors.
Baking soda. To help the cookies rise.
M&M's. Just the orange ones to make these festive!
Chocolate chips. You can use semi-sweet or dark chocolate chips. I used dark!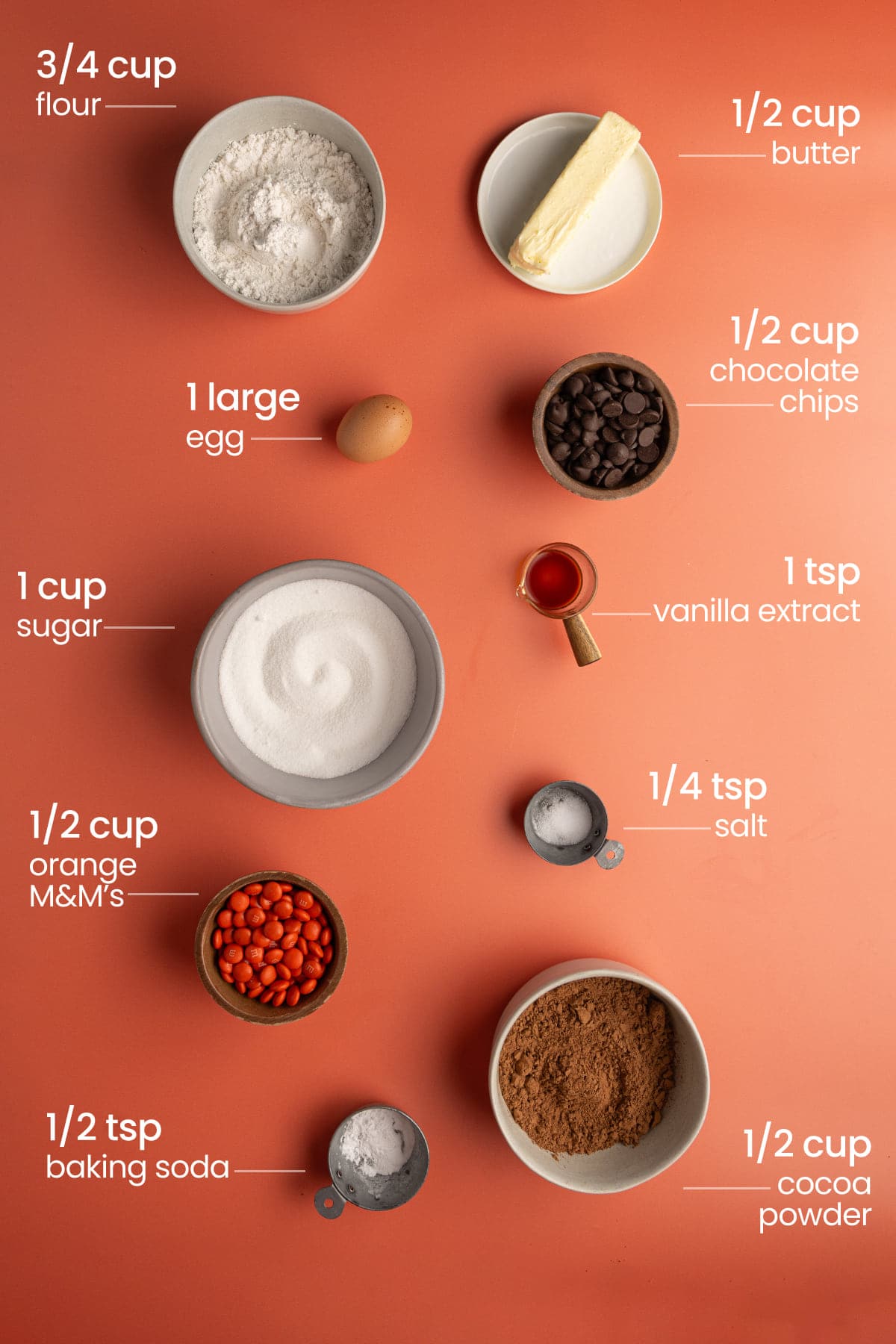 Halloween M&M Cookies Tips and Tricks
---
Set Yourself Up for Success
Start by pre-heating your oven to 350°F and lining your baking sheet.
When it comes to my baking adventure, I'm all about that prep life. Before diving into making Halloween M&M cookie dough magic, I usually measure out all my ingredients so that my process is seamless.
And that includes our great orange M&M quest! Though I have seen some all-orange packs sold around Halloween time, I typically buy a family size bag of classic M&M's and sort through them.
Honestly, this recipe is so easy that I find the trickiest part of the whole shebang is separating the orange M&M's from the pack. But hey, don't stress, turn it into a fun game!
Here's the scoop: I turn it into a super fun activity with my little sidekick, aka my awesome toddler. We make it an orange-hunting extravaganza!
He gets to be the color pro, sorting out those orange candies like a champ. And guess what? While we're at it, he's also learning about colors – double win!
Green tip: Consider using reusable baking mats for a more sustainable option!
Cream the Butter and Sugar Together First
First things first, we need that butter softened to perfection – not too melty, not too chilly. So here's the secret sauce: whip it out of the fridge about 30-45 minutes before the cookie extravaganza starts.
Let it chill (or should I say "un-chill") and rise to that comfy room temperature all by itself. Easy peasy!
But hey, we've all been there, right? Time flies, and you're all ready to bake those tasty treats, but, uh-oh, the butter is still too solid. No worries, my friend, we got hacks!
Pop that stick of butter in the microwave on high for about 15 seconds. Test it out – if it's still a bit too firm, just zap it for 5 seconds more until it's softened just right. Poke it with your finger, and if you leave an imprint, you know you nailed it!
Oh, but wait, there's more! If microwaving isn't your style, don't fret. Check out this article on how to soften butter quickly for five other super cool ways to do the trick!
Green tip: Look for organic and palm oil-free butter if you can. Buying organic means you are supporting farms that do not use damaging pesticides and fertilizers, and palm oil production is a huge driver behind deforestation.
Alright, enough butter talk – let's talk perfect Chocolate Halloween M&M Cookies! The secret weapon: creaming that butter and sugar together.
When you do this, you're actually aerating the dough, making those tiny bubbles that give you that heavenly soft and chewy cookie goodness.
Grab that hand mixer, go high-speed mode, and whip that softened butter and sugar together for 2-3 minutes. Smooth as silk!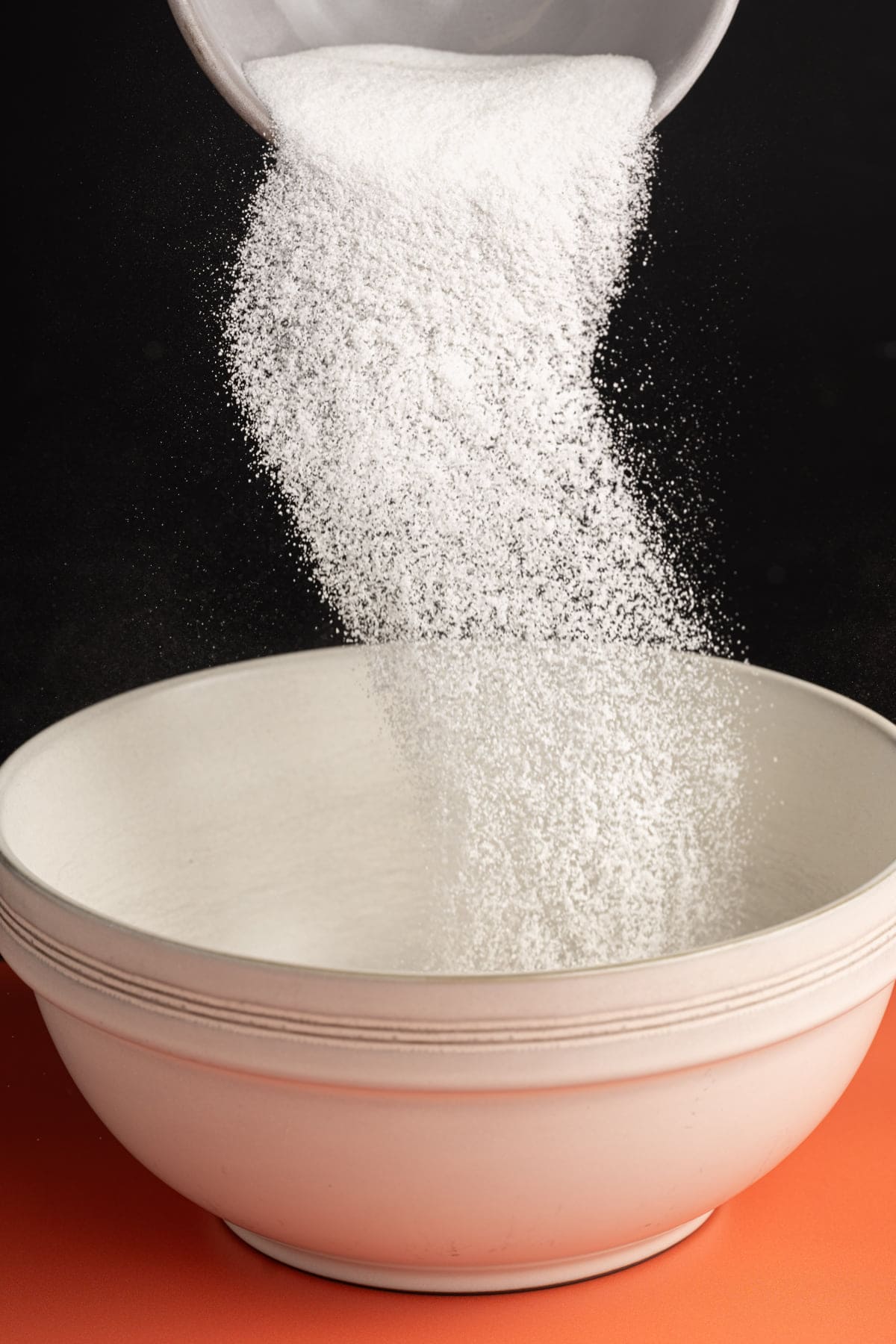 Add the Wet Ingredients to the Cookie Dough Next
Alright, listen up, fellow bakers! When it comes to one-bowl baking, the order in which you add the ingredients can make all the difference between doughy bliss and cookie catastrophe. So, here's the scoop:
First things first, after you've whipped up that butter and sugar dream team, it's time to drop in the vanilla extract and add the egg. But hey, let's be savvy bakers here: we wanna play it safe with our eggs!
Green tip: Look for pasture-raised eggs (over free-range or cage-free) to support agriculture that is less reliant on chemicals and fossil fuels.
Here's the deal: crack that egg separately in a dish, not directly into the dough.
Why? 'Cause this savvy move lets you spot any sneaky eggshells that might wanna party in your dough. No shell-shocked cookies, right? Plus, it's a lifesaver if you ever get a rebellious, bloody egg (yeah, it happens, and it's no fun!).
Now, I get it, some of us are thrill-seekers, and we like to live on the wild side. So, if you're feeling daring, go ahead and crack that egg directly into the bowl. Just remember, there's a risk involved, and it's all on you, my friend.
Okay, now the egg's in the mix, let's treat it gently. Grab that hand mixer, set it to low, and give it just enough love to integrate that egg into the dreamy dough. Easy does it! We don't wanna over-beat our dough – that's the secret to cookie perfection.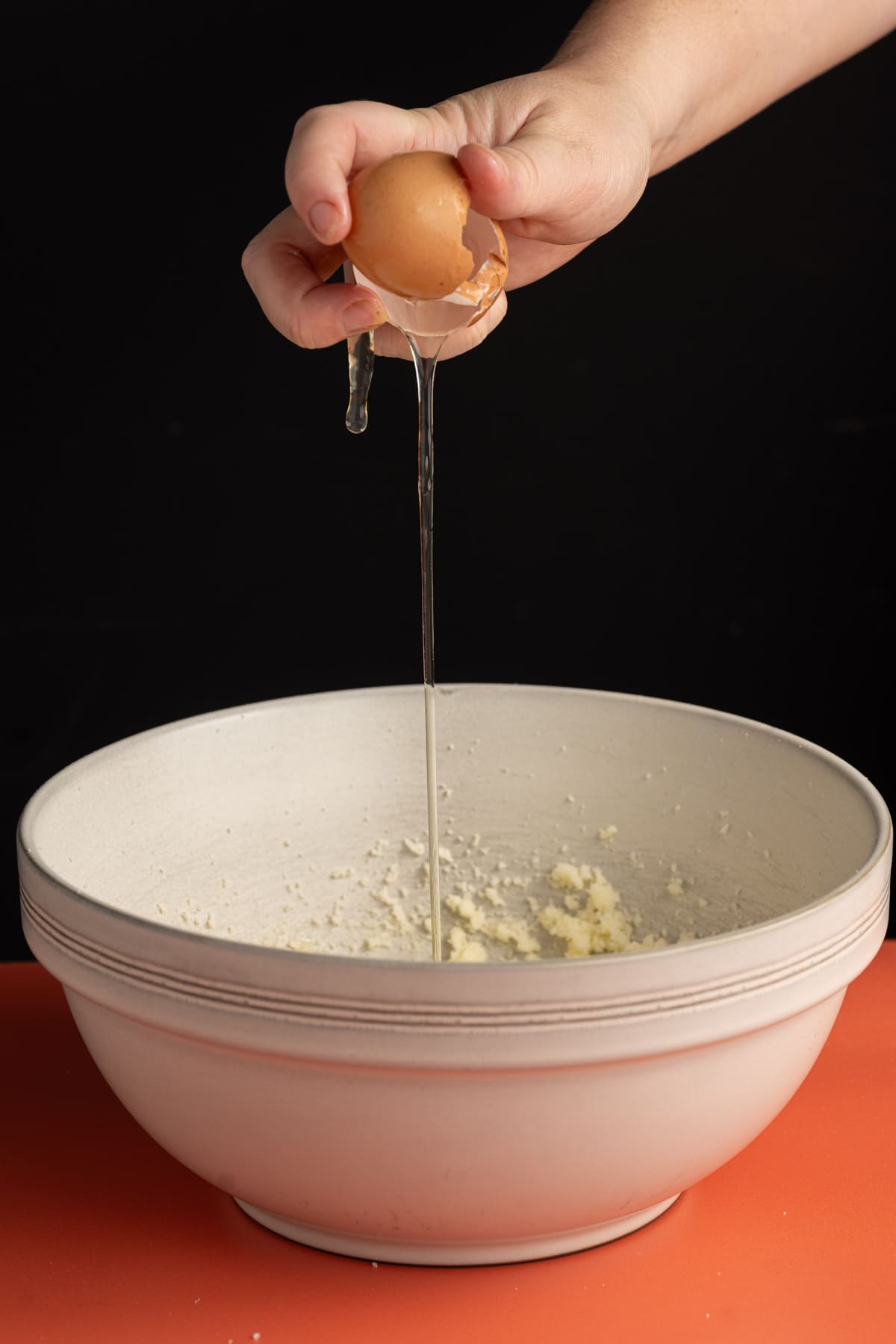 Next Comes the Dry Ingredients
Alright, we're on a roll! Time to unleash the power of the dry ingredients! Flour, cocoa powder, salt, and baking soda, you're up!
Get that trusty hand mixer back in action and mix those dry goodies into the dough, and you know the drill – no lumps, no clumps, just smooth sailing!
But wait, sometimes those sneaky dry ingredients stick to the sides of the bowl. Don't let 'em get away! Grab a rubber spatula and work your magic, gently pushing everything down into the dough. We want a unified, harmonious dough, no ingredient left behind!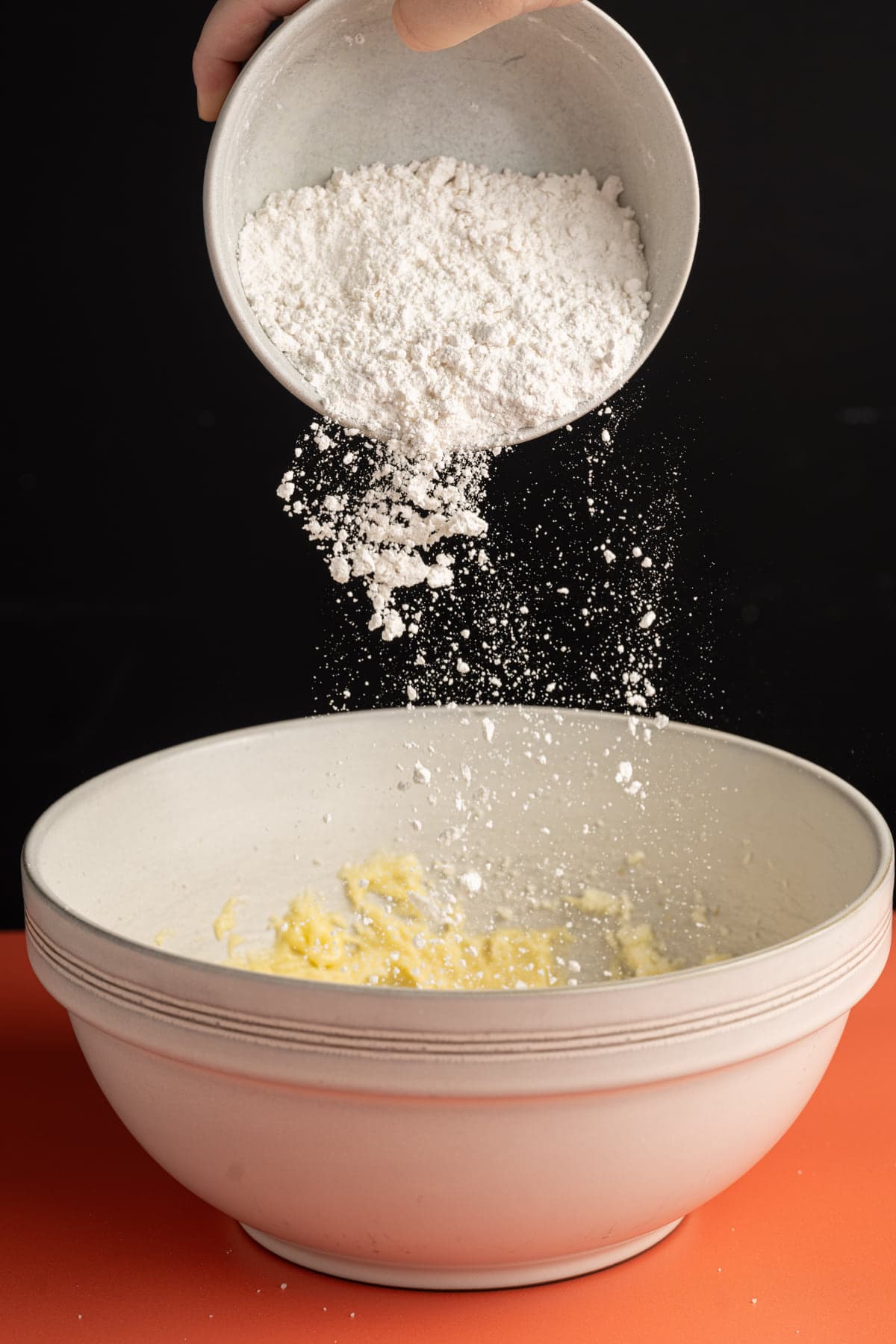 It's Time for the M&M's and Chocolate Chips!
Okay, we're getting to the best part now – the M&M's and chocolate chips extravaganza! Brace yourself for the ultimate cookie delight!
But wait, we've got a little secret technique to level up the cookie game. Save a handful of those colorful M&M's and luscious chocolate chips to make those cookies extra eye-catching.
Once the dough is shaped, you will add those beauties on top for a pop of orange and to ensure you get gooey chocolate in every bite! Now that you set some aside, you can add the rest to your dough.
Grab that rubber spatula once again and fold those delightful fillings into the dough. Gently mix and mingle until every inch of dough is graced with those heavenly goodies. We're talking an even distribution here – cookie perfection in the making!
Once everything is mixed together, you're ready to shape your dough!
I love using a large cookie scoop for the most uniform and same-sized cookies (hint: same-sized cookies equals same baking time), but you can also just use clean hands to roll about 2 tablespoons of cookie dough into a ball!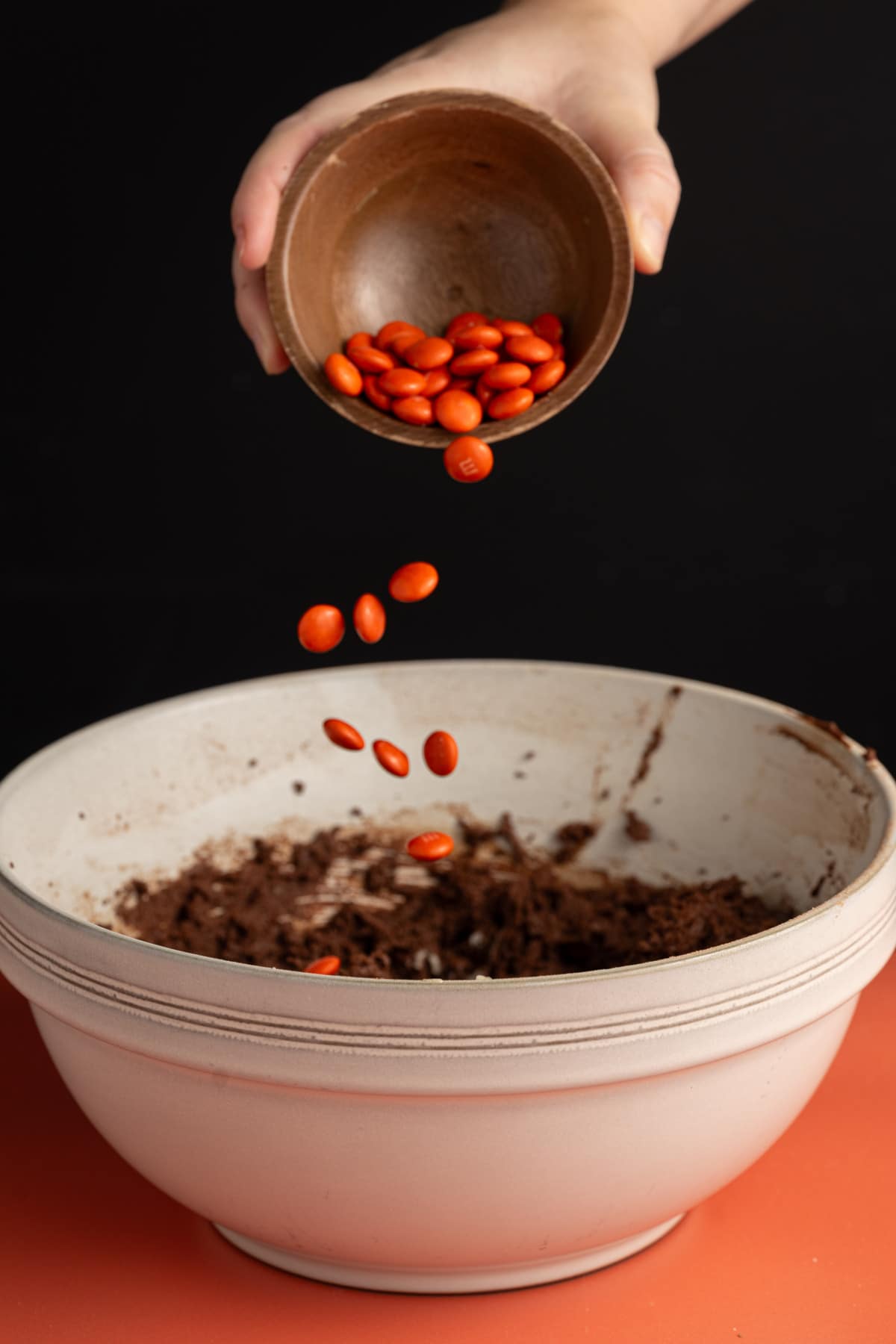 How to Perfectly Bake Double Chocolate Cookies with M&M's
Alright, it's time for the ultimate cookie pro tips! These Halloween M&M Cookies are pretty much foolproof, and guess what? No chilling time needed! Just pure cookie goodness right away.
You should expect a little spreading action, so make sure you leave some space between each cookie.
Here's the golden rule: bake 'em up on the top rack! Why? Heat rises! That top rack is like the baking VIP section – it's hotter up there. So, if you've got two cookie sheets, don't be shy, let them both party on the top rack for that perfect bake.
Oh, and if both sheets don't fit up there, no worries, just go for separate rounds of cookie fun. It's totally worth it!
Now, let's talk baking time – 12 to 14 minutes at 350°F is the magic number for these sweet treats. Keep an eye on 'em! When those edges and tops are slightly crispy to the touch, you know it's showtime!
Don't fret if the center is a tad underdone; they'll keep on baking while they cool down. Allow them to cool right there on the baking sheet.
If you like salted chocolate or extra salt on your chocolatey baked goods, sprinkle a little extra flaky sea salt on top while they're still hot.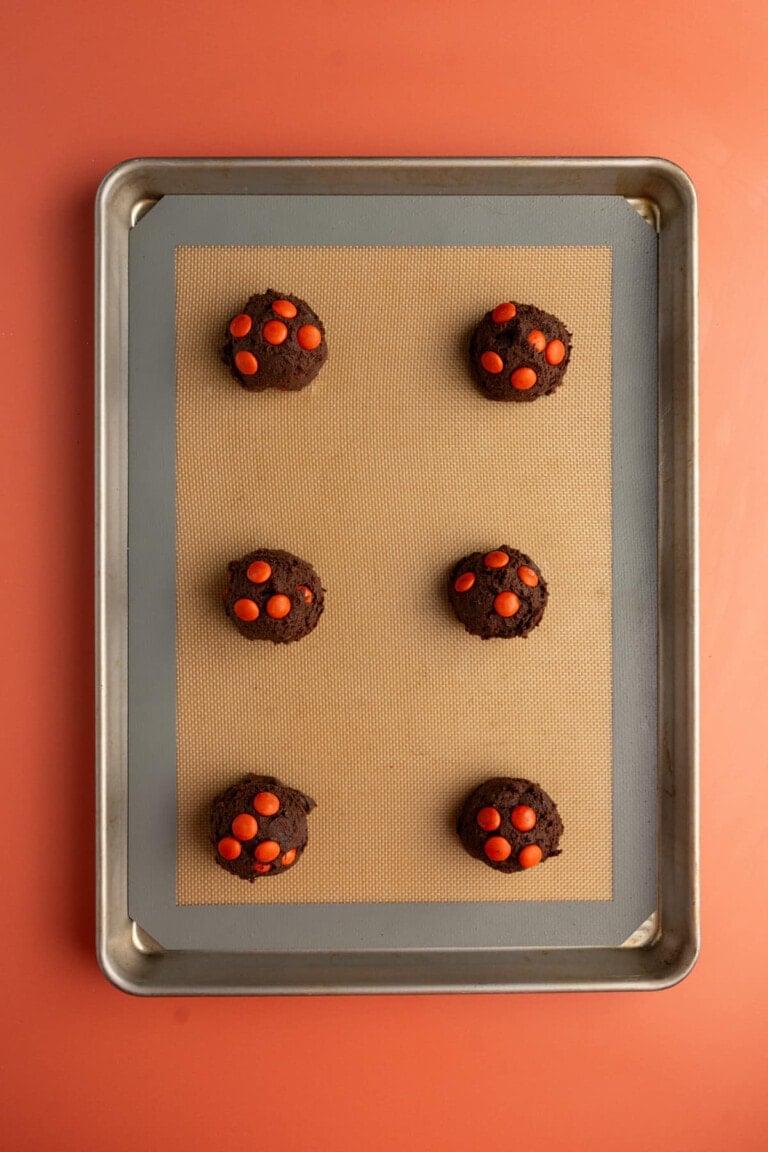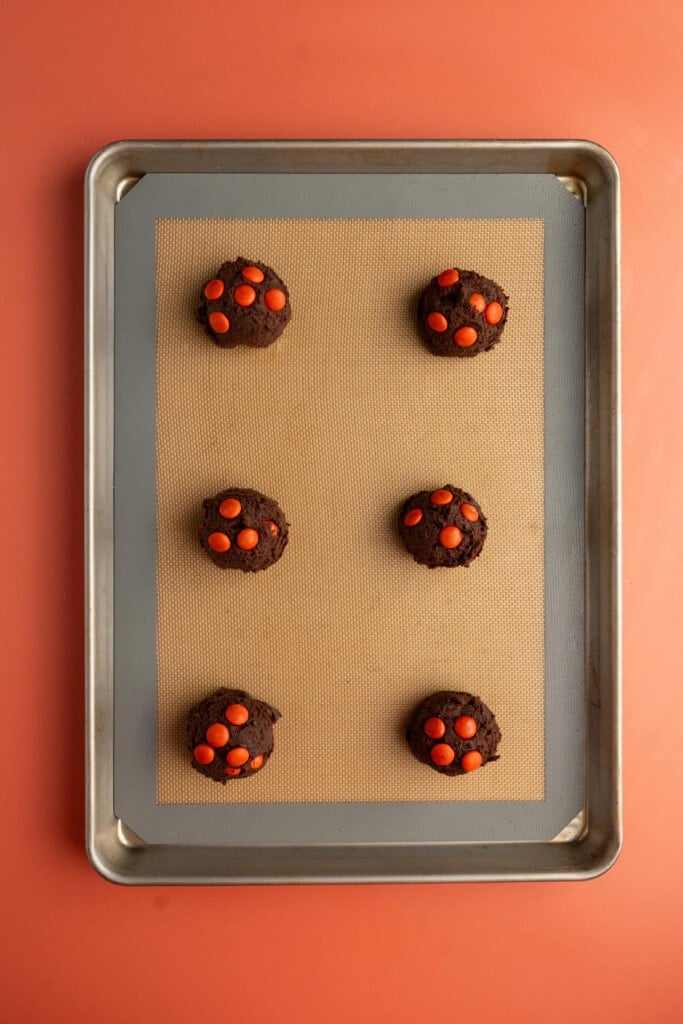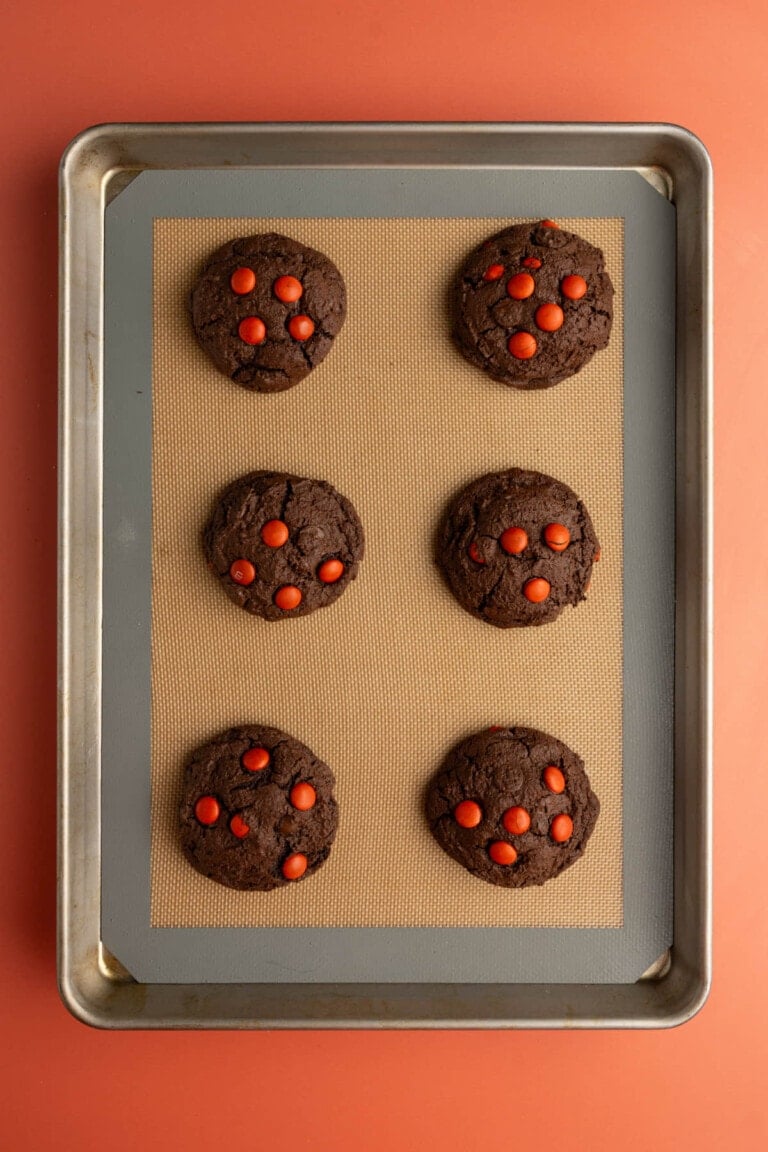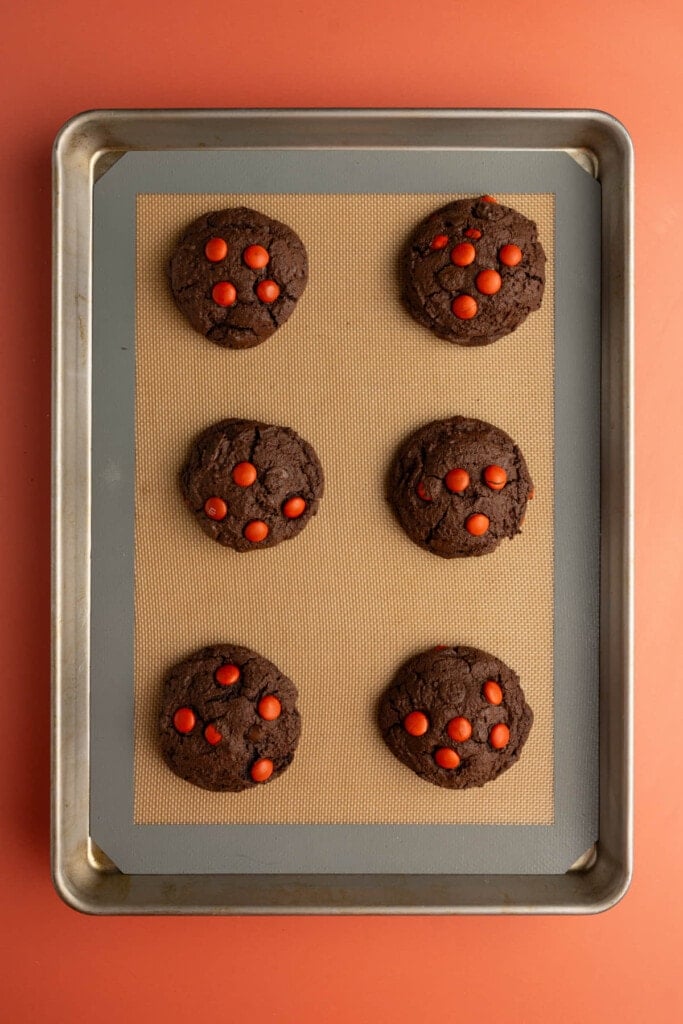 How to Properly Store Chocolate Halloween Cookies with M&M's
Alright, let's talk about cookie longevity! These chocolatey delights are meant to be savored, and I've got some storing tips to keep 'em in tip-top shape.
At room temperature, you've got a sweet spot of 5-7 days of cookie goodness, as long as you cover them up nicely. Pop them in an airtight container to keep 'em cozy!
Quick tip: Storing your cookies with a piece of bread will keep them softer and chewier. This is the perfect use for the end piece!
Now, if you're all about stretching out that cookie timeline, the fridge is your friend. They can hang out there for up to three weeks, still tasting darn delicious!
But hey, these babies might firm up a bit in the first few days of storage. But fear not, I've got a sneaky trick to keep 'em soft and chewy.
Grab a container and toss in a piece of bread – yes, you heard it right! The bread's moisture works its magic, keeping those cookies from drying out. Trust me, it's like a cookie miracle!
Oh, and let's not forget the freezer! Yep, you can freeze these cookies for up to a whole year. So, there you have it – your cookie care guide!
Green tip: Of the billions of tons of food wasted annually, 50% of food waste happens at home. Reduce your contribution to food waste by properly storing baked goods!
How to Freeze Cookie Dough for Freshly Baked Cookies Later

Oh, the joy of having freshly baked cookies anytime, anywhere – that's the magic of freezing your chocolate cookie dough!
Here's the deal: you've got the freedom to freeze some or all of that dough for up to a whole year. It's like having a cookie stash ready to rock whenever those cravings hit!
Here's my little trick: I shape the cookie dough into cookie dough balls – they're like little nuggets of cookie happiness.
Then, I pop them into a freezer-safe storage bag (consider reusable storage bags for a more sustainable option!), ready to freeze and preserve that deliciousness for the future.
They may just need a little extra baking time (I'm talking 1-2 minutes tops, so just check them when they come out of the oven.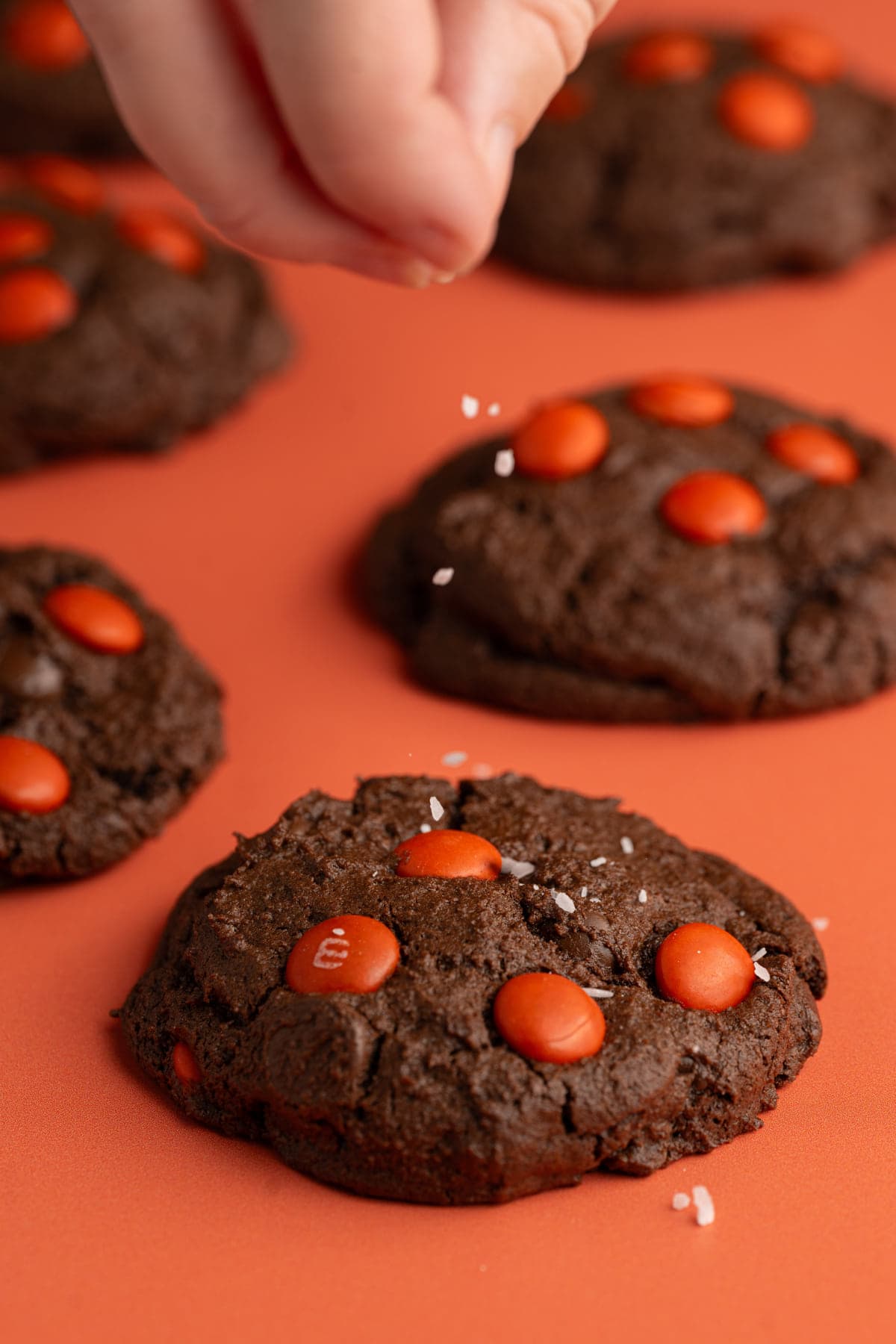 Chocolate Halloween Cookies with M&M's Frequently Asked Questions
---
Can you use regular M&M's for baking?
Absolutely, you can use regular M&M's for baking. You may get some cracking on the candy coating from the heat or notice some of the color bleed a little bit into your dough, but the taste and texture remains deliciously intact.
Want to sharpen your kitchen skills?
Why You Should Make these Salted Chocolate Halloween Cookies
---
They're festive. What's more Halloween than orange and black?
They're super chocolatey. Cocoa powder, melted chocolate, chocolate chips, and M&M's.
The texture! Chewy with a subtle outer crunch.
For more fun and festive Halloween recipes, check out these Halloween Chocolate Covered Strawberries and Dark and Spooky Halloween Cocktail!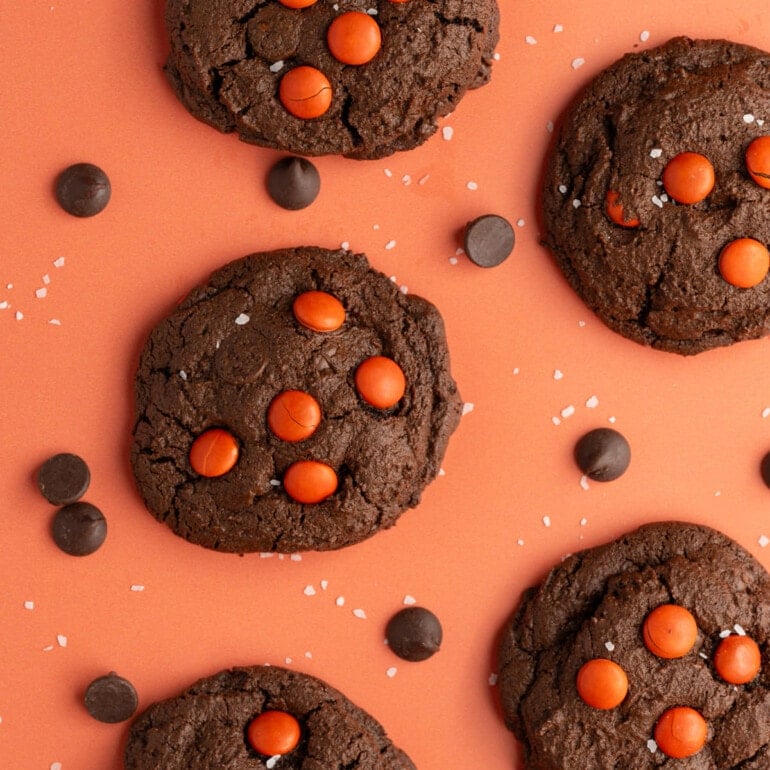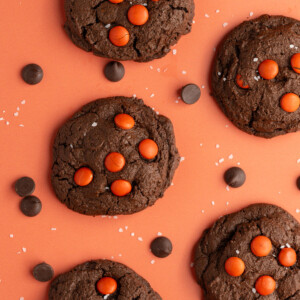 Double Chocolate Halloween M&M Cookies
PRINT
PIN
RATE
These Double Chocolate Halloween M&M Cookies are deliciously festive using cocoa powder, chocolate chips, and M&M's to achieve the chocolatiest of chocolate treats with fun festive color!
Ingredients
½

cup

softened unsalted butter

(½ cup butter = 1 stick)

1

cup

granulated sugar

1

teaspoon

vanilla extract

1

large

egg

¾

cup

all-purpose flour

½

cup

dark unsweetened cocoa powder

¼

teaspoon

salt

(plus optional extra flaky sea salt for garnish)

½

teaspoon

baking soda

½

cup

chocolate chips

(dark or semi-sweet)

½

cup

orange M&M's
Instructions
To a large mixing bowl, add softened butter and brown sugar. Use a hand mixer on high to cream together until light and smooth (about 2-3 minutes).

Add the egg and vanilla extract and use your hand mixer on low to combine.

Add the flour, cocoa powder, salt, and baking soda and mix to combine, careful not to overbeat. Use a spatula to scrape any flour off the sides of the bowl and integrate it into your dough.

Set aside a handful each of chocolate chips and M&M's to add on top of the dough once the cookies are formed. Add the rest to your dough and use a rubber spatula to fold to combine.

Use wet hands or a cookie scoop to shape 1 heaping tablespoon of dough into a ball and place it on your lined baking sheet. Leave a couple of inches in between each cookie for the dough to spread. Press a couple of chocolate chips and M&M's into the top of each cookie.

Bake for 12-14 minutes until the edges are crispy to touch. Option to add extra flaky sea salt on top.
Pro Tips
This dough is wet and sticky, so wet your hands for easier dough-shaping!
These cookies will spread, so leave space between each. I usually only put about 6 on each cookie sheet.
You can freeze excess cookie dough before baking it to give you fresh baked cookies every time when the craving hits! Just bake them as normal straight out of the freezer.
Cookie monsters are always happy at my house with this delicious selection of my best cookie recipes to choose from! Nom nom nom!
Chocolate lover? Me too! You'll love the collection of my best chocolate recipes!
Did you make this recipe?
Let me know by leaving a recipe rating below, or by tagging @marleysmenu on Instagram.