Always sneaking bites of the cookie dough before it's had a chance to bake? This Easy Edible Funfetti Cookie Dough is a no-bake recipe that's designed to eat with a spoon!
It requires just ten minutes and a handful of ingredients to make this fun and colorful treat. Plus, this cookie dough is completely safe to eat raw!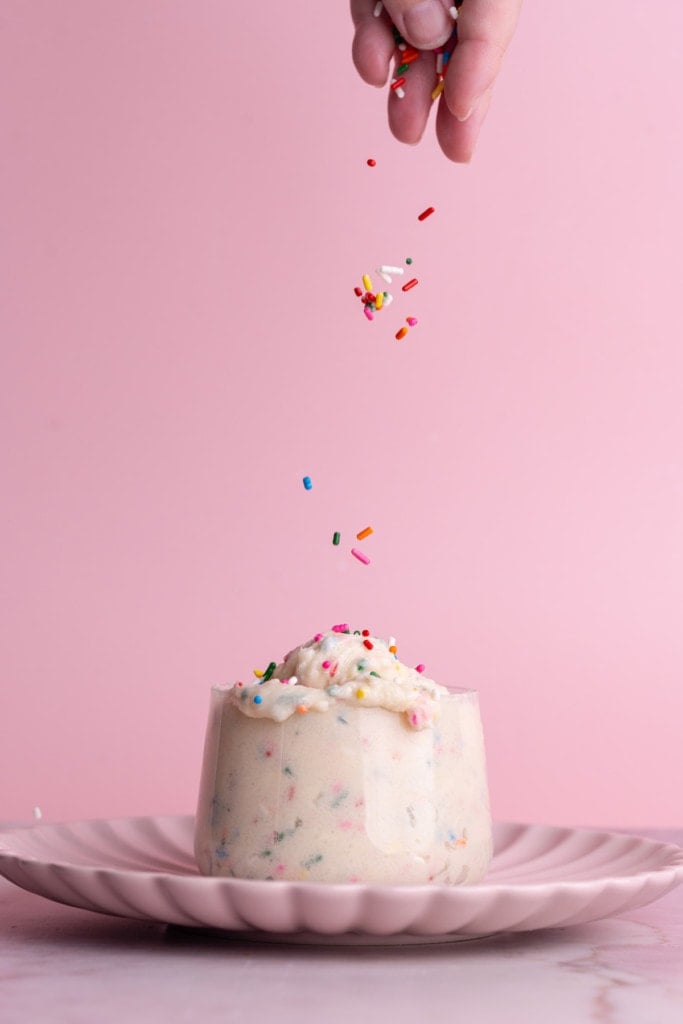 Edible Funfetti Cookie Dough Ingredients
---
Here's everything you need:
All-purpose flour. Your flour should be heat-treated before consuming it to avoid ingesting any unwanted bacteria.
Unsalted butter. Unsalted butter is preferred so you can control the amount of salt you add to the dough.
Granulated sugar. For that classic Funfetti sweetness.
Vanilla extract. For flavor.
Milk. Dairy or unsweetened non-dairy milk works. It adds moisture to the dough to get the right consistency.
Salt. Just to ramp up all the other flavors.
Rainbow sprinkles. They put the "fun" in Funfetti!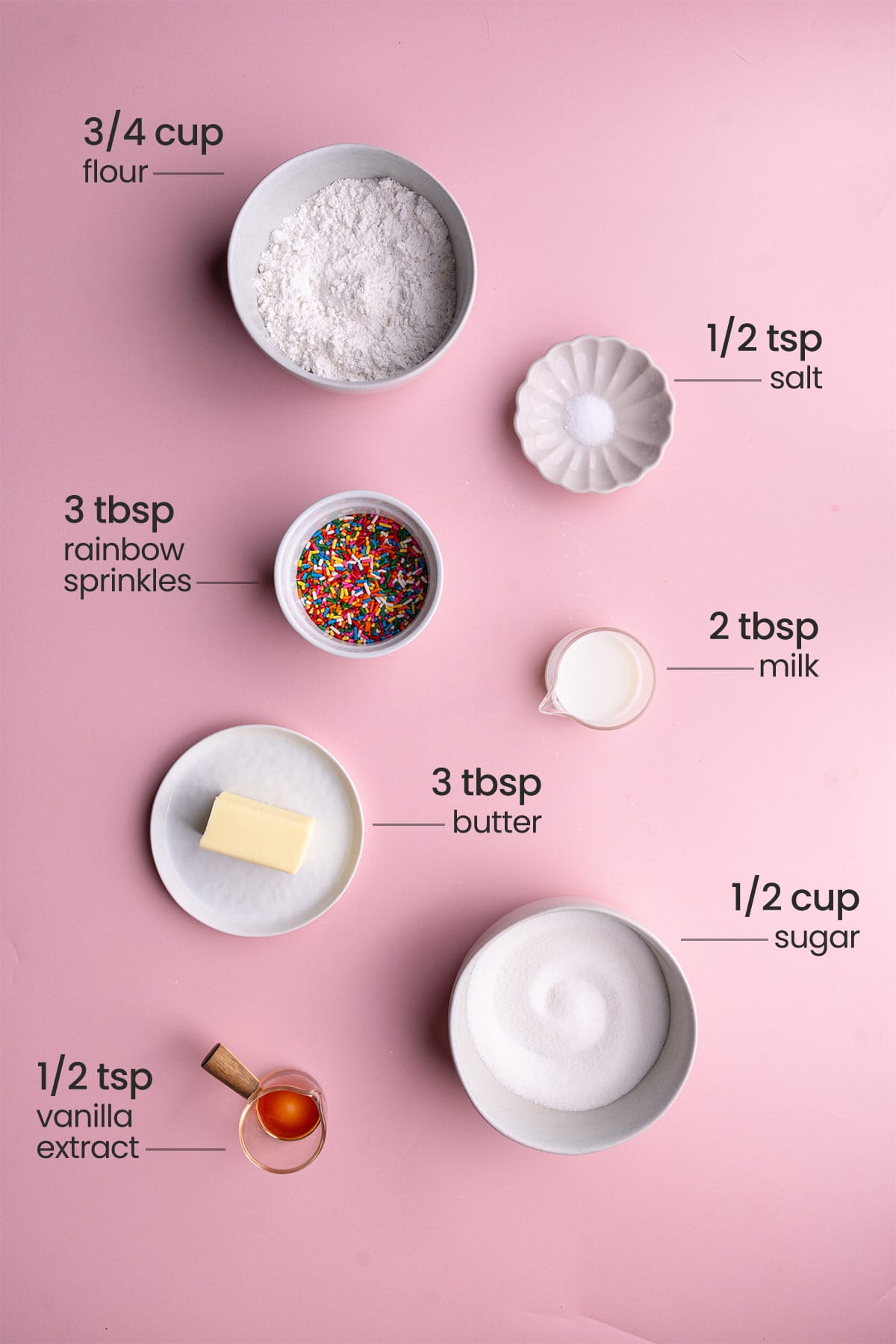 Edible Funfetti Cookie Dough Tips and Tricks
---
Heat Treat Your Flour
All-purpose flour is actually not safe to eat when raw. Just like eating raw eggs, eating raw flour may put you at risk of ingesting unhealthy bacteria including E. Coli. That's why it's very important to "heat treat" your flour before adding it to your edible cookie dough.
Heat treating just means heating the flour to a temperature whereby it kills any bacteria that may be living inside of it. Don't worry, it's super quick and easy! You can heat treat your flour either in the microwave or in the oven.
Green tip: The average shelf-life of all-purpose flour is about 8 months but freezing it can extend its life by another year and a half! Just store it in an airtight container and stick it in the freezer to avoid wasting it.
If you'd rather use the microwave (I did promise you no-bake, after all), simply add your flour to a microwave-safe bowl. Heat it on high for 90 seconds. Make sure to do so in 30-second increments, stirring in between to avoid burning or sticking to the bowl.
For the oven method, just spread the flour out on a large baking sheet. Bake it on the bottom rack of your oven at 300°F for just 5 minutes. This is my preferred method because it's more hands-off, though the microwave method is certainly faster.
It's best to heat treat your flour as your very first step, so that you can allow it time to cool before adding it to your dough. Adding the flour to your batter while it's too hot risks it melting your butter and changing the consistency of your cookie dough.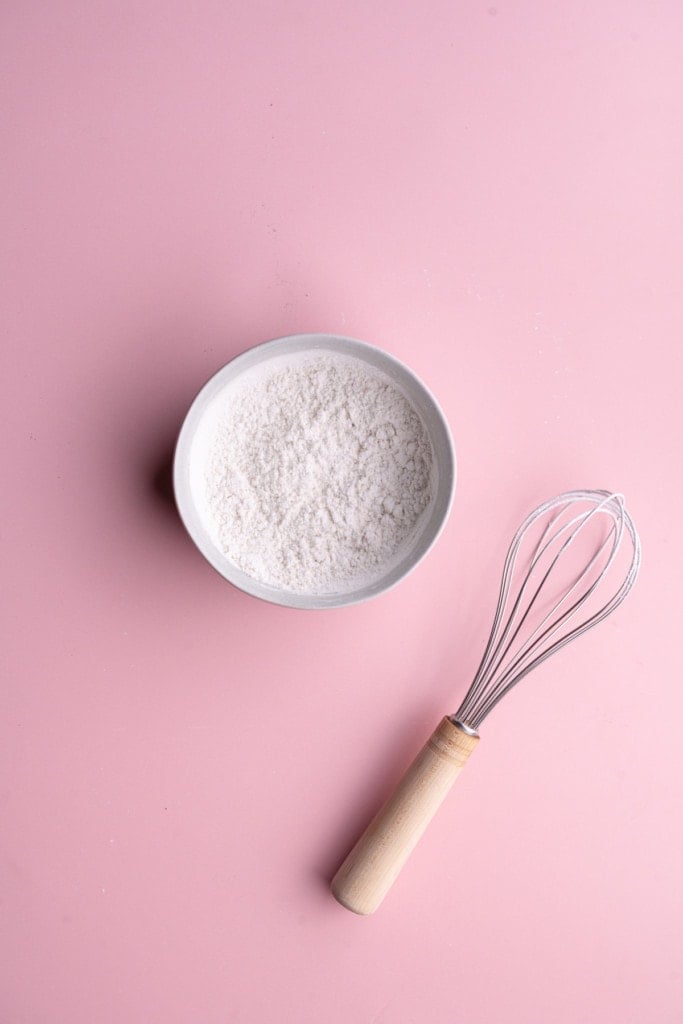 Cream the Butter and Sugar
While your flour is cooling, add the granulated sugar and butter to a mixing bowl. Use a hand mixer to cream together the butter and sugar to aerate the cookie dough, giving it a light and delicious consistency.
With the hand mixer on high, the butter and sugar should be successfully creamed together after about 2-3 minutes.
In order to cream successfully, it's very important that your butter is softened. Not too cold and rock solid, and not completely melted.
In order for the butter to come to room temperature naturally, it has to sit out for about 30-45 minutes ahead of your baking time. If you don't want to wait this long, stick it in the microwave on high for 10 seconds.
Then, continue to heat in 5-second increments until it's softened. Check if it's softened in between by poking it. If you butter is perfectly softened, your finger will leave an imprint in the butter.
Green tip: Look for organic and palm oil-free butter if you can. Buying organic means you are supporting farms that do not use damaging pesticides and fertilizers, and palm oil production is a huge driver behind deforestation.
Integrate the Other Ingredients
After creaming your butter and sugar together, it's time to add your other ingredients to the bowl. Make sure the flour has had a chance to come back down to room temperature.
Add the flour, vanilla extract, salt, and milk to the bowl with the butter and sugar, and use your hand mixer again to combine until it's nice and smooth.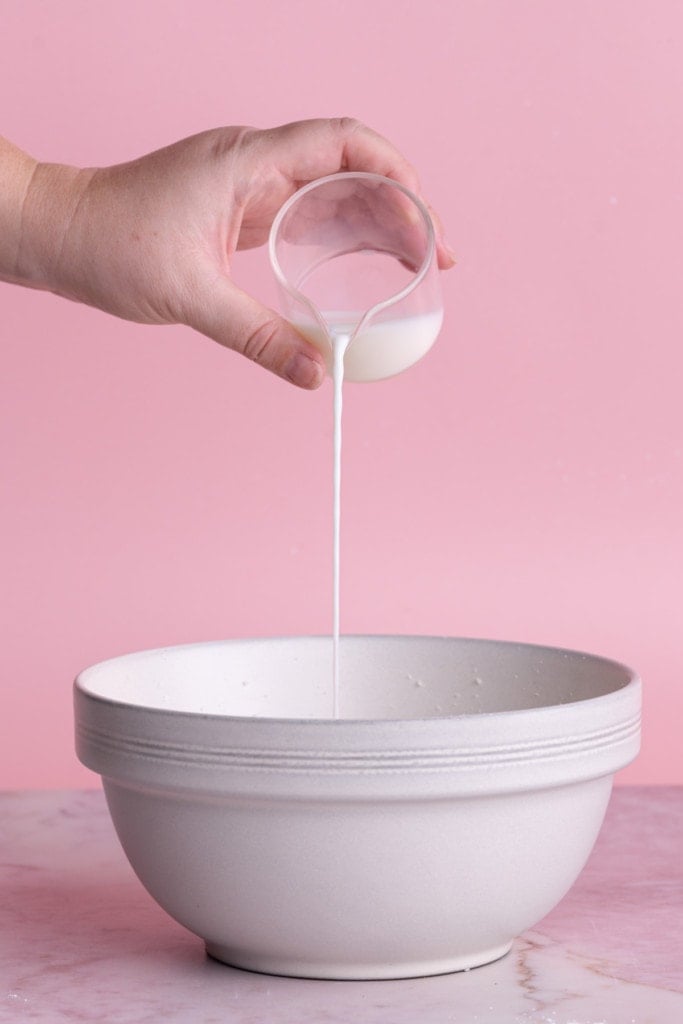 Add the Sprinkles Last
Once your ingredients are all well-combined and have a smooth consistency, add the rainbow sprinkles.
Use a spatula to fold them in. Using the hand mixer may break down the sprinkles and cause their beautiful colors to bleed into the cookie dough. We want to keep them intact for that delicious crunch.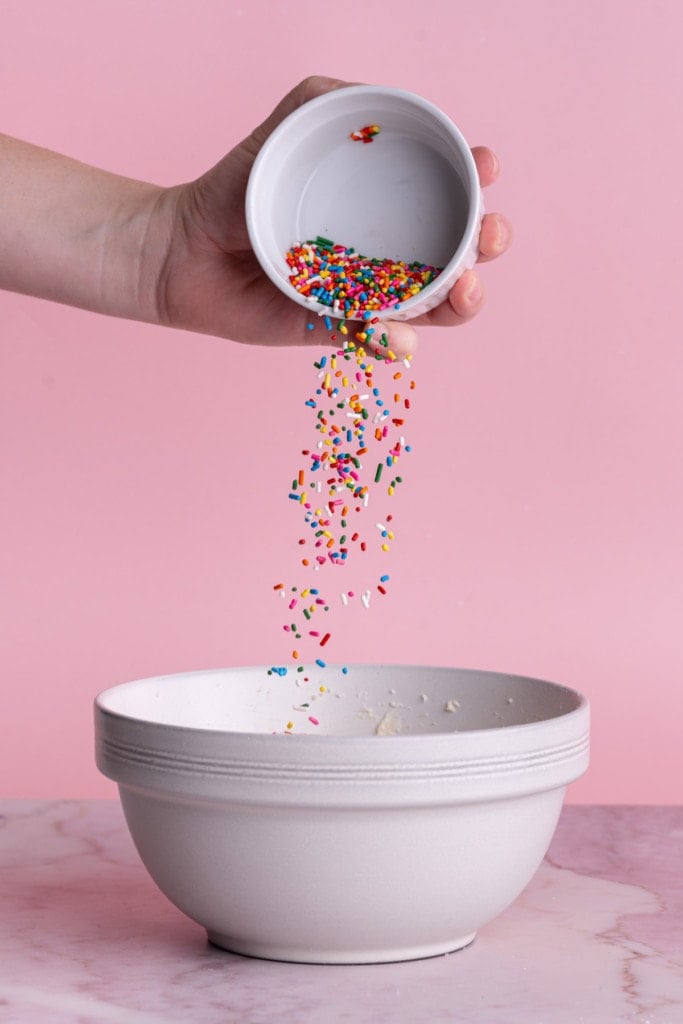 Storing Your Edible Funfetti Cookie Dough
This cookie dough will last up to 10 days in an airtight container in the refrigerator. I always choose to eat this treat cold, but if you would rather enjoy it at room temperature, just remove it from the refrigerator up to 2 hours before you dive in!
You can also opt to freeze this Edible Funfetti Cookie Dough for 3 months. To thaw, take them out of the freezer and let them sit out at room temperature for a couple of hours, or thaw overnight in the refrigerator.
Green tip: Did you know that of the billions of pounds of food wasted annually, it is estimated that 50% of it happens in our homes? Decrease your contribution by properly storing your food to enjoy spoilage.
Serving Your Funfetti Cookie Dough
I love to eat this edible cookie dough as is with a spoon, but you can also enjoy it like a dip!
As a dip, it's delicious with crackers, pretzels, and fruits like bananas, apples, and pears. You can also treat yourself by serving it up with Oreos, Nilla Wafers, Teddy Grams, or even marshmallows.
This recipe can also be used to stuff cupcakes with or layer between cakes.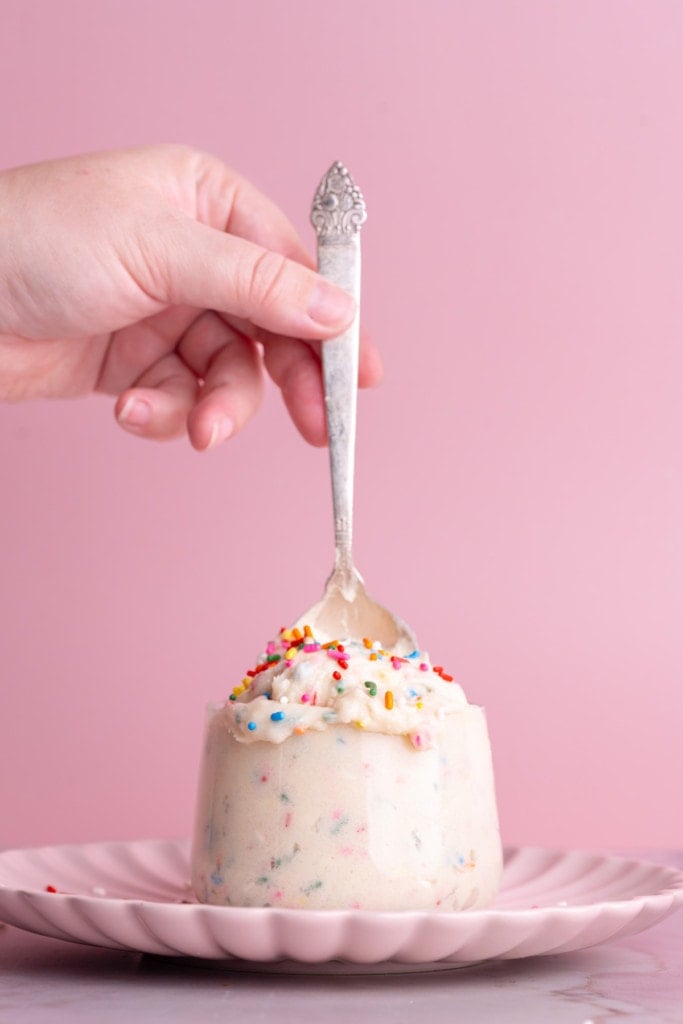 Edible Funfetti Cookie Dough Frequently Asked Questions
---
Can you eat Funfetti cookie dough?
Nestle sells edible Funfetti cookie dough that is clearly labeled "safe to eat raw".
When it comes to homemade Funfetti cookie dough, there are a couple of key things to keep in mind. Though rare, consuming raw eggs and raw flour can certainly pose a risk of bacterial illness.
The great news is this safe-to-eat Funfetti cookie dough recipe does not have eggs and uses a simple but effective technique to heat treat the flour.
Can you eat raw flour in cookie dough?
Raw flour is risky to eat as it may contain bacteria that cause foodborne illness. To heat treat flour in the microwave, heat on high for 90 seconds total. Do so in 30-second intervals, stirring in between.
You can also heat treat the flour in the oven, by spreading the flour out on a large baking sheet and baking it on the bottom rack at 300°F for just 5 minutes.
Want to sharpen your kitchen skills?
Why You Should Make This Easy Edible Funfetti Cookie Dough
---
It's so much fun! What's more fun than rainbow sprinkles?
It's so quick and easy. Ready in just 10 minutes and in just one bowl.
No oven required. This cookie dough is designed to eat raw, with a microwave option to heat-treat the flour.
If you're loving this Edible Funfetti Cookie Dough and want more fun recipes with rainbow sprinkles, check out these Funfetti Pancakes and this Cakey Chocolate Chip Cookie Cake.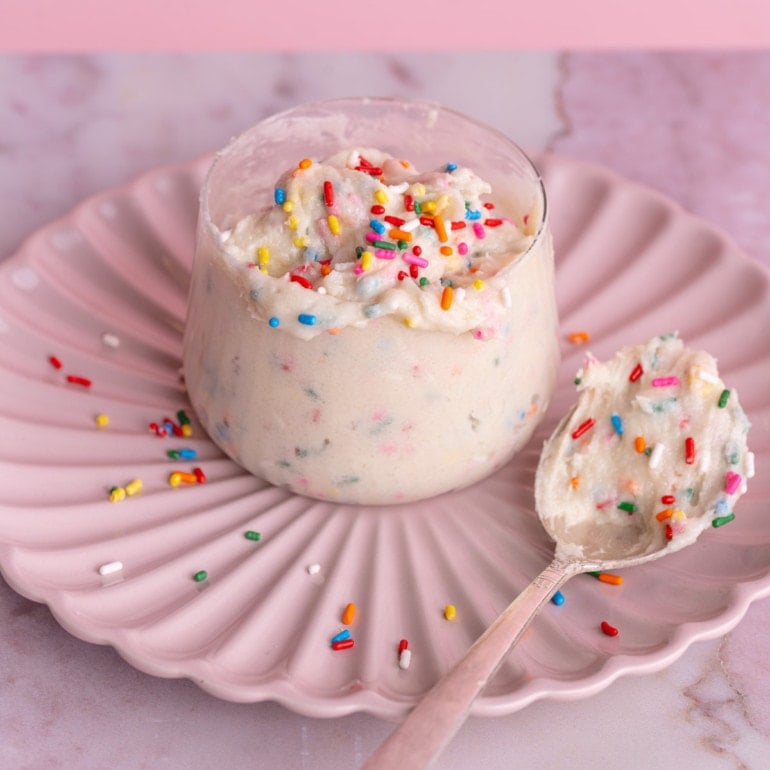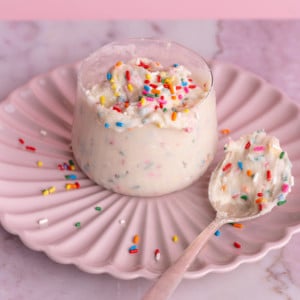 Easy Edible Funfetti Cookie Dough
PRINT
PIN
RATE
This Easy Edible Funfetti Cookie Dough is so much fun! Sweet, smooth, colorful 10-minute cookie dough that you can eat with a spoon!
Ingredients
¾

cup

all-purpose flour

3

tablespoons

unsalted butter

(softened)

½

cup

granulated sugar

½

teaspoon

vanilla extract

2

tablespoons

milk

(cows or unsweetened nondairy)

½

teaspoon

table salt

3

tablespoons

rainbow sprinkles
Instructions
Heat treat your flour in one of two ways.

Microwave method: Add flour to a microwave-safe bowl and microwave on high for 30 seconds. Stir a couple of times. Repeat two more times for a total of 90 seconds.Oven method: Preheat oven to 300°F. Spread the flour out on a baking sheet and bake on the bottom rack for 5 minutes.

In a large mixing bowl, cream butter and sugar together with a hand mixer until aerated and combined (2-3 minutes).

Once the flour has come back down to room temperature after heat treating, add it to the butter and sugar along with the vanilla extract, milk, and salt. Use your hand mixer to combine.

Use a spatula to fold in rainbow sprinkles. Serve with a spoon or use clean hands to roll the dough into bite-sized balls—about 1 teaspoon of dough in each.
Did you make this recipe?
Let me know by leaving a recipe rating below, or by tagging @marleysmenu on Instagram.