Want to add moisture and flavor to your bread pudding? This Vanilla Sauce for Bread Pudding is the perfect addition to your classic bread pudding, and truly, any dessert that needs some extra moisture!
It's easy to make, easy to adapt to make dairy-free, and customizable to tailor to your desired consistency.
Serve it over this Bread Pudding, or make a completely vegan dessert by opting for the dairy-free version and serving it over this Vegan Bread Pudding!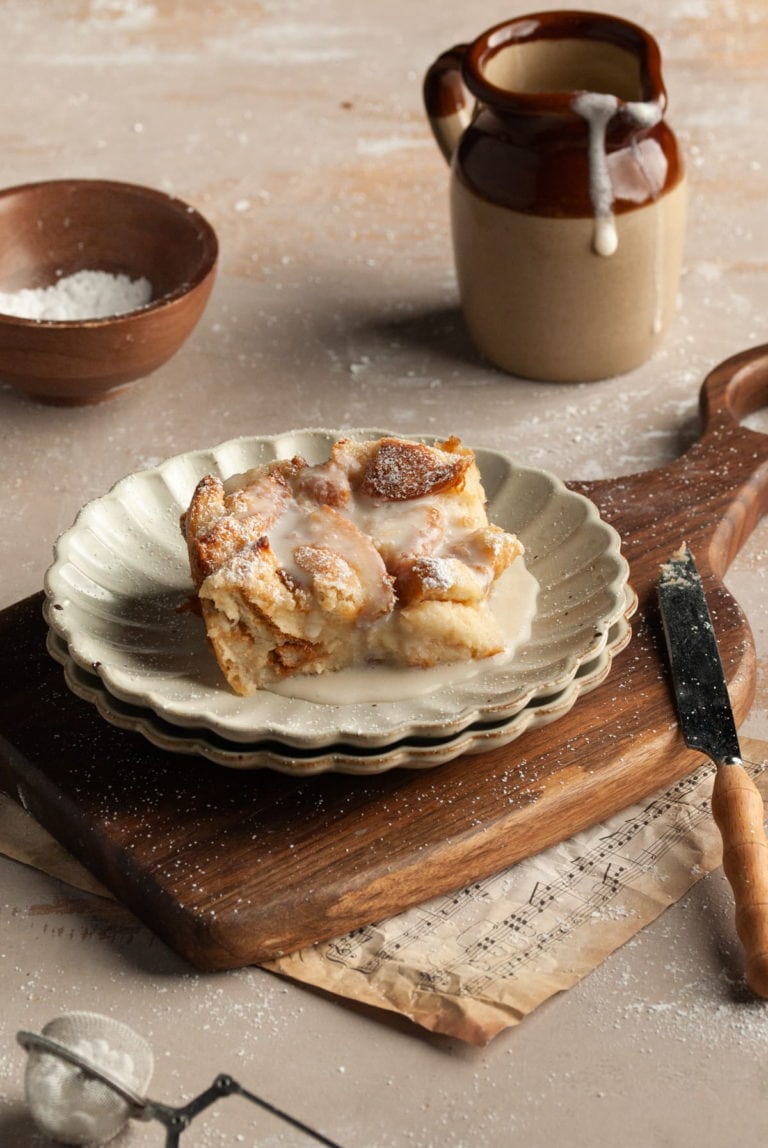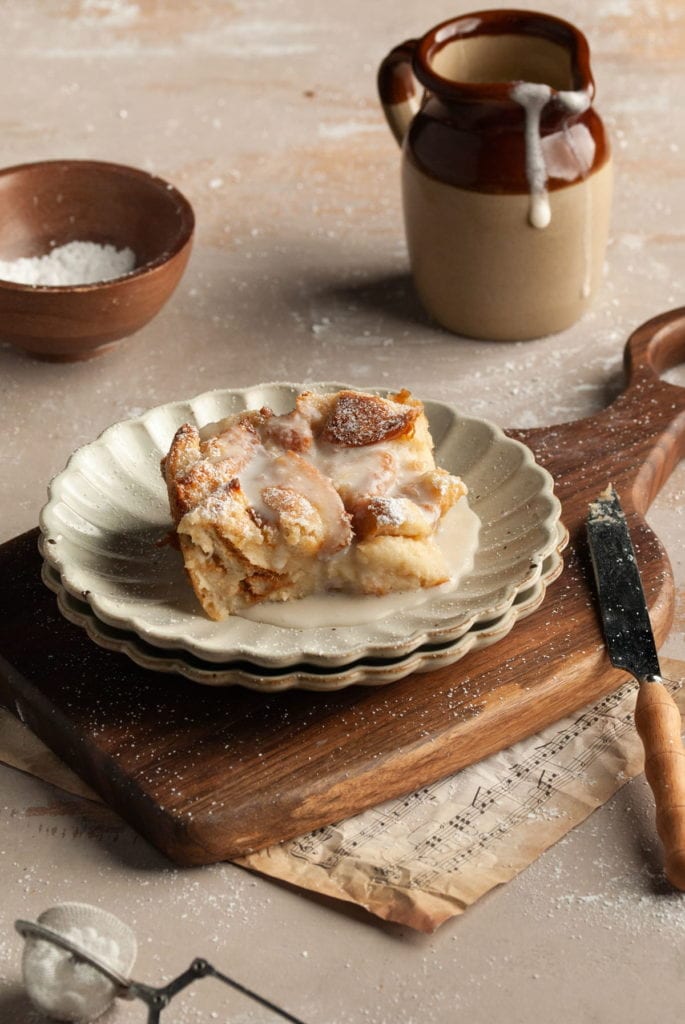 As an environmental scientist, I'm always trying to keep the issue of food waste front of mind. And when avoiding food waste tastes this delicious, I think it's something we can all easily get behind.
Green tip: Bread is one of the most wasted food products in the U.S. because of our tendency to throw it out as soon as it's stale. Reduce your contribution to food waste by re-vamping your stale bread by whipping up some bread pudding and pouring this Vanilla Sauce on top!
Vanilla Sauce for Bread Pudding Ingredients
---
---
Here's everything you need:
Heavy cream. Or coconut cream.
Milk. Or coconut milk.
Sugar. Granulated sugar works best.
Cornstarch. To thicken.
Vanilla Extract. For flavor.
Vanilla Sauce for Bread Pudding Tips and Tricks
---
---
Dissolve the Sugar First
First, add your milk, cream, and granulated sugar to a saucepan over medium heat. Stir to dissolve the sugar over the heat.
Continue to heat and stir until there are no more grainy-sugar crystals and you have a smooth sauce.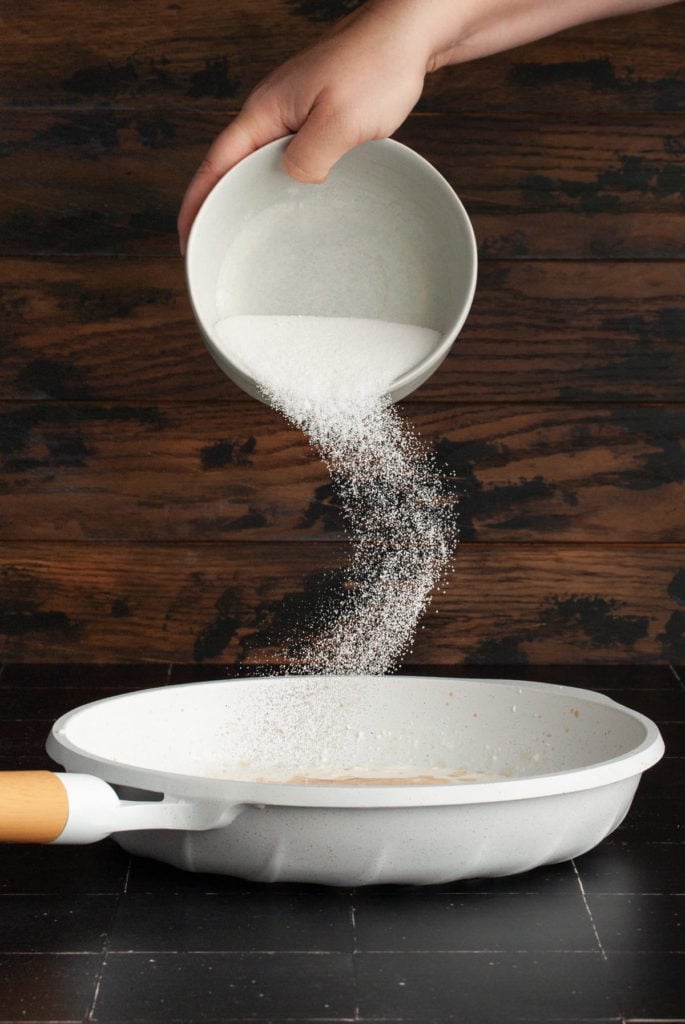 Make Sure There Are No Lumps
Next, it's time to add your cornstarch. We are using cornstarch here as a thickening agent.
It's important to whisk and combine so there are no lumps of cornstarch left behind.
Continue to heat and stir until there are no visible lumps.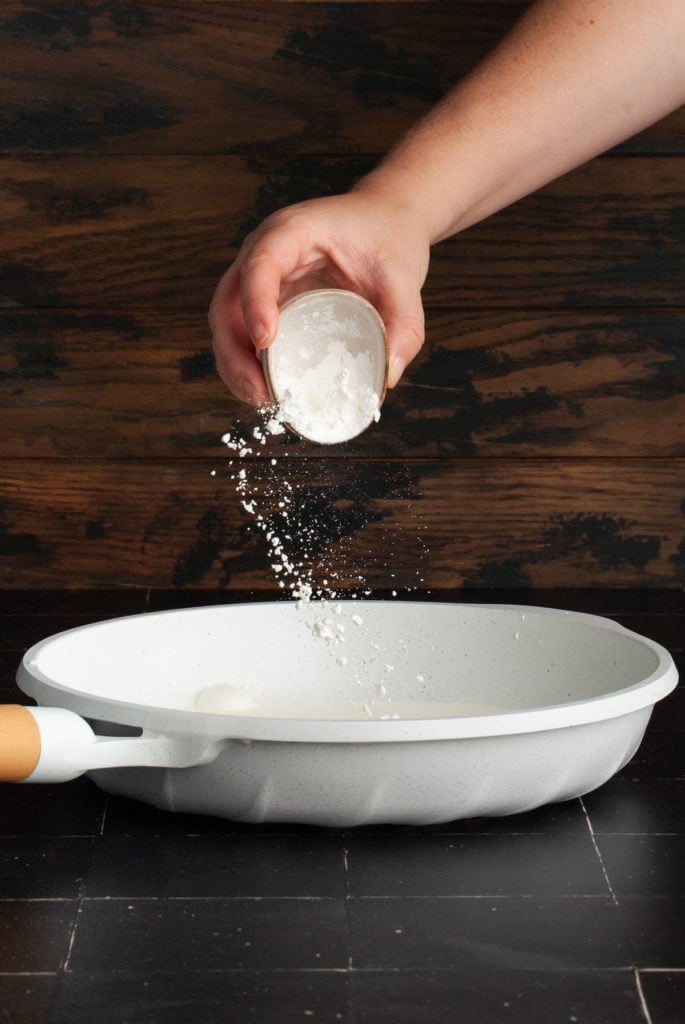 Allow it to Thicken
Cornstarch will start to thicken your sauce once the temperature reaches around 295°F. The longer you heat it, the thicker it will get.
For a thinner sauce, heat and stir until you get a glue-like consistency. If you're looking for a thicker sauce, continue to heat until the sauce resembles a thick batter—almost like a pancake batter.
Once your sauce thickens, whisk in your vanilla extract. Assess the consistency, and heat a little bit more if you want it thicker.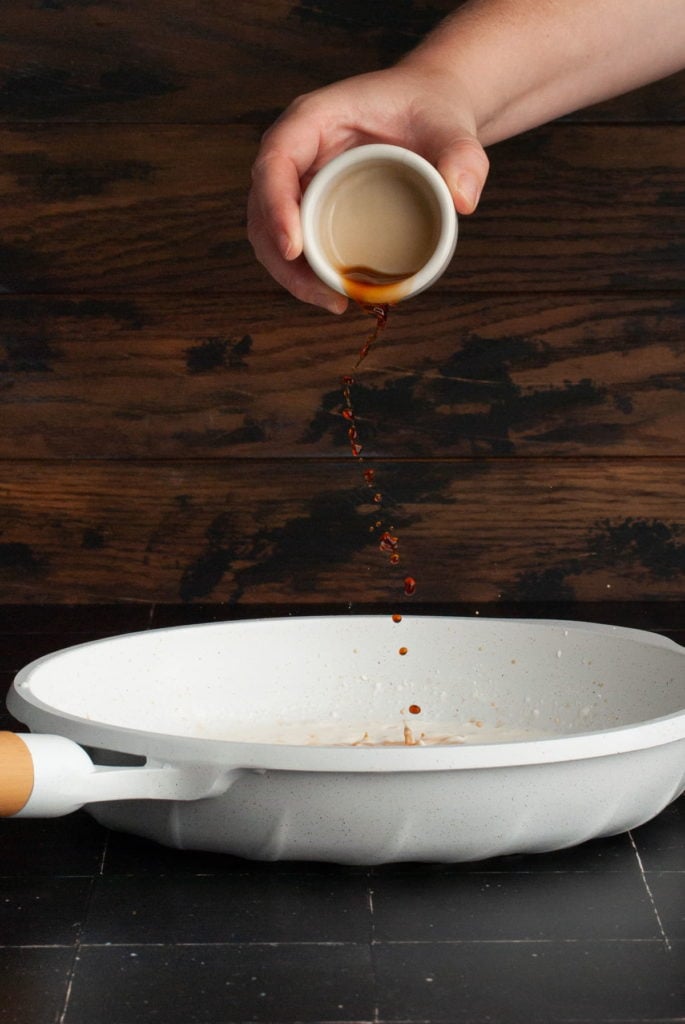 Allow It To Cool
Transfer your sauce to a bowl or pitcher to cool.
As it cools, it sets.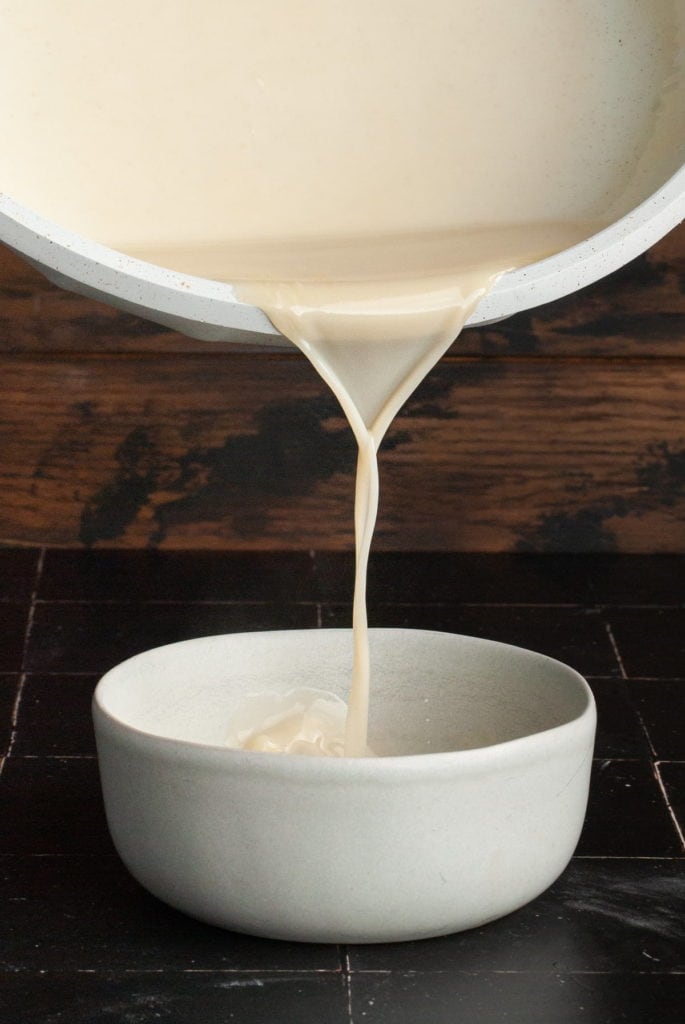 Should You Have Leftovers
This sauce is delicious on pretty much every dessert you can think of! And the best part—it'll last up to 4 weeks in a sealed container in the refrigerator.
You can also opt to freeze the sauce for up to 3 months. To thaw, transfer to your refrigerator and allow to defrost overnight.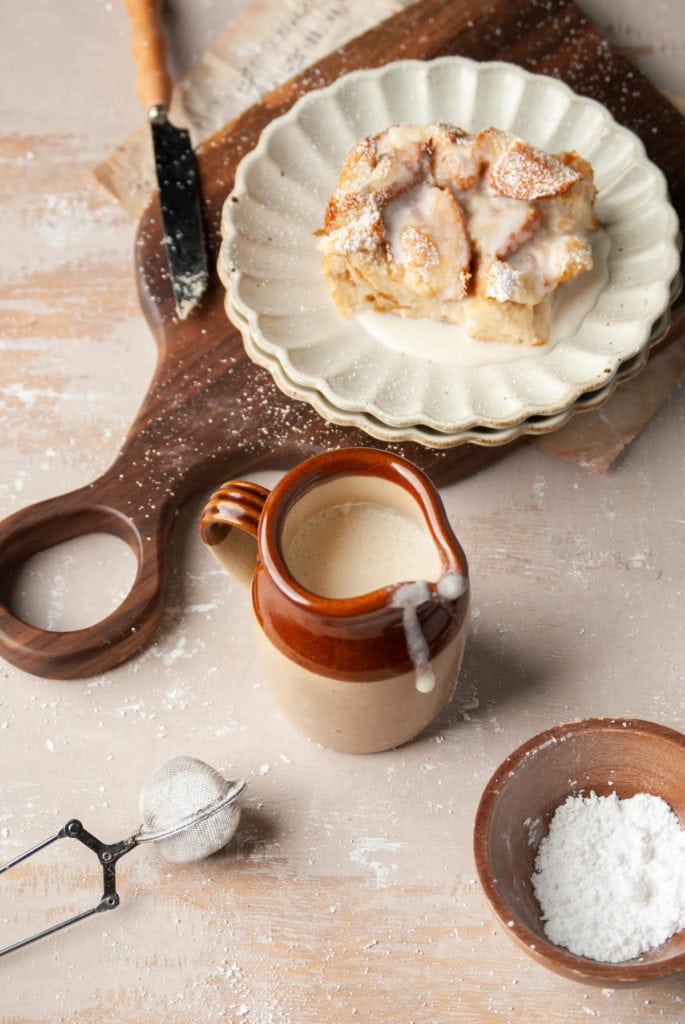 Frequently Asked Questions
---
---
How do you moisten bread pudding?
The easiest way to moisten bread pudding is to add a sauce once it is out of the oven.
This Vanilla Sauce for Bread Pudding adds both moisture and flavor to any bread pudding.
Do you serve bread pudding hot or cold?
Bread pudding can be served hot out of the oven, warm, or even cold leftover.
My favorite way to serve bread pudding is warm, smothered in this vanilla sauce.
What is the best sauce for a simple dessert?
Vanilla sauce is a versatile sauce that can accompany any dessert. It will add sweetness, subtle notes of vanilla, and most importantly moisture.
Pour it over bread pudding, loaf cake, brownies, or even cookies!
Want to sharpen your kitchen skills?
Why You Should Make this Vanilla Sauce for Bread Pudding
---
---
It's versatile. Yes, I designed this Vanilla Sauce for Bread Pudding. But let me tell you, this liquid gold is delicious on much, much more!
It's easy. Just heat and stir! Easy peasy!
It's customizable. Whether you want it thin for bread pudding or thicker to pour over brownies, this recipe can be made just to your taste.
If you're loving this Vanilla Sauce for Bread Pudding and want a base recipe to make this sauce shine, try pouring it over this Bread Pudding. Or for a dairy-free option, try this Vegan Bread Pudding! And to check out other bread pudding sauce flavors, check out this Brandy Sauce for Bread Pudding.