Teatime and need a little nibble? These Vegan Peanut Butter Biscuits are crispy, nutty, and completely delicious!
The perfect combination of salty and sweet, these Vegan Cookies are peanut butter-forward and totally addicting. They have a perfect crunchy texture and require no cooling time, making them a quick fix for your sweet tooth.
I call them biscuits, of course as a nod to my English husband, but also because these cookies are flaky, crispy on the outside, chewy on the inside, and balanced in sweetness and saltiness. They're PERFECT for teatime!
I first made these Vegan Peanut Butter Biscuits for my vegan friend's birthday, and it quickly became a favorite for all of my family and friends—dietary restrictions or not.
Green tip: Industrial dairy production has a huge impact on the environment, especially because of the amount of land it takes to sustain and its high amount of greenhouse gas emissions. Vegan baking is one great way to reduce your dairy consumption to improve your ecological footprint.
Vegan Peanut Butter Biscuit Ingredients
---
Here's everything you'll need:
Oil. I use coconut in liquid form, but you can also use vegetable, canola, grapeseed, or peanut oil.
Vegan butter. I use Kite Hill brand buttery spread, but feel free to use your favorite!
Creamy salted peanut butter. You can absolutely use crunchy in a pinch, but expect those crunchy peanuts in your cookies, too.
Light brown sugar & Granulated sugar. For sweetness and flavor.
All-purpose flour. The base of our thick dough.
Baking soda. For rise.
Salt. To bring out the saltiness in the peanuts.
Unsweetened non-dairy milk. Like almond, soy, oat, coconut, cashew, flax, or hemp.
Vegan Peanut Butter Biscuits Tips and Tricks
---
Combine Your "Fats" First
Add your butter, oil, and peanut butter to a large mixing bowl. We will use a hand mixer to combine these ingredients until they are smooth first.
This recipe calls for creamy salted peanut butter to give you that perfect balance of nuttiness, saltiness, and sweetness. How do you know if your peanut butter is salted?
Well, it is salted unless otherwise specified. Brands will use terms like "unsalted" or "no salt added" or "salt-free" right on the front label.
Using crunchy peanut butter is an option, too. It will just give you a chunkier cookie—still delicious! And if you only have natural, unsalted peanut butter, just add 3/4 teaspoons of salt instead of 1/2 teaspoon to yield the same result.
Some natural brands do separate in the jar, so make sure you are stirring well before adding to your cookie batter. It may even help to put it in the microwave for 15 seconds before stirring to help integrate the oil and the peanut butter.
Cream the Sugar Next
Once your mixture of butter, oil, and peanut butter is combined and smooth, add both the brown and granulated sugar. Use your hand mixer again to cream the sugar in the fat.
This aerates the dough to give you more lift in your biscuits.
Add Your Dry Ingredients
Once you've creamed your fat and sugar, it's time to add your dry ingredients to the dough. Add the flour baking soda and salt and mix again to combine.
Green tip: 50% of food waste happens at home. The average shelf-life of all-purpose flour is about 8 months but freezing it can extend its life by another year and a half! just store it in an airtight container and stick it in the freezer to avoid wasting it.
Opt for an Unsweetened Non-Dairy Milk
Next, it's time to add the vanilla extract and non-dairy milk. As far as non-dairy milk goes, you can choose soy, almond, oat, coconut, hemp, cashew—the list goes on! However, you want to make sure whatever milk you choose is unsweetened.
As with any baked good, you need to have control over the amount of sugar you are adding so you don't go overboard and get a toothache!
In the batch pictured, I used Unsweetened Plain Almond Milk. If you have to use sweetened non-dairy milk, you will definitely have to reduce the amount of granulated sugar you add in by 1 tablespoon.
Additionally, if you are using Vanilla flavored milk, you may want to slightly reduce the amount of vanilla extract you add in this step.
Once you've added your milk and extract, mix one last time to combine. Use a spatula to ensure any of the dry ingredients that are stuck to the side and bottom of the bowl are integrated.
Form Your Biscuits
Use clean hands to roll about 2 tablespoons of dough into a perfectly round ball, placing it on a cookie sheet lined with parchment paper or a reusable baking mat.
Green tip: To avoid extra waste, try these reusable baking mats! They are great for nonstick and super easy to clean.
This recipe will yield about 15 cookies. Make sure to leave about an inch of space in between each cookie to allow for them to spread. You will likely need more than one cookie sheet if you are baking all of the cookies at once.
Press Down with a Fork
Once you've formed your peanut butter biscuit dough balls and lined them up on your baking sheet, use a fork to press down on them in an "X" motion.
In other words, push your fork down into the top of the dough ball at an angle, leaving impressions from the fork. Then, lift your fork and repeat in the opposite direction, to leave more impressions on the biscuit.
This gives the cookies that classic crinkly top and makes for a crispier biscuit.
Storing Your Vegan Peanut Butter Biscuits
If you store these delicious biscuits in an airtight container, they will last about a week at room temperature, 10 days in the refrigerator, and up to 3 months in the freezer.
Allow them to thaw naturally before eating them once they are frozen.
You can also opt to freeze the dough (unbaked) for up to one month and bake them as you want to enjoy them. In this case, roll the dough into balls, press down on them with a fork, and store them in an airtight container in the freezer.
When you're ready to bake them, just pop them on your baking mat and bake as if you just made the dough fresh!
Why You Should Make These Vegan Peanut Butter Biscuits
They're balanced. Not too sweet, and a little bit of salt.
The texture is perfect. Crunchy on the outside, chewy on the inside.
They're accessible. Dairy and egg-free, and easy to make!
They're quick! Only about 15 minutes of baking time!
They're a peanut butter lover's dream. Chances are if you found this recipe, you love peanut butter as much as I do.
If you like this recipe, and are looking for more vegan dessert ideas, check out these Vegan Rainbow Celebration Cookies and this Rich Vegan Chocolate Oreo Pie!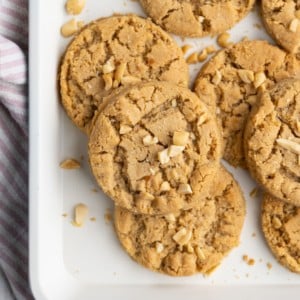 Tempting Vegan Peanut Butter Biscuits
PRINT
PIN
RATE
These Vegan Peanut Butter Biscuits are crunchy, flaky, and buttery all at the same time. They are a perfect accompaniment to tea, and every bite provides the perfect balance of nutty and sweet.
Ingredients
¼

cup

oil

(coconut, vegetable, Canola, Grapeseed, peanut)

¼

cup

vegan butter

(I use Kite Hill brand)

1

cup

creamy salted peanut butter

½

cup

light brown sugar

½

cup

granulated sugar

1 ½

cups

all-purpose flour

2

teaspoons

baking soda

½

teaspoon

salt

1

teaspoon

vanilla extract

¼

cup

unsweetened non-dairy milk

(almond, soy, oat, coconut, cashew, flax, or hemp)

1

handful

of salted peanuts for garnish

(optional)
Instructions
In a large mixing bowl, use a hand mixer on low to combine your oil, butter, and peanut butter.

Add both sugars and cream together with your mixer until well combined (about 45 seconds).

Add the flour, baking soda, and salt and mix until completely combined. It's okay if it's more sandy than smooth.

Beat in vanilla and nondairy milk until smooth.

Use clean hands to form 2 tablespoons of dough into a ball and place on a lined baking sheet. Repeat until all the dough is used up, allowing space for cookies to expand while cooking. You should have enough dough to yield about 15 cookies.

Use a fork to press a crisscross shape into the top of the cookies and flatten the dough just a little bit. This step is what yields that classic crinkle top.

Bake for 15-17 minutes and allow to cool at least 10 minutes before enjoying! Garnish with chopped salted peanuts (optional) for extra salinity and crunch.
Pro Tips
If you're not vegan, you can use regular butter and cow's milk and get an awesome cookie, as well.
I used coconut milk for the cookies pictured, but I've also made this recipe with almond and oat milk. Just make sure your non-dairy milk is not sweetened. You want to be able to control the sweetness of the cookie, and using sweetened milk adds extra sugar.
If you only have chunky peanut butter on hand, that's fine too. You will just have a little extra crunch in your cookies because of the peanuts.
Still thirsty? Check out this awesome collection of my best cocktail recipes!
Did you make this recipe?
Let me know by leaving a recipe rating below, or by tagging @marleysmenu on Instagram.