Looking for the perfect chocolatey teatime snack? This moist Chocolate Chip Loaf Cake is easy to whip up and hits the spot every time.
With just one bowl required and ingredients that most home bakers have in their pantry already, this is my go-to when that craving hits or if I want to bake something fresh for company.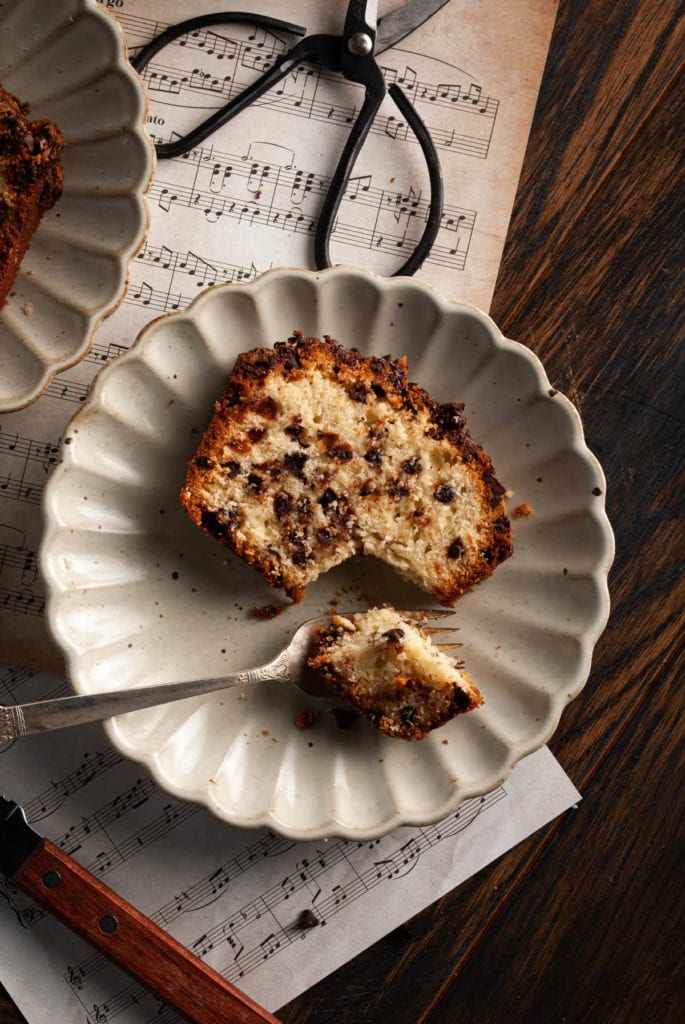 As a busy mom and environmental scientist, One-Bowl baking is my absolute favorite! Less clean-up means we save on both time and water! Win, win.
Green tip: Speaking of cleanup, if you have a dishwasher-use it! Comparing dishwashing to handwashing, using an efficient dishwasher uses 1/6th the amount of water to get your dishes clean!
Chocolate Chip Loaf Cake Ingredients
---
---
Here's everything you'll need:
Butter. Unsalted is best so you can control the amount of salt you add to the batter. Make sure your butter is softened for best results.
Oil. Vegetable, coconut, grapeseed, canola, or peanut all work.
Granulated sugar. For sweetness.
All-purpose flour. This acts as the base for your batter.
Milk. Cows or any unsweetened nondairy milk works.
Vanilla extract. For flavor.
Salt. To ramp up all the other flavors.
Eggs. For a little lift and to bind the loaf together.
Mini Chocolate Chips. Dark chocolate or semi-sweet. Mini is preferred for better distribution of chocolate, but regular sized chips work too.
Chocolate Chip Loaf Cake Tips and Tricks
---
---
Make Sure Your Butter is Softened
The best way to get a light and fluffy texture on your chocolate chip loaf cake is to cream the butter and sugar together first.
Ensuring your butter is softened is key. The best way to soften your butter is to take it out of the refrigerator a couple of hours before you start baking to allow it to naturally come to room temperature.
Green tip: Look for organic and palm oil-free butter if you can. Buying organic means you are supporting farms that do not use damaging pesticides and fertilizers, and palm oil production is a huge driver behind deforestation.
Of course, we don't always have hours to wait, so I'll clue you in on two of my favorite tricks to soften butter quickly.
The first way is to simply place your stick of butter directly on top of your oven while it's pre-heating. Flip it over after a couple of minutes to allow all sides to get warm.
An even quicker way is to put your stick of butter in the microwave for 20 seconds.
Remember we are looking for softened, not melted. You'll know your butter is nice and soft if you poke it and your finger leaves an imprint.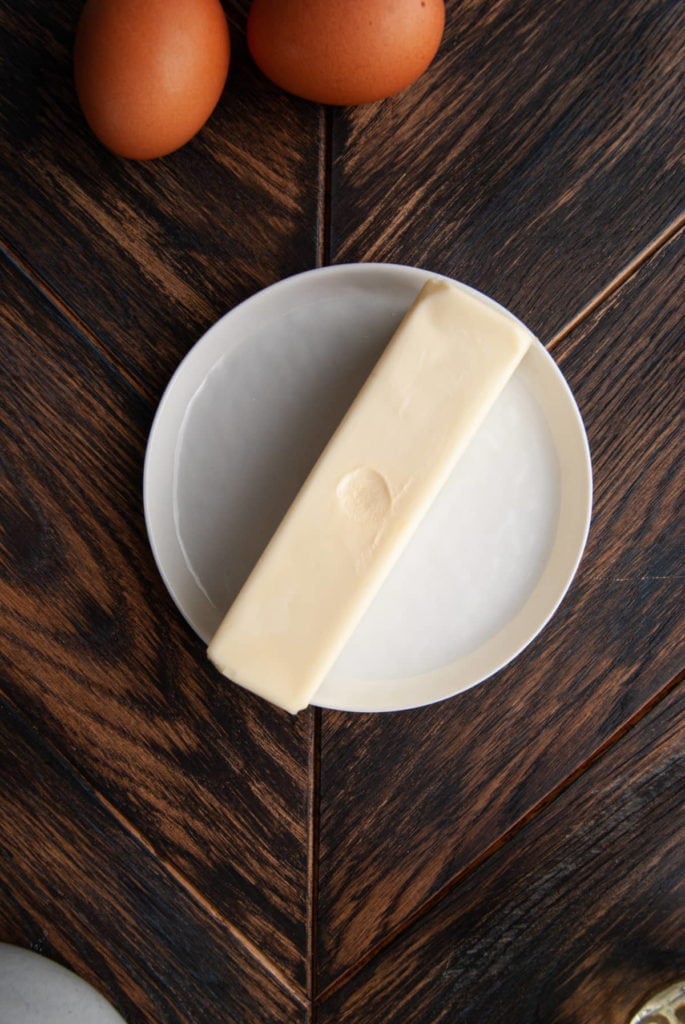 Use a Hand Mixer or Whisk
A hand mixer is the best tool to cream the sugar and butter together for the base of your batter. It's also the easiest way to integrate the rest of your ingredients while avoiding lumps.
I recommend a hand mixer over a stand mixer in this case because we don't want to overbeat the batter and make our cake too dense.
I use this Cuisinart Hand Mixer for almost all of my baking and love it!
After creaming your butter and sugar together, you'll add all of the other ingredients except for the egg and chocolate chips.
Add Your Eggs Last
Overbeating the eggs will make your loaf cake flat and dense. To avoid overbeating, it's best to mix the other ingredients well first, then add your eggs last.
Then you can use your hand mixer or whisk to integrate the eggs, beating just until combined.
Green tip: Look for pasture-raised eggs (over free-range or cage-free) to support agriculture that is less reliant on chemicals and fossil fuels.
Conserve Some Chocolate Chips
I like to save a handful to sprinkle on top.
To avoid all of your chocolate chips sinking to the bottom, make sure to use mini chocolate chips (they're less dense and won't as easily sink!). It's also best to pre-heat your oven before transferring your batter to your prepared loaf pan.
This makes for a quick transfer into the oven.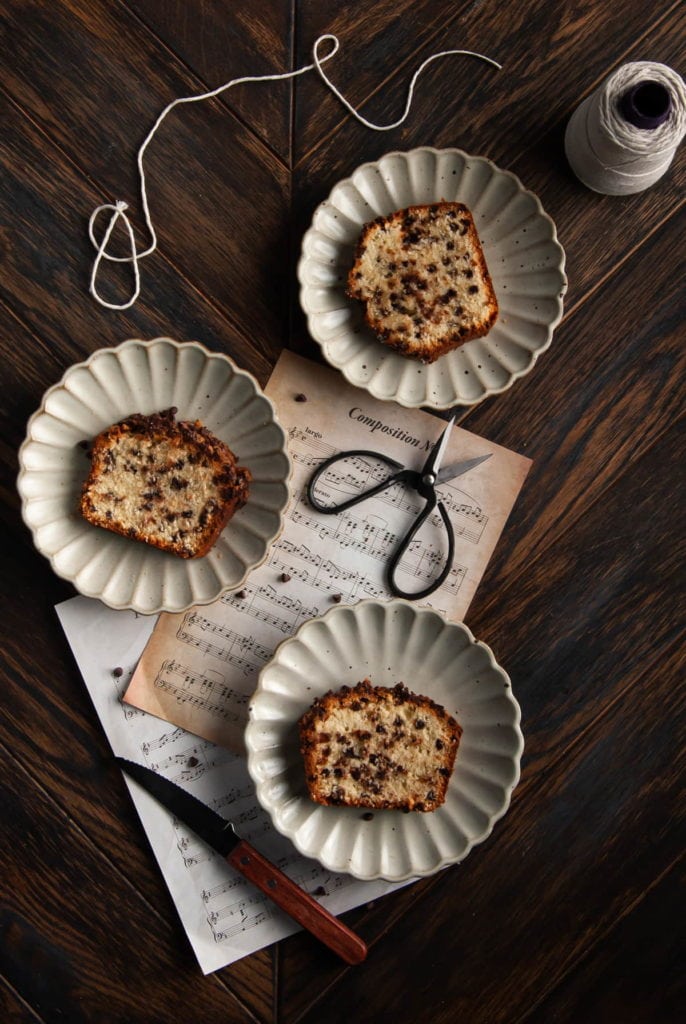 Storing Your Chocolate Chip Loaf Cake
This chocolate chip loaf cake will stay fresh for about 7-10 days in the refrigerator. Make sure to cover it or store it in an airtight container to avoid the loaf drying out.
To freeze, simply store in an airtight freezer bag or freezer-safe container. It will last in the freezer for up to 3 months. Just allow it to thaw and reach room temperature before enjoying!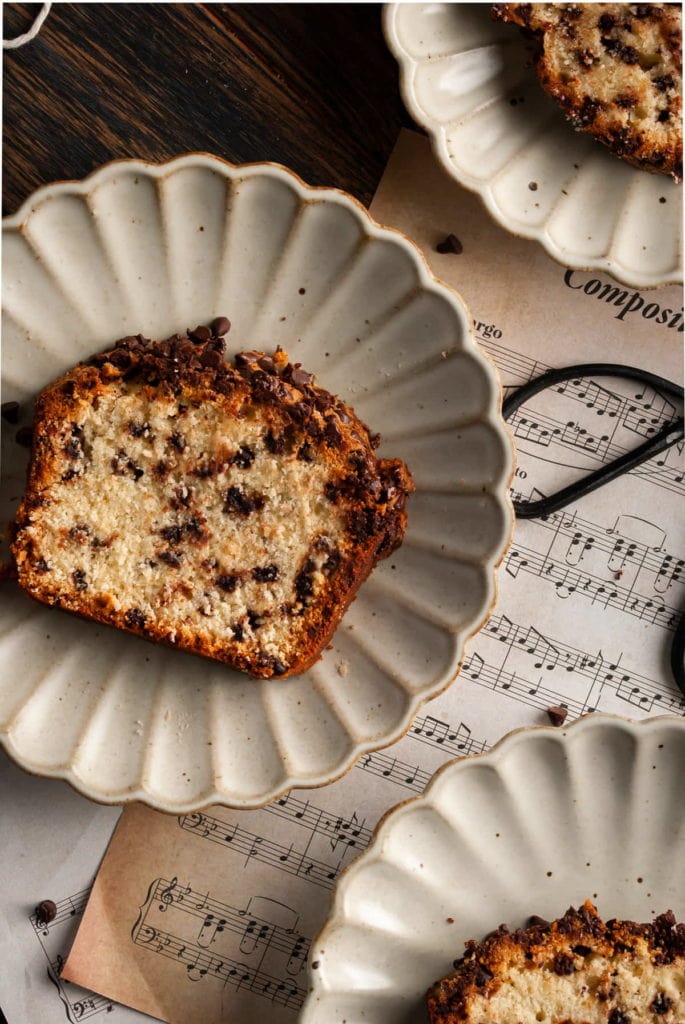 Chocolate Chip Loaf Cake Frequently Asked Questions
---
---
How do I keep chocolate chips from sinking in cake?
If your chocolate chips are denser than your cake batter, they will sink. A quick tip to avoid chocolate chips sinking is to toss them in flour. This will help float them in your batter.
What is the baking temperature for loaf cake?
Typically, loaves bake at 350°F and this Chocolate Chip Loaf Cake is no exception!
Sign-up for the Meatless Monday Challenge
Get access to the 4-week-long Meatless Monday Challenge, with accompanying meal plans, grocery shopping lists, and more, sent right to your inbox!
Why You Should Make this Chocolate Chip Loaf Cake
---
---
It's moist. This loaf cake stays together well without flaking apart.
It's chocolatey. Plenty of tasty tiny chocolate chips floating throughout the cake to give you chocolate in every single bite.
It has a crisp exterior. Baked to perfection with a golden brown top.
If you're loving this Chocolate Chip Loaf Cake, and want more loaf recipes, I highly recommend checking out this Blackberry Lemon Bread! And if you're here for the chocolate chips, these Chocolate Chip Muffins are calling your name!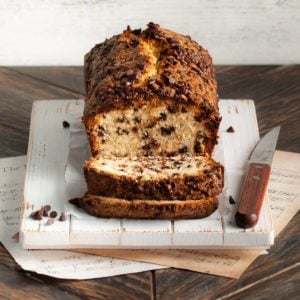 Chocolate Chip Loaf Cake
PRINT
PIN
RATE
This moist Chocolate Chip Loaf Cake is as easy to whip up as it is to eat all in one serving! The perfect accompaniment to your afternoon tea.
Ingredients
½

cup

unsalted butter, softened

(½ cup usually = 1 stick)

¼

cup

oil

(vegetable, canola, grapeseed, or coconut in liquid form)

1 ¼

cup

granulated sugar

2

cups

all-purpose flour

¼

cup

milk

(dairy or unsweetened non-dairy)

1

teaspoon

vanilla extract

1

teaspoon

salt

3

large

eggs, at room temperature

1

cup

mini chocolate chips

(semi-sweet or dark chocolate)
Instructions
Preheat your oven to 350°F and prepare a 9-inch loaf pan by greasing with cooking spray or lining with parchment paper.

In a large mixing bowl, use a hand mixer or whisk to cream together the butter, oil, and sugar until well combined (about 1 minute).

Add the flour, milk, vanilla extract, and salt, and vigorously whisk or use your hand mixer on high to combine. At this point, your batter may not be completely smooth.

Add your eggs and beat with your hand mixer or whisk just until combined.

Set a handful of chocolate chips aside, and use a spatula to fold the rest into the batter.

Transfer your batter to your prepared loaf pan and sprinkle the remaining chocolate chips on top.

Bake on the bottom rack for 85-95 minutes or until a toothpick comes out clean. Allow your chocolate chip loaf cake to cool completely before slicing into it and enjoying!
Pro Tips
If you want a crispy top, sprinkle a handful of granulated sugar on top of your loaf before placing it in the oven!
Option to sprinkle your loaf with powdered sugar for extra sweetness.
Chocolate lover? Me too! You'll love the collection of my best chocolate recipes.
Whether you're hosting a party, it's someone's birthday—or it's just a rainy Tuesday!—this selection of my best cake recipes has a great cake for every occasion.
Did you make this recipe?
Let me know by leaving a recipe rating below, or by tagging @marleysmenu on Instagram.