Have you noticed that most homemade hot cocoa mix recipes don't contain real chocolate? The addition of chocolate chips in this recipe is what sets it apart, making it hands down the BEST homemade hot chocolate mix.
With just 3 simple ingredients, this magic powder will turn warm milk into a chocolate lover's dream sipping situation in a matter of minutes. Because you deserve a creamy, velvety, decadent hot chocolate that you can cozy up with when the craving hits.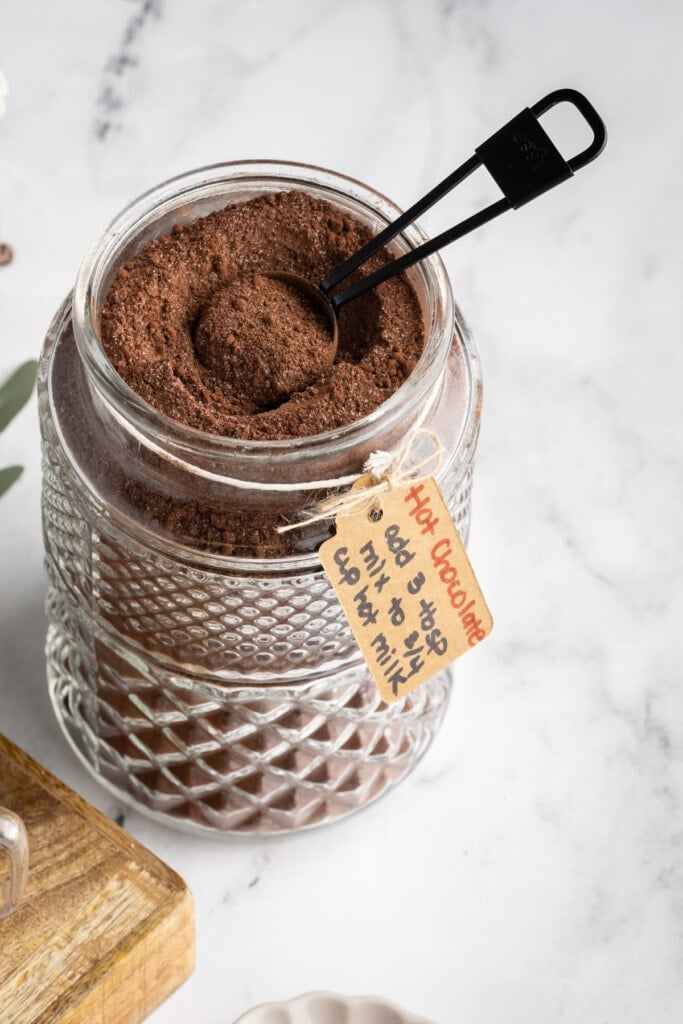 As an environmental scientist, I LOVE making my own mixes and spice blends.
For one, pre-made spice blends often contain extra anti-caking agents and preservatives. Food preservatives, like pesticides, are harmful to the environment because they contain toxins that are harmful to plants, animals, and soil.
Additionally, making your own mixtures means you can avoid buying extra pesky plastic, or those single use packets that are often not recyclable.
Green tip: Single-use plastics often end up in landfills or make their way into the environment and become microplastics.
Hot Chocolate Mix Ingredients
---
Here's everything you need:
Chocolate chips. This hot chocolate mix has real chocolate chips to give it the richest, most chocolaty taste!
Cocoa powder. Cocoa powder infuses extra chocolate flavor and color and also acts as a thickener.
Granulated sugar. To balance out the cocoa powder and give you just enough sweetness.
Homemade Hot Cocoa Mix Tips and Tricks
---
What Makes this Hot Chocolate Mixture recipe the best?
This hot chocolate mix is different from other homemade mix recipes for two reasons. For one, it contains real chocolate in the form of crushed chocolate chips, giving it the richest and most decadent chocolate flavor.
Secondly, this mix is designed to be made with hot milk (dairy or non-dairy!). This means that there aren't unnecessary ingredients like evaporated or powdered milk to mix into hot water.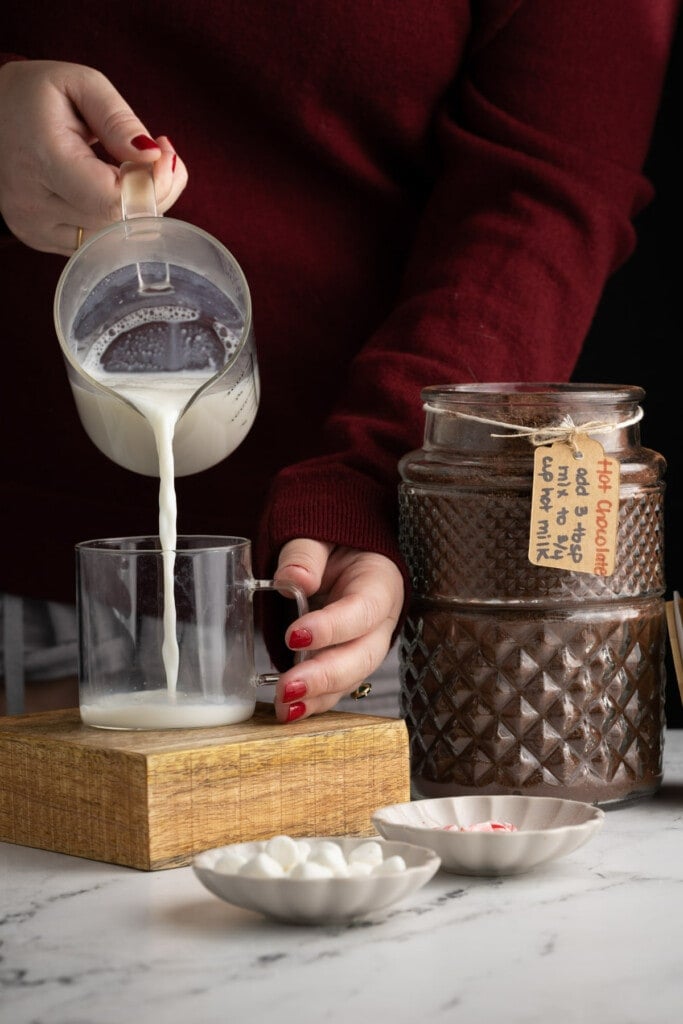 You'll Need a Food Processor
In order to get the best distribution of real chocolate throughout your hot cocoa mix, it's best to use a food processor or high-powered blender.
High-quality chocolate goes a long way in this recipe. You can use either dark chocolate or semi-sweet. To make this vegan, make sure you use dairy-free dark chocolate chips.
Similarly, you can use either dark cocoa powder or regular cocoa powder depending on your taste. Dark cocoa powder is slightly more bitter and richer, and is my preferred way to make this easy mixture.
Green tip: Make sure your chocolate is sustainably sourced. Look for Fair Trade, Rainforest Alliance, or UTZ certifications as opposed to self-proclaimed sustainability labels that sometimes falsely advertise "sustainably sourced".
You'll add the chocolate chips directly to the food processor with the cocoa powder and granulated sugar and blend on high until the chips are broken down and the mixture is well-combined.
You may notice a couple of little chunks left in your mix, and that's okay! They will melt when you make your hot chocolate, but just make sure they are small, and no chocolate chips are left whole.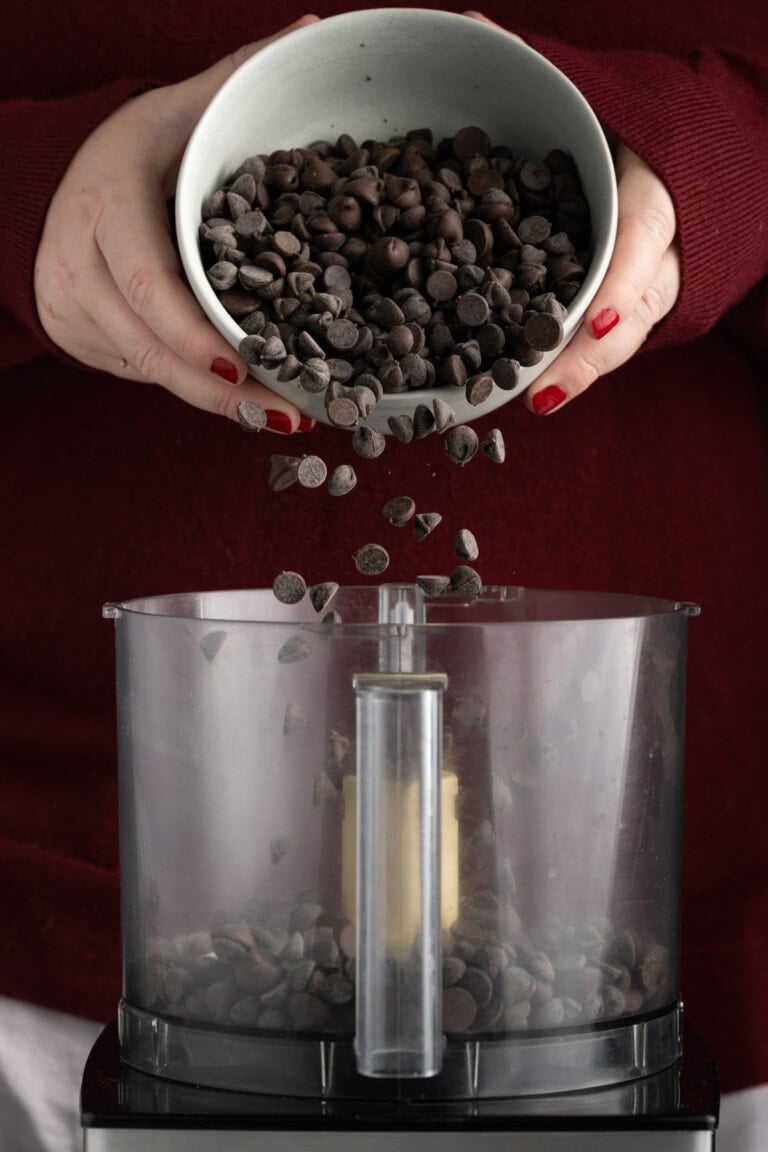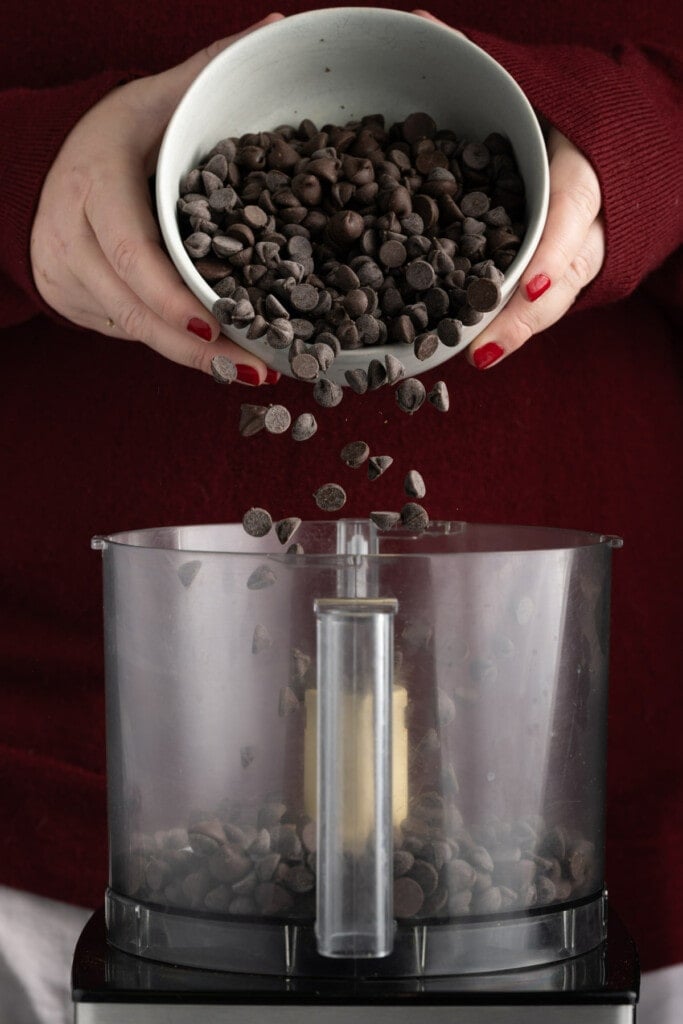 There's No Need for a Sieve
One of my favorite things about this recipe is how easy it is to make. While a lot of hot chocolate mixture recipes require a sieve (aka a sifter), there is no need for one here.
That is because any lumps will be broken down when you blend your mixture, so it does not have to be sifted. Take as much time as you need blending on high, you can't over-blend it.
Keep blending until you are confident most of the chocolate chips are broken down and there are no lumps of sugar or cocoa powder remaining.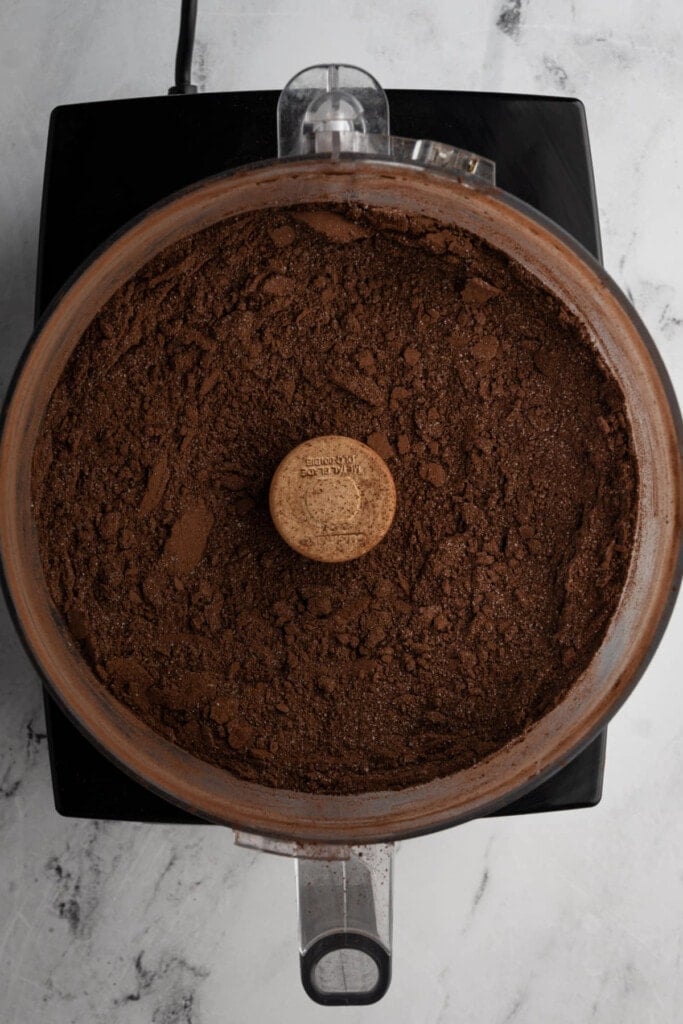 Using Your Homemade Hot Chocolate Mix
For the best ratio of mix to milk, use 1 tablespoon of homemade mix to 1/4 cup of milk. In other words, you will use 4 tablespoons of mix per 1 cup of milk.
This mix can be used with any dairy milk, half & half, or cream, and can also be used with any non-dairy milk. I love it in almond milk. Just make sure your milk is unflavored and unsweetened, so it doesn't turn out too sweet.
My preferred way to make hot chocolate from this mix is by heating the mixture on the stove with the milk, whisking as you heat. This is because it more evenly distributes the melted chocolate in the milk.
You can absolutely heat the milk in the microwave for 1-2 minutes, until you see steam coming off the top. Then just add the mixture and stir.
Just beware that as the chocolate melts, it will sink to the bottom, so it's best to stir thoroughly or use a milk frother to combine before taking your first sip.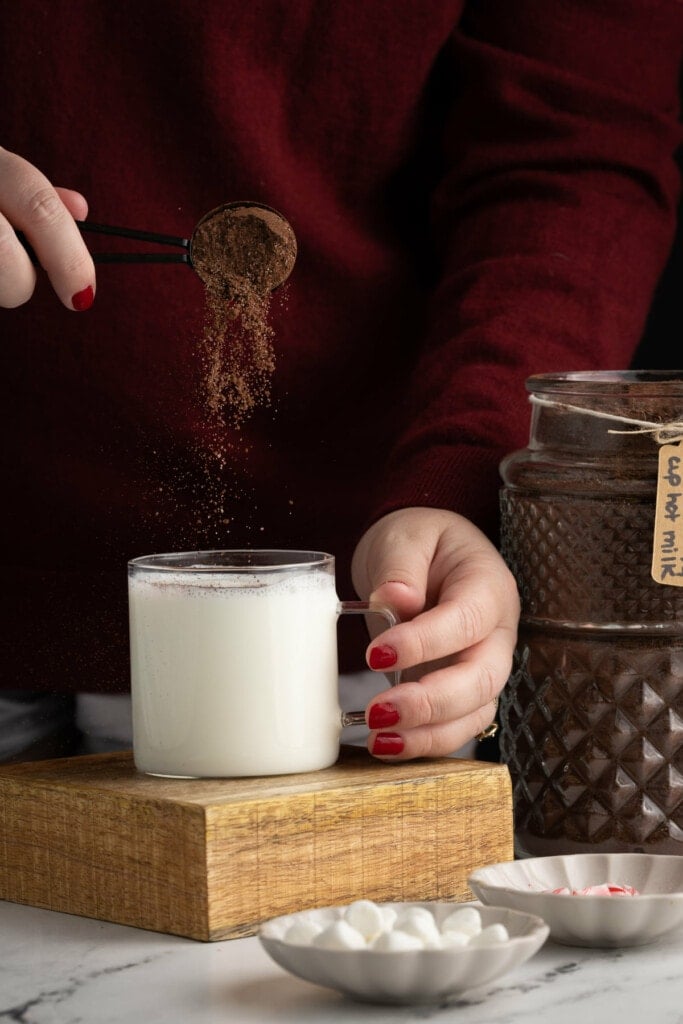 Storing Your Homemade Mix
While the exact lifespan of your hot cocoa mix will depend on the age of the ingredients you are using, at room temperature, your hot chocolate mix will typically last up to a year.
Make sure to store it in an airtight container to seal out any contaminants. It's important to also make sure you are using clean utensils to scoop out the hot cocoa mix as you continue to use it.
This recipe will yield 3 cups of mixture, or about 12 servings.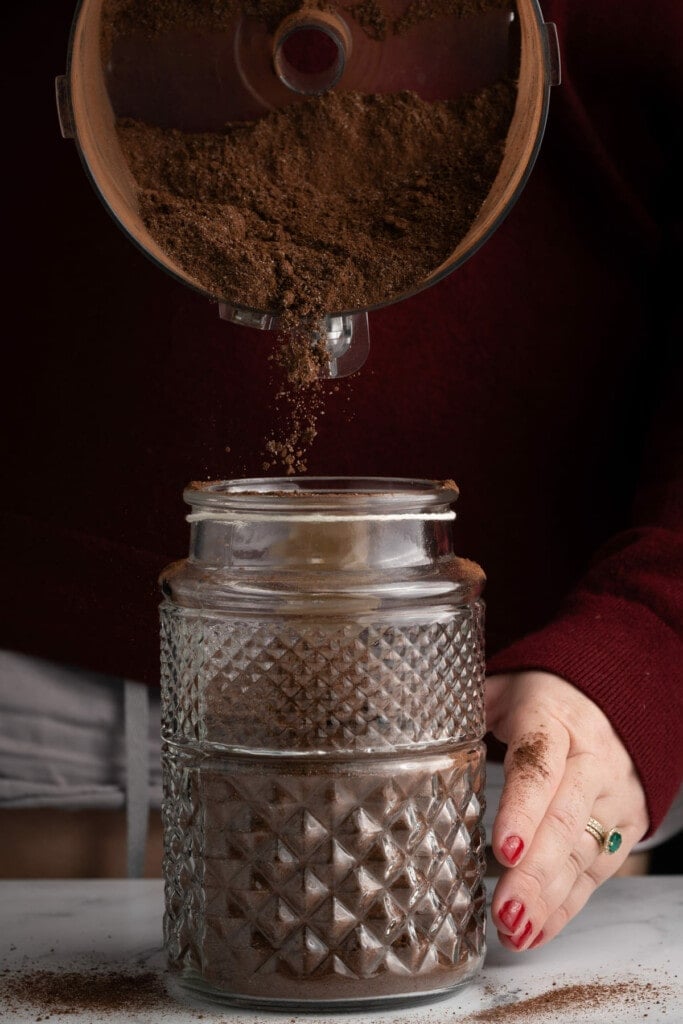 Fun Hot Chocolate Toppings
If you want to add a little something special on top of your hot chocolate, have fun with toppings!
Here are some of my favorite hot chocolate topping ideas:
Chocolate shavings
Sprinkles
Mini marshmallows
A candy cane (this will give it a mellow peppermint flavor) or crushed peppermint
A dusting of powdered sugar or extra cocoa powder
Chocolate syrup
Toffee bits
Pirouette cookies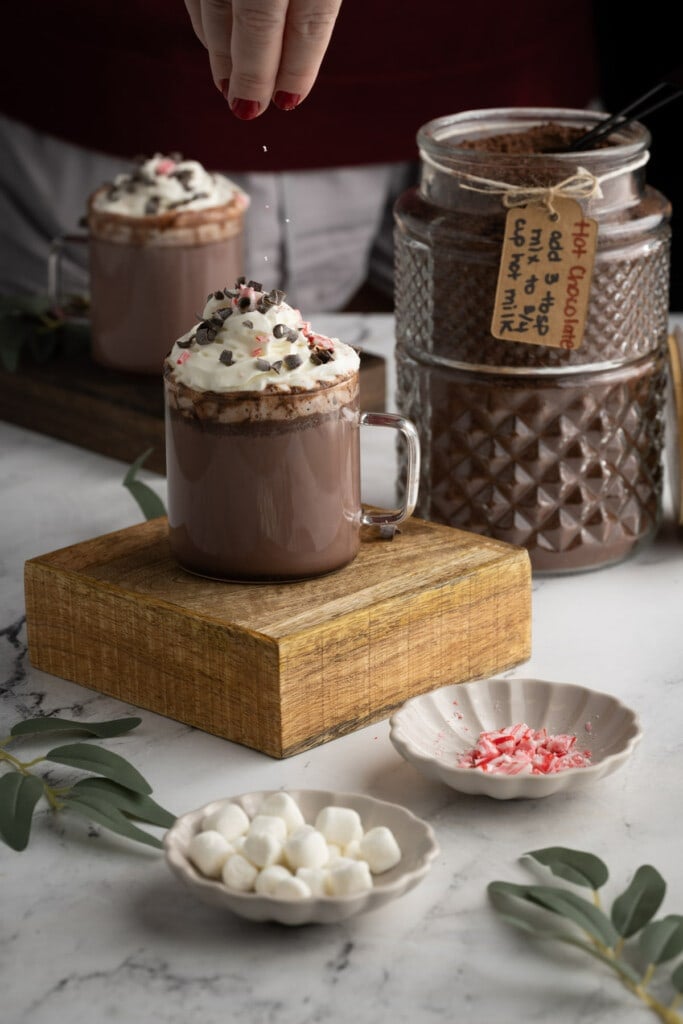 Giving Homemade Hot Chocolate Mix as a Gift
Something else I love about this Homemade Mix recipe is that it makes a wonderful gift!
Here's my best advice for making this recipe to give to your friends and family:
Make sure you use clean hands to make your mixture.
Make sure you use a jar with a pop lid or an easily resealable lid for easy transport.
Make sure you provide instructions on how to use the hot chocolate mix.
Make sure you pay attention to any dietary restrictions the person you are gifting may have. This can easily be made dairy-free or vegan by selecting the right ingredients.
Make it cute! Tie a little ribbon around the top or decorate and personalize the jar you are gifting.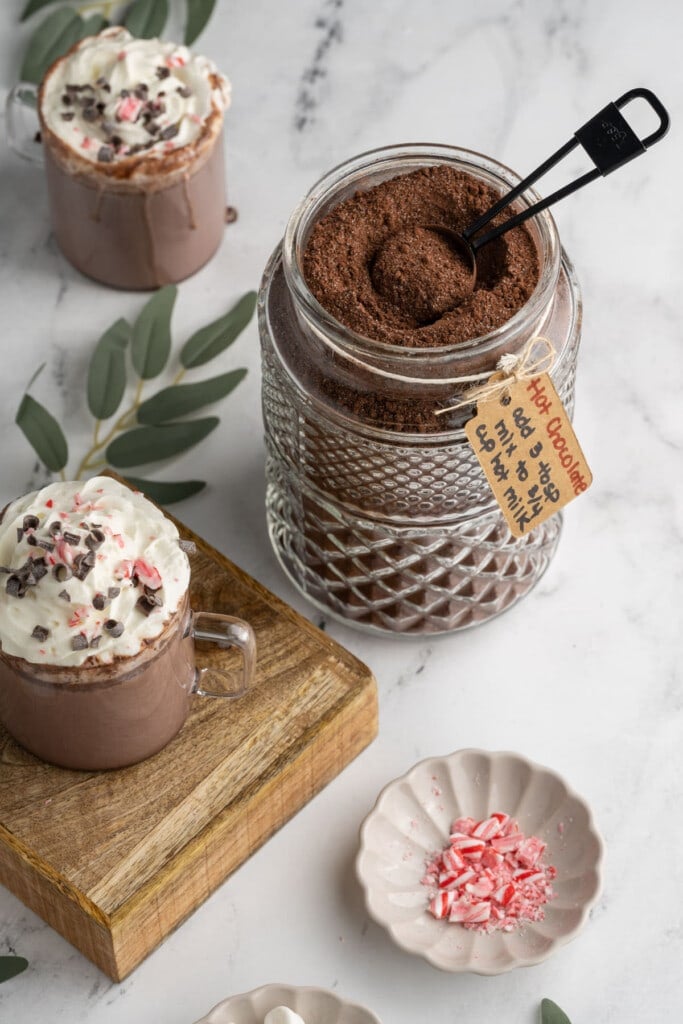 Hot Chocolate Mix Frequently Asked Questions
---
What is hot chocolate mix made of?
Generally, hot chocolate mix is made of evaporated milk, cocoa powder, and granulated sugar.
However, this homemade hot chocolate mix recipe uses real chocolate chips to add richness rather than milk powder. That does mean that this hot chocolate mix is designed to be made with milk instead of water.
Any milk can be used from dairy to plant-based.
Is there a difference between hot chocolate and hot cocoa?
Typically, the terms hot chocolate and hot cocoa are used interchangeably. However, technically, hot chocolate is richer than hot cocoa.
What's the best way to make Hot Chocolate?
The best method for making hot chocolate is on the stove top with a whisk. Warm milk over medium heat in a saucepan or pot with the hot chocolate mix, whisking frequently.
The stovetop method is the best way to guarantee that the melted chocolate doesn't sink down to the bottom of your mug, diluting the flavor until the last sip.
Alternatively, you can heat milk in the microwave and stir the mixture into it.
Want to sharpen your kitchen skills?
Why You Should Make This Homemade Hot Chocolate Mix
---
It's simple! Just three effective ingredients thrown in the blender and there you have it!
It contains real chocolate. The addition of chocolate chips to the mixture gives your hot chocolate extra richness.
It's a great edible gift idea. I love to gift a little mason jar of this mix every Holiday season.
If you're loving this Homemade Hot Chocolate Mix, I think you'll also love these Baileys Hot Chocolate Bombs and this White Chocolate Martini.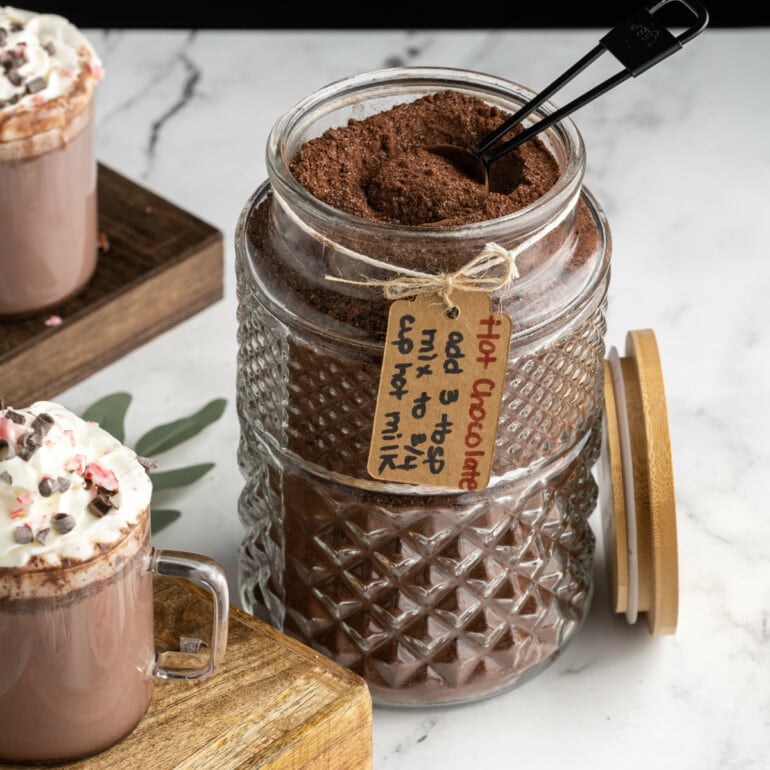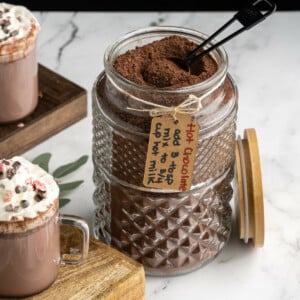 The BEST Homemade Hot Chocolate Mix
PRINT
PIN
RATE
This hot chocolate mix with chocolate chips is the best mixture to have on hand for the richest, most velvety, and chocolatey sip.
Ingredients
1 ¼

cup

chocolate chips (dark or semi-sweet)

10

tablespoons

unsweetened cocoa powder

(10 tbsp = 1/2 cup + 2 tbsp)

10

tablespoons

granulated sugar

(10 tbsp = 1/2 cup + 2 tbsp)
Instructions
Hot Chocolate Mix
Blend on high until chocolate chips are broken down and combined with the cocoa powder and sugar.

Store in an airtight container until ready for use.
Using Your Hot Chocolate Mix
Use 1 tablespoon of hot chocolate mix per 1/4 cup of milk (dairy or unsweetened nondairy).

Stovetop method (preferred): Heat milk and hot chocolate mix in a small pot over medium, whisking frequently, until mixture is smooth, and steam comes off the milk.

Microwave method: Heat milk for 1-2 minutes on high until steam is coming off the milk. Add the hot chocolate mixture and stir well (melted chocolate tends to settle at the bottom, so make sure you stir very well. If you have a milk frother, I recommend you use it!).
Pro Tips
Use dark chocolate chips and dark cocoa powder for a richer hot chocolate mix.
For delicious homemade hot chocolate garnish, check out this this Pumpkin Whipped Cream and Peppermint Whipped Cream. 
If, like me, you've got a weakness for a cozy warm mug of hot chocolate, you *definitely* shouldn't check out all my other Hot Chocolate treats, it would be too dangerous!
Or maybe you're more of an all-round chocolate lover? You'll love the collection of my best chocolate recipes!
Did you make this recipe?
Let me know by leaving a recipe rating below, or by tagging @marleysmenu on Instagram.