Looking for a fun way to enjoy your favorite warming chocolate treat? These Bailey's Hot Chocolate Bombs are interactive, delicious, and just the right amount of boozy.
We're talking shiny dark chocolate spheres filled with Bailey's Hot Chocolate Mixture that melts into hot milk to warm your soul and tickle your taste buds.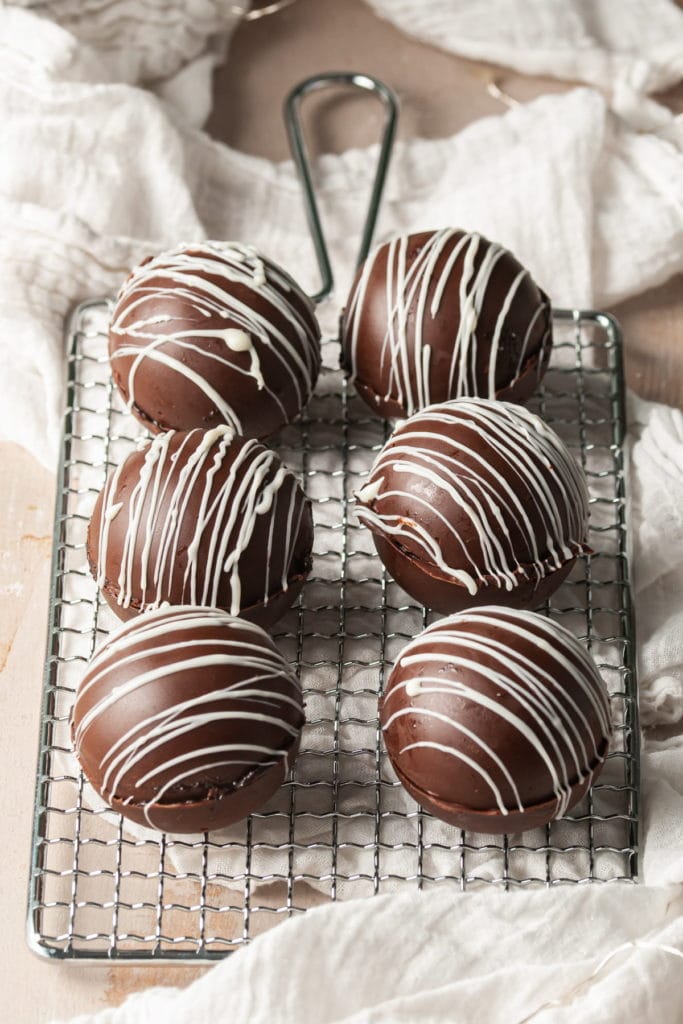 Bailey's Hot Chocolate is an absolute favorite in our household. And living in Florida where our winter is all of three days, we enjoy this delicacy year-round!
And what's better than Bailey's Hot Chocolate? Only homemade Bailey's Hot Chocolate mix hidden inside a dark chocolate sphere!
Making Your Bailey's Hot Chocolate Bombs
---
---
You'll Need A Couple of Gadgets
In order to make these delicious treats, you'll need both a candy thermometer and spherical chocolate molds. I highly recommend these affordable options for optimal success:
This multi-use kitchen thermometer pictured in this blog post.
These spherical chocolate molds that are easy to use and easy to clean, also pictured in this blog post.
it's also best to use a hand mixer to combine your Bailey's Hot Chocolate Filling for inside the bombs.
Outside of those three things, you'll only need 4 ingredients. Here's everything you'll need:
You'll Have To Temper Your Chocolate
Tempering the chocolate is key to getting hot chocolate bombs that will firmly hold together and stay solid at room temperature. It also means you can handle them easily without getting melty chocolate all over your fingertips.
To temper the chocolate, you'll need your trusty thermometer and a makeshift double-boiler. If you have a fancy double-boiler—great! If not, it's super easy to make your own.
Just fill a large pot with about 2 cups of water and place either a large, heat-safe metal bowl or a second, smaller pot on top. You want the bowl or smaller pot to rest inside the larger pot, preferably without touching the water underneath.
Bring the water in the large pot to a boil so that the upper pot or bowl rises in temperature slowly from the hot water underneath. This is the best way to maintain control over the temperature of your chocolate.
Green tip: Make sure your chocolate is sustainably sourced. Look for Fair Trade, Rainforest Alliance, or UTZ certifications as opposed to self-proclaimed sustainability labels that sometimes falsely advertise "sustainably sourced".
Once you've fashioned your double boiler and brought the water up to a boil, add your chocolate chips. Once they start to melt, remove them from heat, and stir until chocolate is completely melted.
Stick your candy thermometer into the melted chocolate and monitor it as it starts to cool down. To temper it properly, you will have to bring the temperature of the chocolate all the way down to 80°F. This may take up to 20 minutes, depending on the temperature in your kitchen.
Once the chocolate comes down to 80°F, put it back over your boiling water and bring it back up to 90°F. This change in temperature from hot to cold to hot is what prepares your chocolate to be molded into spheres.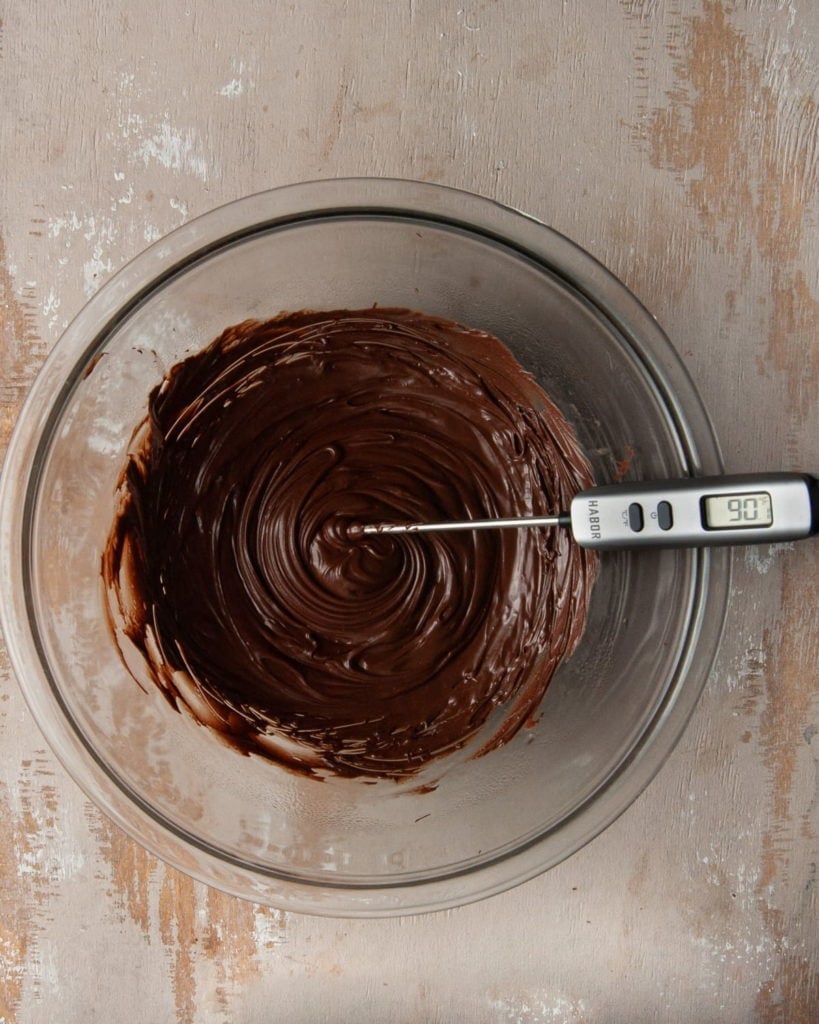 Carefully Fill Your Molds
Use a spoon or pastry brush to add at least a tablespoon of chocolate to each mold. Carefully press the melted chocolate up the sides, ensuring that the chocolate comes all the way up to the top.
We want a pretty thick layer of chocolate, so be generous with the amount of chocolate you add to each mold. You should only have about 1/4 cup of melted chocolate remaining once your molds are filled.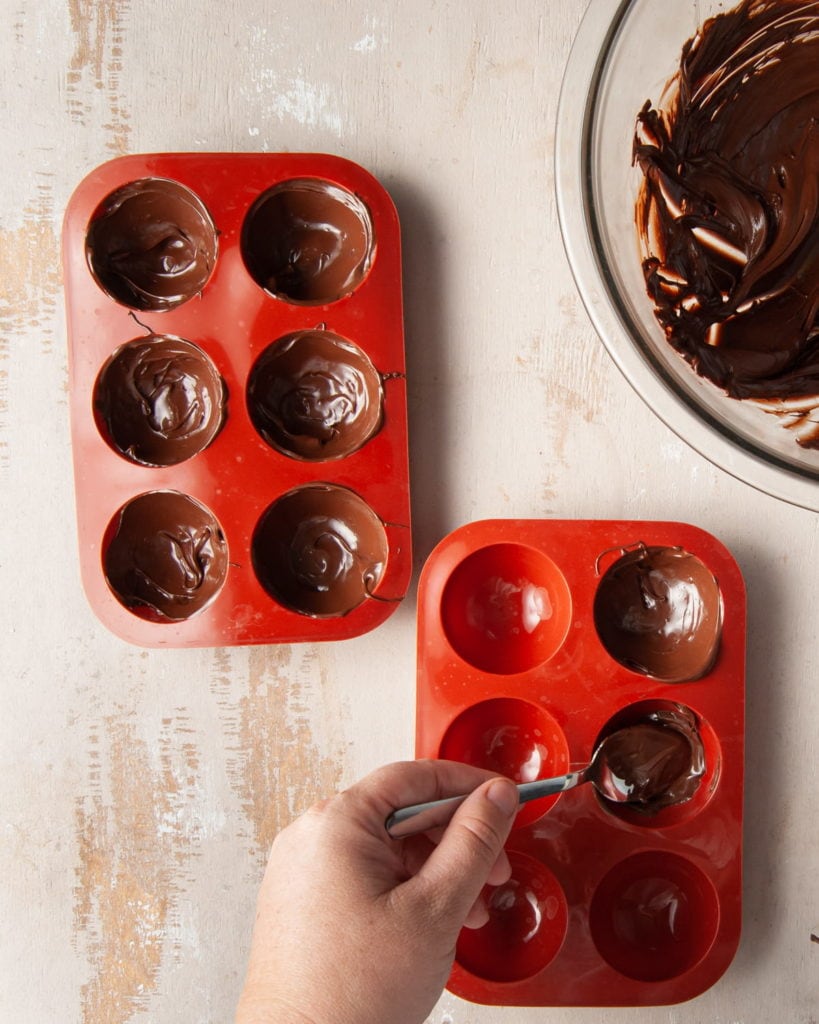 Get Ready to Get Boozy
While your chocolate spheres are setting, whip up your Bailey's hot chocolate filling. Add your Bailey's Irish Cream to whatever melted chocolate is leftover, and use a hand mixer to combine until smooth.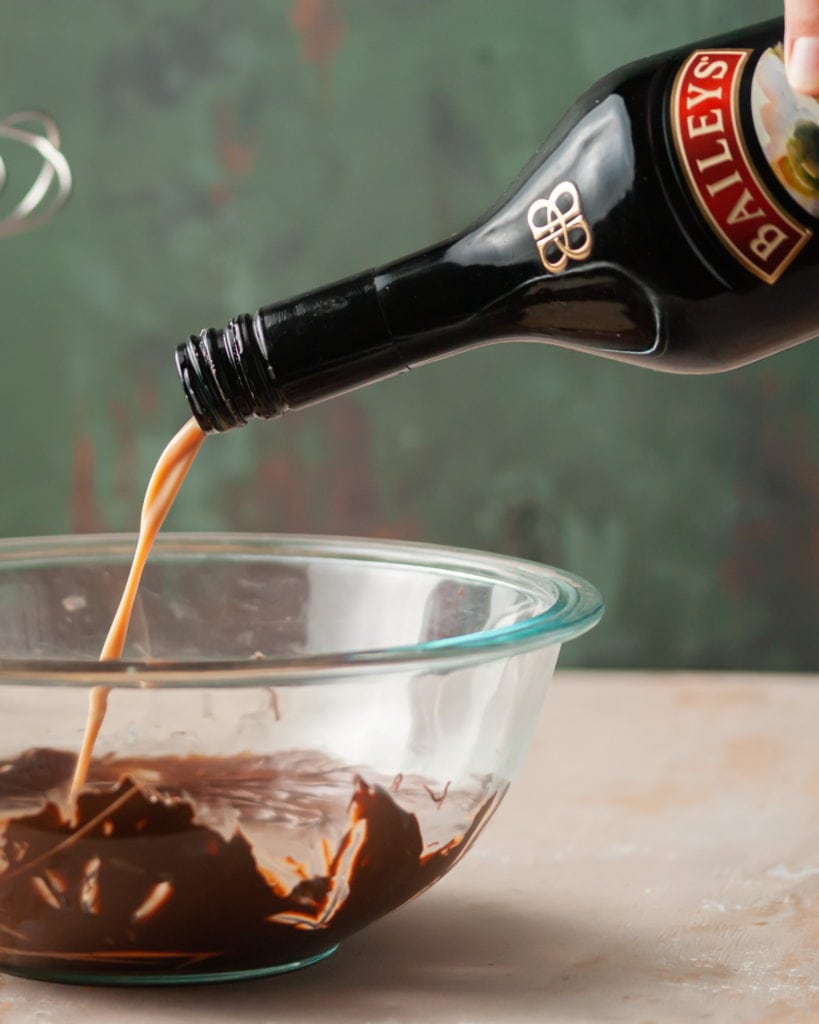 Add Your Cocoa + Sugar Next
Once your Bailey's and melted chocolate are combined, add your sugar and cocoa powder and used your hand mixer again to combine.
You should be left with a thick, grainy, chocolatey mixture that looks like this: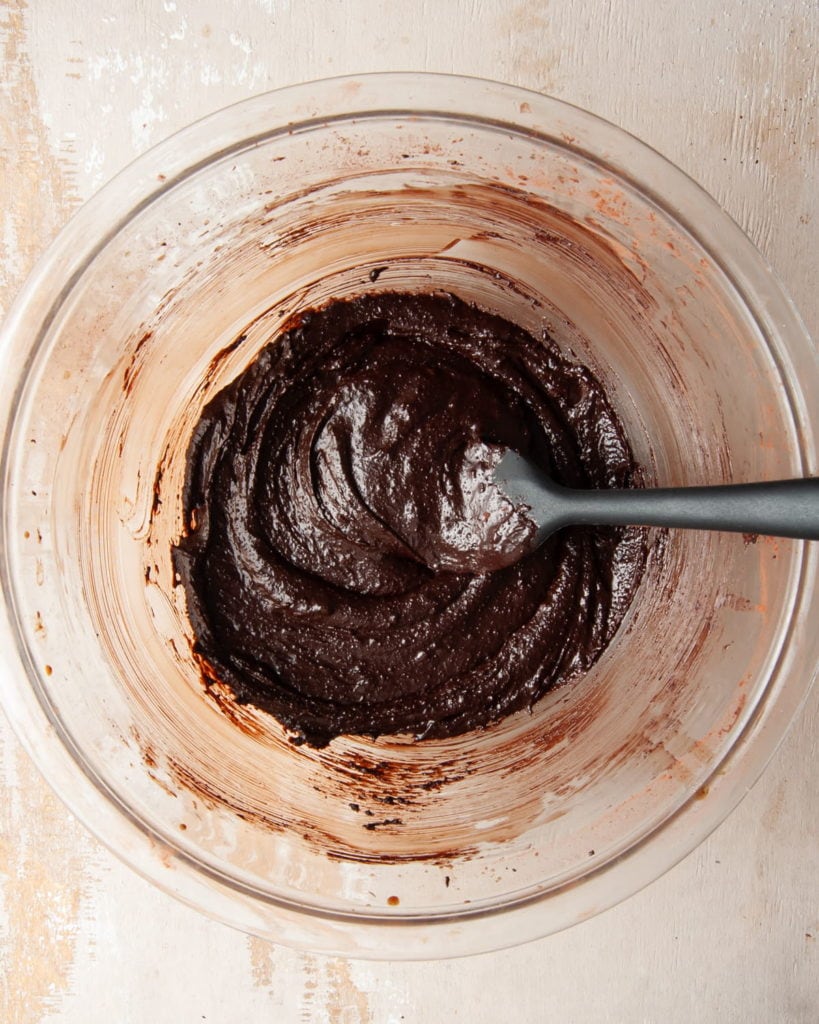 Set your Bailey's Hot Chocolate mixture aside to prepare your spheres for filling.
Allow Your Spheres To Cool Completely
Place the chocolate-filled molds in the refrigerator for 15 minutes to set. After 15 minutes, give each one a little poke, just to make sure they are completely solid.
Carefully peel back your mold. Option to wear gloves if your hands run hot and you're worried about the chocolate melting, but tempering the chocolate usually makes this part of the process rather easy.
Set your half-spheres face up on a baking sheet or plate to get ready to fill them!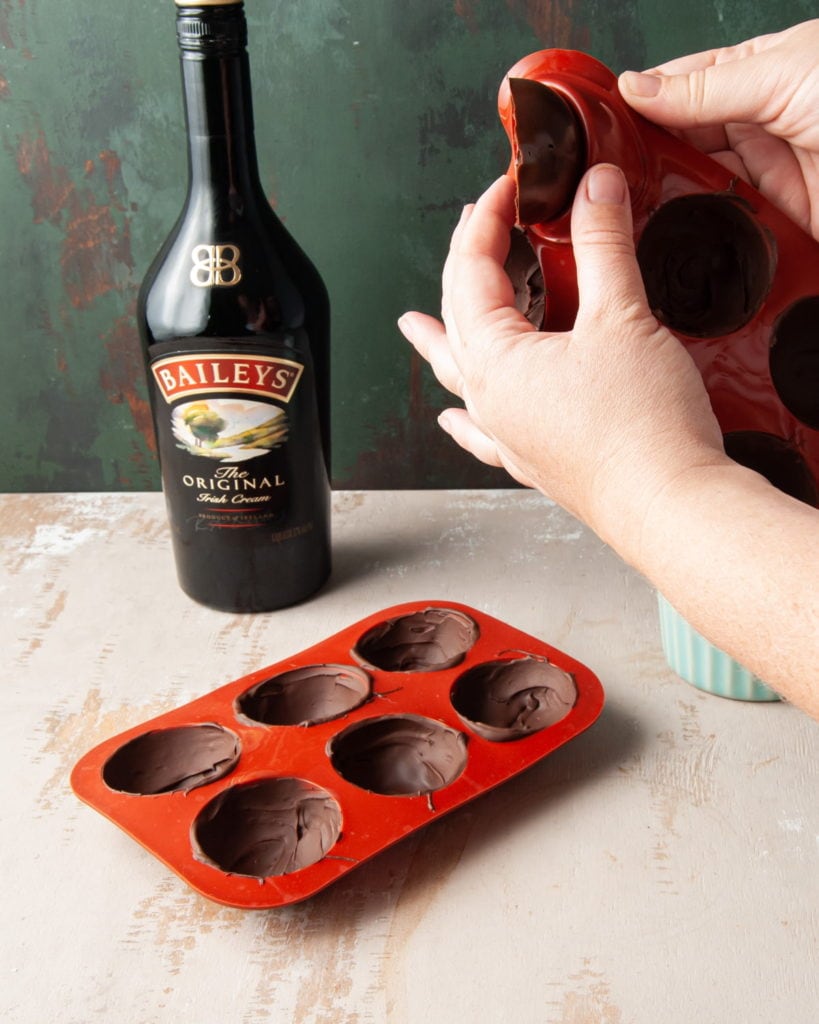 Fill 'Em Up
Use a spoon or piping bag to fill 6 half-spheres with your Bailey's hot chocolate filling. Fill them to the tippy-top, leaving little to no leftover mixture.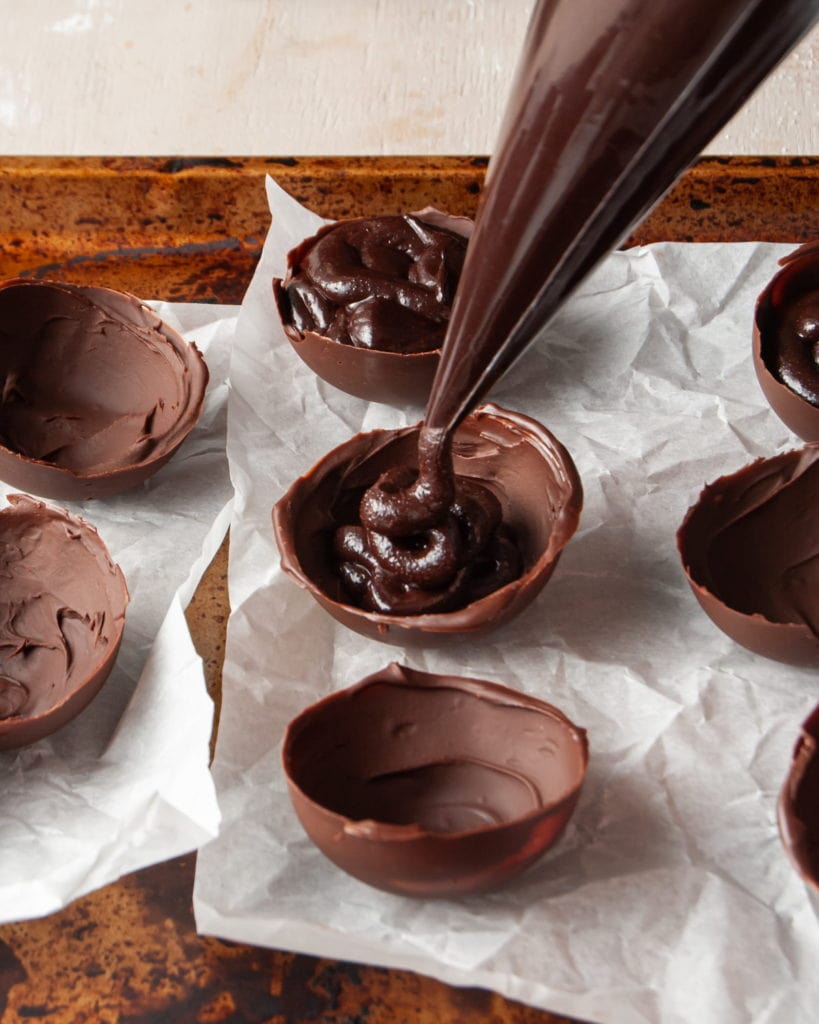 Seal 'Em
Okay, we've tempered, we've molded, and we've filled up these hot chocolate bombs. Now it's time to seal them!
Get a small pan hot over low heat. Grab your empty spheres, and one at a time, carefully press the edge of the sphere down onto the pan to get the edges hot and melty.
This melted chocolate around the edge will act as the glue to hold your hot chocolate bombs together. Allow them to set for 15 minutes at room temperature.
Enjoying Your Bailey's Hot Chocolate Bombs
---
---
Choose Your Ratio
So these hot chocolate bombs are designed to be enjoyed by mixing with 1 cup of hot milk. That being said, if you're a chocolate fiend and want a super decadent Bailey's Hot Chocolate, use 2 hot chocolate bombs per 1 cup of milk.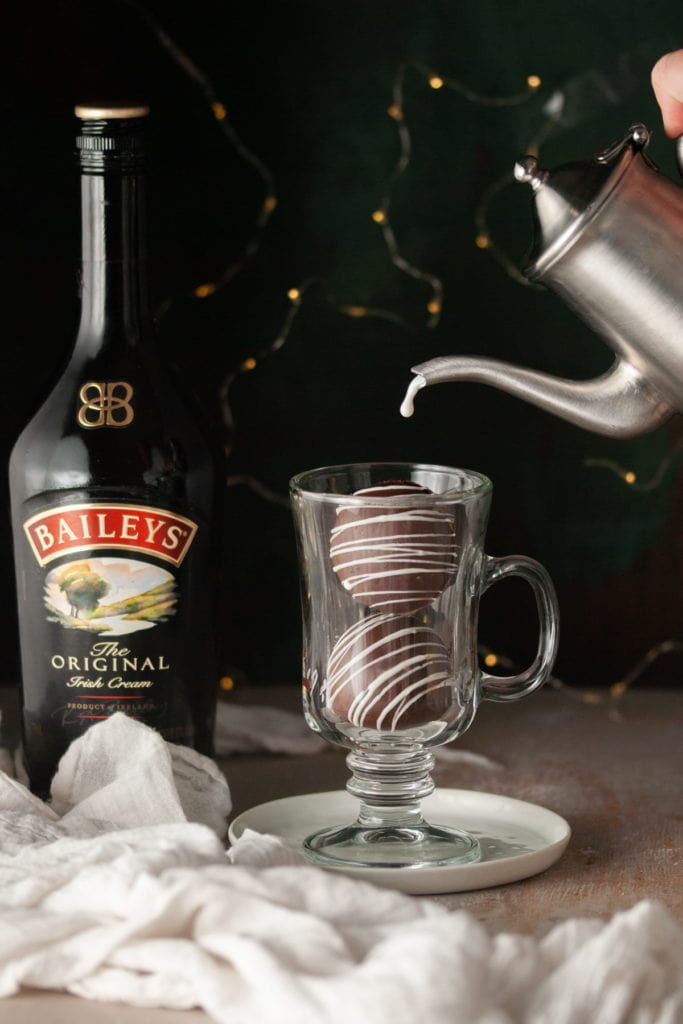 Heat Your Milk
The milk needs to be hot enough to completely melt the chocolate bomb, so we want it to be simmering. You can choose to use any milk you like—cow's milk or non-dairy, both work perfectly.
You can heat your milk on the stove or in the microwave until it starts to simmer. Just make sure to remove it from heat quickly right when it starts to simmer because over-heated milk can have an almost burnt taste.
Depending on your microwave, it will take anywhere from 60-90 seconds, but it's best not to do it all at once. Start with 30-seconds and then continue to heat in 15-second intervals, checking in between.
For the stove method, you can either use a double-boiler until it simmers or heat directly over low heat, stirring frequently and watching closely to remove it as soon as it starts to simmer.
Green tip: Coconut milk is one of the lowest impact milk choices when it comes to our environmental footprint. Coconut trees use little land, little water, and the production of coconuts requires no deforestation.
Pour Or Drop?
You can choose to pour your hot milk over top of the bomb in a mug or you can heat up your milk in the mug and drop the hot chocolate bomb in! Whichever you prefer!
My husband argues that it's not technically a hot chocolate bomb unless you drop it in, but I beg to differ (he also swears by the 2:1 bomb to milk ratio, but I digress).
Whichever technique you decide to use, just make sure to use a heat-safe mug.
Stir It Up!
The hot milk should melt the chocolate bombs pretty easily, but stirring it well will help it along.
Use a spoon to stir until the hot chocolate bomb is completely integrated into the milk and your Bailey's Hot Chocolate is nice and smooth.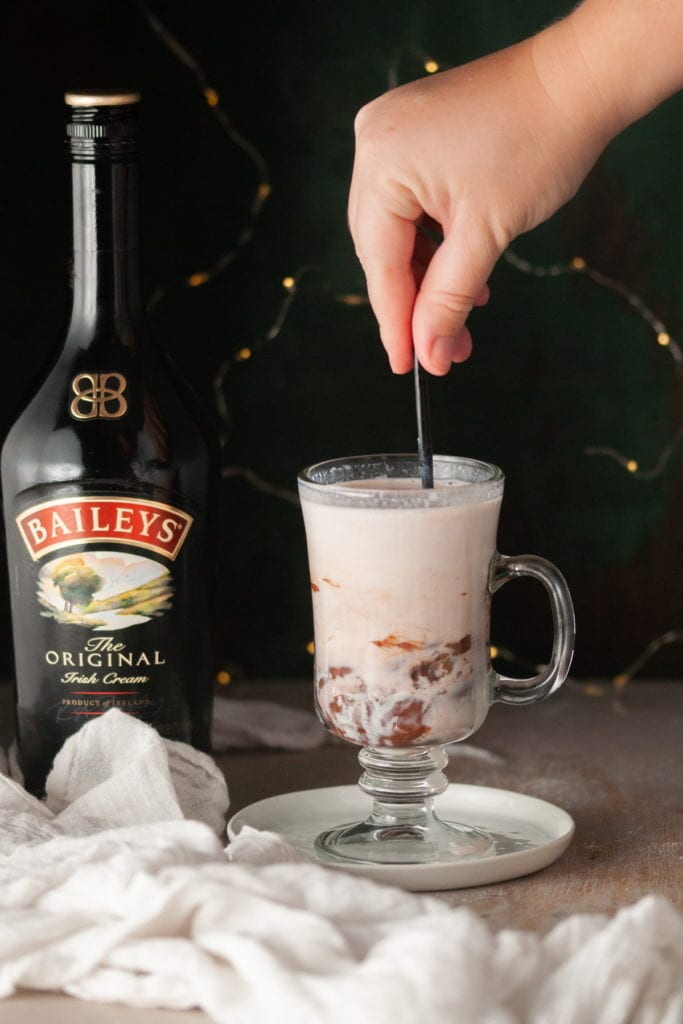 Storing Your Bailey's Hot Chocolate Bombs
These bombs will stay tasty for up to two weeks (if you have the willpower to keep them that long 😉). Just store them at room temperature in a bag or sealed container.
For another fun way to enjoy hot chocolate, check out this Hot Chocolate Charcuterie Board!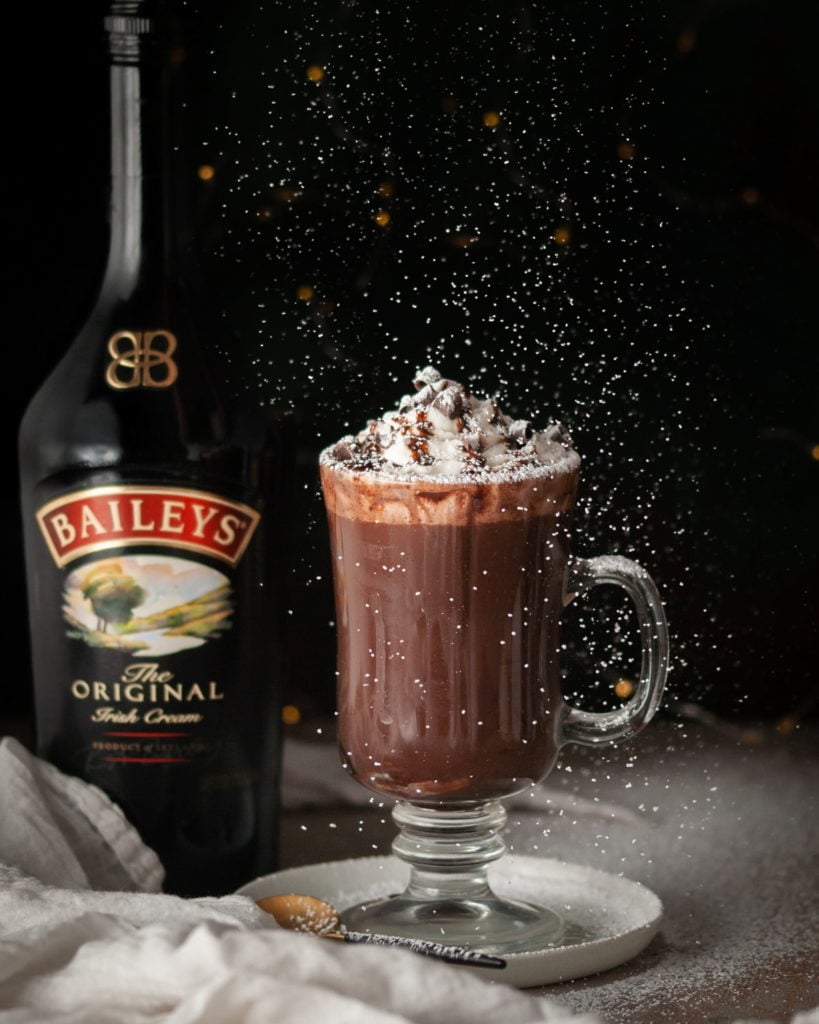 Why You Should Make These Hot Chocolate Bombs
---
---
They're fun! What better than a chocolate explosion?
They're decadent. Warm, smooth, creamy, chocolatey… need I say more?
They're boozy. Just the right amount of Bailey's Irish Cream to give 'em a little boost.
If you're loving these Bailey's Hot Chocolate Bombs and want more fun Bailey's recipes, check out this Bailey's Hot Chocolate Tart and Bailey's French Toast.