Is there a better way to embrace the enchanting flavors of Fall than by topping your favorite desserts with a dollop of Pumpkin Whipped Cream? Join me in creating this seasonal delight that will leave your taste buds tingling with Autumnal joy.
Think perfectly airy, subtly sweet homemade whipped cream packed with real pumpkin and pumpkin pie spice. The perfect touch to elevate pancakes, cakes, coffees, and of course, hot chocolate!
In this recipe, you will learn my best tips for making homemade whipped cream at home and how to use both pumpkin puree and pumpkin pie spice to infuse the perfect amount of Fall flavor to it.
Plus, you'll be given serving ideas (this is the honestly the perfect topping for Pumpkin Spice Hot Chocolate!) and storage instructions.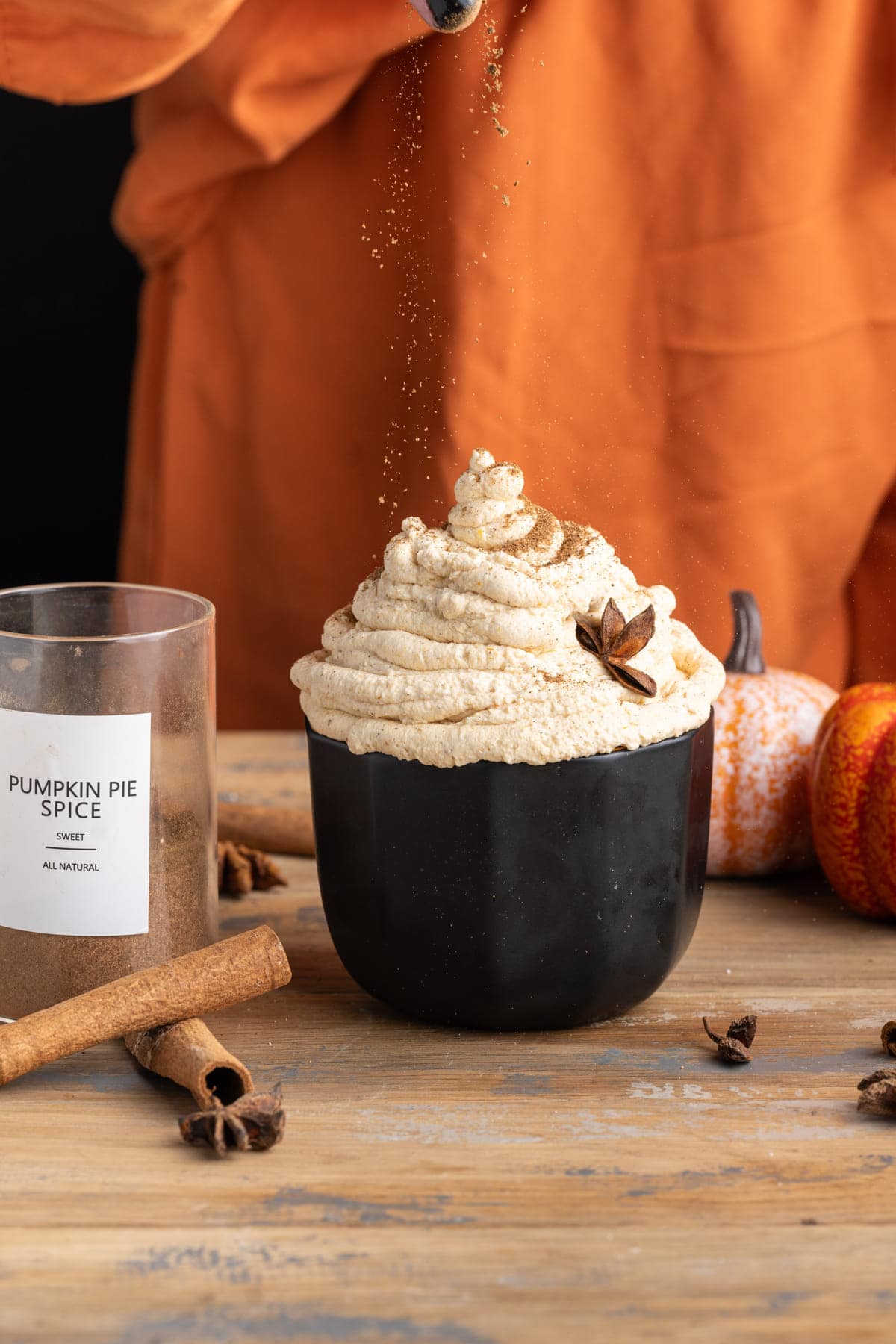 As an environmental scientist who still likes to indulge, I approach sustainability in the kitchen with the mindset of small changes will make a bigger impact over time.
For something like this pumpkin whipped cream, I consider how I can minimize my impact while still giving into my cravings.
When it comes to whipped cream, homemade is the way to go! It's free from preservatives and helps you avoid waste with those pesky aerosol cans.
Green tip: Food preservatives, like pesticides, are harmful to the environment. They contain toxins that are harmful to plants, animals, and soil. Homemade food with all-natural ingredients that allows you to avoid preservatives lowers your ecological footprint.
Whipped Cream with Pumpkin Ingredients
---
Here's everything you need:
Heavy whipping cream. The base of any delicious homemade whipped cream! Your cream should be cold for quicker whipping.
Powdered sugar. Aka icing sugar or confectioners' sugar. This adds sweetness and helps to stabilize the whipped cream.
Pumpkin pie spice. If you don't have any on hand, I've got you covered in this article on Every Pumpkin Pie Spice Substitute (including how to make it from scratch).
Pumpkin puree. To add richness, earthiness, and authentic pumpkin taste.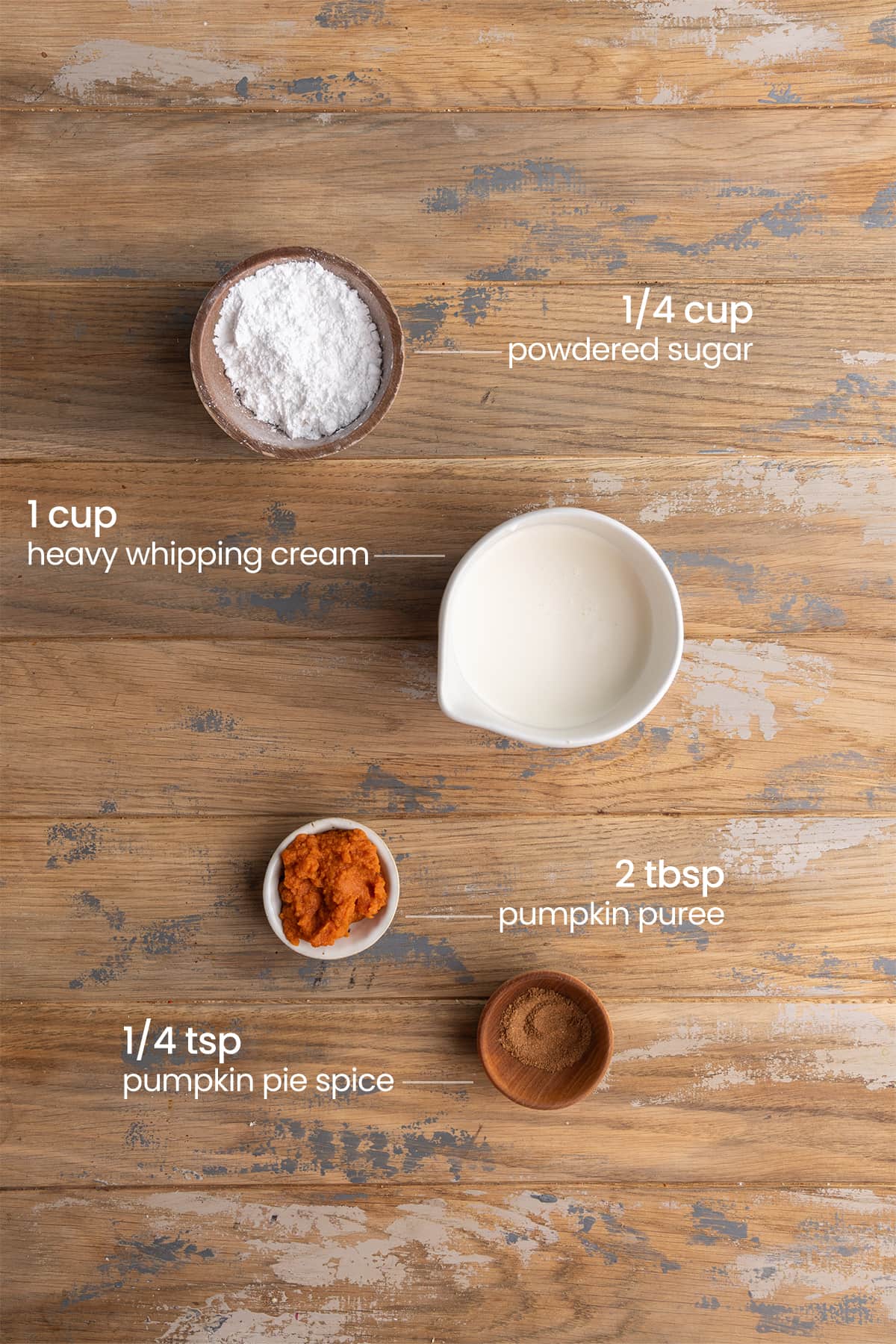 Homemade Pumpkin Whipped Cream Tips and Tricks
---
Use a Stainless Steel, Ceramic, or Glass Bowl to Whip Your Cream
Ideally, you will use a stainless steel or metal bowl to whip your cream in! Metals bowls will keep the cream cold as you whip it, which will thicken it much quicker.
However, there is one caveat to metal to look out for: copper! Always avoid copper and plastic bowls while you are making homemade whipped cream.
If you don't have a metal bowl, a glass bowl or ceramic bowl will absolutely work, too!
Quick tip: Avoid copper and plastic mixing bowls while making homemade whipped cream as they can cause a chemical reaction that inhibits your cream from thickening.
When you whip cream in a copper bowl, the same chemical reaction that makes copper bowls ideal for whipping egg whites, actually inhibits the whipping of your heavy cream. Make sure to avoid copper altogether for any homemade whipped cream recipe.
While making whipped cream in a plastic bowl is not impossible, it makes it a lot harder on you and takes a long time.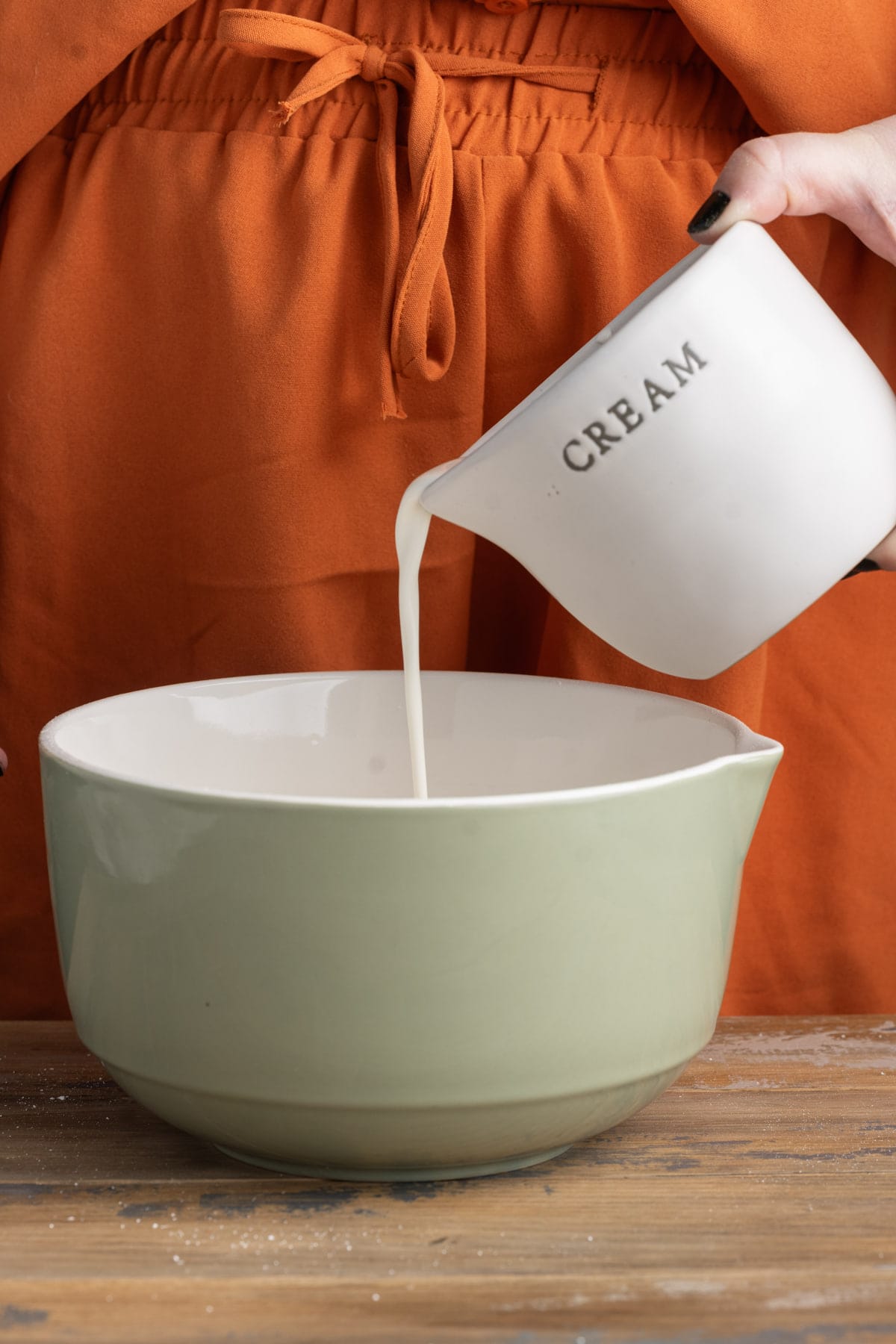 When Making Homemade Whipped Cream, Sift Your Powdered Sugar
The best way to ensure you have a silky smooth homemade pumpkin whipped cream with no lumps or clumps is by sifting in your powdered sugar.
You can use a sifter as pictured or you can simply use a mesh sieve. Sift the powdered sugar directly into the bowl with the cold heavy cream.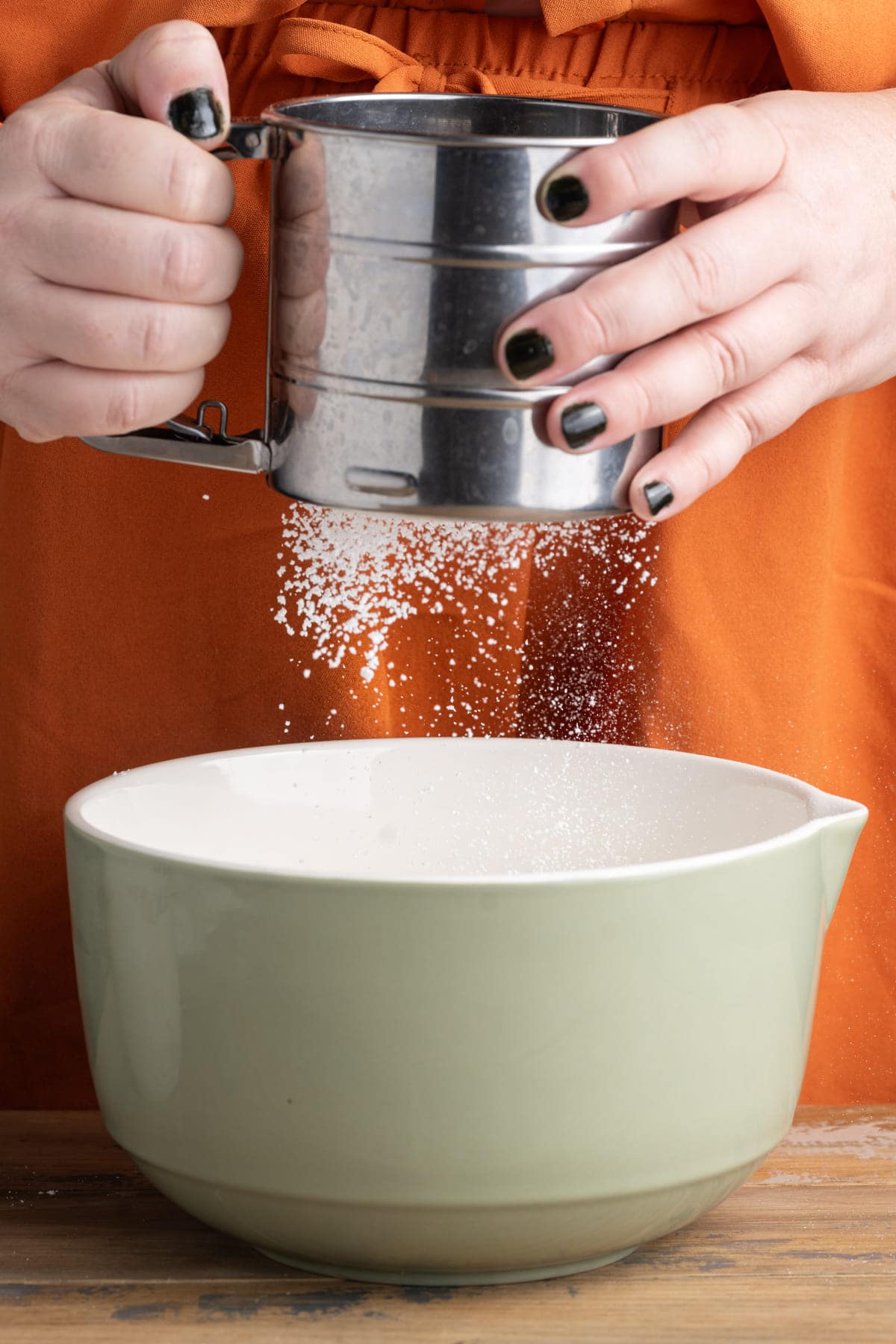 How to Whip Heavy Cream into Homemade Whipped Cream
Once you've added the heavy cream, powdered sugar, and pumpkin pie spice to your bowl, it's time to whip it up! You can use a hand mixer, stand mixer, or even just a standard whisk to do so.
My preference is a hand mixer. It gives you the most control and allows you to stop whipping quickly once stiff peaks form. You actually can over-whip homemade whipped cream, so stopping at the right time is key.
It usually takes around 3-4 minutes. You'll know it's time to stop whipping when your cream starts to take on volume. Your mixer will also leave little ripple trails in the cream. If you scoop some up with your whisk attachments, it should stay on it as pictured below.
While possible, I don't recommend whipping your cream by hand with a standard whisk. This method will take quite a while (and a lot of muscle power!).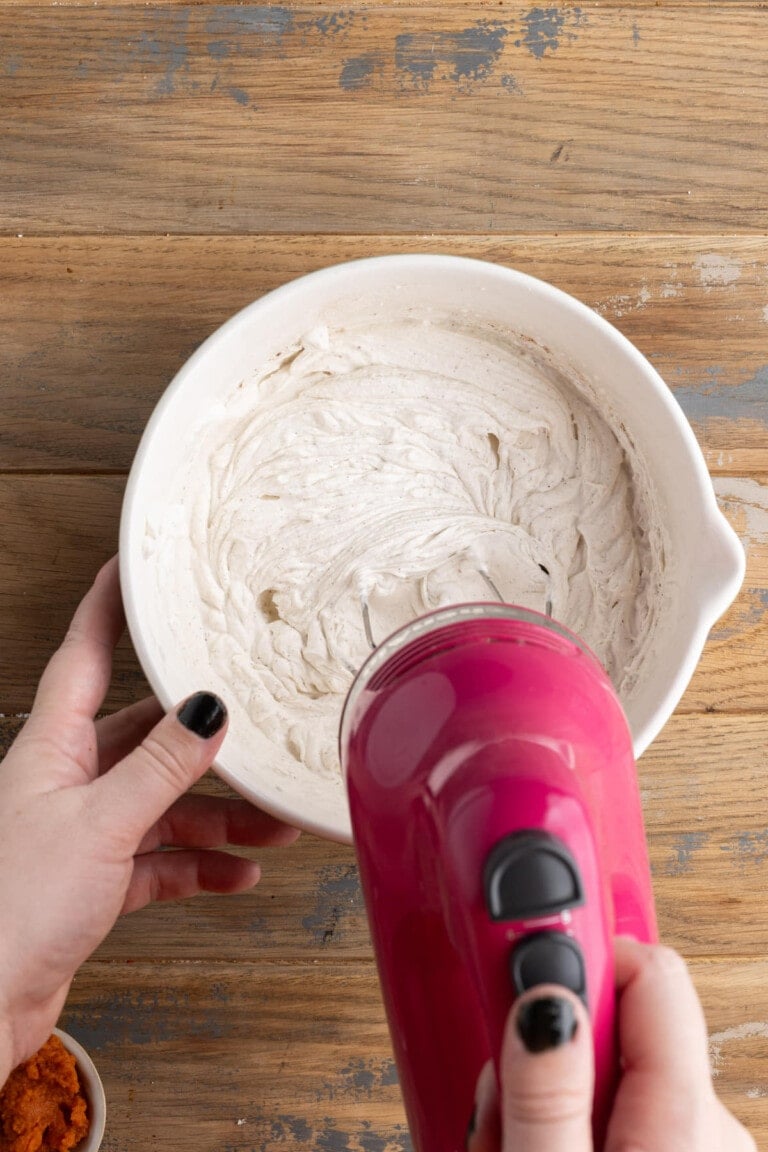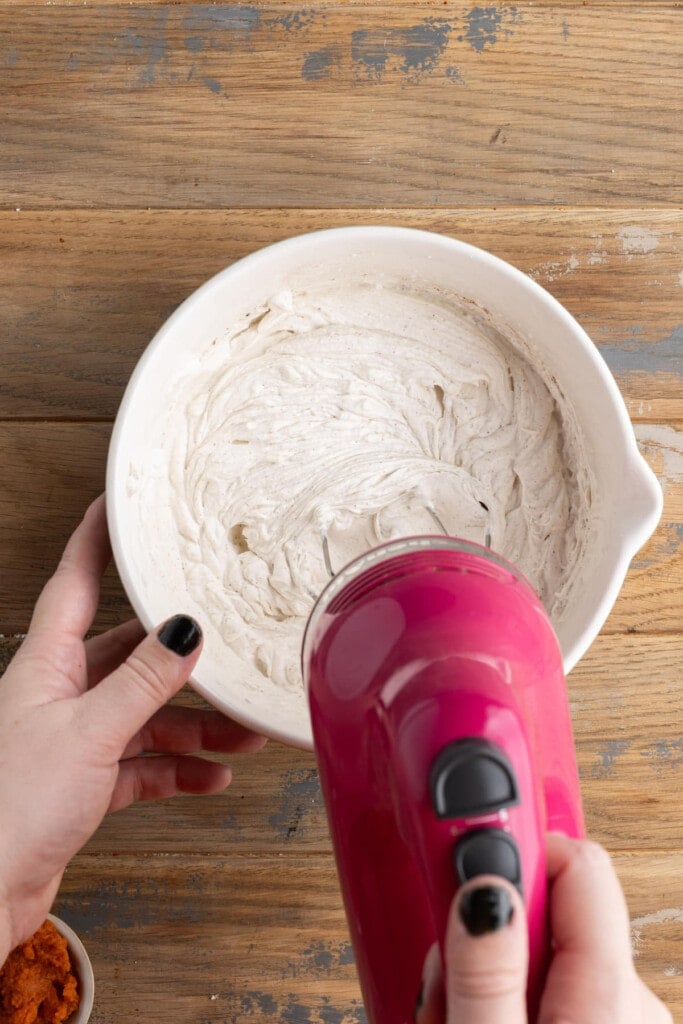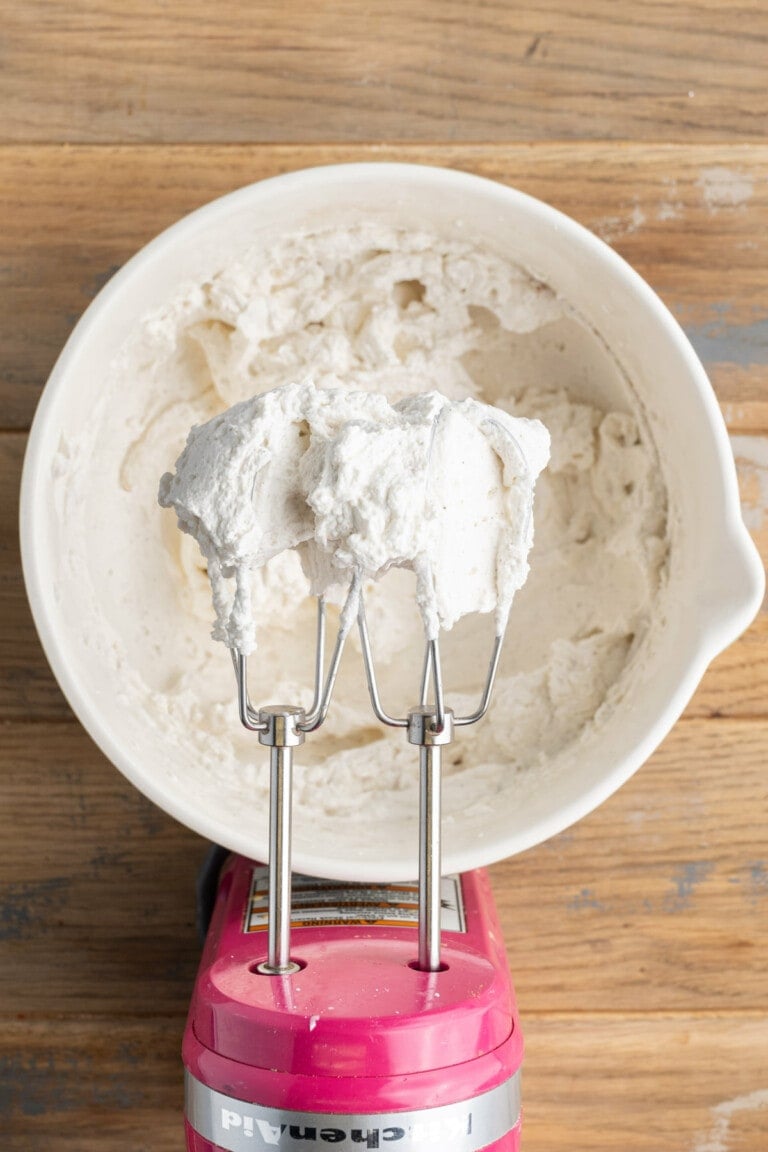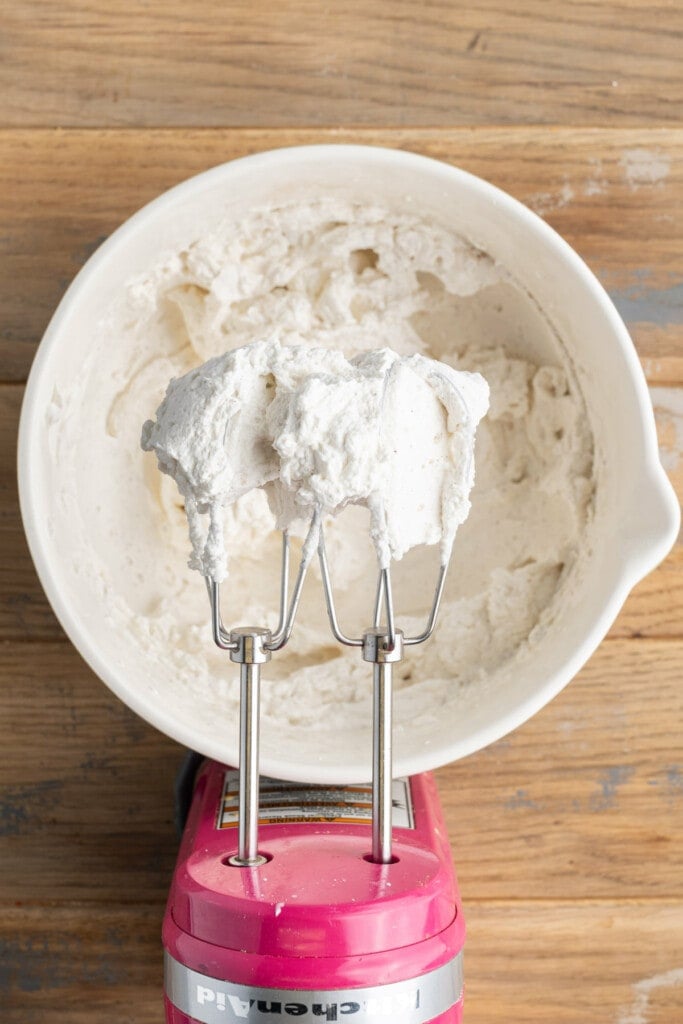 Gently Fold in Your Pumpkin Puree
Once you are happy with the texture of your whipped cream with pumpkin pie spice, add the pumpkin puree.
Then, use a rubber spatula to gently fold the pumpkin puree into the whipped cream. Folding just means gently mixing the whipped cream in an upward motion.
The goal here is to integrate the pumpkin puree into the whipped cream without compromising its texture. Fold just enough to combine, and no more.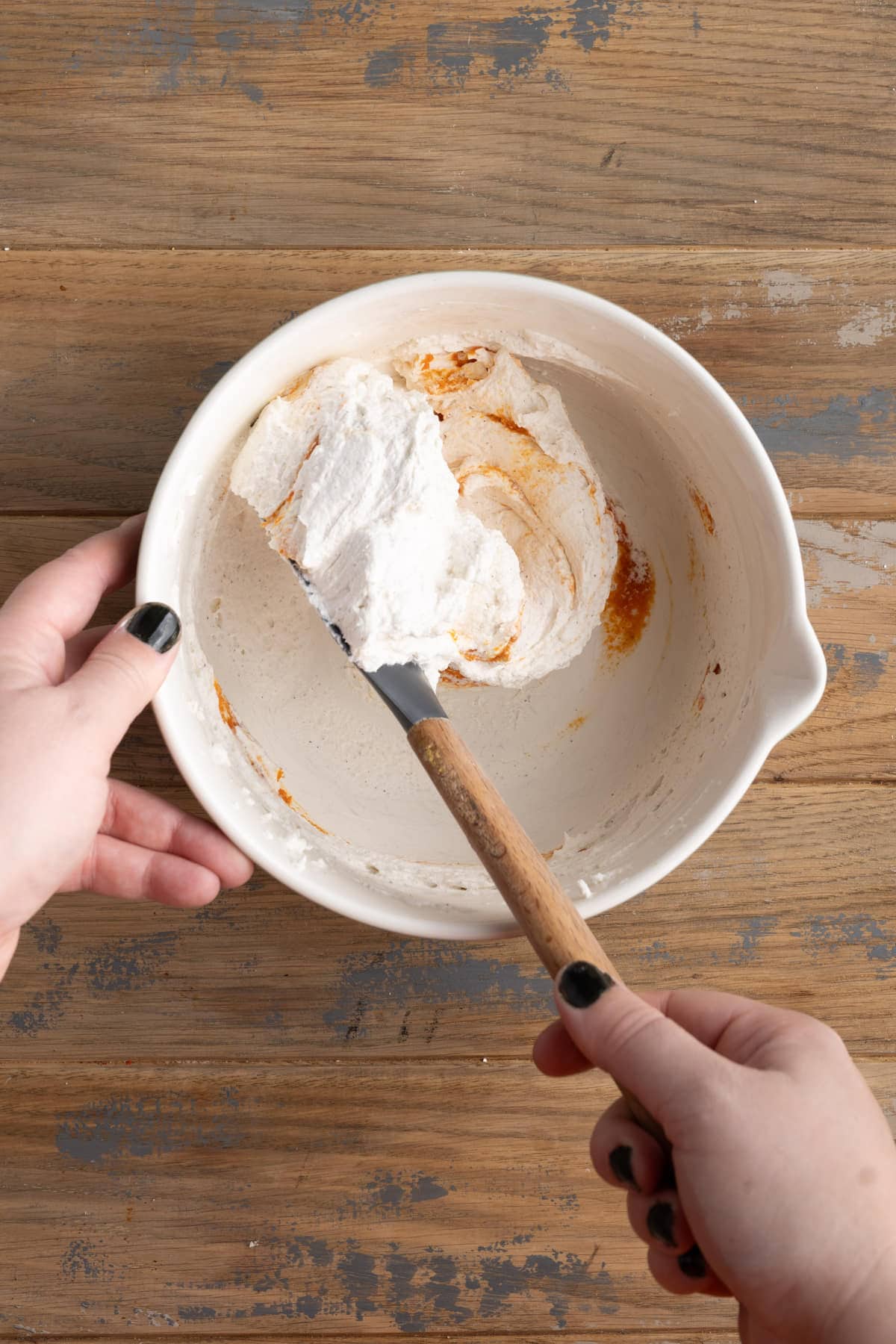 How to Fix Over-Whipped Whipped Cream
If for some reason you do notice that your whipped cream is over-whipped, have no fear! It is surprisingly easy to come back from!
You'll know it's overwhipped if it starts to turn grainy or too solid (think butter). If this happens, grab a standard whisk, and slowly add a little extra heavy cream.
Pour it in, about 1 tablespoon at a time, whisking in between, until you are satisfied with the texture.
Green tip: Organic farms rely on biodiversity to generate rich soil, avoiding the use of pesticides and fertilizers, which means no toxic runoff. Consider organic ingredients for this recipe.
Pumpkin Spice Whipped Cream Serving Ideas
Not gonna lie, this Pumpkin Whipped Cream is so delicious, I sometimes eat it as is with a spoon. Still, this recipe was designed to enhance your Fall confections, so here are some of my favorite things to serve it up with: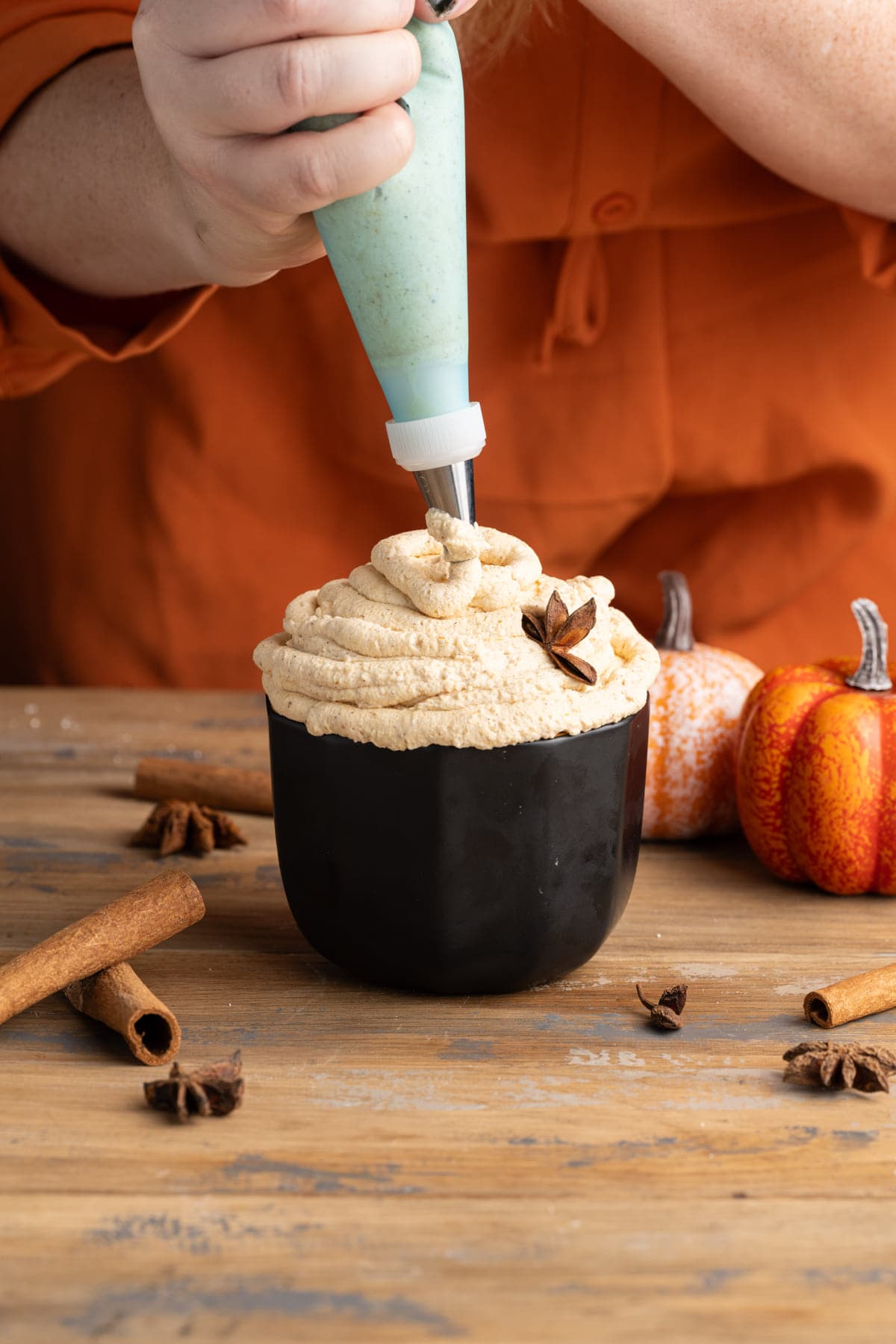 How to Properly Store Homemade Pumpkin Pie Whipped Cream
Leftover homemade whipped cream with pumpkin will last for 5-7 days in the refrigerator stored in an airtight container. It can also safely be frozen for up to 3 months.
Freezing the whipped cream is great for making it last longer, of course, but it's also a really nice way to make it a little firmer for serving it with hot beverages or hot desserts.
Green tip: Of the billions of tons of food wasted annually, 50% of food waste happens at home. Reduce your contribution to food waste by properly storing and consuming leftovers.
Pumpkin Whipped Cream Frequently Asked Questions
---
What is in the pumpkin spice topping?
Typically, pumpkin pie spice is primarily made up of a combination of warming spices. These spices include, but are not limited to cinnamon, nutmeg, ginger, cloves, and all-spice.
Want to sharpen your kitchen skills?
Why You Should Make this 4-Ingredient Homemade Pumpkin Whipped Cream
---
It's quick! From start to finish, this delicacy comes together in just about 10 minutes.
It's simple. Only 4 ingredients required and no added preservatives.
It's festive. A touch of pumpkin spice and real pumpkin puree goes a long way to make ordinary whipped cream into a seasonal sensation!
If you're loving this Pumpkin Whipped Cream and want more pumpkin sweets, check out these Pumpkin Chocolate Chip Cookies and Pumpkin Muffins with Spiced Cream Cheese Frosting.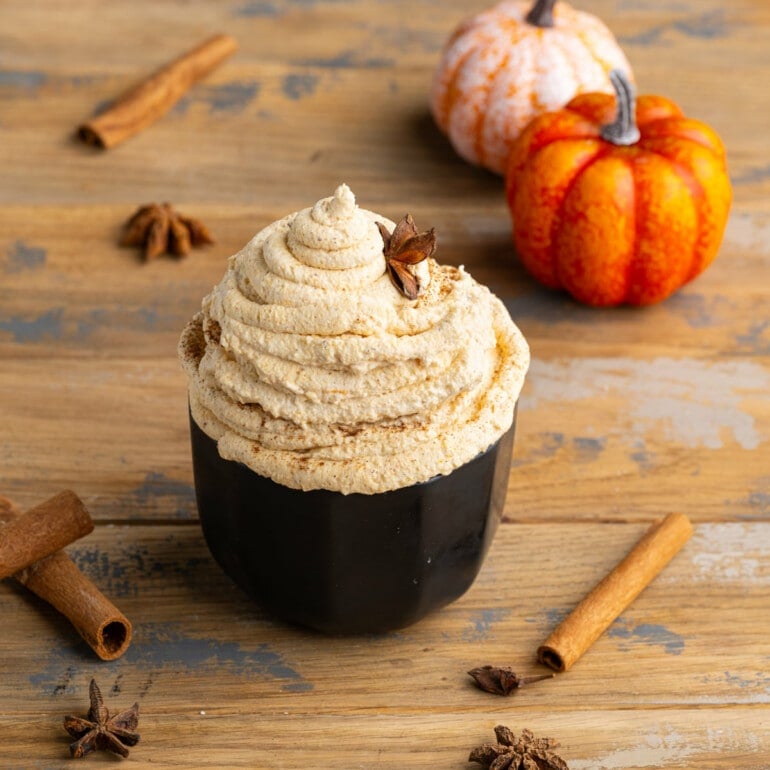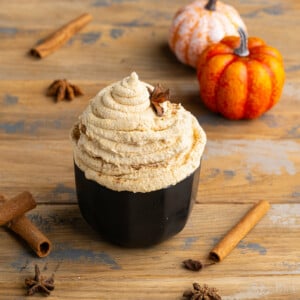 4-Ingredient Homemade Pumpkin Whipped Cream
PRINT
PIN
RATE
Pumpkin Whipped Cream is a delightful autumnal topping, blending the silky essence of whipped cream with the warm, comforting notes of pumpkin spice for a decadent finishing touch to your favorite fall treats.
Ingredients
1

cup

heavy whipping cream

¼

teaspoon

pumpkin pie spice

¼

cup

powdered sugar

2

tablespoons

pumpkin puree
Instructions
To a large stainless steel (preferred), glass, or ceramic mixing bowl, add the heavy cream, pumpkin pie spice, and sift in the powdered sugar.

Use a hand mixer (or stand mixer) to whip until the cream takes on volume and the mixer leaves trails in your cream.

Use a rubber spatula to gently fold in the pumpkin puree until well-combined.

Serve immediately or store in the refrigerator in an airtight container for 3-5 days.
Pro Tips
If you don't have a glass, ceramic or stainless-steel bowl, but do have a metal bowl, that works, too! Avoid copper or plastic bowls while making whipped cream. 
I prefer using a hand mixer over a stand mixer because it allows you to monitor more closely and avoid over-whipping, but you absolutely can use a stand mixer if you prefer. Just watch it closely and stop it as soon as your cream is whipped. 
Try serving this with this Pumpkin Spice Hot Chocolate!
Did you make this recipe?
Let me know by leaving a recipe rating below, or by tagging @marleysmenu on Instagram.