Craving something fudgy, but need it quick? This single-serving Fudgy Vegan Mug Brownie is not only just as delicious as ooey-gooey baked brownies, it's ready in under 5 minutes!
No-fuss, no oven, and only one mug and six simple ingredients required. This easy vegan, single-serve dessert recipe is a dream come true!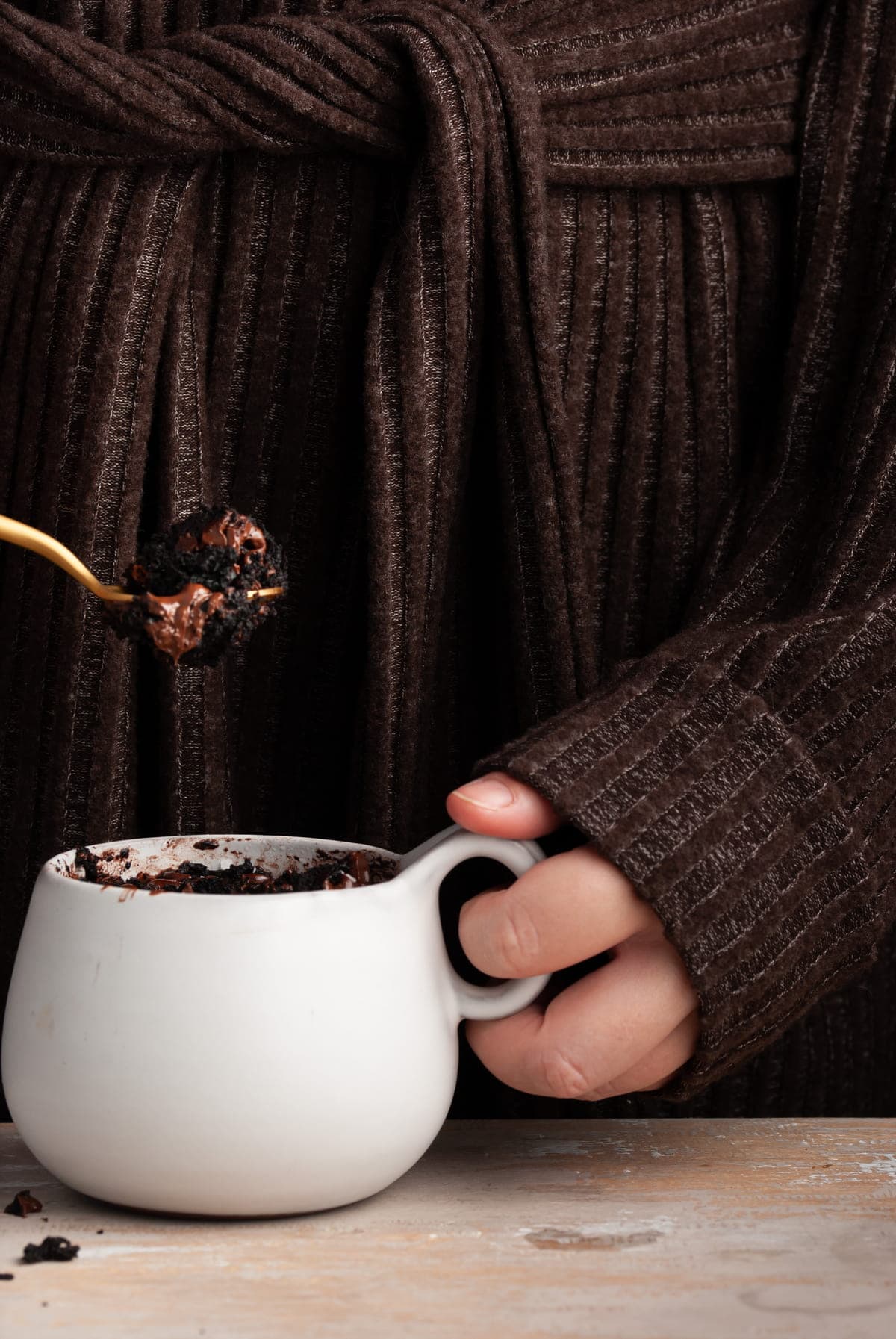 As an environmental scientist, I'm always looking for ways to reduce food waste. And single-serving desserts are a great place to start!
And when single-serving means slapping some ingredients together and chucking them in the microwave, I'm even more excited. This is the quickest, easiest, and most delicious microwave mug recipe you'll ever find!
Green tip: Did you know that of the billions of pounds of food wasted annually, it is estimated that 50% of it happens in our homes? It's always best to avoid food waste as much as you can!
Vegan Mug Brownie Ingredients
---
You'll need a standard 8-ounce or 10-ounce microwave-safe mug, and a fork to stir.
Outside of your mug, here's everything you'll need:
Cocoa powder. For chocolatey goodness.
All-purpose flour. Just enough to make a batter, but not too much to make it cakey. This is a fudgy brownie recipe.
Granulated sugar. Fro sweetness.
Oil. Coconut, vegetable, safflower, canola, or grapeseed. Olive oil works in a pinch but does change the consistency slightly.
Vanilla almond milk. Or any other milk you choose. If you are not using vanilla-flavored milk, add a splash of vanilla extract, too.
Dark chocolate chips. Add them last, on top. Some will sink, but most will melt, and add an ooey gooey layer of chocolate on top.
Sea salt (optional). To sprinkle on top to bring out the chocolate and add a slight contrast.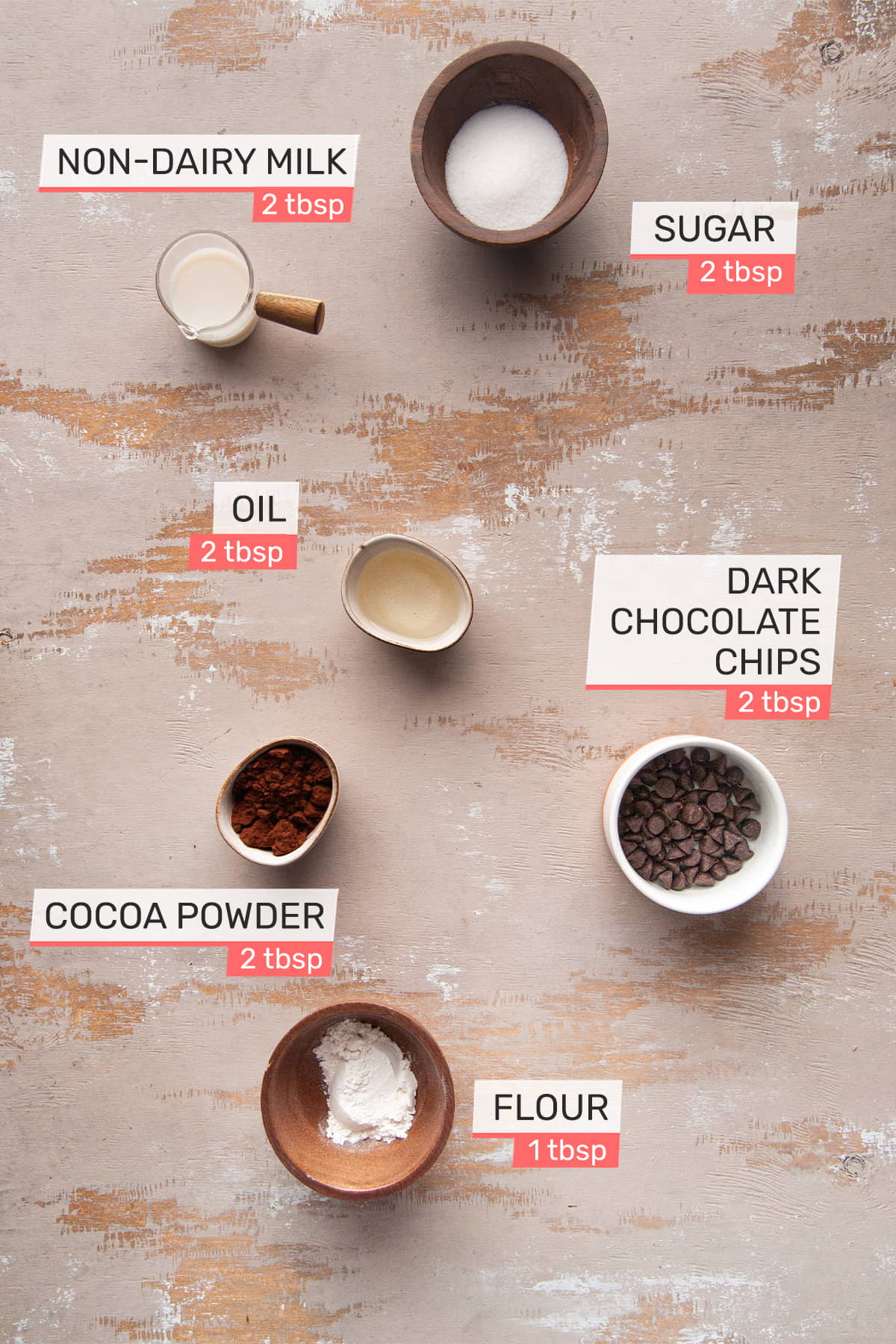 Optional Topping Ideas:
Dark chocolate chips, chunks, or shavings
Cinnamon or cinnamon & sugar
Fresh fruit
Sprinkles
Chocolate syrup or sauce
Peanut butter or other nut butter
Plant-based Ice cream or yogurt
Vegan Mug Brownie Tips and Tricks
---
Add Your Dry Ingredients First
The key to getting a delicious vegan mug dessert is making sure there are no lumps of flour or cocoa powder.
Add your dry ingredients to the mug first, and use a fork to mix them together. Ensure that there are no lumps in the dry mixture before adding your wet ingredients.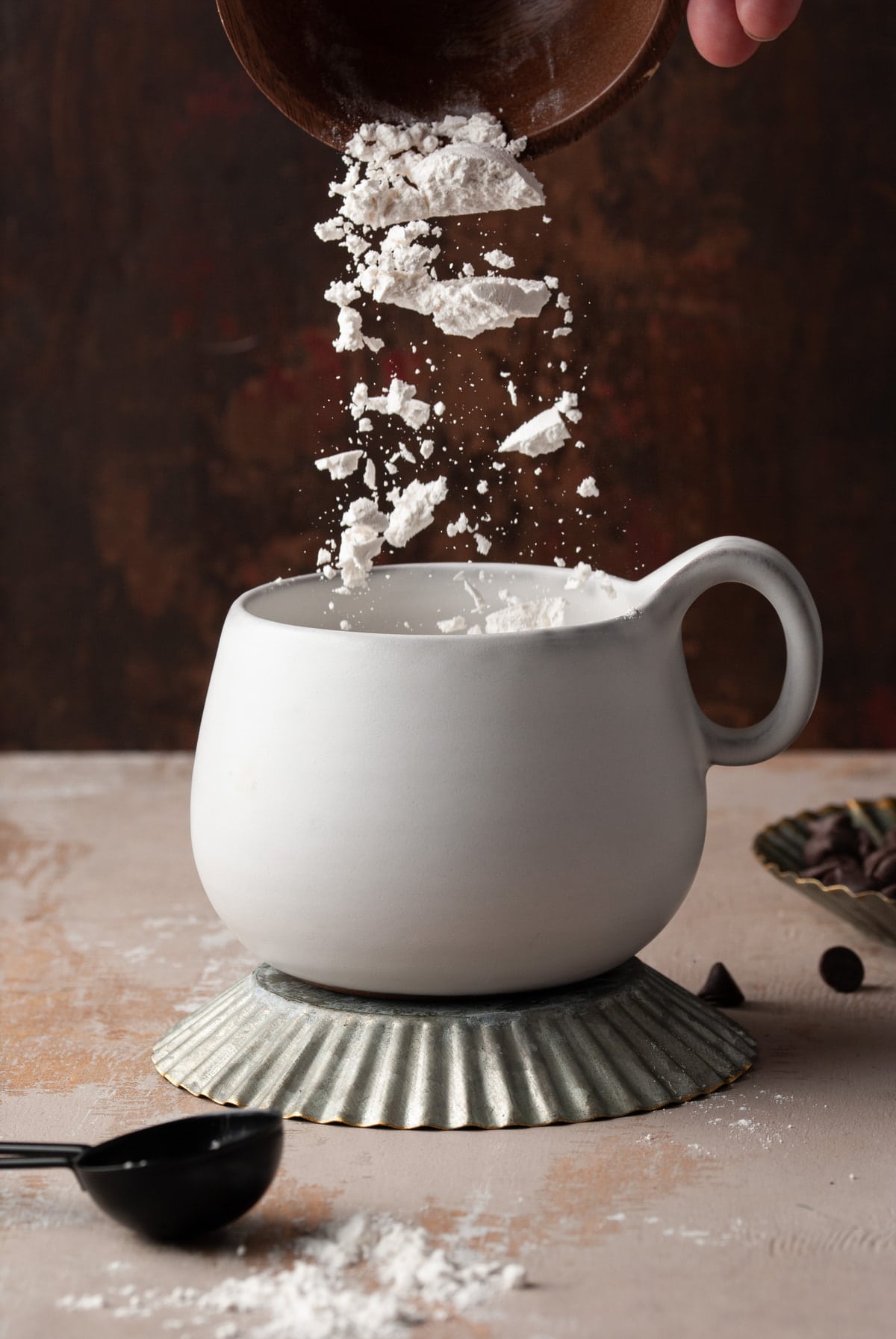 Wet Ingredients Next
Next, you'll add both the milk and the oil. I like to use Vanilla Almond milk because it means I don't need to add any vanilla extract.
If you don't have any vanilla almond milk, no worries! Use any milk you have in the fridge. Option to add just a splash of vanilla extract if you'd like, but it's not necessary.
This mug brownie is fudgy and delicious with or without it.
Once you add your wet ingredients, stir again with the fork. Make sure to run the fork around the inside edge of the mug.
This will help make sure you get any dry ingredients clinging to the edge of the mug so you don't have any powder left in your batter.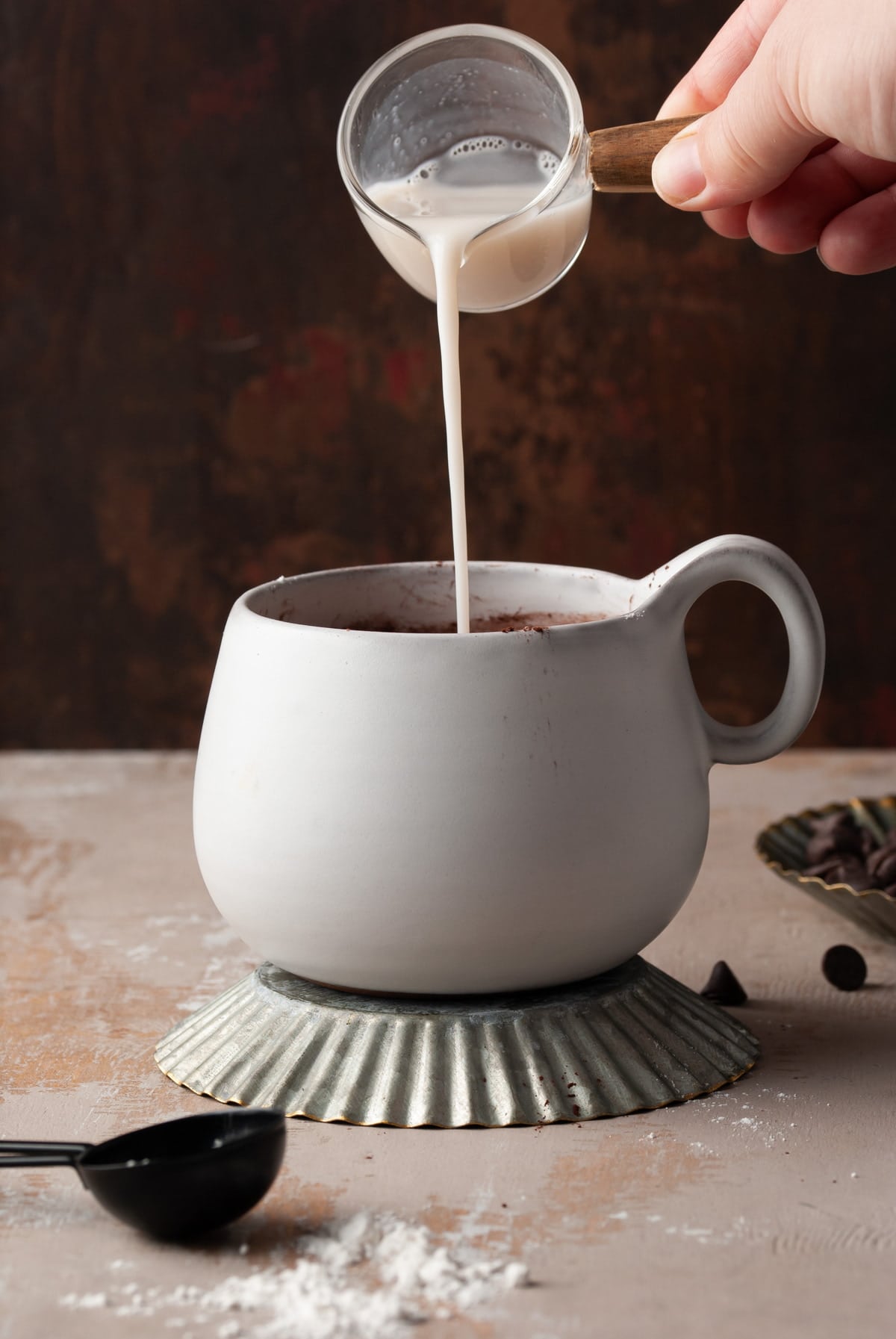 Add Chocolate Chips Last
Once you've thoroughly mixed your dry and wet ingredients, all that's left is adding your chocolate chips.
Add them last and just leave them on top—no need to stir them into your batter.
This will give you a melty chocolate top, adding to that perfect fudgy consistency.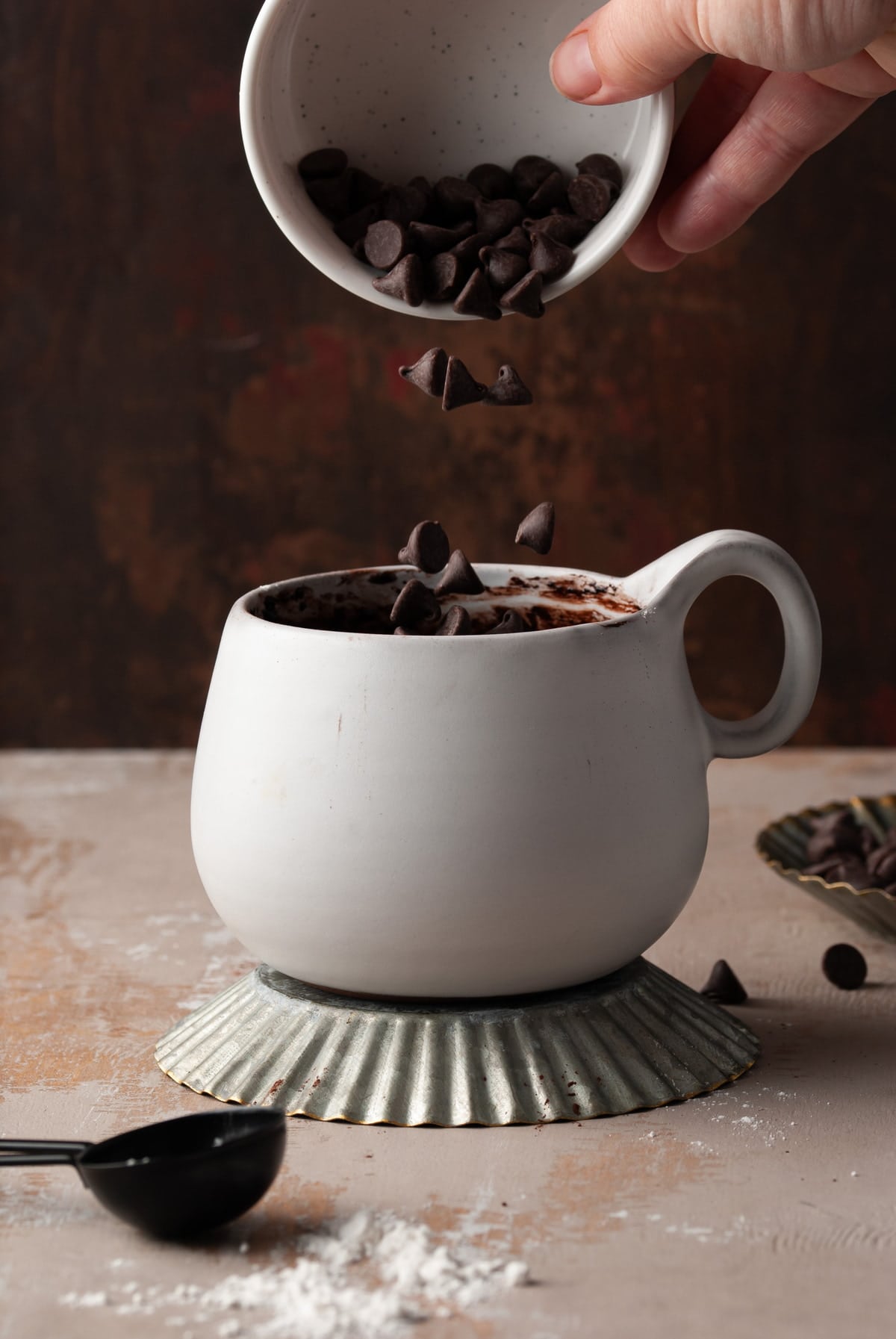 Consider a Pinch of Sea Salt
This part is optional, depending on your taste.
For me, finishing this mug brownie with flaky sea salt is the perfect addition. The touch of salt actually enhances the chocolate flavor and is a great contrast to the otherwise sweet vegan chocolate dessert.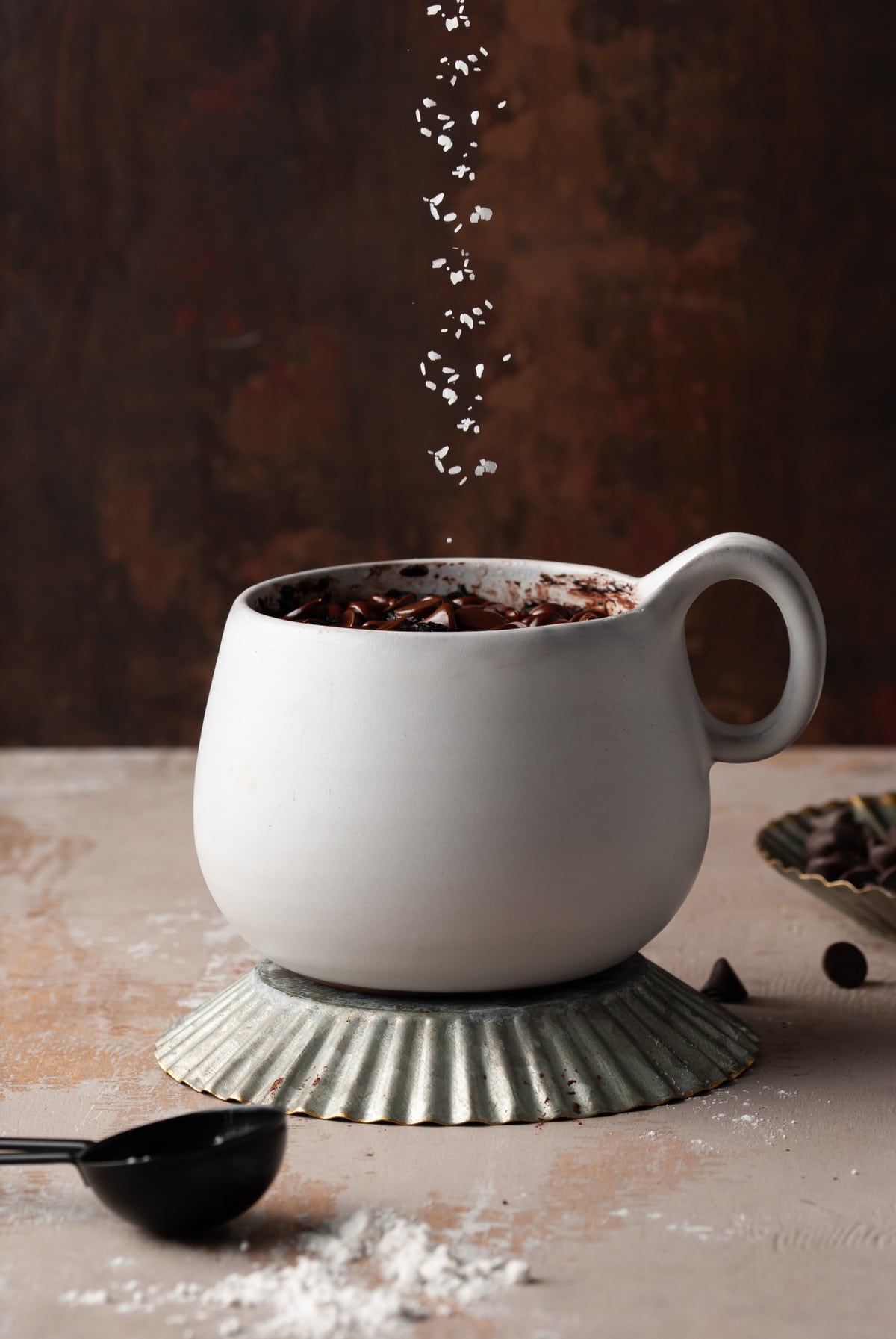 Tested Substitutions
Coconut oil is my preference, but this mug cake will be just as delicious with vegetable, canola, safflower, or grapeseed oil. Bear in mind that using coconut oil will lend a very subtle coconut flavor.
Measure the oil in liquid form to get the correct amount.
For a healthier alternative, sub in 2 tablespoons + 2 teaspoons of coconut sugar for granulated sugar. You can also opt for cake flour in place of all-purpose flour in equal quantities.
Green tip: Relatively, the environmental impact of coconut oil is very low. The production of coconuts requires no herbicides or pesticides, uses little land and water, and does not require any tilling or deforestation.
Why Vegan Baking?
The mass production of eggs and dairy farming contributes a staggering amount to our overall greenhouse gas emissions and contamination of soil and water. It's best to buy local, organic eggs and cheese when you can.
Instead, I save the egg and dairy for when it really counts. I'm talking Eggs Benedict and Cheesy Pasta.
Leaving out the dairy and eggs while baking is a great way to reduce your overall consumption of eggs and dairy. Plus, it's just as delicious and at times, more nutritious (you know I can't resist a good rhyme when it presents itself).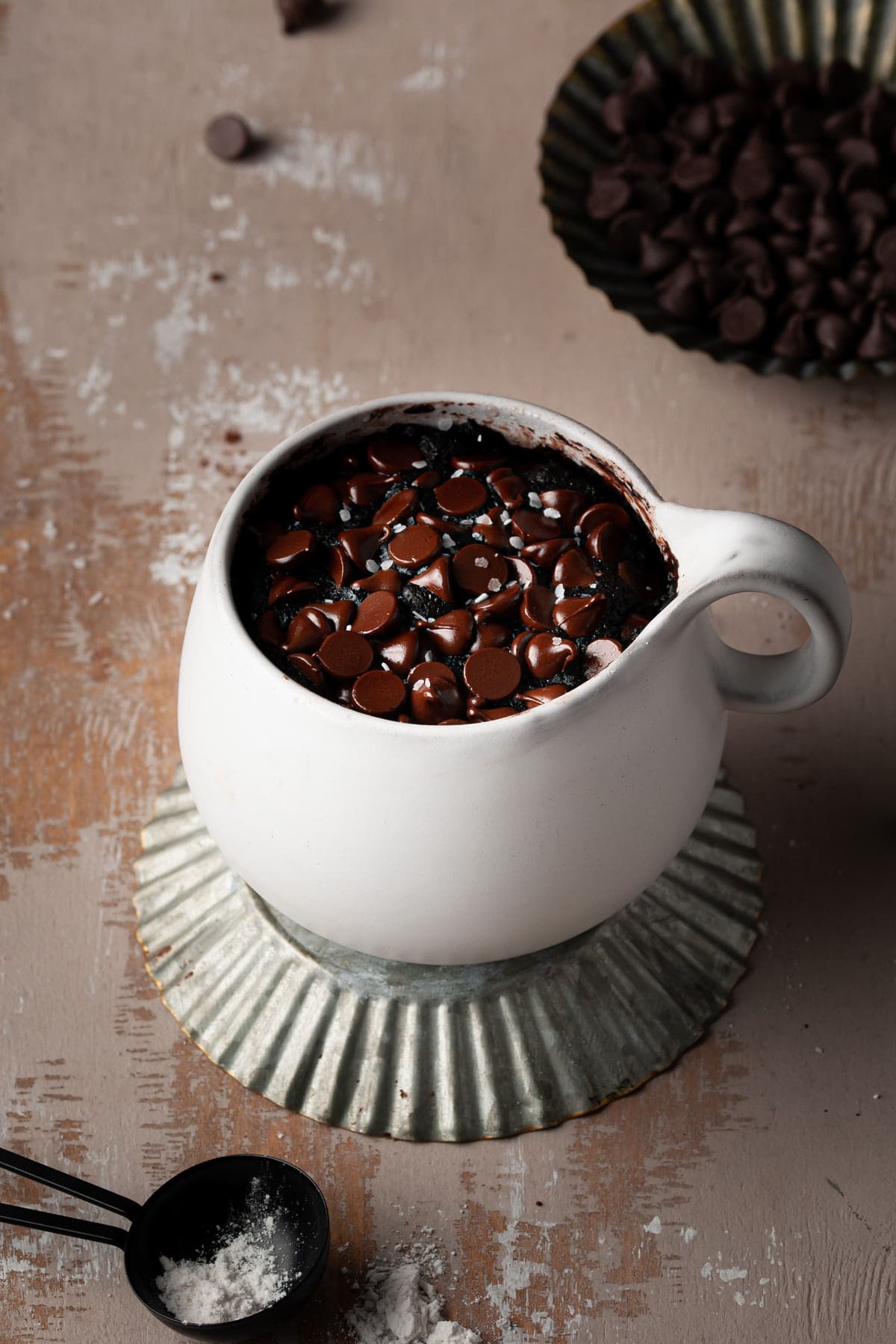 Microwaving Time May Vary
Everyone's microwave is a little bit different. My microwave is 900 watts, and on high, this mug cake is perfect after 80 seconds.
The average microwave is between 600-1200 watts. If you know your microwave is 600 watts, you will probably need an extra 10 seconds. If your microwave is 1200 watts, start with 70 seconds.
But if you're not sure, stick with 80 seconds. It will be safe to eat and delicious either way, but just make yourself a note for next time if you feel it was slightly overcooked.
If you're doubling this recipe, start with 130 seconds and dip your spoon in to check if it needs any more time.
Alternatively, you can bake this mug brownie in the oven. Please make sure your mug is oven safe. Then, place your oven-safe mug on a baking sheet and bake it at 350°F on the top rack for 20-25 minutes until a toothpick comes out clean.
Green tip: Organic farms rely on biodiversity to generate rich soil, avoiding the use of pesticides and fertilizers, which means no toxic runoff. Consider organic ingredients for this mug cake!
How to Store and Reheat this Vegan Mug Brownie
This vegan mug brownie recipe makes just a single serving and is intended to enjoy right after microwaving it when it tastes fresh. Nonetheless, if you do have leftovers, cover your mug with saran wrap or beeswax and keep it at room temperature for up to 2 days.
You can enjoy your leftover mug brownie at room temperature, or you can reheat it for up to ten seconds to give it a little warmth. Please note that reheating for more than 10 seconds may overcook it and give you a rubbery texture.
I do not advise freezing this mug brownie or storing it in the refrigerator.
If you do want to do some prep to have some mug brownie batter on hand to make it easier for when the craving hits, the best thing to do is to mix all the dry ingredients together and store it in a reusable storage bag.
That way, when you crave your vegan brownie, all you have to do is add the prepped dry ingredients to a mug and mix in the oil, milk, and chocolate chips.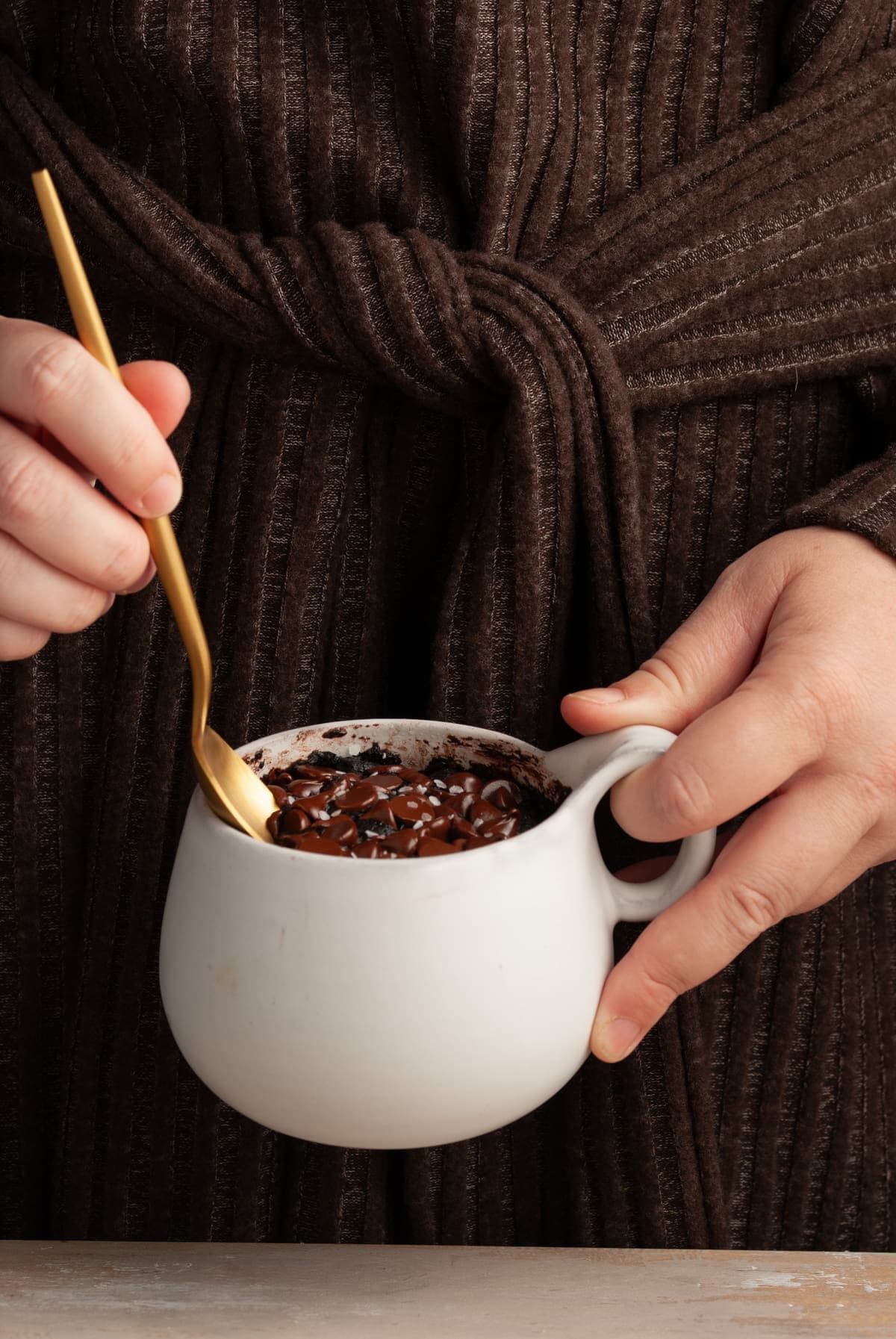 Vegan Mug Brownie Frequently Asked Questions
---
What is a mug brownie?
A mug brownie is exactly how it sounds! It's a brownie that is cooked by microwaving the batter inside of a mug.
What makes brownies fudgy vs cakey?
A fudgy brownie by design has higher fat content than cakey brownies, resulting in a more gooey, succulent brownie.
How do you make a brownie in a mug without brown sugar?
This vegan mug brownie recipe requires only one type of sugar (granulated sugar). With minimal ingredients, it's quick and easy to make! All you need is cocoa powder, all-purpose flour, granulated sugar, oil, milk, chocolate chips, and sea salt.
Want to sharpen your kitchen skills?
Why You Should Make this Vegan Mug Brownie
---
It's easy. Mix ingredients in the mug and chuck it in the microwave. Does it get any easier than that?
It's quick. 80-seconds for brownies? No, you're not dreaming!
It's decadent. Chocolatey fudgy brownies topped with melted chocolate chips and sea salt. Need I say more?
It's single-serving. Avoid waste (and over-indulgence) by making one single brownie!
If you're loving this Fudgy Vegan Mug Brownie, check out this Chocolate Oreo Mug Cake! And if you need more than one serving of brownies, check out these One-Bowl Brownies!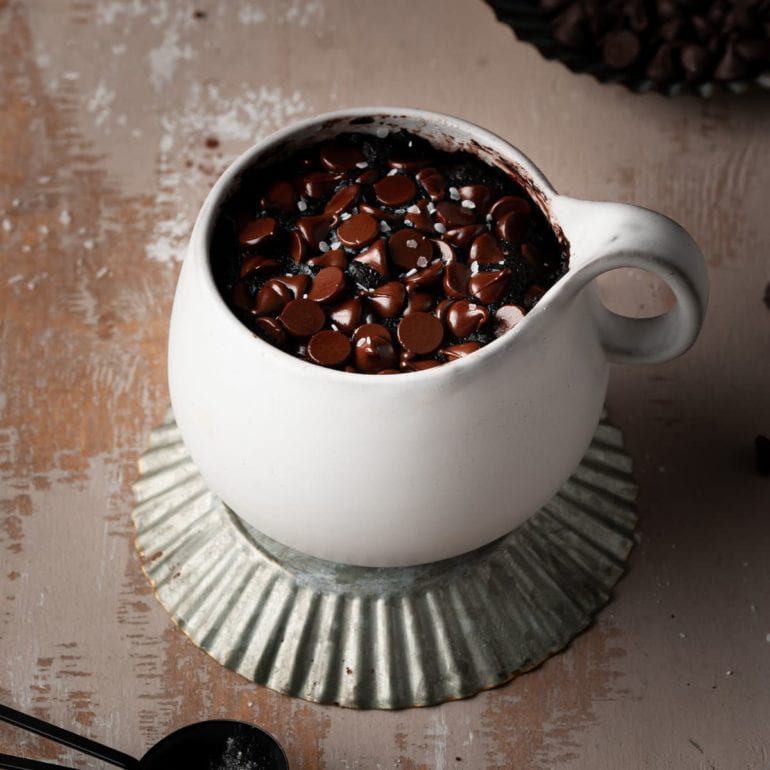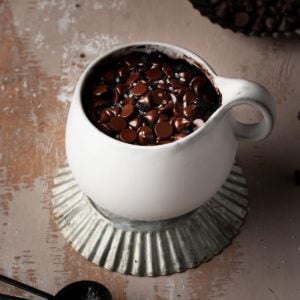 5-Minute Fudgy Vegan Mug Brownie
PRINT
PIN
RATE
This vegan mug brownie is a dream come true. Fudgy and delicious, requires only a mug, six ingredients, and a microwave and is ready in just under 5 minutes.
Ingredients
2

tablespoons

cocoa powder

1

tablespoon

all-purpose flour

2

tablespoons

granulated sugar

2

tablespoons

oil

(vegetable, coconut, canola, safflower, or grapeseed)

2

tablespoons

vanilla almond milk

(or other milk of preference)

2

tablespoons

dark chocolate chips

1

pinch

sea salt

(optional)
Instructions
Add cocoa powder, flour, and sugar to a standard 8-ounce or 10-ounce microwave-safe mug. Use a fork to stir, ensuring there are no lumps.

Add milk and oil and stir well, making sure to get all the dry ingredients that may be hiding in the corners of the mug.

Add chocolate chips on top and microwave on high for 80 seconds. Add a pinch of salt to top (optional). Enjoy!
Pro Tips
Using coconut oil does result in a mild hint of coconut flavor and aroma. If you want a strictly chocolate flavor, opt for another oil.
If you don't have vanilla almond milk, you can use whatever milk is in your fridge. Option to add a splash of vanilla extract if you're not using flavored milk.
For more single-serve, microwaveable desserts, check out this list of Easy Mug Cake Recipes!
Chocolate fiend? You gotta try this Rich Vegan Dark Chocolate Oreo Pie!
Did you make this recipe?
Let me know by leaving a recipe rating below, or by tagging @marleysmenu on Instagram.