Spring has sprung! And aside from the beautiful weather and foliage, Cadbury Mini Eggs are my FAVORITE seasonal treat. So naturally, these Cadbury Mini Egg Brownies are a favorite delicacy right about this time every year in our house!
The appropriately pastel-colored candy-coated crunchy chocolate eggs are the perfect addition to these fudgy chocolate brownies, adding extra flavor and texture to make for a next-level brownie recipe.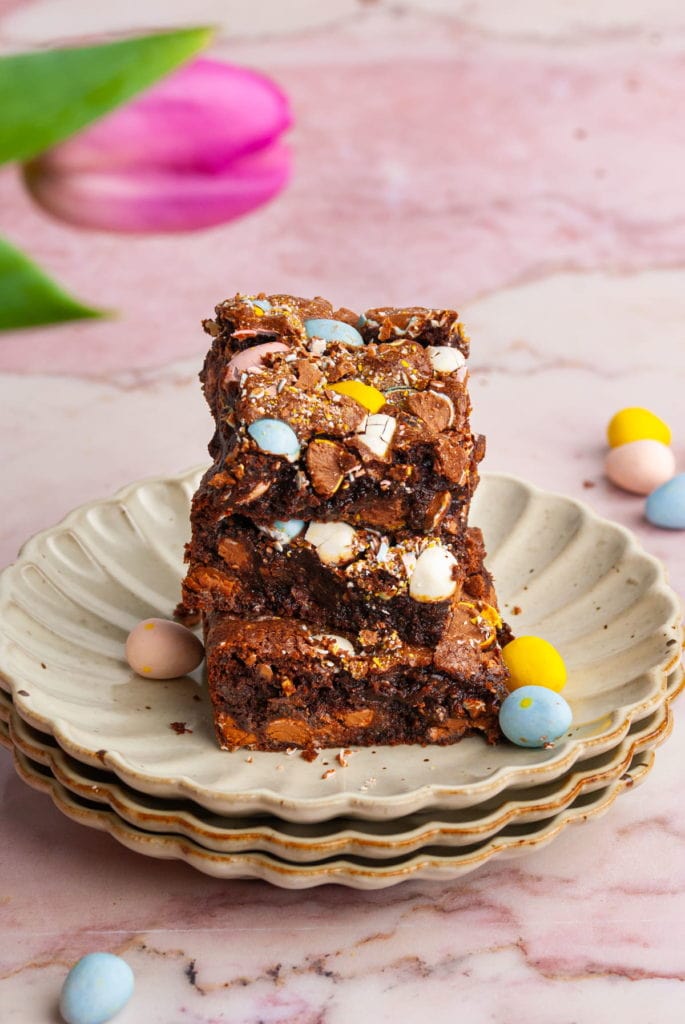 Cadbury Mini Egg Brownies Ingredients
---
Here's everything you need:
Unsalted butter. Softened, not melted.
Granulated sugar. For sweetness.
Oil. I use coconut, but you can also use vegetable or canola.
Eggs. To act as a binder and to leaven.
Vanilla extract. For flavor.
All-purpose flour. The base of your batter.
Cocoa powder. For the classic chocolatey brownie taste.
Salt. To enhance all of the flavors of the ingredients.
Espresso powder (optional). The presence of espresso enhances the chocolate flavor. It will add a very small amount of caffeine.
Cadbury Mini Eggs. The star of this dessert! It's best to crush them or chop them to integrate them into your brownies.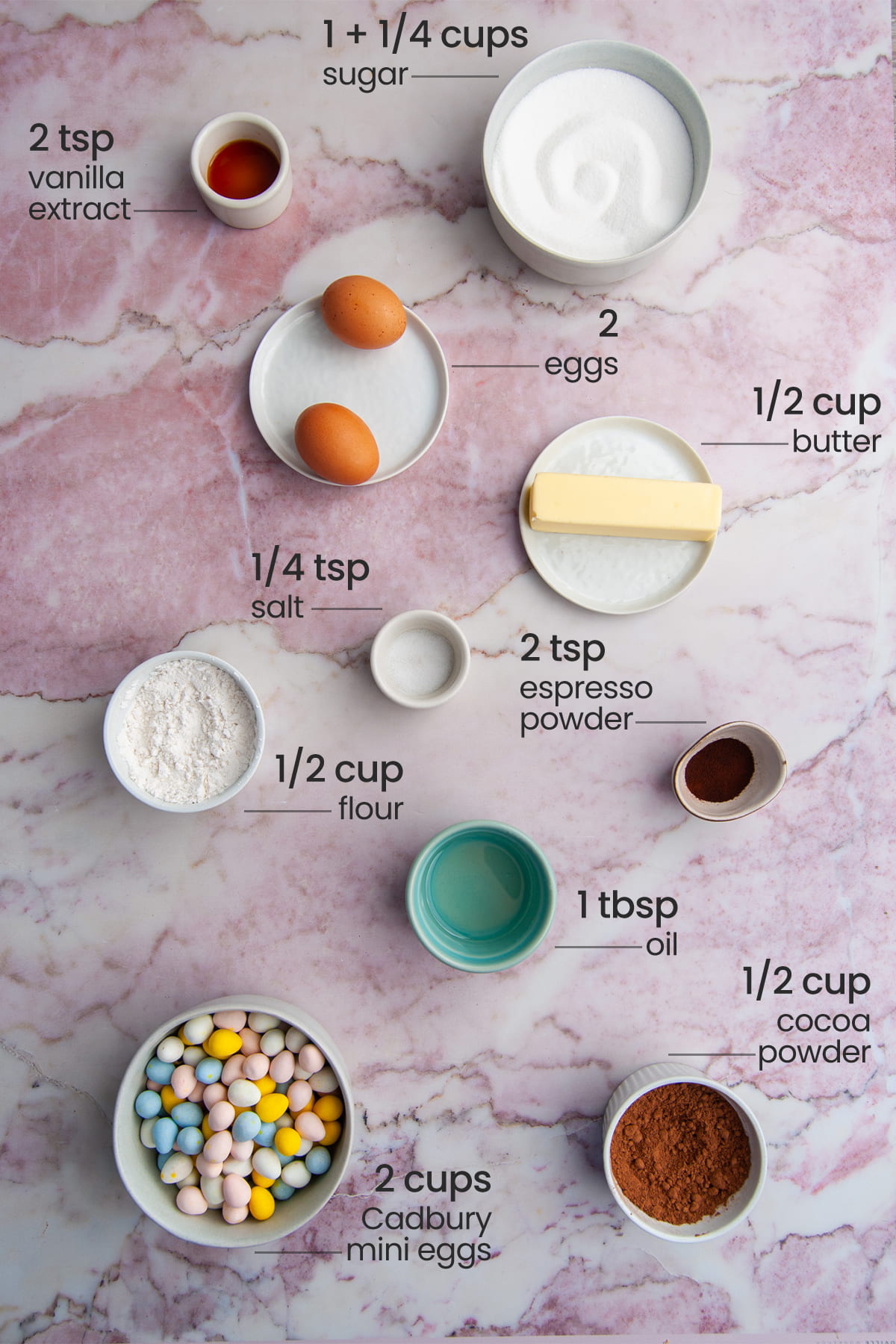 Brownies with Cadbury Mini Eggs Tips and Tricks
---
Crush Your Mini Eggs First
When baking with Cadbury Mini Eggs, leaving them whole will make them a little too weighty, causing them to sink to the bottom of your batter.
They will also be a little hard to crunch into with each bite. So, the first step in this recipe? You guessed it! Let's crush those eggs!
I like to use a super sharp knife to just slice them in half, but please keep in mind that because of their egg shape, they do tend to roll around. This process requires a VERY sharp knife and a little patience and precision.
For a quicker crush, just add them to a storage bag (preferably a reusable one!), and rollover them with a rolling pin.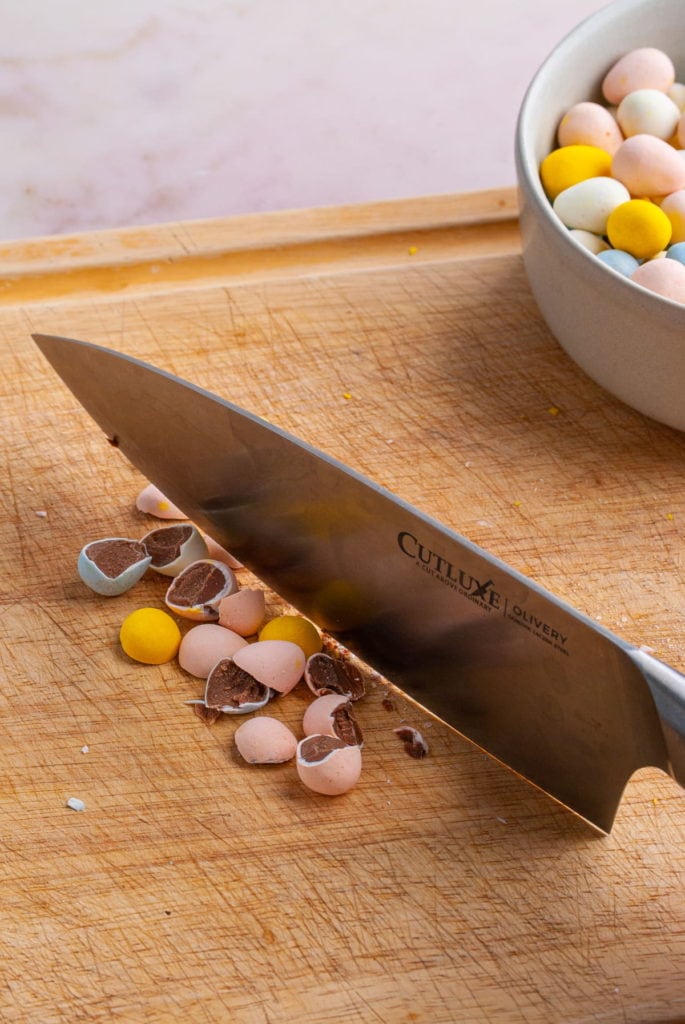 The Secret is in the Softening
It's best to use unsalted butter in this recipe in order to control the amount of salt you are adding to your brownies. It's also imperative that your butter is softened—not melted, and not too cold and solid.
The simplest way to soften butter is to allow it to rest at room temperature for about 30 minutes before baking.
But if you forget—don't fret! Just microwave it in 15-second intervals until it is softened. You'll know your butter is softened when your finger leaves an imprint in the butter when you poke it.
Green tip: Look for organic and palm oil-free butter if you can. Buying organic means you are supporting farms that do not use damaging pesticides and fertilizers, and palm oil production is a huge driver behind deforestation.
Cream Your Butter and Sugar Together
Creaming your fat (in this case your softened butter and oil) and the sugar together combines these ingredients together smoothly and also aerates them.
Adding little air pockets to your butter/oil/sugar is a super-effective way to get that fudgy brownie texture. Use your hand mixer on high to get the mixture nice and smooth.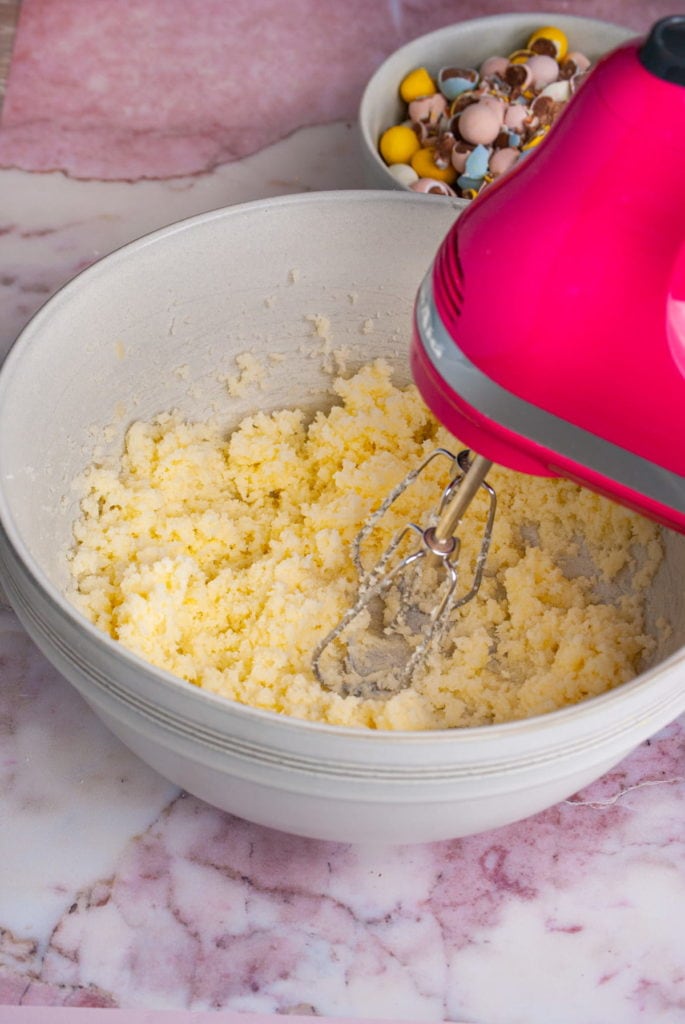 Add the Egg and Vanilla Next
Next up—add more moisture. Add your eggs and vanilla extract and beat again with your hand mixer until your batter is well-combined.
I always recommend cracking your eggs into a separate bowl first to avoid eggshells. But hey, if you like to live your life on the wild side, go for it!
Add the Dry Ingredients Next
Now you can add your flour, cocoa powder, and salt and combine once more with your hand mixer. I love adding espresso powder as well to bring out the flavor of the chocolate, but it's up to you!
Adding the espresso does give your brownies a tiny hint of coffee aroma and it will add some caffeine to your Cadbury Mini Egg Brownies, as well.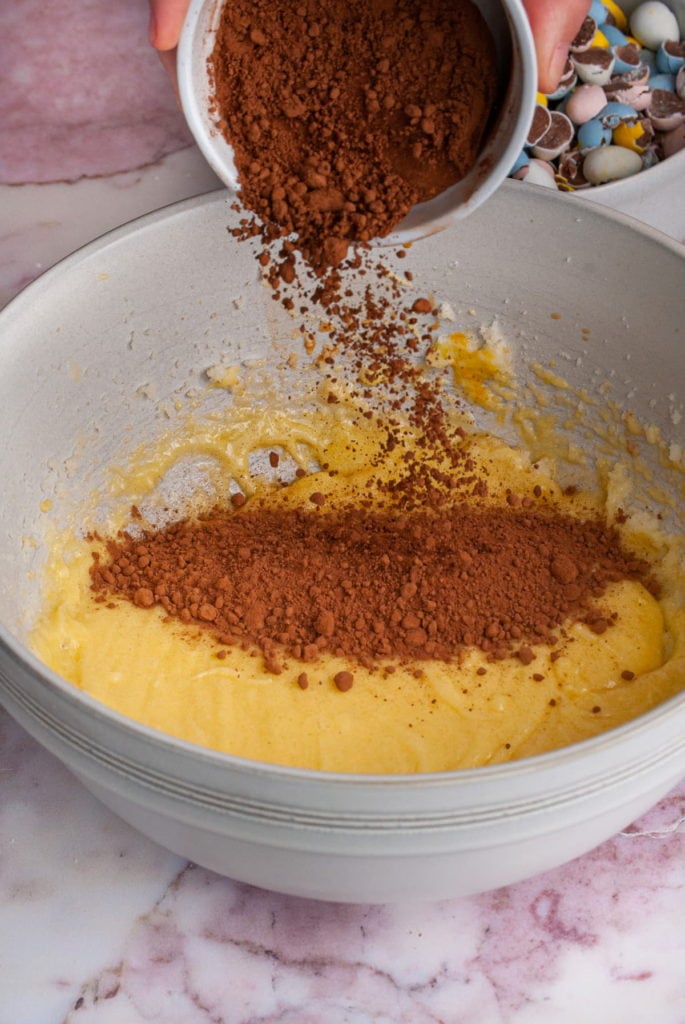 Fold in Half of Your Cadbury Mini Eggs
Use a spatula to fold about half of the crushed eggs into your batter.
Then, use the spatula to help transfer the batter into a lined or sprayed baking dish.
Green tip: Consider filling your own reusable oil sprayer to avoid extra pesky aerosol cans, that aren't always recyclable.
My favorite pan to bake these brownies in is a 9 x 9-inch square baking dish.
To prep your dish, you can spray it with cooking spray or oil, line it with parchment paper, or run some butter around the inside to ensure that you can easily remove your Cadbury Mini Egg Brownies once they are baked.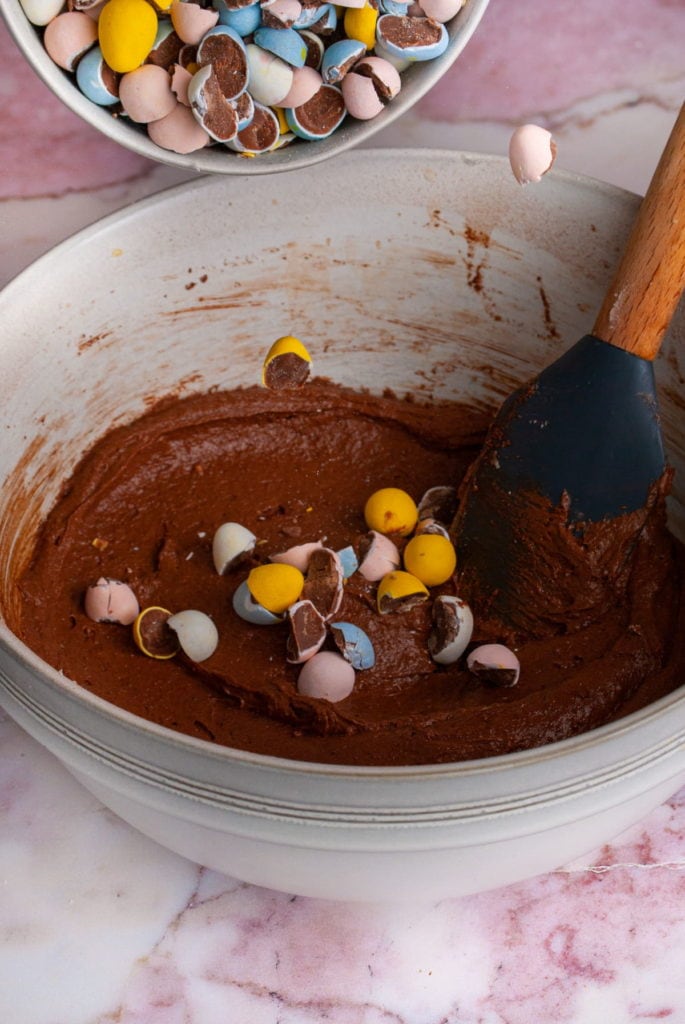 Top Your Brownies with Extra Crushed Mini Eggs
Spread the rest of your Cadbury Mini Eggs on top of your brownie batter.
This will give you a gorgeous spring brownie top!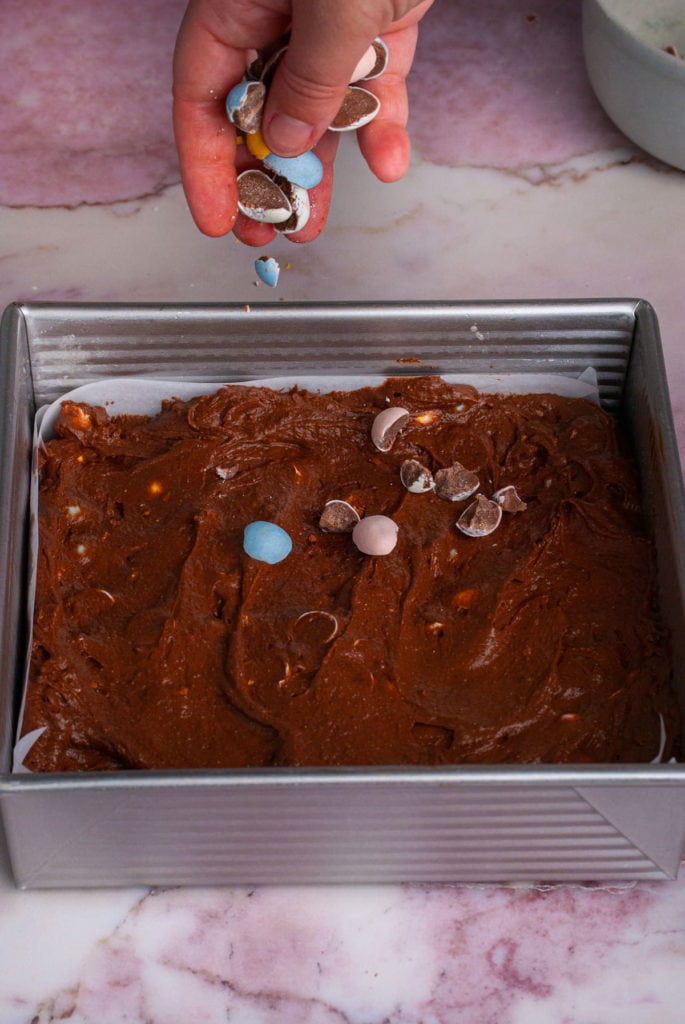 How to Properly Store Easter Brownies
Keep your brownies with mini eggs in an airtight container or cover them up to keep them fresh. At room temperature, these moist chocolatey squares will stay delicious for 3-4 days, or about a week in the fridge.
If you want to extend the life of your brownies, you can freeze them for up to 4 months in an airtight container. Of course, make sure to allow them to thaw at room temperature before diving into them.
Green tip: Of the billions of tons of food wasted annually, 50% of food waste happens at home. Reduce your contribution to food waste by properly storing and consuming leftovers.
Cadbury Mini Egg Brownies Frequently Asked Questions
---
Can you buy Cadbury Mini Eggs all year?
Cadbury Mini Eggs are a seasonal treat, usually available from December to Easter Sunday every year.
Are brownies supposed to be gooey?
There are different types of brownies. Fudgy brownies should be gooey. Cakey brownies, as implied, will have a more cake-like texture, and chewy brownies are somewhere in between.
Want to sharpen your kitchen skills?
Why You Should Make These Brownies with Cadbury Mini Eggs
---
They're fun! A great seasonal twist on a classic favorite.
They're festive. The pastel color of those Cadbury Mini Eggs is so springy!
They're ultra chocolatey. Oeey gooey brownies with crunchy candy-coated milk chocolate bits.
If you're loving these Cadbury Mini Egg Brownies and want more chocolate, check out this list of Chocolate Recipes for Chocolate Lovers.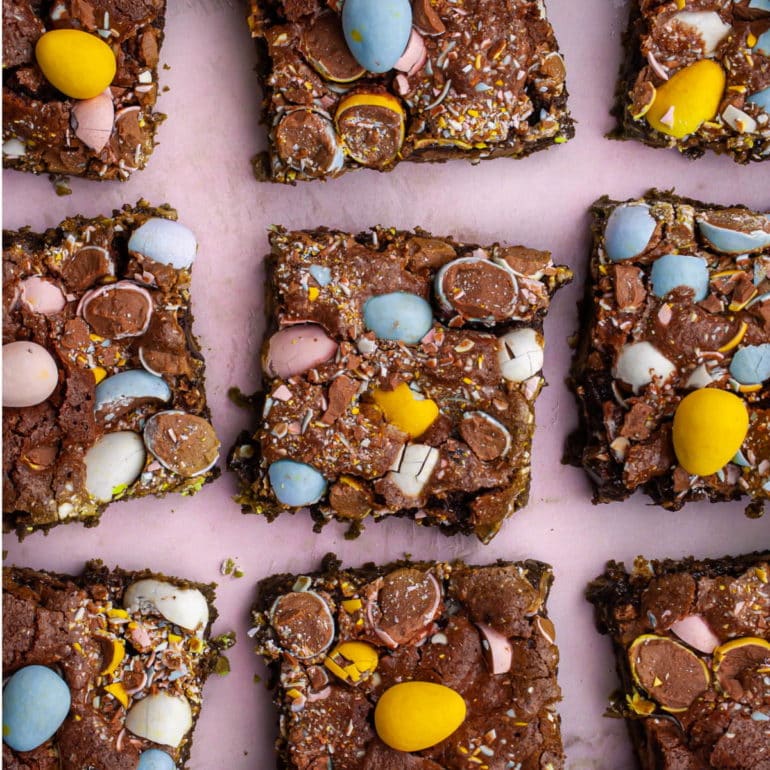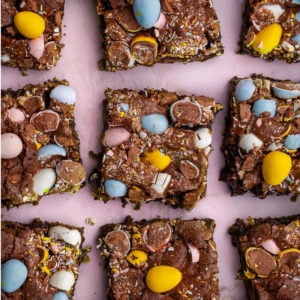 Cadbury Mini Egg Brownies
PRINT
PIN
RATE
These Cadbury Mini Egg Brownies are the best springtime dessert. The fun, crunchy, candy-coated chocolates add a welcomed crunchy texture to the fudgy brownies.
Ingredients
½

cup

unsalted butter, softened

(½ cup usually = 1 stick)

1 ¼

cup

granulated sugar

2

tablespoons

oil

(coconut, canola, vegetable, or grapeseed)

2

large

eggs

2

teaspoons

vanilla extract

½

cup

all-purpose flour

¼

teaspoon

salt

½

cup

unsweetened cocoa powder

2

cups

Cadbury Mini Eggs
Instructions
Preheat your oven to 350°F and line or spray a 9 x 9-inch square pan with parchment paper.

Use a very sharp knife to chop or add 2 cups of Cadbury Mini Eggs to a storage bag and use a rolling pin to crush.

In a large mixing bowl, cream together the butter, oil, and sugar with a hand mixer on high until the mixture is smooth.

Add eggs and vanilla extract and mix again until combined.

Next, add your flour, cocoa powder, and salt and mix again until well-combined, making sure your batter is smooth and free of clumps.

Fold in roughly half of your crushed eggs, reserving the rest. Use a spatula to help with transferring your batter to your prepped pan.

Add the remaining Cadbury Mini Eggs on top of the brownie batter. Bake for 30-35 minutes. Allow the brownies to cool before slicing. Enjoy!
Pro Tips
To quickly soften butter, microwave it in 15-second intervals until your finger leaves an imprint in the butter when you poke it.
I love using dark cocoa powder in this recipe to give a rich, chocolate flavor.
If you love brownies as much as I do, you'll love this collection of my greatest brownie recipes!
Did you make this recipe?
Let me know by leaving a recipe rating below, or by tagging @marleysmenu on Instagram.