Looking for an easy, yet impressive recipe to make a showstopping side dish? This Boursin Mashed Potatoes recipe adds herbed cheese to fluffy mashed potatoes make them extra creamy and out-of-this-world delicious.
Plus, this gourmet dish only requires 5 ingredients and 30 minutes to whip up, making these taters my absolute favorite vegetarian side dish for entertaining.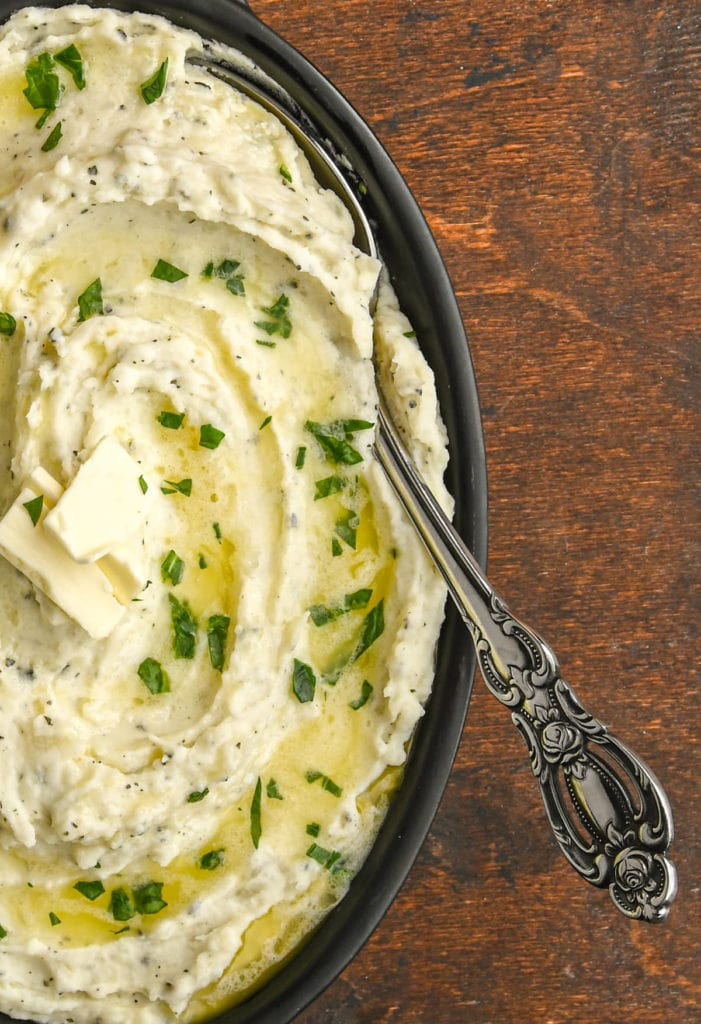 Potatoes are a great starch option to complete any meal!
As an environmental scientist, I am always trying to make sustainable ingredients shine. Potatoes, especially when sourced organically, are a sustainable crop.
They have a relatively small environmental footprint as they only require a small area to thrive and have a super long shelf life, which means you're less likely to waste them!
And the best part? Potatoes can generally be sourced locally year-round.
Boursin Mashed Potatoes Ingredients
---
Here's everything you need:
Russet Potatoes. Or Yukon gold. Both are great for mashing! I stick to Russet because that's how my mom makes them, and they just taste like home to me.
Milk. Any unsweetened milk will do, dairy or not!
Unsalted butter. Using unsalted butter gives you more control over the salt content of your potatoes. That being said, if you only have salted butter at home, that works, too. Just make sure you adjust the amount of garlic salt you add so your creamy mashed potatoes aren't overly salty.
Garlic Salt. I love this ingredient because it adds the extra flavor of garlic and salt simultaneously. Of course, if you aren't a fan of garlic, just use salt. If you don't have garlic salt at home, you can also use a combination of salt and garlic powder.
Boursin. Any flavor will do! I used the garlic and fine herbs flavor in the dish pictured, but I've also made this with the basil & chive and shallot & chive flavors with great success.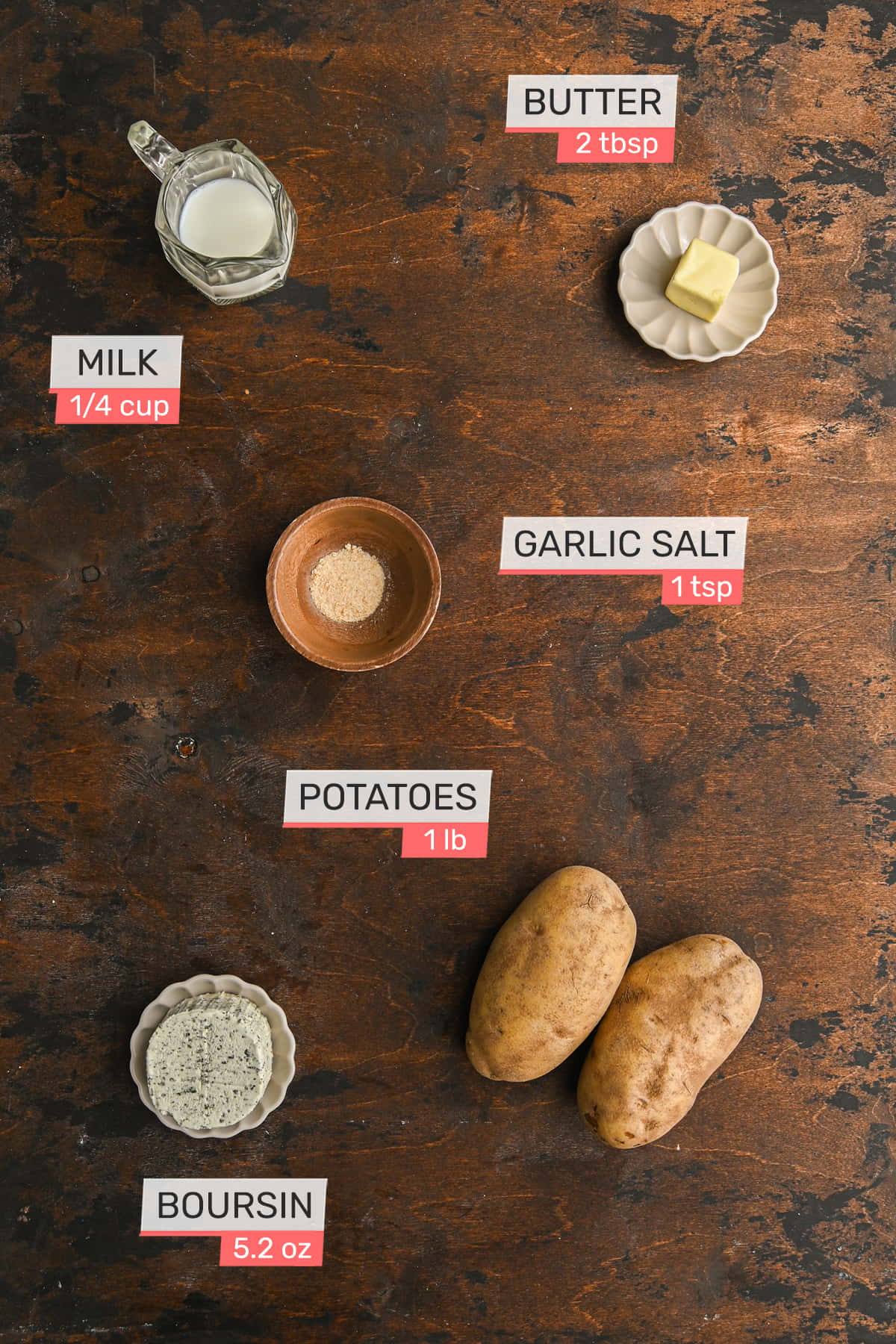 What is Boursin, Anyway?
Boursin is actually a brand of Gournay cheese! Gournay is a soft, creamy cheese, and Boursin infuses flavors into it like Garlic and Herb, Shallot and Chive, Cracked Black Pepper, Basil and Chive, and more!
For this recipe, I used Garlic and Fine Herbs, but you can use any flavor. You can also use a different brand of herbed Gournay cheese and get similar results.
Boursin Mashed Potatoes Tips and Tricks
---
Peel Your Potatoes
To get super creamy mashed potatoes, peel the potatoes completely using a vegetable peeler, leaving behind no skin or bruises. I use this same technique for these Truffle Parmesan Fries!
If you don't have a compost bin for your peels, these Potato Peel Crisps are a delicious way to avoid food waste!
Green tip: Did you know that of the billions of pounds of food wasted annually, it is estimated that 50% of it happens in our homes? It's always best to avoid food waste as much as you can!
If you like some potato peel chunks in your mashed potatoes, just leave a couple of strips of peel on during this process. The rest of the steps for this recipe will be the same.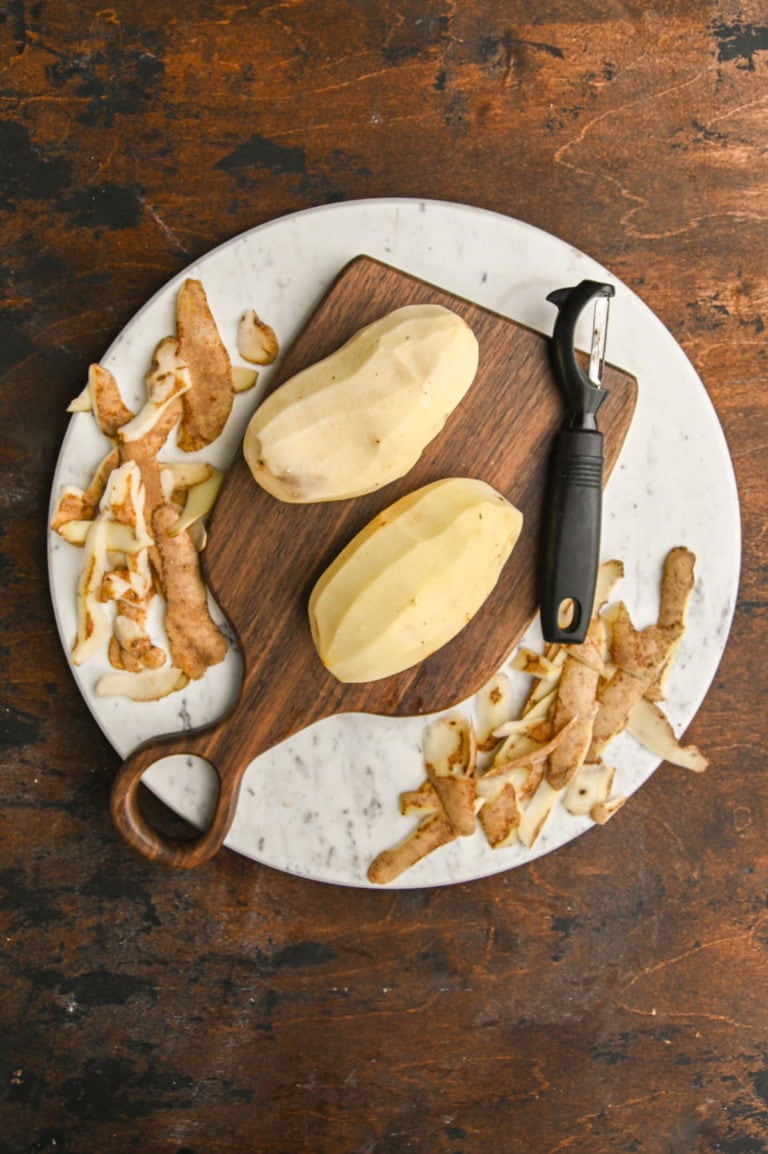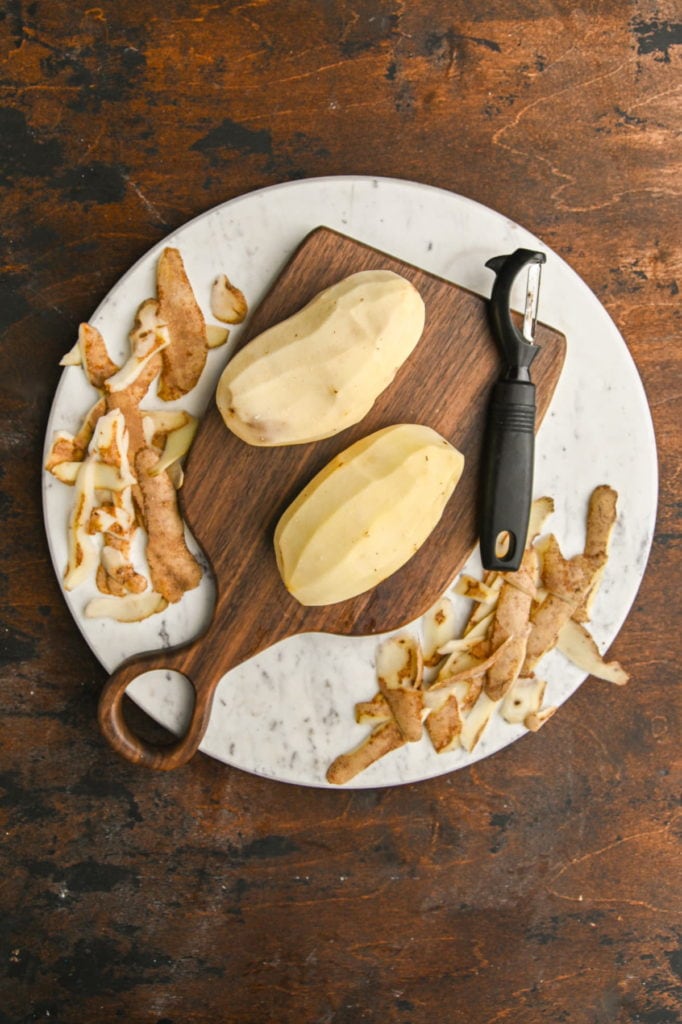 Chop Your Potatoes into Chunks
Breaking the potato into smaller parts helps the potatoes cook faster!
Once peeled, chop your potato into small pieces, roughly about 2 square inches. While the chunks do not need to be perfectly uniform by any means, make sure they are closely similar in size.
This will just ensure that they cook evenly, keeping the consistency of your potatoes creamy throughout.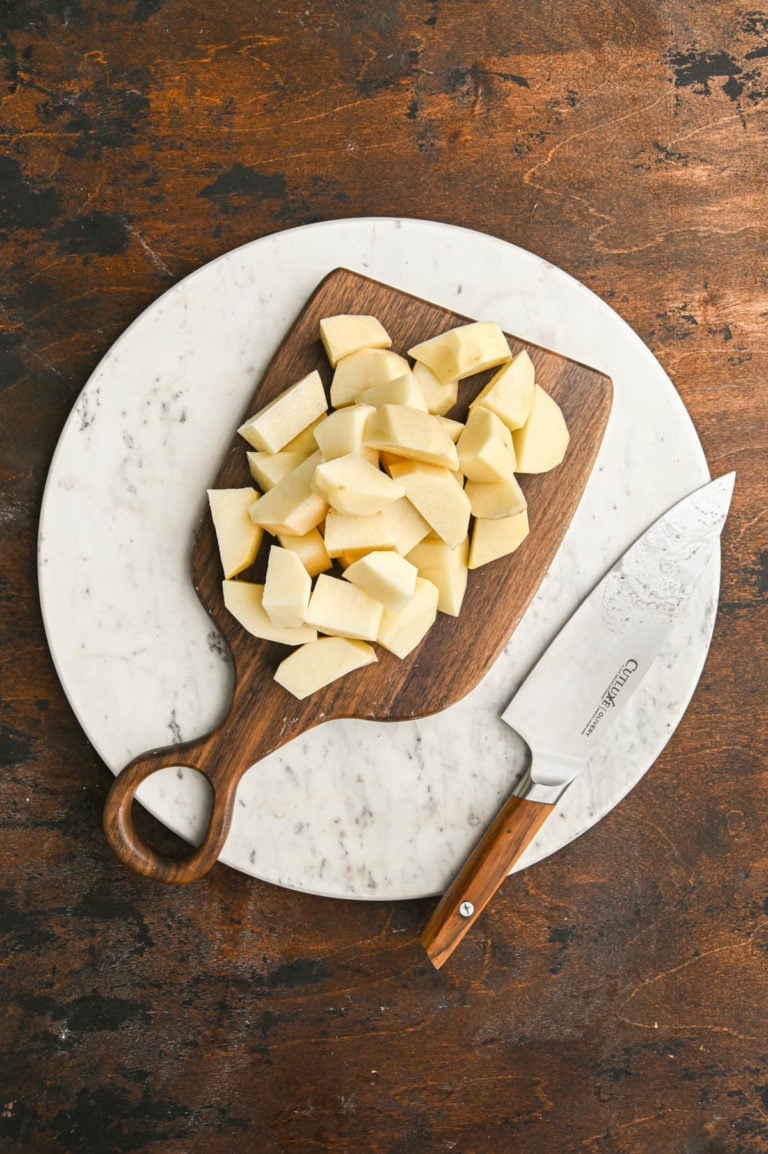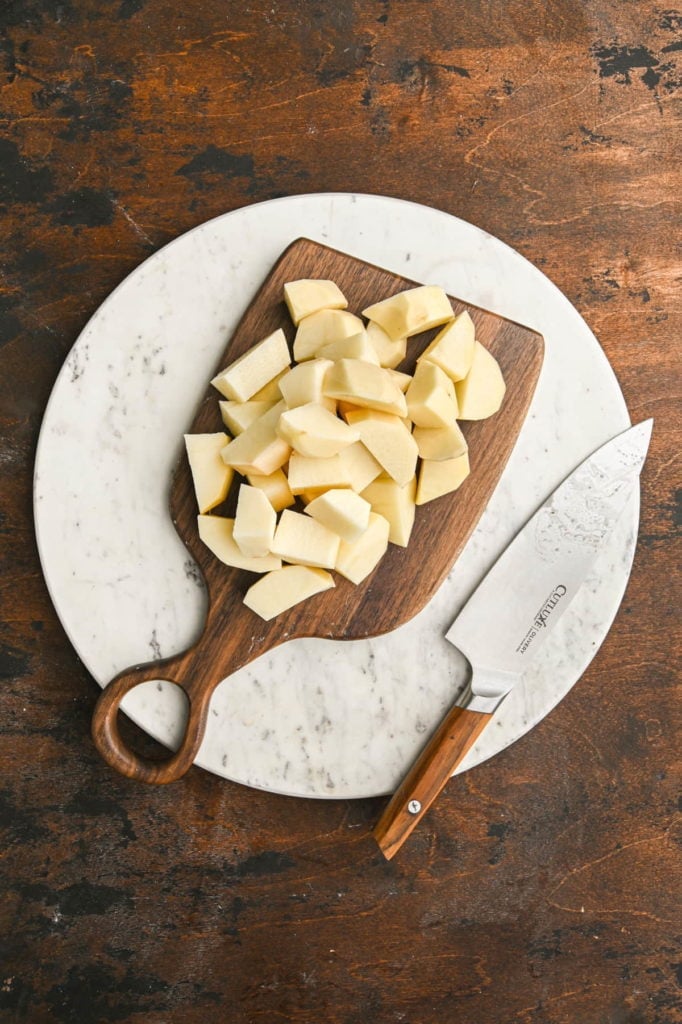 Boil The Potato Chunks
Bring a pot of about 10 cups of water to a boil and carefully drop your potato chunks in.
Green tip: Don't waste the water your potatoes boil in—use it to water your plants! The starchy water helps fertilize plants and help them grow.
Boil for about 20 minutes, until you can easily pierce the potatoes with a fork.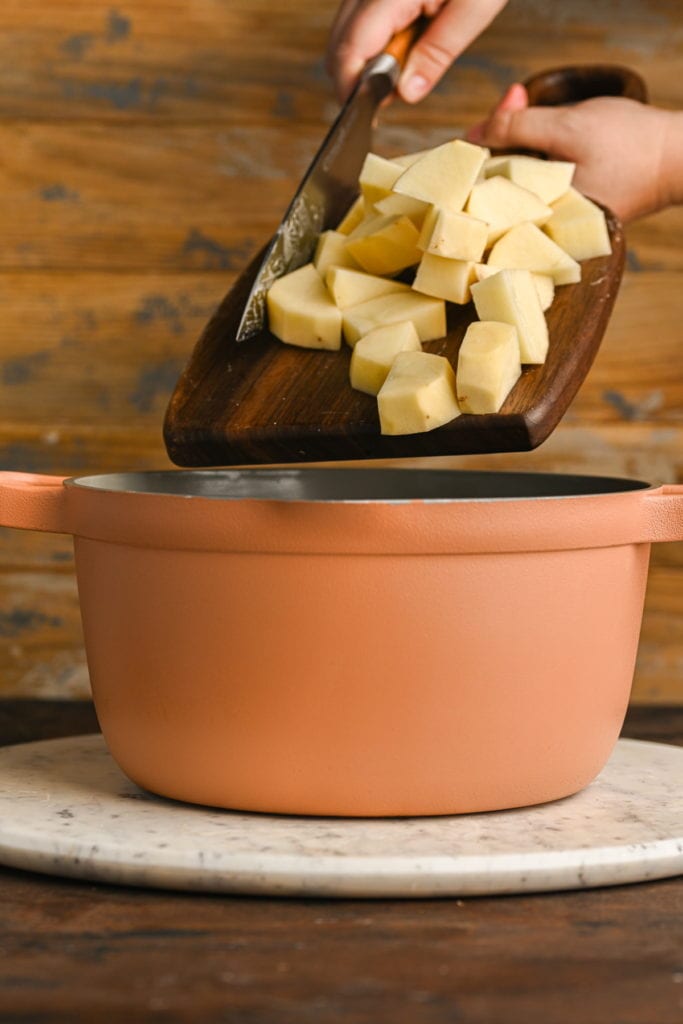 Consider a Potato Masher
Investing in a potato masher has been a game-changer for my mashed potatoes! It helps to get out all the lumps and crush the potatoes down into little, whippable pieces.
Once you've drained your water, add the potato chunks to a large mixing bowl and mash. If you don't have a potato masher, you can use a muddler or a fork to mash them.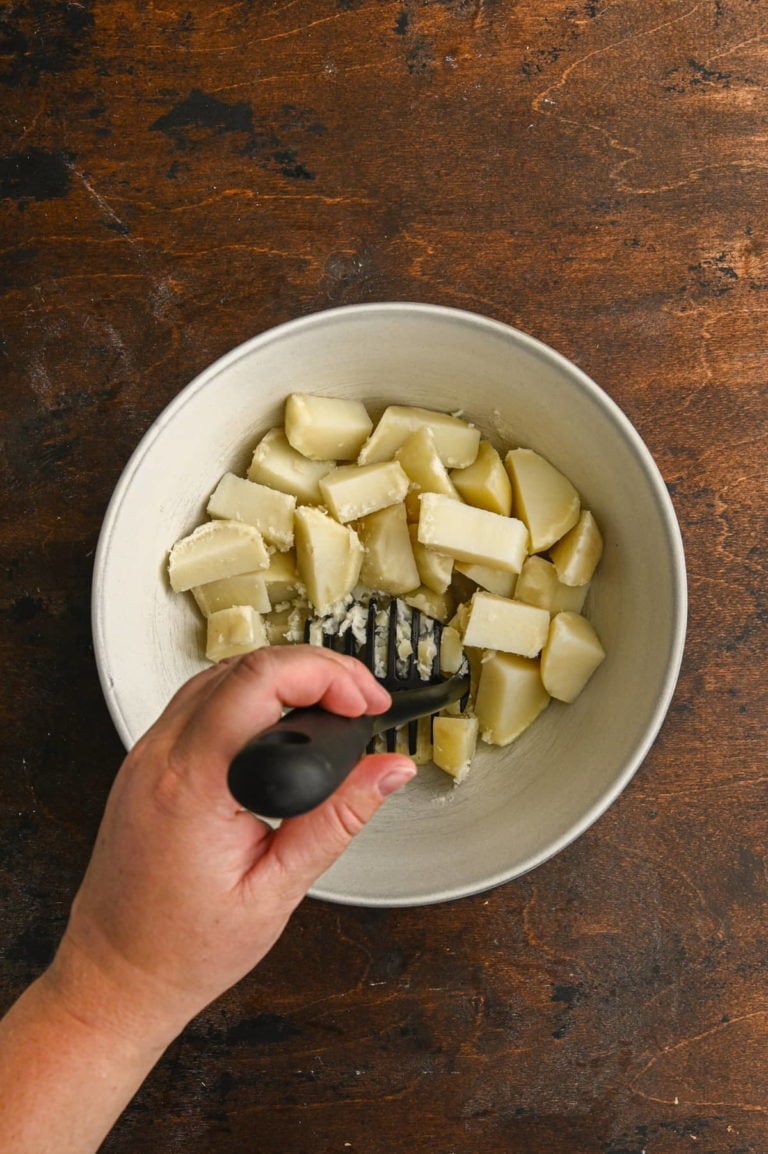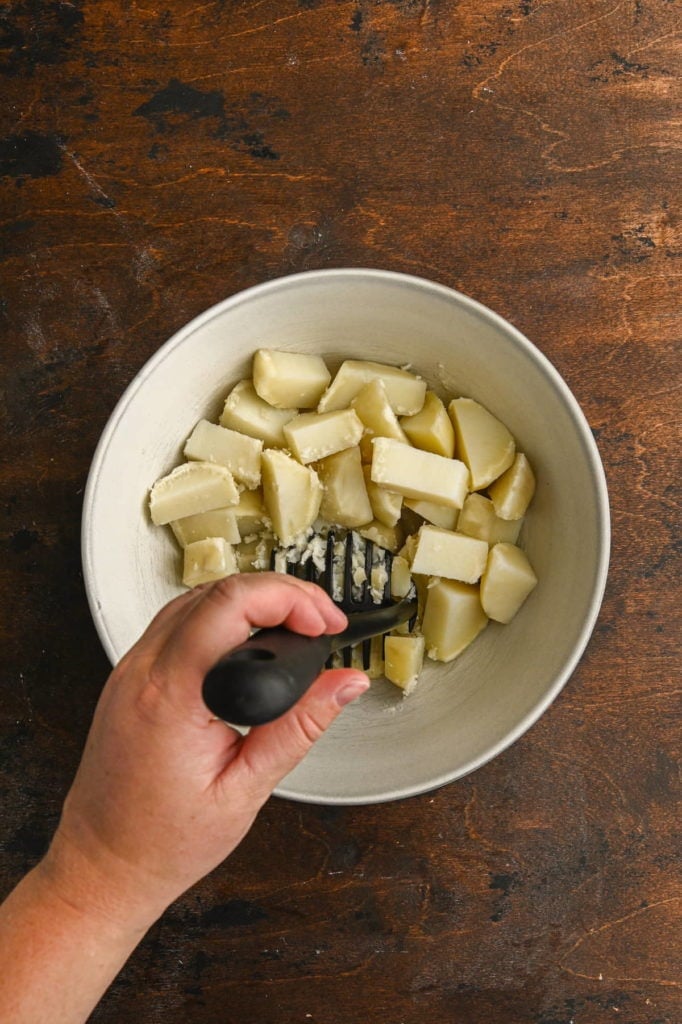 Add All Your Ingredients
Time to add your milk, butter, garlic salt, and Boursin!
Start with just 1/4 cup milk. Use a hand mixer on high to mix and assess the consistency. Depending on the size of your potatoes and how soft they got while boiling, you may or may not need a little more.
If you feel your potatoes are too thick, add more milk, about 1 tablespoon at a time, whipping in between until you reach your desired consistency. You shouldn't need more than a maximum of 1/2 cup.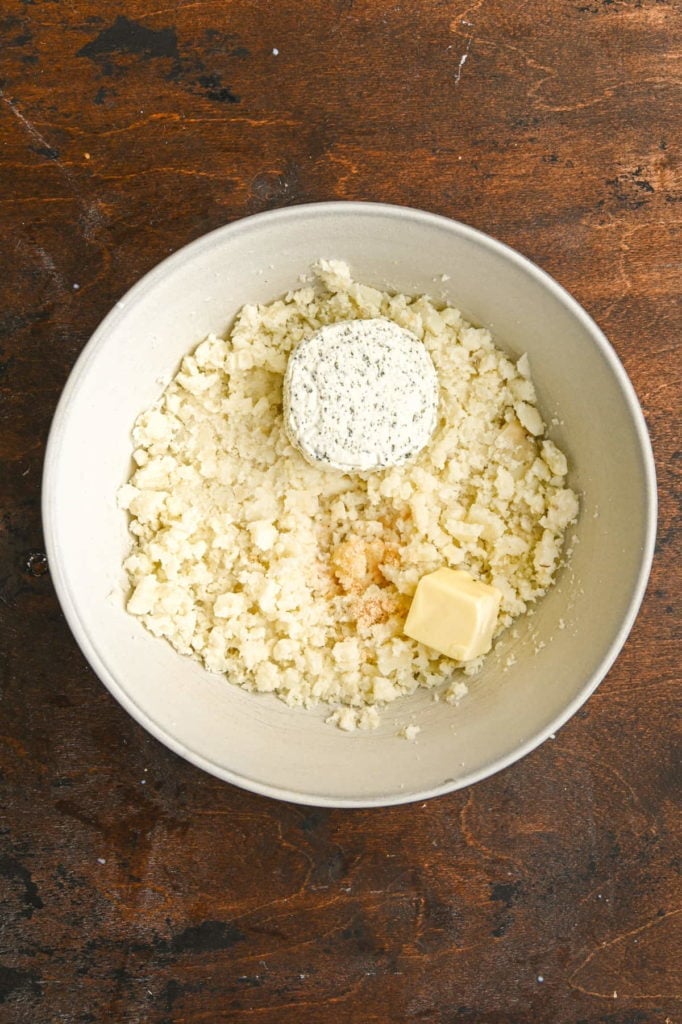 Use a Hand Mixer
The best way to get creamy mashed potatoes is to whip them. I find the easiest way to whip them is with a hand mixer on high.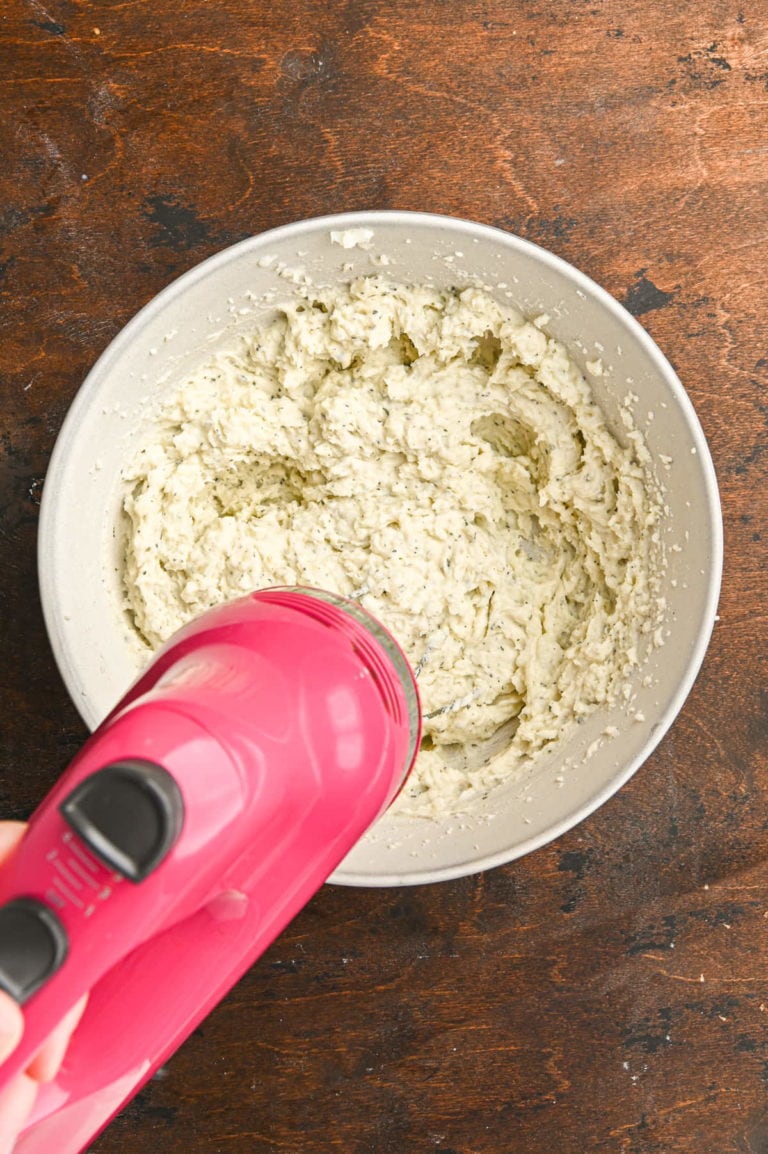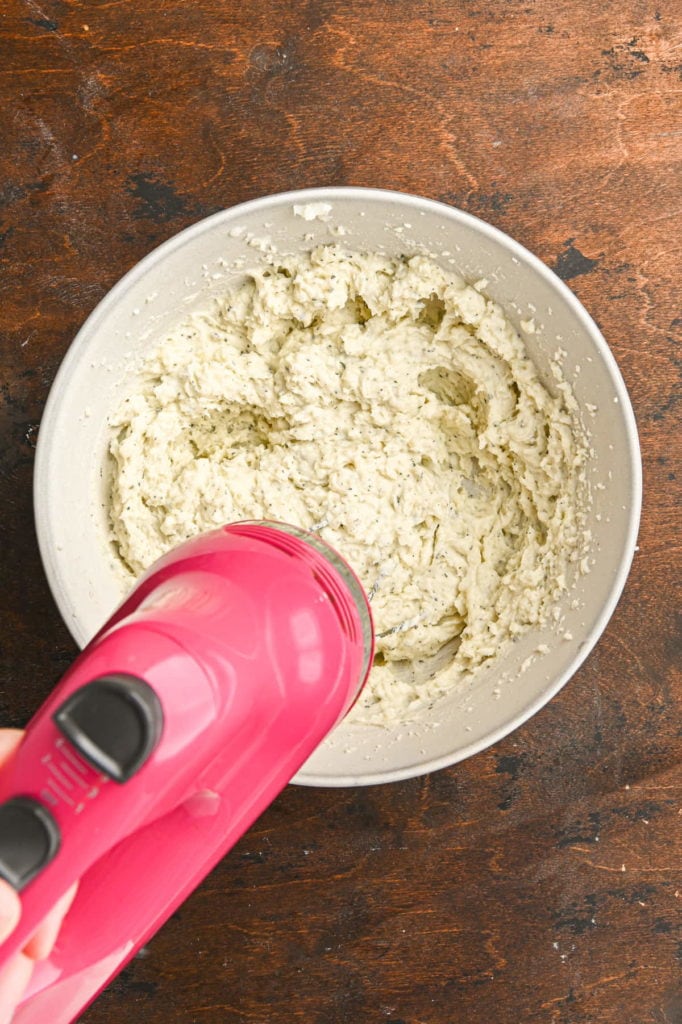 Storing and Reheating Mashed Potato
In an airtight container, these mashed potatoes with boursin will stay fresh for up to 5 days in the refrigerator. You can also freeze them for up to a year!
To reheat, preheat your oven to 350°F and transfer the mashed potatoes into an oven-safe dish. Cover the dish with tin foil, and cook for about 20 minutes until heated through.
If your mashed potatoes are frozen, allow them to thaw overnight before following the reheating guidelines above.
And to create a whole new dish from your leftover mashed potatoes, check out these Twice Baked Mashed Potatoes (Great for Leftovers!).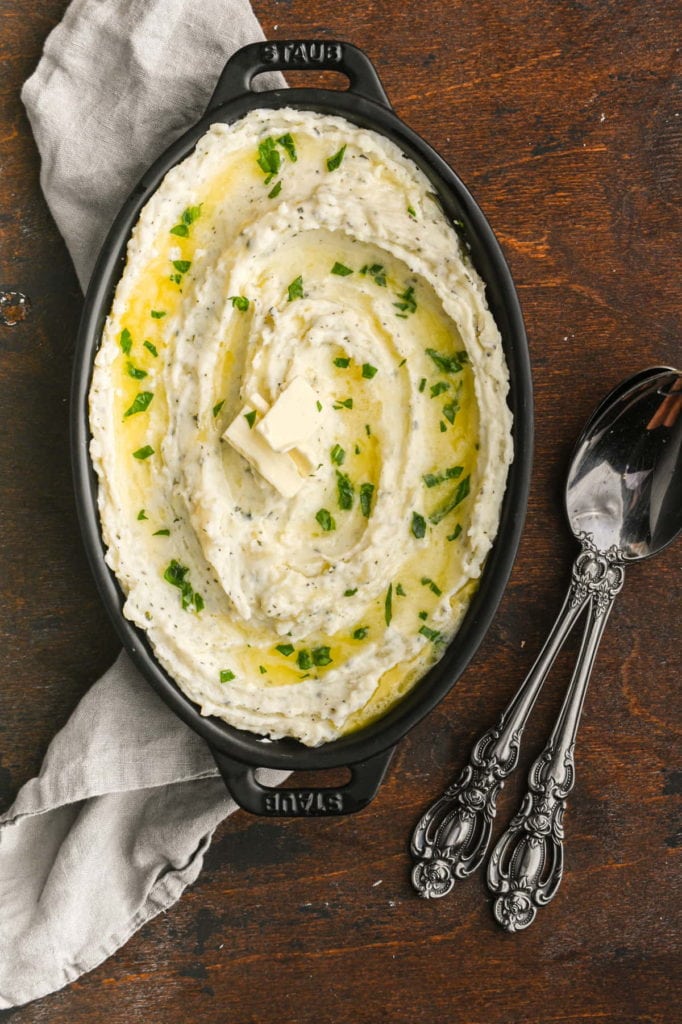 Boursin Mashed Potatoes Frequently Asked Questions
---
What is in Boursin mashed potatoes?
Boursin mashed potatoes have all the elements of traditional mashed potatoes (potatoes, butter, and milk or cream) with the addition of Boursin cheese to add velvety smoothness and extra flavor.
What is Boursin cheese good on?
Boursin cheese is traditionally served on a charcuterie board with crackers or fresh slices of baked bread. It's also amazing in mashed potatoes, sandwiches and wraps, and even in pasta salad.
What kind of cheese is Boursin made from?
Boursin is made from Gournay cheese. It's a pasteurized cow milk cheese that is soft, almost like cream cheese.
Want to sharpen your kitchen skills?
Why You Should Make These Boursin Mashed Potatoes
---
They're creamy. The perfect consistency comes from both the technique and the addition of the extra creamy Boursin cheese.
They're flavorful. The herbed cheese adds extra flavor over traditional mashed potatoes.
They're unique. Your favorite side dish with a twist!
If you're loving these Boursin Mashed Potatoes and want more Boursin recipes, check out these Herbed Cheese Portobello Mushroom Wraps. And if you're here for the potatoes, you've got to try these Best Potato Recipes!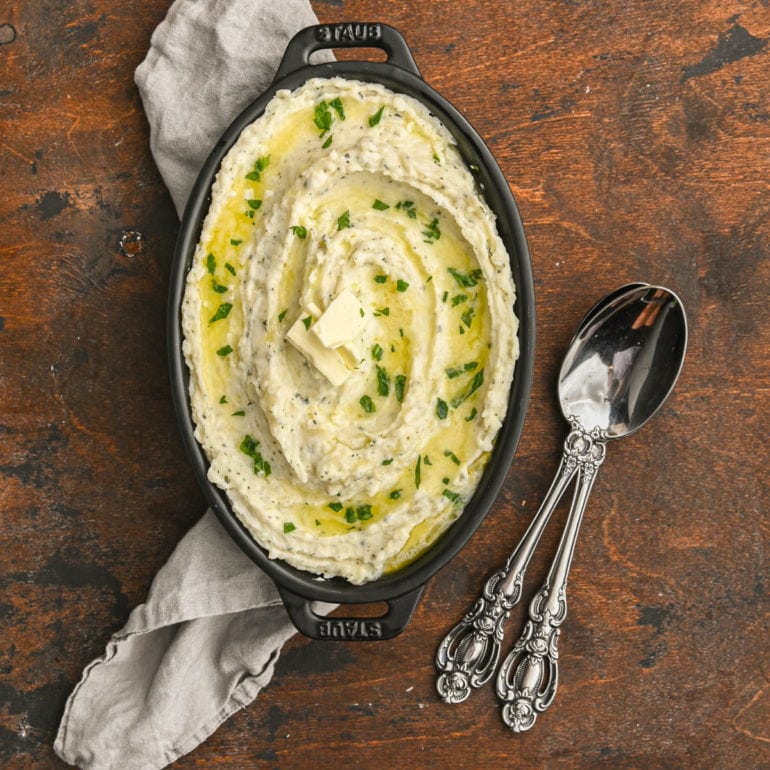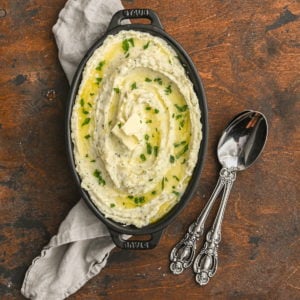 30 Min Creamy Boursin Mashed Potatoes
PRINT
PIN
RATE
The herbed cheese in these Creamy Boursin Mashed Potatoes takes them up a notch infusing flavor and extra creamy texture into your favorite starchy side dish.
Ingredients
1

pound

potatoes

(Russet or Yukon Gold. 1 lb usually = 2 large potatoes)

2

tablespoons

unsalted butter

(non-dairy works, too!)

5.2

ounces

Boursin of choice (I used garlic and fine herbs)

(5.2 oz usually = 1 puck/box)

up to 1/2

cup

milk or cream

(dairy or unsweetened non-dairy )

1

teaspoon

garlic salt

1

handful

fresh basil, chopped for garnish

(optional)
Instructions
In a large pot, bring 10 cups of water to a rolling boil.

Peel your potatoes and chop them into smaller pieces, roughly 2 square inches. Add them to the pot and boil for about 20 minutes, until you can easily pierce the potato with a fork.

Once your potatoes are ready, strain and add the potato chunks to a large mixing bowl and use a potato masher or large fork to mash the cooked potato.

Add 1/4 cup milk, butter, garlic salt, and Boursin cheese, and use a hand mixer on high to whip. Assess the consistency. If it seems too thick, add more milk, 1 tablespoon at a time until desired consistency is achieved.

Serve hot. Option to garnish with extra melted butter and chopped basil. Enjoy!
Did you make this recipe?
Let me know by leaving a recipe rating below, or by tagging @marleysmenu on Instagram.