Looking to elevate your meal with an elegant and gourmet starch? These Truffle Mashed Potatoes require just 5 ingredients and 30 minutes to come to life and are outrageously creamy and flavorful.
Think airy whipped mashed potatoes with added truffle oil to give it that extra umami. This foolproof recipe will give you no lumps and a very aromatic truffle flavor.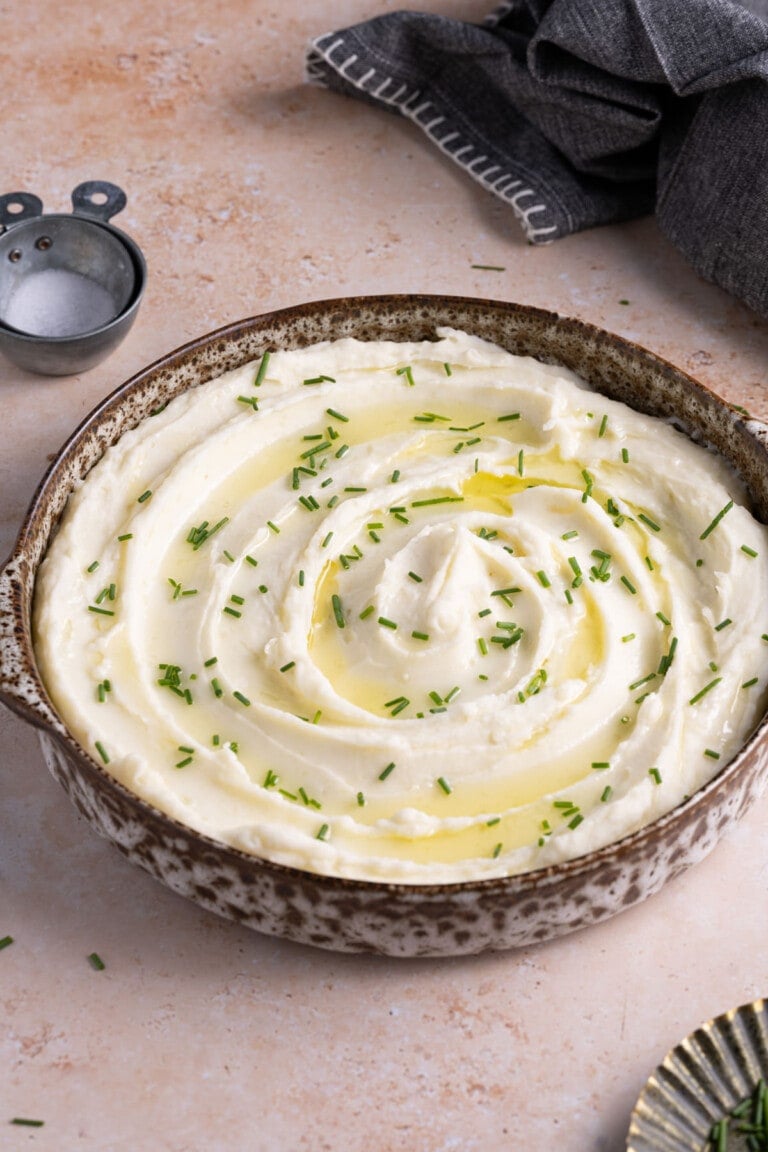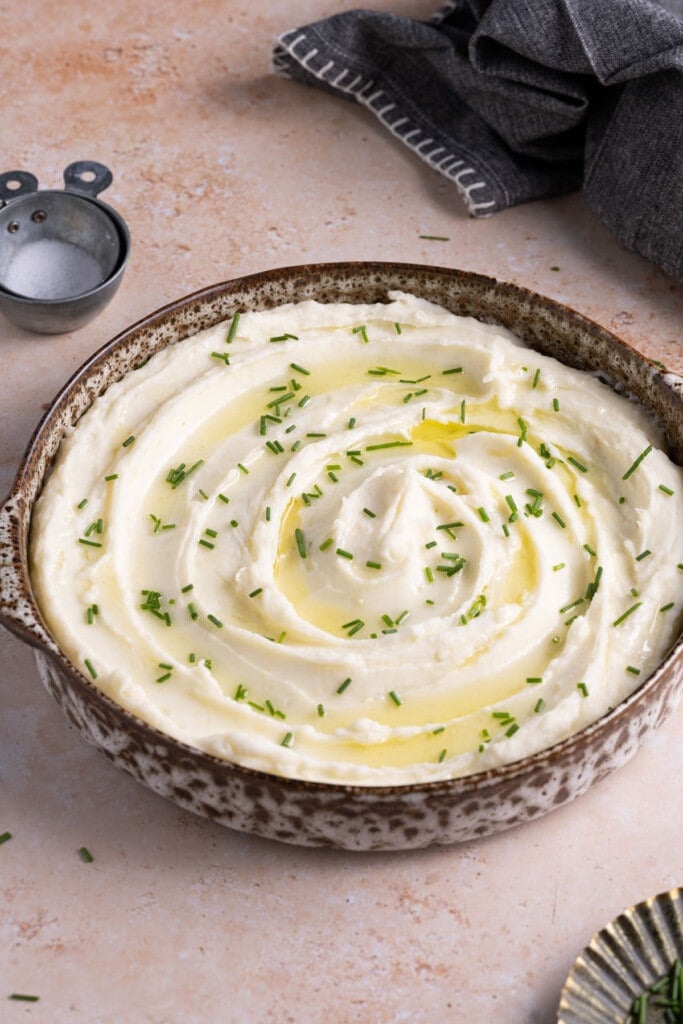 Potatoes are such a great starch option to complete any well-rounded meal!
As an environmental scientist, I absolutely love to make sustainable ingredients shine. Potatoes, especially when sourced organically, are considered a sustainable crop.
They have a relatively small environmental footprint because they only require a small amount of land to thrive and have a long shelf life, meaning you're less likely to waste them!
And the best part? Potatoes can typically be sourced locally year-round.
Truffle Mashed Potatoes Ingredients
---
Here's everything you need:
Russet potatoes. You can also use Yukon gold potatoes! I always use Russet because that's how my mom makes them, and they taste like home to me.
Half & half. Or Cream or milk. You can absolutely use unsweetened nondairy as well!
Unsalted butter. Using unsalted butter gives you more control over the amount of salt added to your potatoes. That being said, if you only have salted butter at home, you can use it. Just make sure you adjust the amount of salt you add so your mashed potatoes aren't overly salty. Nondairy butter absolutely works in this recipe, too.
Salt. I find 1/2 teaspoon to be just right, but you can always add more to taste.
Truffle oil. It's important to note that truffle oil is a finishing oil, not a frying oil. It has a strong and distinct taste. 2 tablespoons should be enough to give you a fragrant and truffle-forward mash!
Chives (optional). I love to add a little freshness, color, and crunch, but these taters are great with or without the chives.
Mashed Potatoes with Truffle Oil Tips and Tricks
---
Peel Your Potatoes
To get the creamiest mashed potatoes, peel the potatoes completely using a vegetable peeler, leaving behind no skin or blemishes. I use this same technique for this Sweet Potato Hummus!
If you like some potato peel chunks in your mashed potatoes, just leave a couple of strips of peel on the potato during this process. The rest of the steps for this recipe remain exactly the same.
If you don't have a compost bin for your peels, these Potato Peel Crisps are a delicious way to avoid food waste! You can also save them to make your own vegetable broth.
Green tip: Did you know that of the billions of pounds of food wasted annually, it is estimated that 50% of it happens in our homes? It's always best to avoid food waste as much as you can!
Chop Your Potatoes
Chopping the potato into smaller chunks helps to speed up the cooking time.
Once peeled, chop your potato into roughly 2-inch pieces. The chunks do not need to be perfectly uniform by any means but try your best to keep them similar in size.
This will ensure that they cook evenly, keeping the consistency of your potatoes creamy throughout.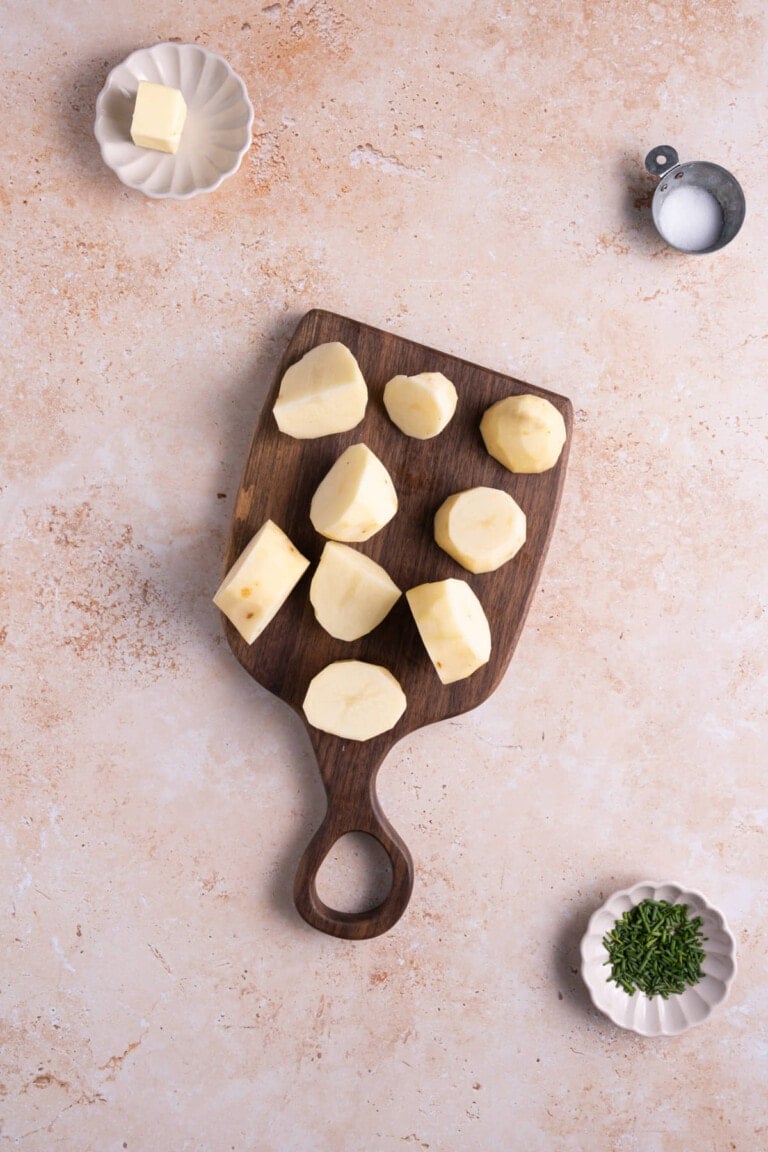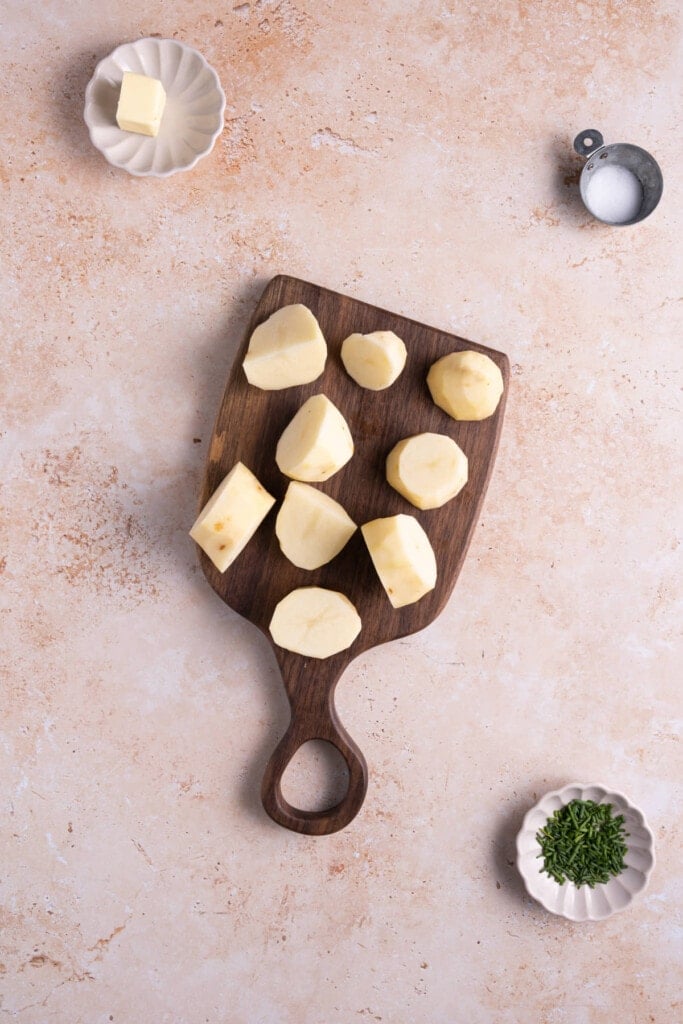 Boil the Potato Chunks
Bring about 10 cups of water to a rolling boil in a large pot. Then, carefully drop your potato chunks into the boiling water.
Boil your potato chunks for about 15-20 minutes, until you can easily pierce the potatoes with a fork.
Green tip: Don't waste the water your potatoes boil in—use it to water your plants! The starchy water helps fertilize plants and help them grow.
Consider Using a Potato Masher
Once you've drained your water, add the boiled potato chunks to a large mixing bowl and mash. If you don't have a potato masher, you can use a fork to mash the potatoes.
Investing in a potato masher has been a game-changer for all my mashed potato dishes! It helps to eliminate any lumps and smash the potatoes down into little, whip-able pieces.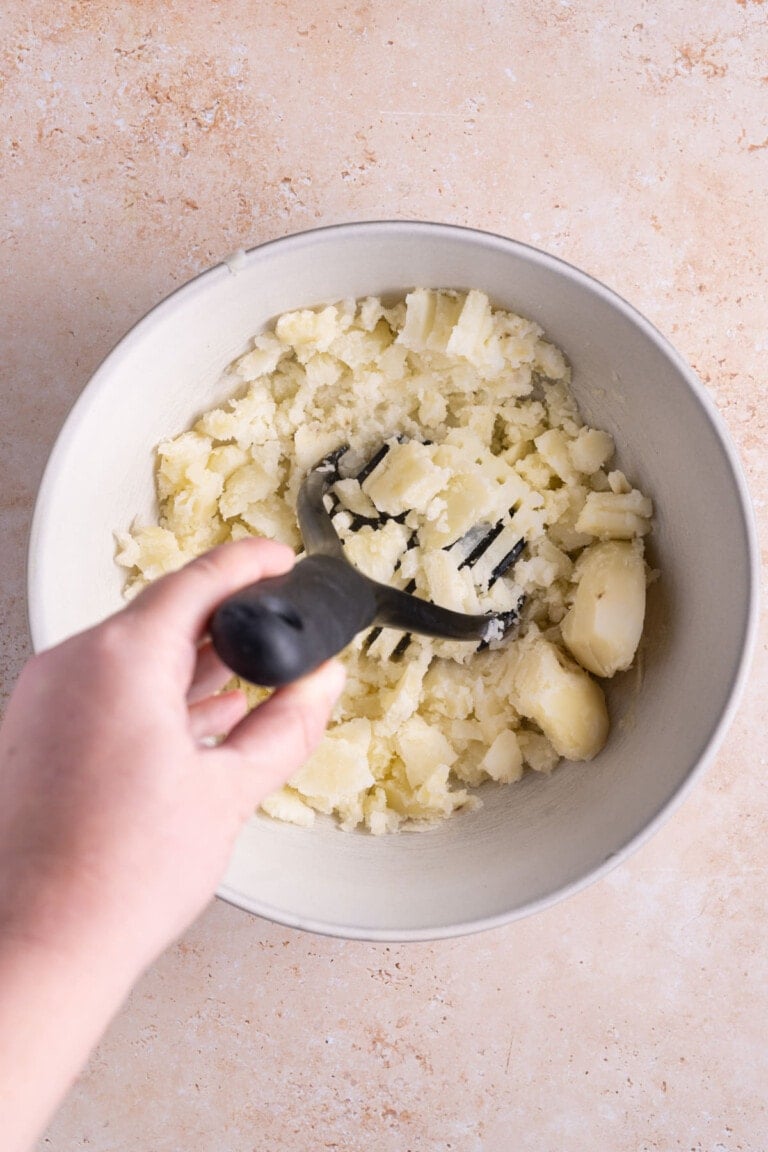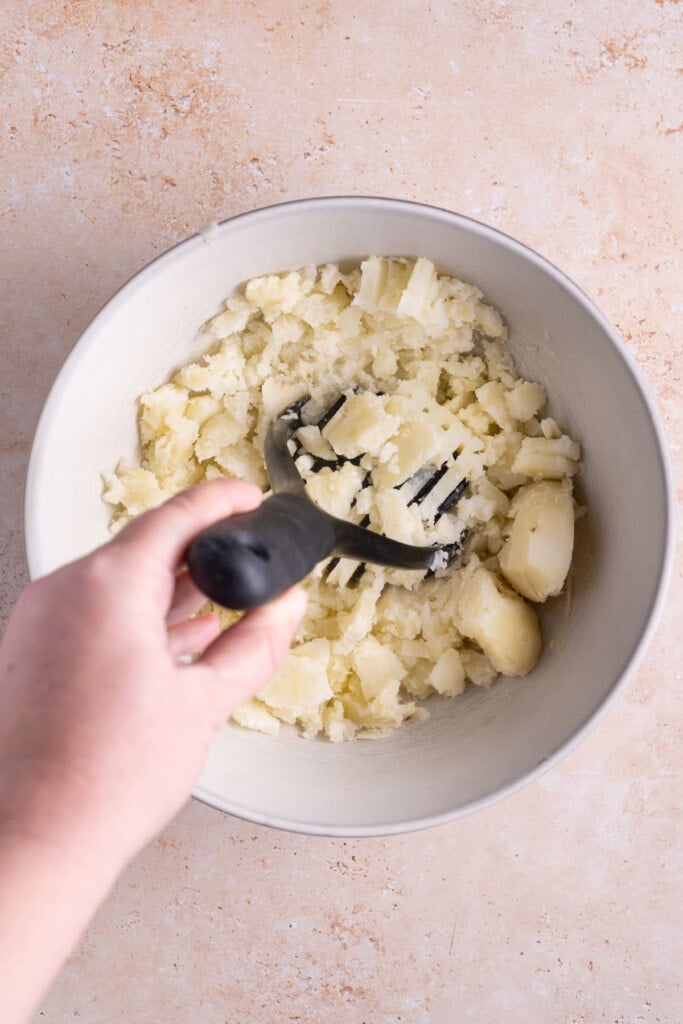 It's Time for the Truffle!
Time to add your Half & Half, butter, salt, and the very best part—the truffle oil!
Start with just 1/4 cup of half & half. Use a hand mixer to whip and assess the consistency. Depending on the exact size and tenderness of your potatoes, you may need a little more half & half.
If your potatoes are too thick, add extra half & half, about 1 tablespoon at a time, while whipping, until you reach your desired consistency. You shouldn't need more than a maximum of 1/2 cup total.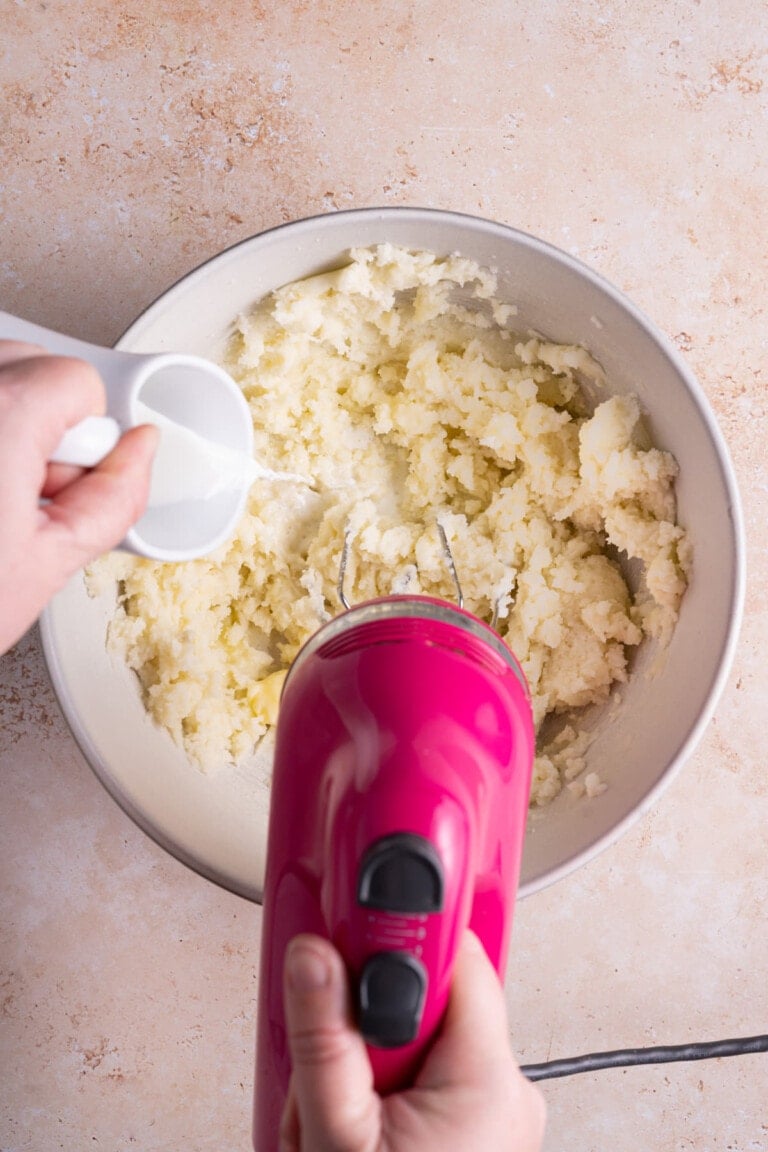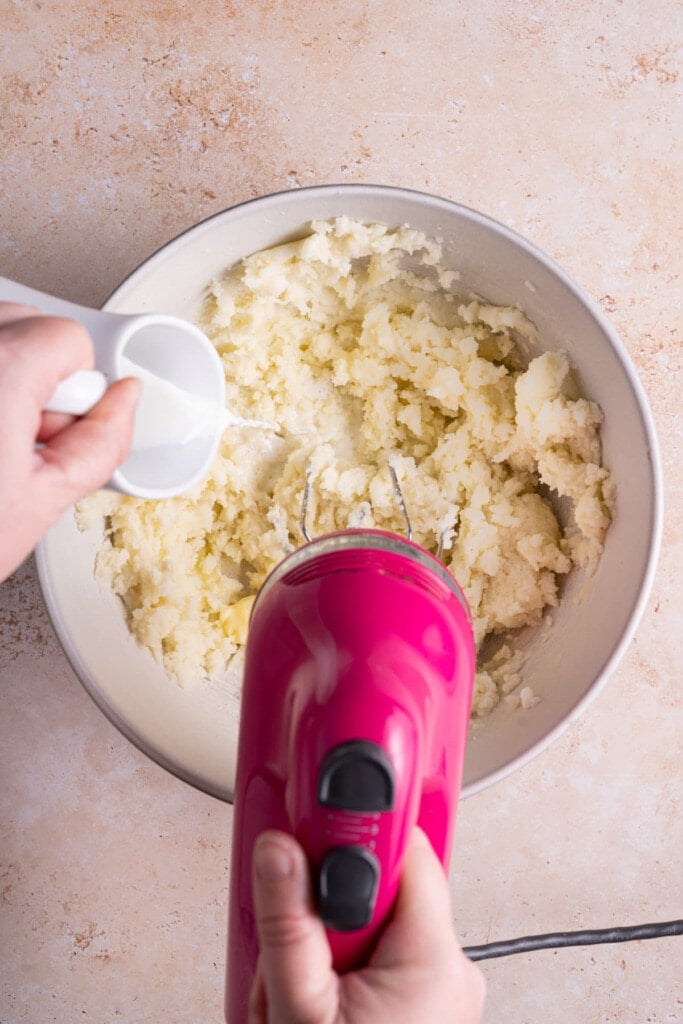 Serving Your Truffle Mashed Potatoes
I love to present these mashed potatoes with a swirl (just use the back of the spoon) and top them with a little extra truffle oil and some chopped chives for freshness and color.
While these are flavorful enough on their own, they also go beautifully with this Hearty Mushroom Gravy.
You can serve these mashed potatoes as a side dish to any protein, like this Roasted Garlic Salmon, and with any vegetable, including this Roasted Purple Asparagus.
Green tip: Properly storing, reheating, and enjoying your leftovers will help to minimize your contribution to food waste!
How to Store and Reheat Mashed Potatoes
These mashed potatoes with truffle oil will stay fresh for up to 5 days in the refrigerator in an airtight container. You can also freeze them for up to a full year!
To reheat, preheat your oven to 350°F and transfer the truffle mashed potatoes into an oven-safe dish. Cover the dish with aluminum foil and cook for about 15-20 minutes until heated through.
If your mashed potatoes are frozen, make sure you allow them to thaw overnight before following the reheating guidelines above.
And if you really want to whip up something delicious from your leftover mashed potatoes, check out these Twice Baked Mashed Potatoes (Great for Leftovers!).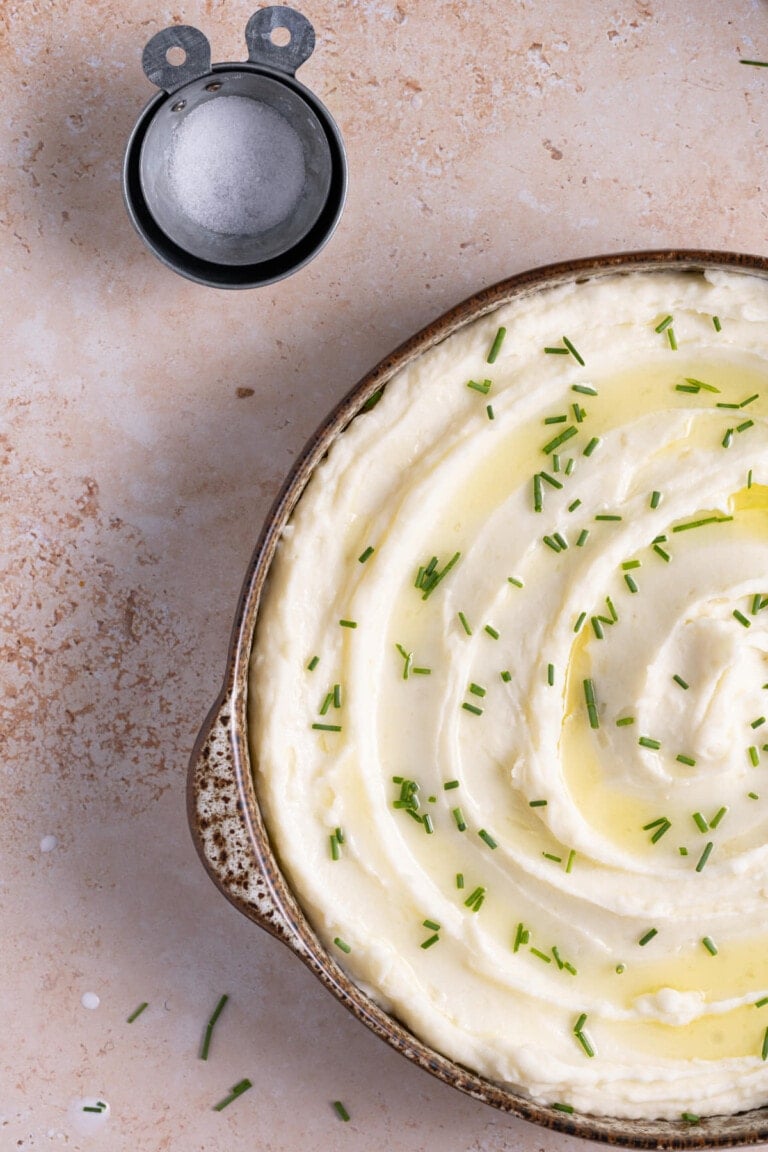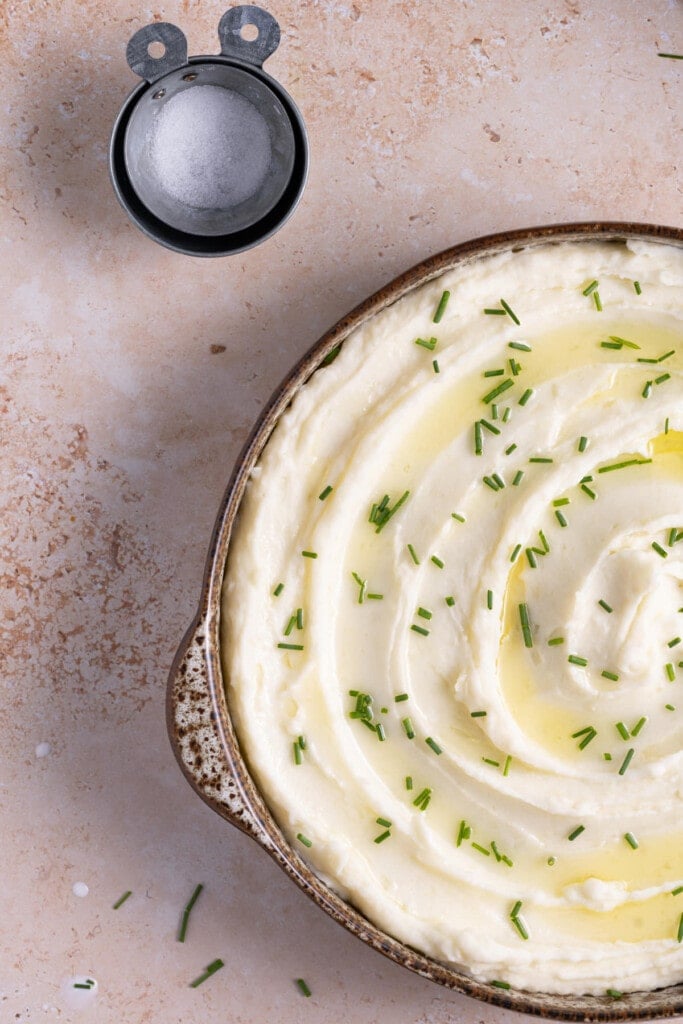 Truffle Mashed Potatoes Frequently Asked Questions
---
What does Truffle Oil taste like?
Truffle oil is high-quality olive oil that's been infused with truffle mushrooms, which allows you to get the truffle taste without having to source the truffle!
The taste of truffle oil is really unique. I would describe it as earthy, umami, and almost like a meaty or gamy flavor. It has similar notes to other earthy mushrooms but is much more intense.
Why are truffles so expensive?
Truffles are expensive because they are rare. The scarcity of them drives up the price. Truffle oil is similarly expensive.
The good news is a little bit goes a long way! Even for mashed potatoes, which notoriously soak up flavor and require a lot of salt and seasoning, just two tablespoons will bring bold flavor to a pound of potatoes.
Want to sharpen your kitchen skills?
Why You Should Make These Truffle Mashed Potatoes
---
The texture! These Truffle Mashed Potatoes are so creamy and have no lumps!
They're elevated. The truffle oil brings these potatoes up to gourmet status.
They're quick! 30 minutes from start to finish!
If you're loving these Truffle Mashed Potatoes and want more truffle, check out these Parmesan Truffle Fries and Mushroom Risotto with Truffle Oil.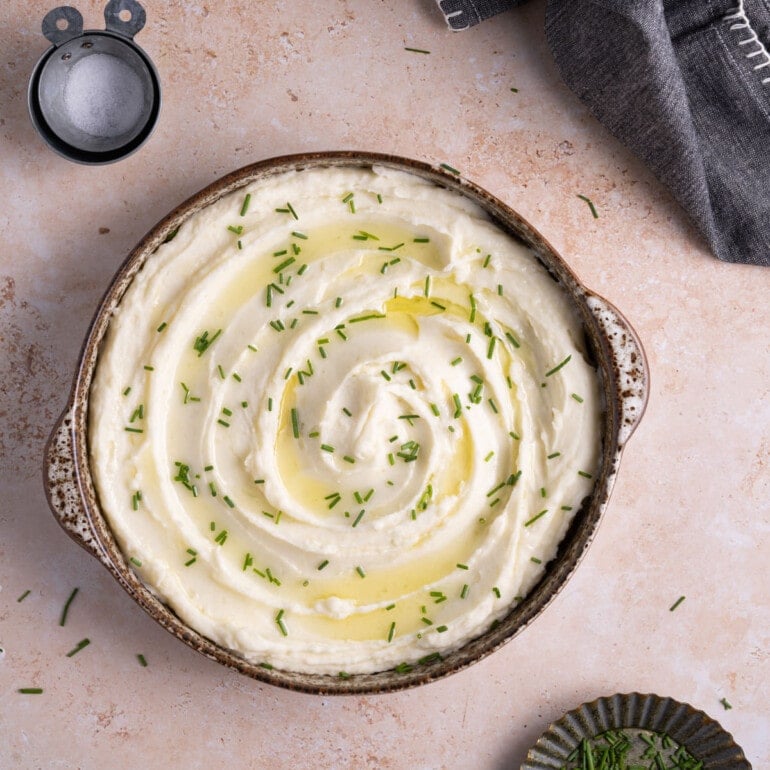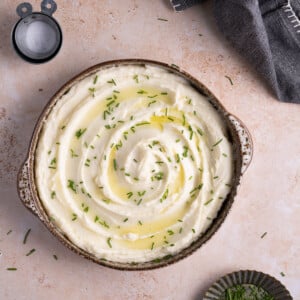 30-Minute Truffle Mashed Potatoes
PRINT
PIN
RATE
These Truffle Mashed Potatoes are creamy and elegant, with truffle oil to bring extra earthy umami and tons of aromatic flavor.
Ingredients
1

pound

potatoes

(Russet or Yukon Gold. 1 lb usually = 2 large russet potatoes)

1

tablespoon

unsalted butter

(non-dairy works, too!)

up to ½

cup

half & half (preferred) milk or cream

(unsweetened non-dairy works, too!)

½

teaspoon

salt

2

tablespoons

truffle oil

5

fresh chives, chopped for garnish

(optional)
Instructions
In a large pot, bring 10 cups of water to a rolling boil.

For the creamiest potatoes, use a vegetable peeler to peel your potatoes, leaving no blemishes or skin behind. That being said, if you like some skins in your mashed potatoes, leave a couple of strips of skin on in this step.

Chop your peeled potatoes into smaller pieces, roughly 2 square inches. Add them to the pot and boil for about 20 minutes, until you can easily pierce the potato with a fork.

Once your potatoes are ready, strain and add the potato chunks to a large mixing bowl and use a potato masher or large fork to mash the cooked potato.

Add 1/4 cup half & half, butter, salt, and truffle oil, and use a hand mixer on high to whip. Assess the consistency. If it seems too thick, add more milk, 1 tablespoon at a time until desired consistency is achieved.

Serve hot. Option to garnish with extra truffle oil and chopped chives. Enjoy!
Did you make this recipe?
Let me know by leaving a recipe rating below, or by tagging @marleysmenu on Instagram.