Looking for a quick and easy way to prepare your favorite green vegetable? This Cast-Iron Asparagus comes together in just 10 minutes, celebrating the naturally delicious flavors of your asparagus and keeping the integrity of its fresh, juicy, and crisp texture.
Easily one of my favorite simple asparagus recipes, this simple side dish takes minimal time and effort, but is still bursting with flavor. Plus, with such a versatile vegetable, you can easily make this dish your own with one of my optional topping ideas.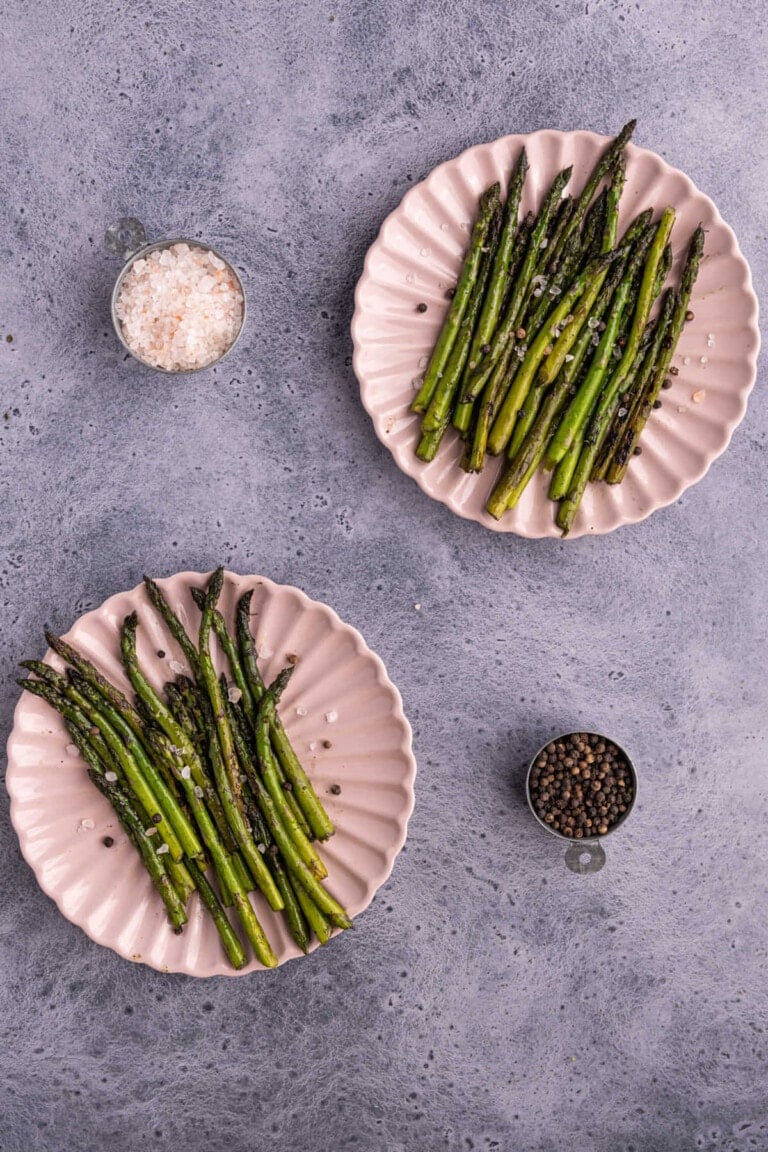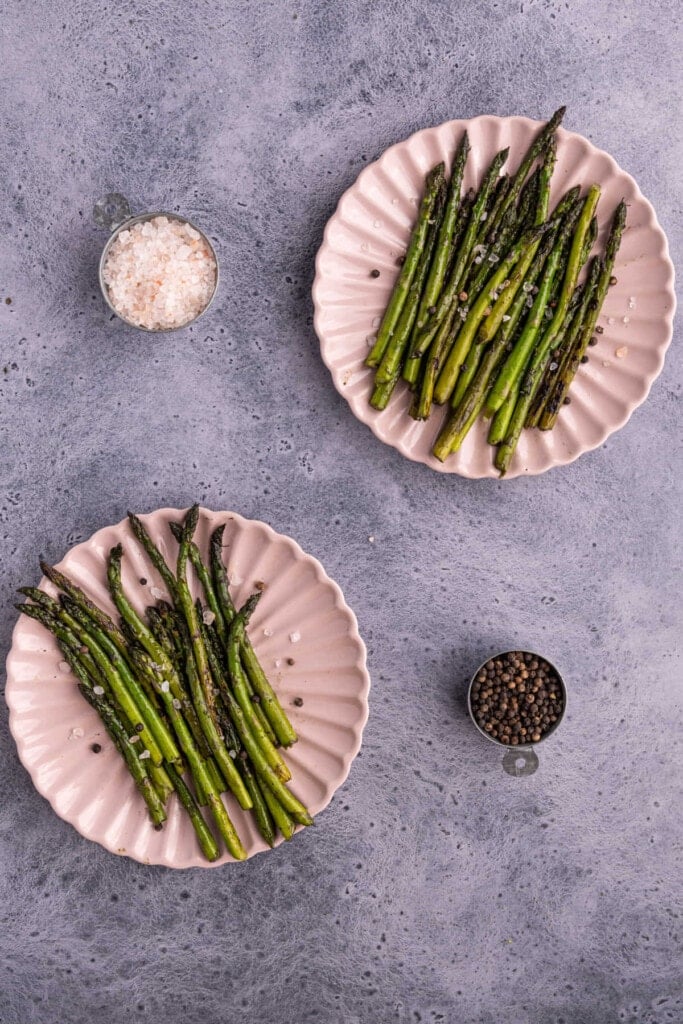 As an environmental scientist, I always try to stick to seasonal eating! It's one of the easiest (and most delicious!) ways to support local farmers and improve your carbon footprint.
Green tip: Seasonal and local foods have less associated transportation costs and fuel emissions. Check when asparagus is in season in your area with this Seasonal Food Guide.
Cast Iron Asparagus Ingredients
---
---
Here's everything you need:
Asparagus.  One bunch of asparagus is usually about 1 pound of asparagus. Fresh or frozen (thawed).
Water. To quickly blanch the asparagus to retain its crispness and green color.
Olive oil. To fry the asparagus in.
Salt & Pepper. To season the asparagus.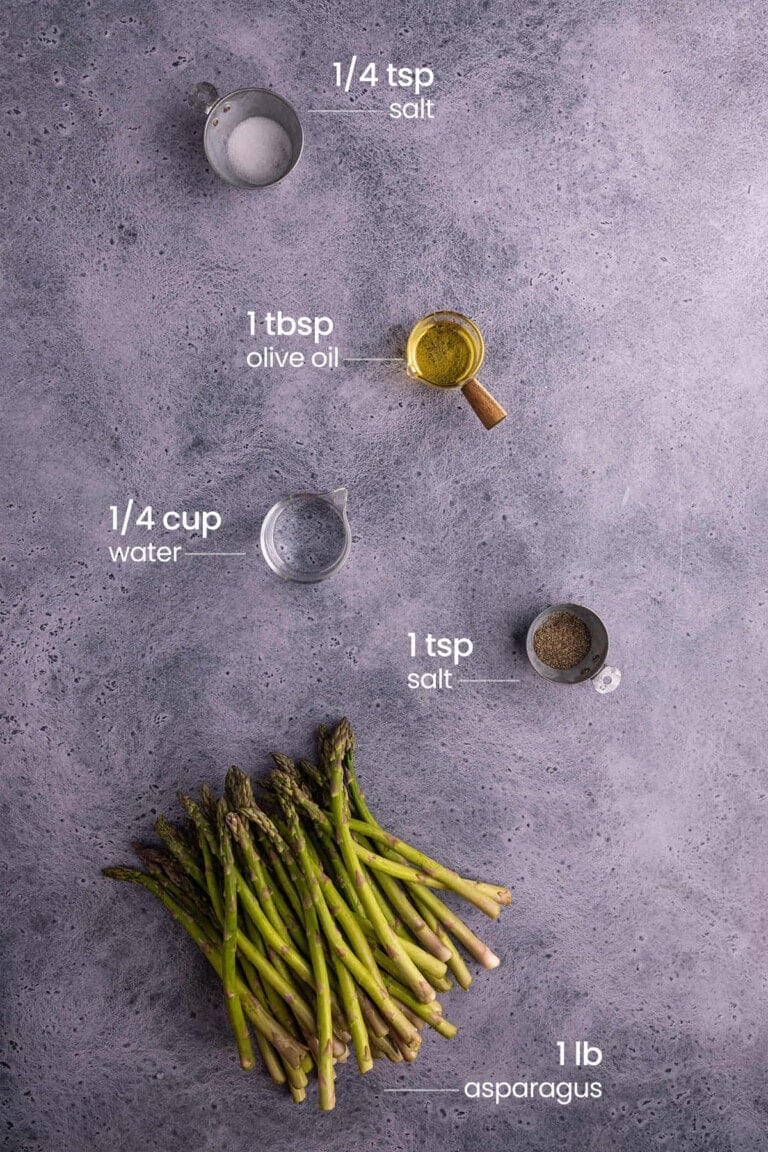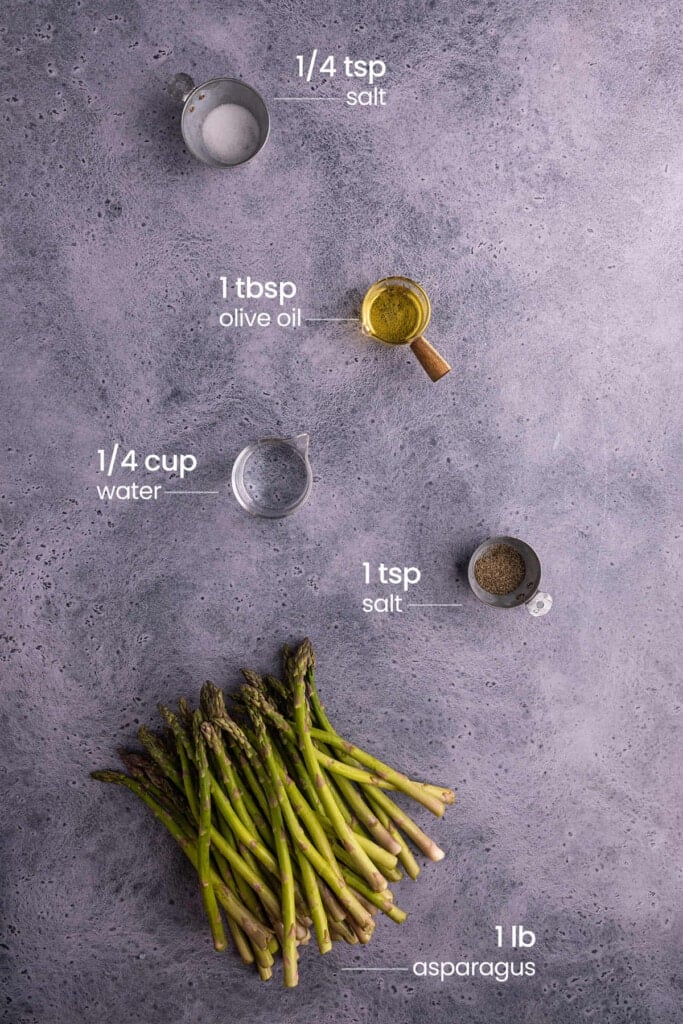 Optional Flavor-Boosting Topping Ideas:
Garlic. Or garlic powder. For extra umami flavor.
Lemon juice. A little citrus really punches up the flavor.
Crushed red pepper. If you want to add a little bit of spice.
Butter. For extra richness and a buttery flavor.
Grated or shaved Parmesan cheese. Or Nutritional Yeast. For a hint of cheesiness and a little extra salt.
Cast Iron Asparagus Tips and Tricks
---
---
How to Keep Asparagus Fresh
Once you snag your asparagus and bring it home, you can easily keep it fresh for up to 7 days if you store it correctly.
Place the asparagus tips facing up in a glass jar and fill it with about 2-3 inches of water so the ends are submerged.
You can then place a reusable storage bag on top and store the whole jar in your fridge. This freshness-preserving technique works with white and purple asparagus as well!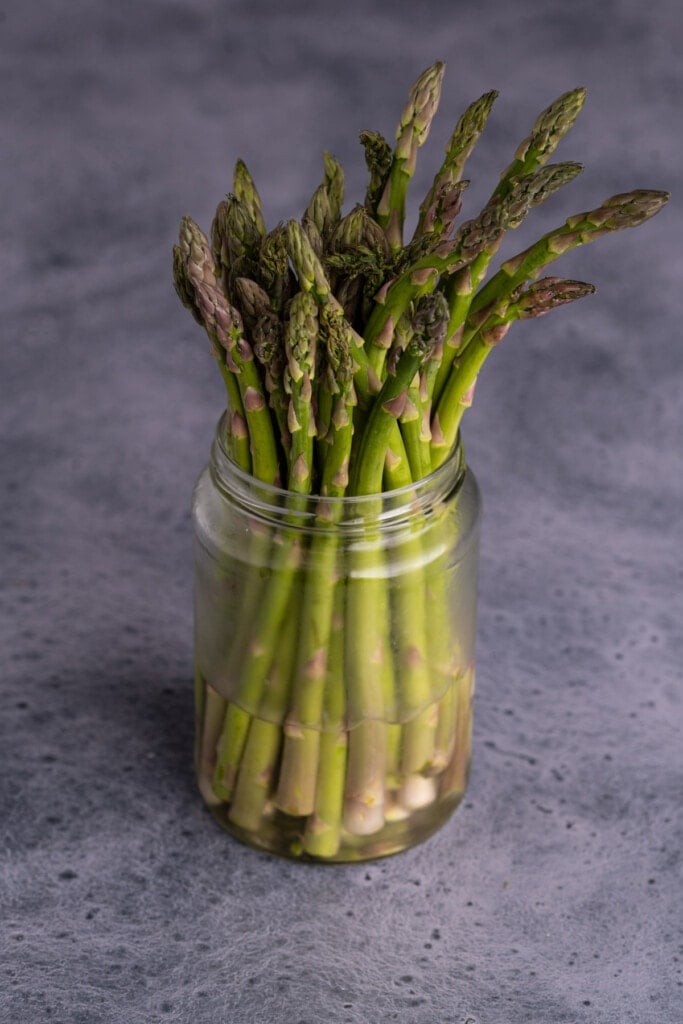 Prep Your Asparagus
Asparagus is notorious for having tough-to-chew "woody" ends. Make sure to break those ends off before roasting your asparagus for the best bite.
Still, don't throw out those asparagus ends! You can compost them or save them in the freezer along with your other veggie scraps to make your own vegetable broth.
The easiest way to remove your tough ends is to simply break them off. Hold the asparagus in two clean hands and snap them in two. The asparagus will just naturally break where the ends start to get tough.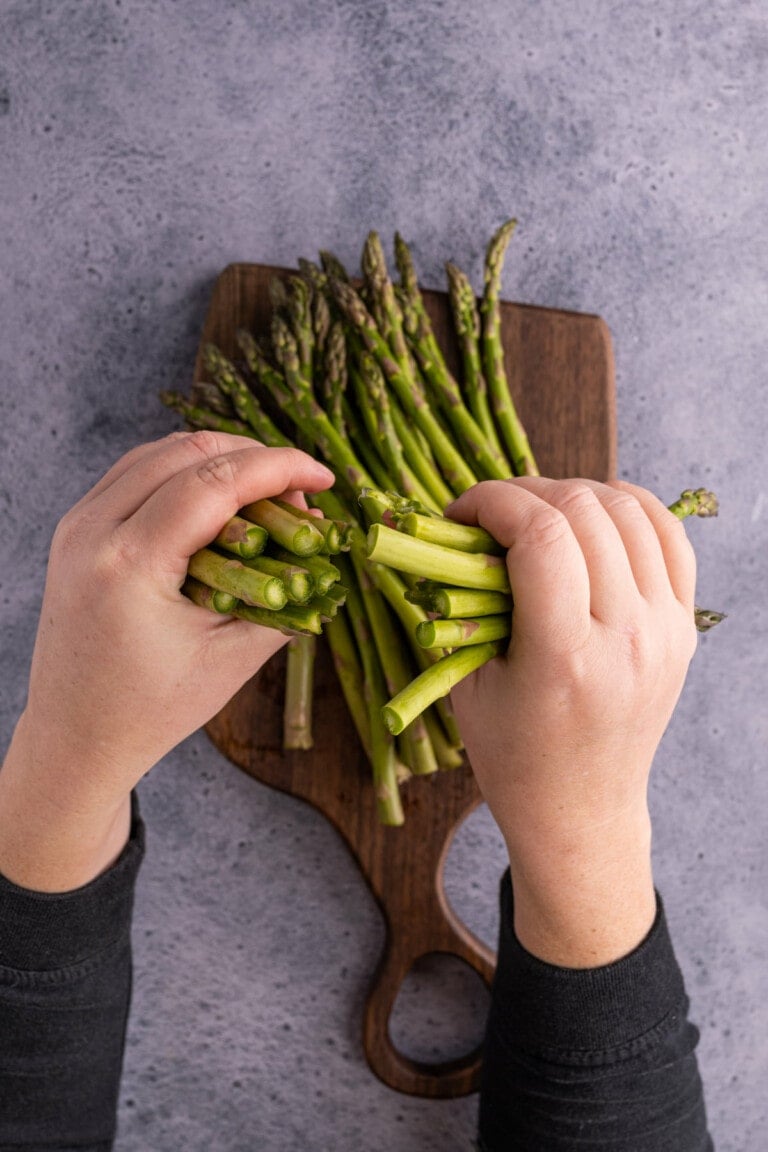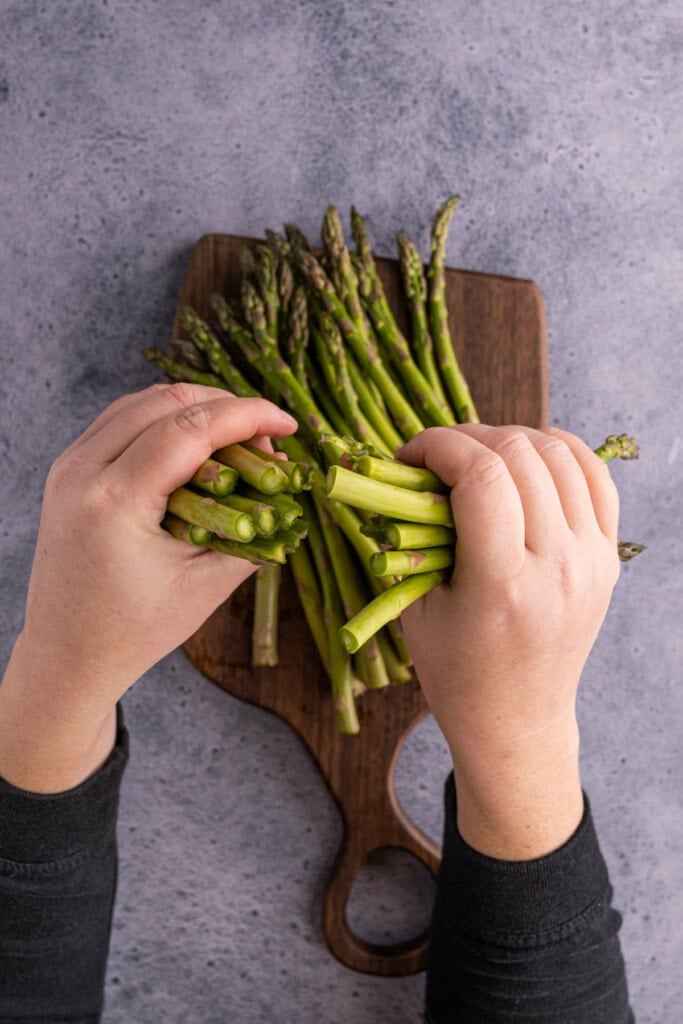 Get Water Hot in the Cast-Iron Pan
Place your cast-iron pan over high heat. Add the water and allow it to heat until you notice it starting to simmer.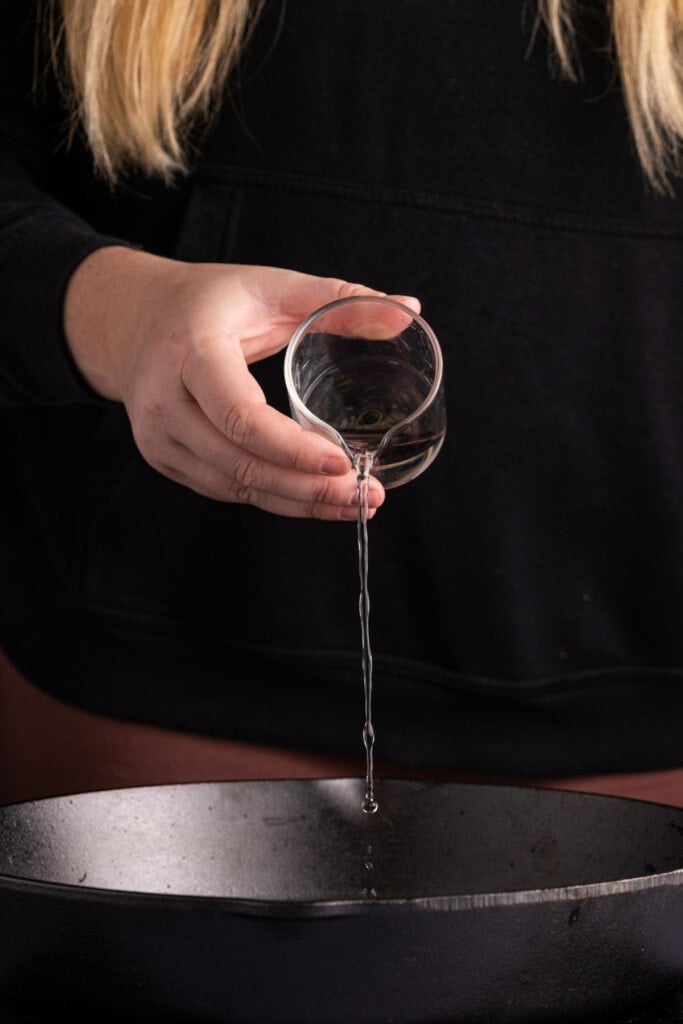 Add Your Asparagus
Once your water is simmering, add your asparagus, doing your best to place it in a single layer.
Place the lid on your pan and continue to heat on high for 90 seconds. This will trap the steam and steam the asparagus to retain its crisp texture and bright green color.
After 90 seconds, remove the lid and continue to simmer until most of the water has evaporated.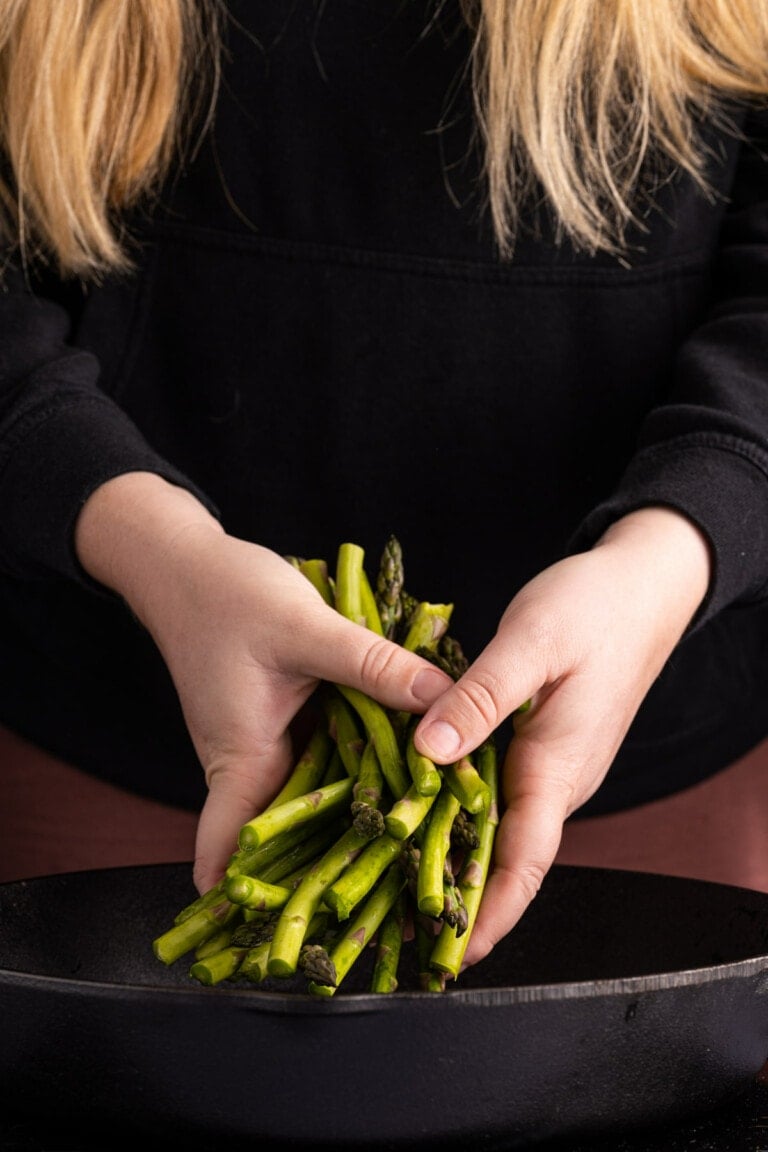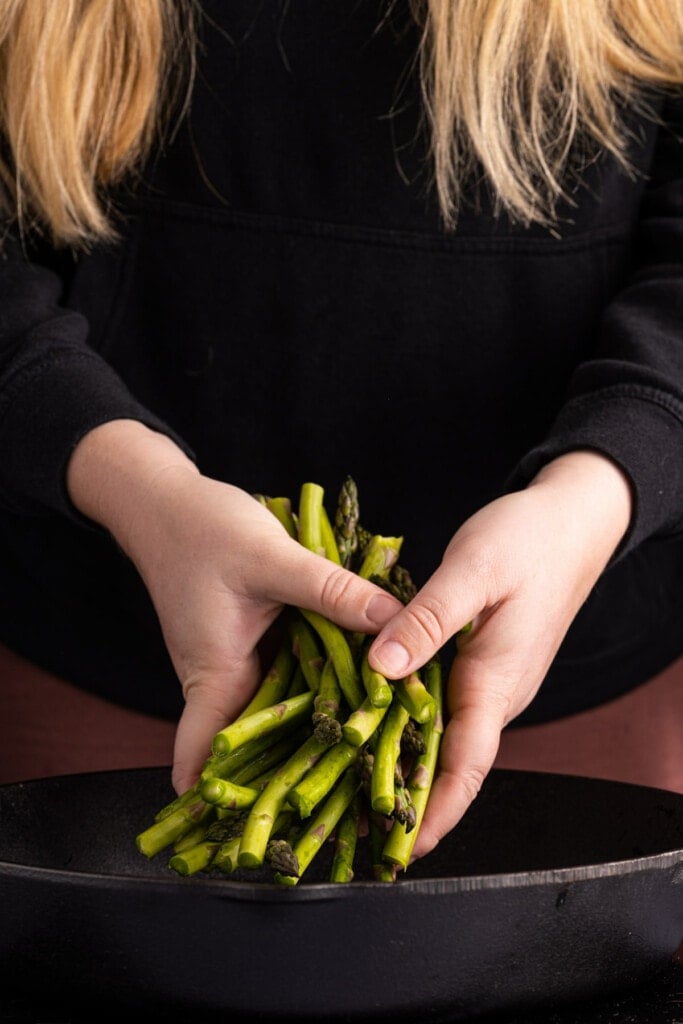 Add the Oil and Seasoning
Once the water has evaporated, add the oil, salt, and pepper and toss. Continue to cook on high, tossing occasionally, until there's a little char on your asparagus.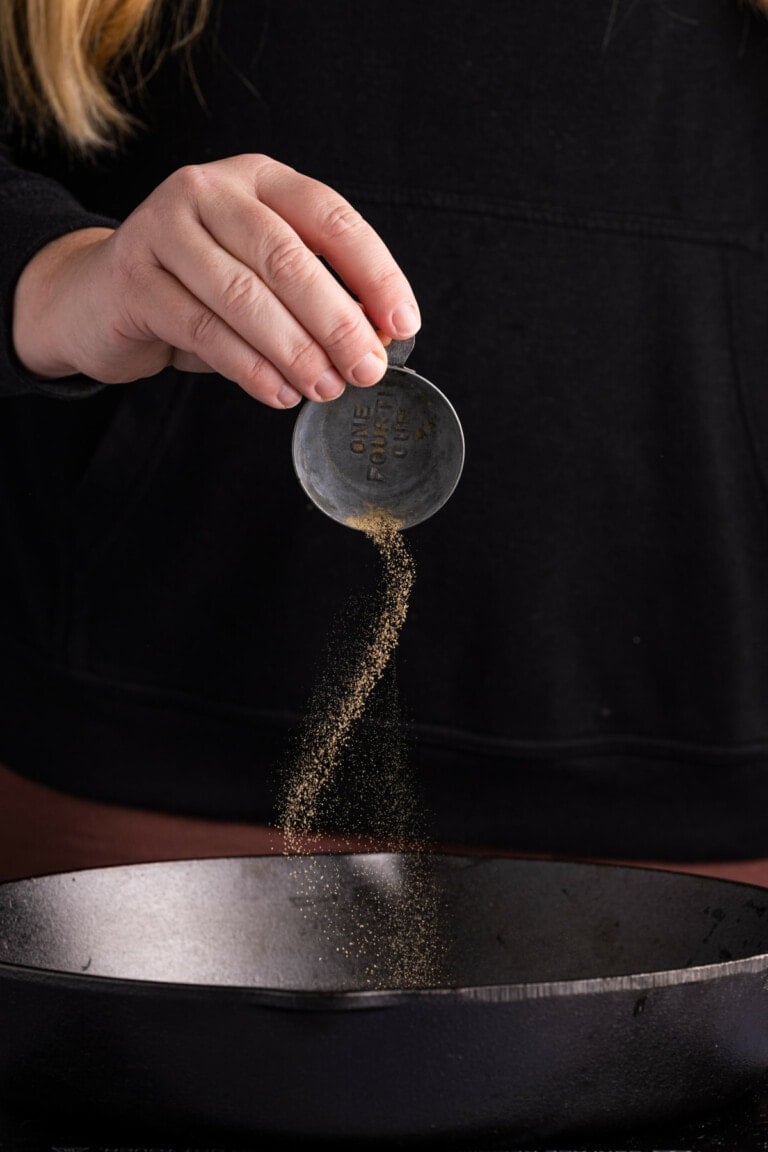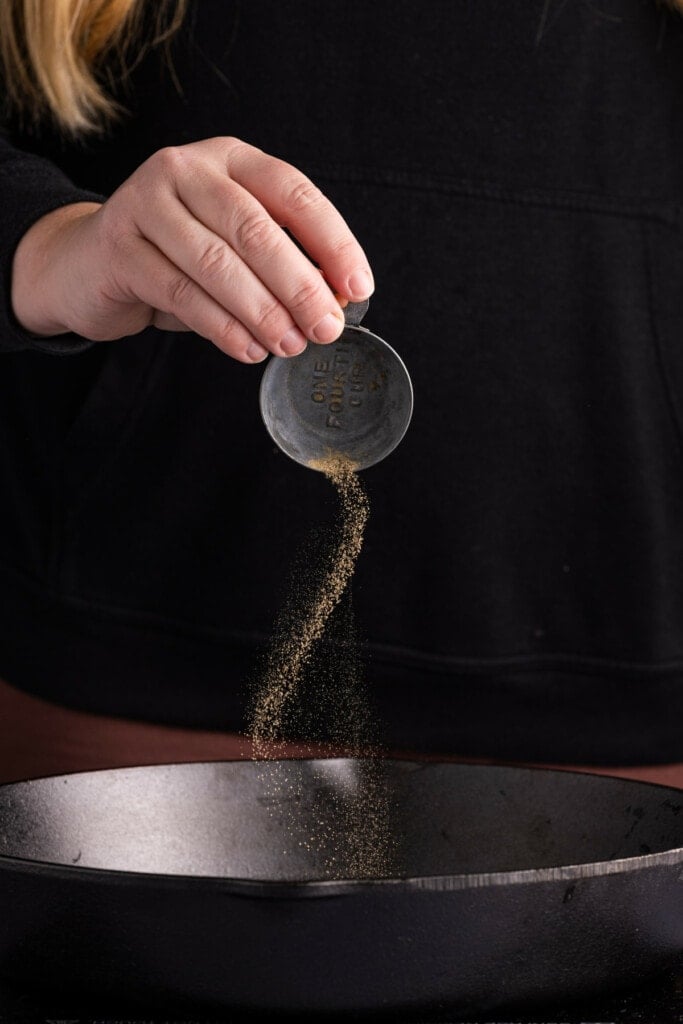 Should You Have Leftovers
This Cast-Iron Asparagus will stay fresh in the refrigerator for 2-3 days. You can also opt to freeze it for 2-3 months. Just make sure to allow the asparagus to cool completely first before adding it to a freezer.
To reheat the asparagus, preheat your oven to 350°F. Add your asparagus to a baking sheet (you can line it with parchment paper or reusable baking mat for quicker cleanup) and roast for about 10 minutes or until heated thoroughly.
Alternatively, you can reheat the asparagus in a cast-iron skillet over high heat for about 8-10 minutes until hot.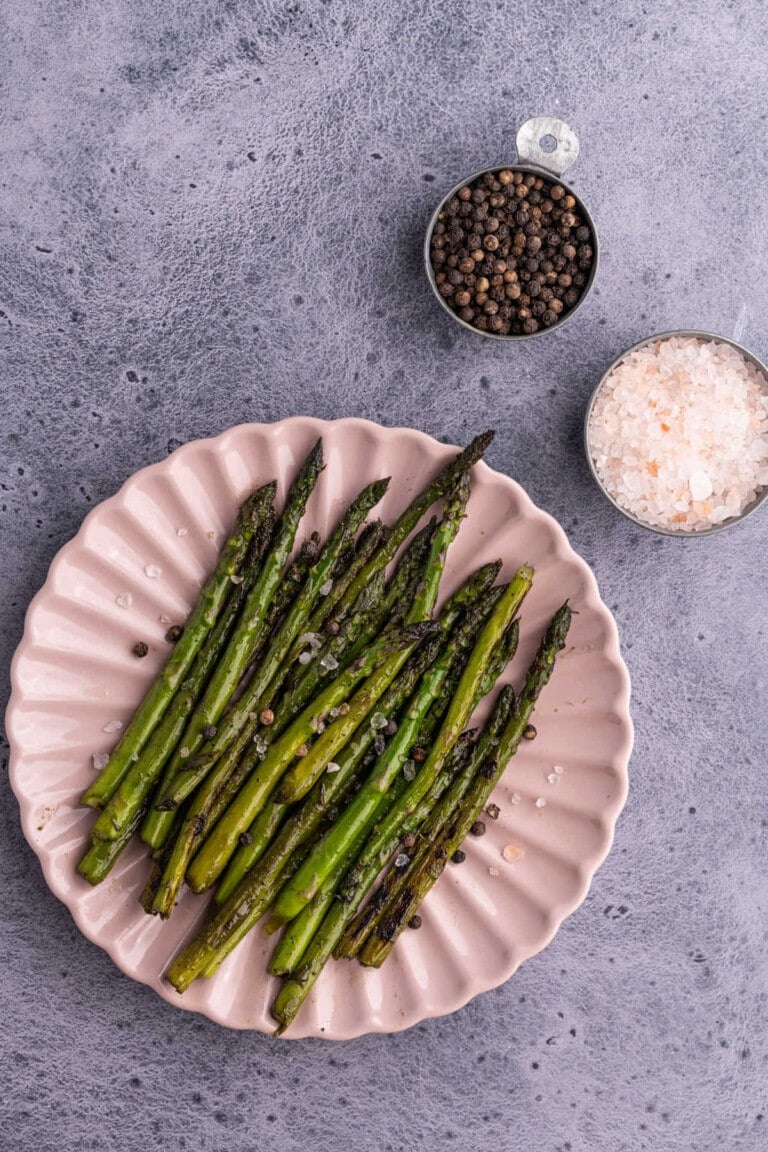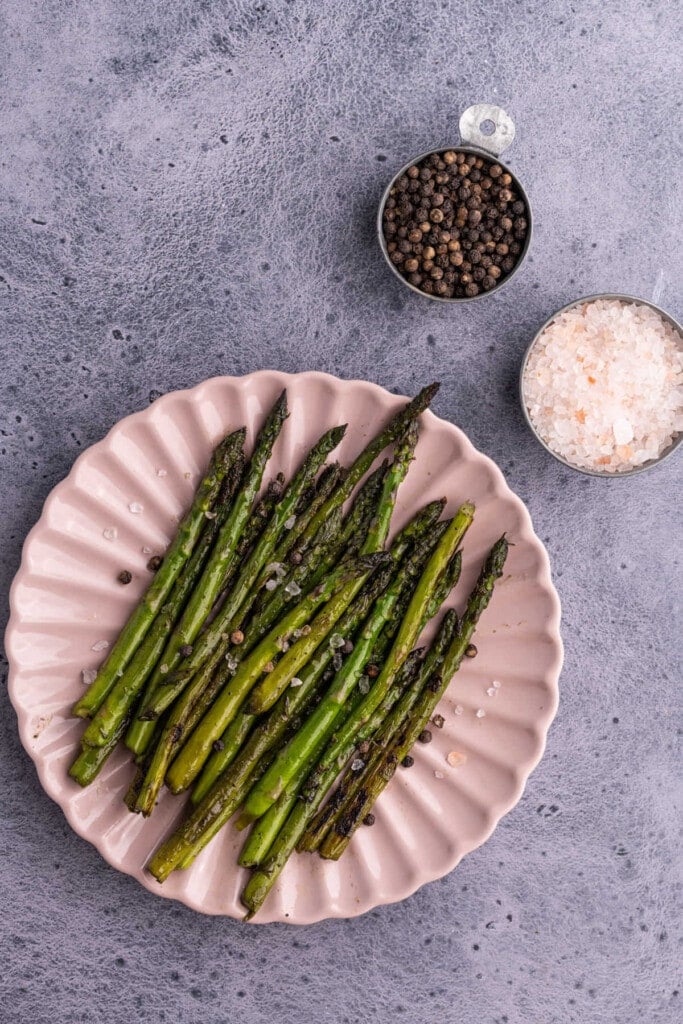 Cast Iron Asparagus Frequently Asked Questions
---
---
What is the best way to cook and eat asparagus?
There are two great ways to cook asparagus, depending on how you were eating it.
Asparagus makes a delicious side dish, addition to a salad, or as an add-in to your favorite pasta dish and more!
If you want to keep the crisp and freshness to your asparagus, make this cast-iron asparagus! If you want more tender asparagus, I like it roasted.
Do you rinse asparagus before cooking?
When preparing your asparagus, it's best to rinse it before cooking it. It can often have dirt or similar which can give it a gritty texture. Additionally, it can have residual fertilizers, pesticides, and preservatives on it if it's not organic.
Want to sharpen your kitchen skills?
Why You Should Make 10-Minute Cast Iron Asparagus
---
---
It's super quick. Ready to enjoy in just ten minutes!
It's simple. Simple ingredients to bring out the naturally delicious flavors of the asparagus.
It's versatile. Makes the perfect side dish, add-in, or topping!
If you're loving this Cast-Iron Asparagus and want more recipes like this, check out this list of Best Roasted Vegetables.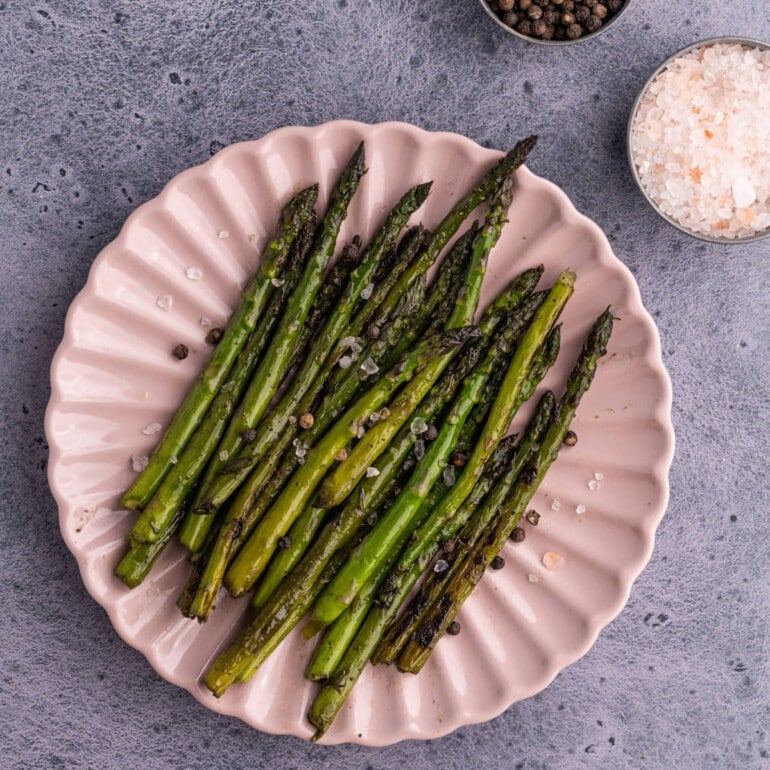 10-Minute Cast Iron Asparagus
PRINT
PIN
RATE
This Cast-Iron Asparagus is crisp and fresh, bringing out the delicious natural flavors in the asparagus in just 10 minutes.
Ingredients
Cast Iron Asparagus
1

pound

asparagus

¼

cup

water

1

tablespoon

extra virgin olive oil

¼

teaspoon

salt

¼

teaspoon

black pepper
Optional Topping Ideas
2

cloves

garlic

(or ½ teaspoon garlic powder)

2

teaspoons

lemon juice

½

teaspoon

crushed red pepper

2

teaspoons

Parmesan

1

tablespoon

unsalted butter
Instructions
Prep your asparagus by snapping off the "woody" ends.

To a large cast-iron skillet, add the water over high heat. Once it starts to simmer, add the asparagus in a single layer. Cover and steam for 90 seconds.

After 90 seconds, remove the lid and continue to simmer until almost all of the water has evaporated.

Once the water has evaporated, add the oil, salt, pepper, and any optional toppings. Continue to heat, tossing occasionally, until you see some char on the asparagus. Enjoy hot.
Did you make this recipe?
Let me know by leaving a recipe rating below, or by tagging @marleysmenu on Instagram.