Looking for a decadent side dish to complete your plate? This Stovetop Creamed Asparagus with Parmesan takes fresh, crisp asparagus and smothers it in Parmesan cream sauce for the perfect balance of fresh and creamy.
Plus, this easy asparagus recipe only required one pan and about 20 minutes to come together! And with less than ten simple ingredients, it brings deep flavors.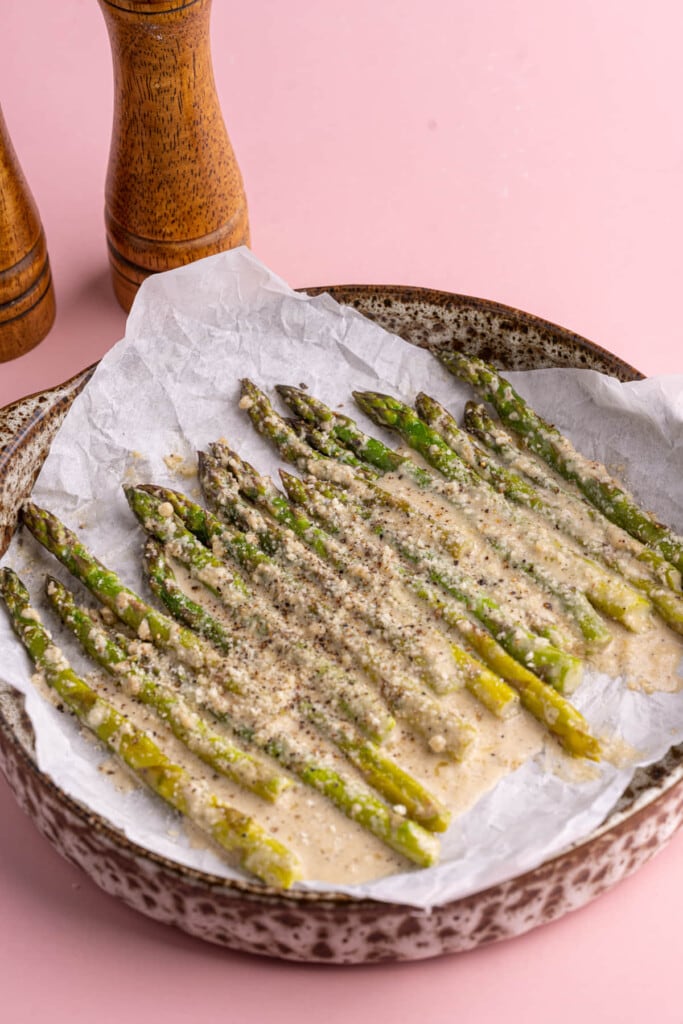 As an environmental scientist, I always try to stick to seasonal eating! It's one of the easiest (and most delicious!) ways to support local farmers and improve your carbon footprint.
Green tip: Seasonal and local foods have less associated transportation costs and fuel emissions. Check when asparagus is in season in your area with this Seasonal Food Guide.
Creamed Asparagus Ingredients
---
Here's everything you need:
Asparagus. One bunch of asparagus is usually about 1 pound of asparagus. Fresh or frozen (thawed).
Garlic. For deep flavor and umami.
Butter. You can also opt to substitute olive oil if you prefer, but the butter adds tons of flavor.
Salt & pepper. To season the asparagus.
Cream. Or half & half or milk.
Nutmeg. To add a warm, nutty flavor that is super complimentary to the cream.
Grated Parmesan cheese. To thicken and add salt and a little tang.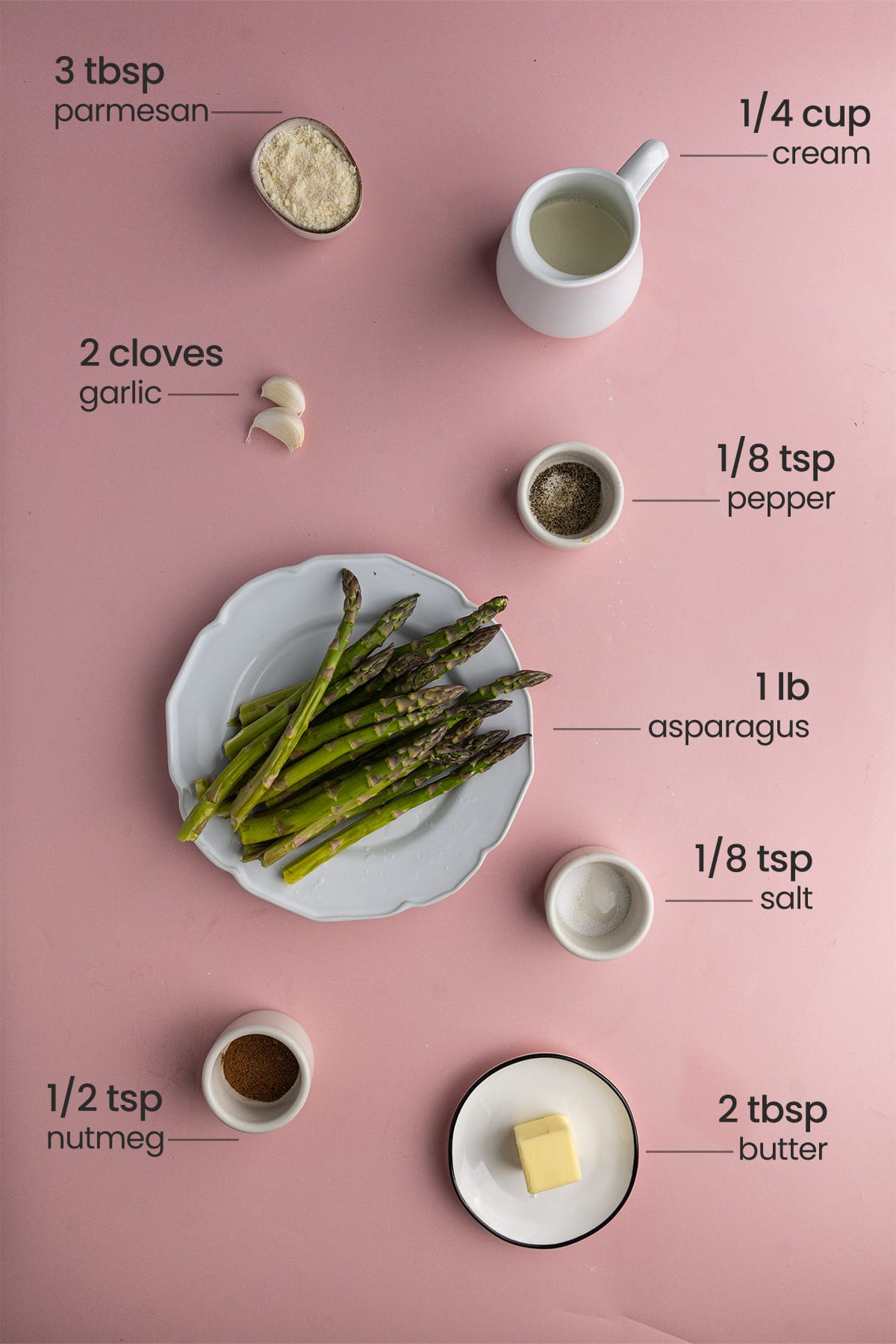 Creamed Asparagus Tips and Tricks
---
How to Store Your Asparagus Before Use
Once you bring your asparagus home, you can keep it fresh for up to a week if you store it correctly. Then, you can prep it to make this creamed asparagus.
Place the asparagus in a glass jar with their tips facing up and fill it with about 2-3 inches of water so that the ends are fully submerged.
Then, place a reusable storage bag on top and store the whole jar in your refrigerator. This preserving technique also works with white asparagus and purple asparagus!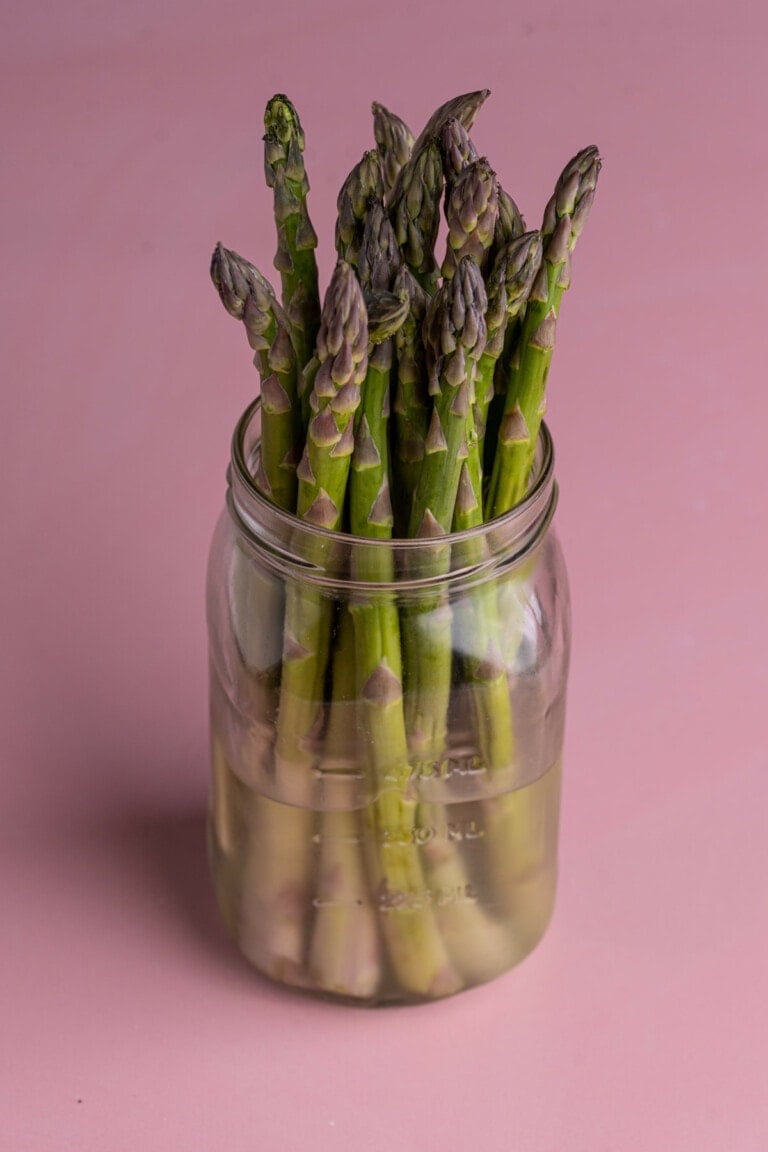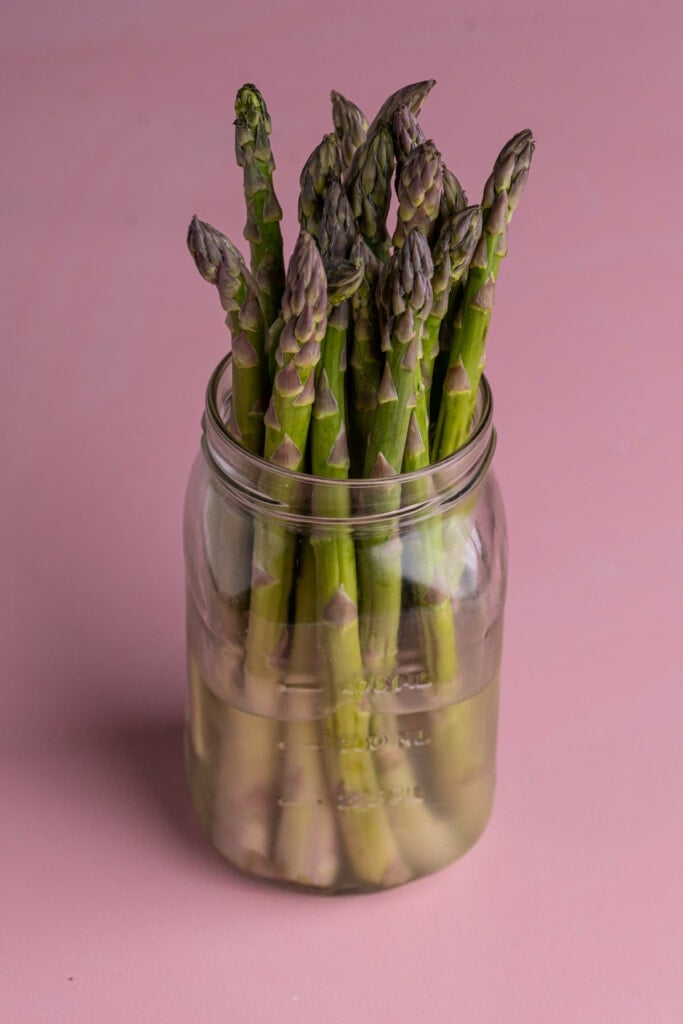 Prepping Asparagus
Before cooking your asparagus, rinse or soak it to clean it.
Asparagus is notorious for having tough-to-chew "woody" ends. You'll definitely want to break those ends off before roasting your asparagus.
However, don't throw out those asparagus ends! You can easily compost them or save them in the freezer along with your other veggie scraps to make your own vegetable broth.
The easiest way to remove those tough ends is to simply snap them off. Hold the asparagus in two clean hands and break them in two pieces. The asparagus will naturally break right at the point where the ends start to get tough.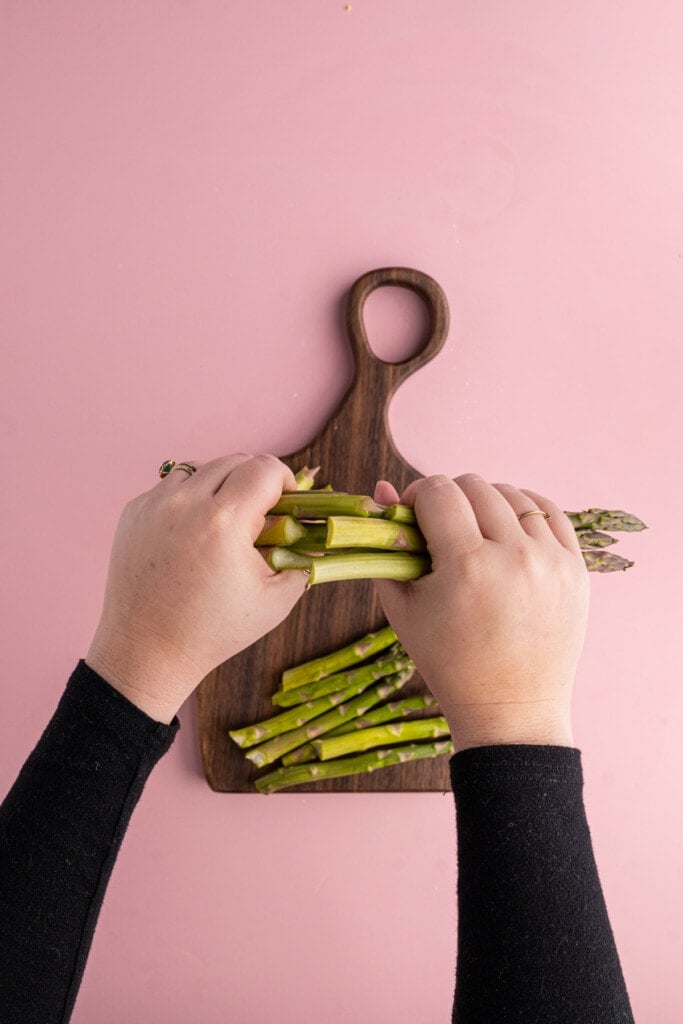 How to Peel Garlic
The easiest way to peel the outer layer off the garlic is by crushing it first. I like to lay it flat on my cutting board and use the flat end of my knife to push down on the garlic. You'll distinctly hear it crush.
This will break open the outer layer, making it much easier for you to peel back.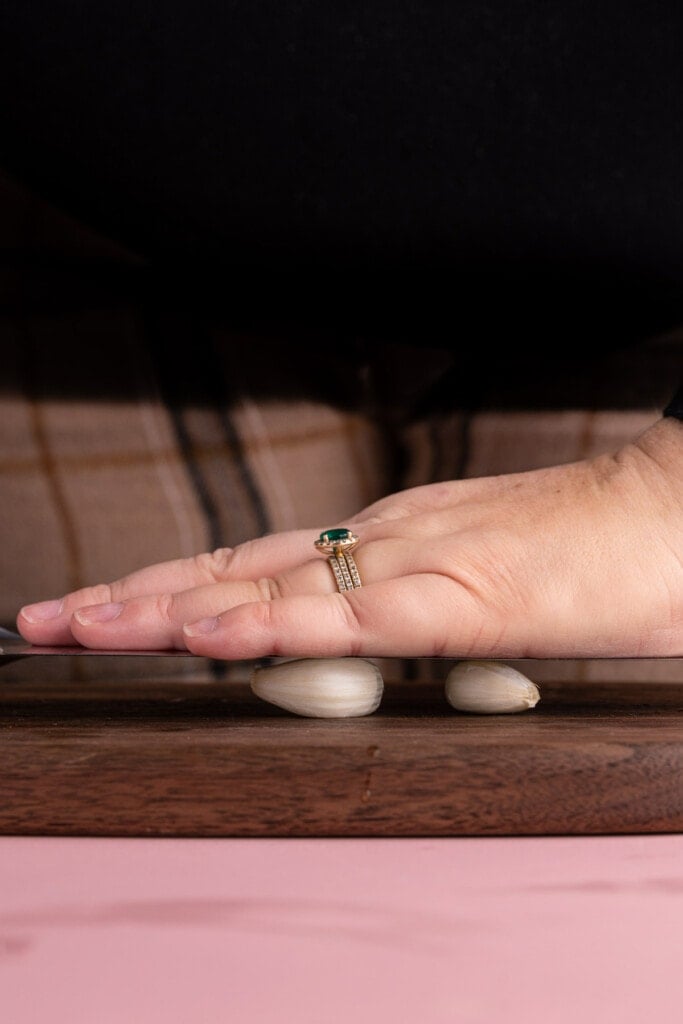 How to Mince Garlic
Once you've completely peeled your garlic, you can start to chop it. Chop the garlic with a sharp knife until it's in much smaller pieces.
Continue to chop until the garlic is minced. Simple as that!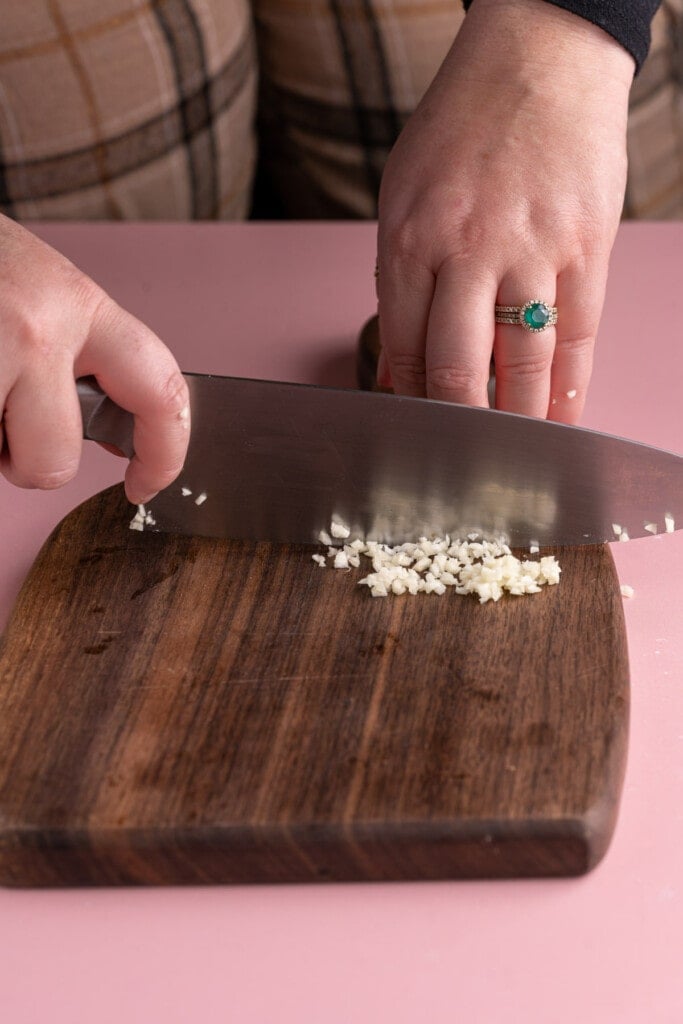 Sautee the Asparagus and Garlic First
First, add the asparagus, garlic, butter, salt, and pepper to a large saucepan over medium heat. Try to get the asparagus in a single layer, so that they are not overlapping one another.
Once the butter is completely melted in the pan, toss to coat the asparagus in the garlic, butter, salt and pepper.
Continue to cook the asparagus and garlic in the butter over medium heat until the asparagus is tender, and the garlic starts to brown. Toss occasionally so that the asparagus doesn't burn.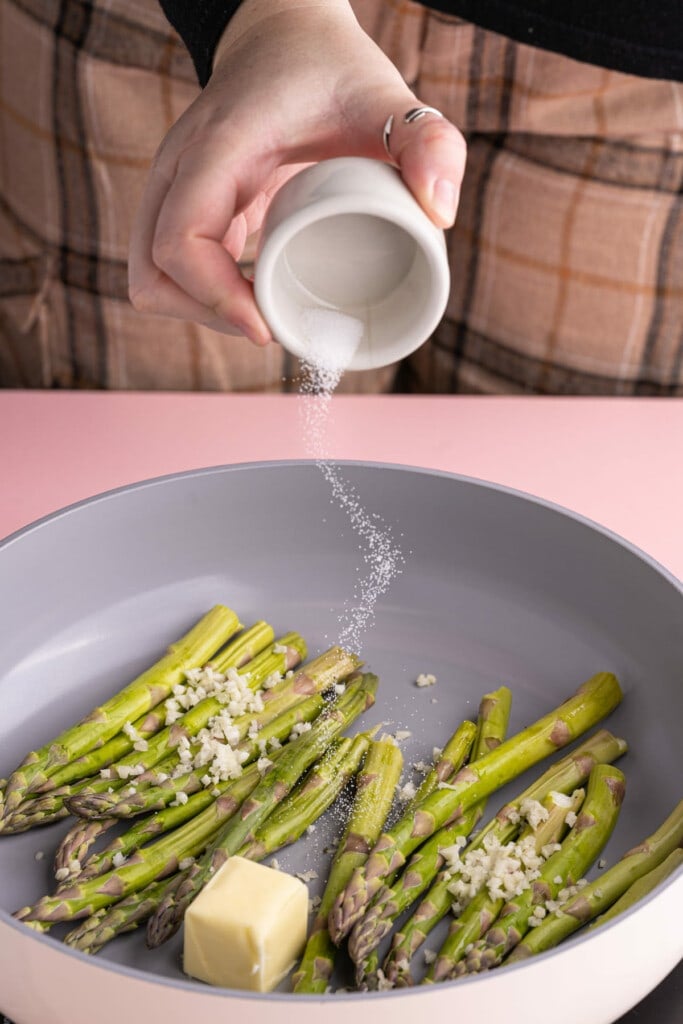 Add the Cream and Nutmeg
Then, add the cream and nutmeg and toss again. Continue to cook over medium heat until about half of the liquid has evaporated.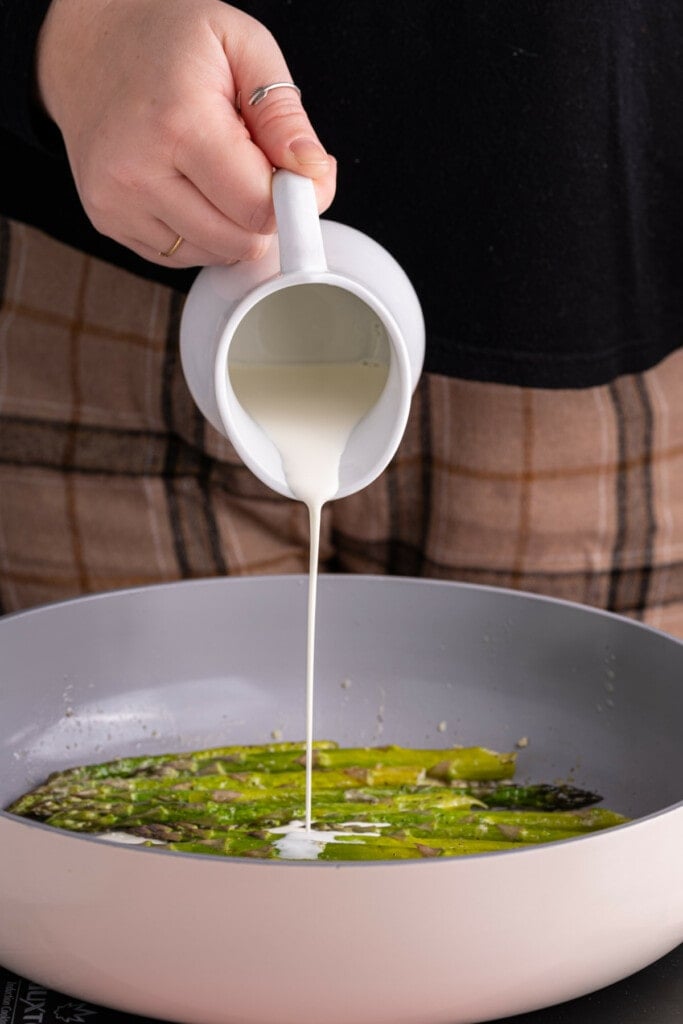 Add the Parmesan Last
Once your cream has thickened, turn your heat source off, but keep the pan on the burner.
Add the Parmesan cheese and stir to thicken the sauce and coat the asparagus.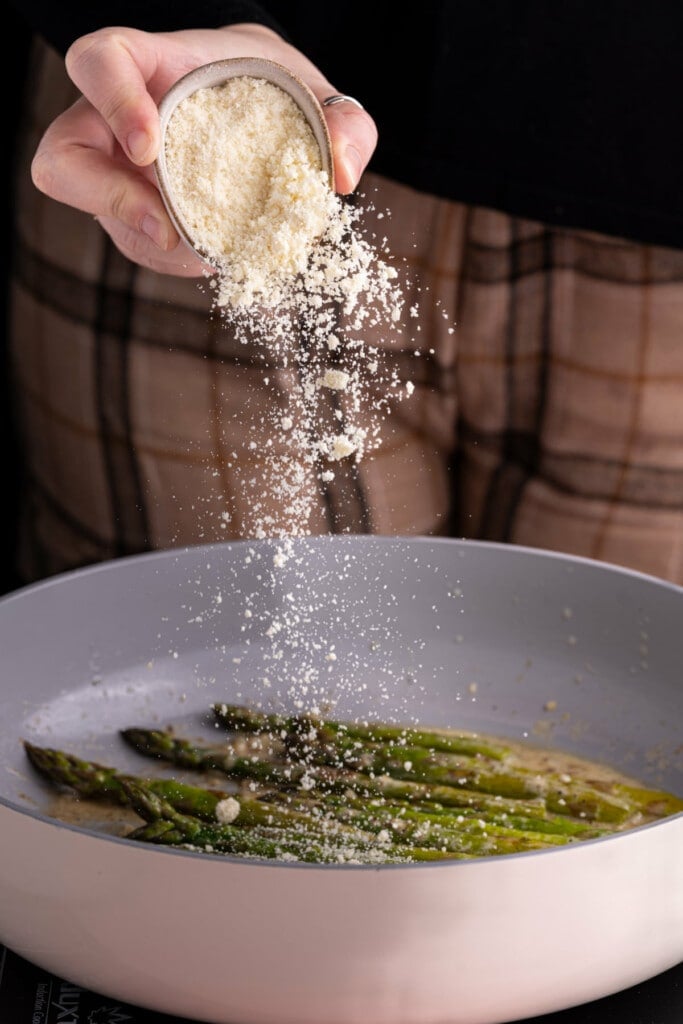 How to Store Leftover Creamed Asparagus
Store leftovers in an airtight container in the refrigerator for up to 3 days. The best ways to reheat the creamed asparagus are either over the stove or in the oven.
Add the leftovers back to the pan and cover it. Heat over medium for about 8-10 minutes, tossing occasionally until heated through.
To reheat leftover creamed asparagus in the oven, preheat your oven to 350°F. Add the asparagus to a baking dish and cover it with aluminum foil. Bake for 15-20 minutes until hot.
I do not recommend freezing leftovers as the sauce will split.
Green tip: Did you know that of the billions of pounds of food wasted annually, it is estimated that 50% of it happens in our homes? Reduce your contribution to food waste by properly storing, reheating, and enjoying leftovers.
Serving Your Creamed Asparagus
Though incredibly flavorful, this Creamed Asparagus has a versatile flavor profile that compliments pretty much any main course!
My favorite thing to serve this Creamed Asparagus with is this Crispy Blackened Mahi-Mahi or this Almond Crusted Salmon.
For a decadent vegetarian meal, serve this asparagus over these Creamy Boursin Mashed Potatoes!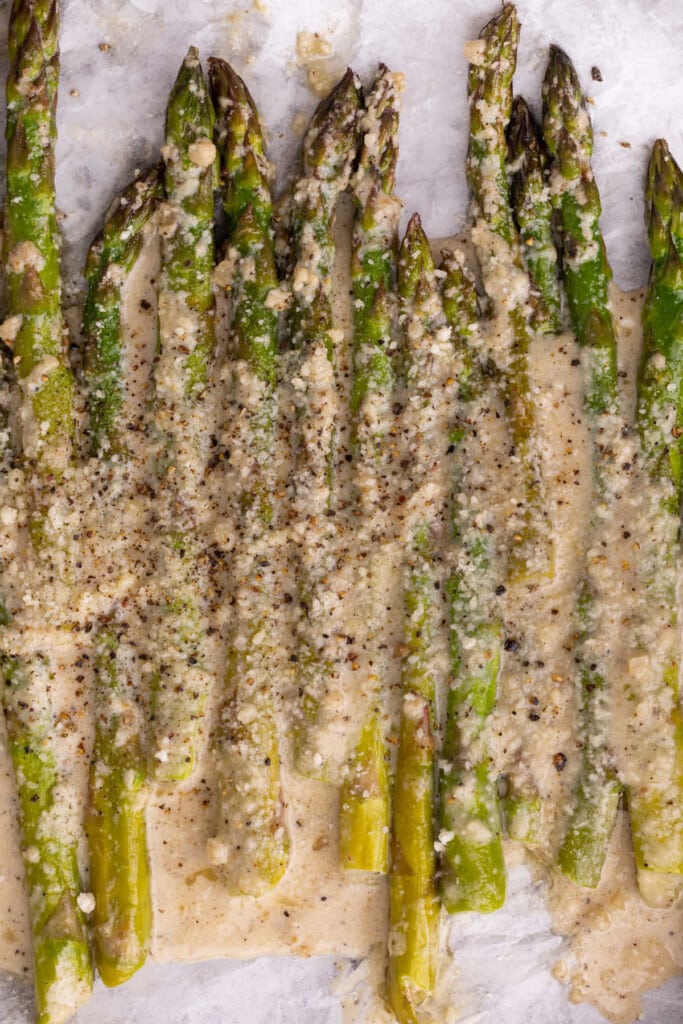 Stovetop Creamed Asparagus Frequently Asked Questions
---
Why do you soak asparagus in water?
Because the asparagus tips have lots of nooks and crannies, sometimes rinsing the asparagus is not enough to clean it. Soaking it is the only way to ensure that the tips get clean.
Want to sharpen your kitchen skills?
Why You Should Make this Stovetop Creamed Asparagus with Parmesan
---
It's decadent. Creamy and luscious.
It's fresh. The fresh flavor of the asparagus still cuts through the creamy sauce, for the perfect balance.
It's quick. It comes together in just one pan and in about 20 minutes.
If you're loving this Creamed Asparagus and want more decadent side dishes, check out these Creamy Boursin Mashed Potatoes and Pesto Butter Garlic Bread.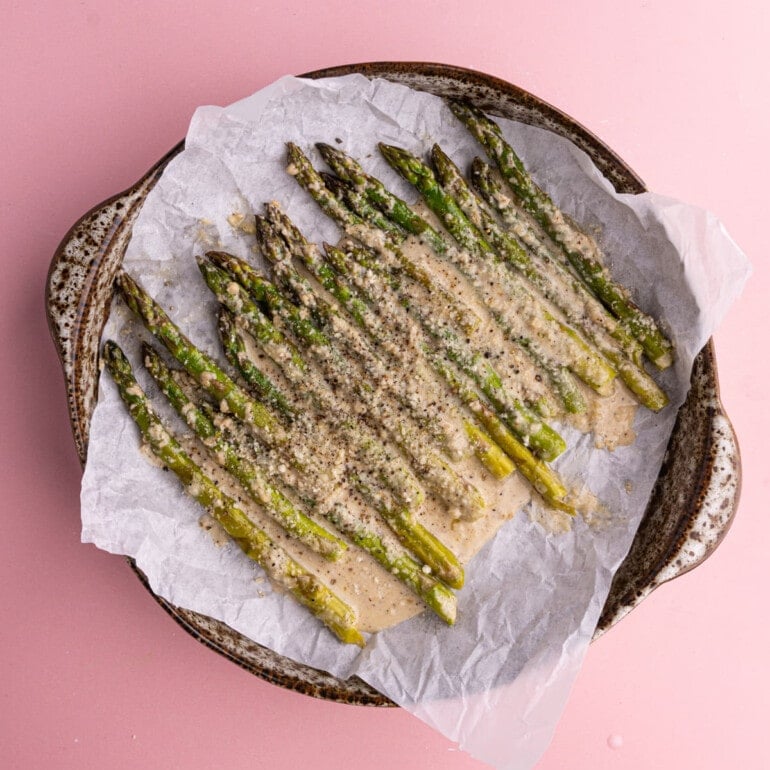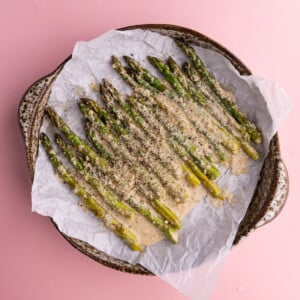 Stovetop Creamed Asparagus with Parmesan
PRINT
PIN
RATE
This Creamed Asparagus recipe will make this veggie side dish the star with crisp and tender asparagus smothered in delicious, creamy Parmesan sauce.
Ingredients
1

pound

asparagus

(1 bunch asparagus = approx. 1 pound)

2

cloves

garlic

2

tablespoons

unsalted butter

⅛

teaspoon

salt

⅛

teaspoon

black pepper

¼

cup

cream, half and half, or milk

3

tablespoons

grated Parmesan cheese

½

teaspoon

ground nutmeg

(optional but recommended)
Instructions
Prep your asparagus by rinsing and snapping off the ends, and peel and mince your garlic (detailed instructions above).

To a large saucepan over medium heat, add the butter, asparagus, garlic, salt, and pepper. Sautee on high until the garlic starts to brown (about 5-7 minutes), tossing occasionally.

Add the cream (or half and half or milk) and nutmeg and simmer until about half of the liquid has evaporated.

Turn heat source off and add the Parmesan, tossing to coat the asparagus in the creamy Parmesan sauce. Enjoy hot!
Did you make this recipe?
Let me know by leaving a recipe rating below, or by tagging @marleysmenu on Instagram.