Looking for a crisp salad that's bursting with complex flavor and texture? This Crisp Tuna Caesar Salad boasts a delectable balance of rich, salty, briny, acidic, fresh, and cheesy taste with the perfect crunch from croutons!
This fresh salad recipe with homemade dressing actually started as a clean-out-the-fridge meal! I had half a loaf of stale bread I needed to use up. I whipped up homemade croutons and my mind immediately went to a Caesar salad.
With no anchovies on hand, I thought some canned tuna would be a great addition to add protein, texture, and that briny taste you get from anchovies, and this Tuna Caesar Salad was born!
Since then, I've been whipping this salad up often! In this recipe, you will learn how to throw together a Tuna Ceasar Salad, and how to make an easy homemade Caesar-inspired dressing and homemade crunchy and flavorful croutons to revive your stale bread.
You can opt to buy the dressing and croutons for an easier at-home salad, or make them homemade for a fresh, from-scratch meal from top to bottom!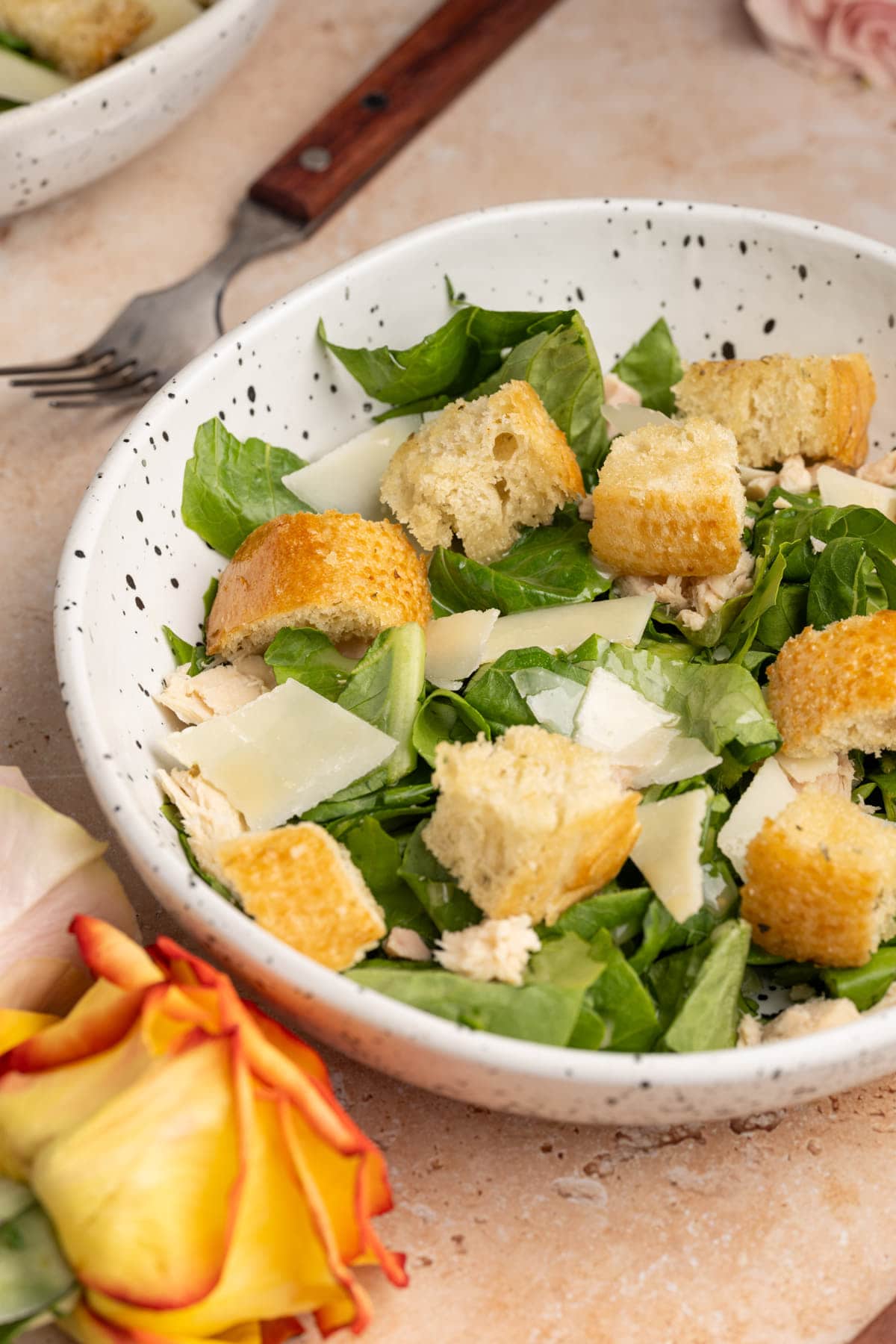 As an environmental scientist, I try to source ingredients responsibly when I can. The most sustainable way to eat canned tuna is by making sure it is skipjack or yellowfin tuna. Most tuna labeled as "light" is skipjack or yellowfin, as opposed to "white" tuna which is usually albacore.
Green tip: Opt for "light" tuna to reduce your environmental impact as this typically indicates the tuna is skipjack or yellowfin, which is more sustainable than albacore.
Tuna Caesar Salad Ingredients
---
Here's everything you need for a Tuna Caesar Salad:
Romaine lettuce. For a large salad to feed four, you'll need about 10 ounces of Romaine lettuce. This should give you about 4 cups of chopped Romaine, and you can get it from roughly 1/2 of a large head of Romaine or 4 heads of mini/baby Romaine.
Canned tuna. I used light tuna in water.
Fresh Parmesan. I love bigger chunks of freshly shaved Parmesan in this salad that I simply get by using a vegetable peeler to shave thin pieces off of a fresh block of Parm.
Croutons. You can buy your favorite kind or make your own. More on that below.
Caesar dressing. Again, you can buy it, or make the homemade dressing provided in this recipe.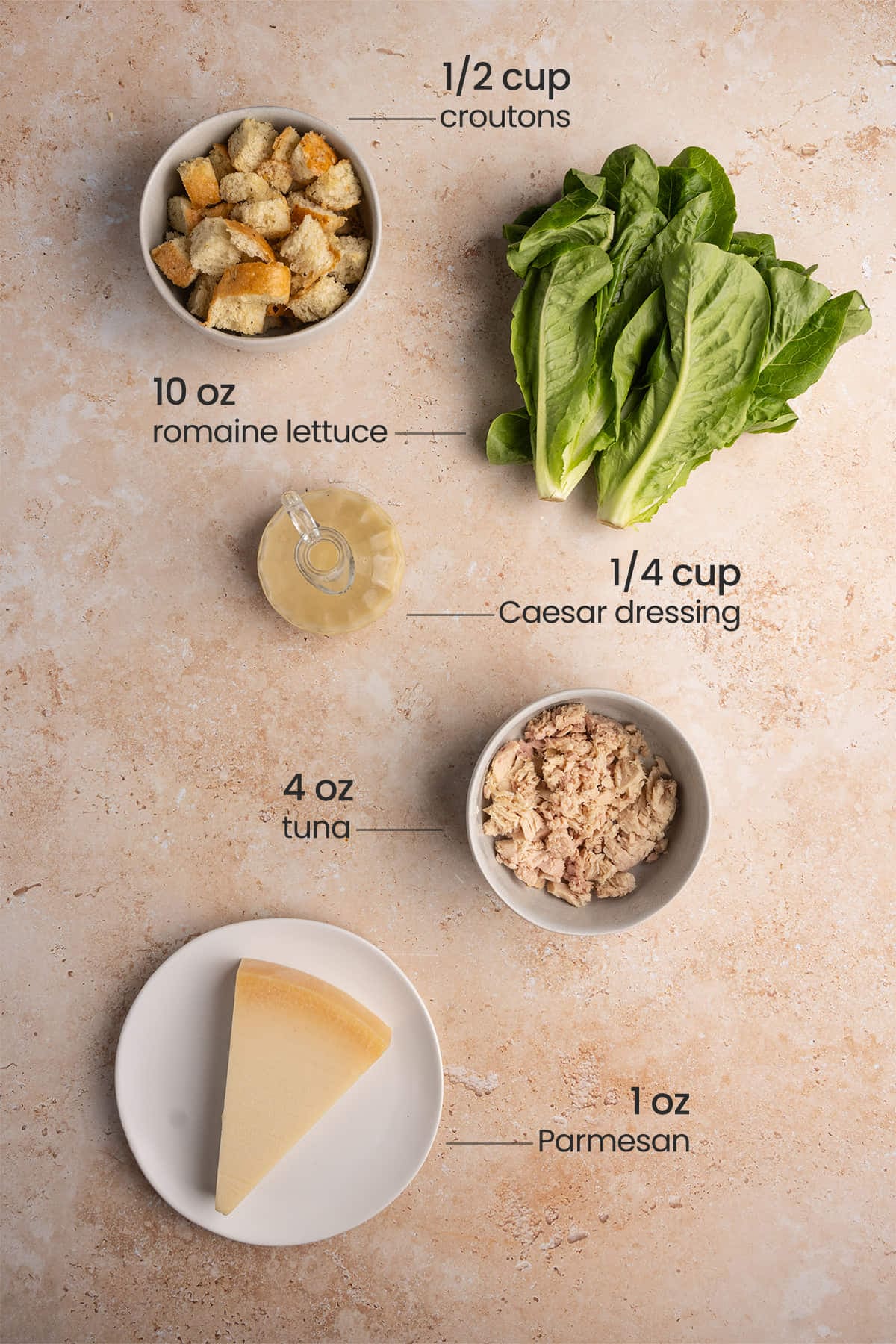 If you're making your dressing from scratch, here's everything you need for a simple, flavorful, Caesar-inspired dressing:
Garlic. I freshly mince my garlic to bring bold flavor.
Dijon mustard. Smooth or grainy, whatever your preference.
Lemon juice. You'll only need about 1/4 of a fresh lemon to get the amount you need for this dressing.
Red wine vinegar. Apple cider vinegar or white wine vinegar also work in a pinch.
Extra-virgin olive oil. This acts as the base of your dressing. If you really want to taste it, use a bold olive oil.
Black pepper. I love the heat it brings, but if your sensitive to spice from black pepper you can always decrease the amount you add.
And if you want to make your croutons from scratch, too, here's what you'll need:
Bread. My two favorites for croutons are a baguette (French or Italian) and sourdough, but any bread will do, and preferably day-old or stale bread!
Olive oil. To help toast the bread to give you crunchy croutons.
Italian seasoning. Or dried oregano, basil, and thyme.
Garlic salt. Or a combination of garlic powder and salt.
Tuna Caesar Salad Tips and Tricks
---
How to Make Homemade Croutons for Your Caesar Salad
Making your own croutons is completely optional, but highly encouraged as they are both outrageously delicious and an awesome way to use up your stale bread!
If you do want to make your own croutons, you can use any stale bread you have laying around! My two favorite breads to make croutons out of are a French baguette (as pictured) and sourdough bread! But truly any will work.
Grab your bread of choice and let's begin this flavor-filled adventure. First, slice it into 1-inch-thick pieces. Now, here comes the cool part – transform those slices into bite-sized bread blocks! Slice and dice with your crouton sword to create perfect little cubes.
Remember, they don't have to be exactly the same size, but aim for roughly equal that toast evenly.
Evenly Season and Oil the Bread
Now that you've assembled your crouton squad, it's time to give them the space they deserve! Set them free on a baking sheet, arranging them in a single layer.
Next, it's seasoning time! Grab your trusty olive oil and drizzle it all over your bread buddies. Don't forget the secret code of seasoning, Italian seasoning and garlic salt!
If you don't have garlic salt on hand, you can easily make your own garlic salt substitute out of garlic powder and salt. Typically, garlic salt uses a ratio of 3 parts salt to 1 part garlic powder.
In this case, you can simply use 1/8 teaspoon salt and 1/4 teaspoon garlic powder in place of garlic salt.
Watch as your croutons soak up the flavors and gear up for their journey into the oven. Ready, set, bake! Get those croutons golden and crispy, turning them into the ultimate crunchy sidekick for your salad.
Toast them in the oven at 350°F for about 15 minutes, flipping halfway in between until you get toasty, crispy croutons.
Mince Fresh Garlic for the Caesar Dressing
When it comes to the dressing, first thing's first: we must unlock the flavor-boosting magic within those garlic cloves. Lay the garlic flat on your cutting board and use the flat end of your trusty knife to crush the garlic until you hear a satisfying crunch, breaking open its protective shield.
Once the outer layer surrenders, peeling the garlic becomes a breeze. Remove and discard the outer layer and prepare your dicing skills for the next stage. With precise strokes, chop and dice the garlic until it transforms into tiny fragments of garlicky goodness.
How to Make Homemade Caesar Dressing
Alright, fellow foodies, here's the secret recipe for a finger-licking good dressing. Grab a trusty jar with a lid, and gather the gang – garlic, olive oil, lemon juice, red wine vinegar, Dijon mustard, and a sprinkle of pepper.
Now, tighten the jar lid like a boss, and get ready for the shake-up! Give it your all as you vigorously shake the jar. This will cause the oil and vinegar to form an irresistible emulsion, giving your Caesar dressing that creamy and dreamy texture.
Voila! You've done it! Your homemade dressing is ready to be the star of the salad show.
Chop Your Lettuce and Drain Your Tuna
Time to whip up a scrumptious Tuna Caesar Salad! Start by giving those crunchy romaine leaves a friendly chop. For a crowd-pleasing four servings, aim for about 10 ounces or 4 cups of chopped romaine.
Now, here's a nifty tip: you can usually snag that perfect amount from around half of a large romaine head or four cute mini or baby romaine heads.
Next up, our star ingredient – canned tuna! Give it a little drain and set it aside so it's not feeling too soggy or oily (depending on if you get canned tuna suspended in water or oil). No one likes a wet blanket on a salad adventure, right?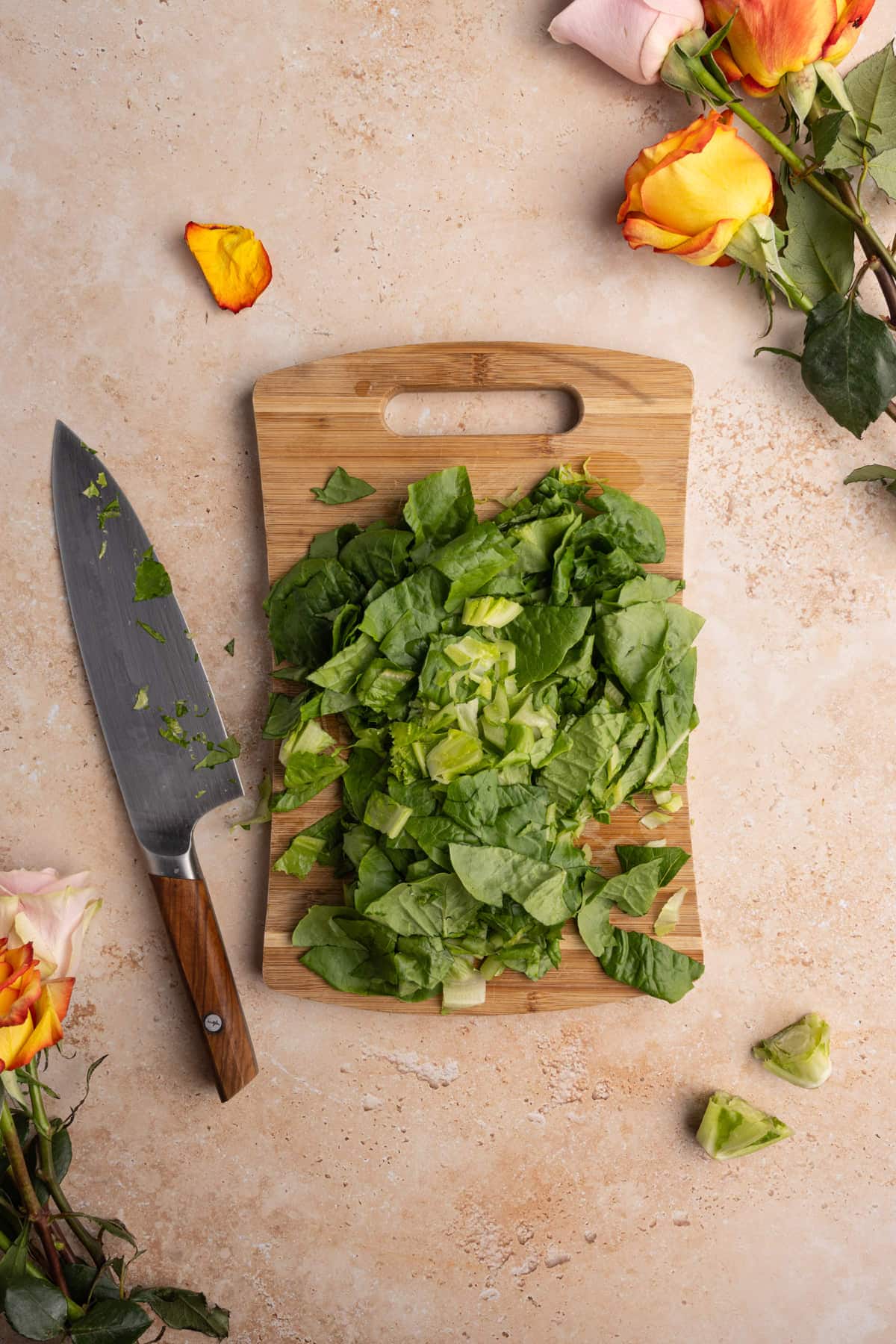 How to Perfectly Dress Your Caesar Salad with Tuna
When it comes to perfectly dressing your salad, it's all about timing!
Consider serving up that tantalizing dressing on the side! Why, you might ask? Well, for starters, it's all about personal taste. Some folks crave a little more dressing pizzazz, while others prefer a lighter touch.
Plus, keeping the dressing on the side also helps maintain that delightful crunchiness. Salads tend to turn soggy when they soak in the dressing for too long. So, by dressing individual servings, you can savor every crispy bite.
And here's a bonus life hack: leftover salad that's not yet dressed can be stored with ease! Undressed salad lasts much longer in the fridge than dressed salad.
Now, if you're eager to dress the whole salad instead of serving the dressing on the side, no worries! Use up all your homemade dressing or, for a store-bought option, about 1/4 cup should do the trick.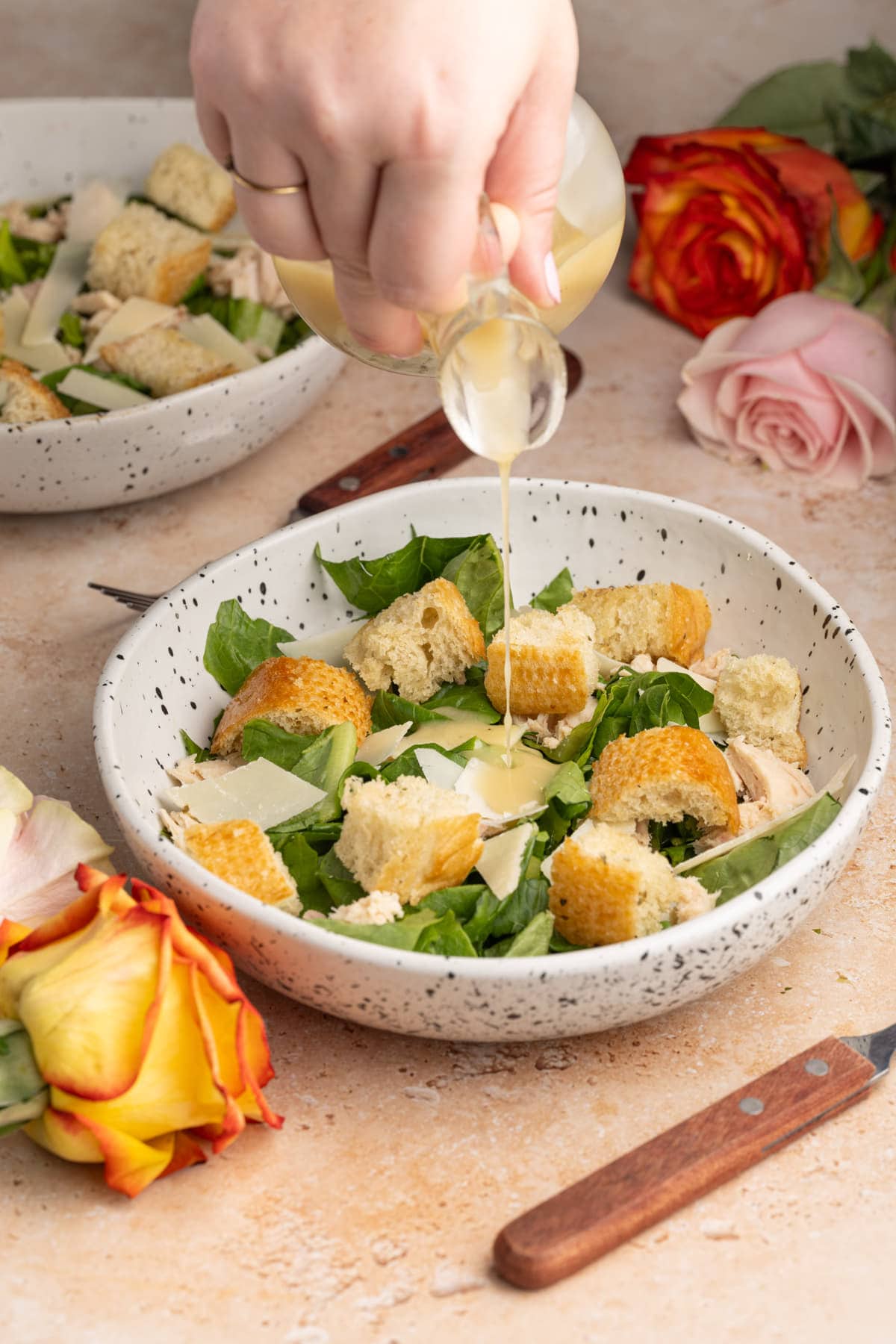 Storing Leftover Tuna Caesar
Salad, oh salad, how long will you stay fresh and delightful? A naked salad, without any dressing, will last at room temperature for about four hours.
In the fridge, tucked in a cozy airtight container, undressed leftover salad will last for about 5 days to a week.
As for the Caesar dressing itself, in a sealed airtight jar, this magic potion can last up to three months, patiently waiting for the perfect salad to dress.
Homemade croutons should be stored in an airtight container to keep its crispy perfection. They will last at room temperature for about 5 days, in the fridge 6-7 days, or in the freezer for 1-2 months.
But remember, once the dressing meets the salad greens, it's a race against time. It's best to savor this delightful blend within a couple of hours before the dreaded sogginess creeps in.
So, there you have it, the secrets to salad survival. With these culinary insights, go forth and create the most delightful salads from leftovers, preserving freshness with every bite!
Green tip: Did you know that of the billions of pounds of food wasted annually, it is estimated that 50% of it happens in our homes? Reduce your contribution to food waste by properly storing and enjoying your leftovers!
Suggestions for Additional Add-Ins for Your Caesar Salad
This Caesar Salad already packs tons of flavor, nutrients, protein, and a variety of textures, making it a meal all on its own.
Still if you're looking for some things to serve on the side, here are some of my favorites: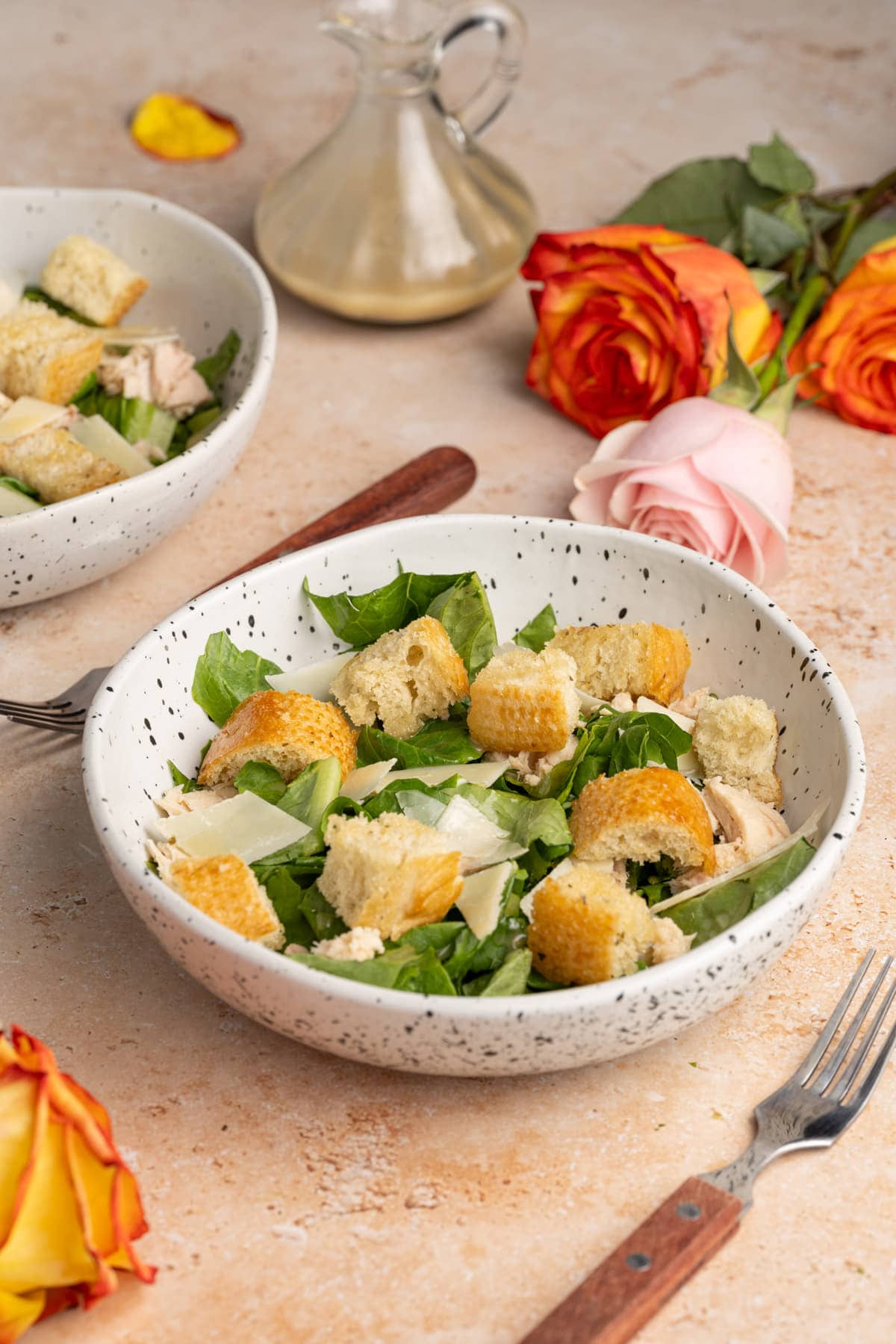 Caesar Salad with Tuna Frequently Asked Questions
---
What is broken Caesar salad?
If a Caesar salad is referred to as "broken", it is actually in reference to the dressing not being fully emulsified or "split"
Oil and vinegar are notoriously hard to mix, but once they are fully combined, they form an emulsion which gives the dressing a creamy texture.
Do you cut or tear Romaine for Caesar salad?
The answer is: it's up to you whether you cut or tear Romaine lettuce for Caesar salad. I personally like to roughly chop it, so I can get it into easy-to-eat bite-sized pieces.
Want to sharpen your kitchen skills?
Why You Should Make this Crisp Tuna Caesar Salad with Crispy Croutons
---
The textures! Crisp romaine, crunchy croutons, meaty tuna, and gritty Parmesan.
It's so flavorful. Between the fresh Parm, the tuna, and the deeply savory dressing, this is brimming with deep flavor!
It's resourceful. Making homemade croutons is such a great way to revamp stale bread!
If you're loving this Tuna Caesar Salad and want more fresh salads, check out this Arugula Burrata Salad and Arugula Pear Salad.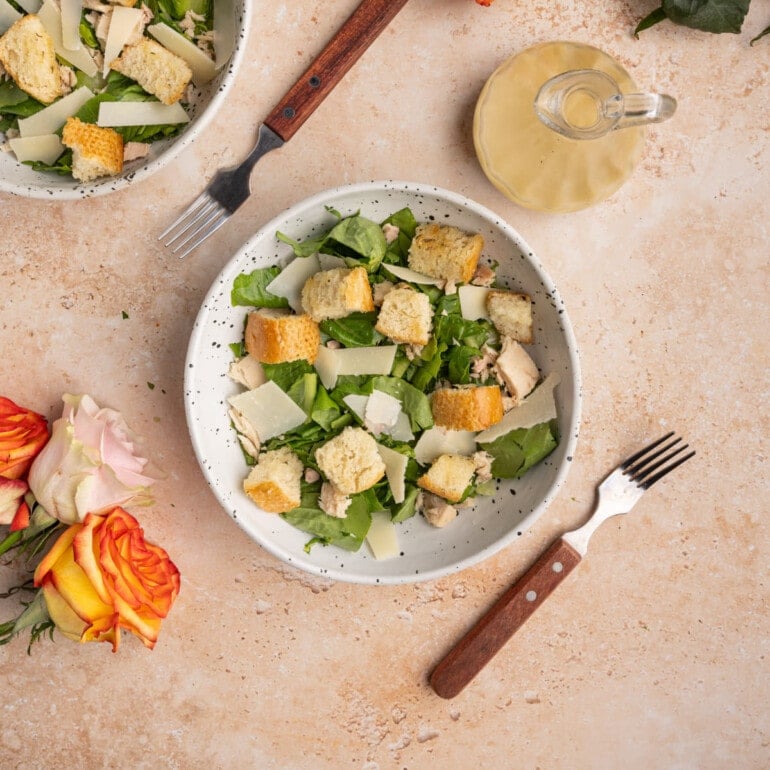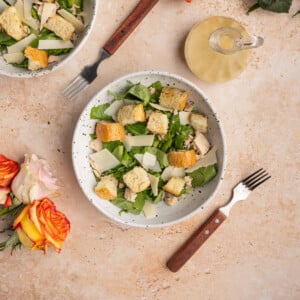 Crisp Tuna Caesar Salad with Crispy Croutons
PRINT
PIN
RATE
This Crisp Tuna Caesar Salad is brimming with flavor from the savory dressing and texture from the crispy croutons!
Ingredients
Tuna Caesar Salad
10

ounces

chopped Romaine lettuce

(10 ounces Romaine = approx. ½ large head of lettuce or 4 cups chopped)

4

ounces

tuna

(1 can tuna = approx. 4 ounces)

1

ounce

fresh shaved Parmesan

(1 ounce Parmesan = approx. ⅓ cup shaved)

½

cup

croutons

¼

cup

Caesar dressing
Easy Homemade Caesar-Inspired Dressing
2

cloves

garlic

(minced)

2

teaspoons

Dijon mustard

(grainy or smooth)

2

teaspoons

lemon juice

2

teaspoons

red wine vinegar

¼

cup

extra-virgin olive oil

½

teaspoon

black pepper*
Homemade Croutons
½

loaf

French baguette or sourdough

¼

cup

olive oil

1

teaspoon

Italian seasoning

¼

teaspoon

garlic salt
Instructions
Homemade Croutons
Preheat your oven to 350°F.

Slice your stale bread into roughly equal sized cubes, each about 1-cubic inch in size.

Add the cubed bread to a large baking sheet and add the olive oil, Italian seasoning, and garlic salt. Toss to coat and spread the cubes out in an even layer.

Toast on the top rack of the oven for about 15 minutes, tossing halfway in between until bread is nice and crunchy. Set aside to cool.
Homemade Caesar-Inspired Dressing
Mince your garlic and add it to a jar fit with a lid along with the olive oil, Dijon mustard, lemon juice, red wine vinegar and pepper. Seal the lid tight and shake vigorously to emulsify.
Tuna Caesar Salad
Drain your tuna and roughly chop your romaine into bite-sized pieces, discarding any brown or soggy pieces.

To a large salad bowl, add the chopped lettuce, tuna, croutons (make sure your croutons are cooled so they do not wilt your lettuce), and shaved Parmesan cheese and toss. Dress right before serving or serve the dressing on the side.
Pro Tips
*I love adding a lot of black pepper to bring the heat in this dressing, but if your sensitive to it, maybe consider adding 1/4 teaspoon instead of 1/2!
If you don't have garlic salt on hand, you can

use 1/8 teaspoon salt and 1/4 teaspoon garlic powder in place of garlic salt.

For more ways to revive your stale bread, check out this list of 12+ Stale Bread Recipes. 
Enjoy this recipe? You have to check out my other homemade salad recipes!
Did you make this recipe?
Let me know by leaving a recipe rating below, or by tagging @marleysmenu on Instagram.