Looking for a quick and fresh appetizer option? This Caprese Bruschetta with Balsamic Glaze is a crowd-pleaser year-round.
The classic combo of tomato, basil, and mozzarella makes Caprese recipes so flavorful. With the perfect balance of sweet and salty, the fresh ingredients bring delicious taste to every bite. And the melty cheese? Well, that's just the cherry on top!
But what may surprise you is that there is one ingredient that doesn't necessarily have to be fresh—the bread!
As an environmental scientist, I'm always trying to keep the issue of food waste front of mind. And toasting your bread in the oven with some high moisture cheese and topping it with fresh juicy ingredients is one of the best ways to revive your stale bread!
Green tip: Bread is one of the most wasted food products in the U.S. because of our tendency to throw it out as soon as it's stale. Reduce your contribution to food waste by re-vamping your stale bread with this Caprese Bruschetta!
Caprese Bruschetta Ingredients
---
Here's everything you'll need:
Fresh ingredients like fresh basil instead of dried basil and fresh garlic instead of garlic powder go a long way in this Caprese Bruschetta.
French baguette. A french baguette will give you the perfect-sized bites for crostini! However, you can really serve this over any bread. In fact, it's a great way to revive stale bread! If your bread is stale, add just a few drops of water on the baking sheet around your bread as it toasts in the oven.
Fresh mozzarella. You can grab the pre-sliced kind or you can slice it on your own. Fresh high-moisture mozzarella is recommended over shredded mozzarella in this recipe, but both can be used!
Tomatoes. Heirloom, beefsteak, or vine ripe, sliced thin.
Basil. Fresh basil brings a lot of flavor to this dish.
Red onion (optional). I love the extra flavor and crunch red onion brings to this, but for a more minimalist recipe you can leave it out.
Garlic. Fresh garlic, minced, is the best way to add flavor to this Caprese bruschetta.
Olive oil. For moisture.
Salt & pepper. To amp up all the other natural flavors.
Balsamic glaze. To add a subtle sweetness and top off your crostini!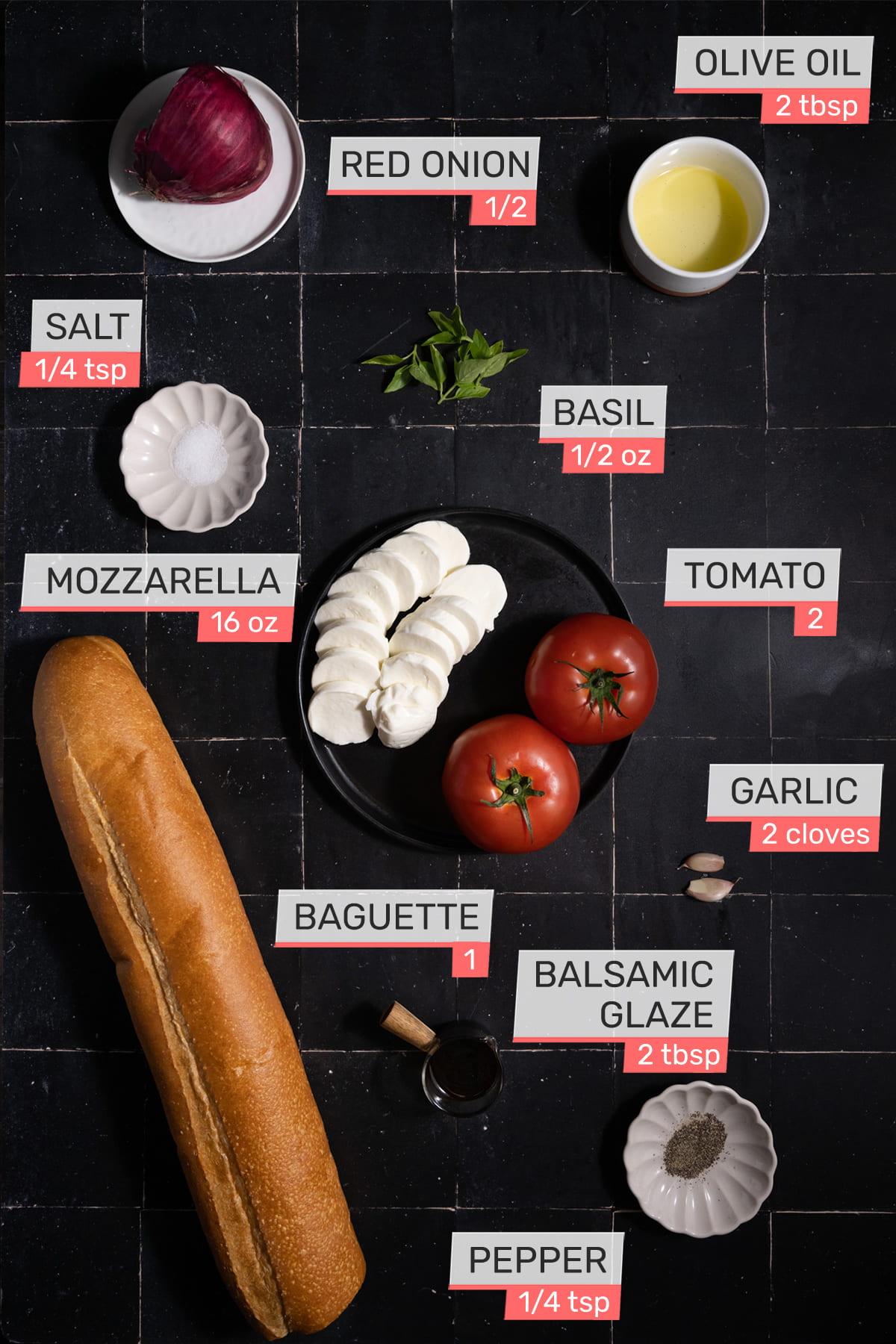 Caprese Bruschetta Tips and Tricks
---
Prep Your Fresh Ingredients
We really want the tomato, onion, garlic, and basil to be present in every bite! To achieve this, chop your fresh ingredients finely and stir them all up together.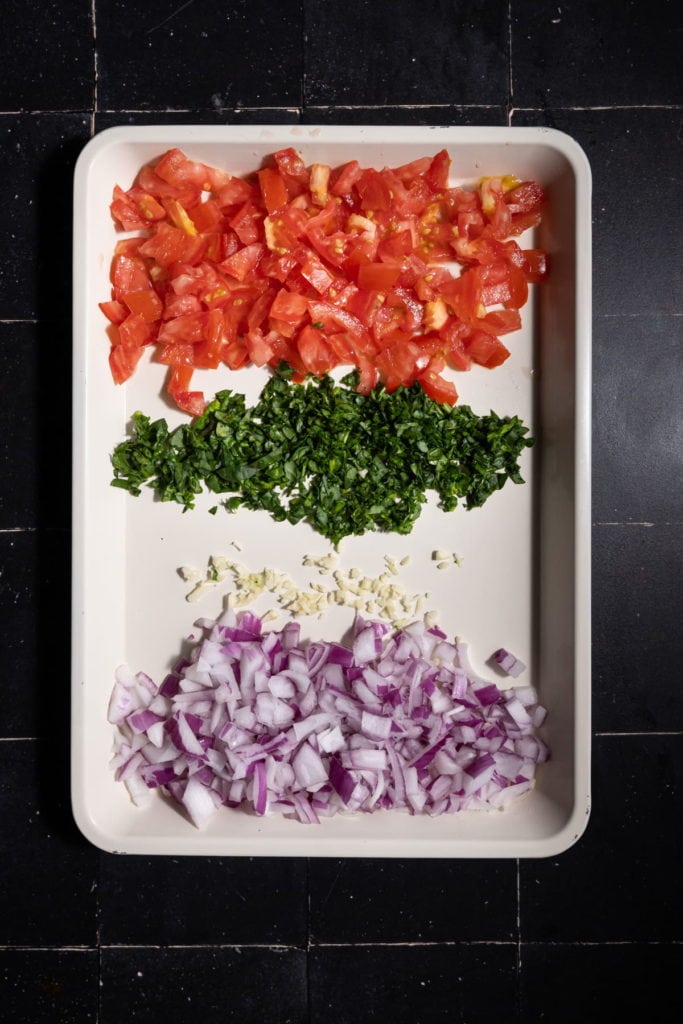 Mix it All Up
Add your fresh ingredients to a large mixing bowl with salt, pepper, and olive oil and mix to combine.
It will all sit and marinate together for a few minutes while your bread and cheese are toasting in the oven.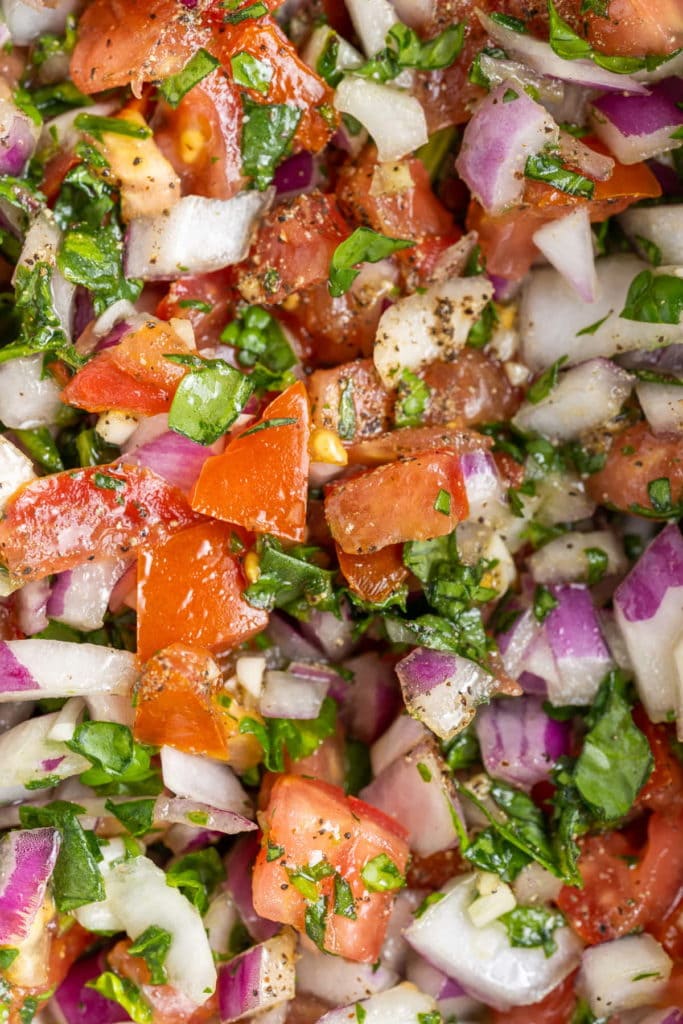 Melt Your Mooz
On a large baking sheet, add your sliced bread and neatly lay the mozzarella on top.
Toast in the oven at 400°F just until the cheese melts and the bread gets toasty. This usually only takes about 5 minutes on the top rack of the oven.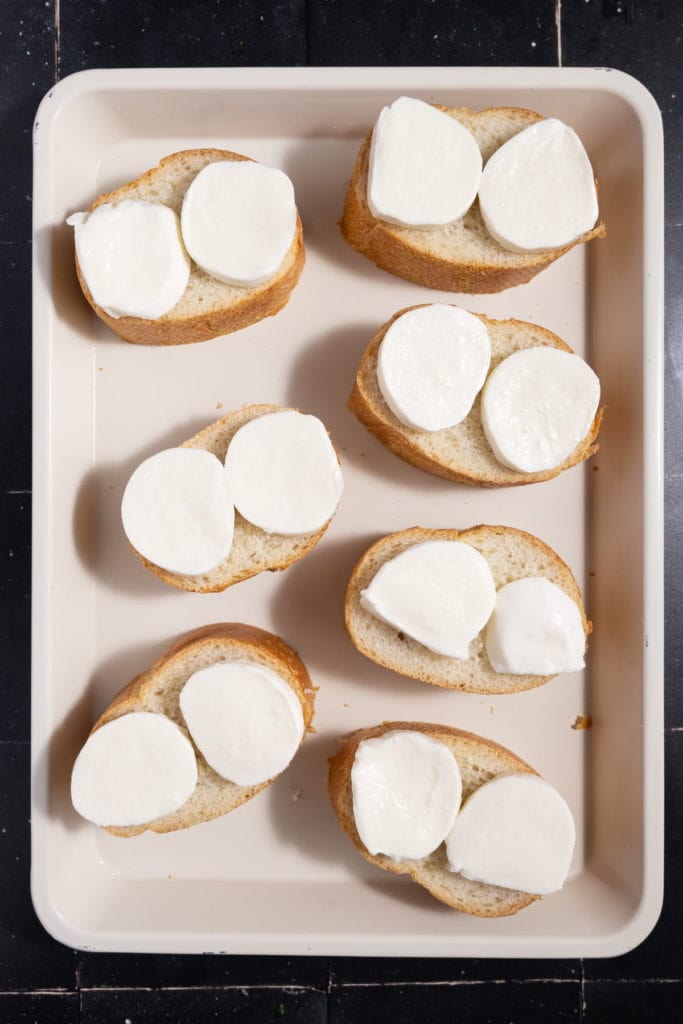 Assemble your Caprese Bruschetta
Add a heaping teaspoon of your bruschetta mixture on top of each toast with melted mozzarella. Option to add an extra piece of fresh basil on top of each crostini.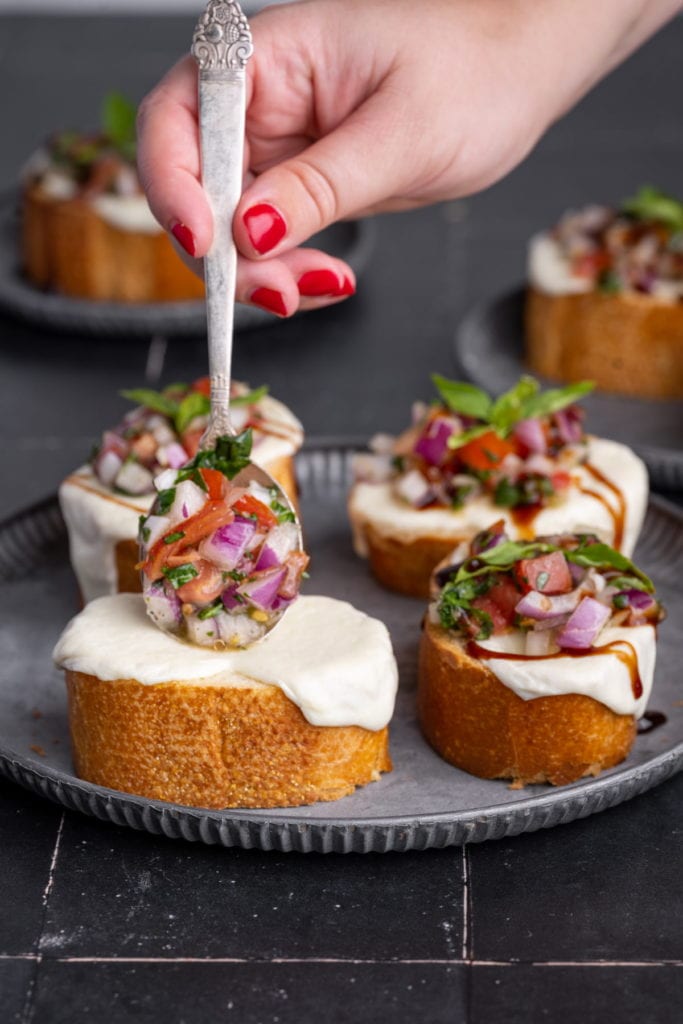 Should You Have Leftovers
If you have leftover bruschetta topping (the fresh tomato mixture), save it! It will last in the refrigerator for 3 to 4 days if you cover it.
You can make more bruschetta with it, add it to a pasta salad, or even add it to some smashed avocado for quick guacamole!
If you have fully dressed pieces of bread left over, it's best to scrape the topping off and store it separately in the fridge. Toast your leftover cheesy bread in the preheated oven at 400°F for about 5 minutes and then add your topping back on top again!
Green tip: Growing your own herbs is a delicious way to reduce your environmental footprint. Homegrown basil has zero associated food miles, no pesky plastic packaging, and is free from damaging fertilizers and chemicals. Plus, they are just so fresh and flavorful.
Balsamic Vinegar vs Balsamic Glaze
Balsamic glaze is just balsamic vinegar reduced to have less water content, making it much thicker. You can absolutely use balsamic vinegar in place of balsamic glaze, it'll just be a little more liquid-y.
You can also opt to reduce balsamic vinaigrette to make your own balsamic glaze at home.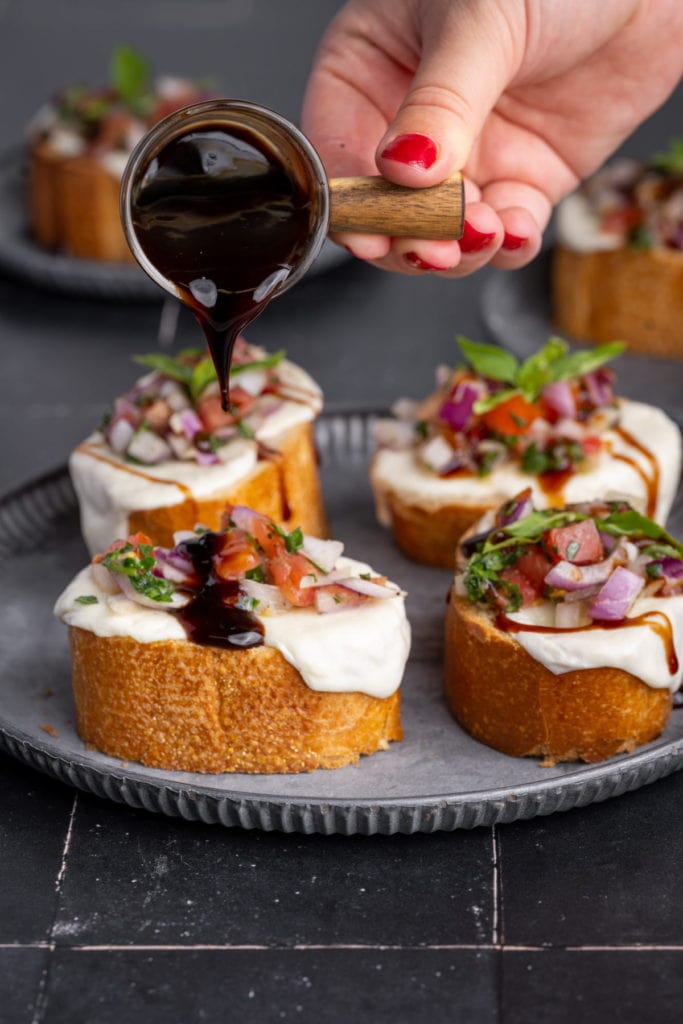 Caprese Bruschetta Frequently Asked Questions
---
What's the difference between Bruschetta and Caprese?
Bruschetta is a slice of toasted Italian or French baguette topped with a chopped fresh tomato and basil mixture. Caprese refers to a salad that is made up primarily of tomato, mozzarella, and basil.
Joining the two forces together, this Caprese Bruschetta is a slice of toasted baguette with melted mozzarella, then topped with a fresh tomato and basil mixture that is accompanied by other complementary flavors.
Should Bruschetta be served warm or cold?
The best way to serve bruschetta is with the toasted bread nice and warm, but the tomato-based topping is fresh and cold.
Want to sharpen your kitchen skills?
Why You Should Make this Caprese Bruschetta
---
It's fresh. Packed with fresh flavor from the tomatoes, onion, garlic, and herbs.
It's quick. Have it on the table in under 20 minutes.
It's a crowd-pleaser. Who doesn't like cheesy carbs topped with fresh fare?
Planning on making an Italian feast? This Caprese Bruschetta is the perfect starter to this Easy Cheesy Pasta Bake or Chickpea Meatballs in Marinara.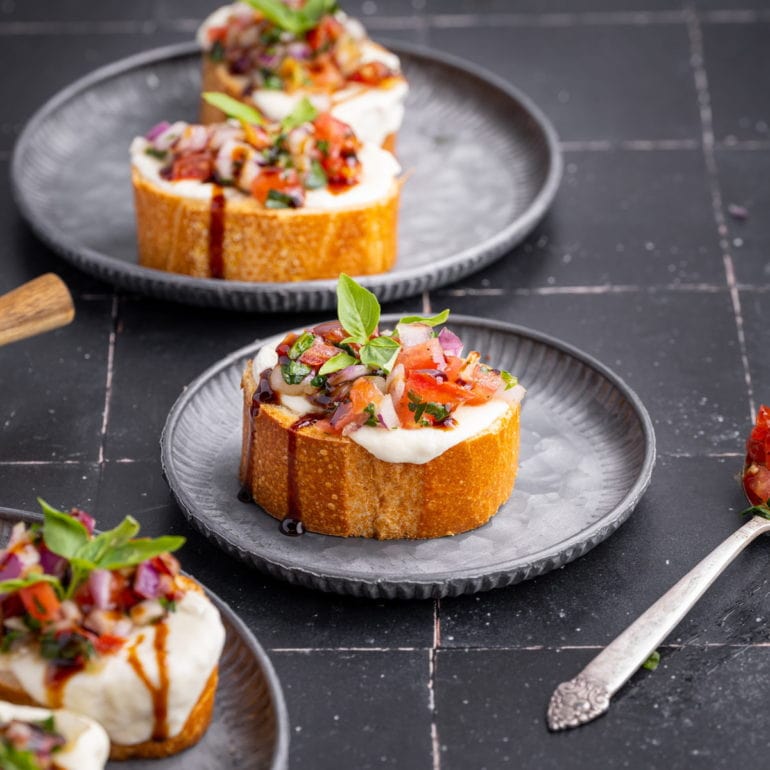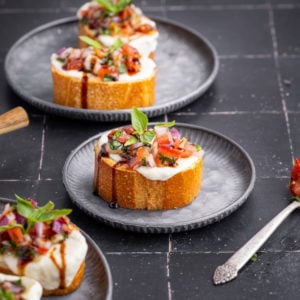 15-Minute Caprese Bruschetta with Balsamic Glaze
PRINT
PIN
RATE
This Caprese Bruschetta relies on simple, fresh ingredients that come together harmoniously to give you a perfectly balanced bite!
Ingredients
1

large

Baguette

16

ounces

fresh Mozzarella, sliced

2

large

tomatoes, diced

(heirloom, beefsteak, or vine ripe)

½

ounce

basil

(about 2 large sprigs)

½

large

red onion

(optional)

2

cloves

garlic

2

tablespoon

extra virgin olive oil

¼

teaspoon

salt

¼

teaspoon

black pepper

2

tablespoons

balsamic glaze
Instructions
Preheat your oven to 400°F. Slice your baguette into 1.5 – 2-inch thick pieces, and line them up flat on a large baking sheet.

Finely chop your tomato, onion, basil, and garlic and add to a large mixing bowl.

Crack the salt and pepper over your tomato mixture, and pour on olive oil. Use a large spoon to mix it up.

Slice your mozzarella and place it on each piece of bread. Toast your bread in the oven for about 5 minutes, until the cheese is melted and the bread is toasty.

Remove the bread from the oven and top with a heaping tablespoon of bruschetta mixture.

Drizzle balsamic glaze on top and enjoy!
Pro Tips
If your bread is stale, just put a few drops of water on the baking sheet around your bread as it toasts in the oven.
You can use balsamic vinegar in place of balsamic glaze, but it's generally a little less sweet and more liquid.
You can also opt to make your own balsamic glaze by reducing balsamic vinegar. Just heat a couple of tablespoons in a small pot over medium heat for about 20 minutes and allow to cool before drizzling over your bruschetta.
Did you make this recipe?
Let me know by leaving a recipe rating below, or by tagging @marleysmenu on Instagram.