Looking for a quick and easy, yet impressive appetizer? This Whipped Ricotta Crostini comes together in just 10 minutes and is sure to please a crowd!
Individual portions of crispy, crunchy French baguette are topped with light and airy seasoned whipped ricotta, then drizzled with sweet honey and fresh herbs to give you the perfect recipe for gourmet light bites.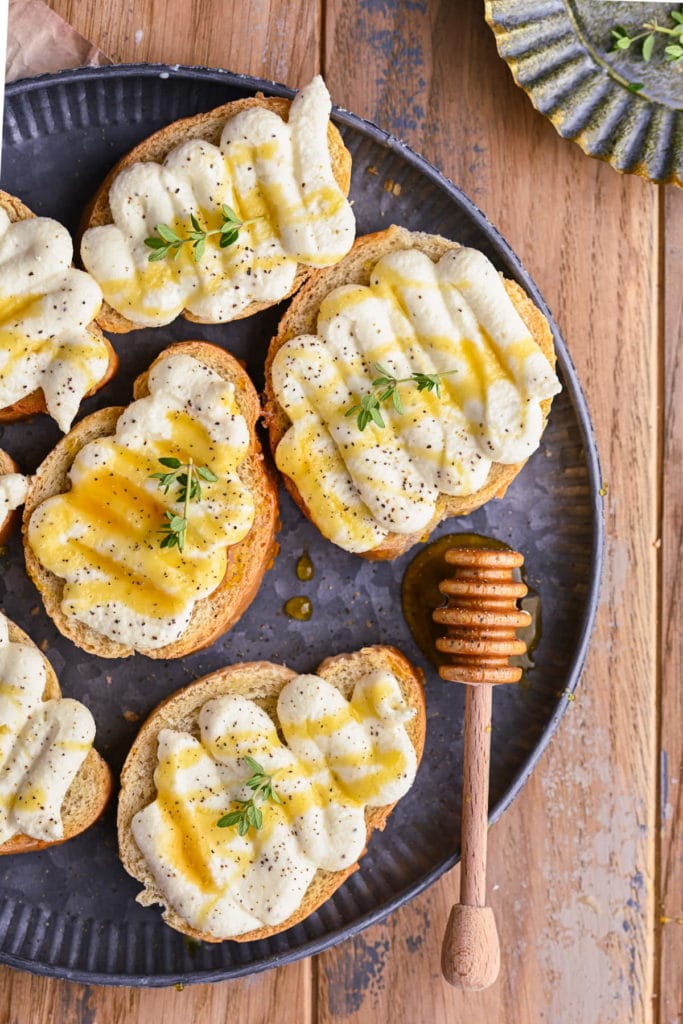 Whipped Ricotta Crostini Ingredients
---
Here's everything you need:
French Baguette. The best base for any crostini.
Olive oil. For getting your bread crispy and crunchy.
Whole Milk Ricotta. Part-skim doesn't get quite as light and airy when whipped.
Salt and pepper. To season the ricotta.
Honey (optional, but recommended).
Fresh herbs. Like oregano, thyme, or dill for garnish.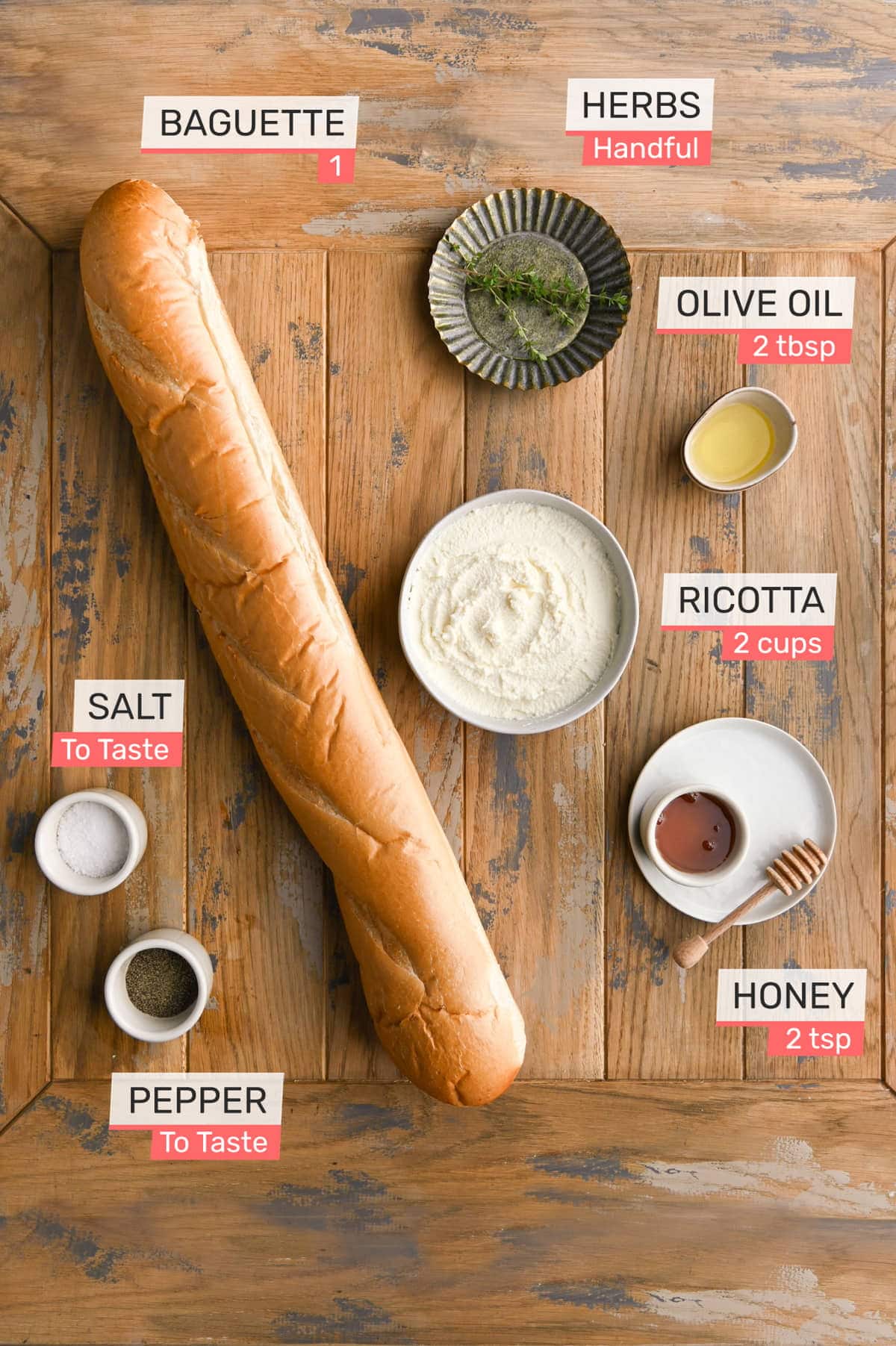 Whipped Ricotta Crostini Tips and Tricks
---
Slice Your Bread Thin
For perfect individual portions that are easy to eat, it's best to keep the thickness of your slices around 1/2 inch.
Use a large, serrated knife to slice. Depending on the size of your baguette, you will likely get anywhere from 12-18 slices.
Green tip: For a more sustainable bread, opt for organic! Organic farms rely on biodiversity to generate rich soil, avoiding the use of pesticides and fertilizers, which means no toxic runoff.
Brush Each Slice with Oil
I love using a pastry brush to get a thin, even coat of oil on each side of the sliced baguette. You can also just drizzle a dash of oil over top!
Adding the oil to the sliced baguette will help it get crispy in the oven.
Spread your oiled baguette out on a baking sheet and bake about 2-3 minutes before flipping them over. Then, bake again for another 2-3 minutes until both sides are crispy to the touch.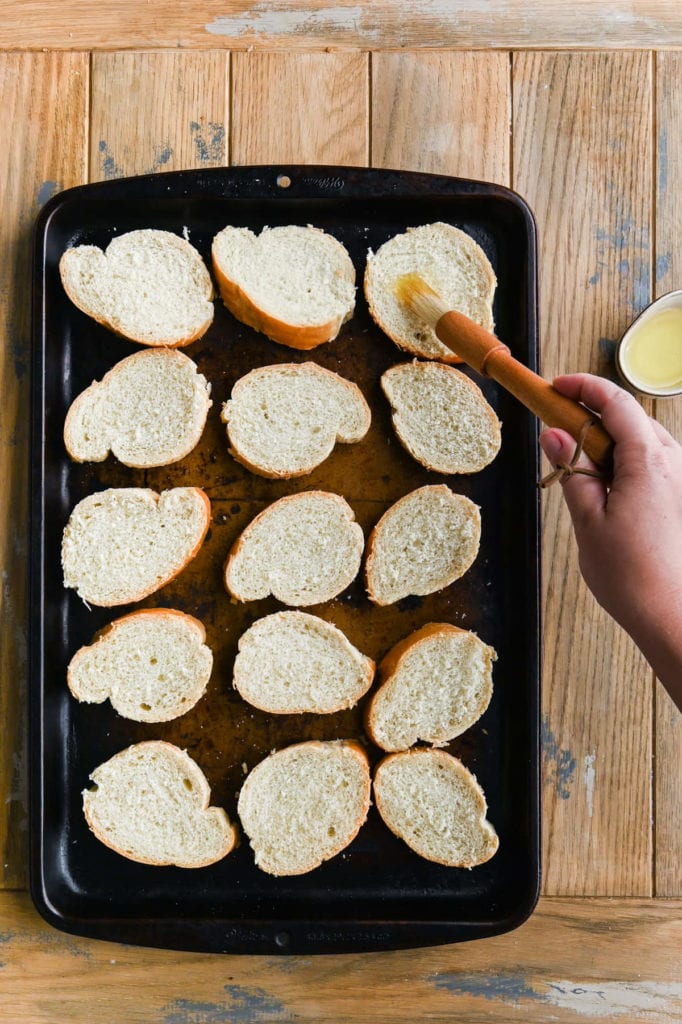 Season Your Ricotta
Ricotta is thick, creamy, and smooth, giving it an incredible texture, especially when whipped! Its downfall is that its flavor is very mild. I love to season it or even mix it with something with a flavor-punch like in this Ricotta Pesto Pasta.
This just means that seasoning your ricotta with salt and pepper makes a big difference! Start with about 1/4 teaspoon of each and taste as you go, adding more if need be.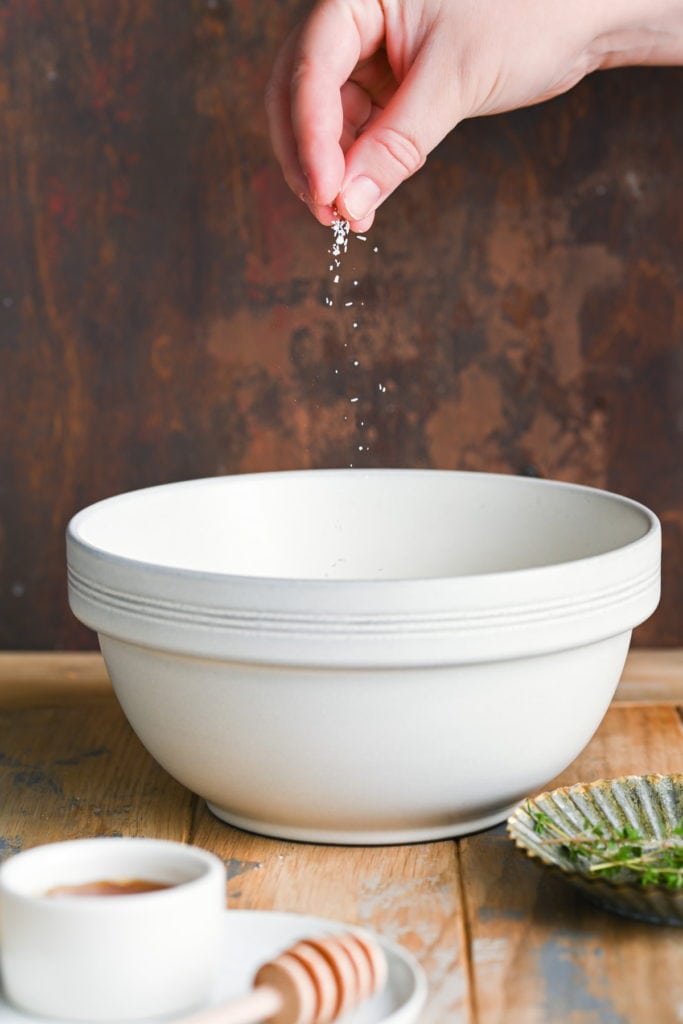 Use a Hand Mixer to Whip Ricotta
Whipping your ricotta will aerate it, turning it from thick and creamy to light and airy.
With your hand mixer on high, you should only have to whip it for about 2 minutes to get the perfect consistency!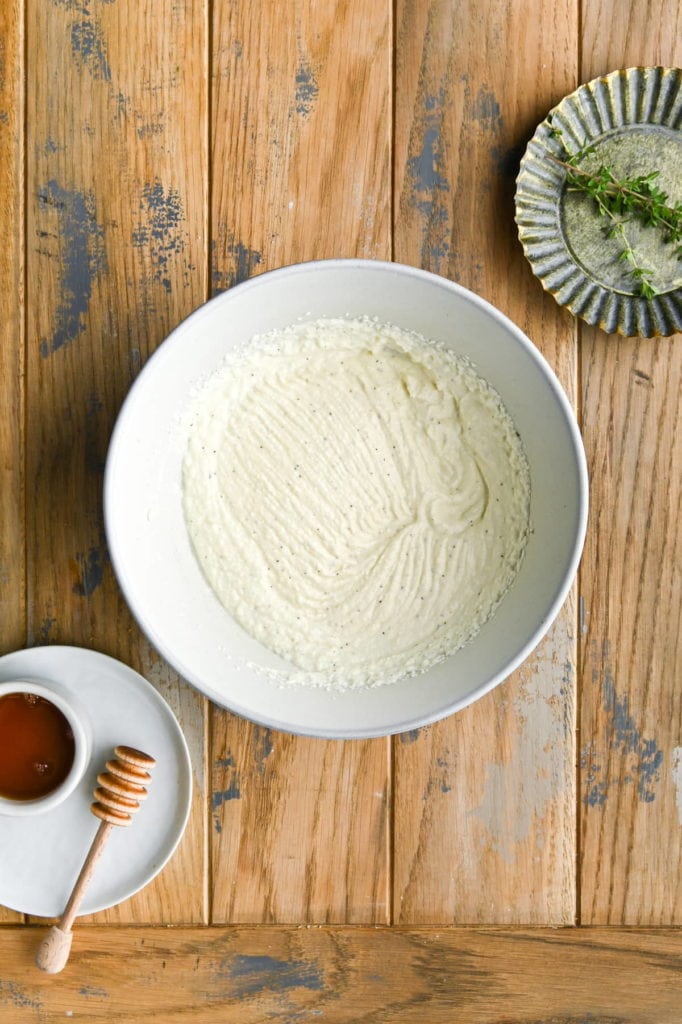 Use a Piping Bag
This is of course optional but makes a great visual impact. We eat with our eyes first, after all!
Green tip: Use reusable piping bags to reduce your plastic waste! These reusable bags are a great option.
I used the piping bag on its own to create thick swirls of whipped ricotta on my crostini, but you can also use a piping tip and make fancy designs. Have fun with it!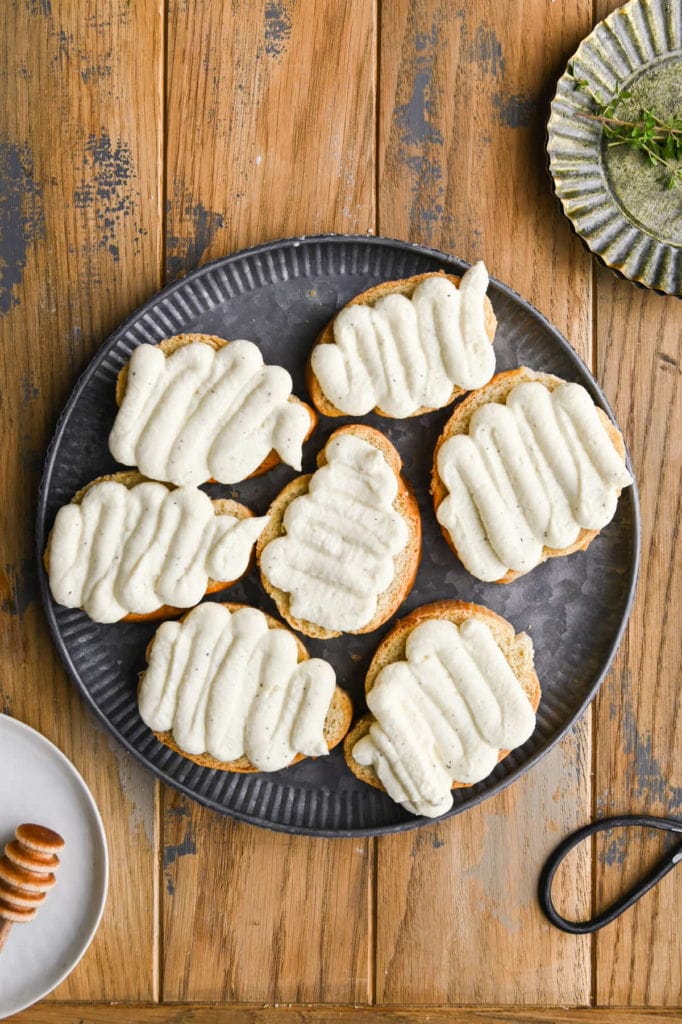 Top the Whipped Ricotta with Honey
The honey in this Whipped Ricotta Crostini adds a punch of sweetness and earthiness to elevate the flavor.
Green tip: Try buying raw, locally sourced honey. Generally, smaller-scale honeybee operations harvest honey in the fall, when the bees produce it in excess.
Layer the honey on top of your whipped ricotta for the perfect bite!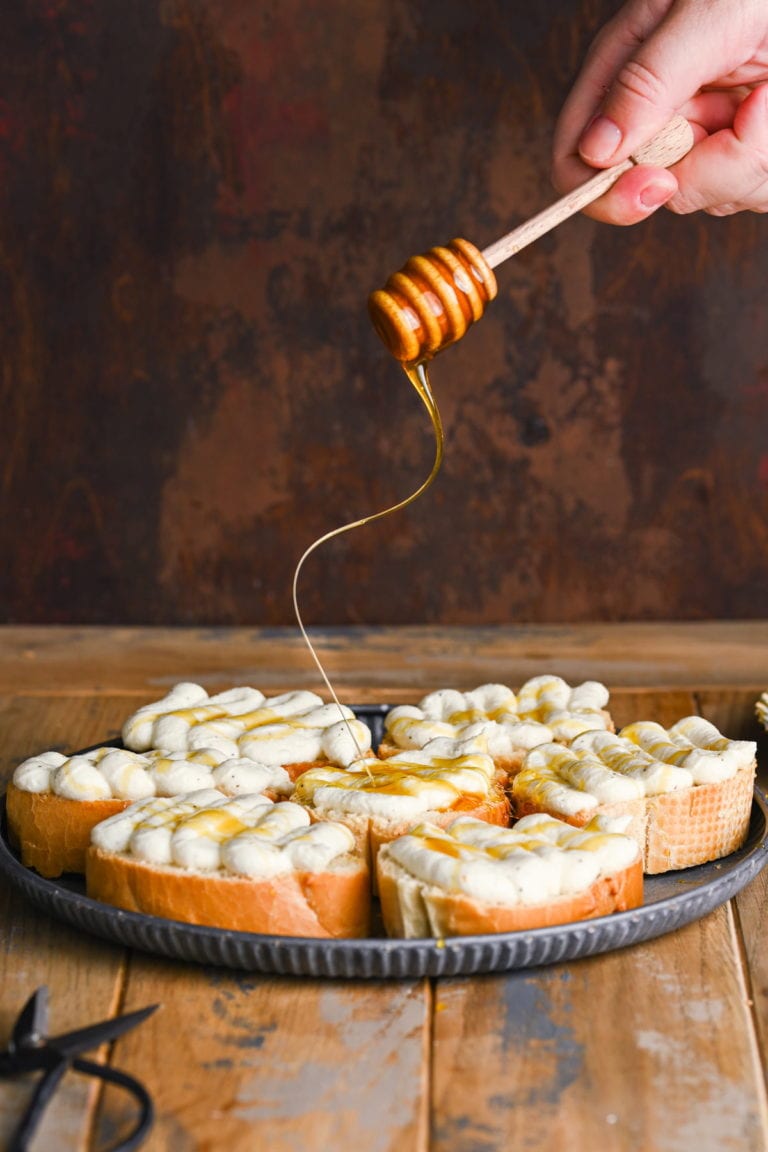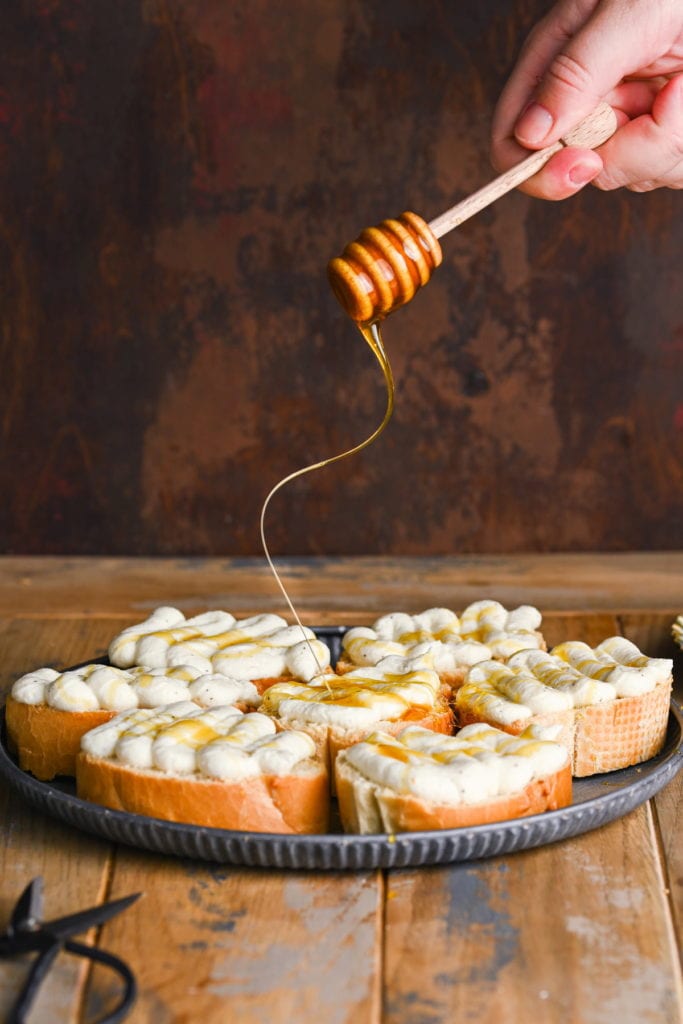 Finish Your Crostini with Fresh Herbs
My preference is English thyme, but this crostini is so versatile! You can use fresh dill, oregano, basil, or even mint!
The herb will give an extra flavor pop and a hit of freshness on your tongue.
Green tip: Growing your own herbs is a delicious way to reduce your environmental footprint. Homegrown herbs have zero associated food miles, no pesky plastic packaging, and are free of damaging fertilizers and chemicals. Plus, they are just so fresh and flavorful.
How to Store and Reheat Leftover Ricotta Crostini
It's best to store the whipped ricotta and crostini separately, to avoid your baguette getting soggy.
If you've already assembled your Whipped Ricotta Crostini, simply scrape the ricotta off the top and store it in an airtight container. It will last in the refrigerator for 3-5 days.
Re-toast your bread in the oven at 350°F or in the toaster, and spread your saved ricotta over top.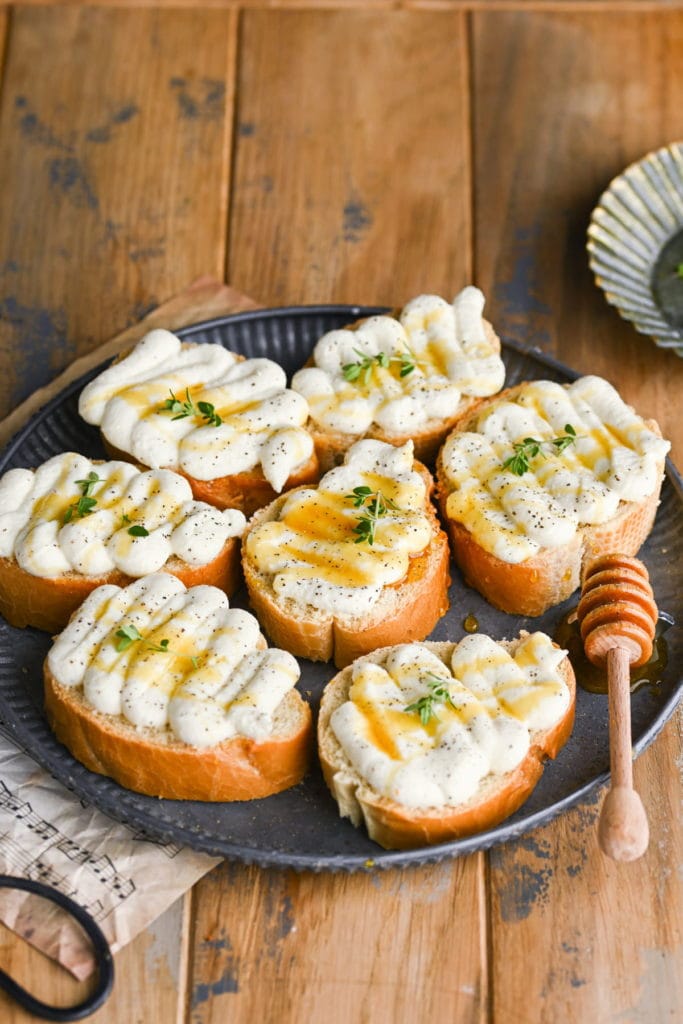 Crostini with Whipped Ricotta Frequently Asked Questions
---
Can you make whipped ricotta in advance?
Absolutely! Whipped ricotta will last in the refrigerator in an airtight container for 3-5 days.
It;'s best to prep your whipped ricotta ahead of time, but toast your bread and assemble your crostini just before enjoying.
How do you make ricotta spreadable?
The best way is by whipping it! Whipping ricotta aerates it, giving it a smooth, velvety texture.
Is crostini hard or soft?
Crostini should be crispy on the outside and fluffy on the inside! The best way to achieve this is by brushing it with olive oil and baking it in the oven for 5-7 minutes, flipping halfway through.
Want to sharpen your kitchen skills?
Why You Should Make this Whipped Ricotta Crostini
---
It's quick! You can whip this up (literally) in just ten minutes!
The textures! Crispy bread, velvety smooth ricotta, sticky honey. All the best textures in one little bite!
It's balanced. Savory, salty, sweet, and herbaceous!
If you're loving this Whipped Ricotta Crostini, you may also like this Caprese Bruschetta and Texas Toast Garlic Bread!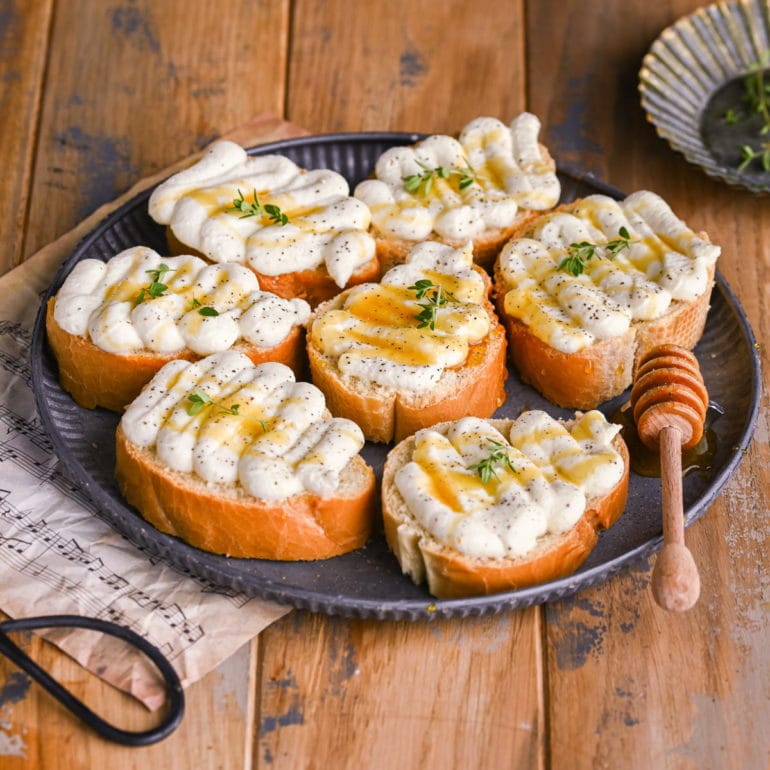 10-Minute Whipped Ricotta Crostini with Honey
PRINT
PIN
RATE
This Whipped Ricotta Crostini is comprised of crunchy toasted bread with velvety seasoned ricotta, honey, and fresh herbs on top! Ready in just ten minutes.
Ingredients
1

French baguette

2

tablespoons

olive oil

2

cups

whole milk Ricotta

salt + pepper to taste

2

tablespoons

honey

(optional)

1

handful

fresh herbs, like oregano, dill, thyme, basil, or mint

(optional)
Instructions
Preheat your oven to 375°F and slice the baguette into small pieces, about 1/2-inch wide.

Drizzle or use a pastry brush to add a thin coat of olive oil on both sides of the bread and arrange them on a large baking sheet (or two!).

Toast the bread in the oven until crispy, about 5 minutes, flipping halfway in between.

Add ricotta, salt, and pepper to a medium-sized mixing bowl and use a hand mixer to whip until light and airy—about 2 minutes.

Add a generous amount of whipped ricotta to each piece of bread (use a piping bag for a prettier presentation!), and top with honey, fresh herbs, and an extra crack of black pepper. Serve warm.
Pro Tips
Using a pastry brush is the best way to get the thinnest even layer of olive oil on each slice of bread!
Use a piping bag to add your ricotta to your bread for the best presentation!
Did you make this recipe?
Let me know by leaving a recipe rating below, or by tagging @marleysmenu on Instagram.