Want to replicate your gourmet bar food favorite at home? These Parmesan Truffle Fries are crispy, crunchy, truffle perfection, and can be made in the oven or the air fryer!
When it comes to snacks, apps, and sides, nothing beats homemade hand-cut fries! And the addition of truffle, parmesan, and fresh parsley makes a good thing even better!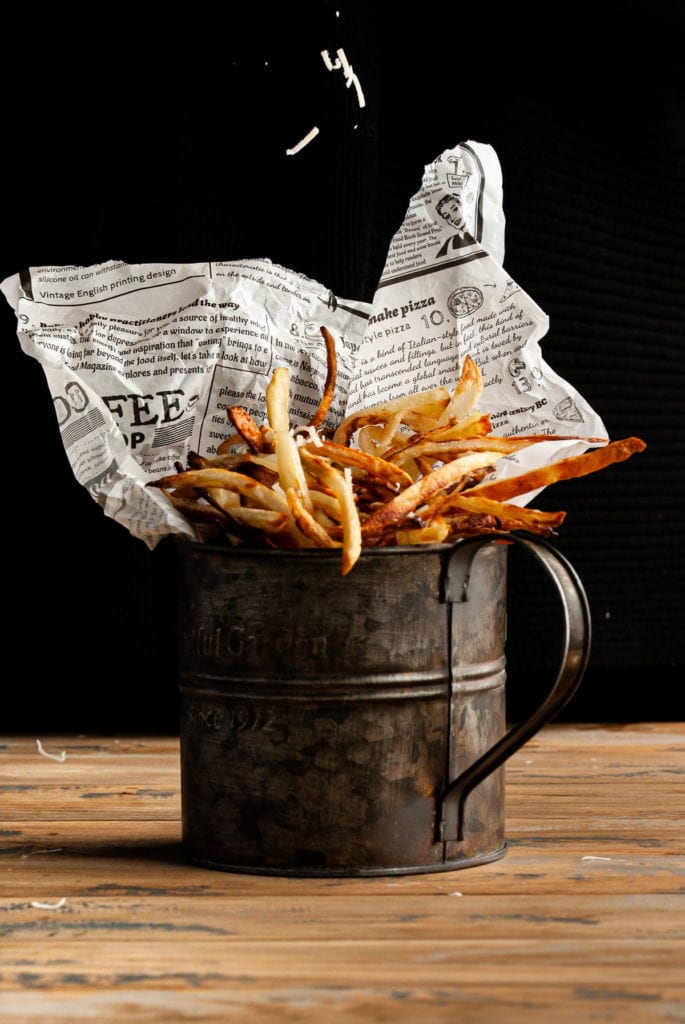 As an environmental scientist, I'm always looking for fun ways to make sustainable ingredients shine. Potatoes are not only delicious, hearty, and versatile, but they are also considered a sustainable crop.
Potato production has a relatively low impact on the environment, with fewer greenhouse emissions and a much lower water footprint than other starches.
The crops themselves also require a relatively small amount of land to thrive, and since potatoes can be stored for a long time, they generally lead to minimal waste.
Buying them locally and individually (with no packaging) is even better! Organic labels let you know that pesticides were not used in their production for the most sustainable choice.
Plus, no pesky plastic packaging means you are not contributing to the issue of microplastics.
Green tip: Potatoes are a great choice for a sustainable starch! They only require a small area to thrive and have a super long shelf life!
Parmesan Truffle Fries Ingredients
---
---
Here's everything you need:
Potatoes. The best potatoes for french fries are russet or idaho because of their lower moisture and ability to get nice and crispy.
Olive oil. I highly recommend using olive oil over any other oil. Canola, grapeseed, and vegetable oil will leave your baked fries too greasy, especially when finishing with truffle oil.
Salt. Because what are fries without salt?
Truffle Oil. It's important to know that truffle oil is a finishing oil not a frying oil. Heating the truffle oil too much will make it lose it's distinct taste.
Parmesan Cheese. I like to freshly grate it from a block, but you can buy pre-shredded or pre-grated. Shaved parmesan tends to be a little bit too big.
Parsley for Garnish. To add some color and freshness.
Parmesan Truffle Fries Tips and Tricks
---
---
Start By Peeling Your Potatoes
Peel your potatoes with a handheld peeler. It's okay if you leave a little bit of skin behind, it will just add extra crispiness to your fries!
Don't chuck those potato skins! Try these Roasted Potato Peels instead.
Green tip: Did you know that of the billions of pounds of food wasted annually, it is estimated that 50% of it happens in our homes? It's always best to avoid food waste as much as you can!
How To Hand-Cut Your Fries
Step 1: Cut your peeled potato in half. Start by cutting your potato in half longways, so that you are able to lay both halves flat and more safely and easily cut them.
Step 2: Cut into thin strips. We're going for shoestring fries here (it gives you the best parmesan truffle: potato ratio!), so slice into strips about 1/4-inch thick.
Step 3: Turn the strips on their side and slice again. We are aiming for thin fries, and to keep them as even as possible so that they cook evenly.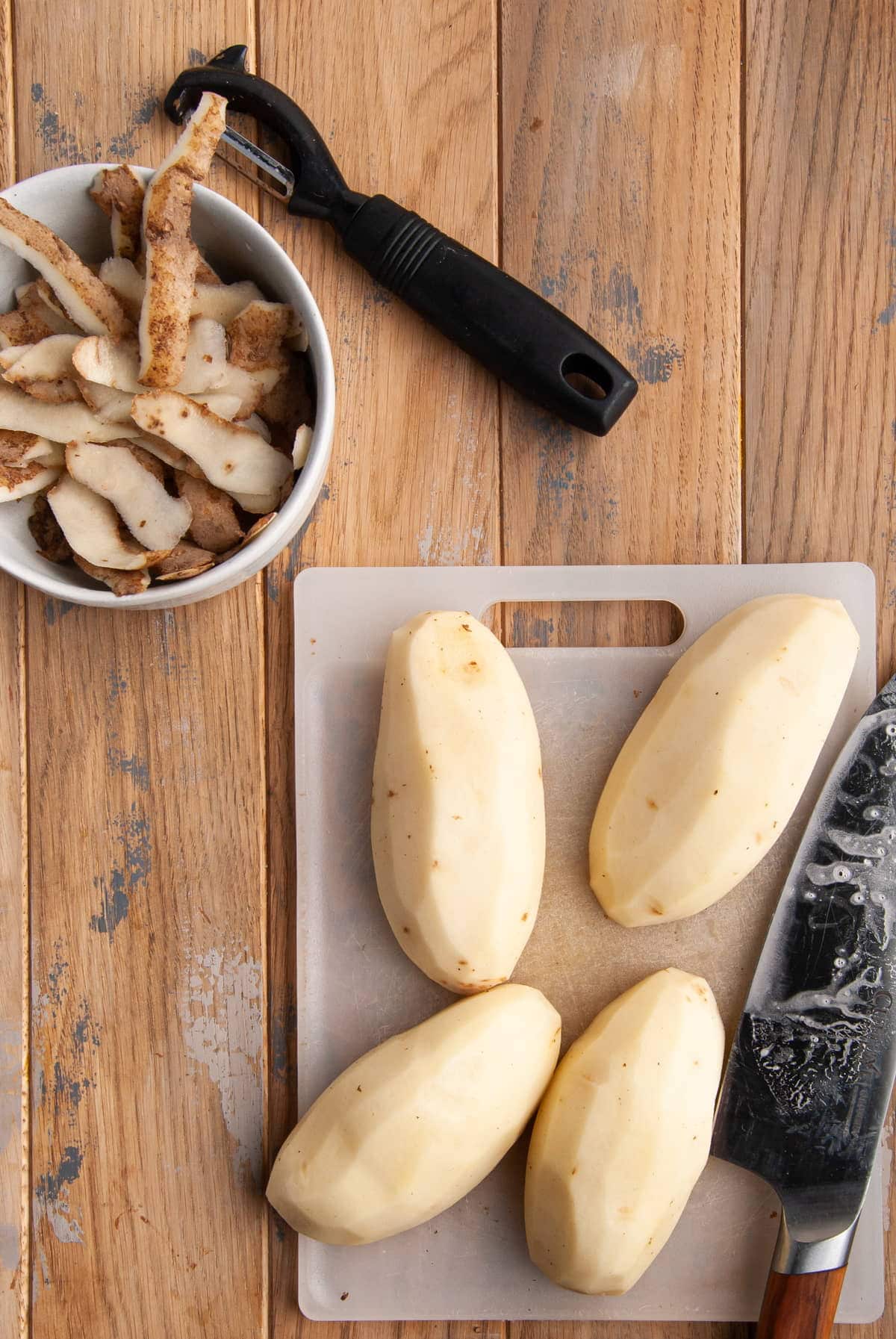 Soak Your Handcut Fries
The key to getting crispy baked fries is removing excess starch. The best way to do so is to soak them in water.
Once you're happy with the shape and thickness of your fries, add them to a large mixing bowl and add enough water to cover them completely.
Allow them to sit in the water for 30 minutes to 1 hour before rinsing. You should be able to see the white starch left in the bowl of water.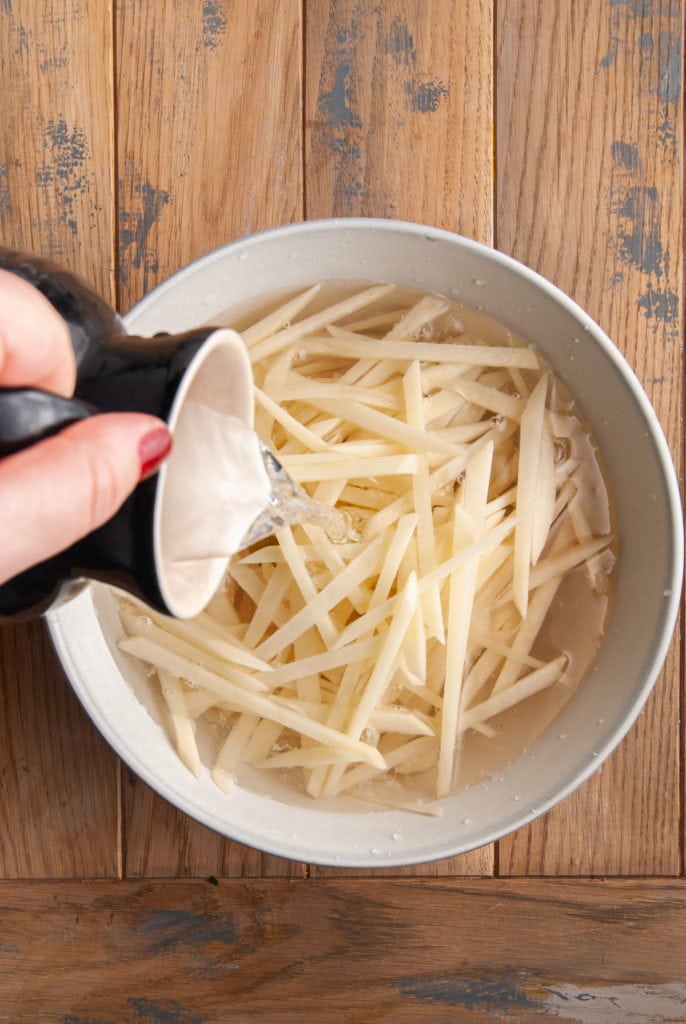 Get Your Soaked Fries as Dry as Possible
Try to remove as much water as you can after rinsing the potatoes.
I usually let them sit in a strainer for a couple of minutes before drying them with a clean kitchen towel.
Then, I spread them out on a baking sheet and use another clean kitchen towel to remove any excess water I missed.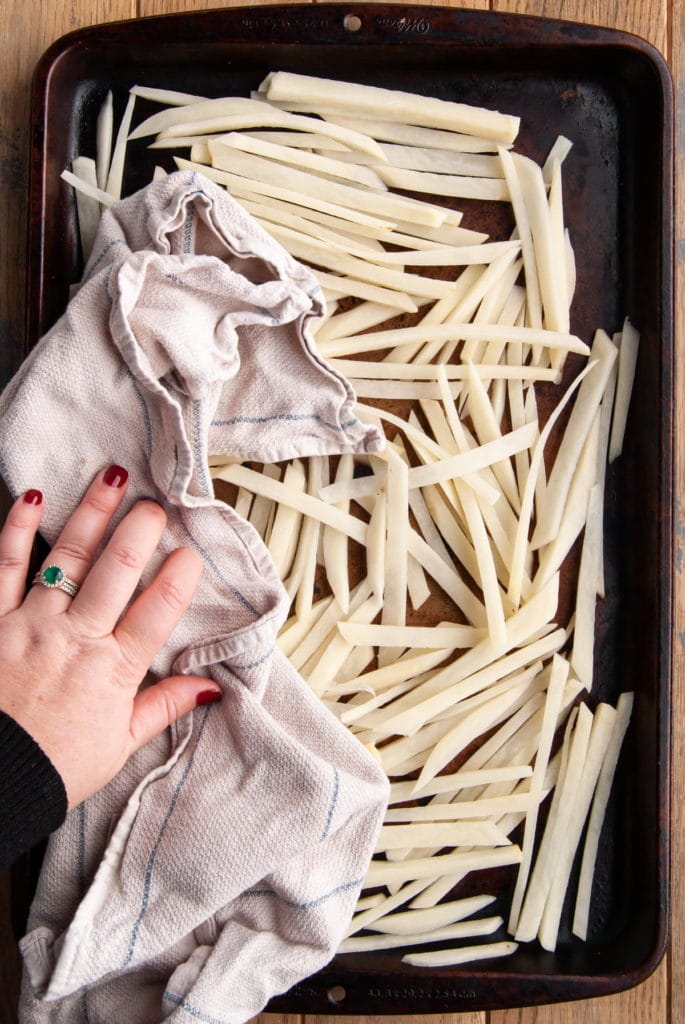 Coat Them with Olive Oil
Once you are confident that your fries are dry, spread them out evenly across a baking sheet and add the olive oil.
Use your hands to toss, ensuring that each fry is coated in the oil. Then, spread them back out on your baking sheet. It's important to not stack them on top of one another. Use two trays if need be.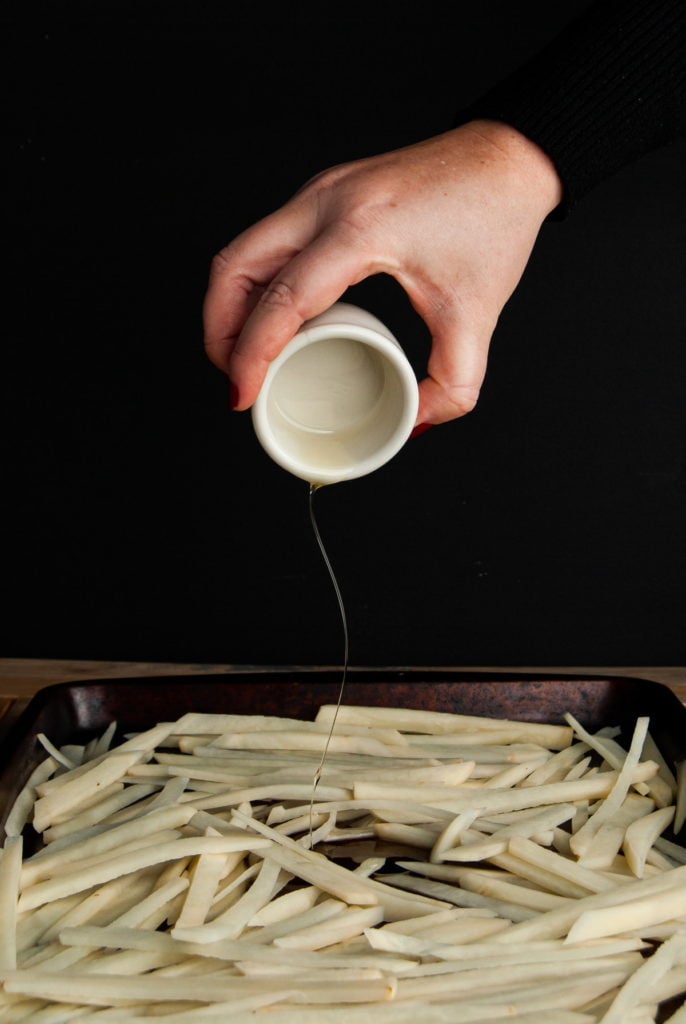 Toss Them Half Way Through
In order to get an even bake on the fries and get them crispy on all sides, make sure to toss your fries halfway through the baking process.
Use a spatula to flip and move them around on your baking tray. Again, make sure they aren't layered on top of one another before putting them back in the oven.
Green tip: Baking fries in the oven means no wasted oil from deep-frying! With an estimated 1.3 billion tons of food wasted annually on a global scale, it's important to keep the issue of food waste front of mind.
Blot and Salt Them
After removing your fries from the oven, use a paper towel to blot the fries, removing excess oil. This is important as we are adding truffle oil on top. We don't want them to be too crispy!
After blotting, sprinkle salt evenly over your french fries.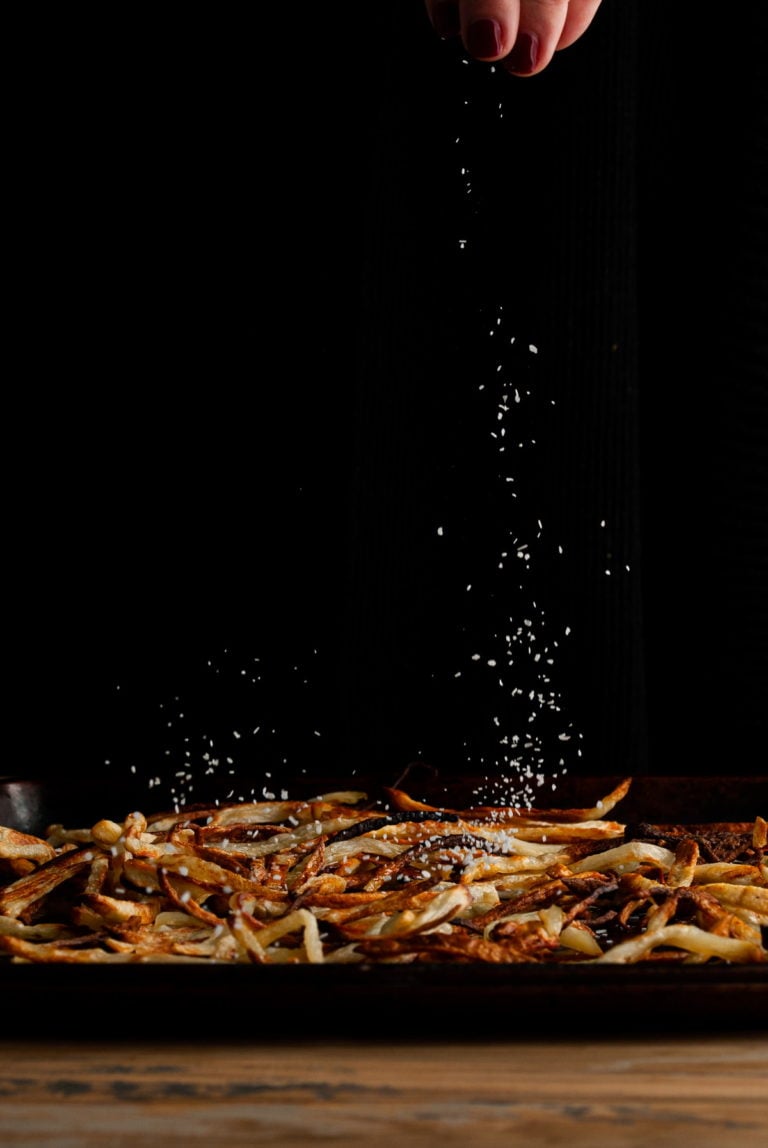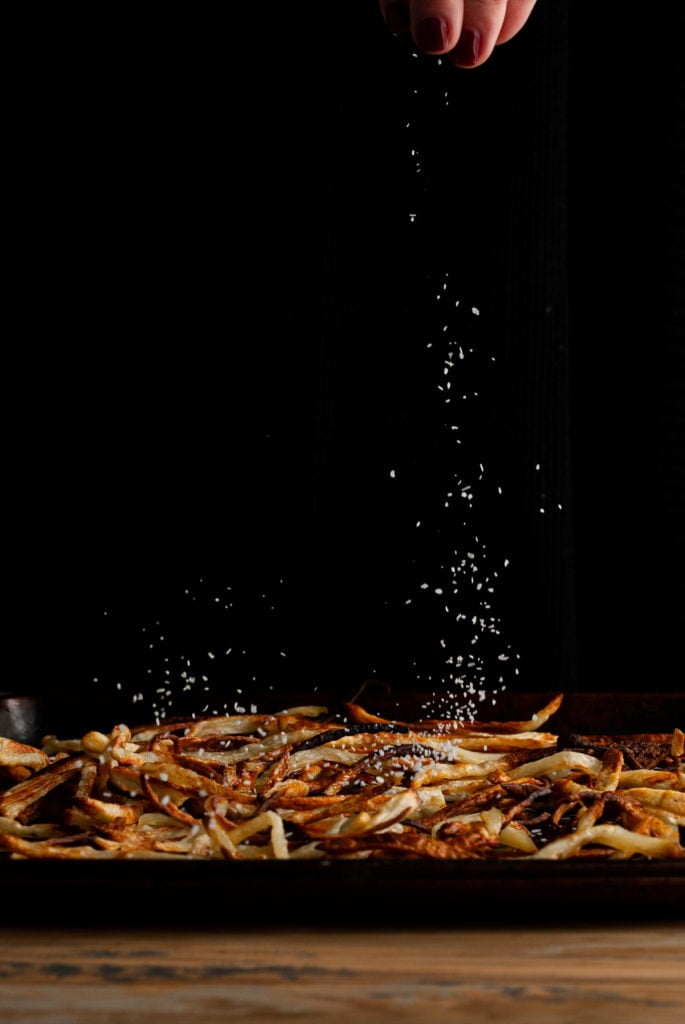 Air Fryer Option
Alternatively, you can opt to make these in the air fryer. This will eliminate the need to blot with paper towels.
To make these in the air fryer, bring your fryer up to 380°F and cook for 14-16 minutes, tossing halfway through. You'll know they are ready when they are crispy and golden brown.
Green tip: Paper products contribute to deforestation. Consider these bamboo paper towels! Bamboo naturally regenerates every few months, whereas trees cannot regrow once harvested.
Adding Your Truffle Oil
It's important to understand that truffle oil is a finishing oil, not a frying oil.
Cooking the fries in the truffle oil will burn off that truffle flavor, so we want to finish the fries with the truffle oil instead!
Once you've peeled, soaked, cut, baked (or air-fried!), and salted your fries, it's finally time for the aromatic truffle oil.
Simply drizzle it evenly on top and toss your fries to make sure eeach one has a little bit of truffle.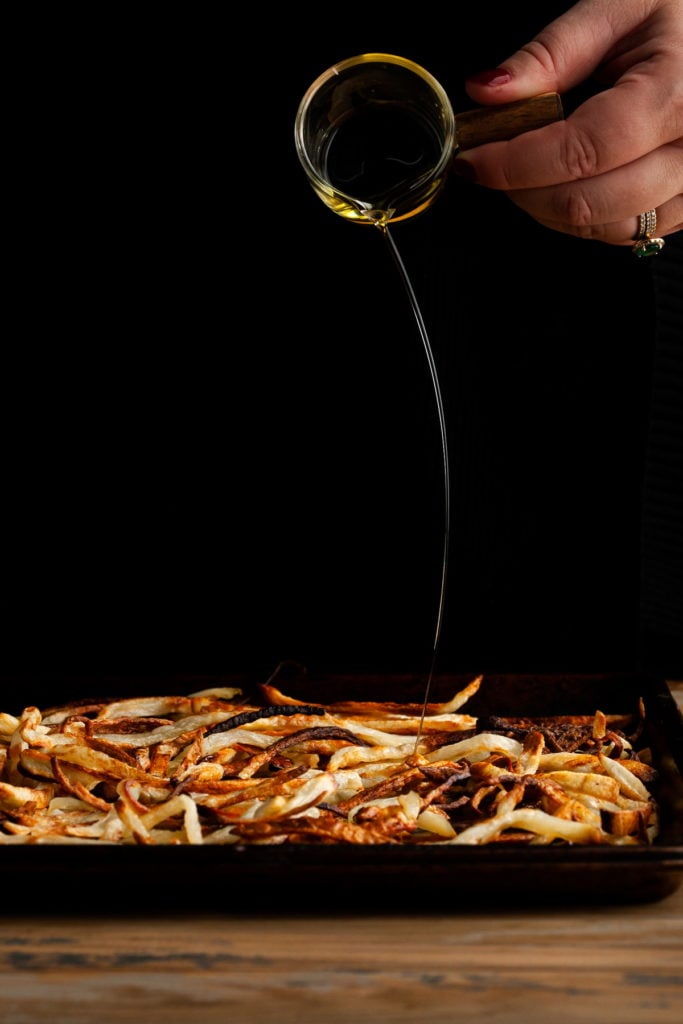 Hit them With Parmesan
I love to use freshly grated Parmesan for its more robust flavor. If you are a cheese lover like me, I highly recommend this handheld rotary cheese grater as pictured below.
Otherwise, you can use any shredded or grated parmesan. Shaved usually comes in too-large chunks for the thinness of your fries.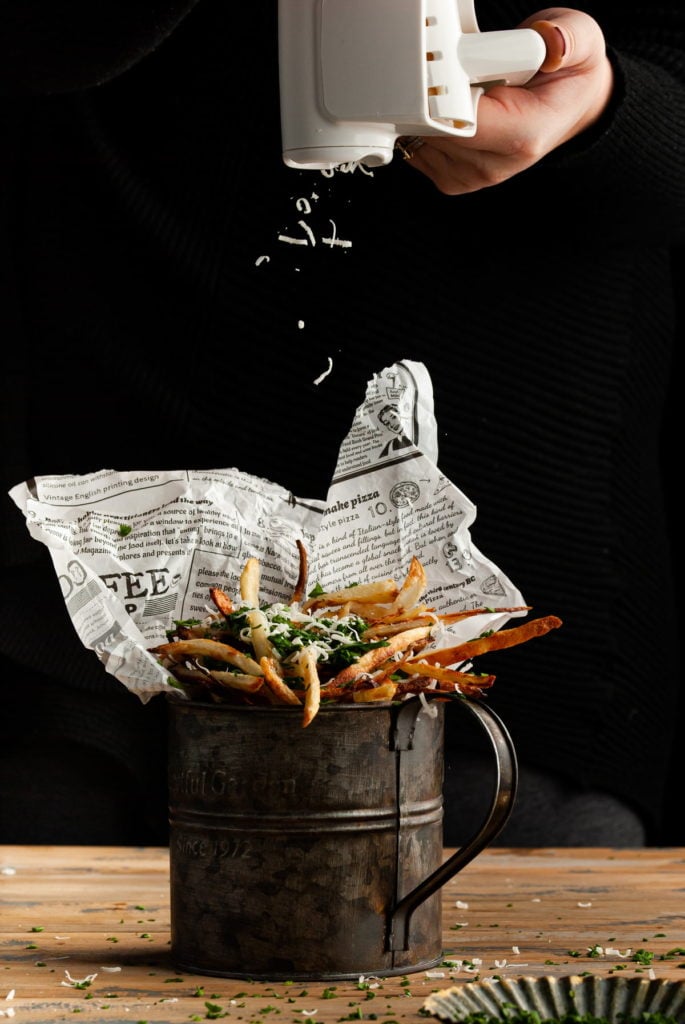 Finish with Some Freshness
Adding fresh parsley not only makes these fries more visually appealing but adds some freshness to an otherwise heavy treat.
Chop your parsley finely and sprinkle it on top of your crispy fries.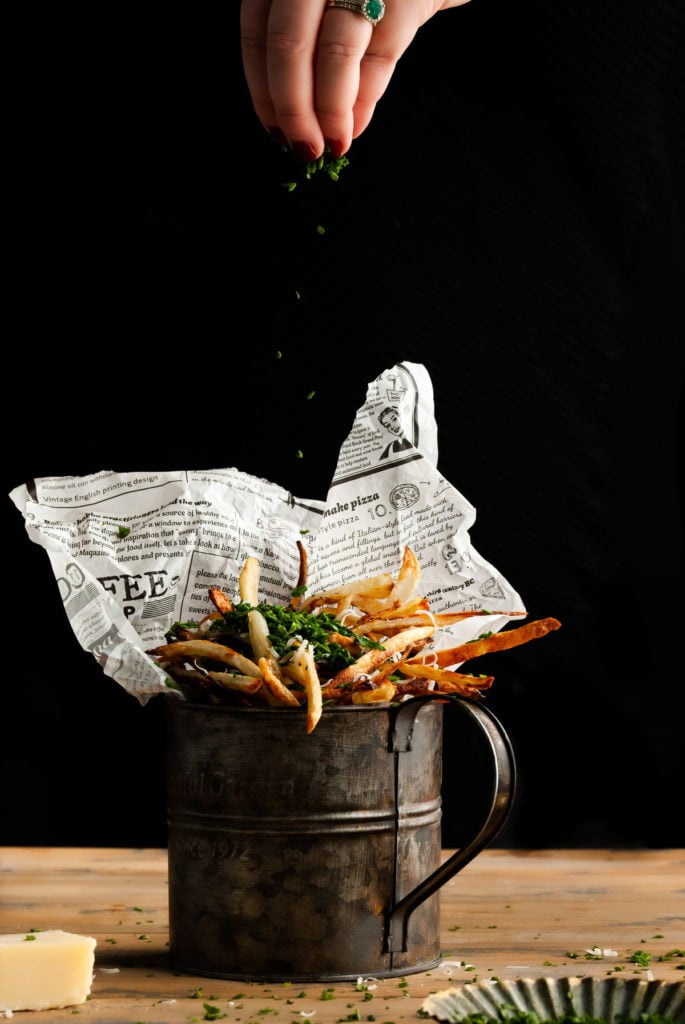 Should You Have Leftovers
These fries will last covered in the refrigerator for 3-5 days or in the freezer for 6 months. Reheat in your pre-heated oven at 425°F for 15-20 minutes until crispy. If frozen, they will need closer to 30 minutes.
In the air fryer, heat them until crispy (3-5 minutes) at 350°F.
Note that reheating the fries means you will lose that truffle taste. You may want to add more truffle oil to finish once they are reheated.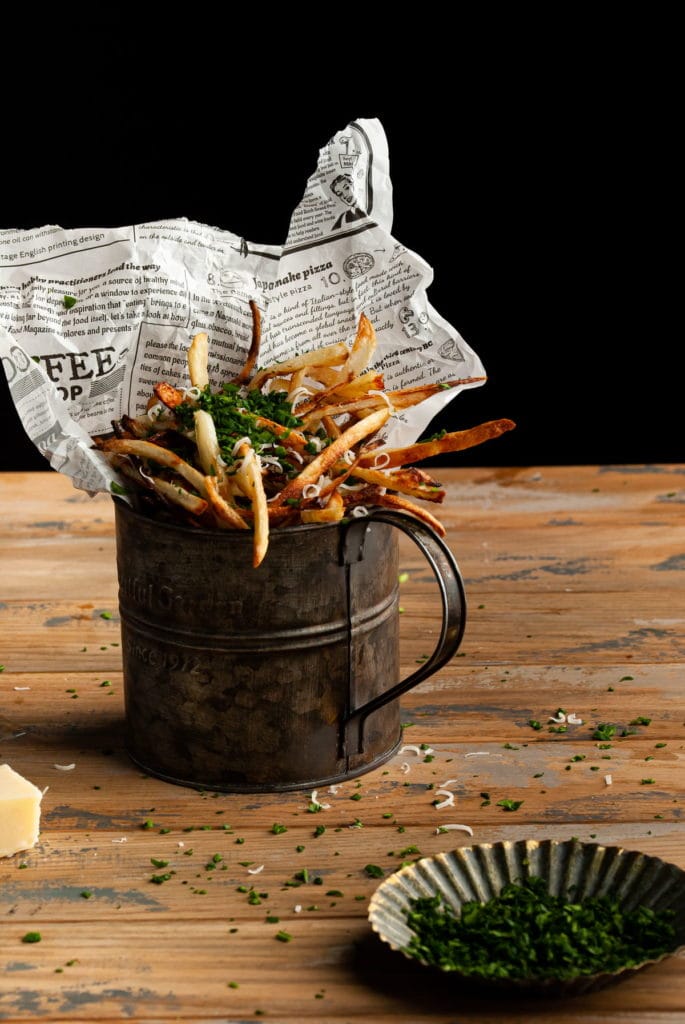 Parmesan Truffle Fries Frequently Asked Questions
---
---
What do Parmesan Truffle Fries taste like?
Truffle fries have the same consistency as traditional french fries. The flavor distinction comes from the use of truffle oil, which adds an additional earthy, gourmet taste.
What are truffle fries made of?
Truffle fries are crispy strips of potatoes coated in truffle finishing oil. They are either baked or deep-fried first, then drizzled with truffle oil for a gourmet touch.
Are truffle fries expensive?
Though truffle fries are made up of just a few ingredients, most of which are relatively inexpensive, it's the truffle oil that gives it a higher price point.
Truffles are very rare and hard to cultivate, giving them their higher price point. The good news is, their flavor is so distinct, that just a little bit goes a long way.
Why You Should Make these Parmesan Truffle Fries
---
---
They're crispy. All the crispy crunch you love of deep fried french fries without all the excess oil.
They're flavorful. The addition of truffle oil and parmesan add an earthy salinity that takes these up a notch.
They're aromatic. They are truly a unique french fry experience.
If you're loving these Parmesan Truffle Fries and are in search of more Happy-Hour worthy snacks, check out these Soft German Pretzels and Beer Cheese Dip.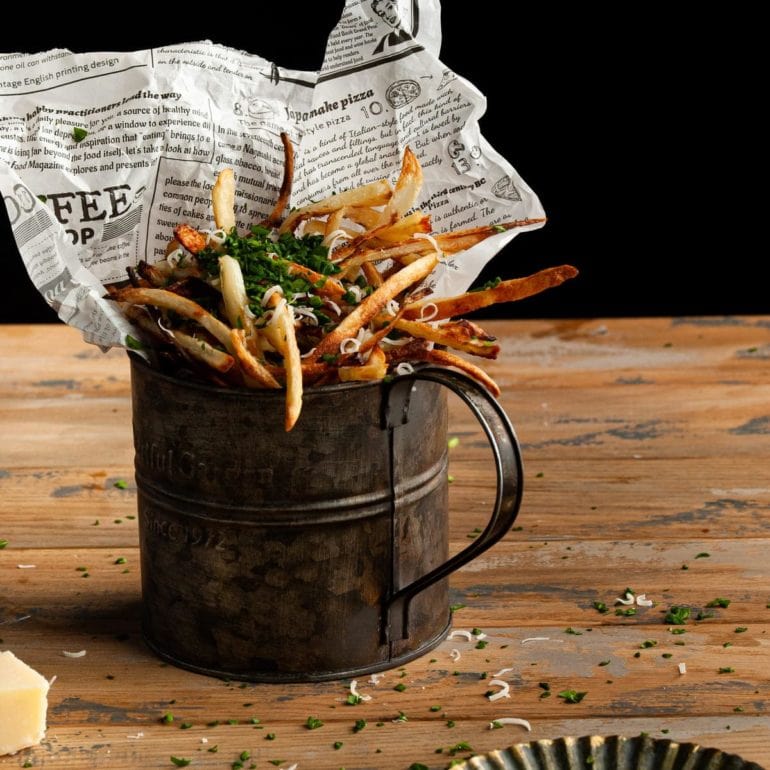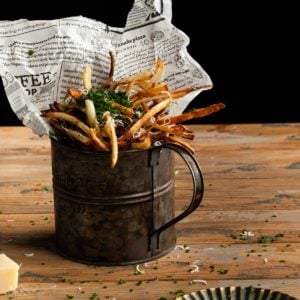 Parmesan Truffle Fries (Baked or Air Fryer)
PRINT
PIN
RATE
These Parmesan Truffle Fries can only be described as gourmet with each crispy fry coated in truffle and salty parmesan.
Ingredients
2

large

potatoes, Russet or Idaho

2

tablespoons

olive oil

½

teaspoon

salt

2

teaspoons

truffle oil

¼

cup

Parmesan cheese, freshly grated

1

handful

fresh parsley, finely chopped
Instructions
Peel your potatoes and cut them in half longways. Lay them flat on a cutting board, cut-side down. Then, cut into strips about 1/4-inch wide. Turn them on their side and slice again, making them roughly 1/4-inch wide on all sides.

Place your fries into a large mixing bowl and fill it with water, so that the fries are completely submerged. Allow them to soak for 30 minutes to 1 hour to remove excess starch.

Drain and rinse your fries. Use a clean kitchen towel to dry off fries as best as you can.

Cover fries with olive oil and use your hands to toss, making sure that the fries are evenly coated.
Baking Method
Preheat your oven to 425°F, and spread the fries out on a large baking sheet, making sure the fries are lined up next to one another and not stacked on top of each other.

Bake for 15 minutes, remove from the oven and toss with a spatula. Then, stick them back in the oven until they are crispy—about another 20-25 minutes

Add your truffle oil and salt immediately once removed from your oven and toss. Transfer the fries to a serving dish and add Parmesan and parsley.
Air Frying Method
Bring your fryer up to 380°F and add the fries to your basket, ensuring they are spread out and not stacked on top of each other. You may have to cook them in two batches for the best results.

Cook for 14-16 minutes, tossing halfway through. You'll know they are ready when they are crispy and golden brown.

Add your truffle oil and salt immediately once removed from your air fryer and toss. Transfer the fries to a serving dish and add Parmesan and parsley.
Did you make this recipe?
Let me know by leaving a recipe rating below, or by tagging @marleysmenu on Instagram.