Looking for an easy yet flavorful dinner? This Pesto Tortellini requires just 2 ingredients (yes, you read that right!) and packs a punch with notes of herbaceous basil, zesty lemon, and pungent garlic.
Plus, this simple meatless pasta recipe comes together in just about 15 minutes, making it both easy and quick to whip up (and scarf down!).
In this recipe you will learn how to perfectly cook your store-bought tortellini and how to use the pasta water to thin out the pesto to evenly coat it.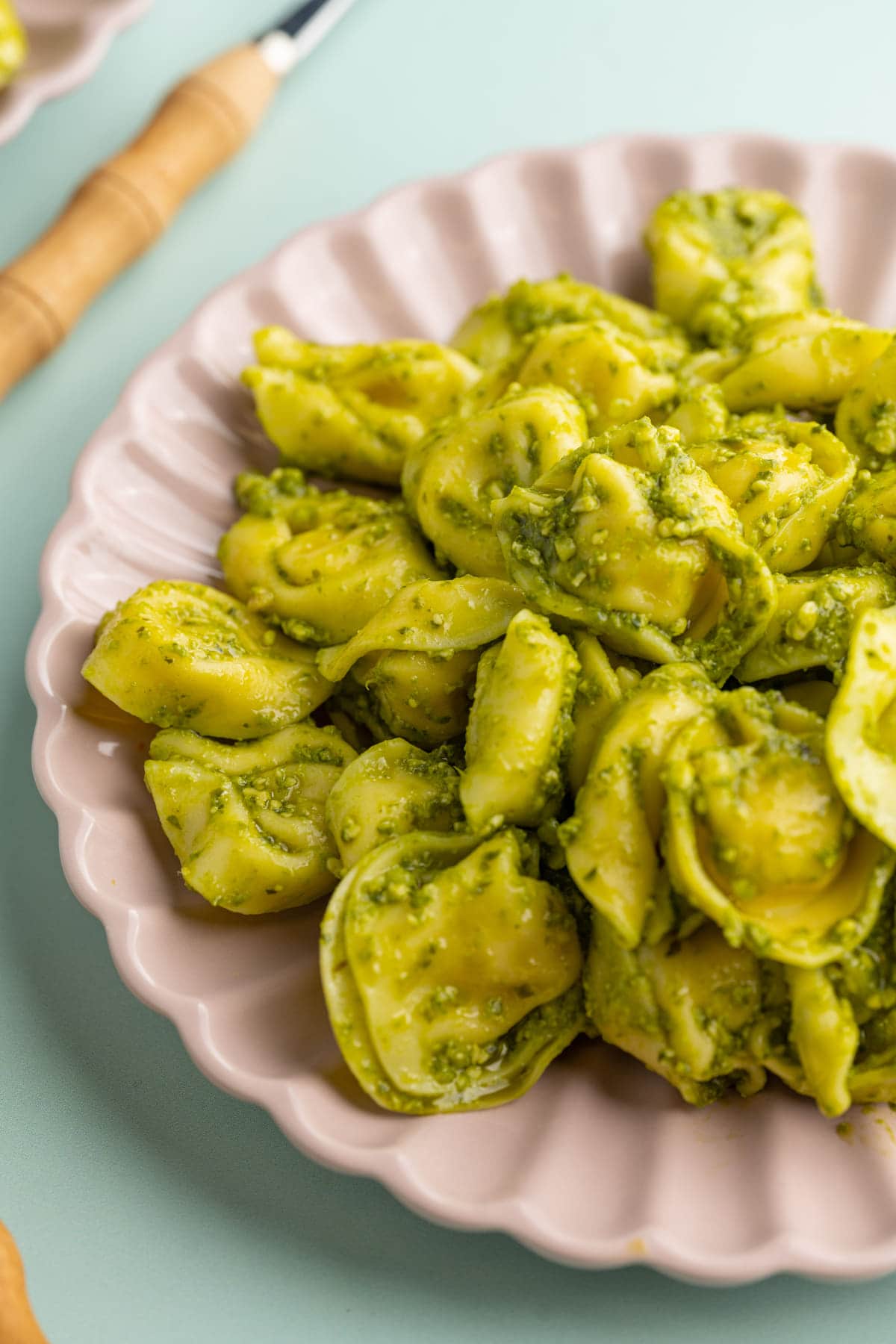 As an environmental scientist, I am always trying to make eco-conscious food choices. One great way to improve your ecological footprint is by finding ways to enjoy more meatless meals like this simple one!
Green tip: Industrial meat production has a huge impact on the environment, especially because of the amount of land it takes to sustain and its high amount of greenhouse gas emissions.
Pesto Tortellini Ingredients
---
Here's everything you need:
Cheese Tortellini. Fresh (preferred), frozen, or dried. All three will work for this recipe, but the type will affect your cooking time. Refer to the packaging to ensure you are boiling the tortellini for the right amount of time. Undercooked tortellini will have an unpleasant bite and overcooked can get mushy.
Pesto. You can buy it store-bought or make your own pesto!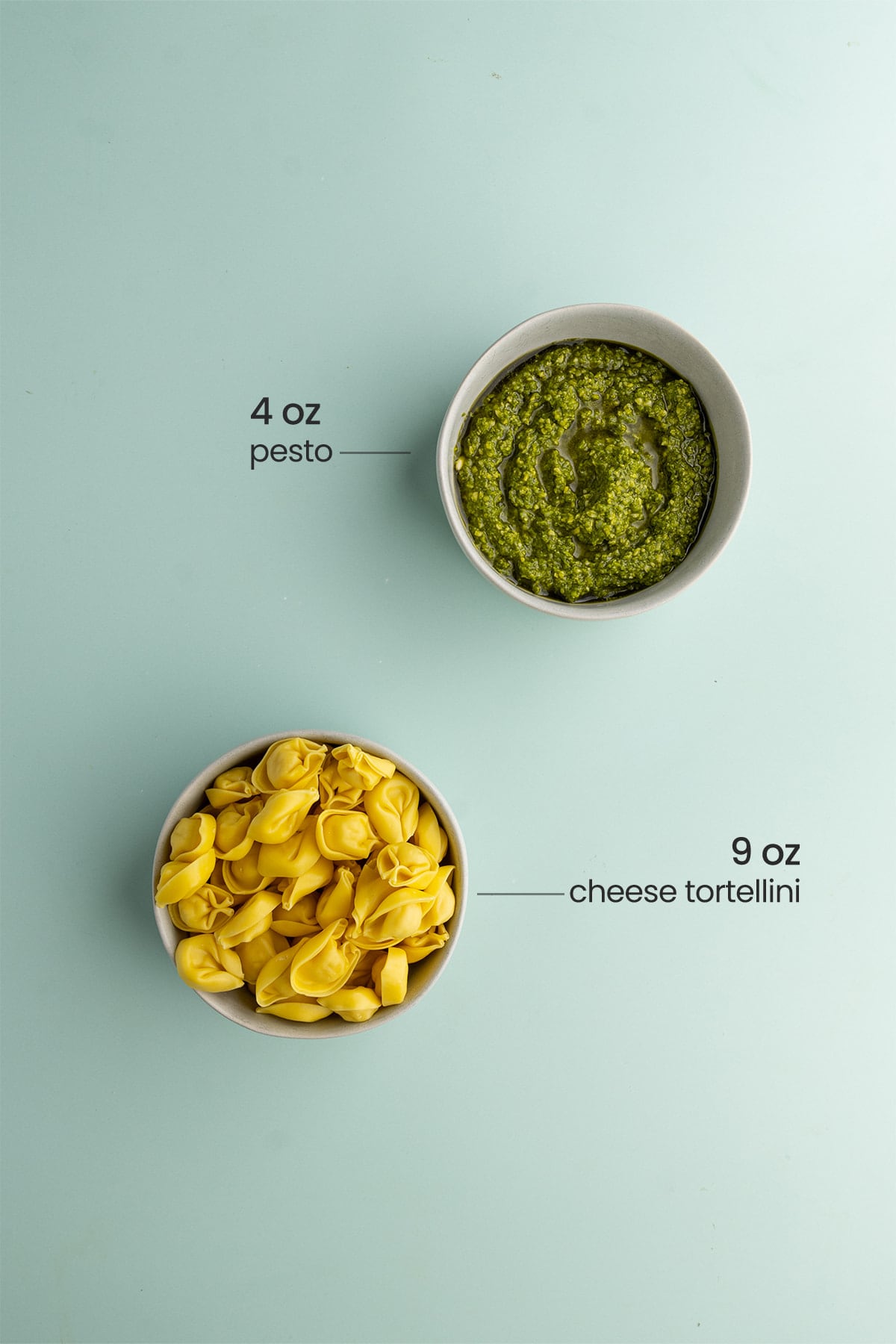 Tortellini with Pesto Tips and Tricks
---
How to Perfectly Cook Store-Bought Tortellini
First things first! Since this recipe is only two ingredients, we want to make sure we get those two ingredients right!
Let's dive into the art of cooking flawless tortellini! Begin the dance by bringing 10 cups of water to a boil. Now, brace yourself for a foodie revelation – hold the salt for now!
I know, some culinary purists might gasp, but hear me out! Store-bought pesto tends to bring a lot of saltiness to the party, so why overdo it? We're keeping it just right, and your taste buds will thank us later!
Embrace the subtle flavors and let the pesto shine without drowning in the brine. Your tortellini will be a delightful treat, tailored perfectly to your taste buds!
What's more, not only does skipping the salt make your tortellini perfect for pesto, but it also gives you a green thumbs-up opportunity! How, you ask? By not salting that pasta water, you've unlocked a secret power – the starchy elixir that nourishes your plants!
So, after you've cooked up those perfect tortellini, don't let that precious water go to waste. Save it, let it cool, and then shower your plants with this nutrient-rich goodness.
Mother Nature will thank you, and your plants will grow happier than ever! A win-win for both your taste buds and the environment!
Green tip: Don't waste your pasta water, use it to water your plants! So long as it's not salty, the starchy water helps fertilize plants and help them grow.
Once your water is boiling, carefully add your tortellini and give it a stir. Continue to stir it occasionally as it cooks to avoid it sticking together.
The pieces that stick together will remain undercooked and have an unpleasant bite.
For fresh (soft) tortellini, you'll only need about 2-3 minutes. Frozen usually cooks in about 5-6 minutes. For dried tortellini, you'll need 10-11 minutes. When in doubt, refer to the packaging for cooking times.
Conserve Some Pasta Water Before Straining
Oh, the secret of pasta water, a small yet mighty concoction that holds the key to pasta perfection! Before you bid your pasta farewell, work your magic with a heat-safe cup, like a trusty Pyrex measuring cup.
Gently scoop out some of that precious pasta water – about 1/4 cup should do, but hey, better safe than sorry, so I usually extract about 1/2 cup!
We will be mixing a splash of this starchy potion with your pesto pasta to loosen the pesto sauce and craft the dreamy consistency you crave. It's like culinary alchemy, turning a simple pesto pasta into a velvety, flavorful masterpiece!
Once you've conserved some of that pasta water, strain the rest and return the tortellini back to the pot (but keep it off the heat).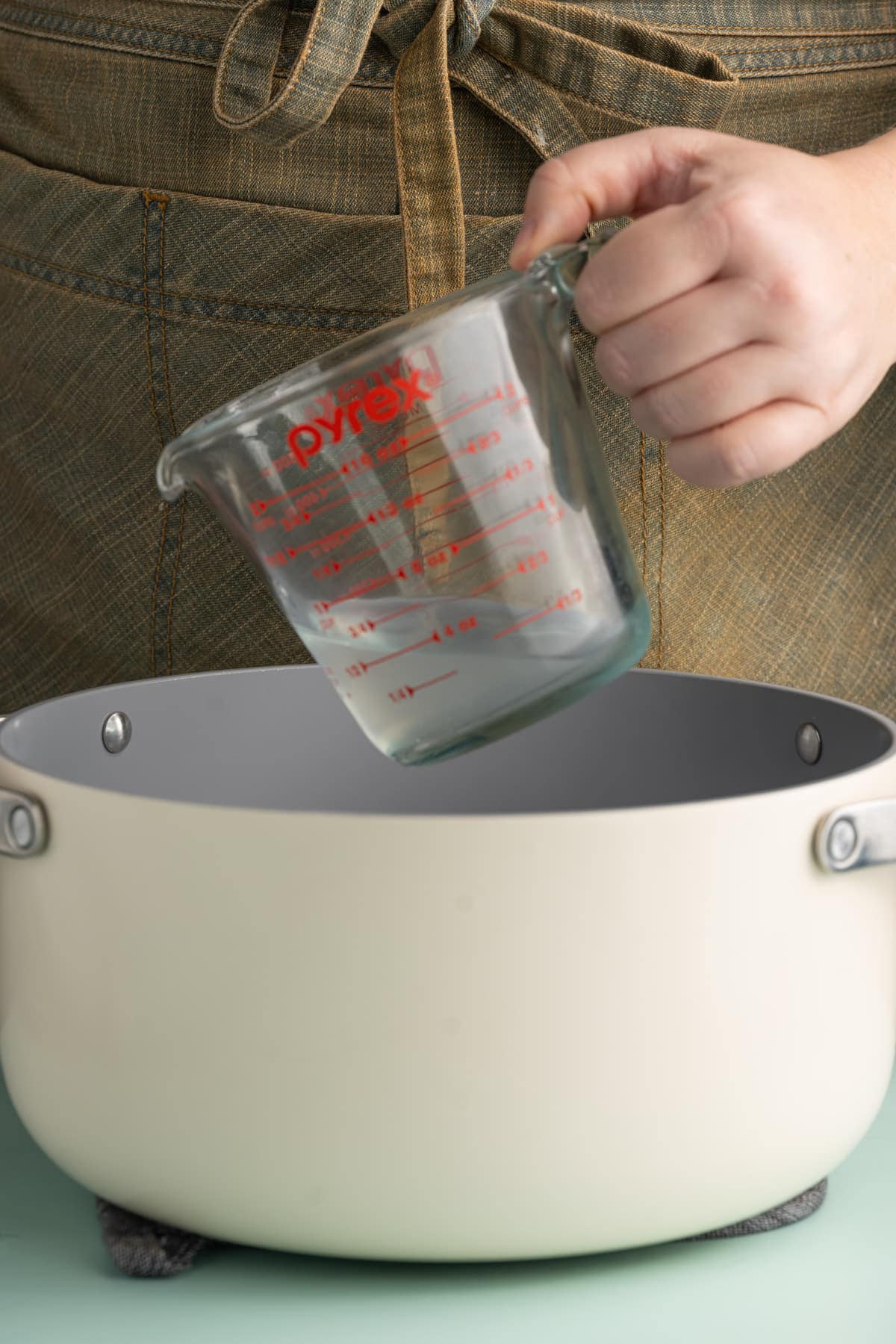 Mix the Pesto and Tortellini
With the tortellini back in the pot, it's time to add your pesto. Now depending on the pesto you're using, the amount you want may vary. Typically, about 4 ounces (approximately 1/2 cup) of pesto is just right, but wait!
When it comes to pesto, a dash of caution can make all the difference. Remember, you can always add more, but you can't subtract any! Like a culinary artist, gently paint the canvas of your pasta with just enough pesto to tickle your taste buds.
Taste as you go, and if the pesto party needs a bit more kick, add to your heart's content! But once that line is crossed, there's no turning back.
Start with just just a dollop of pesto, followed by about 1 tablespoon of the pasta water to help thin it out and evenly distribute it.
If it need more, keep adding. Pesto, then water, pesto, then water, stirring in between, until you get your pesto to tortellini ratio just right!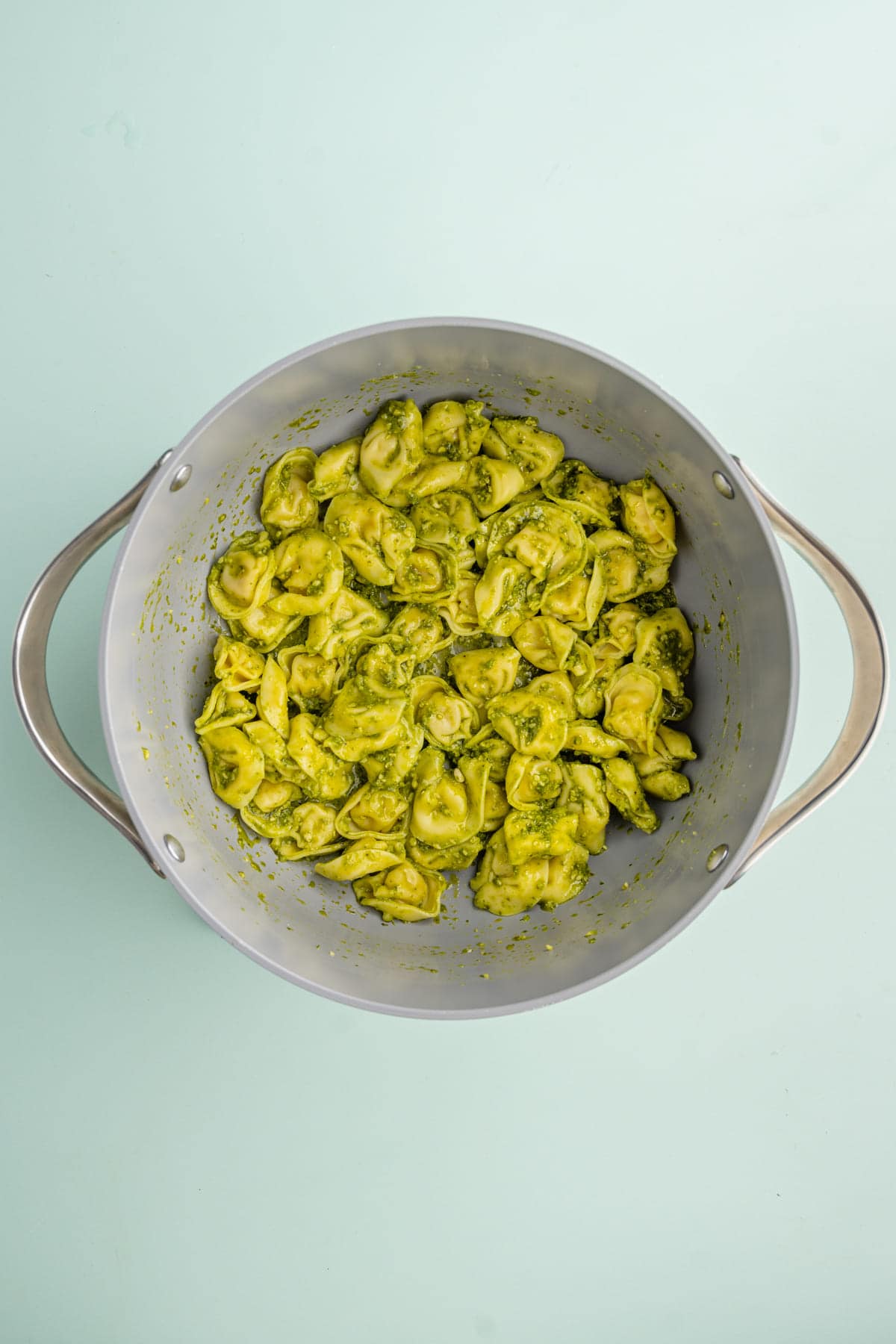 How to Serve Tortellini with Pesto
Embrace the versatility of this delightful dish, because it can be served either hot or cold! Whether you prefer a warm embrace or a refreshing chill, the choice is yours to make.
Now, if you're feeling fancy and want to elevate your tortellini with pesto, check out these accompaniments, fit for a pasta feast of epic proportions:
Freshly Shaved Parmesan. Grate some nutty, luscious Parmesan over your pasta to create a symphony of flavors that'll leave your taste buds begging for an encore!
Sweet Cherry Tomatoes. Add a pop of vibrant red to your plate with these juicy gems. Their sweet tanginess will dance harmoniously with the pesto, turning your pasta into a visual and tasty delight!
Zesty Lemon Zest or Lemon Juice. Want to awaken your taste buds? A sprinkle of lemon zest or a squeeze of lemon juice (or both!) is the way to go! Its bright, citrusy notes will add a refreshing twist to your pasta party.
Crunchy Cucumber Slices. For a cool, refreshing crunch, slice up some cucumbers and let them join the fun. They'll bring a delightful contrast, making each bite a textural delight!
Chopped Nuts. Pine nuts, cashews, walnut, pecans, macadamia nuts, Brazil nuts — I could go on! Pretty much any nut will add an awesome crunch to this dish. Just be wary if you only have salted nuts on hand, you don't want to make your dish too salty!
And if you want to add some protein, may I suggest:
Pesto Butter Salmon. Prepare for a combination of flavors that's fit for royalty! Tender salmon, generously coated with the aromatic pesto butter, will grace your pasta with its rich, buttery goodness. Each bite is like a symphony of tastes, where the delicate fish and vibrant pesto waltz in perfect harmony.
Pecan Crusted Halibut. Get ready for a tantalizing texture twist! Halibut, delicately crusted with pecans, brings a delightful nutty crunch to your pasta. The mild sweetness of the fish is brightened by the addition of honey mustard, and complements the herbaceous pesto, creating a melody of flavors that'll leave you wanting more.
Blackened Mahi-Mahi. Hold on tight for a burst of boldness on your plate! The spicy blackened Mahi-Mahi will ignite your taste buds with its fiery charisma. Amidst the sizzle, the pesto will lend a cooling touch, balancing the flavors and sending your palate on a thrilling culinary adventure.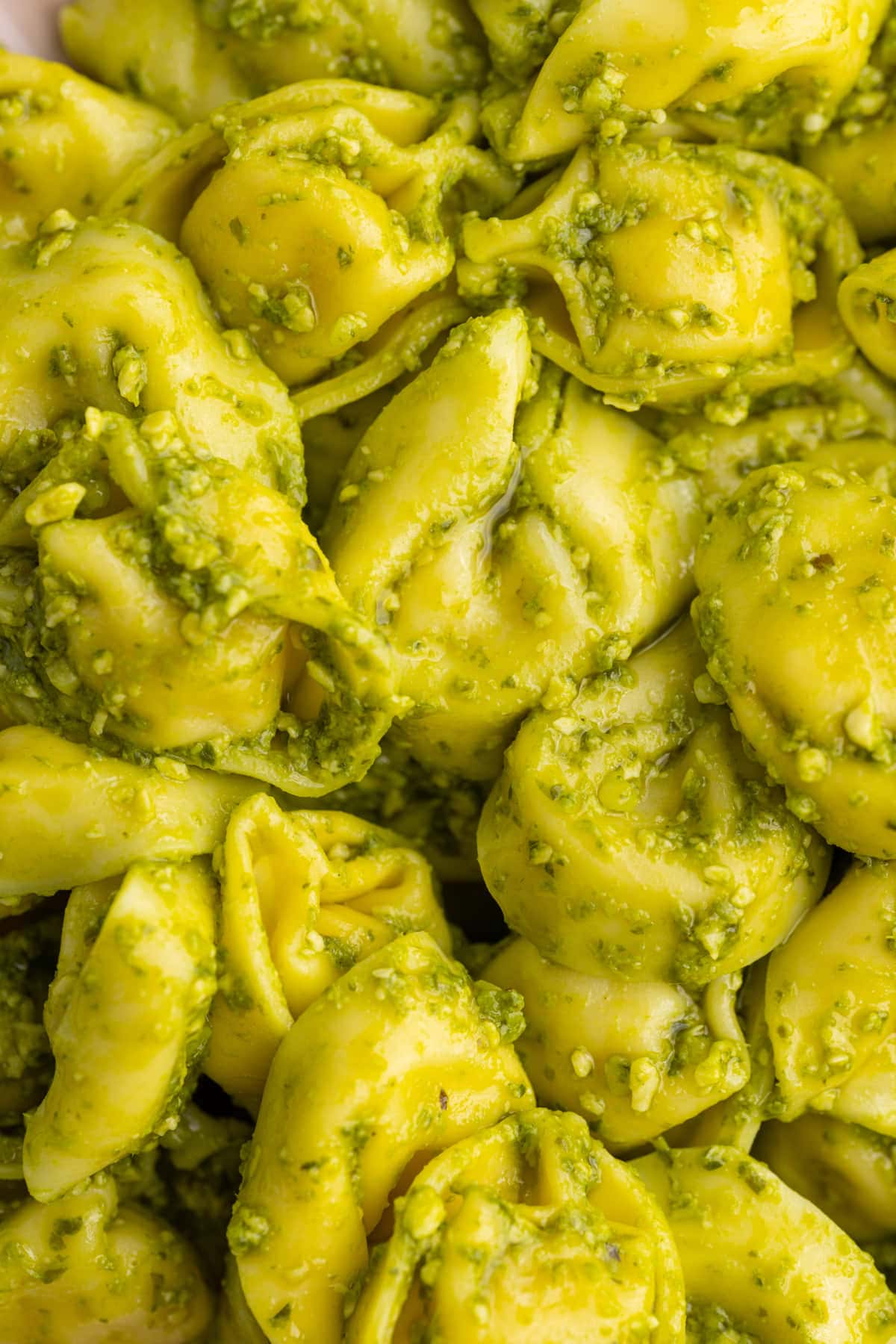 How to Properly Store and Reheat Pesto Tortellini
Leftovers, the gift that keeps on giving, deserve the royal treatment. Pop them into an airtight container, and they will stay fresh and delightful for 2-3 days, awaiting your return!
Now, here's the golden advice: embrace the cold! When it's time to indulge in those delightful leftovers, consider eating it right out of the fridge. Heating the pesto too much can actually mellow out the flavors.
Enjoying those leftovers cold, allows the pesto to retain its full splendor. Each forkful will be a delightful reminder of the magical feast you shared before. Savory nostalgia, preserved in a simple container!
If you do insist on reheating it, grab a baking dish and toss in your leftover pesto pasta. Let them snuggle up together and cover the dish with aluminum foil like a cozy blanket to keep the heat in.
Pop it in the oven, preheated to 350°F, and let the pasta party for 15-20 minutes. Alternatively, you can fry it up over medium heat, or microwave on high for about 2-3 minutes per portion.
Green tip: Did you know that 50% of food waste happens at home? Reduce your contribution to food waste by properly storing and reheating your leftovers to enjoy!
Pesto Tortellini Frequently Asked Questions
---
What side dishes go with pesto tortellini?
Pesto tortellini is absolutely brimming with flavor and goes well with a number of different sides! Here are some of my favorites:
Want to sharpen your kitchen skills?
Why You Should Make this 2-Ingredient Pesto Tortellini
---
It's incredibly easy. I mean, truly, does it get any easier than 2 ingredients?
It's super quick. Depending on the type of tortellini you use, you can whip this up in anywhere from 5 to 15 minutes!
It's packed with flavor. All you need is a little fresh pesto and your taste buds are happy!
If you're loving this Pesto Tortellini and want more super-quick dinner options, check out these 15-Minute Spicy Garlic Noodles and this One-Pot Mushroom Spinach Pasta with White Wine.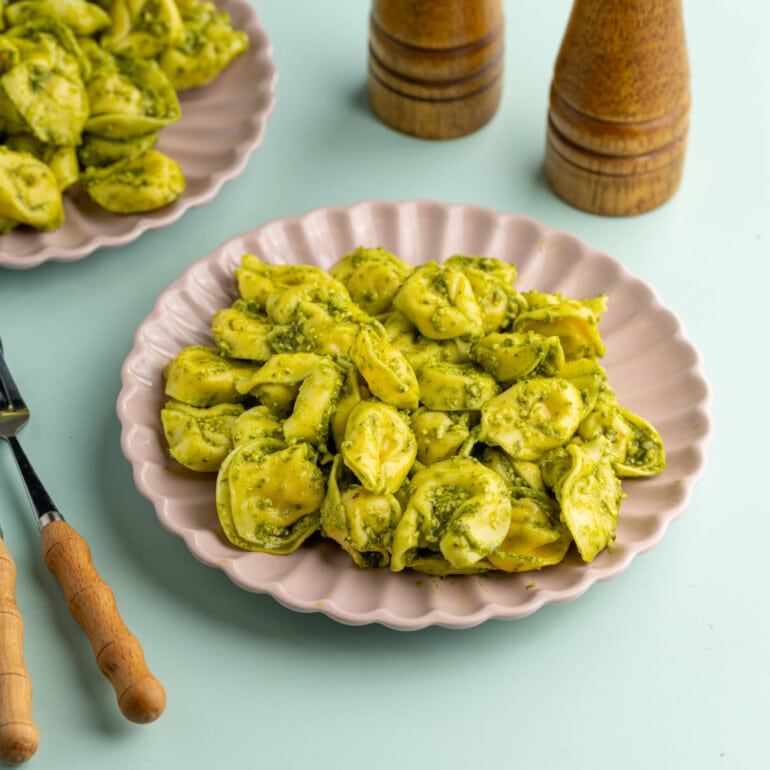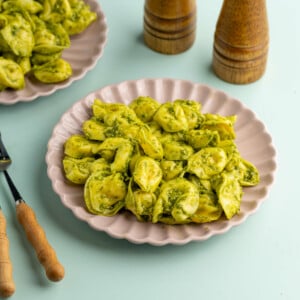 2-Ingredient Pesto Tortellini (One Pot)
PRINT
PIN
RATE
This Pesto Tortellini brings tons of savory, herbaceous, and zesty flavor with just 2 ingredients, 15 minutes, and one pot!
Ingredients
9

ounces

Cheese tortellini

(fresh, frozen, or dried)

4

ounces

pesto

(4 oz = approx. ½ cup)
Instructions
In a large pot, bring 10 cups of water to a boil.

Once boiling, add tortellini and gently boil. For fresh, boil 2-3 minutes, for frozen, boil 5-6 minutes, for dried, boil 10-12 minutes. Refer to instructions on packaging for best results.

Use a heat-safe container (I use my Pyrex measuring cup) to extract about ½ cup of pasta water. Then, strain the tortellini and add it back to the pot (but keep off of heat).

Add about ¼ cup of pesto to the pot with the cooked tortellini, followed by about 1 tablespoon of conserved pasta water. Stir to coat. Then, continue to add pesto and pasta water, alternately, until you are satisfied with the consistency and flavor. *

Serve hot or cold. Enjoy!
Pro Tips
*The amount of pesto you use will vary depending on the type of pesto you use. I find that 4 ounces is perfect for my homemade pesto, but it's better to start with less and add more as needed, taste testing in between!
For more vegetarian pasta options, check out this list of Hearty Meatless Pasta Meals. 
For more recipes with pesto, check out this list of Best Pesto Recipes!
Did you make this recipe?
Let me know by leaving a recipe rating below, or by tagging @marleysmenu on Instagram.