Looking for a quick, easy, and delicious meal to whip up that has maximum flavor but minimal cleanup? This One-Pot Vegan Pasta with Tomato Sauce is here for you.
Loaded with flavor and satisfying texture, you won't believe how easy this dish is—to cook, clean, and gobble up! Plus with just 10, easy-to-find ingredients and endless options for add-ins, this recipe will become your go-to any day, any time dish.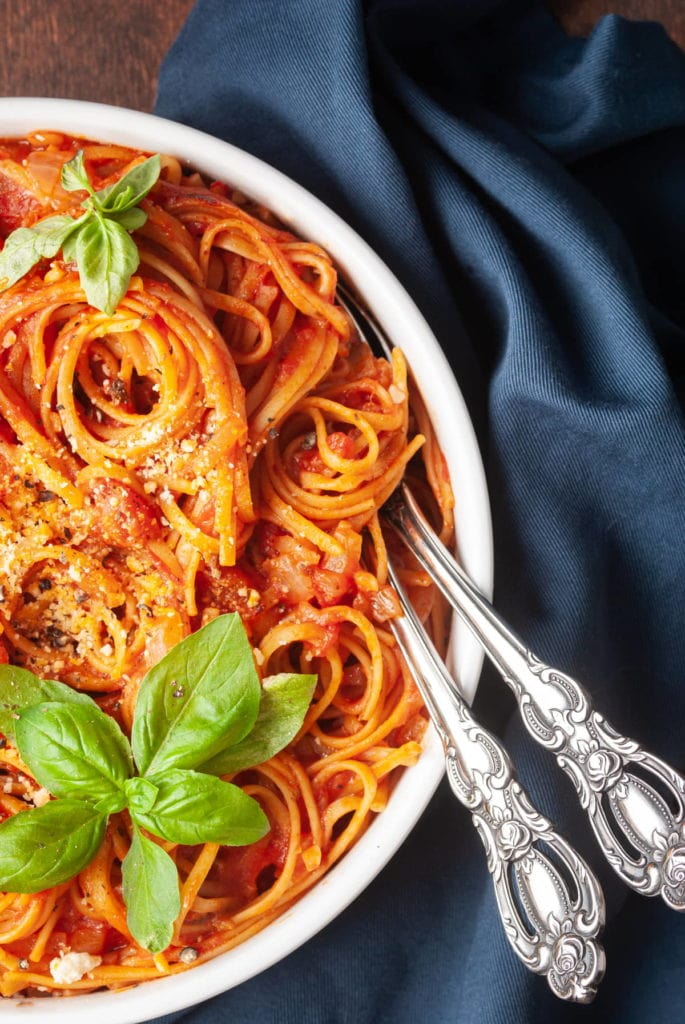 As a busy mom and environmental scientist, One-Pot recipes are my absolute favorite! Less clean-up means we save on both time and water! Win, win.
Green tip: Speaking of cleanup, if you have a dishwasher-use it! Comparing dishwashing to handwashing, using an efficient dishwasher uses 1/6th the amount of water to get your dishes clean!
And with less than ten ingredients and less than 30 minutes, this vegan one-pot pasta recipe just ticks all the boxes.
One-Pot Vegan Pasta Tips and Tricks
---
---
Use a Large Saucepan or Shallow Pot
The best thing about this dish besides the taste and how quickly it comes together is the fact that it only requires one pot. Look for a large saucepan or shallow pot for the best results!
I use my trusty, toxin-free and sustainable Always Pan (use code: marleysmenu for 10% off!) for this dish and, well, pretty much everything, if you are looking for the perfect anytime pan!
Aside from your one pot, here's what else you'll need:
Cook Your Onion First
Before adding your pasta to cook in the pot, we want to cook off the onion until it's translucent and fragrant.
This helps the flavor from the onion integrate seamlessly into your pasta and sauce and gives it a nicer texture.
Dice your onion and add it to the pan with olive oil over medium heat for 5-7 minutes, until it looks like this: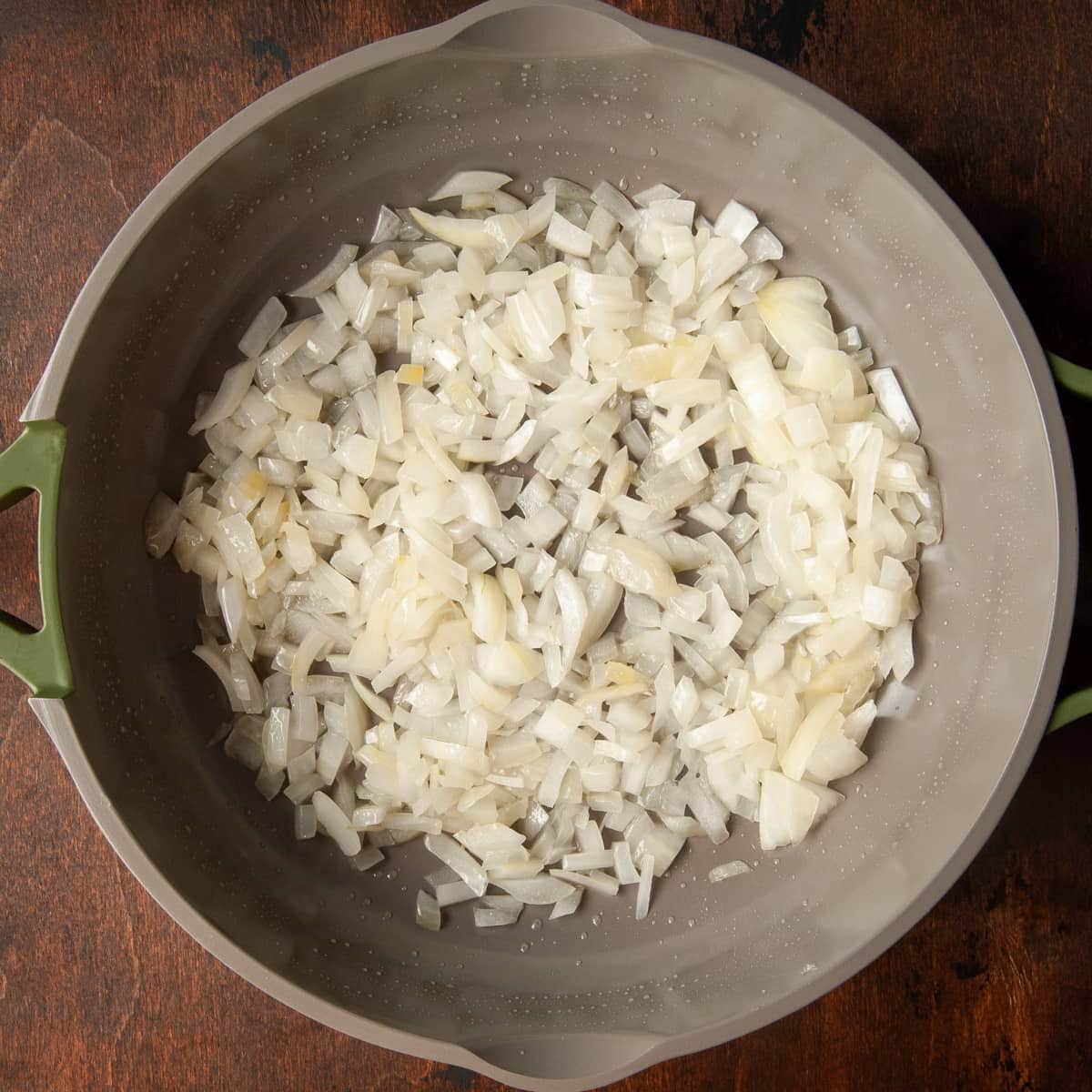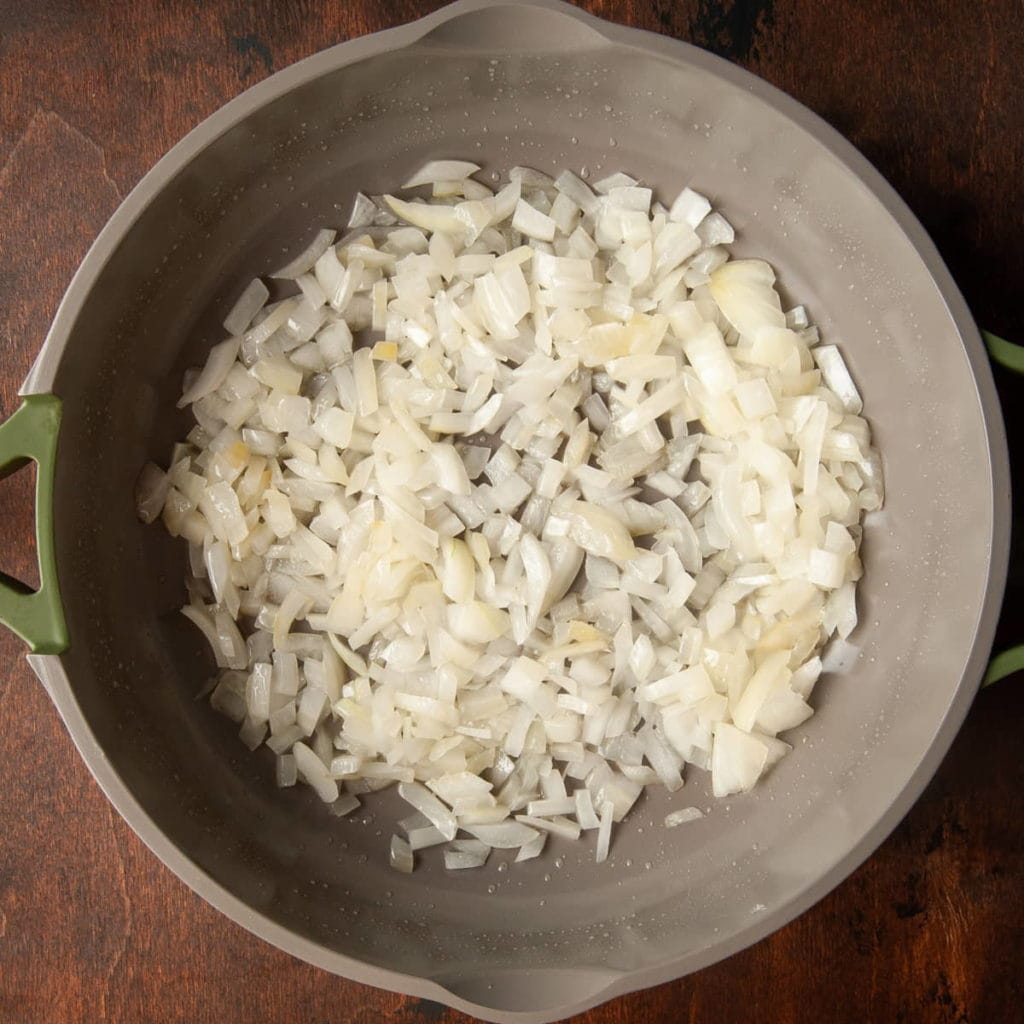 Snap Your Pasta in Half
Once your onion is cooked, you can add the rest of your ingredients to your saucepan. I find that breaking your linguine in half makes it easier to fit nicely into the pan.
We want all the pasta to lay flat on top of the onion, so it cooks evenly. I just use my hands to snap the pasta right down the middle.
Add it All To The Pot
Add your pasta and water to the pan first, and then the rest of your ingredients. Chop half of the basil and add it to the pan, but save the rest to garnish your dish at the end.
It's best if your garlic is minced so it's cooks nicely into the sauce.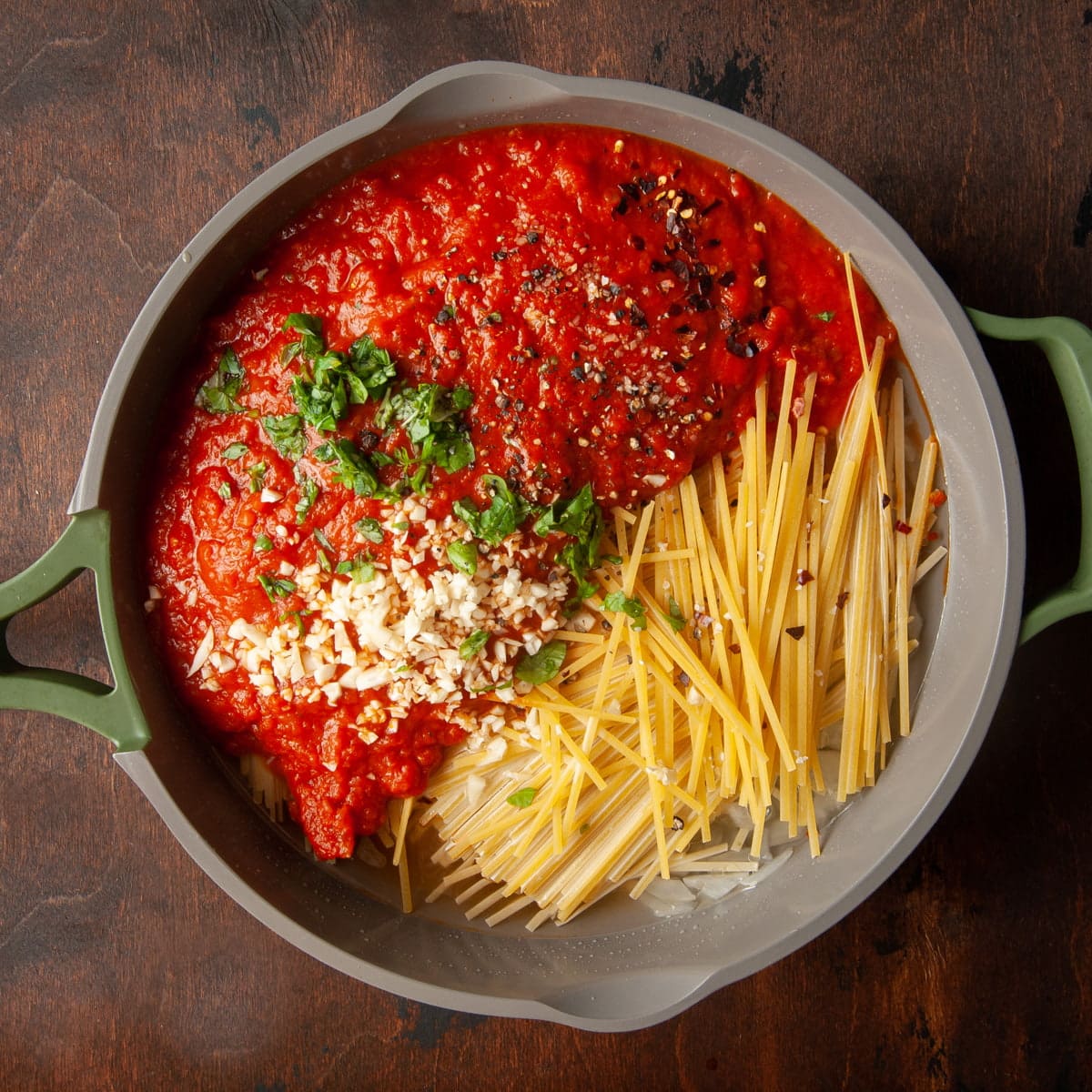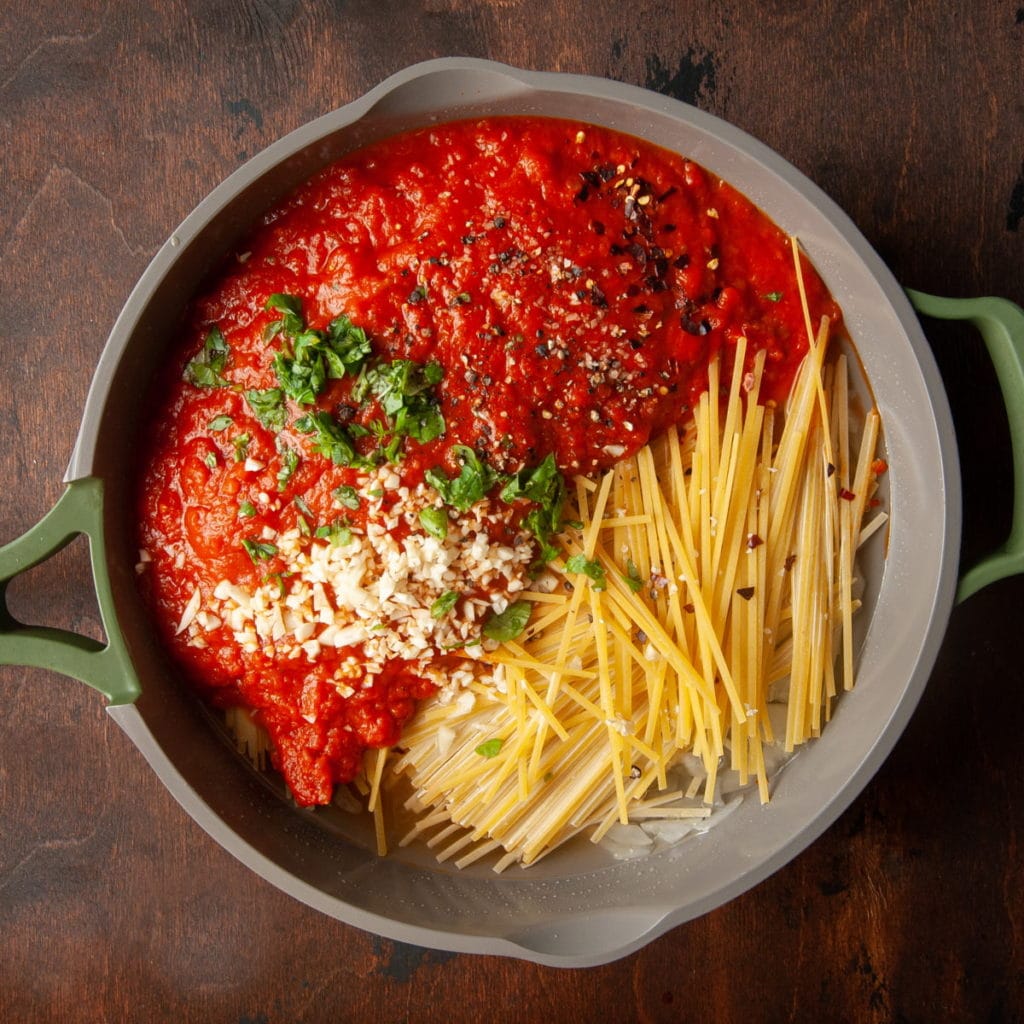 Cover It
Cover your saucepan or pot and bring your heat up to high. Cook for 12-14 minutes, stirring occasionally. Take a little taste test after 12 minutes.
You want your pasta al dente—or maybe even a little bit under. It will continue to cook once you remove your lid, so just keep that in mind.
Green tip: Pasta is a great starch option carbon-footprint wise! Manufacturing is a relatively less intensive process than most other starches, and its long shelf-life means you're less likely to waste it!
Then Uncover It
Once your linguine is al dente, remove the cover, reduce heat to a light simmer and cook uncovered until any excess liquid cooks off and you reach your desired sauce consistency.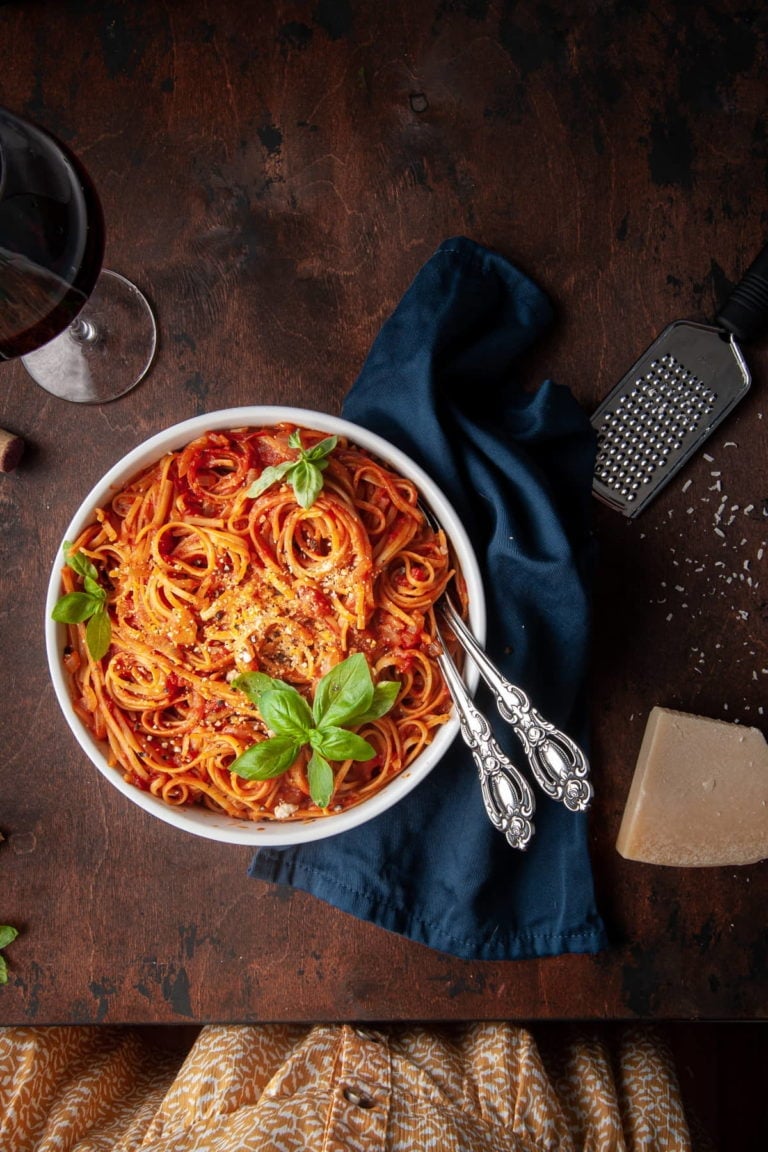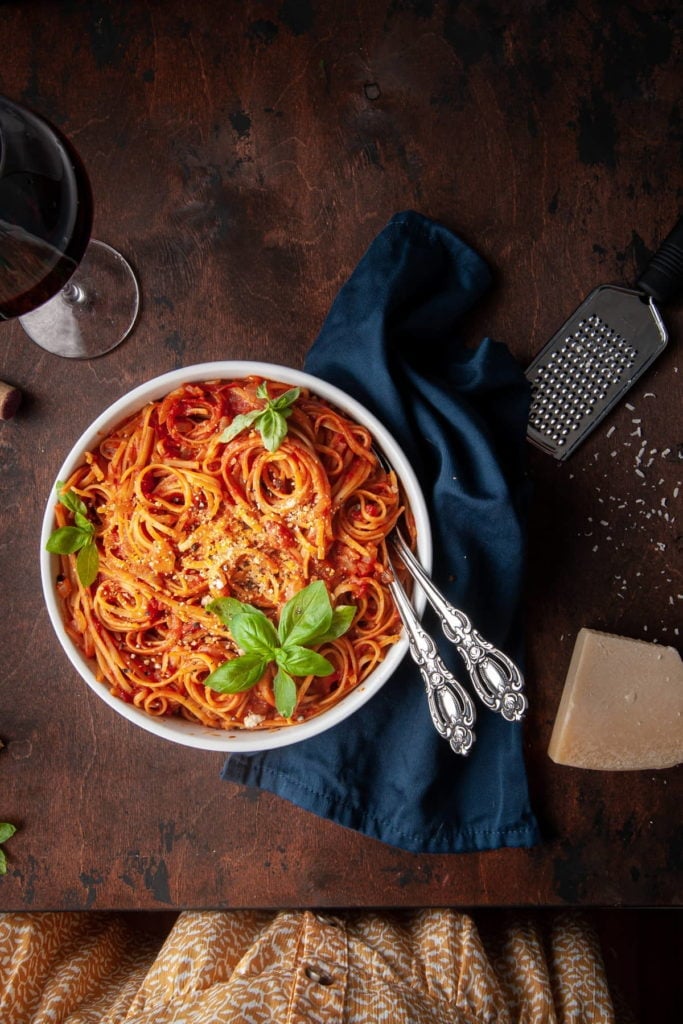 Choosing Your Sauce
To put it simply, use your favorite!
Use a jarred sauce that you typically enjoy rather than a canned tomato puree. You'll want a tomato sauce or marinara sauce that is delicious on its own.
Sure, we are adding flavor-enhancers with the onions, garlic, and spices, but starting with a great base is key!
I use Rao's Tomato Basil Sauce with great success, but your go-to will work best for you!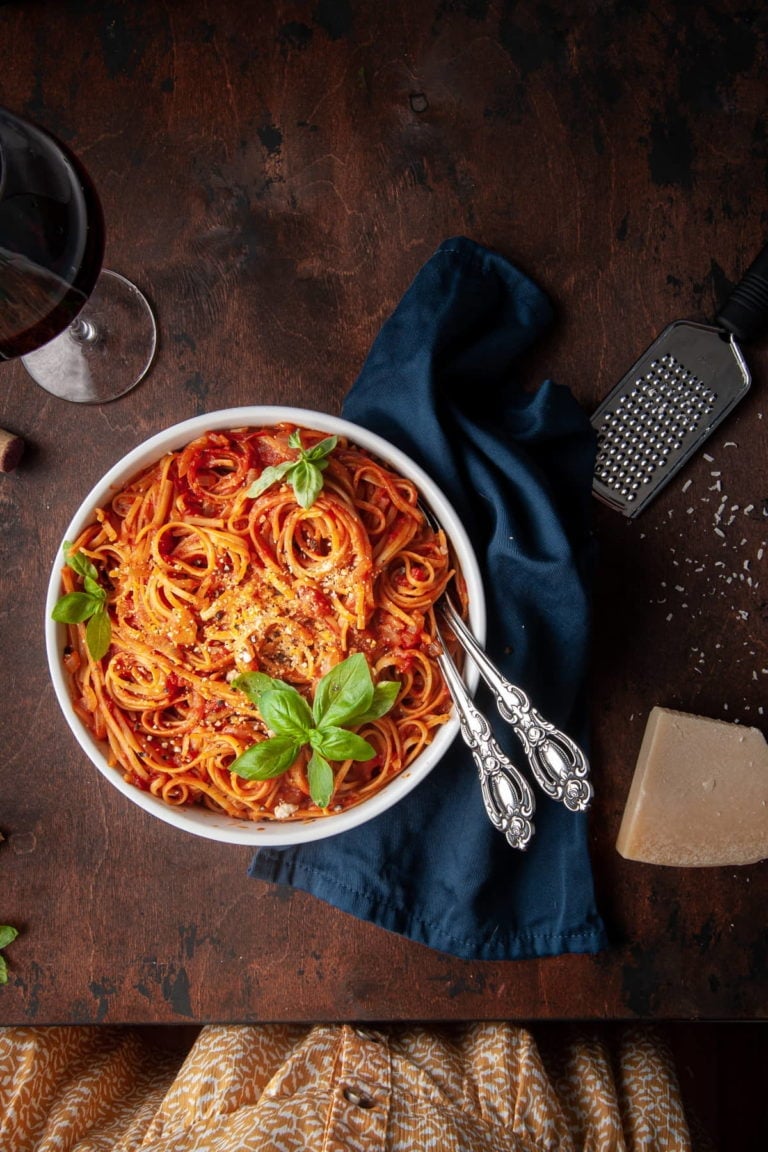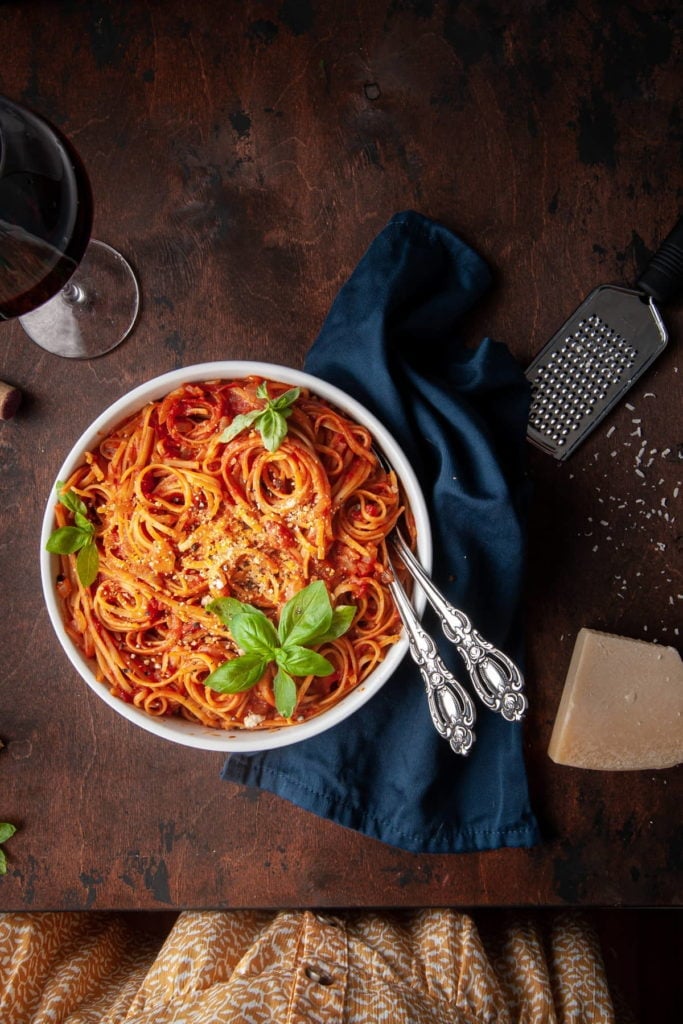 Make It Your Own
I kept this recipe super simple so you can use it as a base for your favorite add-ins. Think seasonal. Most veggies and greens taste absolutely delicious in this one-pot pasta recipe.
Whichever veggies you choose to add, chop them up and cook them with the onions in step 2.
Some add-in ideas that have been tested and approved are arugula, spinach, squash, mushrooms and zucchini. But make it your own! I'm confident your favorite veggies will fit right into this recipe.
Green tip: Eating seasonally is one of the best (and most delicious) ways to support local and decrease your carbon footprint. Local foods have less associated transportation costs and fuel emissions. Check which veggies are in season in your area with this Seasonal Food Guide.
Tested Substitutions
You can use spaghetti or fettuccine in place of linguine. Just bear in mind the cooking time may vary. Check it after 12 minutes and then watch it close.
I kept this recipe vegan and garnished it with vegan Parmesan. I used the Violife wedge and grated it on top. You can also opt to garnish with nutritional yeast or dairy Parm if you have that on hand.
But quite honestly, this vegan pasta doesn't even need the extra "cheese"! It's easily just as delicious as is.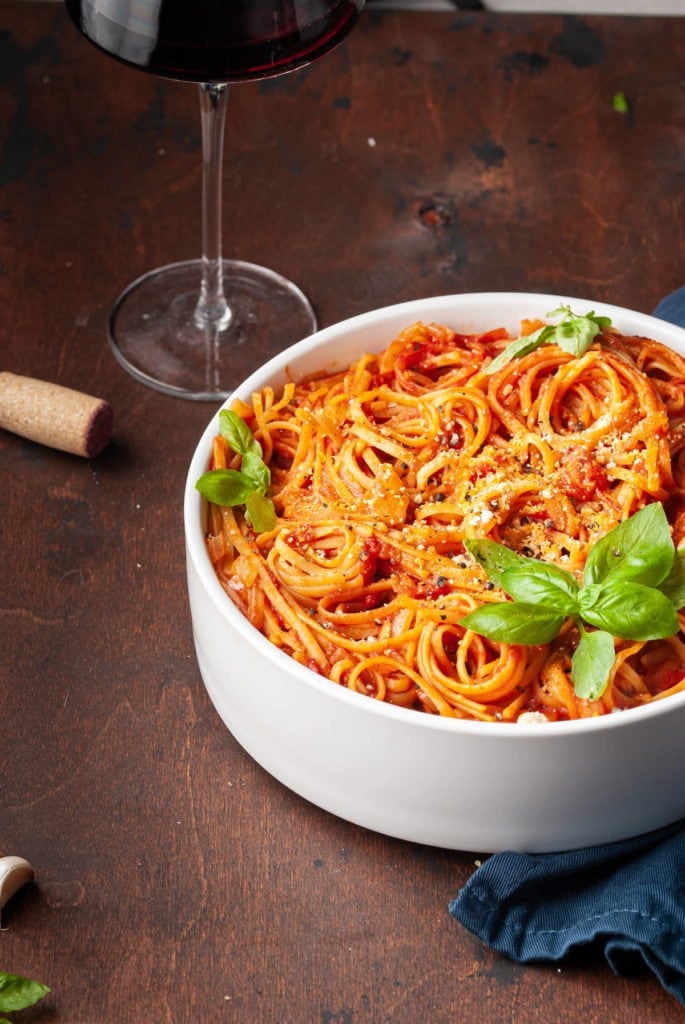 Why You Should Make This One-Pot Vegan Pasta
---
---
It's quick. 25 minutes including dicing your onions and mincing your garlic.
It's easy. Pretty much dump it and leave it, with an occasional stir!
There's barely any cleanup. One pot and a chopping board. You don't even need a collander!
It's versatile. Add seasonal veggies to make this your own.
It's a crowd pleaser. Tailor it to your taste by using your favorite sauce.
It has a low impact on the environment. Less water for cleanup, no high-footprint animal product, and pasta, which has a less intensive, lower-impact process to manufacture, is the star!
If you're loving this One-Pot Vegan Pasta with Tomato Sauce, you've got to try out this Hummus Pasta and Pasta with Pumpkin Sauce.