Looking for a quick, delicious, and nutritious dinner? This Almond Crusted Salmon with Parmesan is the answer.
With a layer of lemon and dijon mustard underneath a crispy crushed almond and Parmesan crust, this salmon recipe is out of this world in terms of both texture and flavor!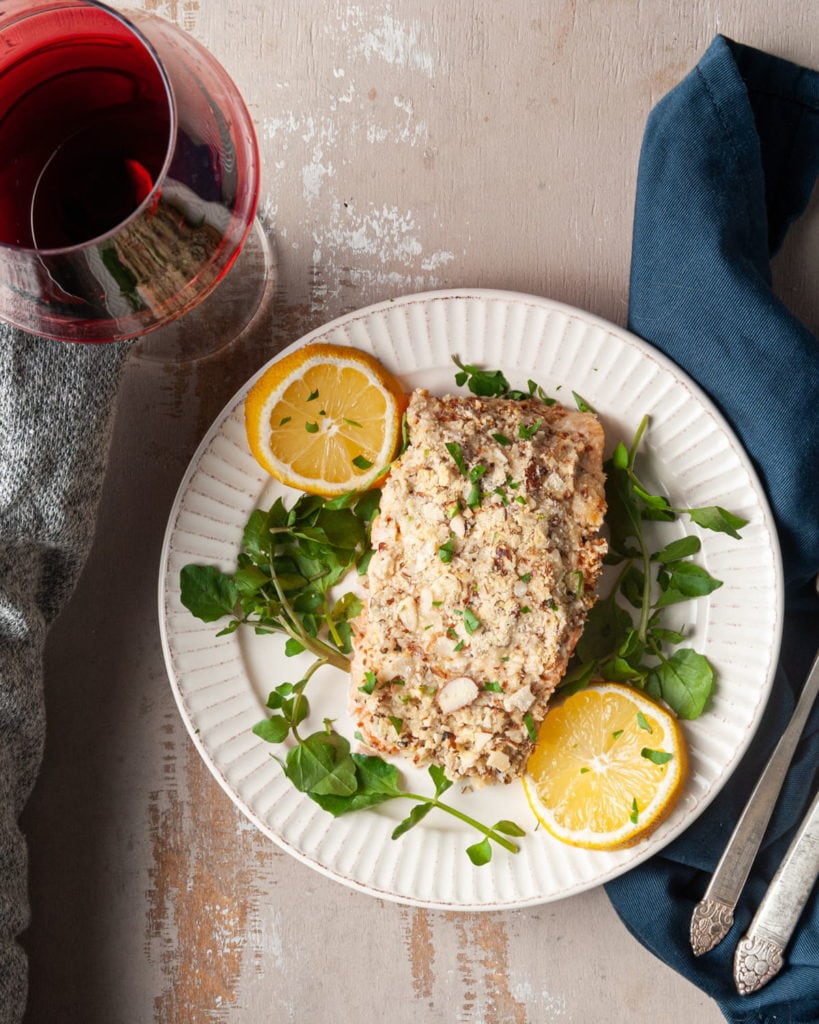 Almond Crusted Salmon Tips and Tricks
---
---
Gather Your Ingredients First
This recipe is designed to make a pound of salmon with a quick marinade of lemon juice and Dijon mustard and a simple Parmesan and crushed almond crust.
The Dijon mustard I used here is whole grain, but you can use smooth. You can also opt for a different kind of grainy mustard, but the boldness of the Dijon is recommended for the most flavorful bite.
The simple crust is made of Parmesan and crushed almonds. To make this dairy-free, you can substitute Panko bread crumbs for the Parmesan, but make sure to add an extra pinch of salt to your crust.
If using frozen salmon, thaw first by transferring from the freezer to the refrigerator the day before, or by placing it in a sealed, airtight bag and putting it in a glass of cool water for 30-60 minutes.
Here's everything you'll need:
Sustainable Seafood
Salmon farming often poses a risk to our environment for several reasons. This includes, but is not limited to, the antibiotics used in salmon farms that can then leach into the surrounding environment and the depletion of other wild fish harvested to feed the salmon.
If you can, look for wild-caught Alaskan salmon. It is harvested in the most sustainable and natural way, without the posed risks of salmon farming.
Green tip: Look for Marine Stewardship Council and Friend of the Sea labels on your fish to ensure they were harvested sustainably.
Make Sure To Dry Your Salmon
Whether you're using fresh or frozen, it's best to completely dry off your fish before coating it, to ensure the almond crust adheres to it perfectly, getting the exterior nice and crisp.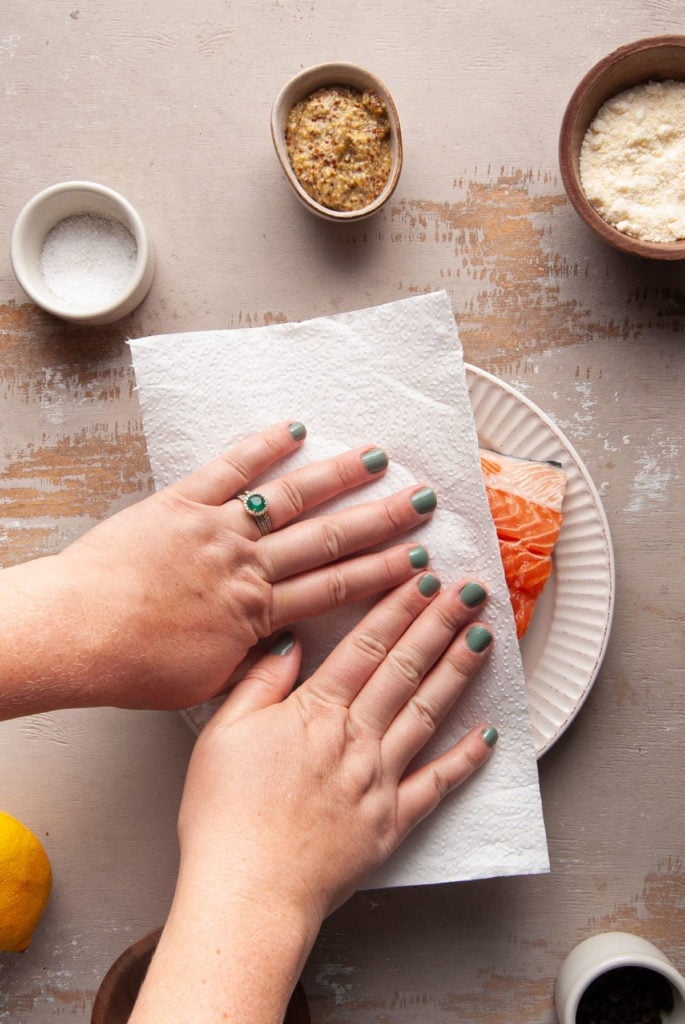 The easiest way to do this is by using paper towels to press down on the fish and pat it dry.
Green tip: Paper products contribute to deforestation. Consider these bamboo paper towels! Bamboo naturally regenerates every few months, whereas trees cannot regrow once harvested.
Make Your Quick Marinade Next
After your fish is dry, you'll add a quick marinade of lemon juice and dijon mustard. This quick coat will both act as a flavor enhancer and a sticky binder to help your crust adhere to your fish.
Whisk your lemon juice and dijon mustard together, then use a spoon or baking brush to add a thin, even layer on top of your salmon.
Prepare Your Crust
After our layer of marinade, we will add an even layer of our crust blend which will then get nice and crispy in the oven.
The blend is just 4 simple ingredients. Crushed almonds, grated Parmesan, salt, and pepper. You can buy your almonds sliced or whole, then use a mortar and pestle to grind them up.
Or, you can just place your whole or sliced almonds into a plastic bag (preferably reusable!), and use a rolling pin to crush them. It's okay if some larger pieces remain, they will just add some dimension to the overall texture.
Once your almonds are crushed, mix them with the Parmesan, salt, and pepper, and use clean hands to apply a nice, even layer of crust on top of the salmon.
Start With A Cover
For the first ten minutes in the oven, we want our salmon to be covered, to trap in the heat, and cook your fish evenly. It's best to cook your salmon in a shallow baking dish.
Simply cover the baking dish completely with tin foil. Bake it this way at 425°F for 10 minutes before removing the foil.
We will then cook it for another 10-15 minutes, uncovered, to allow that crust to get nice and crispy.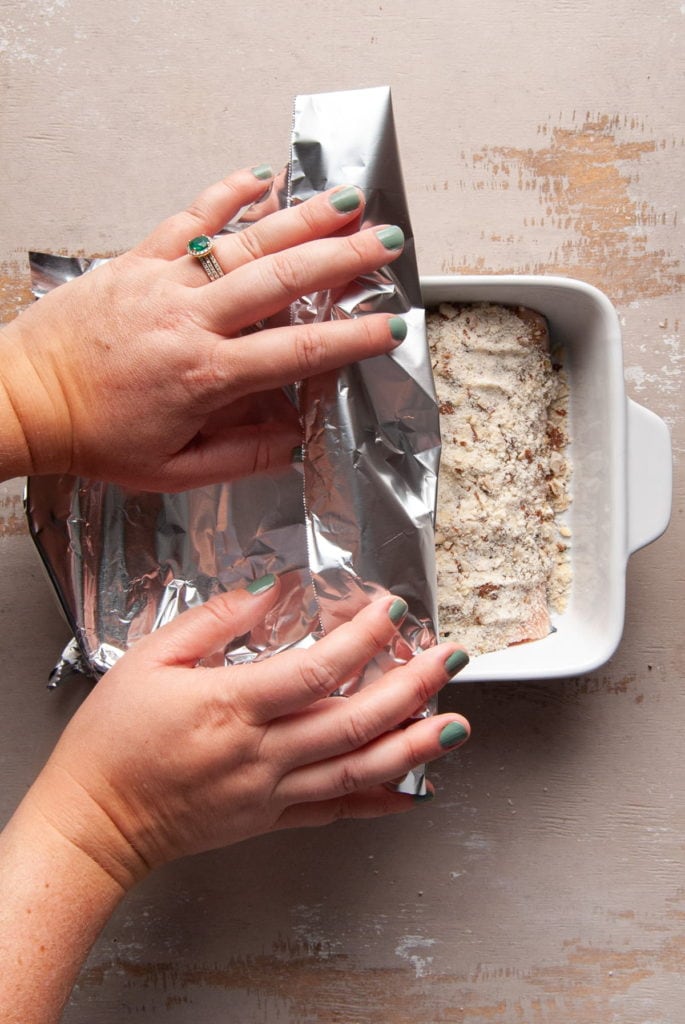 Should You Have Leftovers
Cooked salmon will last in the refrigerator for 3-4 days. Reheat in the oven at 275°F for 15 minutes, ensuring the internal temperature reaches 145°F.
I do not recommend freezing cooked salmon.
Green tip: Always save, reheat, and enjoy your leftovers! Of the billions of pounds of food wasted annually, it is estimated that 50% of it happens in our homes. Let's do our part to reduce food waste.
What To Serve Almond Crusted Salmon With
This salmon is packed with flavor and texture, and is a beautiful accompaniment to your favorite side dish,
I love to serve it with this Saffron Rice, these Truffle Mashed Potatoes, or this Israeli Cous Cous Salad.
I'll usually whip up a yummy vegetable, too. This Garlic Lemon Asparagus pairs beautifully, as well as these Roasted Carrots with Balsamic Glaze.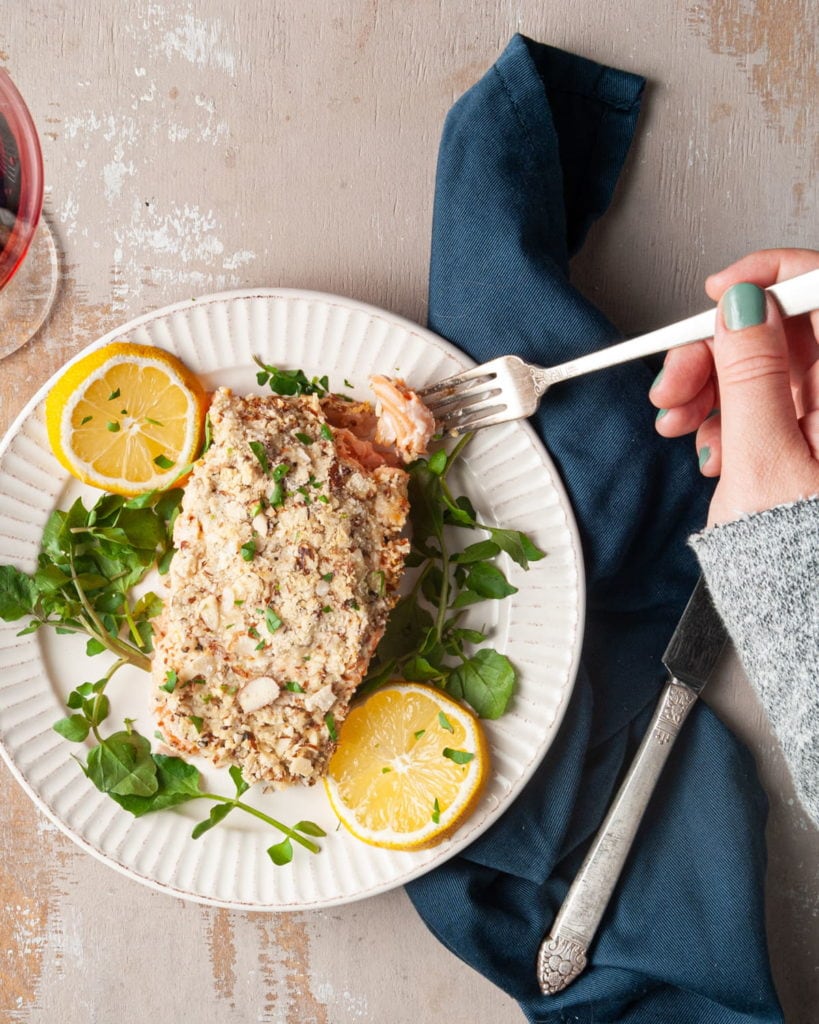 Why You Should Make This Almond Crusted Salmon
---
---
It's quick. Less than 30 minutes and dinner is served.
It's flavorful. The bold flavors of the quick marinade and crust compliment the salmon so well.
It's delish and nutrish. Minimal, light ingredients to enhance your already tasty and healthy salmon.
If you're loving this Almond Crusted Salmon and want more pescatarian dinners, check out this Fish and Grits and Beer Battered Halibut.