In the mood for some fried deliciousness? This Vegan Crispy Fried Oyster Mushrooms recipe is the best way to curb your craving.
With a crispy, crunchy exterior and tender mushroom on the inside, each handheld 'shroom is well-seasoned bliss. Hands down one of the best-textured homemade fried dinner recipes and a favorite vegan appetizer recipe!
As an environmental scientist, I'm always looking for delicious meat alternatives to help me lower my ecological footprint, and this Fried Oyster Mushrooms recipe is an incredible replacement for fried chicken!
The "meaty" texture of the oyster mushrooms lends itself to the crispy coating and holds its own when it's fried, setting the stage for yet another delicious mushroom recipe!
Green tip: Industrial meat production has a huge impact on the environment, especially because of the amount of land it takes to sustain and its high amount of greenhouse gas emissions. Reducing your meat consumption is one great way to reduce your ecological footprint.
Fried Oyster Mushrooms Tips and Tricks
---
---
Gather Your Ingredients
This recipe consists of mushrooms, a quick batter, and a crispy outer coating.
Here's everything you'll need:
Oyster mushrooms. I used Pearl Oyster Mushrooms which are the most common, but you can also use golden, blue, or phoenix oyster mushrooms interchangeably. If you are using King Oyster mushrooms, cut them in half.
Coconut Milk. The subtle sweetness and thicker consistency of coconut milk works perfectly in this recipe, but you can easily use any non-sweetened and non-flavored plant-based milk.
Whole Wheat Flour. The heartiness of whole wheat flour makes for the perfect batter. You can use regular all-purpose flour in place of whole wheat flour, but make sure to add an extra tablespoon.
Panko breadcrumbs. For that extra crispy crunchy exterior.
Garlic Powder and Onion Powder. To amp up the flavor!
Salt and Pepper. To bring out the natural umami flavor of the mushrooms.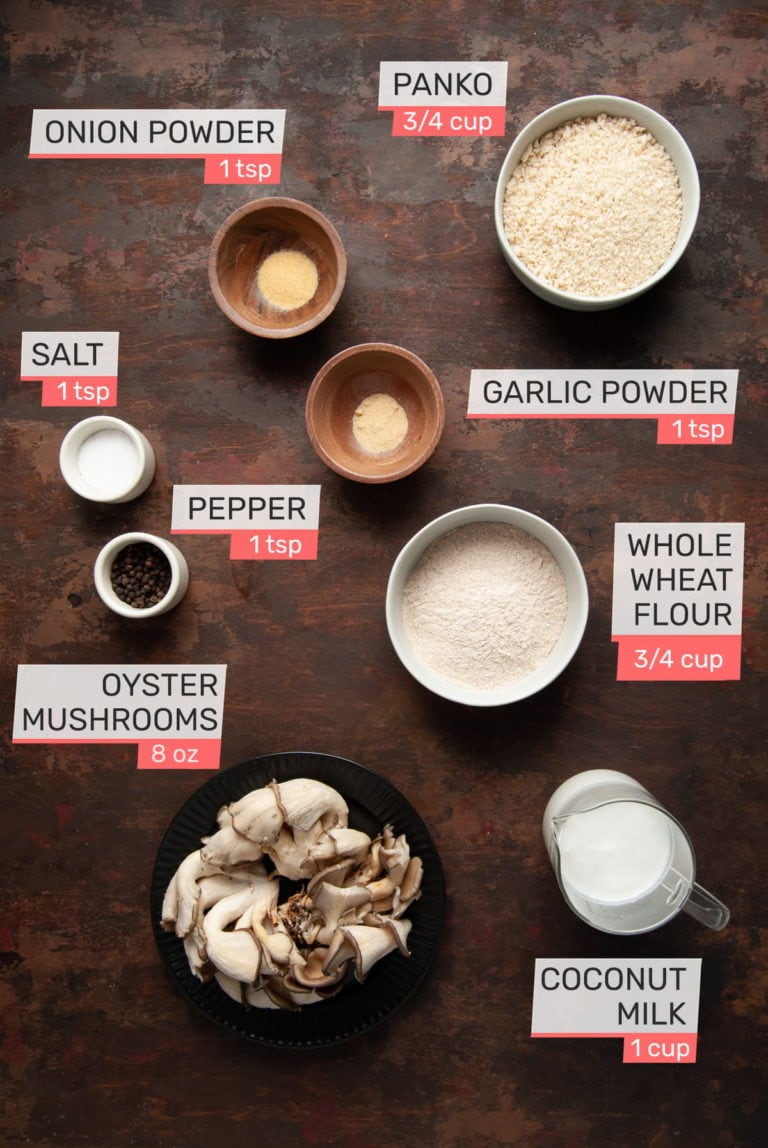 Prepping Your Oyster Mushrooms
Rinse your oyster mushrooms first and place them on a chopping board. The stems on oyster mushrooms are notoriously tough, even when cooked.
Oyster mushrooms come bundled in groups, with several mushrooms connected to the same stem. Use a sharp knife to slice each mushroom off the main stem, leaving only about 1/2 inch – 1 inch of stem on.
But don't throw those ends out! Save them in the freezer along with your other veggie scraps to make your own vegetable broth.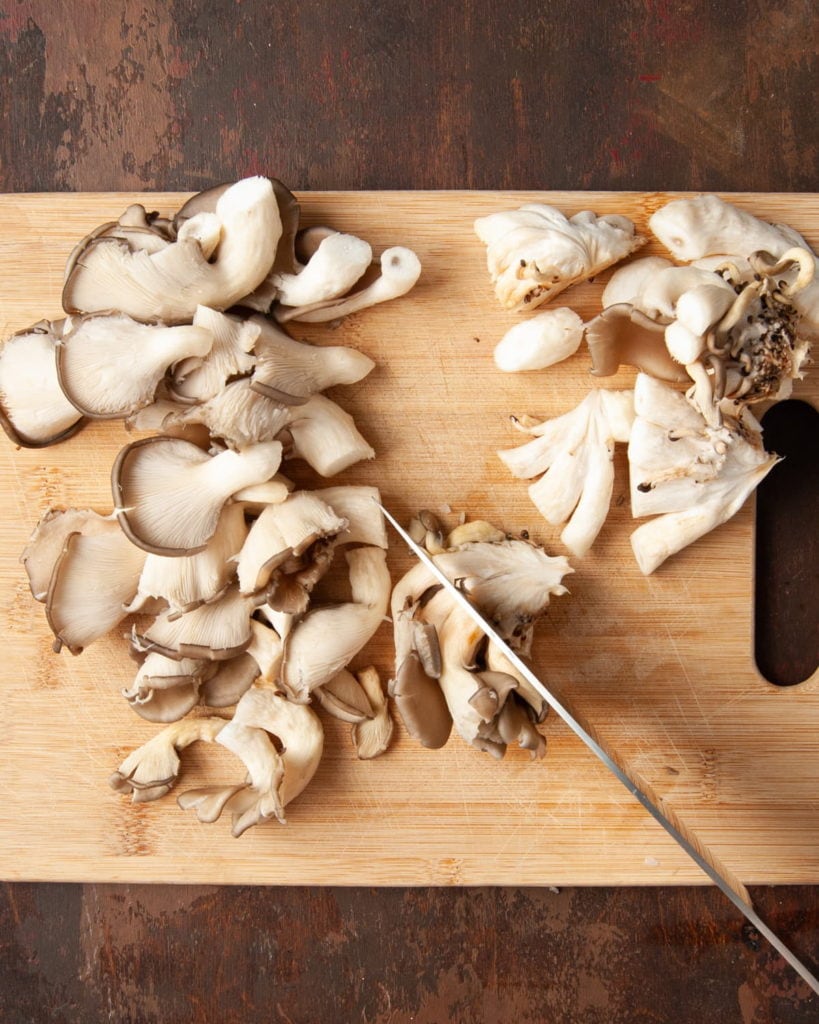 Mix Up Your Batter First
The simple vegan batter for these fried oyster mushrooms has minimal ingredients but still has tons of flavor. Add the whole wheat flour and seasonings to a large plate or shallow bowl.
Then, add your unsweetened non-dairy milk (I use coconut), using a whisk to ensure there are no lumps. It should yield a thick batter.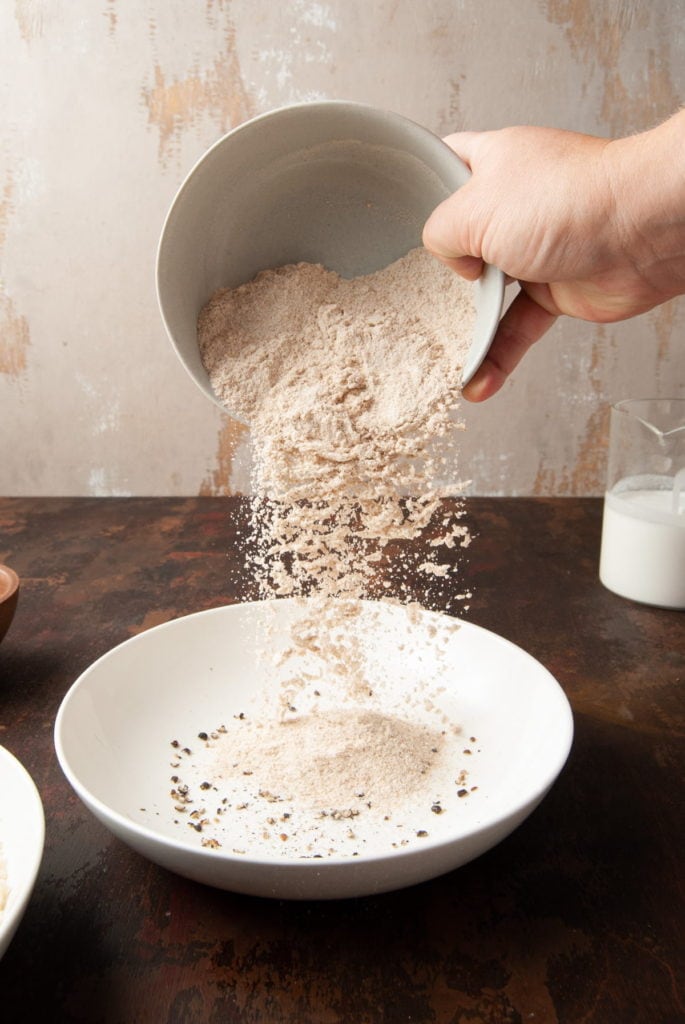 Set Yourself Up For Success
Get a little assembly line going! You'll need the batter that you just made, but you'll also need a shallow bowl to hold your panko bread crumbs.
Line up your prepped mushrooms, your vegan batter, and your panko before you get going.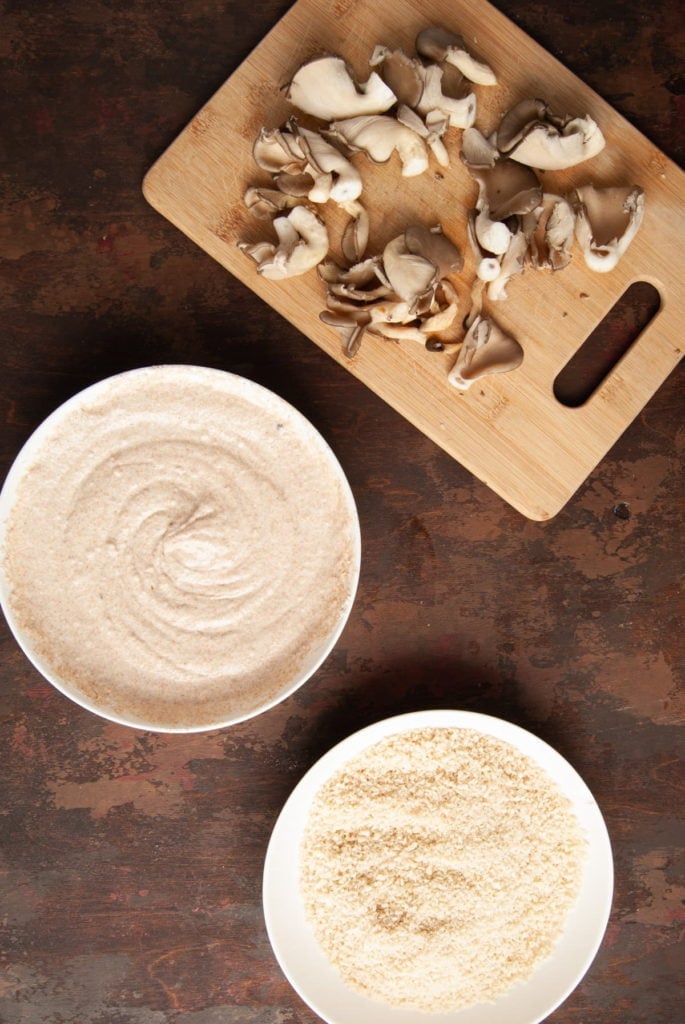 You'll Need a Thermometer
Before coating your mushrooms in batter and panko, make sure your frying oil is nice and hot. Depending on the size of your pot, you will need anywhere from 1/2 cup – 1 cup of oil.
You want it to be about 1 inch deep so that one side of the mushroom can be completely submerged in the oil before flipping it. Add it to a saucepan over medium heat, turn on your thermometer, and monitor the temperature of the oil.
The oil needs to be right around 375°F before you add your coated mushrooms. I use this affordable, multi-functional thermometer to monitor my oil.
Green tip: Did you know that coconut oil is compostable? Allow it to cool completely and take any floating bits out before adding it to your compost bin.
Completely Coat
Once you get your oil temperature right, it's time to prep your mushrooms for frying! Dredge your mushrooms in the batter first.
You can use your hands or a fork to completely submerge your mushrooms in the batter. You should end up with a thick coating of batter.
Then, drop the battered mushrooms into the bowl full of panko, tossing them to ensure they are fully coated before dropping them into your hot oil.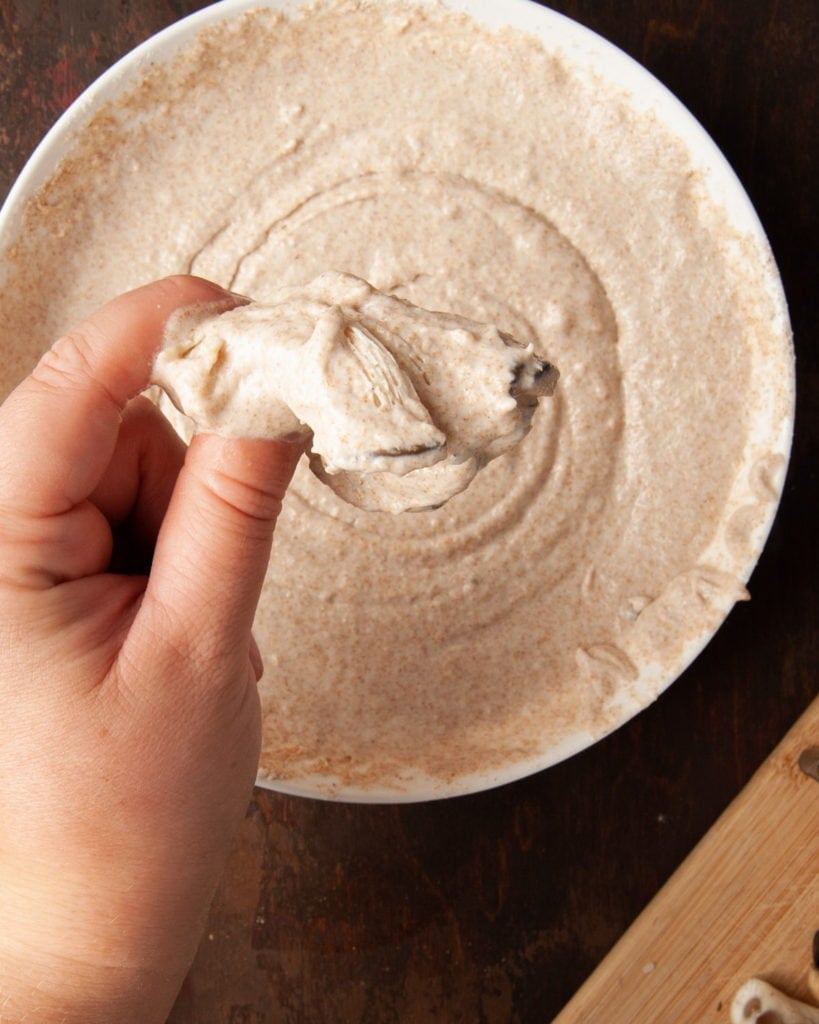 Fry 'Em and Flip 'Em
Drop your battered and coated oyster mushrooms in the hot oil and allow them to fry until you see the bottom turn golden brown (usually 3-5 minutes).
Then flip them and fry them for about 3 minutes on the other side.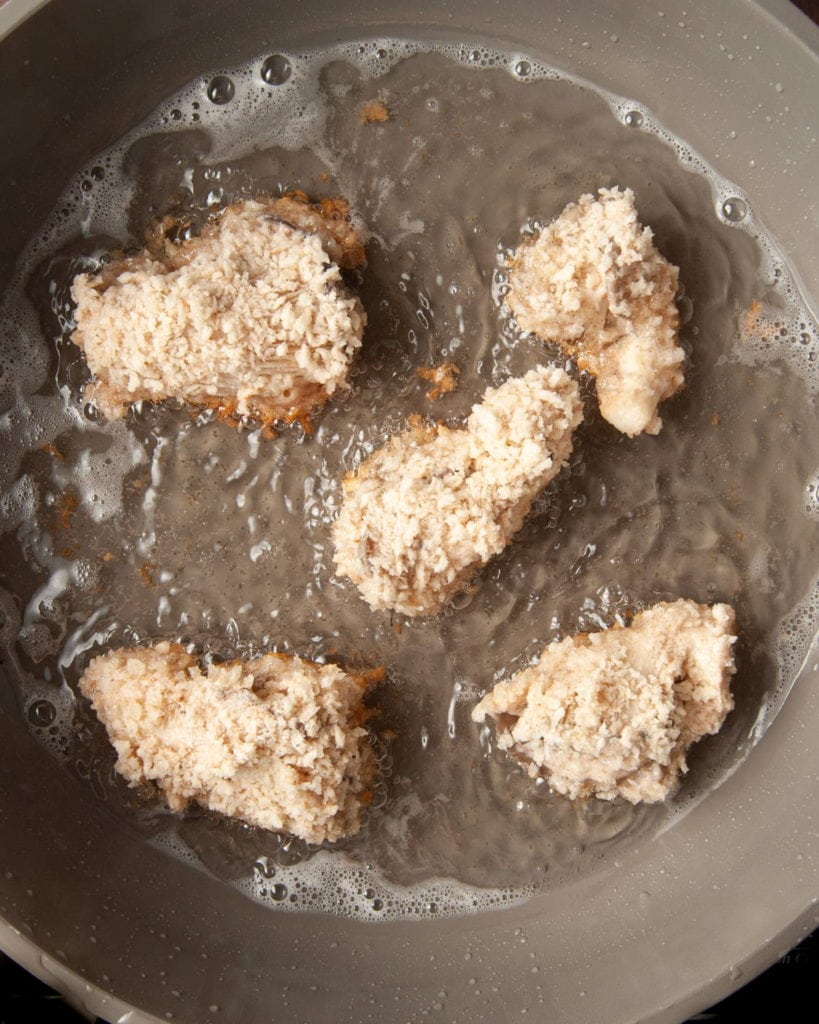 Beware of Splatter
Hot oil can splatter out of the pan and burn your skin, so just be careful!
I find the best way to remove your vegan fried mushrooms from the hot oil is with a sieve or a skimmer. Just scoop them up one or two at a time and transfer them to a stack of 2 or 3 paper towels to soak up excess oil.
Green tip: Paper products contribute to deforestation. Consider these bamboo paper towels! Bamboo naturally regenerates every few months, whereas trees cannot regrow once harvested.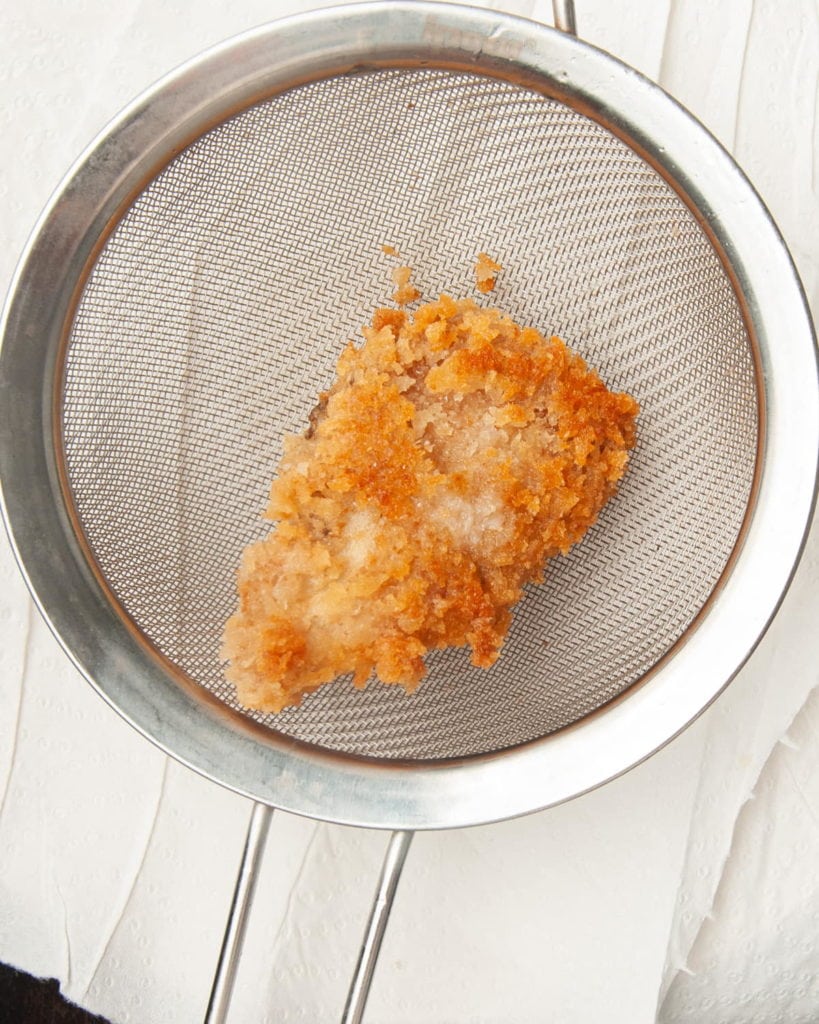 Should You Have Leftovers
Fried Oyster Mushrooms will last in an air-tight container in the refrigerator for 3-4 days.
To reheat, bake in the oven at 350°F for about 10-15 minutes, until heated through and the exterior starts to get crispy again. Or you can reheat in the air fryer at 325 °F for about 5 minutes.
Green tip: Did you know that of the billions of pounds of food wasted annually, it is estimated that 50% of it happens in our homes? It's always best to avoid food waste as much as you can!
What To Serve Fried Oyster Mushrooms With
These Fried Oyster Mushrooms stand tall on their own but also love a good sidekick. My go-to side for this dish is these Old Bay Fries with Quick Aioli, with these smashed potatoes coming in a close second.
Outside of the Old Bay Aioli, some ketchup, or honey mustard makes for a great dunk!
For a lighter side dish option check out this Purple Asparagus!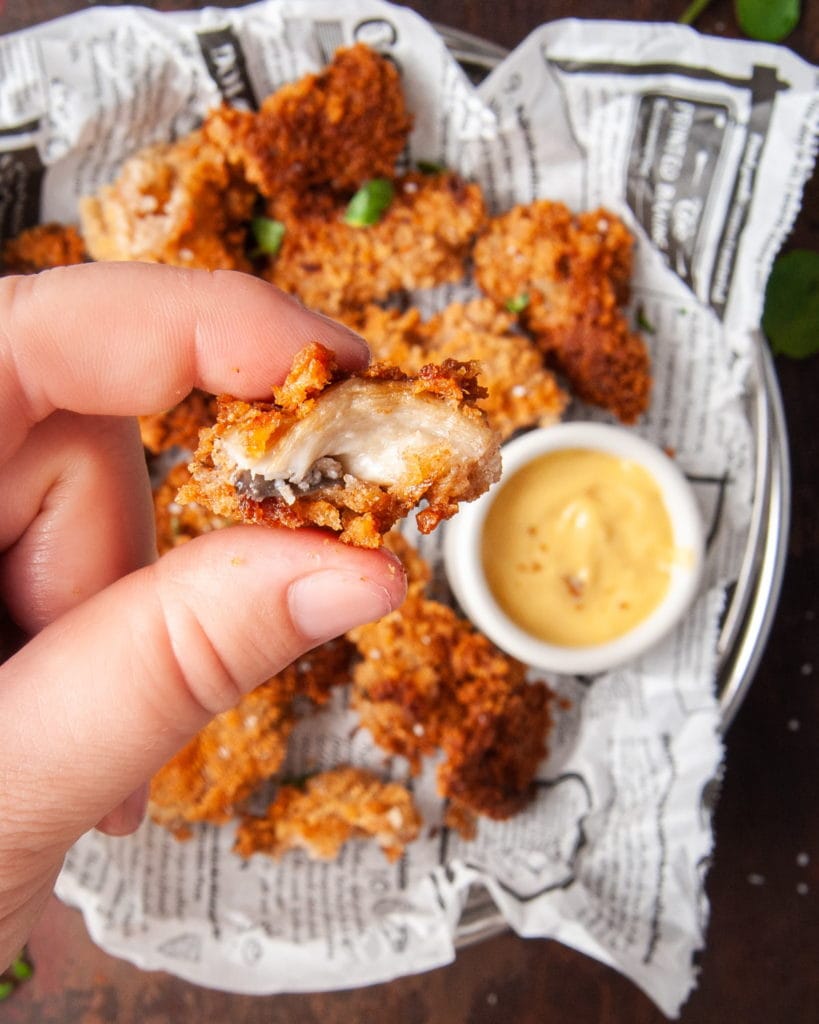 Fried Oyster Mushrooms Frequently Asked Questions
---
---
What is the best oil for deep frying?
Typically, vegetable, canola, and peanut oil are preferred oils for deep frying. They have high smoke points (meaning they can get very hot before they burn) and a neutral taste, allowing the flavor of your food to shine.
For this recipe in particular, I love using coconut oil! While it does have a lower smoke point, there are other benefits to coconut oil that make it my go-to here.
The subtle sweetness adds a wonderful depth of flavor to these vegan fried mushrooms. It's also a more sustainable choice. Relatively, the environmental impact of coconut oil is very low. The production of coconuts requires no herbicides or pesticides, uses little land and water, and does not require any tilling or deforestation.
Coconut oil has enough saturated fat to keep stable, creating a crispy exterior and juicy, steamed mushroom inside every breaded bite.
Do I need to soak my oyster mushrooms before cooking them?
Oyster mushrooms should not be soaked before cooking them. Oyster mushrooms, like all mushrooms, are like sponges and will soak up a lot of water!
Soaking the mushrooms will risk them getting soggy.
How do you clean oyster mushrooms?
Unlike most mushrooms that grow in the dirt, oyster mushrooms actually grow on trees. This makes them relatively clean compared to oyster mushrooms.
You can opt to brush off any dirt with your fingers or a knife, or you can quickly rinse them under cool water in a colander. Toss them inside the colander with the water gently running over them to get all sides of the mushrooms.
How do you prepare oyster mushrooms?
Oyster mushrooms grow in clusters. After cleaning your mushrooms, cut each mushroom cap off the main stem first.
The stems on oyster mushrooms are super tough, so it's best to only leave1/2 – 1 inch of stem for each cap.
The excess stems are great for making vegetable broth! Store them with other scraps in your freezer until you have enough to make a veggie broth. Those stems will provide a nice umami flavor!
Sign-up for the Meatless Monday Challenge
Get access to the 4-week-long Meatless Monday Challenge, with accompanying meal plans, grocery shopping lists, and more, sent right to your inbox!
What do fried oyster mushrooms taste like?
Oyster mushrooms themselves have a very subtle flavor, making them extremely versatile and easy to utilize in a variety of cuisines.
When frying oyster mushrooms, the hot oil instantly cooks the outside batter, creating a seal between the mushroom in the oil.
This allows for the batter and breadcrumbs to get super crispy while steaming the mushroom on the inside. The mushroom becomes very tender.
Your fried oyster mushrooms will have a meaty texture, making fried oyster mushrooms taste like fried chicken!
Do oyster mushrooms taste like chicken?
The mushrooms themselves do not have a chicken-like taste, but when prepared correctly, do have a very meaty, chicken-like texture.
What are the types of oyster mushrooms?
There are many different delicious types of oyster mushrooms! The most common is the pearl oyster mushroom (pictured here). It has a super subtle taste and very meaty texture.
You can use pearl, golden, blue, and phoenix oyster mushrooms interchangeably. They will all cook in a very similar way and only have very subtle differences flavor-wise.
Pink oyster mushrooms are beautiful but tend to be a little tougher, while King oyster mushrooms are the largest and have the most robust flavor. They are very earthy and thick.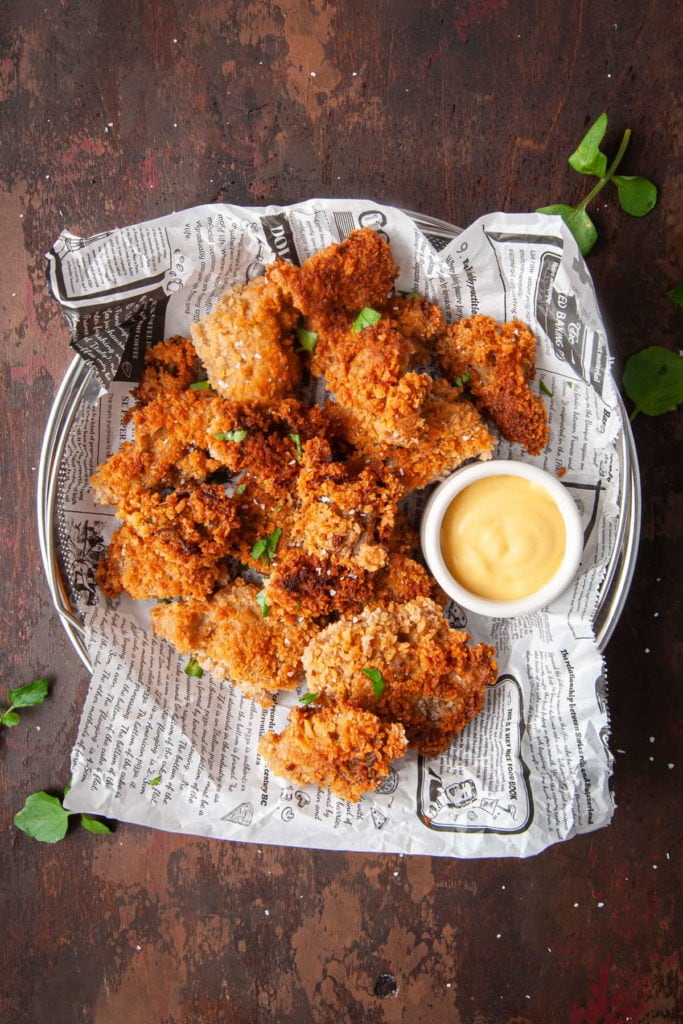 Why You Should Make These Fried Oyster Mushrooms
---
---
They're golden brown perfection! This recipe uses a frying technique that will get your edges nice and crispy and keep your mushrooms nice and tender.
They're quick. On the table in under 30 minutes!
They're sustainable. This recipe was created with the environment in mind. From the mushrooms down to the coconut milk and oil, this plant-based recipe uses lower impact ingredients so you can indulge with a clear conscience.
If you're loving these Crispy Fried Oyster Mushrooms and looking for more vegan junk food, check out these Loaded Jackfruit Nachos and Meaty Meatless Jackfruit Burgers.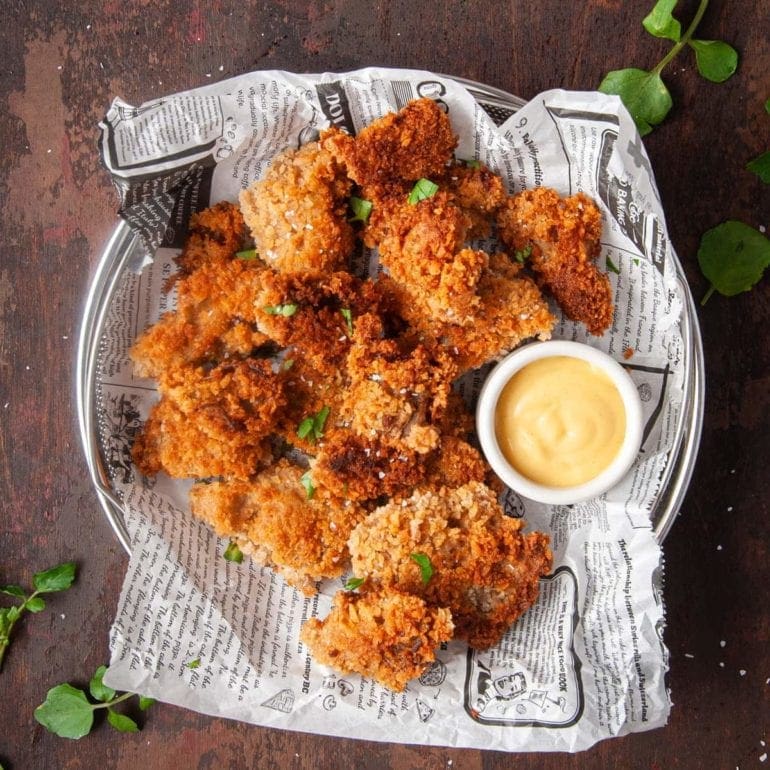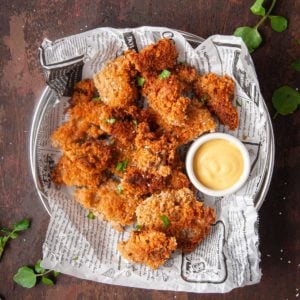 Crispy Fried Oyster Mushrooms (Vegan)
PRINT
PIN
RATE
Get your fried food fix with these perfectly seasoned Crispy Fried Oyster Mushrooms that are good for your mood and the planet!
Ingredients
8

ounces

oyster mushrooms

¾

cup

whole wheat flour

1

cup

coconut milk

(or other unsweetened non-dairy milk)

1

teaspoon

salt

1

teaspoon

black pepper

1

teaspoon

garlic powder

1

teaspoon

onion powder

¾

cup

panko breadcrumbs

1 to 1 ½

cups

coconut oil

(or vegetable or canola oil)
Instructions
Prep your oyster mushrooms by rinsing them and slicing them off of the stem, about 1/2 an inch from the head.

Add coconut oil to a large pot or saucepan, so that the oil is about 1 inch deep. Turn your heat source up to medium and monitor the temperature of the oil with a kitchen thermometer. Your target is to get your oil to 375°F.

Prepare your batter by adding whole wheat flour, coconut milk, salt, pepper, garlic powder, and onion powder to a shallow bowl and whisking to ensure there are no lumps.

In a second shallow bowl, add your panko bread crumbs.

Use your hands or a fork to dredge the mushrooms through the batter, until you're left with a thick coat of batter on each mushroom.

Then, toss your battered mushrooms in the panko to coat.

Carefully drop your battered and coated mushrooms into the hot oil, being careful not to overcrowd the pan. I usually fry 5-7 mushrooms at a time. Fry for about 3-5 minutes on each side, until both sides are golden brown.

Use a skimmer or sieve to remove the mushrooms from the oil and place them on a stack of 2 or 3 paper towels to soak up any excess oil.

Transfer to a clean plate and serve hot.
Pro Tips
You can use peanut, canola, or vegetable oil in place of coconut oil with similar results if you prefer.
I highly recommend whole wheat flour, but you can absolutely use all-purpose if you prefer. Just add one extra tablespoon to your batter to make sure it is thick enough.
Did you make this recipe?
Let me know by leaving a recipe rating below, or by tagging @marleysmenu on Instagram.