Looking for a resourceful way to use your kitchen scraps? I'm going to show you how to make vegetable broth from veggie scraps, for a thrifty, sustainable, and flavorful broth you will use time and again in a number of different recipes!
In this post, you will learn how to save and freeze your veggie scraps, which scraps make the best veggie broth, the few vegetables that should not be used in a broth, and how to easily make, use, and store the veggie scrap broth once it's made.
You'll find yourself using this homemade vegetable broth in everything from soup recipes to sauces to substituting it for water to boost flavor and add umami to rice and quinoa dishes!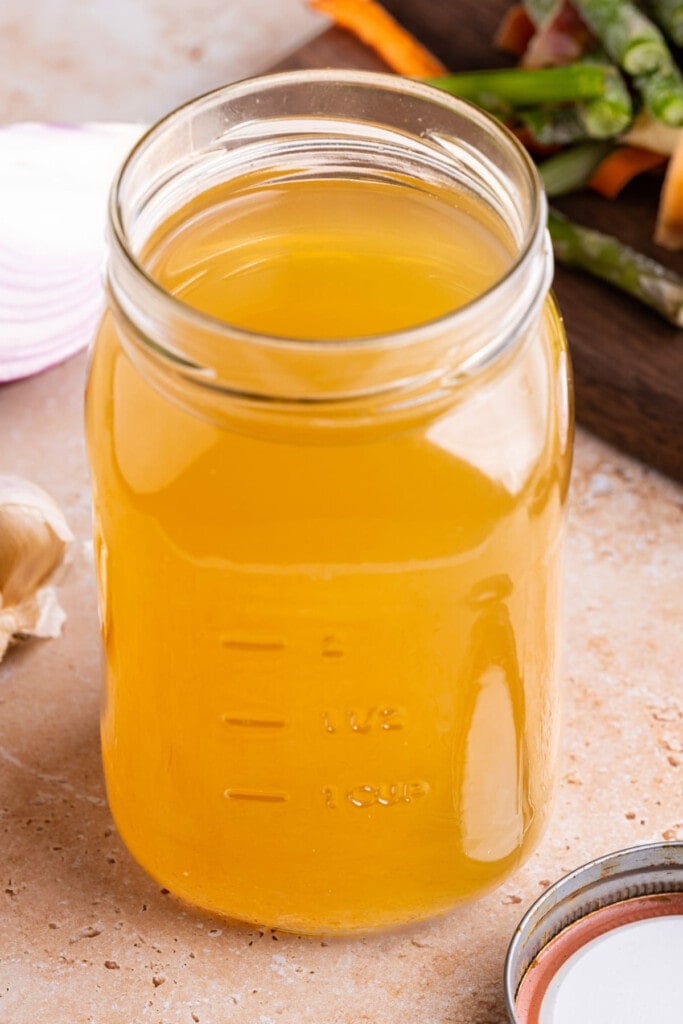 Veggie Scrap Broth Ingredients
---
Here's everything you need:
A full gallon freezer bag or six months' worth of veggie scraps. Anything from potato peels, onion cores, and asparagus tips, to apple and citrus peels. We will get more into what scraps to use and not to use below.
Garlic. Always garlic. It brings so much flavor to your veggie broth. That being said, if you don't have any on hand, you can substitute 1 tablespoon garlic powder, or you can consider one of the optional flavor boosters listed below.
Salt. Usually about 1 teaspoon of salt will do but taste it when it's finished to see if you need an extra pinch or two.
Enough water to cover your vegetable scraps. Depending on how much scraps you are able save up in 6 months, the exact amount of water will vary.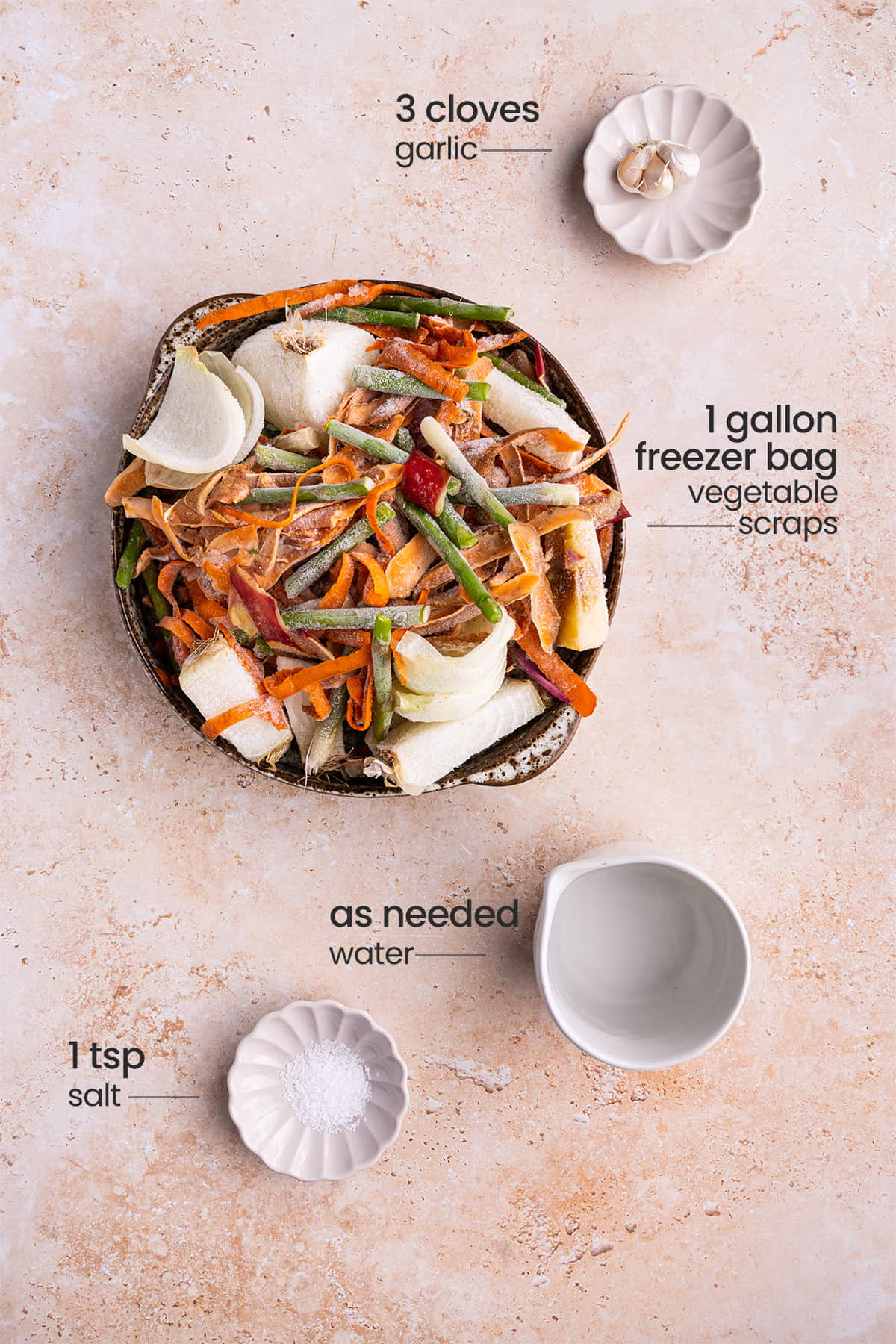 Optional Falvor Boosters
If you want to add an extra boost of flavor to your broth, here are some great add-in options:
Dried mushrooms.
Whole peppercorns.
Vegetable bouillon cube or paste.
Cayenne pepper or crushed red pepper.
Miso paste.
Vegetable Broth from Veggie Scraps Tips and Tricks
---
Why Make Veggie Broth from Vegetable Scraps?
Not only is homemade vegetable broth super delicious and healthier than store-bought (you can control the quality of the vegetables and the amount of sodium when making your own!), but it's also a really great way to make the most of your produce, helping to avoid excess food waste.
So, why should we care about food waste anyway?
For starters, the food industry accounts for 25% of greenhouse gas emissions and is responsible for the destruction of ecosystems by way of air, water, soil, and noise pollution. Plus, the food industry consumes a quarter of our global freshwater use annually.
And for all of that energy, disruption, and pollution, only just over half of it is even consumed.
Additionally, food that goes to waste is sitting in landfills, creating tons of toxic methane, and food packaging is ending up as microplastics in our oceans.
With all of the strain the food industry puts on our environment, for 40% of it to go to waste is catastrophic.
Additionally, the waste itself becomes a problem. Though a lot of food waste is organic which may lead you to believe it will break down naturally into compost, it requires oxygen to complete this process.
This means that when food is sent to the landfill and does not have access to the oxygen it needs, it is no longer able to break down organically.
Instead, it eventually breaks down into mostly water and methane (a harmful greenhouse gas), further contributing to greenhouse gas emissions.
Green tip: Did you know that of the billions of pounds of food wasted annually, it is estimated that 50% of it happens in our homes? Make the most of your produce by using scraps to make your own vegetable broth!
How to Save Veggie Scraps to Make Vegetable Broth
Keep a freezer-safe gallon storage bag in your freezer where you can collect all your veggie scraps that you produce while cooking. Write the date on the bag the first time you add scraps to it, so you can track its age.
Green tip: Reduce your plastic waste by using these Reusable Storage Bags!
As you peel potatoes and carrots, core apples and onions, snap the tips off your asparagus, and trim the leaves off the stems of your herbs, gather all those scraps and add them to the bag.
Continue to add to this bag until it's full or until 6 months have passed from your penned date. After 6 months, it's time to make your vegetable broth!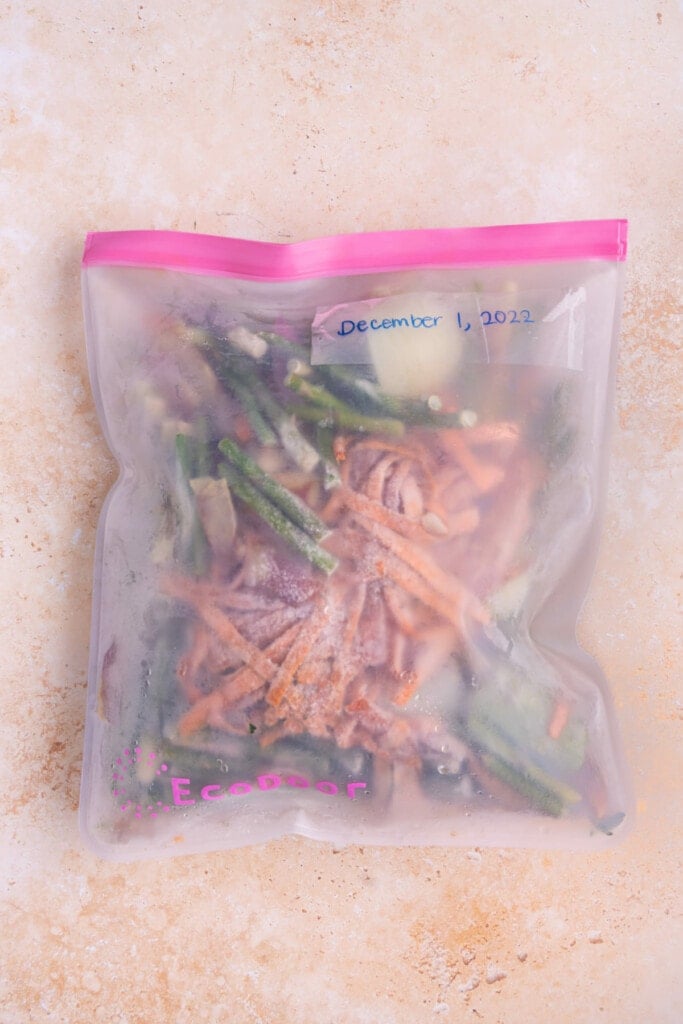 What Vegetables Can Be Used for Scrap Broth?
There is such a variety of delicious vegetables that can be added to make a flavorful broth. Whether it be their skins, peels, cores, ends, or just pieces of the vegetable that go unused in recipes, a variety of different vegetables makes for the tastiest broth.
Here are some vegetables that can definitely be added to your broth successfully:
Onion and shallots
Garlic
Asparagus
Mushrooms
Celery
Carrots
Potatoes (including sweet potato)
Herbs
Tomatoes
Bell peppers
Squash
Peas
Green beans
Zucchini
Corn (including just the cobs)
Shallots
Leeks
Leafy greens like kale spinach, arugula, spring mix, and/or watercress
Cabbage
Citrus peels (in moderation, and with something sweet like sweet potato skins or apple cores and peels to balance out)
Apple cores and peels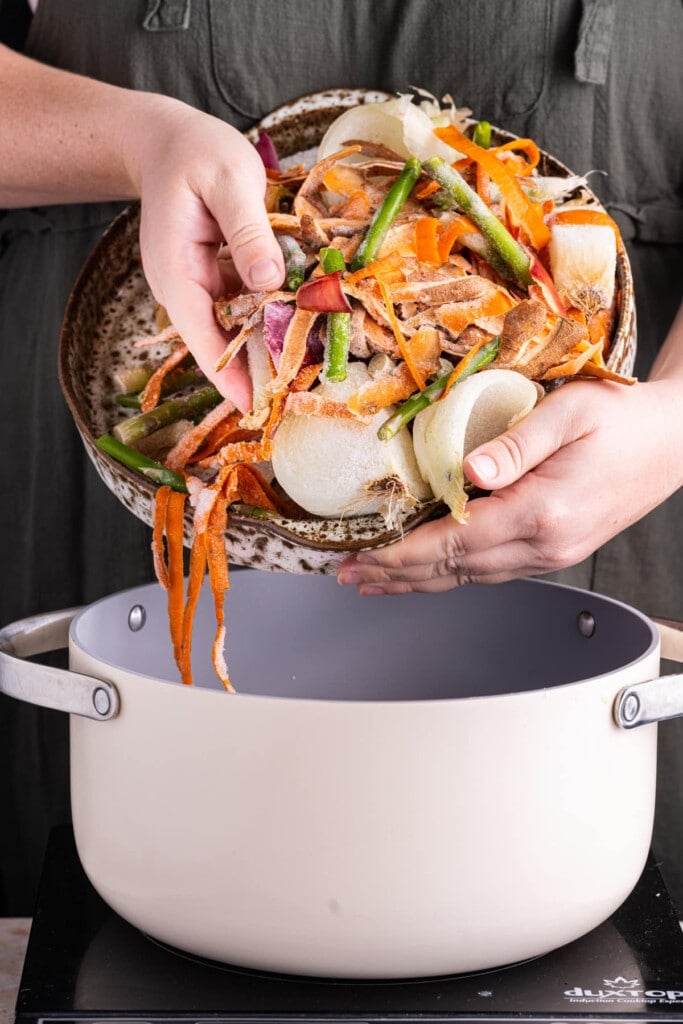 What Veggies Should Not Be Used for Scrap Broth?
On the other hand, there are a few vegetables in particular that will bring a strong bitter taste to your broth, and should be avoided including:
Broccoli
Cauliflower
Brussels sprouts
Beets
Turnips
Radishes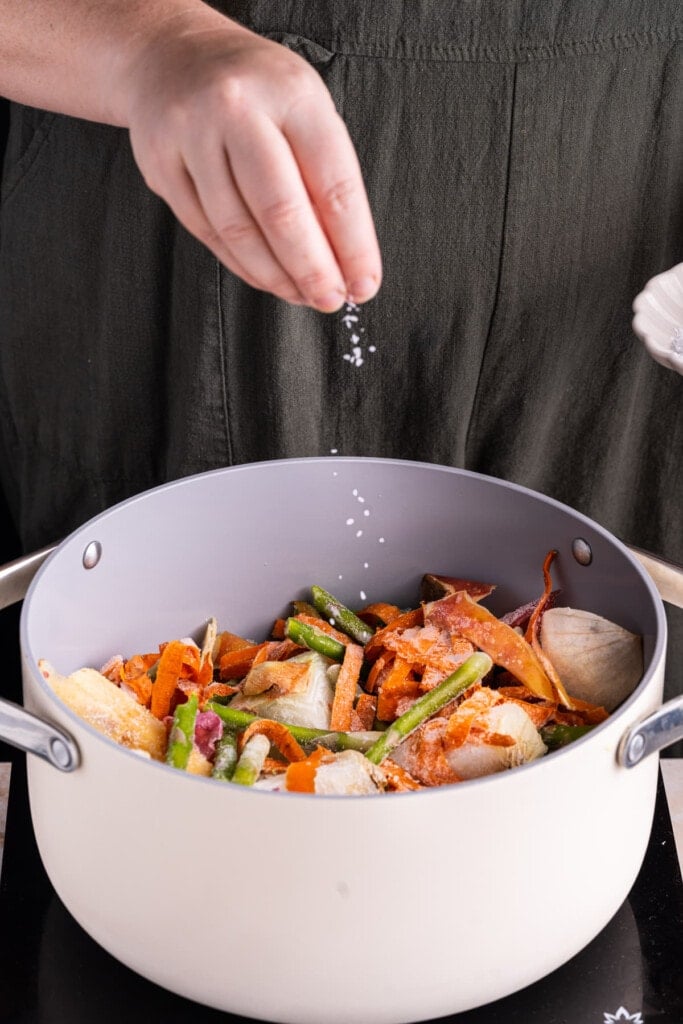 How to Make Vegetable Scrap Broth
---
Add Enough Water to Cover Your Scraps
Since the amount of vegetable scraps that you save over a 6-month period may vary, I did not include an exact measurement for the amount of water you add to make this broth.
Instead, you will rely on a simple sight test to get the perfect amount of water.
Start by adding your veggie scraps to a large pot with the salt and garlic cloves. Then, start to pour water overtop, until all of the veggie scraps are completely submerged and some of the uppermost scraps start to float.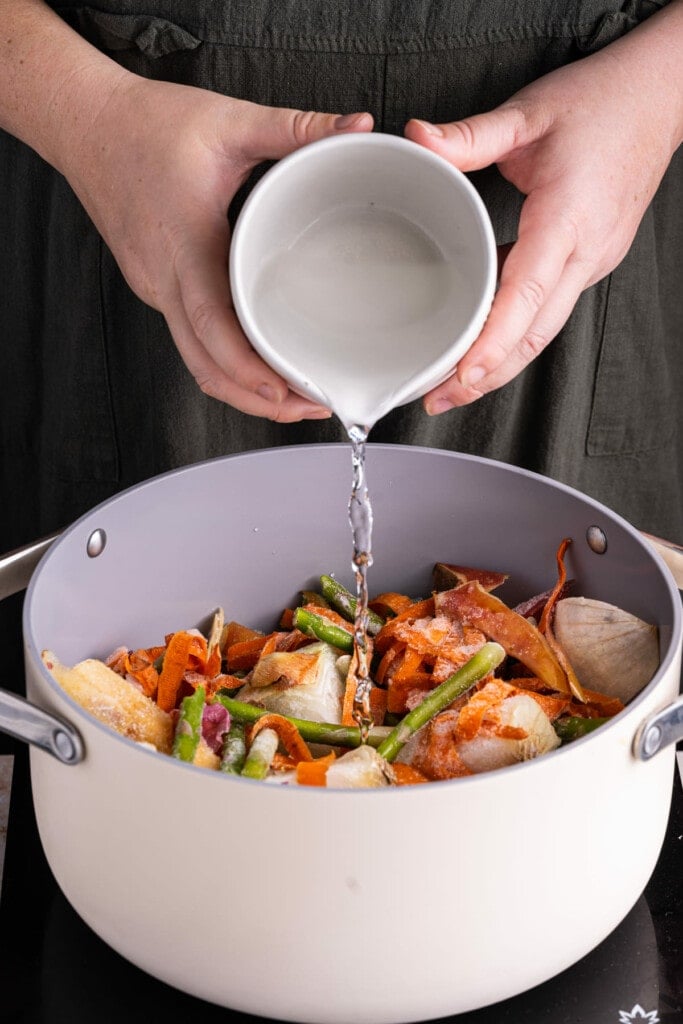 How Long to Boil Homemade Vegetable Broth from Scraps?
Bring your veggie scraps, water, salt, and garlic to a boil. Please note that it may take a little bit longer than normal since your vegetable are frozen.
Once boiling, bring it down to a simmer and cover. You can simmer the broth for up to an hour for deep flavor, but make sure to give it at least 30 minutes.
I find that 30 minutes covered is plenty of time to extract flavor from your vegetable scraps.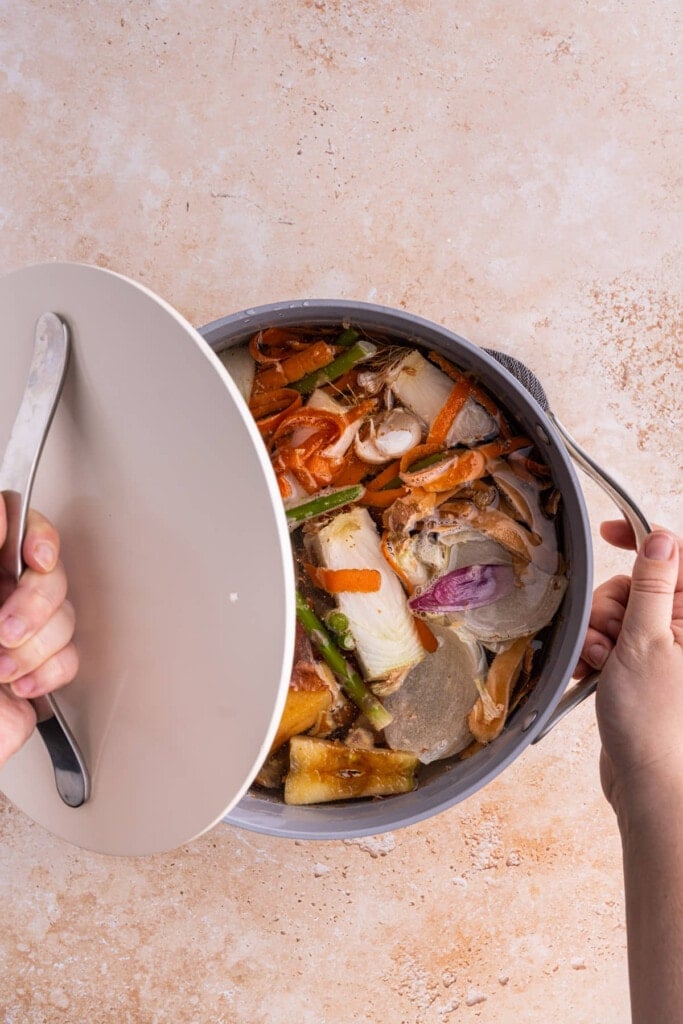 Double Strain Your Broth
Once you've boiled flavor into your broth, you'll want to get all of the scraps out, so you're left with just the liquid. Since it's really hot, I find that the safest and most effective way to do so is in two steps. You'll need a sieve.
Use the sieve to fish out scraps from the hot broth first. This will help you get most of the larger pieces out.
Then, give your broth some time to cool. The next part can sometimes be a little messier, and you definitely don't want super-hot liquid splashing all over you and your kitchen.
Once you're comfortable with the temperature of your broth, pour it through a sieve to sift out any smaller scraps that may be left behind.
These discarded scraps can easily be composted.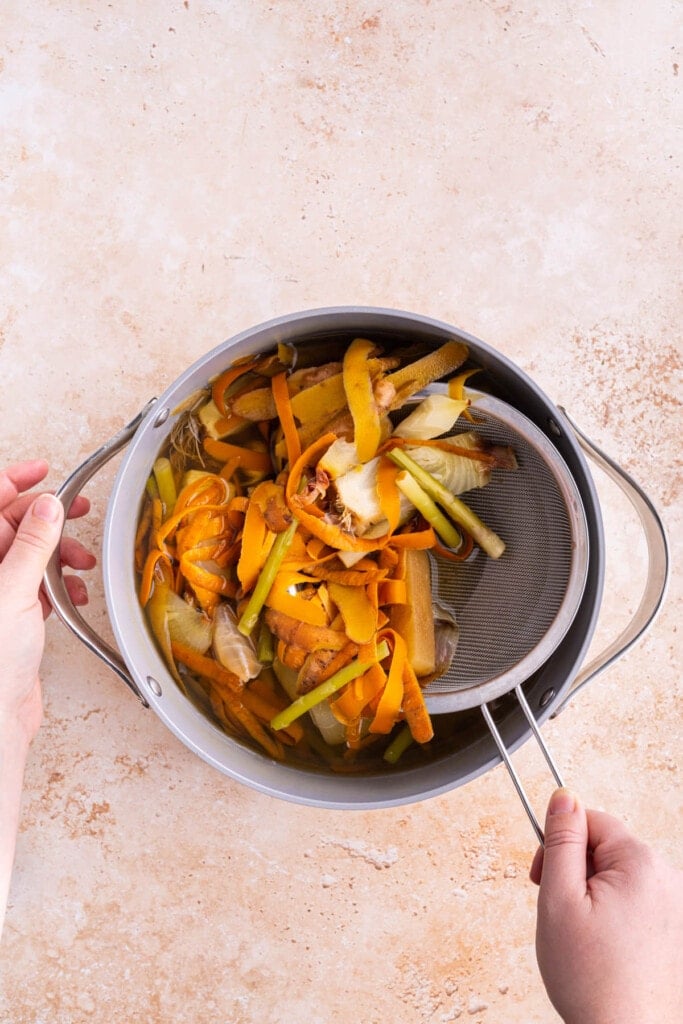 How to Use Veggie Broth
If you've made some of my recipes before, you may have noticed that vegetable broth is a staple in my cooking. It adds such depth of flavor to a wide range of different dishes.
I use it as a base to most of my soups, and often use it in place of water to make more flavorful grains like rice, quinoa, and farro.
Here are some of my favorite dishes that rely on vegetable broth for a boost of flavor:
Green tip: Making your own veggie broth not only makes the most out of your produce, but it also helps you avoid extra packaging waste that you will otherwise have to dispose of if you buy vegetable broth at the store.
How to Store Vegetable Scrap Broth
Once you've made your delicious vegetable broth from scraps, store it in a large glass container with a lid. I like to write the date on the lid so I can keep track of when I made it.
It will stay fresh in your airtight container in the refrigerator for up to 4 days. It can also be frozen for up to 3 months.
For an easy storage hack, you can add the broth to ice cube trays and set them in the freezer to form little broth cubes. Then, these can be transferred to a freezer bag, left in the freezer, and easily added to a pot to be melted down back into broth.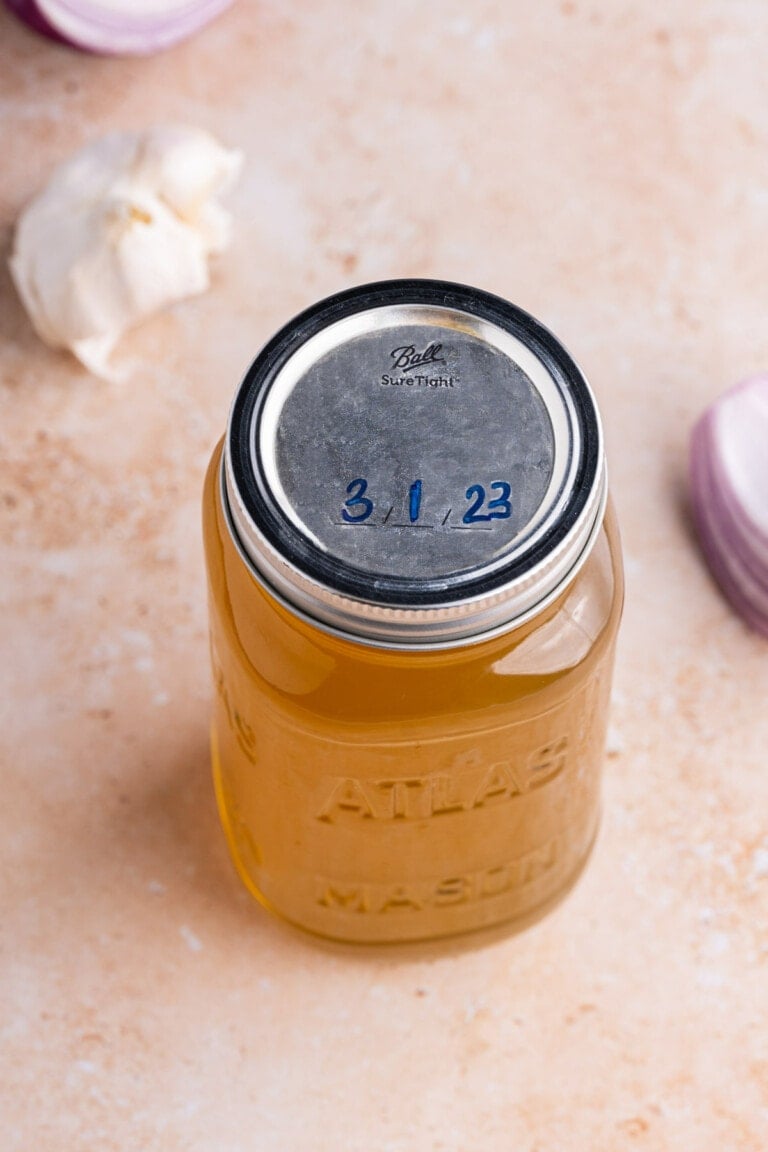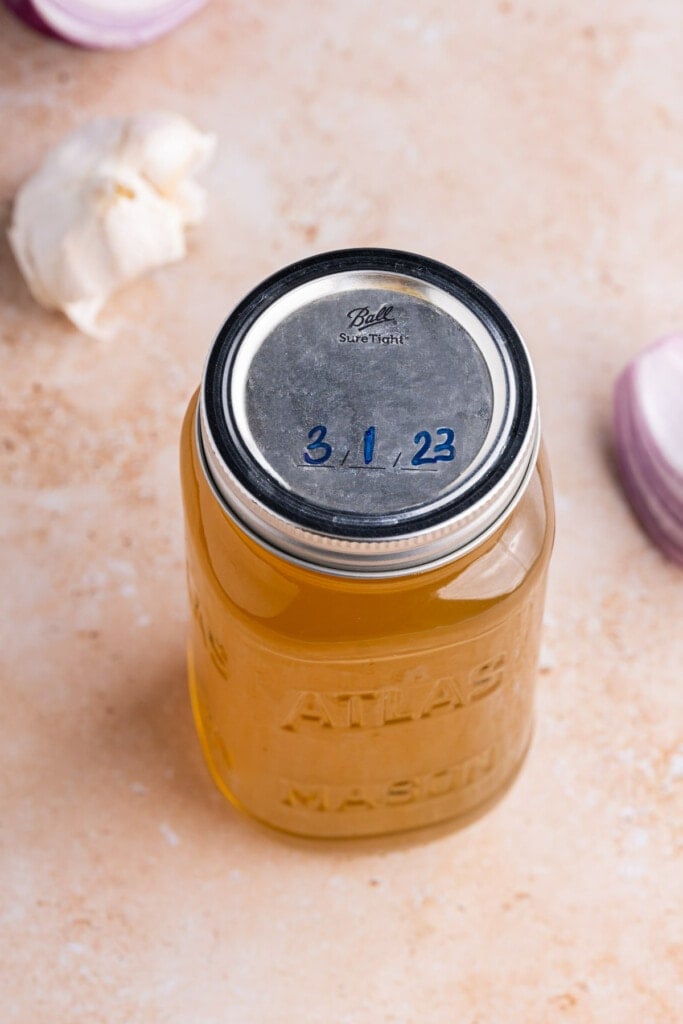 Vegetable Scrap Broth Frequently Asked Questions
---
Can you make stock from vegetable scraps?
By definition, stock is made from bones. So, while you can't technically make stock from just vegetables, you can definitely make broth from vegetable scraps.
Boil your vegetable scraps with salt, water, and fresh garlic and then reduce the heat, cover, and simmer for at least 30 minutes. Strain and you're left with a delicious broth!
Why is my vegetable broth bitter?
If your vegetable broth is bitter, you have likely added some veggies or scraps from the "don't" list. This includes broccoli, cauliflower, brussels sprouts, beets, turnips, and radishes.
Additionally, while I do encourage you to add citrus peels and piths to the broth, they should only be added if you are also adding something sweet like sweet potato peels and/or apple peels and cores to balance out the broth.
Can you use peelings to make stock?
Adding vegetable scraps to any stock will add tons of flavor—and not just peelings! Peels, stalks, cores, leaves, and leftovers all work for broths and stocks.
Sign-up for the Meatless Monday Challenge
Get access to the 4-week-long Meatless Monday Challenge, with accompanying meal plans, grocery shopping lists, and more, sent right to your inbox!
Why You Should Make this Vegetable Broth from Veggie Scraps
---
It's resourceful. Save on waste and money by using your kitchen scraps to make something new!
It's healthier. Making your own broth gives you control over the quality of ingredients as well as the amount of sodium.
The flavor! Boost the depth of flavor in any dish with this delicious vegetable broth.
If you're loving this Vegetable Broth from Veggie Scraps and want to make more of your kitchen basics, check out this Vegan BBQ Sauce and this Chili & Taco Seasoning.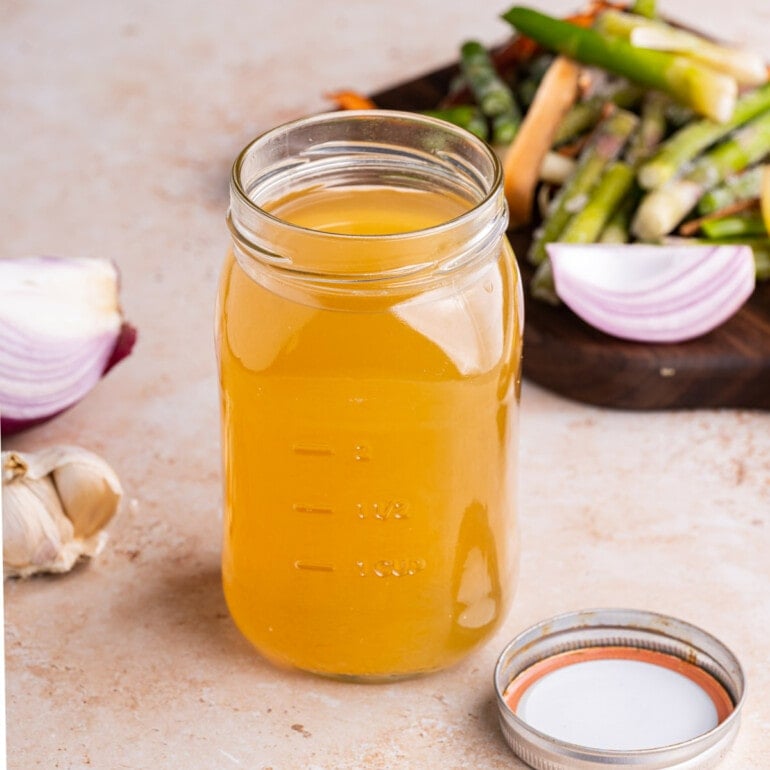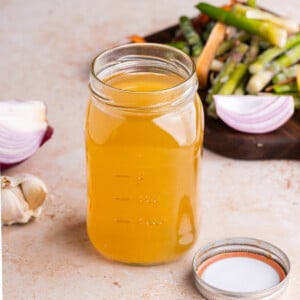 How to Make Vegetable Broth from Veggie Scraps
PRINT
PIN
RATE
Avoid food waste and put your veggie scraps to great use by making this delicious Vegetable Broth from Veggie Scraps.
Ingredients
Vegetable Scrap Broth
1

gallon freezer bag

various frozen vegetables scraps

(see notes)

3

cloves

garlic

1

teaspoon

salt

water, as needed
Optional Flavor Boosters
½

ounce

dried mushrooms

1

tablespoon

whole black peppercorns

1

vegetable bouillon cube

¼

teaspoon

cayenne pepper or crushed red pepper

1

tablespoon

miso paste
Instructions
Save veggies scraps from the kitchen in a gallon freezer-safe bag (consider a reusable storage bag for a more sustainable option!) for up to 6 months or until the bag is full.

To a large pot, add the vegetable scraps, garlic, and salt. If you are adding any optional flavor boosters, add those now, too. Pour water over top until the vegetables are completely submerged and some scraps start to float.

Bring to a boil, cover, and bring heat down so it is just simmering. Simmer covered for 30 minutes.

Use a sieve to remove the vegetable scraps from the broth first.

Then, pour the broth through a sieve to strain any smaller vegetable scraps left in the broth.

Store the vegetable scrap broth in a large glass jar in the refrigerator for up to 4 days or the freezer for up to 3 months. Allow it to cool before sealing the jar.
Pro Tips
Vegetable scrap "do's": onion, garlic, asparagus, mushrooms, celery, carrots, potato and sweet potato scraps and peels, herbs, tomatoes, bell peppers, squash, peas, green beans, zucchini, corn and corn cobs, shallots, leeks, leafy greens like kale spinach, arugula, spring mix, and/or watercress, cabbage, citrus peels (in moderation), apple cores and peels.
Vegetable scrap "don'ts": broccoli, cauliflower, brussels sprouts, beets, turnips, and radishes.
If you are using citrus peels and pith in your veggie scrap broth. make sure you are also adding something sweet like sweet potato peels or apple peels and cores to balance them out.
Did you make this recipe?
Let me know by leaving a recipe rating below, or by tagging @marleysmenu on Instagram.