Having a great seasoning is like having pixie dust. You sprinkle it on your food and it brings it to life. My easy 5-minute taco seasoning is multi-use and great to have around the house for Tacos, Quesadillas, Burritos, Chili, Enchiladas—you name it!
I even use this seasoning to make my avocado toast and sprinkle it into my eggs in the morning.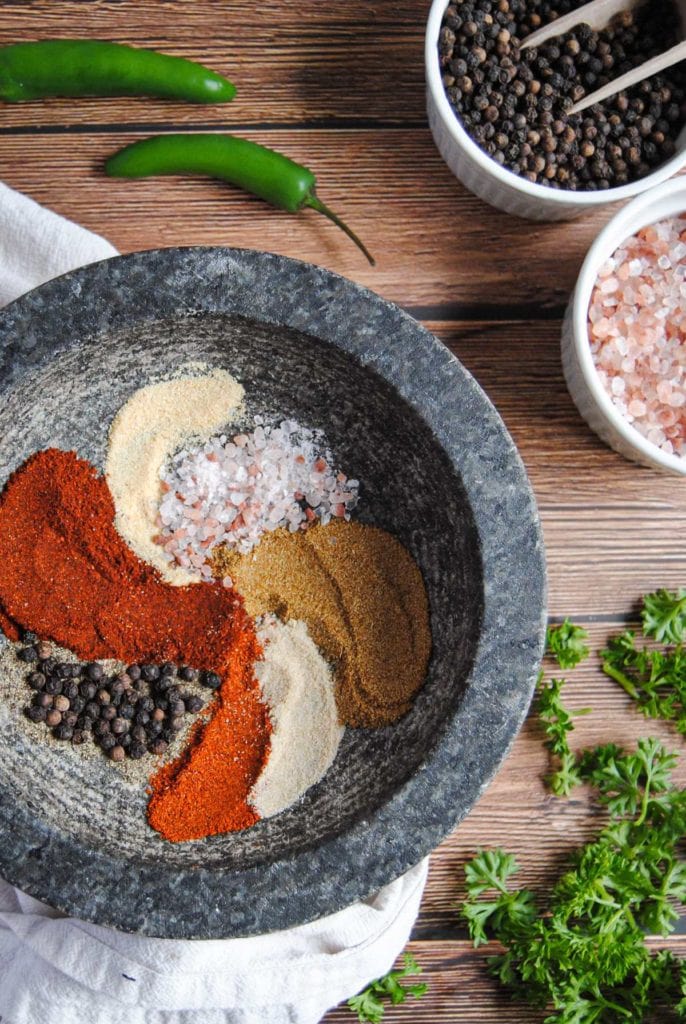 You can buy it in packets, sure, but making your own is quick and easy, and allows you to tailor it more to your taste buds! I am a huge proponent of homemade everything because I swear you can ALWAYS taste the difference. And smell the difference, too.
Plus, the packet stuff often has extra sugar, sodium, or preservatives which we just don't need in order to infuse GREAT flavor in a more natural way.
And did I mention it will take 5 minutes or less to throw this together?
Green tip: Food preservatives, like pesticides, are harmful to the environment. They contain toxins that are harmful to plants, animals, and soil. Homemade food with all-natural ingredients that allows you to avoid preservatives lowers your ecological footprint.
Go-To Chili and Taco Seasoning Main Ingredients
Chili Powder
Chili Powder is the base of this seasoning. It's generally made up of a blend of milder peppers and other spices like paprika. It goes hand-in-hand with Tex-Mex. It is not the main source of spiciness in this recipe.
Cayenne Pepper
If you want to tone down or kick up the heat, do it with the Cayenne Pepper. The recipe calls for 1/2 teaspoon and will give you a moderately spicy seasoning.
Amp it up to 1 teaspoon for spicy and reduce it to 1/4 teaspoon for a more mild seasoning.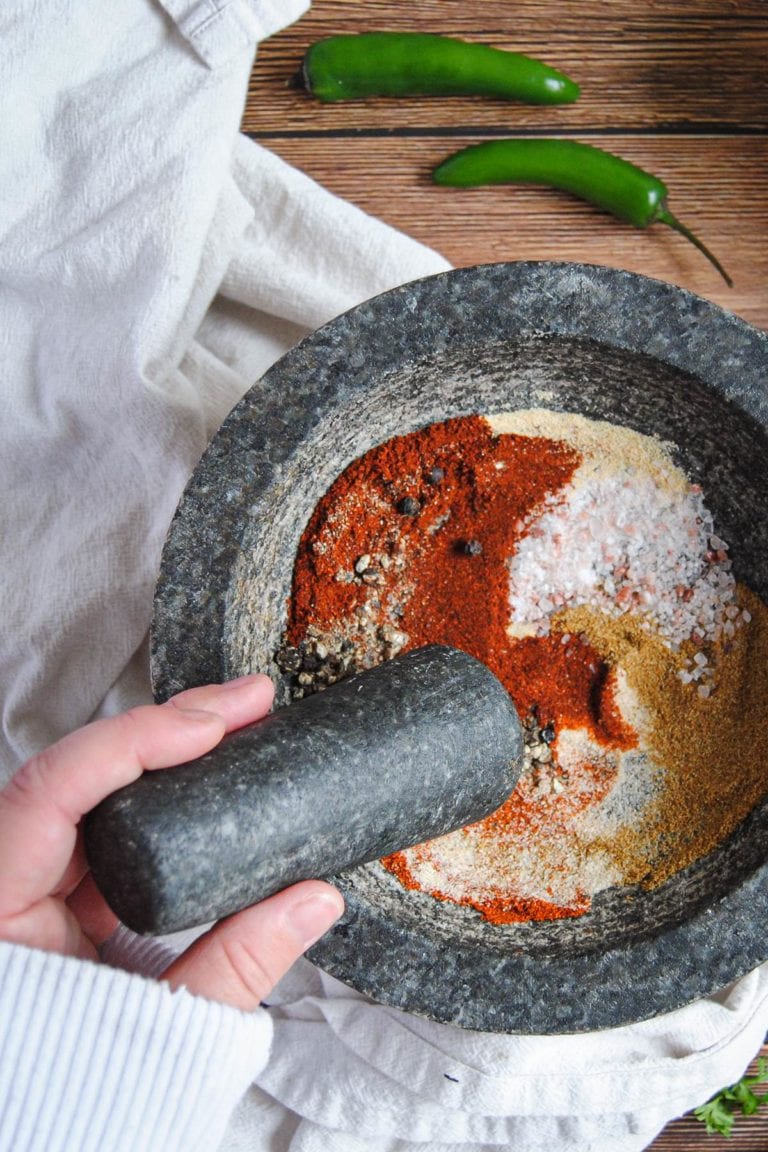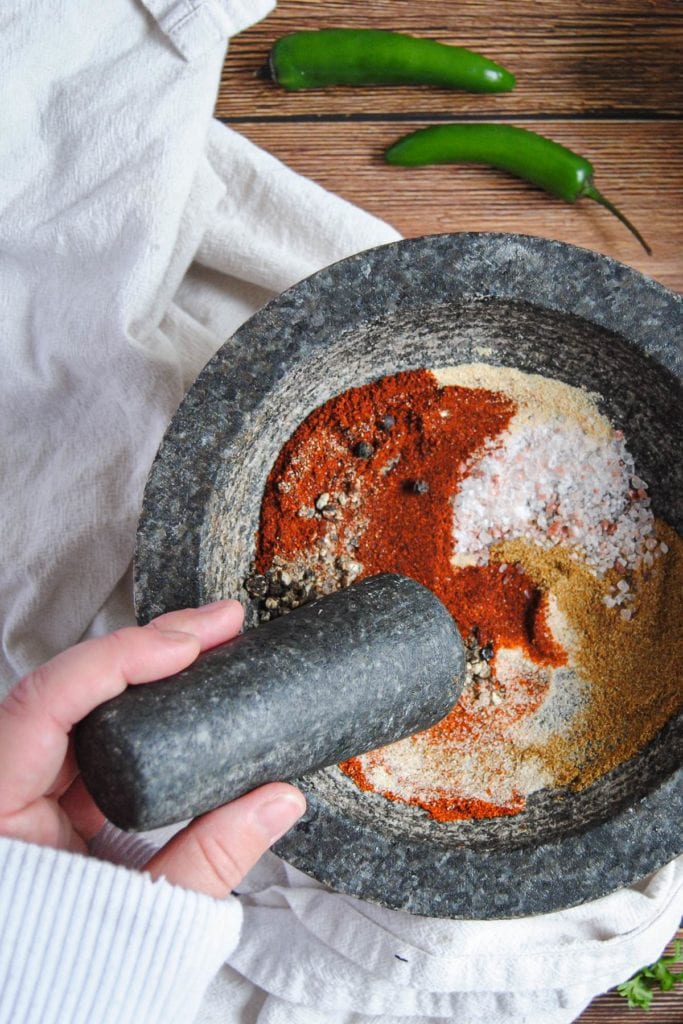 Garlic and Onion Powder
Garlic Powder and Onion Powder are the two most pungent flavorings. They bring anything to life and together liven up your dish.
Ground Cumin
Ground Cumin has subtle hints of both sweetness and bitterness, making it a well-rounded spice that completes this seasoning. It also gives it more of an earthy taste, which will freshen up any fish or vegetables that you season with it.
Salt and Pepper
I always make mine with my trusty mortar and pestle because I use coarse pink Himalayan salt and whole peppercorns. I can then grind it down to dust and smooth out any clumps of onion or garlic powder that may have formed from moisture.
The key is having a well-mixed, super-fine seasoning to help with even distribution over your ingredients.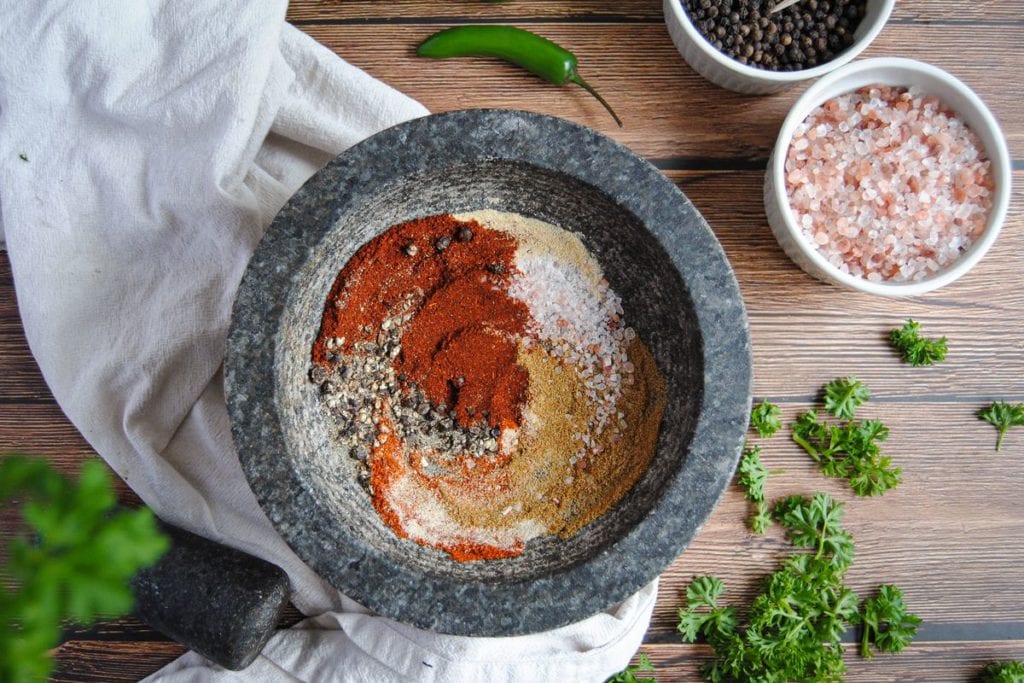 Chili and Taco Seasoning FAQ's
---
---
How do you make taco seasoning from scratch?
Taco seasoning is made up of a combination of spices, usually including chili powder, cumin, cayenne pepper, onion, and garlic powder. Try this Go-To chili and taco seasoning.
Can taco seasoning be used in chili?
Absolutely. They share the same core ingredients, and can easily be substituted for one another.
Is taco seasoning different from chili seasoning?
In some cases, taco seasoning and chili seasoning may differ, but they can be used interchangeably. Generally, chili seasoning will contain a little bit more chili powder while taco seasoning will have a bit more cumin.
Make this Easy 5-Minute Chili and Taco Seasoning Because…
---
---
It's all-natural. Preservative-free made fresh in your own kitchen.
It's versatile. This seasoning is delicious on close to everything savory!
It's customizable. Easily adjust your spice and salt levels.
It tastes better than store-bought! No extra unnecessary sugar or sodium, and an overall fresher taste!
Try this seasoning in:
↪ Wholesome Vegan Chili with Lentils
↪ Tofu Fajitas with Onions and Peppers
↪ Sweet and Spicy Pineapple Salsa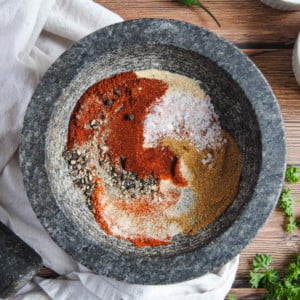 Easy 5-Minute Chili and Taco Seasoning
PRINT
PIN
RATE
This seasoning is perfect for any Tex-Mex dish or chili, and tastes better than store-bought with no preservatives!
Ingredients
1

tablespoon

chili powder

1

teaspoon

ground cumin

½

teaspoon

cayenne pepper

½

teaspoon

salt

¼

teaspoon

garlic powder

¼

teaspoon

onion powder

¼

teaspoon

black pepper
Instructions
Combine all ingredients together.

Use immediately in tacos, fajitas, chili (and more!) or store in a sealed container for later use.
Pro Tips
If you're a big fan of spice, add a little extra cayenne pepper!
Did you make this recipe?
Let me know by leaving a recipe rating below, or by tagging @marleysmenu on Instagram.