Looking for a hearty cheesy appetizer, snack, or meal with tons of flavor and texture? These BBQ Jackfruit Quesadillas are perfect to share or to enjoy as a meal and only require 5 ingredients.
With succulent and tender BBQ jackfruit, a little crunch from diced red onion, and cheesy melted cheddar all sandwiched between two crispy golden-brown tortillas, this next-level vegetarian quesadilla hits all the right notes!
In this recipe you will learn how to make tender pulled BBQ jackfruit from canned jackfruit, and how to perfectly build and pan fry a quesadilla.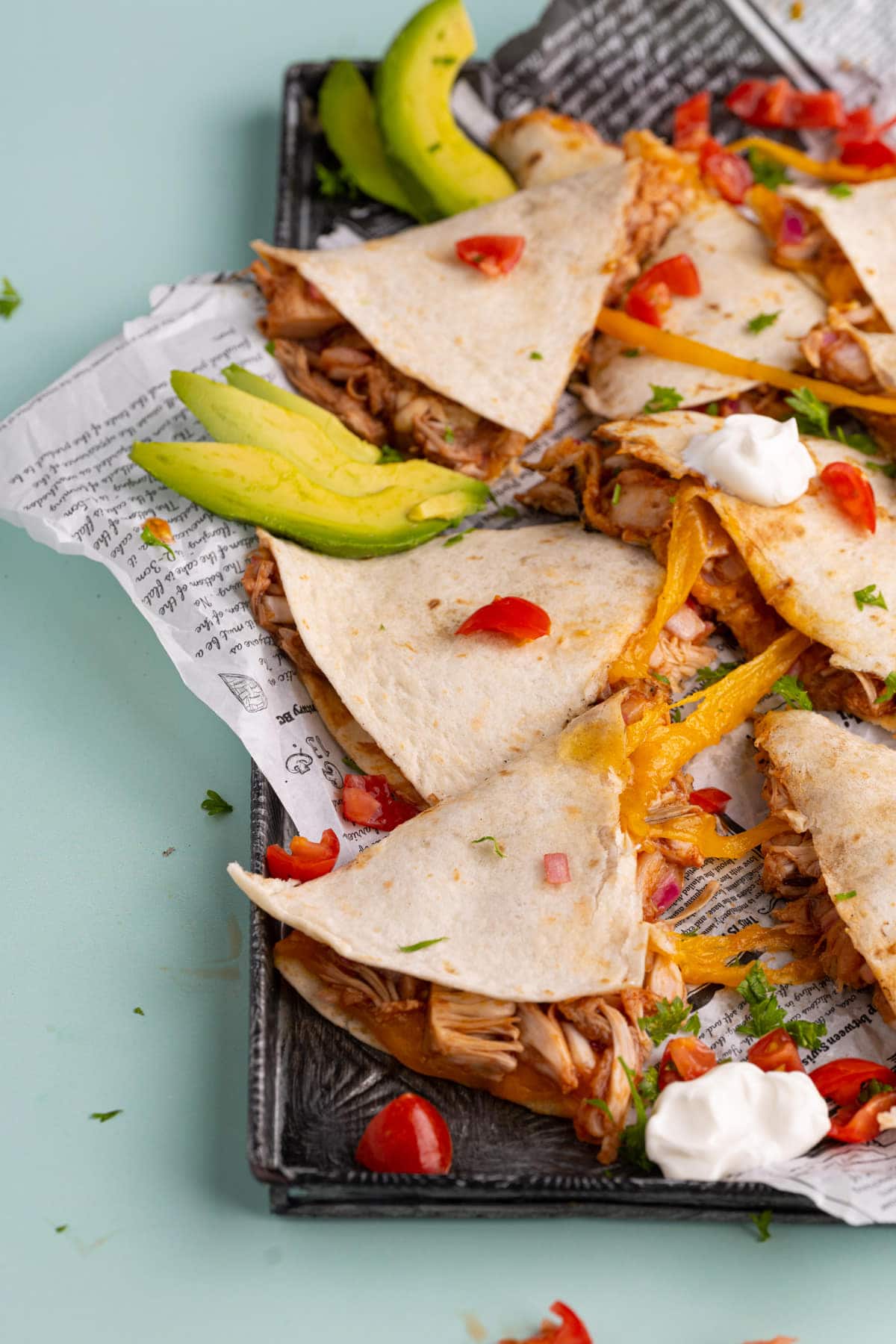 As an environmental scientist, I'm always looking for delicious meat alternatives to help me lower my ecological footprint, and these BBQ Jackfruit Quesadillas are at the top of my list!
Green tip: Industrial meat production has a huge impact on the environment, especially because of the amount of land it takes to sustain and its high amount of greenhouse gas emissions. Reducing your meat consumption is one great way to reduce your ecological footprint.
Jackfruit Quesadillas Ingredients
---
Here's everything you need: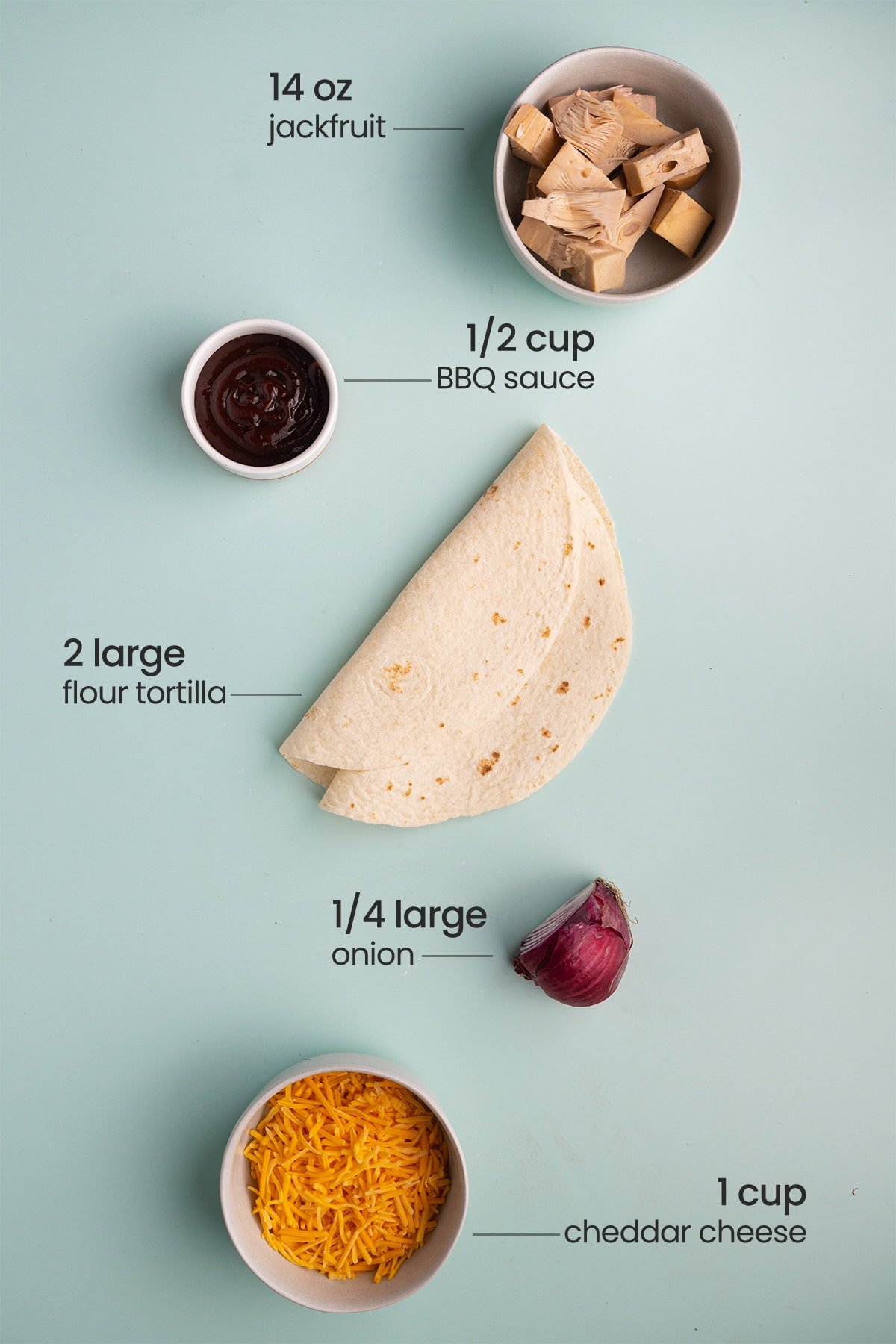 Quesadillas with Jackfruit Tips and Tricks
---
How to Get Your Jackfruit Tender
If you're buying canned jackfruit, it usually comes floating in brine. This is great for preserving the jackfruit, but it can give the jackfruit a slightly bitter taste.
Make sure to drain the jackfruit before boiling it to ensure you are starting with the most neutral flavor, allowing you to have more control over the final outcome.
In order to get that perfect meaty texture, you have to get the jackfruit tender first. This will allow you to shred it to resemble the texture of chicken or pork.
Green tip: Organic farms rely on biodiversity to generate rich soil, avoiding the use of pesticides and fertilizers, which means no toxic runoff. Consider organic ingredients for this recipe!
Once you've drained the jackfruit, add it to a large pot with about 10 cups of boiling water. Over high heat, it will take about 20-25 minutes to get fork tender.
Once your jackfruit is tender, drain the boiling water through a colander or sieve. Use a spatula to press down on the jackfruit, pushing out any excess water.
Then, transfer your jackfruit to a large plate or cutting board. Use two forks to pull apart and shred the jackfruit. You may find some pieces break down more easily when you use the back of your fork to press the jackfruit down into the plate.
By the time you are done shredding, the jackfruit should resemble shredded meat.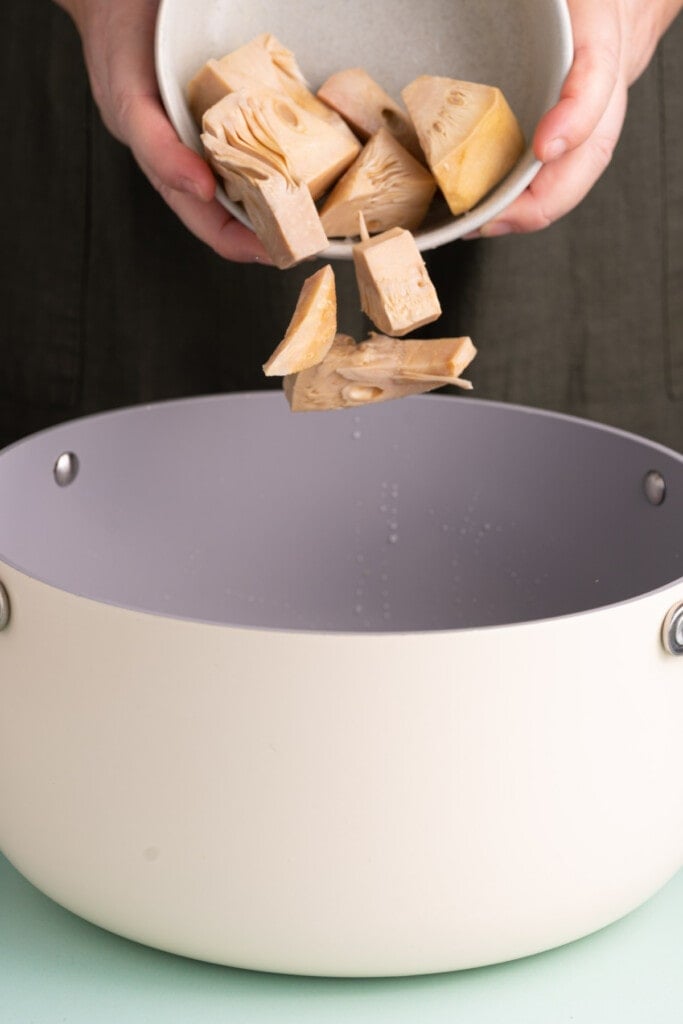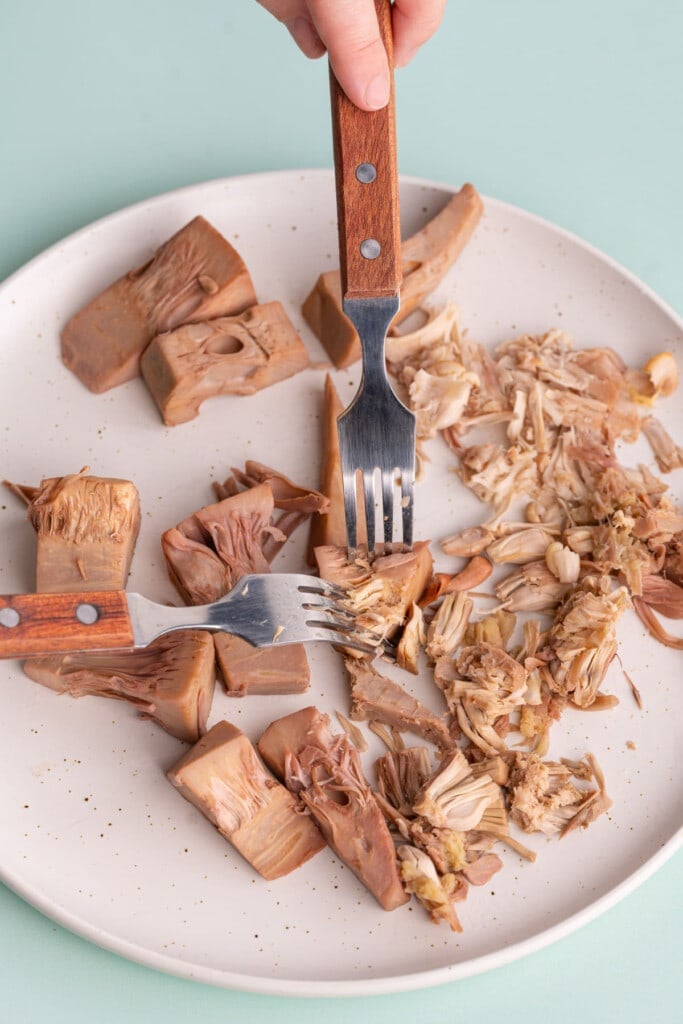 How to Easily Dice Red Onion
You'll only need about a half cup of diced red onion, which you typically get out of just one quarter of an onion. Cut the onion into four pieces around the core and chop off both ends. This will make it very easy to peel off the outermost layer of the onion.
The peel can be saved with other vegetable scraps to make your own veggie broth or they can be composted!
Once you've peeled your onion and cut it around the core, you will have a flat side that can sit directly and stable on your cutting board. Slice the onion into thin strips first, then rotate it and chop in the other direction until its diced.
Then, use your hands to separate the layers until your left with small pieces.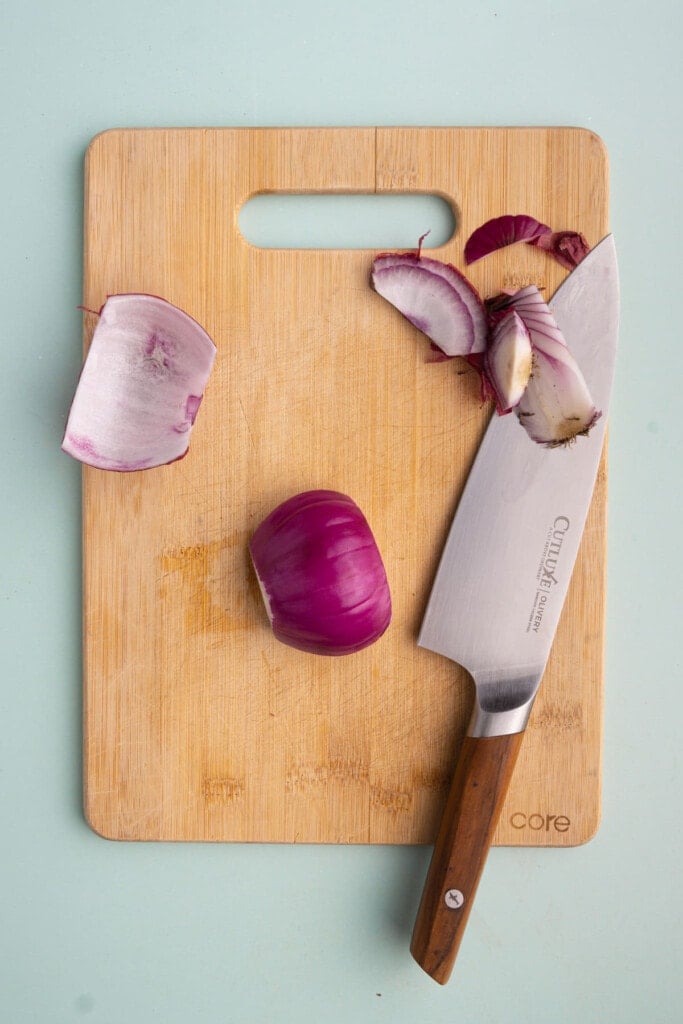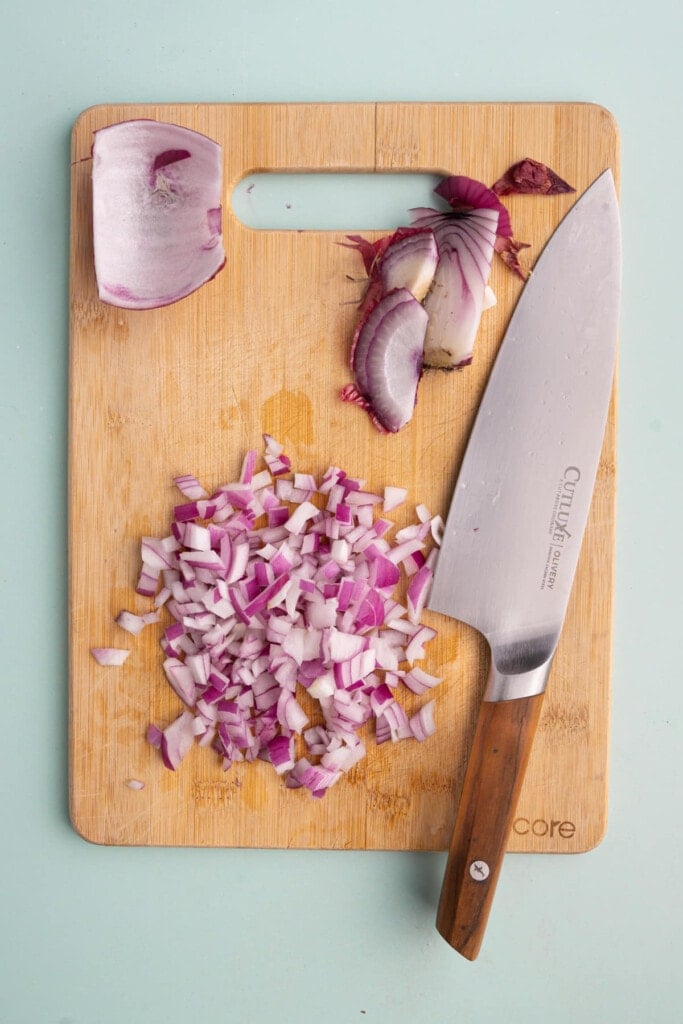 Making Your BBQ Jackfruit
Once you've shredded your jackfruit and diced your red onion, you're ready to make your 3-ingredient BBQ jackfruit!
Add the jackfruit, onion, and BBQ sauce to a large mixing bowl and stir to combine. Taste your BBQ jackfruit to make sure it is saucy enough and to check whether or not you need to add any salt and pepper.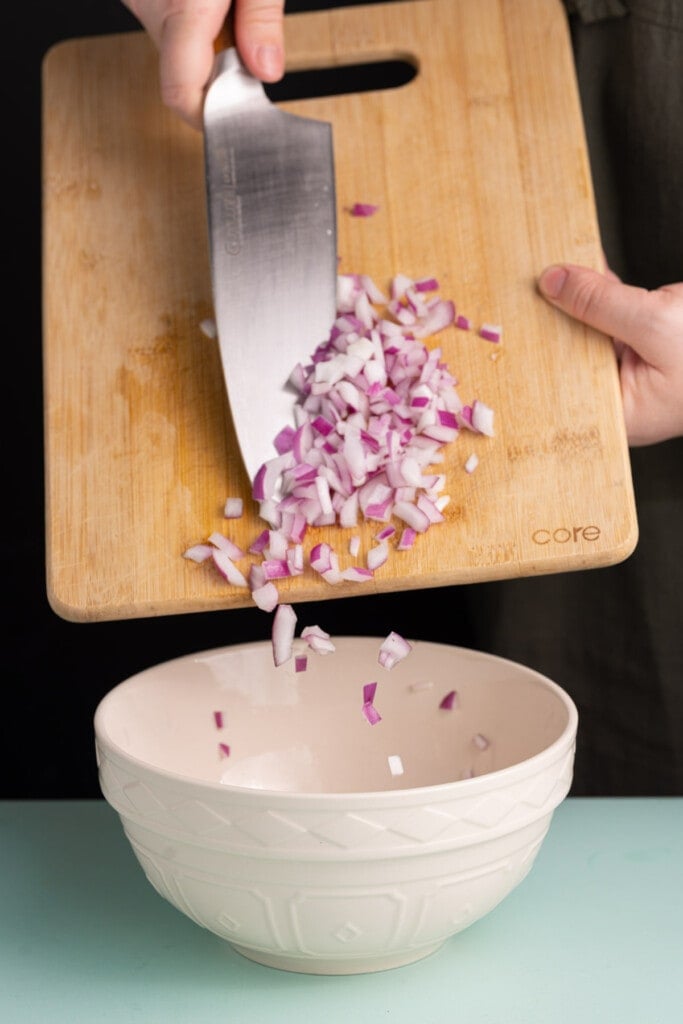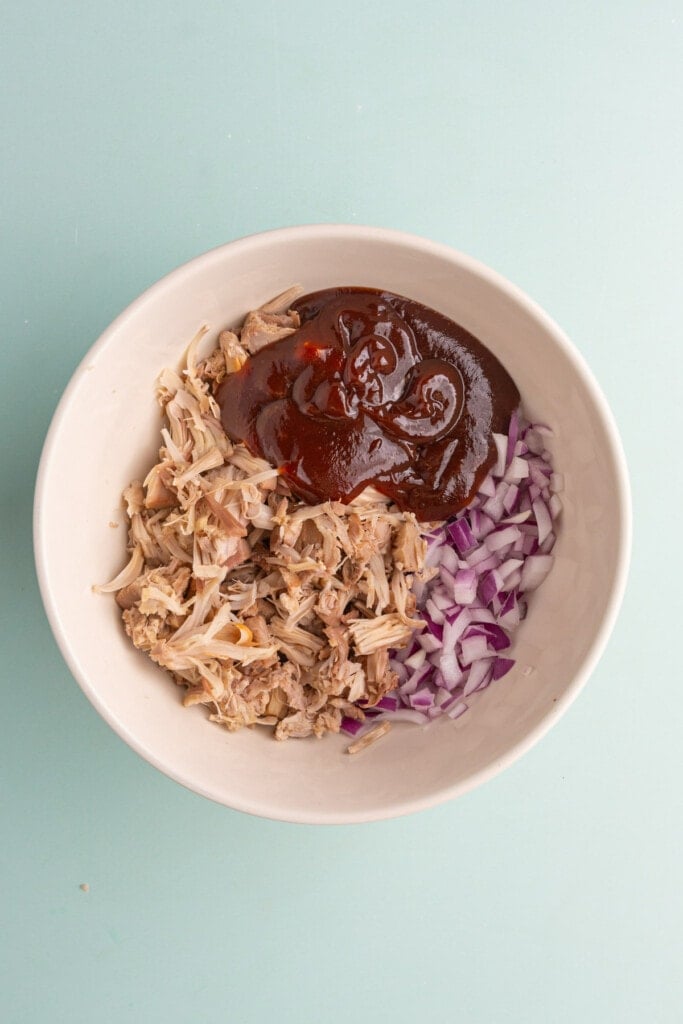 How to Assemble Your BBQ Jackfruit Quesadilla
I find it easiest to assemble the jackfruit quesadilla directly on the pan, to avoid making a huge mess and having it fall apart when attempting to move it to the pan.
I make my quesadillas in a large cast iron skillet, but any frying pan works. You do not need to grease the pan, the tortilla will not stick. However, if you want to add some butter to the pan for extra flavor, you can.
Add a large tortilla to your pan of choice, but do not turn the heat on yet. Add a thin, equal layer of cheddar cheese to the tortilla, leaving a little room around the edge for the cheese to melt and spread.
Next, add an even layer of your BBQ jackfruit on top of the cheese. Finish your quesadilla by adding the second tortilla on top. Then, turn the heat on to low and cook for about 7-10 minutes until the cheese is mostly melted and the tortilla starts to brown.
Carefully flip with a spatula and cook on the second side until both tortillas are browned and cheese is hot and melty.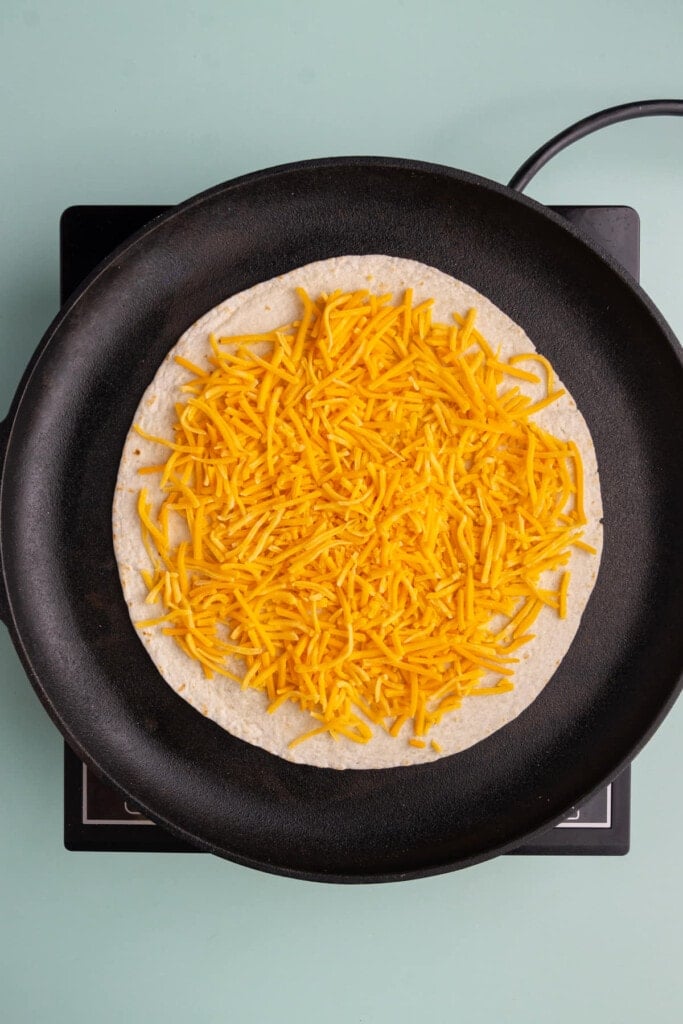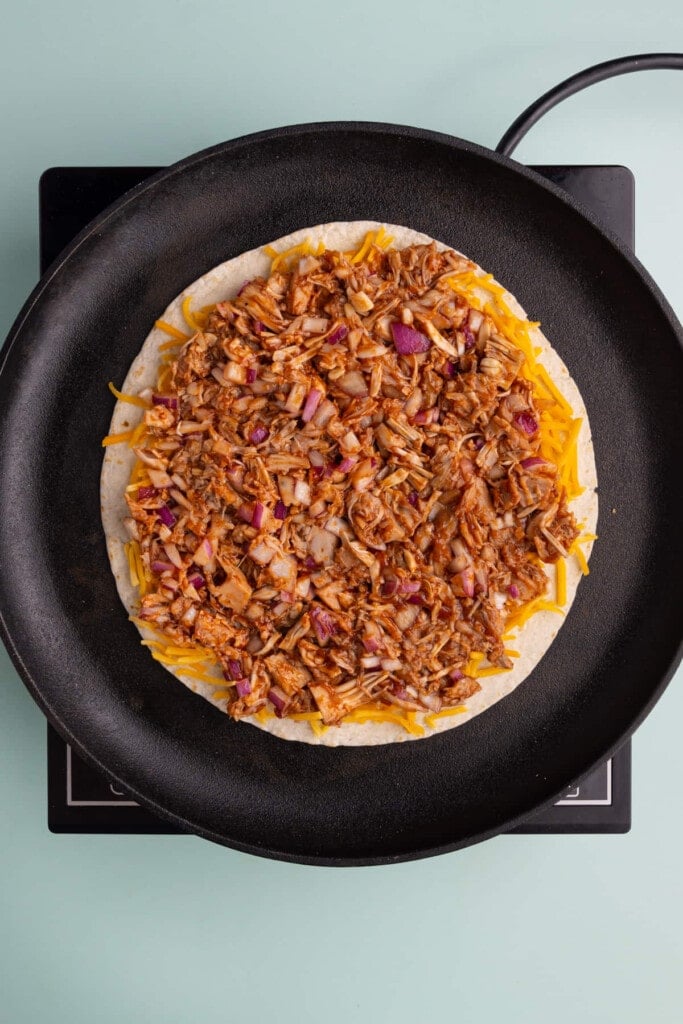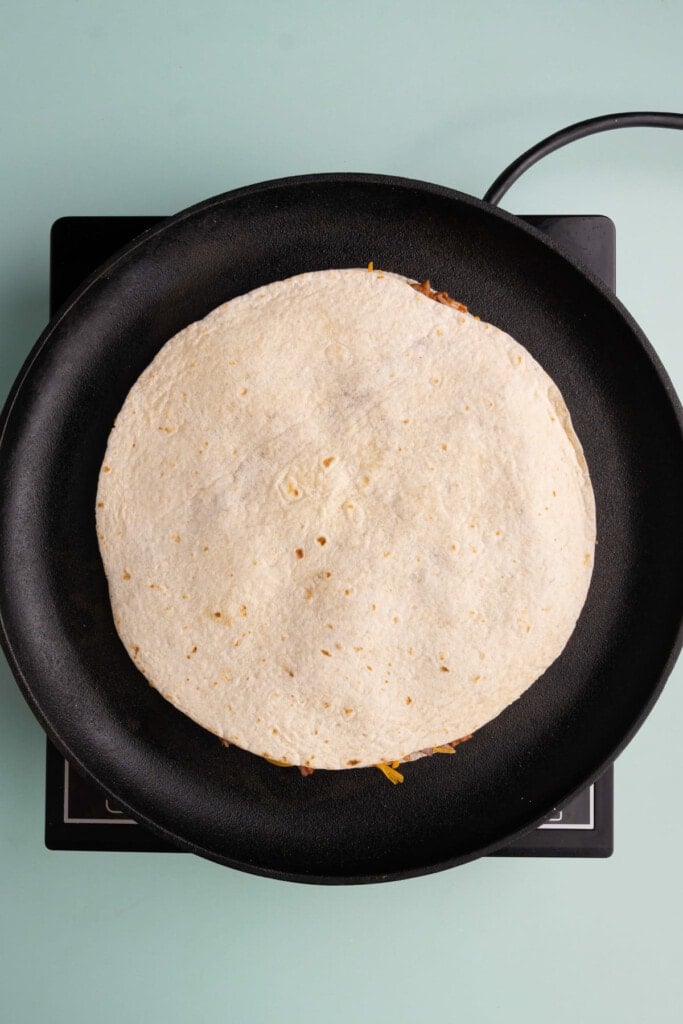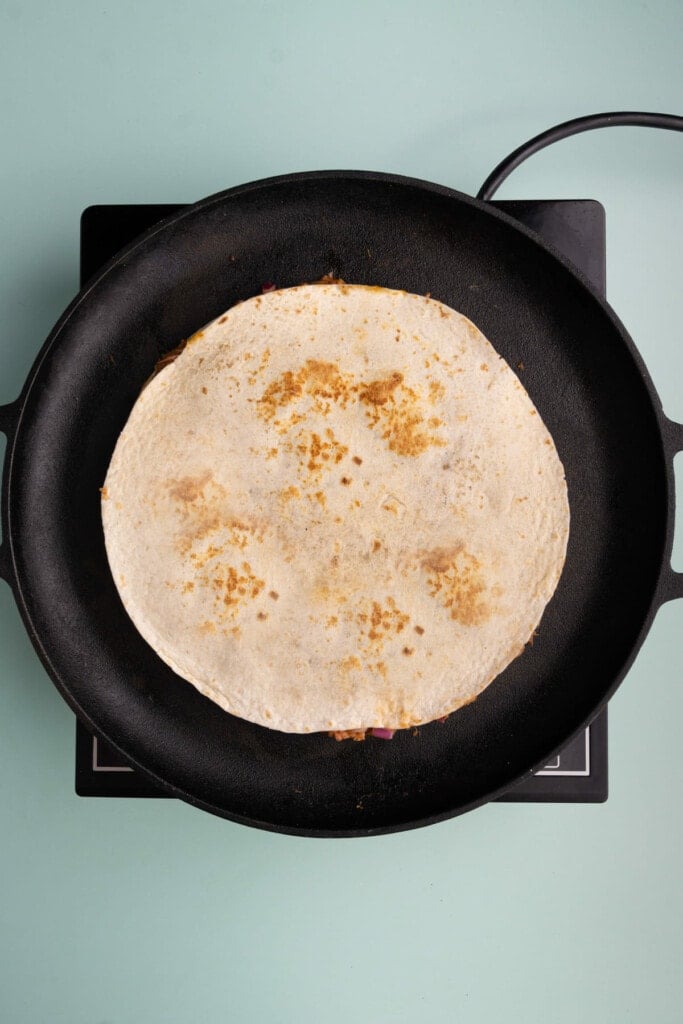 Serving Your Quesadilla with Jackfruit
When your quesadilla is ready, transfer it back to a cutting board and cut it into 8 slices. I find it's easiest to use a pizza cutter!
This Jackfruit Quesadilla has so much flavor and is delicious on its own! You can also opt to serve it up with some sour cream, salsa, sliced avocado, fresh cilantro, or extra BBQ sauce.
This quesadilla is also outrageously delicious with this Tableside Guacamole or Pineapple Pico de Gallo.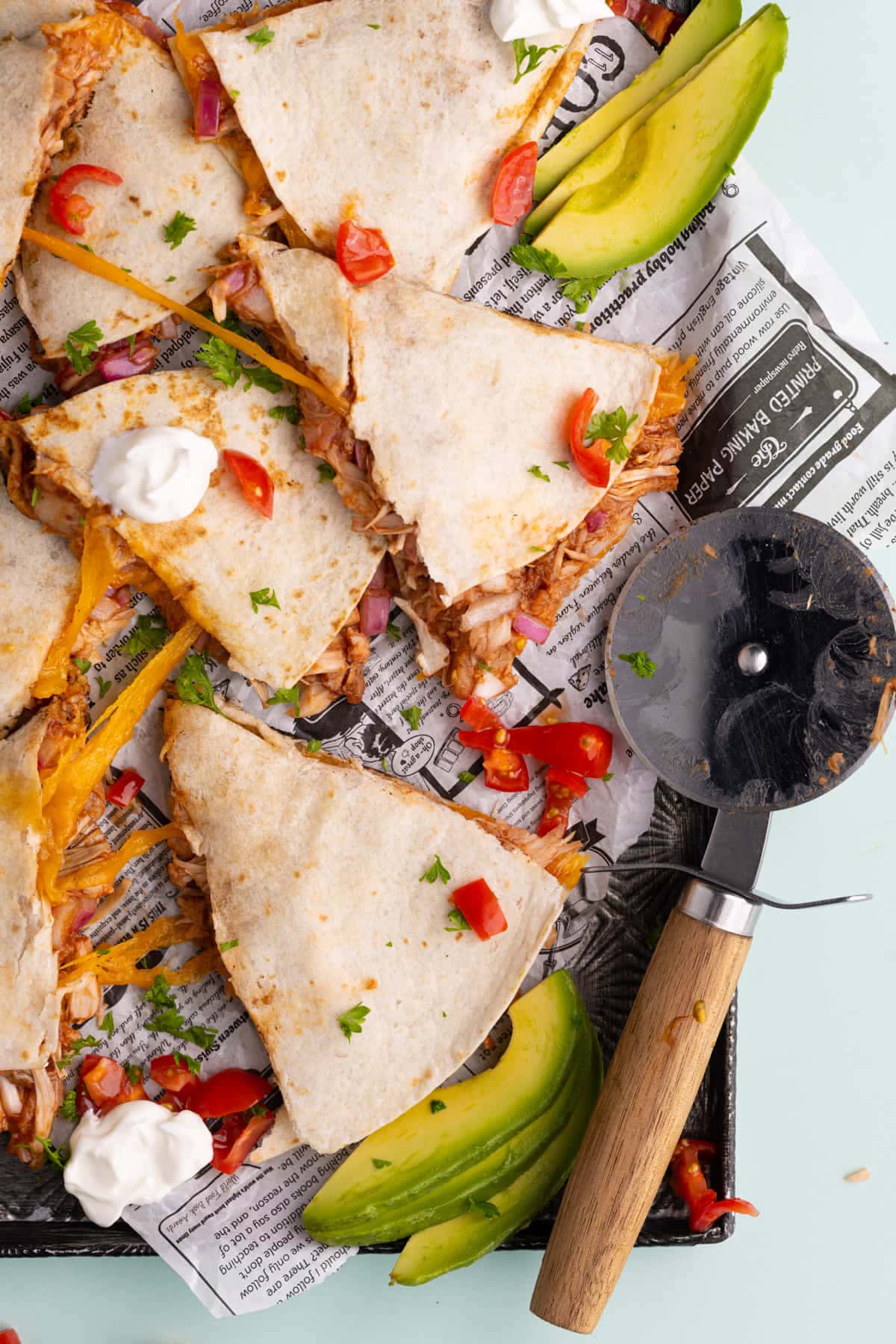 How to Properly Store and Reheat Leftover Jackfruit Quesadillas
Leftover jackfruit quesadillas will last for 3-5 days in an airtight container in the refrigerator. Leftovers can also be frozen for up to 2 months.
If frozen, allow to thaw overnight in the refrigerator before reheating. My favorite way to reheat these jackfruit quesadillas is in the air fryer or convection oven at 400°F for 10-15 minutes or until heated all the way through.
You can also reheat the quesadillas in the oven on the top rack at 425°F for 10-15 minutes or on the stove over low heat covered for about 10 minutes, flipping halfway between. If you do reheat on the stove in the frying pan, there is no need to grease the pan.
Green tip: Did you know that of the billions of pounds of food wasted annually, it is estimated that 50% of it happens in our homes? Reduce your contribution to food waste by properly storing and enjoying your leftovers!
BBQ Jackfruit Quesadillas Frequently Asked Questions
---
How do quesadillas stick together?
The flour tortillas on quesadillas stick together when the cheese melts and bonds everything together. In this BBQ jackfruit quesadilla, the sticky BBQ sauce also acts as a binder for the quesadilla.
What does BBQ Jackfruit taste like?
When you boil the jackfruit until it's tender, it can be shredded to resemble the texture of pork or chicken. While it does have a subtly sweet flavor, it's very mild, so it takes on the flavor of the BBQ sauce very well!
Want to sharpen your kitchen skills?
Why You Should Make these 5-Ingredient BBQ Jackfruit Quesadillas
---
Only 5 ingredients required! Yet still SO MUCH flavor and texture.
They're so hearty! The jackfruit makes these quesadillas so filling.
The melty cheese! There's nothing better!
If you're loving these BBQ Jackfruit Quesadillas and want more meaty meatless swaps, check out these Chickpea Meatballs and Jackfruit Burgers.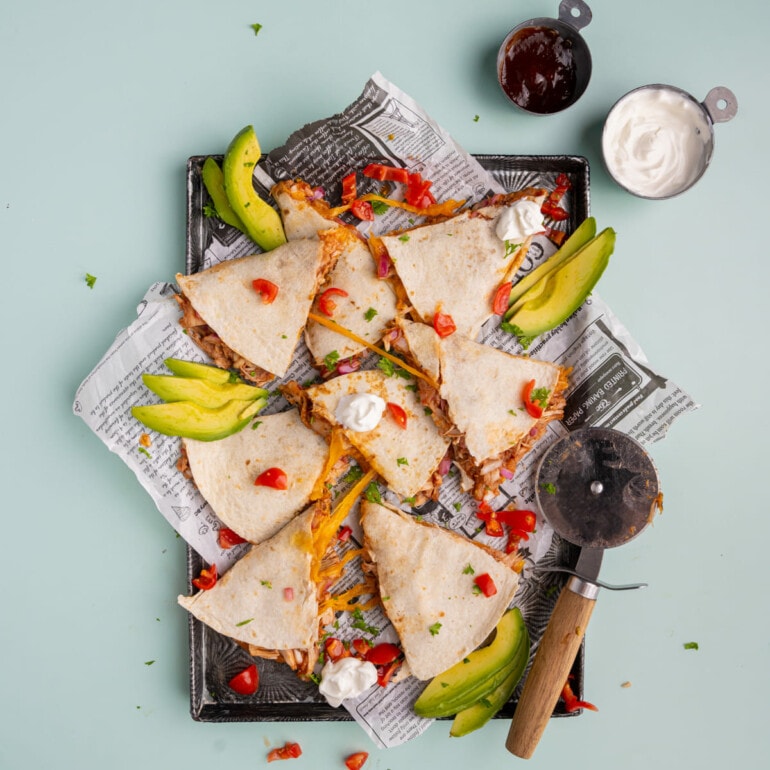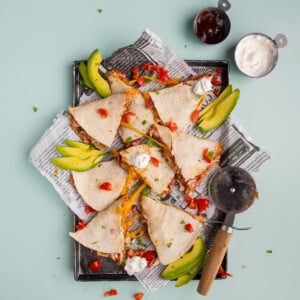 5-Ingredient BBQ Jackfruit Quesadillas
PRINT
PIN
RATE
These Jackfruit Quesadillas are made up of two crispy tortillas stuffed with melty cheese and succulent BBQ jackfruit, all with only 5 ingredients required!
Ingredients
14

ounces

young green jackfruit

(14 oz = 1 can)

¼

large

red or white onion

(optional for crunch)

½

cup

BBQ sauce

(use your favorite!)

2

large

flour tortillas

1

cup

shredded cheddar cheese
Instructions
Bring 10 cups of water to a boil in a large pot. Drain your canned jackfruit and boil for 20-25 minutes until tender. Dice your red onion.

Once your jackfruit is tender, transfer to a colander to strain the water and use a rubber spatula to push down on the jackfruit to push out any excess liquid. Then, transfer your jackfruit to a plate or cutting board and use two forks to shred it.

To a medium mixing bowl, add the shredded jackfruit, diced red onion, and BBQ sauce and mix to combine.

Add one large flour tortilla to a large cast iron skillet or frying pan (no need to grease the pan) and add a layer of cheese. Don't turn your stove on just yet.

Next, layer on your BBQ jackfruit.

Then, add the second tortilla to complete your quesadilla assembly. Turn your heat on low and allow to cook for about 7-10 minutes until the cheese starts to melt and the tortilla starts to turn golden brown.

Finally, flip the quesadilla and cook it on the second side until both tortillas are golden brown and the cheese is nice and melted. Slice into 8 equal slices and serve on its own or with guacamole, sour cream, or salsa.
Pro Tips
There is no need to grease your pan while making quesadillas, as tortillas have enough fat content in them to be naturally nonstick. However, if you want to, you can add butter to your pan for flavor. 
I like to use up all the BBQ jackfruit to make one super hearty extra-large, share-able quesadilla, but this recipe does make enough to save some BBQ jackfruit or to split it up into multiple quesadillas depending on your preference. 
For more jackfruit recipes, check out these BBQ Jackfruit Nachos and Jackfruit Burgers. 
Did you make this recipe?
Let me know by leaving a recipe rating below, or by tagging @marleysmenu on Instagram.