Ready to go all out for Taco Tuesday? Nothing says "I poured my heart and soul into this meal" than making everything from scratch, down to these Homemade Fluffy Flour Tortillas.
Honestly, I feel like my taco game is pretty strong, but learning how to make these tortillas REALLY brought them to the next level. You just can't buy fluffy and fresh at the store.
This recipe makes a beautiful flour tortilla that won't fall apart, even when you over-stuff it (because are you even eating a taco if you aren't making a mess?).
Try these fluffy tortillas with burritos, quesadillas, enchiladas, and wraps, too.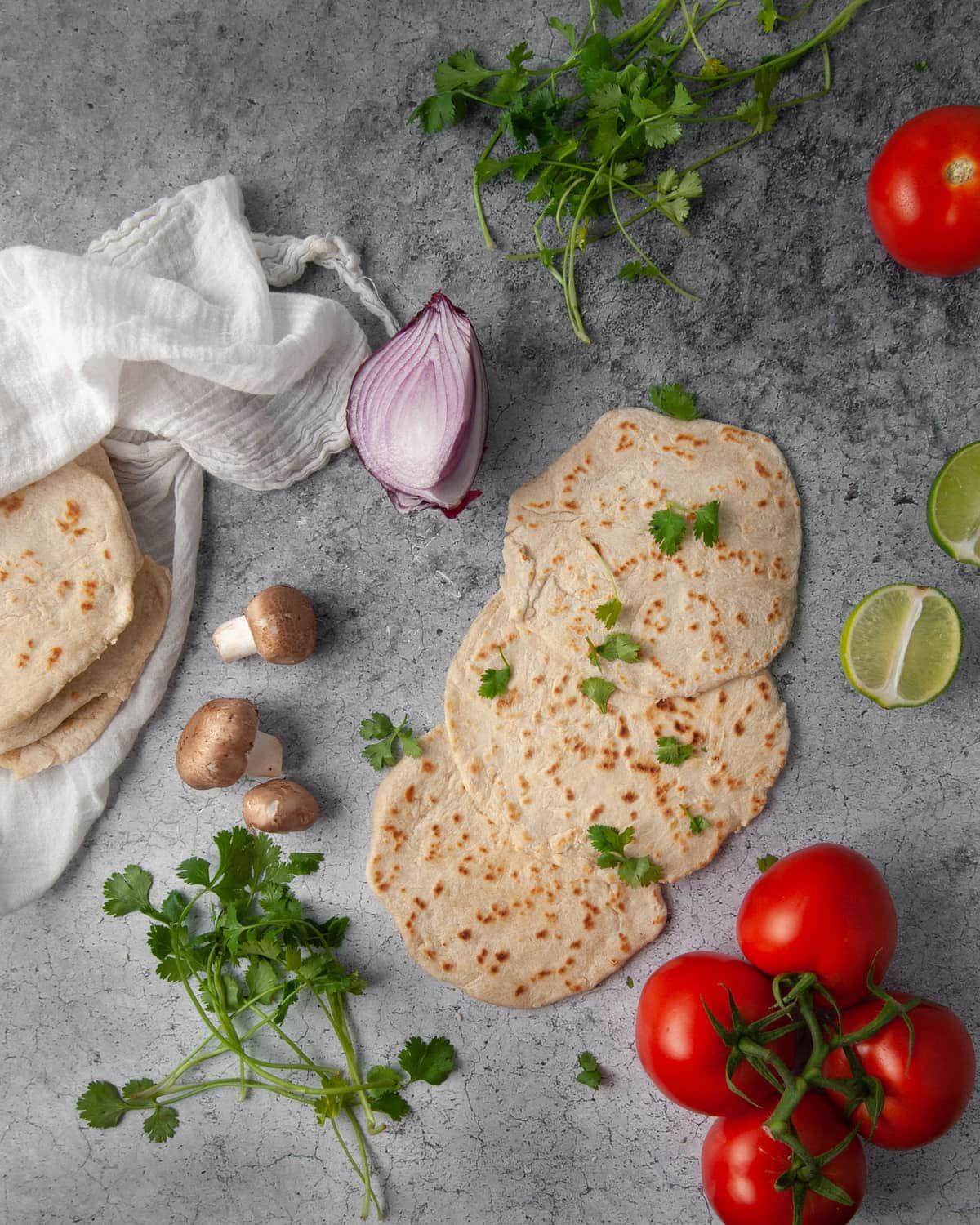 As an environmental scientist, I am always trying to reduce my plastic waste and avoid unnecessary preservatives. Which means I am often making things from scratch.
From spice blends to pizza dough, to these fluffy flour tortillas, using simple, clean ingredients to create things from scratch means you can avoid the long list of preservatives you often find on their store-bought counterparts.
Green tip: Food preservatives, like pesticides, are harmful to the environment. They contain toxins that are harmful to plants, animals, and soil. Homemade food with all-natural ingredients that allows you to avoid preservatives lowers your ecological footprint.
Homemade Fluffy Flour Tortillas Tips and Tricks
---
---
Gather Your Ingredients First
Just 5 pantry ingredients and hot water will get you these super fluffy flour tortillas.
You'll notice this recipe calls for two types of flour. After testing these every which way, I found that using half all-purpose flour and half bread flour gives just the right amount of chew and lends a more durable tortilla that won't crumble.
Using all bread flour makes these tortillas a little too tough and using all all-purpose flour makes them a tad more crumbly. I highly recommend using a combination of the two to get these perfect.
The water you use should also be warm or hot. No need to boil or heat on the stove, just hot water from the tap will do. It simply helps you more easily emulsify the water and oil together.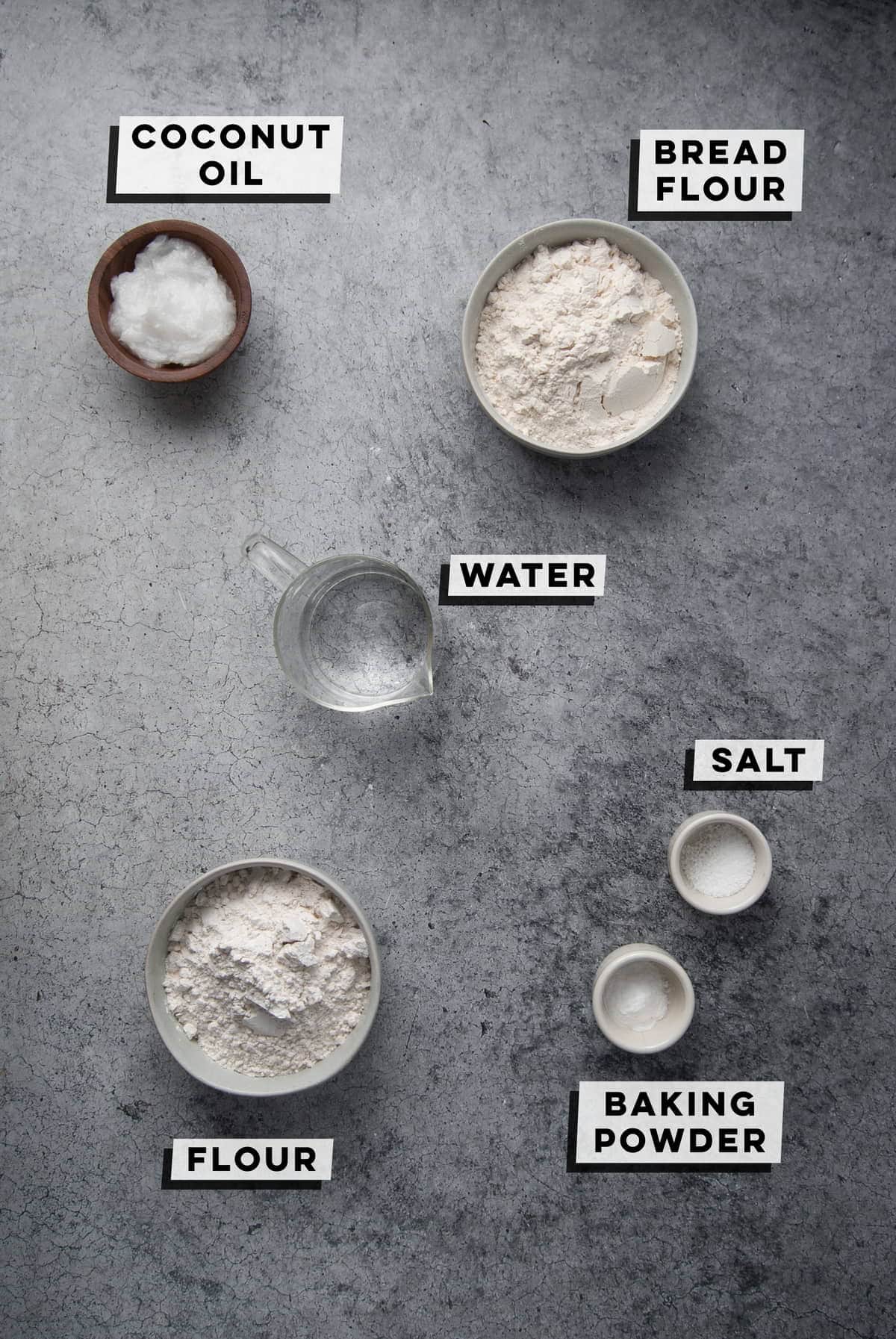 Combine Your Dry Ingredients First
Giving both flours, the baking powder, and the salt a whisk before adding your oil and water together just makes mixing all your ingredients more seamless.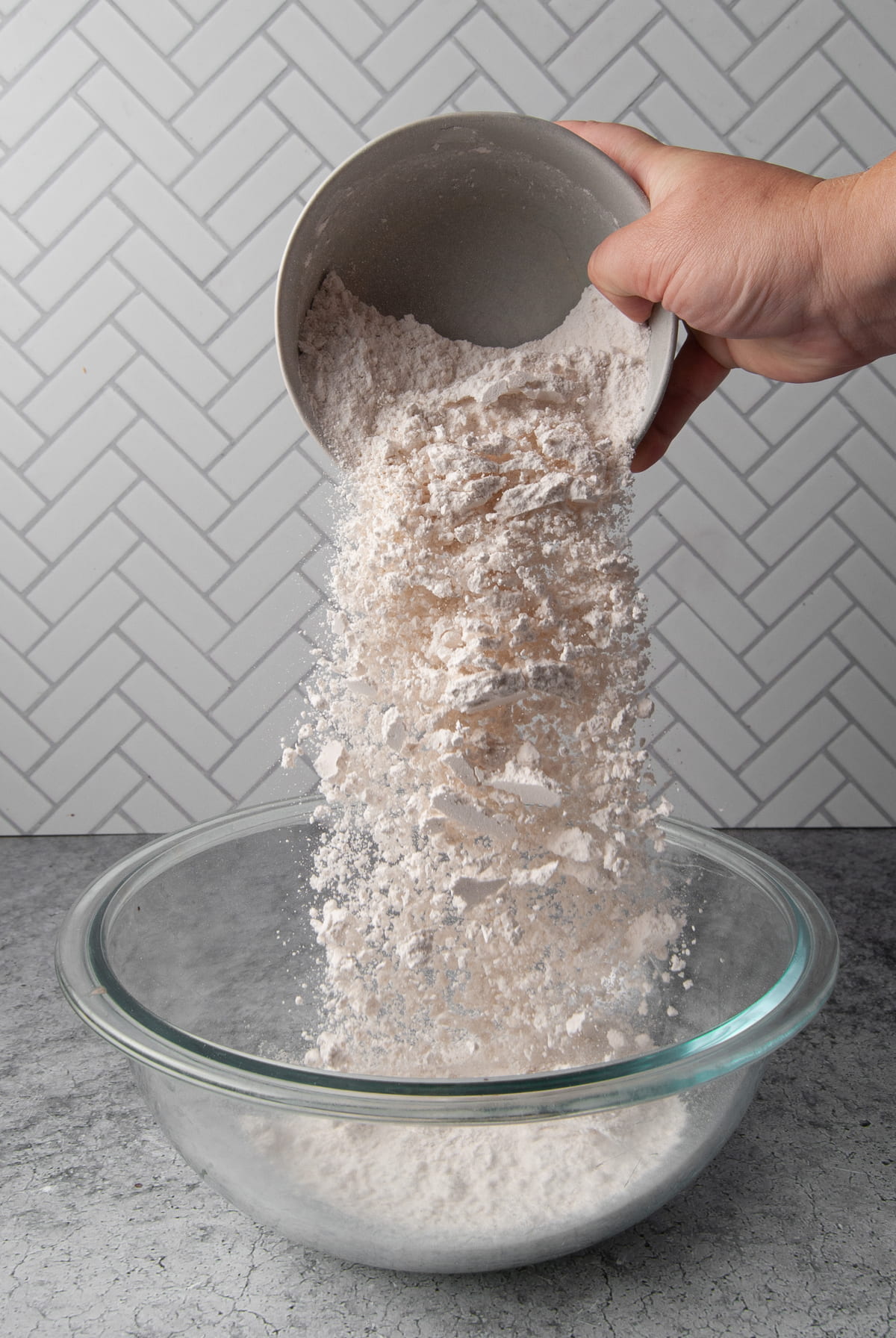 Make An Emulsion
I know what you're thinking, oil and water don't mix. But using warm water and whisk will allow you to combine the coconut oil and water into an emulsion.
This is the best way to integrate your wet ingredients into your dry. Whisk the water and coconut oil together for about 1 minute, until the mixture looks merky and there are no solid coconut oil lumps.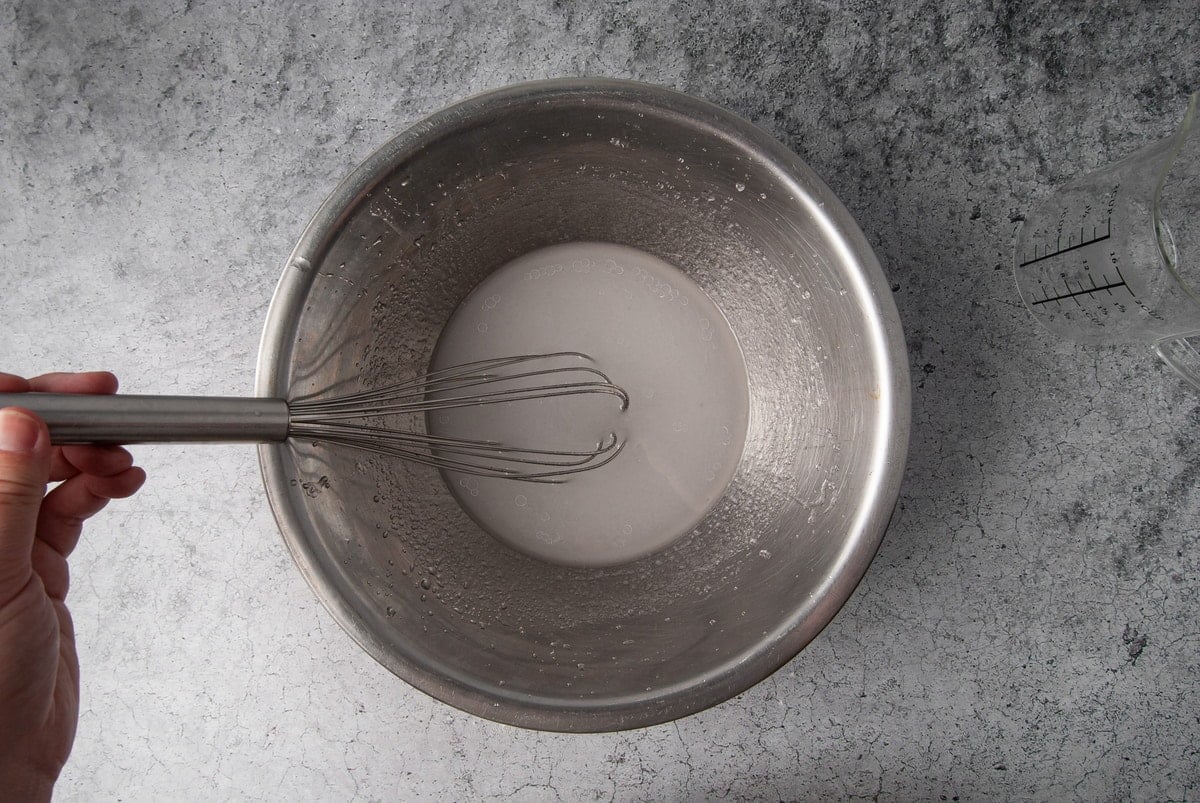 Use Your Hands
Once you add the dry and wet ingredients together, use your whisk to combine as much as you can. You'll notice the dough gets pretty thick, and the whisk will most likely leave some extra flour behind in your mixing bowl.
Use clean hands to work the extra flour into your dough.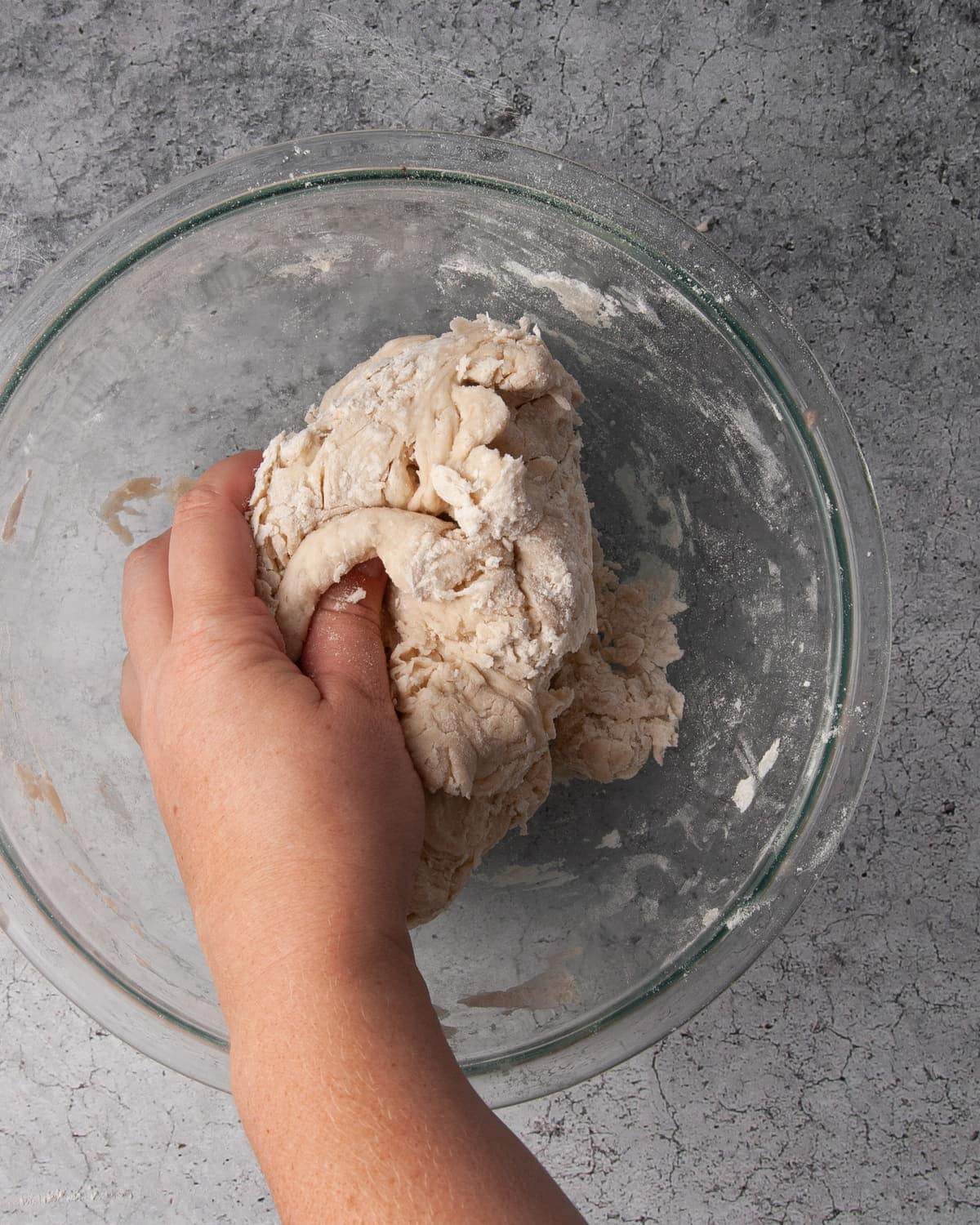 Flour Your Surface
While there is no need to spend a lot of time kneading this dough, you do want a nice, clean, floured surface to work on. You will use two hands to knead just a couple of times to ensure the dough is mixed well and ready to shape.
Once you've transferred your dough to the surface and used your hands to work it into a shapeable piece of dough, you should be left with a thick, firm dough that is not at all sticky.
If you find that your dough is sticky at all, add a little bit more all-purpose flour, 1 tablespoon at a time, working the flour into the dough until it feels like play-dough.
Divide It Evenly
Once your dough's ingredients are fully integrated and your left with a firm dough, use a rolling pin to flatten it. Roll it out into an oval shape, until it is only about 1/2 an inch thick.
You can then use a knife or pizza cutter to slice your dough into 12 roughly even pieces.
Ball 'Em Up
Take each piece and roll it in between both hands until your left with 12 balls of dough. Each ball will be shaped into a tortilla using a rolling pin.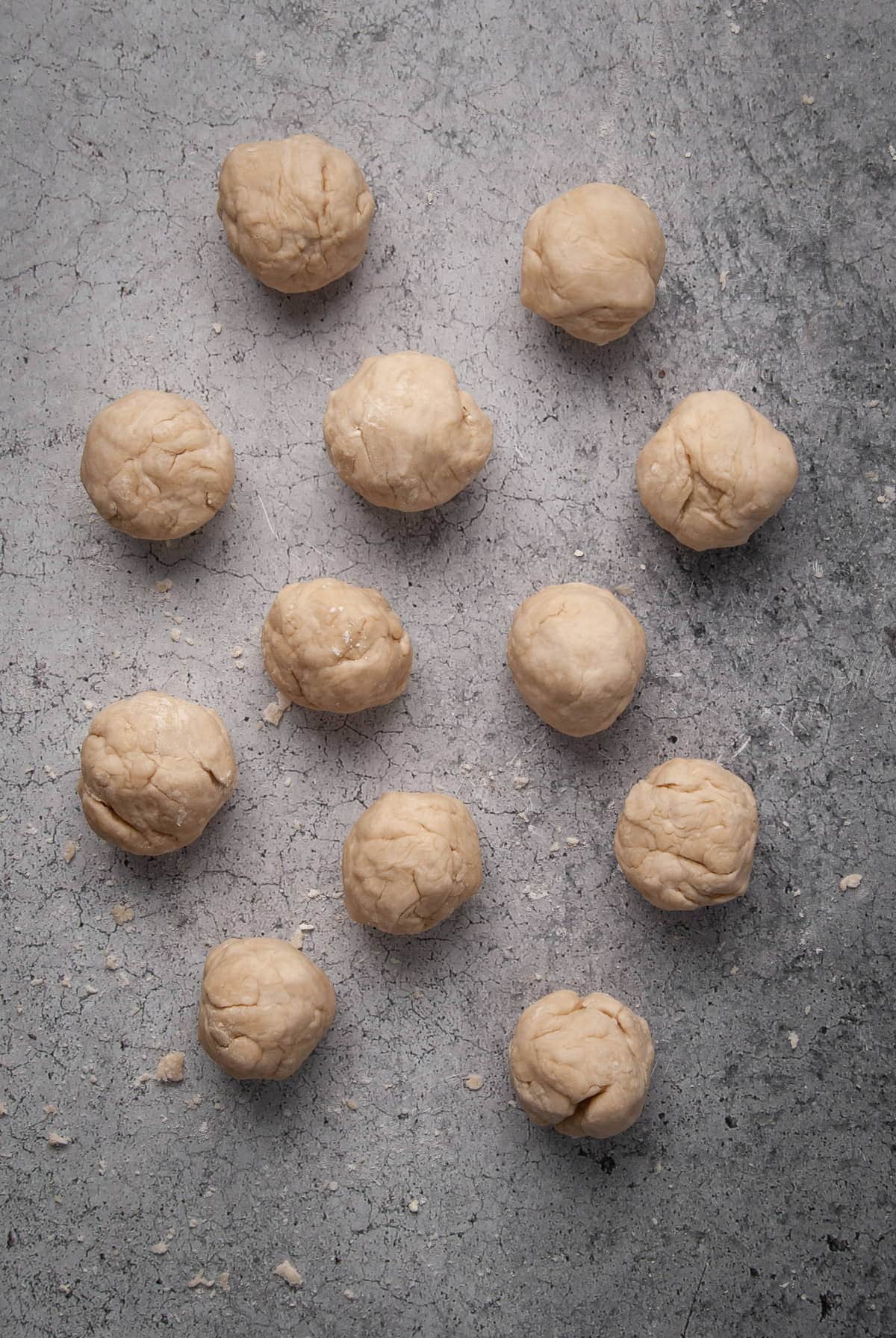 Shaping Them
Use your rolling pin again to shape each dough into a round and flat tortilla.
You'll notice that once you pick up your tortilla, it will start to shrink. Bearing this in mind, roll your tortilla out a little bit flatter and larger than your desired final size.
I find the easiest way to get a circular shape is to roll the ball out flat, then rotate it, continuing to roll and rotate, roll and rotate, until you are left with a flat circle.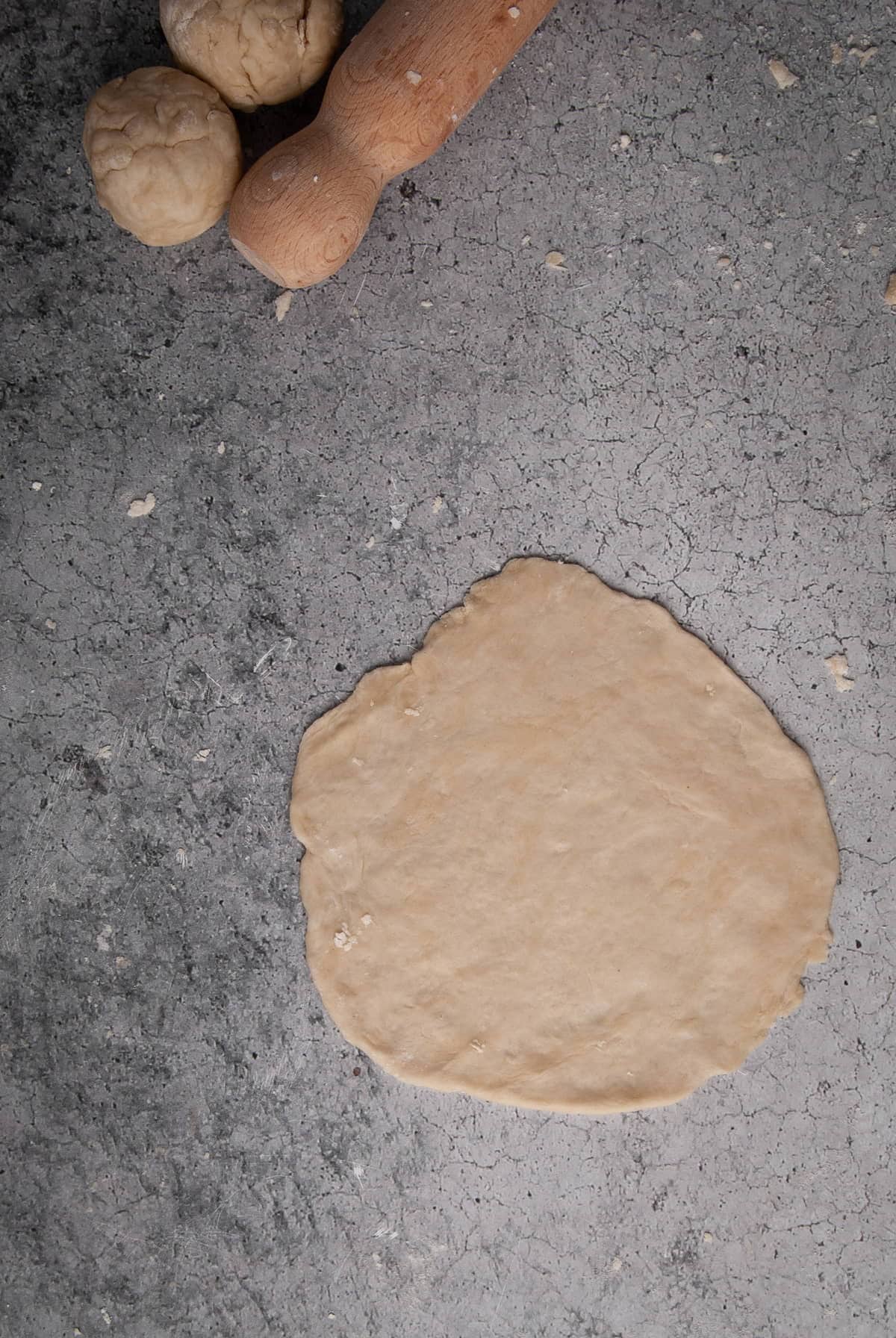 Cooking Them
Get your pan hot first over medium heat. Once your tortilla is shaped, it will take less than a minute to cook.
One at a time, place your tortillas straight on the pan (no need to oil or grease), and watch as your tortilla starts to form a bubble or two. This should only take about 30 seconds.
Flip you tortilla and cook on the second side for 10-20 seconds, until both sides have golden brown spots.
Storing and Reheating Your Tortillas
These flour tortillas will last up to three weeks in the refrigerator in an airtight container and retain their freshness and flavor. You'll notice that they harden after a couple of days, but don't worry! If you reheat them properly, they will bounce right back.
They will also stay fresh at room temperature for up to 12 hours or you can opt to freeze them for about 1 month.
To reheat, thaw from the freezer first. From the fridge, you can either toast them on a pan again, the same way you do when you cook them, or you can heat them in the microwave between two damp paper towels for 15 seconds.
Just wet two paper towels in the sink, and ring them out before placing the tortillas in between them.
Green tip: Did you know that of the billions of pounds of food wasted annually, it is estimated that 50% of it happens in our homes? Knowing how to properly store and reheat your food is a great way to reduce your personal contribution to food waste.
Adjusting Their Size
These tortillas are comparable to what is labeled as a "taco size" tortilla at the store. They're perfect for fresh tacos and individual-sized quesadillas and come out to be about 10 inches in diameter.
If you want to use these more for burritos or wraps, you may want to consider making them larger.
The best way to do so is by diving the dough into just 8 pieces instead of 12. This will give you more dough to work with for each tortilla. Roll them out flat, until they are about 14 inches in diameter.
Conversely, if you want them smaller, try dividing your dough into 14-16 pieces. Roll them out flat into mini tortillas, about 6 inches in diameter.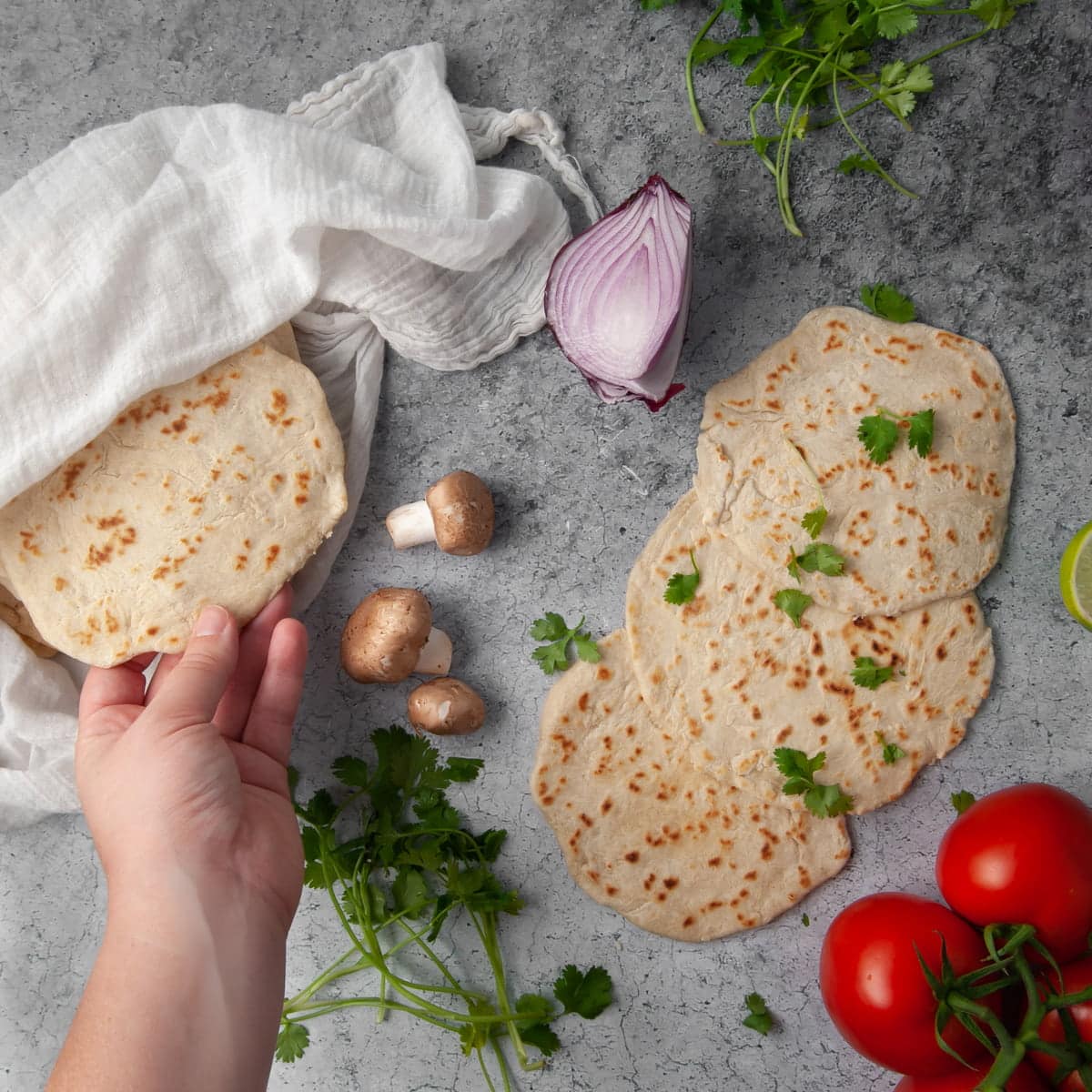 Homemade Fluffy Flour Tortillas Frequently Asked Questions
---
---
Do I have to use bread flour to make tortillas?
No, you can use 3 cups of all-purpose flour instead of doing half and half and still achieve a flour tortilla that doesn't fall apart.

However, if you want them fluffy as promised, you have to use some bread flour. It has more protein in it, allowing it to rise faster and achieve that fluffiness in the short minute they are toasting.
What if I want my tortillas flatter?
No problem! You can do two things to make these tortillas flatter, or both if you want them paper thin. First, reduce the amount of baking soda to 1/2 teaspoon.

The second thing you can do is roll them out super thin. I like them a little thicker and fluffier so I keep some height on them while rolling them out. Just keep in mind the thinner you roll them, the bigger they'll be, so unless you're making extra-large tortilla's for burritos, you may want to reduce the amount of dough you are working with for each tortilla.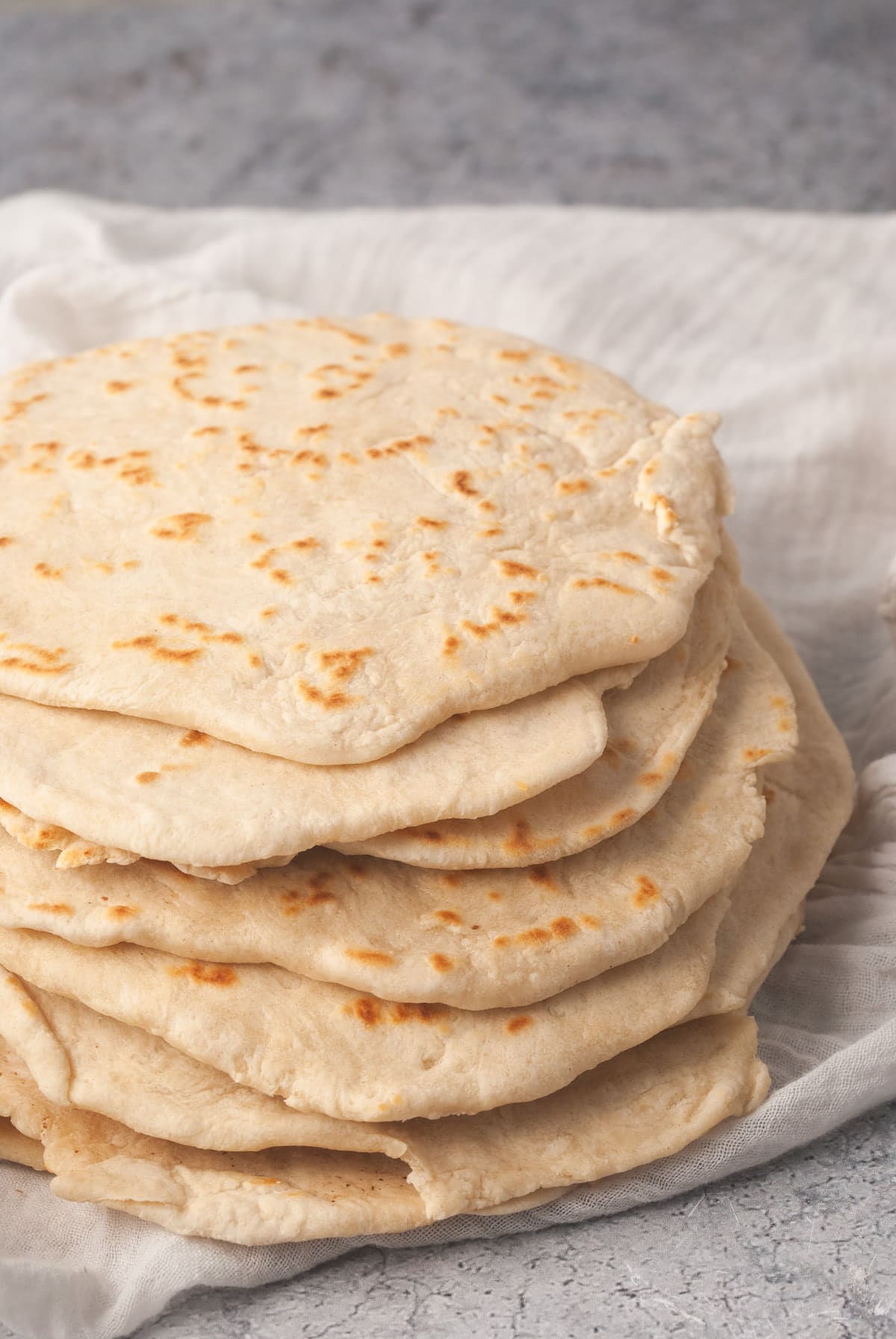 Why You Should Make These Fluffy Flour Tortillas
---
---
They're fluffy. The perfect base for any taco or wrap.
They're fresh. Nothing better than hot off the press.
They're natural. Preservative free.
Try these Homemade Fluffy Flour Tortillas with this Fresh Fish Tacos with Pineapple Salsa recipe! And maybe some Perfect Creamy Guacamole and Tex-Mex Queso Blanco to start. Okay, I'm getting carried away. May have to be Taco Wednesday tomorrow, too 😂