Seafood lovers unite! This Fresh and Zesty Seafood Pasta Salad uses Greek Yogurt as the base for a creamy sauce, and is packed with real crab, shrimp, and fresh vegetables for tons of flavor and color.
Plus, this seafood pasta dish pairs beautifully with Taittinger Vintage Champagne, a fragrant and ripe champagne with a rich texture. This combination is perfect for an elevated meal to share for a date night, with friends, or in celebration by yourself!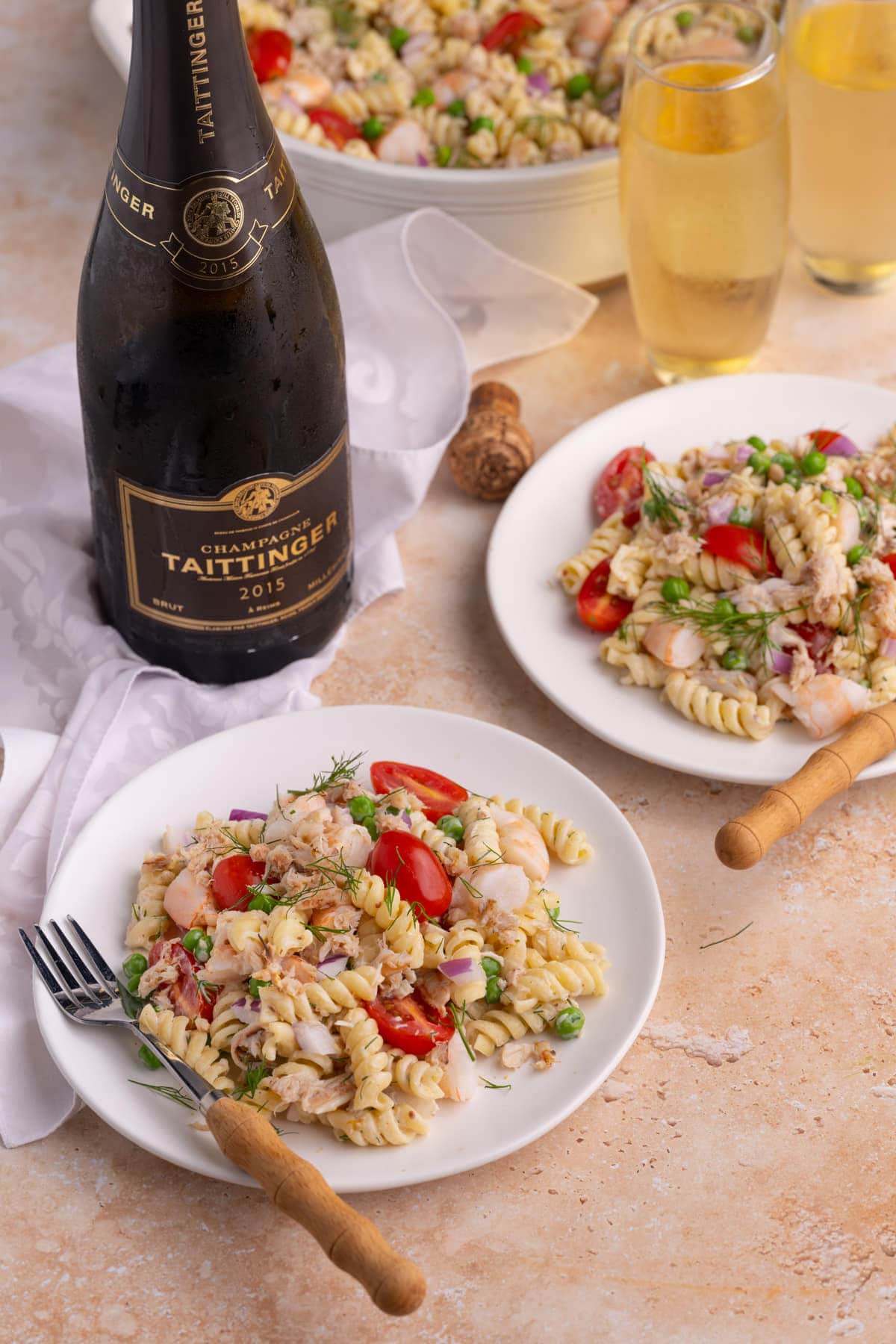 As an environmental scientist and busy mom, pasta is a go-to when it comes to whipping up delicious, hearty, and eco-conscious meals in my home.
Green tip: Pasta is a great meal option carbon footprint-wise! Manufacturing pasta is a relatively less intensive process, using less energy and other natural resources to produce than most other starches. Plus, its long shelf-life means you're less likely to waste it!
Seafood Pasta Salad without Mayonnaise Ingredients
---
Here's everything you need:
Short pasta. I used Rotini. Other short pastas include Penne Rigate, Fusilli, Farfalle, Macaroni, Small Shells, and Ziti.
Peas, tomatoes, and red onion. Adding fresh elements to this pasta salad adds so much color, flavor, and texture.
Shrimp and crab meat. It's easiest to buy cooked shrimp, but you can also buy fresh or frozen large de-veined shrimp and boil it yourself. As for the crab meat, you can go for lump, jumbo lump, claw, or even imitation crab meat.
Greek yogurt. This is a mayo-free pasta salad, so to get that creamy texture we are using a base of Greek Yogurt.
Lemon juice and Dijon mustard. Both are great with seafood and add tons of flavor and freshness to the sauce.
Honey. Or agave or even maple syrup. This just tempers the tanginess and sourness from the Greek yogurt and lemon for a more balanced pasta salad sauce.
Fresh dill. Fresh dill is my preference to add extra freshness and an herbaceous finish, but you can easily substitute basil or parsley. You can also use dried dill in a pinch.
Old Bay Seasoning. This is my favorite seafood seasoning, but if you have another seafood seasoning you prefer, you can easily use that or you can make you own Old Bay Seasoning.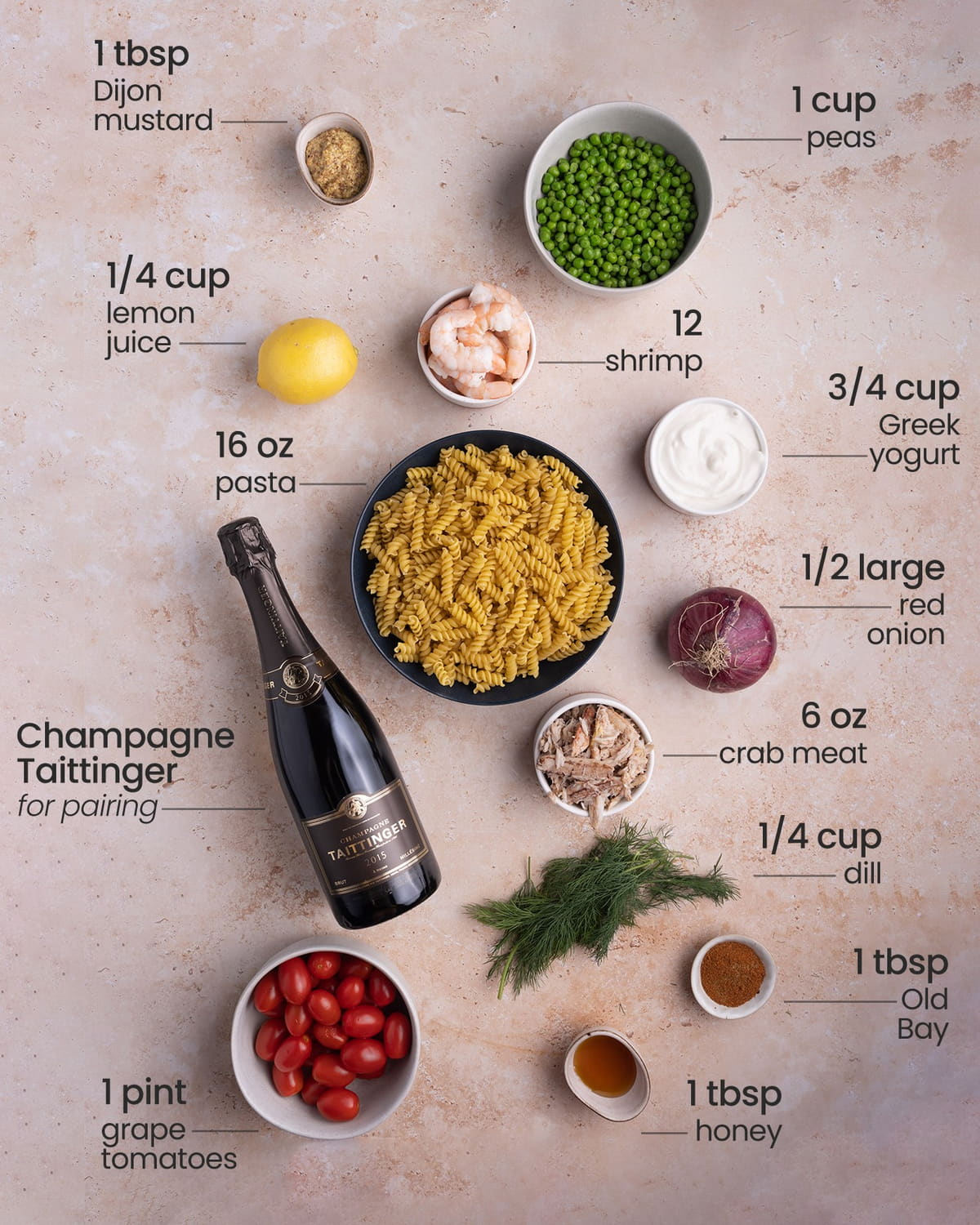 Seafood Pasta Salad Tips and Tricks
---
Cook Your Pasta Al Dente
Bring ten cups of water to a rolling boil and cook the pasta al dente according to the instructions on the packaging. Depending on the pasta shape you choose, the cooking time may vary slightly.
Green tip: Don't waste your pasta water, use it to water your plants! So long as it's not salty, the starchy water helps fertilize plants and help them grow.
This recipe really works with any short pasta. Pictured here, I used Rotini, but I've also made this with anything from Penne pasta to Farfalle. Other short pastas include Fusilli, macaroni, ziti, and small shells.
Whatever you have on hand, or whichever is your favorite! Once cooked, rinse the pasta and set it aside to cool. Rinsing the pasta after cooking it will remove excess starch to help avoid the noodles sticking together.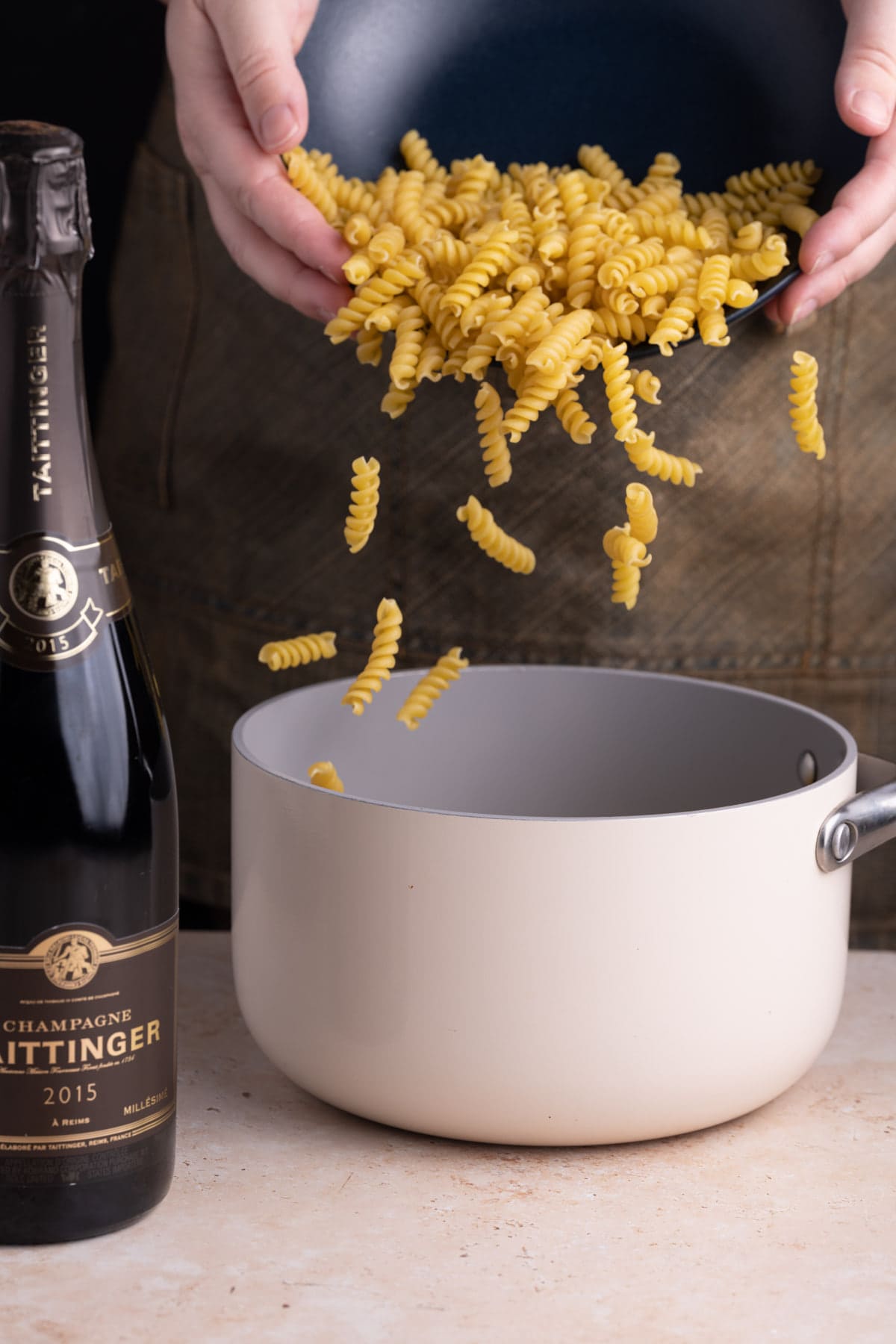 How to Prep Your Ingredients for Pasta Salad with Seafood
While your pasta is cooking, you can prep all of your cold Seafood Pasta Salad ingredients. Defrost your peas if they are frozen, and prep your tomatoes, dill, onion, and shrimp.
For the grape tomatoes, simply rinse them and slice them in half lengthwise. Use a super-sharp chef's knife or a serrated knife to help you easily pierce through the tough skin on the tomato.
As for the dill, remove any large, thick stems (smaller stems are okay!) and use your knife to chop the dill until you are left with fine pieces.
Detailed instructions and onion and shrimp prep below.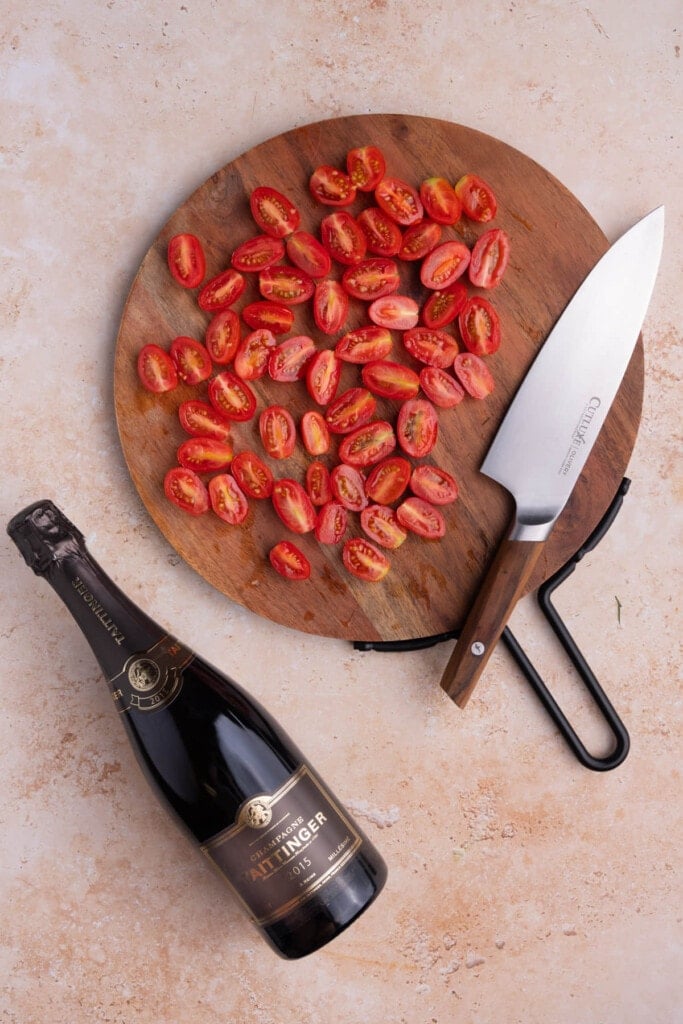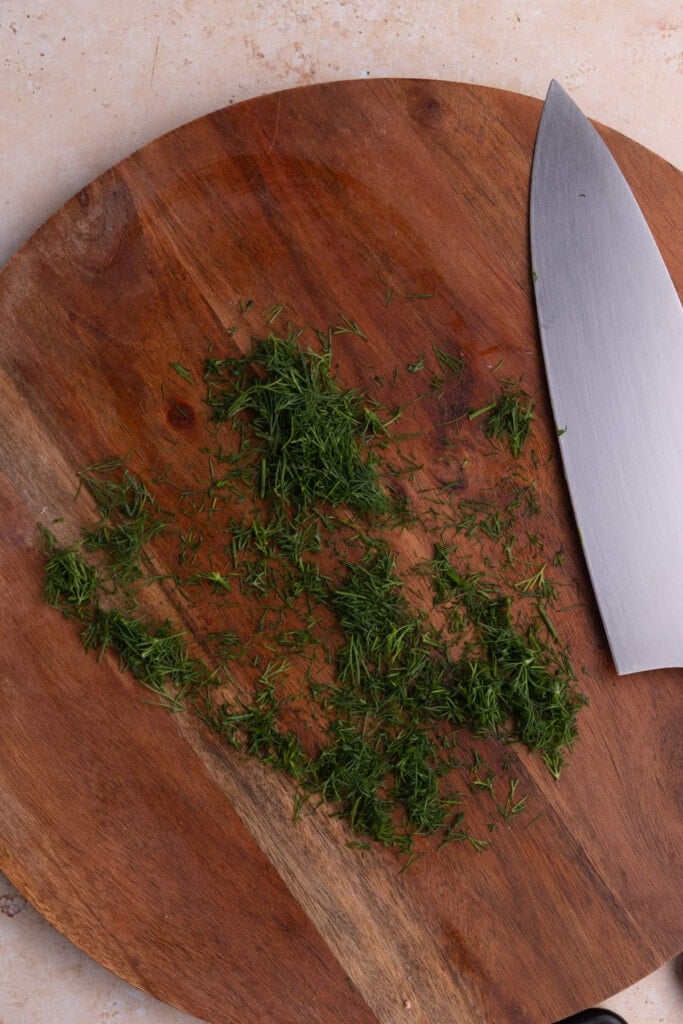 How to Dice Red Onion
In order to dice your red onion, you have to peel it first. Cut your onion in half next to the bulb. Then, chop both ends of the onion off.
For this recipe, you will only need one half of the onion. Store the other half in beeswax or saran wrap in the refrigerator for up to two weeks.
Once the onion is cut in half and the ends are chopped off, it's very easy to peel off the outermost layer. This can be saved in a freezer bag with other vegetable scraps to make your own veggie broth or it can be composted!
Once the outer layer is peeled off, you can set the half of onion down flat on your cutting board to dice it. Once you dice, use your fingers to separate all the layers.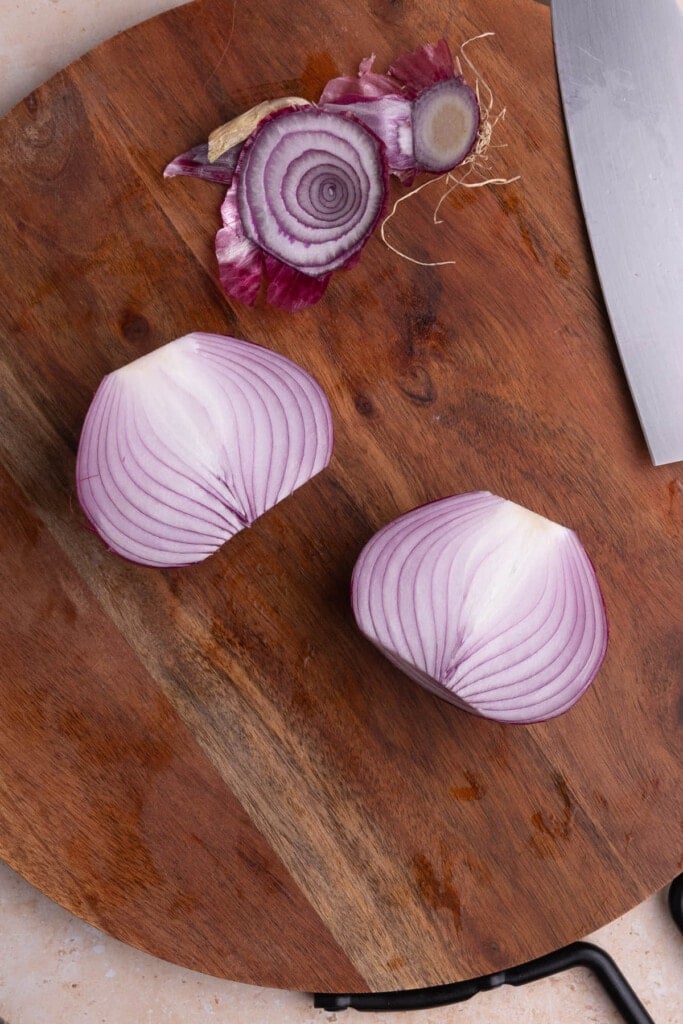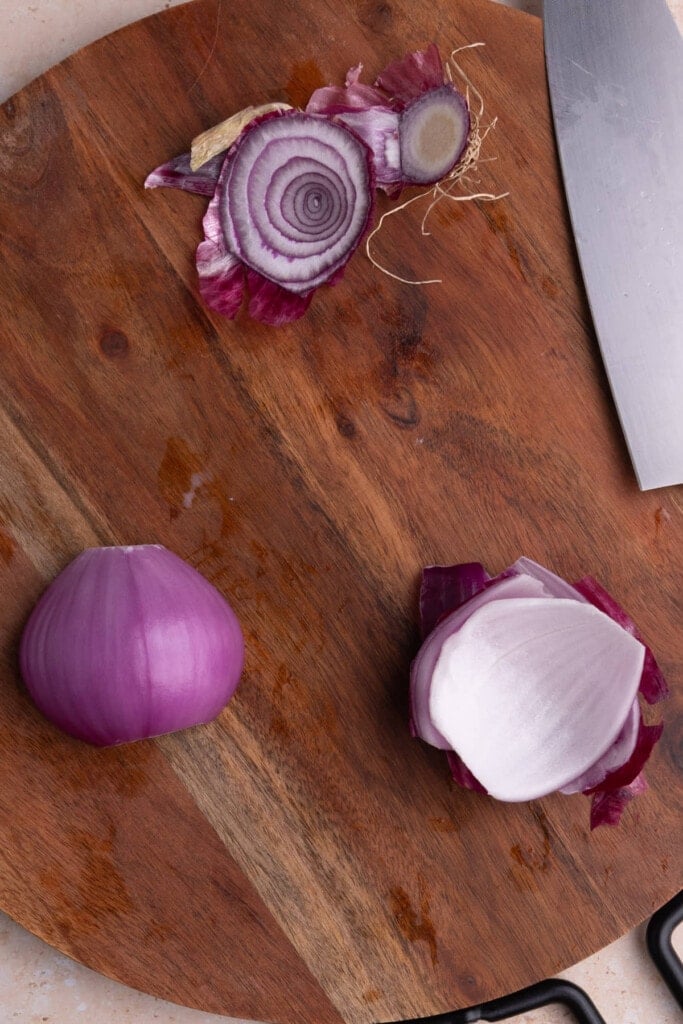 How to Prepare Your Shrimp
The quickest and easiest way to add shrimp to this Seafood Pasta Salad without mayonnaise is to buy it already peeled and cooked. Then, you can just chop each shrimp up into bite-sized pieces and it's ready to add to your pasta salad!
Green tip: Shrimp is seafood we should enjoy in moderation, as it is not the most sustainable. The best way to source your shrimp is from domestic shrimp farms (avoid imported).
If you are starting with raw shrimp, you will need to boil and peel it. If you are using frozen shrimp, either allow it to thaw overnight in the refrigerator or allow it to soak in cold water for 15-30 minutes.
The best way to boil shrimp is to bring 10 cups of water to a rolling boil. Add the shrimp and cook for two minutes. While it is cooking, add about 1 cup of ice and 1 cup of water to a large bowl to make an ice bath.
After two minutes your shrimp should be pink. Use a sieve or slotted spoon to remove them from the boiling water and place them into the ice bath. Once cooled completely, you can easily peel the shrimp and chop it.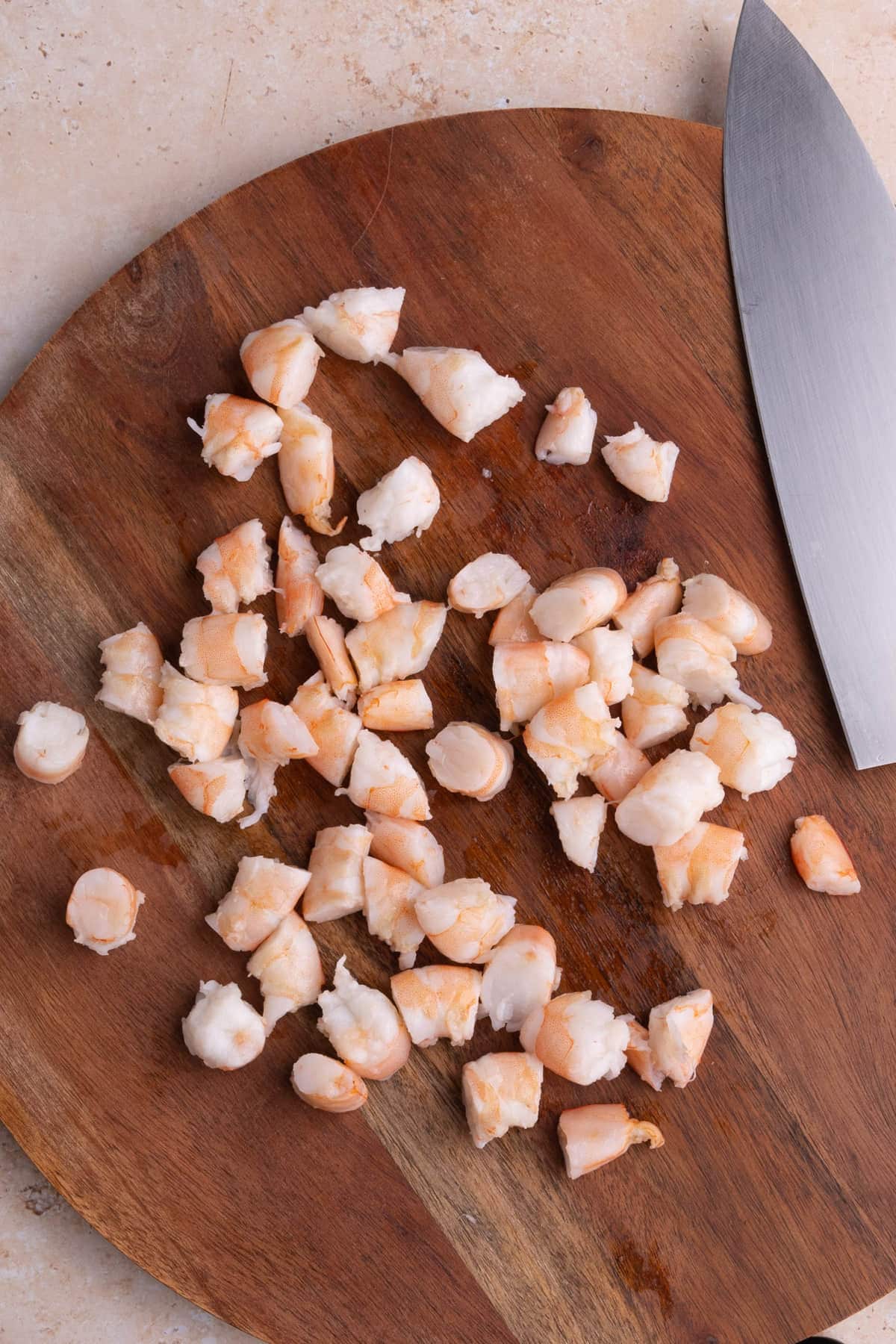 Whip Up Your Creamy Sauce with no Mayonnaise
Once your pasta is cooked and cooling and your ingredients are all prepped, it's time to whip up your cream sauce to dress the pasta salad!
Add the Greek yogurt, Dijon mustard, lemon juice, honey, fresh dill, and Old Bay Seasoning to a small mixing bowl and whisk to combine.
I highly recommend using a citrus squeezer to add the fresh lemon juice. This not only extracts the most juice, but also catches the seeds so they don't fall in the sauce.
If you don't have a citrus squeezer, you can squeeze the lemon juice into a separate bowl or into the bowl first, so you have a chance to extract the lemon seeds.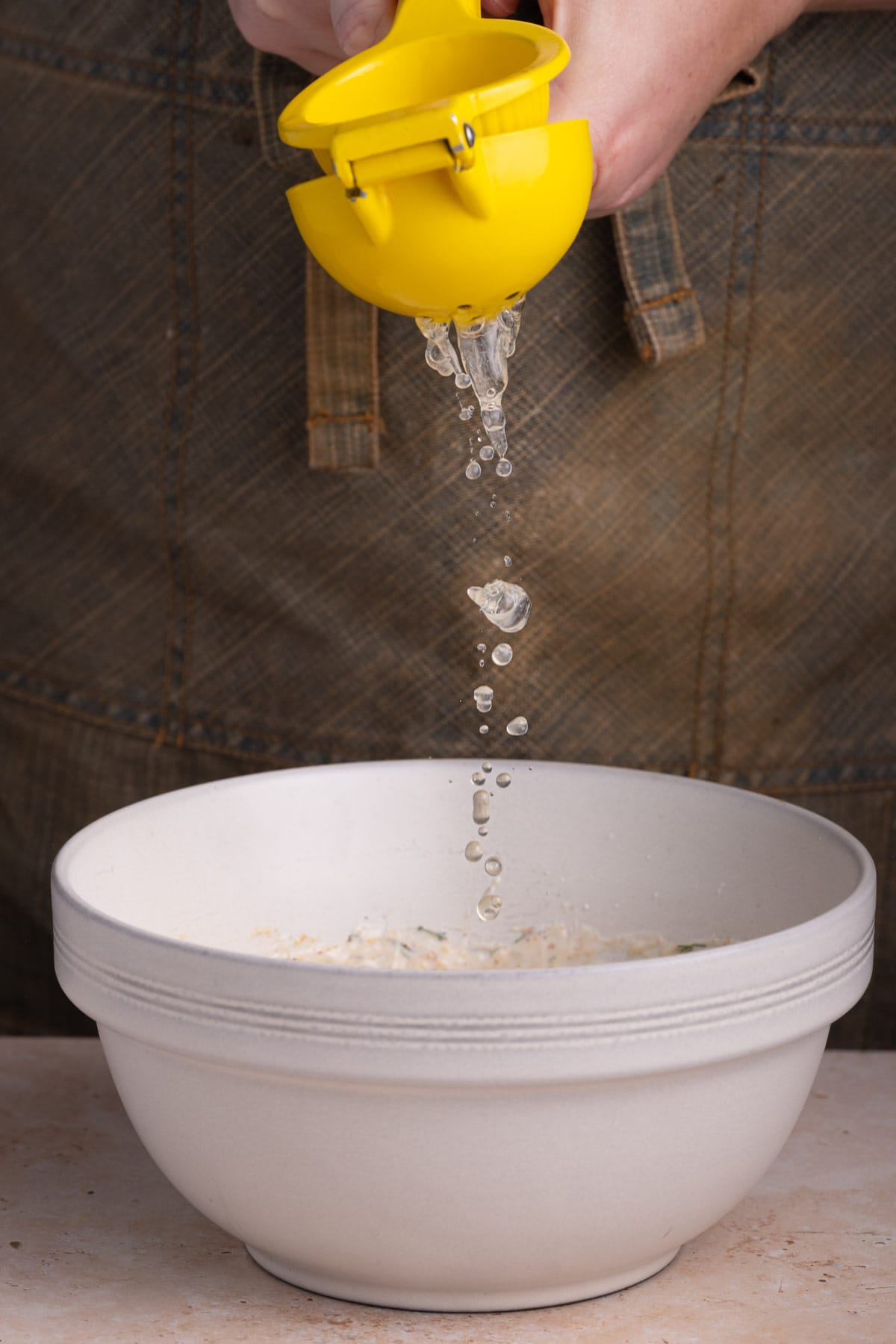 Toss the Pasta in the Greek Yogurt Sauce
Once the sauce is ready and the pasta is completely cooled, add the sauce to the pasta and toss.
Make sure the pasta is completely and roughly evenly coated in the creamy sauce before adding the other ingredients.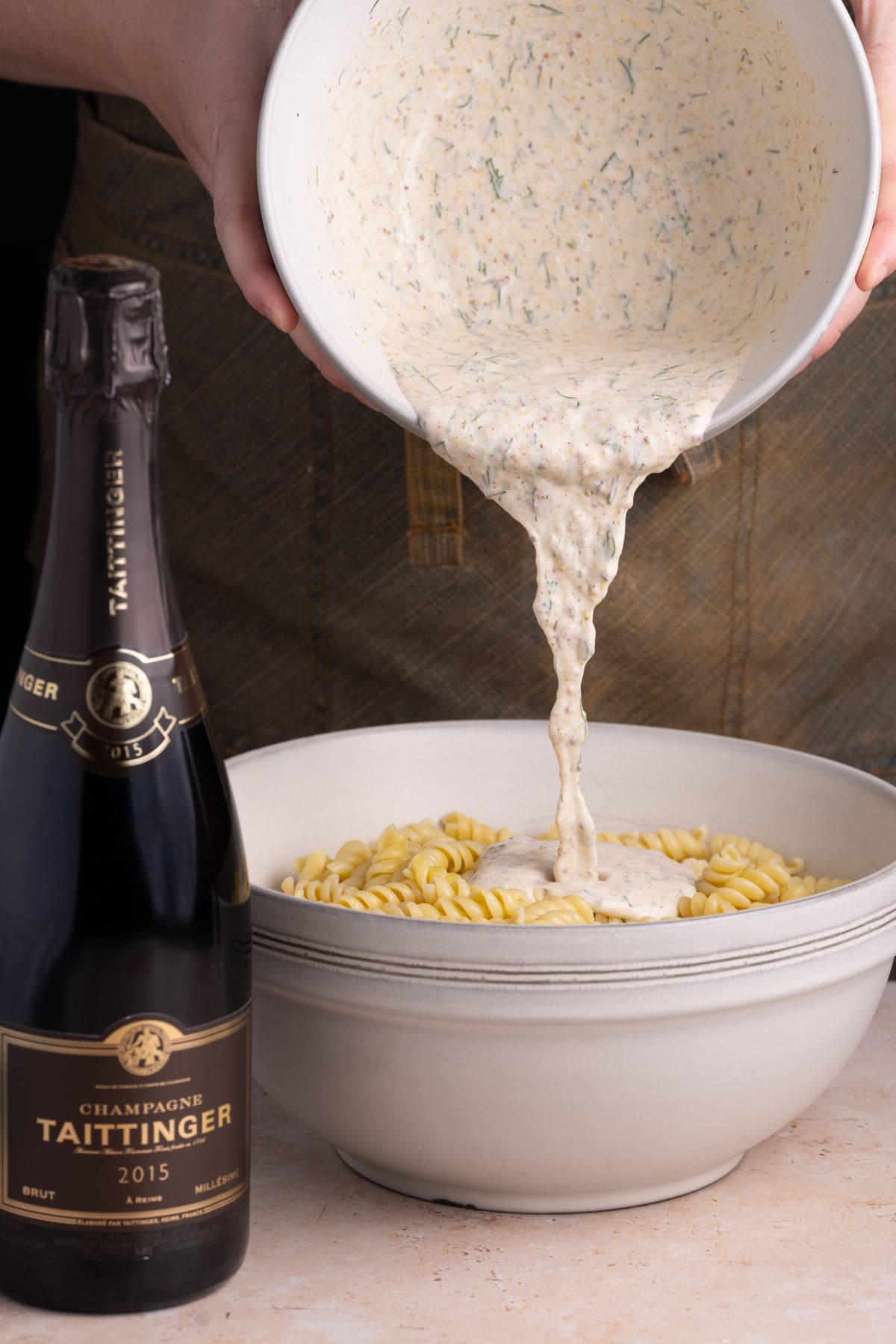 Add All Your Pescatarian Pasta Salad Ingredients Together
Once the pasta is coated in the sauce, add the crab meat, peas, tomatoes, red onion, and shrimp. Toss again to evenly distribute the fresh ingredients throughout the pasta salad.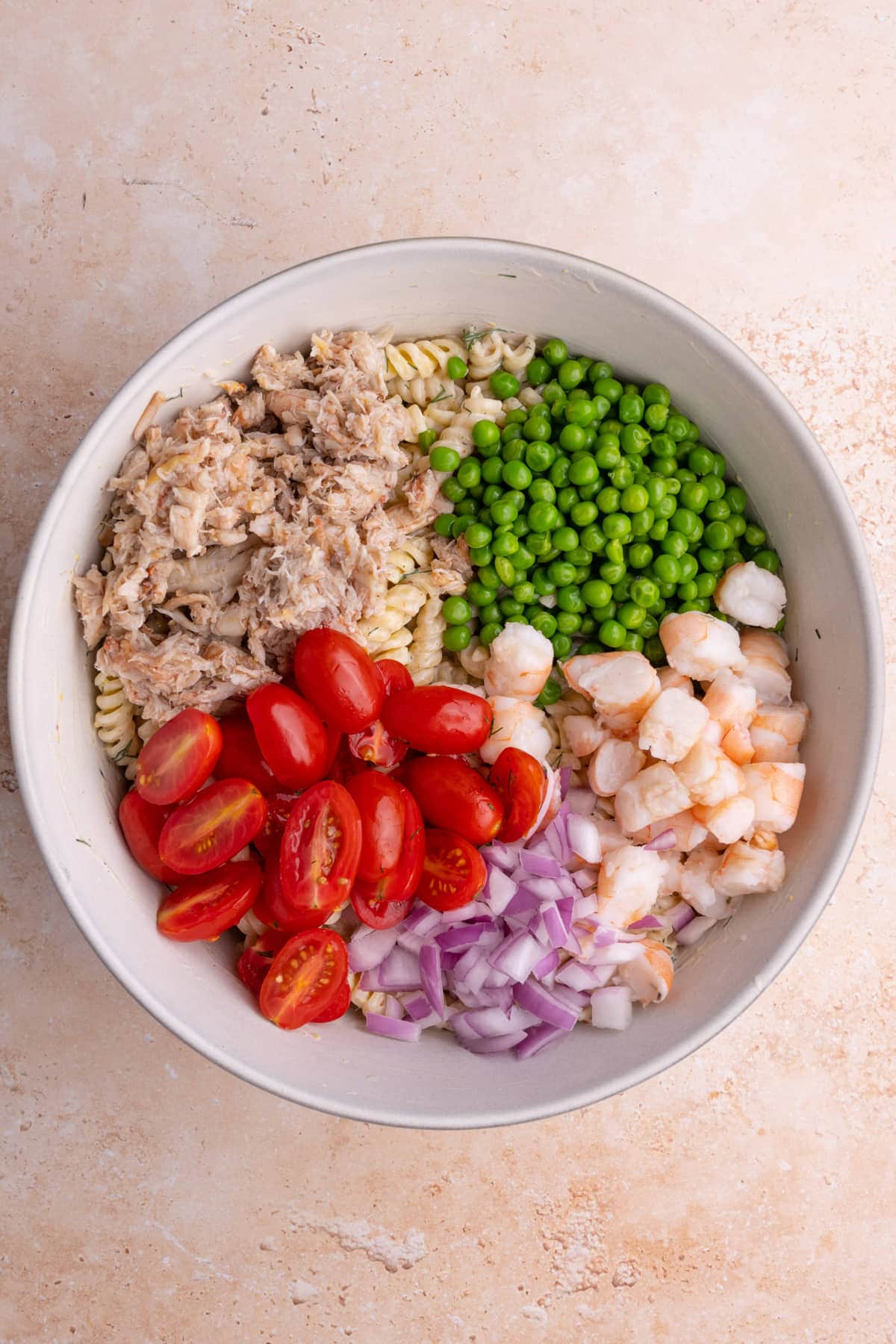 Serving Your Seafood Pasta Salad
This Seafood Pasta Salad is best served cold or at room temperature. The bright flavors and creamy texture in this Pasta Salad with shrimp and crab pairs perfectly with Taittinger Vintage Champagne.
The champagne has notes of peach and almond, which plays well with the fresh citrus, and the bubbles provide a crispness that elevates the herbaceous dill.
Plus, the subtle sweetness in the champagne is a welcomed contrast to the savory and naturally briny flavor of the seafood.
Taittinger is one of the few remaining family owned and operated Champagne houses. Distinguished for its extensive vineyard holdings of 752 acres, including prestigious Grand Cru vineyards, Taittinger has the highest quality and sustainable production practices.
Additionally, Taittinger is critically acclaimed for its consistently outstanding scores and worldwide recognition among connoisseurs.
If you're looking for an appetizer to serve with this Seafood Pasta Salad, consider making some fresh homemade garlic bread with this Garlic Bread Spread or Whipped Ricotta Crostini.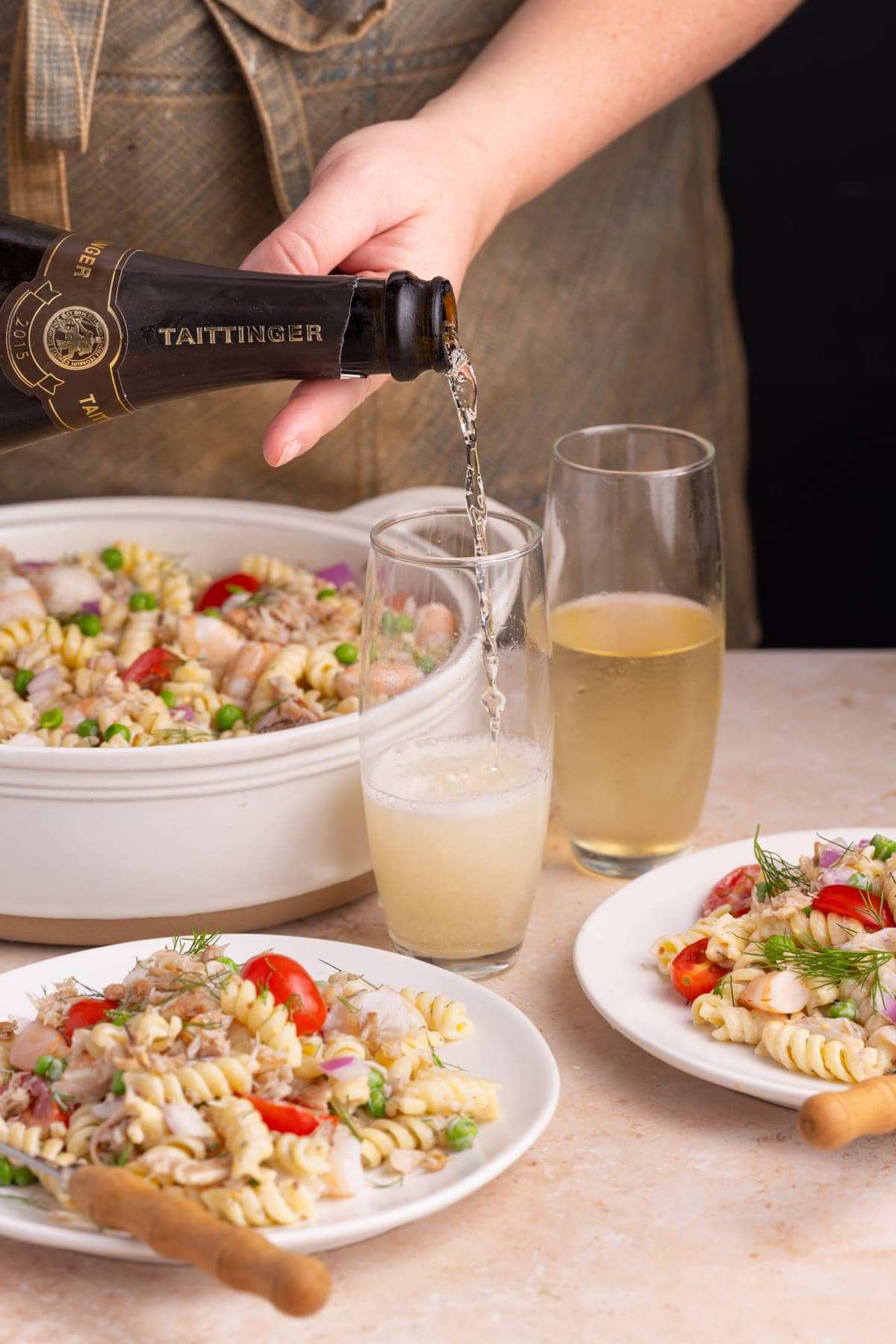 How to Store Leftover Pasta Salad with Seafood
Leftover seafood pasta should be stored in an airtight container in the refrigerator and will last for 3-5 days.
Leftovers can also be frozen for up to a year. Make sure you use a freezer-safe airtight container. To thaw, the best method is to transfer it to the refrigerator and let it thaw overnight.
Green tip: Did you know that of the billions of pounds of food wasted annually, it is estimated that 50% of it happens in our homes? It's always best to avoid food waste by properly storing and reheating leftovers!
Seafood Pasta Salad Frequently Asked Questions
---
What is seafood salad sauce made of?
Typically, seafood salad sauce is made of mayonnaise and seafood seasoning (like Old Bay!). It's thick, creamy, subtly spicy, salty, and herbaceous.
This Seafood Pasta Salad is mayonnaise-free, so it relies on Greek Yogurt to have a creamy base. A lot of seafood salad sauces also contain sugar, but this one uses honey instead!
Should you rinse pasta when making pasta salad?
Rinsing pasta removes excess starch which allows the pasta to cool without sticking together.
If you are making a pasta sauce that requires the pasta to cool before adding any kind of sauce or dressing, then rinsing is an effective way to allow the pasta to cool without the noodles sticking together.
If you are making a pasta salad that can be dressed while the pasta is still warm, then rinsing the pasta is discouraged and unnecessary.
Want to sharpen your kitchen skills?
Why You Should Make this Fresh & Zesty Seafood Pasta Salad
---
It's elevated. This is a gourmet meal made with top shelf ingredients!
It's colorful. A variety of fresh vegetables bring vibrant color and flavor to this dish.
It's balanced. The sauce strikes a perfect balance of salty, citrusy, and sweet.
If you're loving this Seafood Pasta Salad and want more champagne pairings, check out this Burrata Pesto Pasta and Fig and Goat Cheese Flatbread.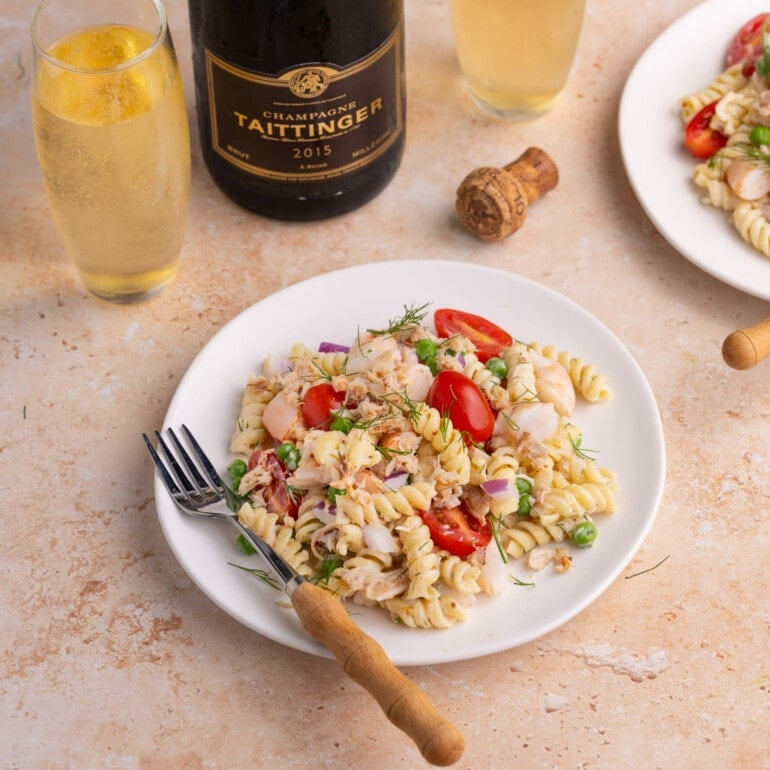 Fresh & Zesty Seafood Pasta Salad
PRINT
PIN
RATE
This Fresh and Zesty Seafood Pasta Salad brings bold and bright flavors, using only elevated ingredients for a gourmet version of this delicious classic.
Ingredients
16

ounces

short pasta

(I used rotini)

1

cup

green peas

(fresh or frozen and thawed)

½

large

red onion

1

pint

grape or cherry tomatoes

¼

cup

fresh dill

(or basil or parsley)

12

large

peeled and cooked shrimp

¾

cup

plain Greek Yogurt

¼

cup

lemon juice

(¼ cup juice = juice of 1 whole lemon)

1

tablespoon

honey

( or agave nectar or maple syrup)

1

tablespoon

Dijon mustard

1

tablespoon

Old Bay Seasoning

(or other seafood seasoning)

6

ounces

lump or claw crab meat or imitation crab

(6 ounces = approx. 1 cup)
Instructions
Cook the pasta al dente. Then, rinse the pasta and allow to cool completely (rinsing will help to avoid the noodles sticking together as they cool).

Meanwhile, prep your ingredients by thawing the peas if necessary, dicing the onion, slicing the tomatoes in half lengthwise, chopping your fresh dill, and cutting your shrimp into bite-sized pieces. *

Make your dressing by whisking together the Greek yogurt, Dijon mustard, honey, lemon juice, chopped dill, and Old Bay Seasoning until smooth.

Once your pasta is completely cooled, add the dressing and toss to coat.

Add the crab meat, shrimp, tomatoes, red onion, and peas and toss to combine. Serve at room temperature or cold. Enjoy!
Pro Tips
*you can buy your shrimp already peeled and cooked, but if you want to cook your own, boil the shrimp for two minutes, then transfer to an ice bath to cool. Once cooled, peel the shrimp. 
For more pasta with seafood, check out this list of Salmon Pasta Recipes. 
For more shrimp, check out this Blackened Shrimp over Old Bay Mashed Potatoes. 
Did you make this recipe?
Let me know by leaving a recipe rating below, or by tagging @marleysmenu on Instagram.
This is a sponsored post by Champagne Taittinger.