Looking for something different to surprise your family with for dinner tonight? Try this Thai Spicy Peanut Noodles recipe for the perfect Asian-inspired, flavor-packed, and diversely textured noodle dish.
It combines the citrus of lemon, nuttiness of peanuts, and spice from sriracha to create a not-your-average-noodles taste.
Green tip: Look for organic, non-GMO tofu to make sure it is sustainably sourced.
If we're out of ideas for dinner at our house, we always, always go for pasta. It's always good. It's always filling. It's relatively quick and easy. But sometimes you have Italian food three nights in a row (who, me?) and you just need something different on night four.
Oh, but still in noodle form, of course.
This recipe is the result of throwing together different Asian-inspired flavors to form a decadent sauce, tossing noodles in it, and adding some veg and tofu for protein and nutrients.
What's in Thai Spicy Peanut Noodles?
Rice noodles—which are, you guessed it!—noodles made out of rice. Aside from their awesome slippery texture, they have a super quick cook time. Another perk!

Vegetables for texture, fiber, flavor, and nutrition. Add any veggies you like! I use mushrooms and carrots, which are a staple in our house.

Tofu for protein and to bulk the dish up.

Peanut butter AND peanuts. Because we need some nuttiness and crunch.

Sriracha for spice.

Soy sauce for saltiness.

Rice vinegar for acidity.

Brown sugar for caramelly sweetness.

Lime for citrus.

Fish sauce for umami—that savory, earthy flavor we get from things like mushrooms and aged cheese.
I mean… I did promise you flavor-packed!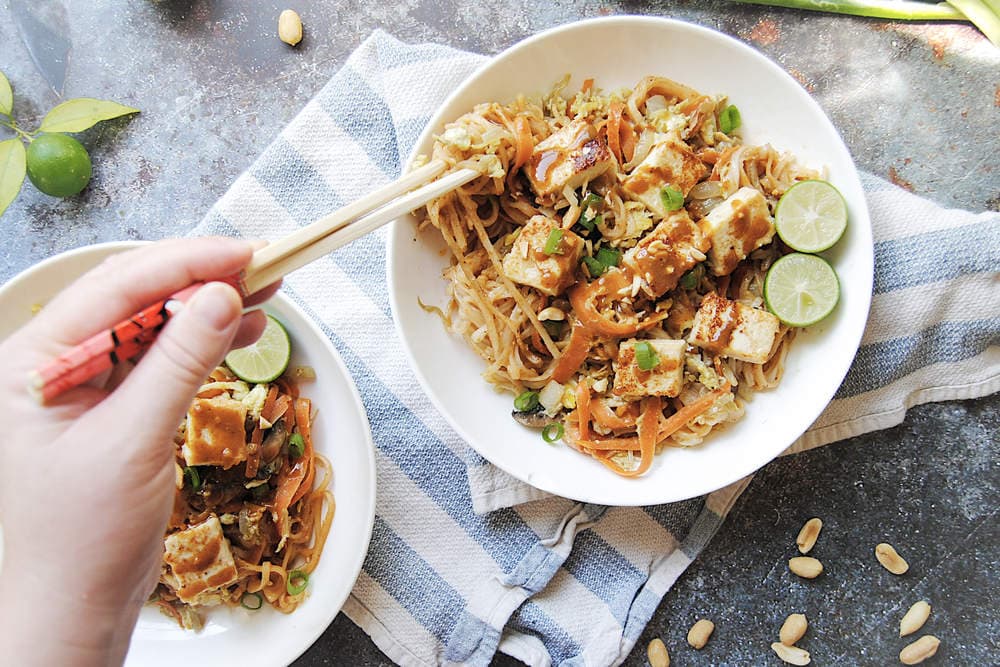 Tips and Tricks
---
---
Tofu is my favorite protein for this dish because it is a flavor-soaking sponge. Getting it nice and crispy on the outside and then allowing it to soak up that flavor-bomb sauce makes it the highlight of this dish.

That being said, if you're allergic to soy or just not a tofu fan, you can sub in chicken, or throw in additional vegetables and leave the tofu out altogether. The sauce itself packs enough punch that the veggies and noodles on their own are delish and filling enough.
"Spicy" is a relevant term as everyone has a varying tolerance for different spice levels. This recipe calls for 1 tablespoon of Sriracha which will give you a moderate, but palpable level of spice.

If you love hot and spicy like me, add a little more! You can always bring the Sriracha to the table to encourage each serving to be individually spiced to taste.
Rice noodles overcook easily. Add them to your wok just before you are ready to crack your eggs. You want them in there to integrate well and to mingle with all your other flavors, but you also don't want them to get gummy. Adding them just before your eggs always does the trick!
If you like this recipe, check out this Mushroom Fried Rice and this Vegetarian Ramen with Tofu.