Looking for something different to surprise your family with for dinner tonight? Try this Thai Spicy Peanut Noodles recipe for the perfect Asian-inspired, flavor-packed, and diversely textured noodle dish.
It combines the citrus of lemon, nuttiness of peanuts, and spice from sriracha to create a not-your-average-noodles taste.
Green tip: Look for organic, non-GMO tofu to make sure it is sustainably sourced.
If we're out of ideas for dinner at our house, we always, always go for pasta. It's always good. It's always filling. It's relatively quick and easy. But sometimes you have Italian food three nights in a row (who, me?) and you just need something different on night four.
Oh, but still in noodle form, of course.
This recipe is the result of throwing together different Asian-inspired flavors to form a decadent sauce, tossing noodles in it, and adding some veg and tofu for protein and nutrients.
What's in Thai Spicy Peanut Noodles?
---
Rice noodles—which are, you guessed it!—noodles made out of rice. Aside from their awesome slippery texture, they have a super quick cook time. Another perk!

Vegetables for texture, fiber, flavor, and nutrition. Add any veggies you like! I use mushrooms and carrots, which are a staple in our house.

Tofu for protein and to bulk the dish up.

Peanut butter AND peanuts. Because we need some nuttiness and crunch.

Sriracha for spice.

Soy sauce for saltiness.

Rice vinegar for acidity.

Brown sugar for caramelly sweetness.

Lime for citrus.

Fish sauce for umami—that savory, earthy flavor we get from things like mushrooms and aged cheese.
I mean… I did promise you flavor-packed!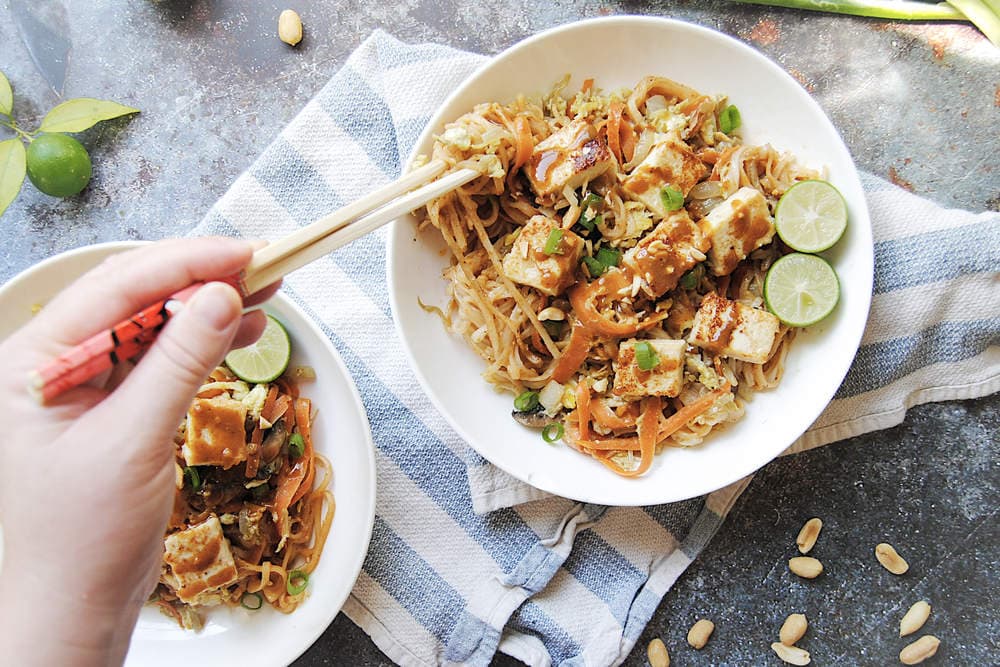 Tips and Tricks
---
Tofu is my favorite protein for this dish because it is a flavor-soaking sponge. Getting it nice and crispy on the outside and then allowing it to soak up that flavor-bomb sauce makes it the highlight of this dish.

That being said, if you're allergic to soy or just not a tofu fan, you can sub in chicken, or throw in additional vegetables and leave the tofu out altogether. The sauce itself packs enough punch that the veggies and noodles on their own are delish and filling enough.
"Spicy" is a relevant term as everyone has a varying tolerance for different spice levels. This recipe calls for 1 tablespoon of Sriracha which will give you a moderate, but palpable level of spice.

If you love hot and spicy like me, add a little more! You can always bring the Sriracha to the table to encourage each serving to be individually spiced to taste.
Rice noodles overcook easily. Add them to your wok just before you are ready to crack your eggs. You want them in there to integrate well and to mingle with all your other flavors, but you also don't want them to get gummy. Adding them just before your eggs always does the trick!
If you like this recipe, check out this Mushroom Fried Rice and this Vegetarian Ramen with Tofu.
Thai Spicy Peanut Noodles
PRINT
PIN
RATE
The sauce for these Thai Spicy Peanut Noodles is the perfect blend of nuttiness, spice, and notes of citrus. This recipe is filling, accessible, and bursting with flavor and diverse texture.
Ingredients
8

ounces

rice noodles

2

tablespoons

sesame oil

1

large yellow onion

2

carrots

8

ounces

white mushrooms

2

eggs

6

ounces

firm tofu

1

handful

of peanuts for garnish
Sauce
2

tablespoons

soy sauce

1

tablespoon

fish sauce

1

tablespoon

rice vinegar

2

tablespoons

peanut butter

1

tablespoon

sriracha

2

tablespoons

brown sugar

¼

teaspoon

ground ginger

¼

teaspoon

black pepper

2

cloves

garlic

1

lime

2

scallions
Instructions
Get 10 cups of water boiling in a large pot for your rice noodles, and prep your ingredients by dicing onions, garlic, and scallions, using a peeler to shred your carrots, slicing mushrooms, and cutting tofu into bite-sized cubes.

Caramelize onion in 1 tablespoon sesame oil in a wok until the onions are fragrant and start to brown (about 5 minutes).

In a separate pan, fry tofu in the remaining sesame oil until golden brown on both sides. It will be about 10 minutes before you flip each cube on medium-low heat.

Add the carrots and mushrooms to your wok and continue to sauté for about 5 minutes.

Once your water is boiling, cook rice noodles according to directions on the box. Keep about 1/4 cup of the water, then strain the rest and set the noodles aside.

Make your sauce by whisking together the soy sauce, fish sauce, rice vinegar, peanut butter, sriracha, brown sugar, ground ginger, and black pepper until thick and smooth.

Add your noodles and sauce to the wok, toss to coat evenly.

Carve a well in the middle of your noodles to expose the bottom of the wok. Add your eggs to the well.

Scramble the eggs with a wooden spoon and cook fully before stirring them into your noodles.

Add noodle water one tablespoon at a time until you achieve your desired consistency. Garnish with peanuts and lime wedge and serve hot.
Pro Tips
One tablespoon of sriracha gives it just a little kick, but if you're a fan of spice, I would recommend adding even more!
Try not to add your noodles to the wok too early. Rice noodles aren't as yummy overcooked.
For more tofu-based recipes, check out this round-up of my best tofu recipes.
Did you make this recipe?
Let me know by leaving a recipe rating below, or by tagging @marleysmenu on Instagram.