Looking for a wholesome family-style meal, but don't have time or energy to stand over a hot stove for hours? This Meatless Chili With Lentils only requires one pot, a handful of ingredients, and a casual 10 minutes of your time before it does all the work for you on its own.
Sometimes I want to cook a warm, cozy family meal, but I only have two minutes here and there in between diaper changes, chasing a new crawler around the house, and cranking out baby food and bottles.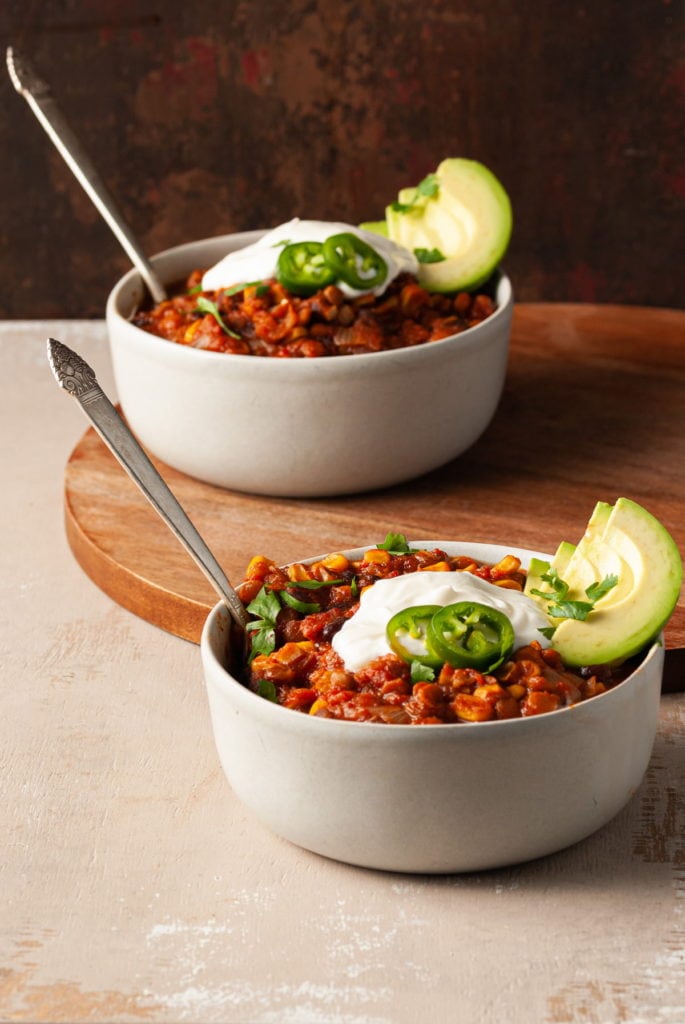 As a new mom, I appreciate this Wholesome Meatless Chili With Lentils recipe more than ever because you just sort of dump all the ingredients in, leave it on the stove, and let it work its magic.
It makes meals FOR DAYS and is one of those foods that actually may even taste better as leftovers.
And, as an environmental scientist, I am always looking for meat alternatives to reach a more sustainable lifestyle and diet.
Green tip: Industrial meat production has a huge impact on the environment, especially because of the amount of land it takes to sustain and its high amount of greenhouse gas emissions. Reducing your meat consumption is one great way to reduce your ecological footprint.
My best friend's mom made THE BEST turkey chili growing up, and we would just sit on the couch and eat it by the pound with our favorite blue corn tortilla chips.
And with a full-time job, three kids, and ALL their friends constantly running around her house I am now realizing how GENIUS making this dish was. Throw it in the pot and feed a small army with it.
So as soon as I became a mom I was like "okay, time to perfect a vegan chili". This wholesome meatless chili with lentils gives me all the nostalgia, heartiness, and flavor of Helaine's famous turkey chili, but just without the meat.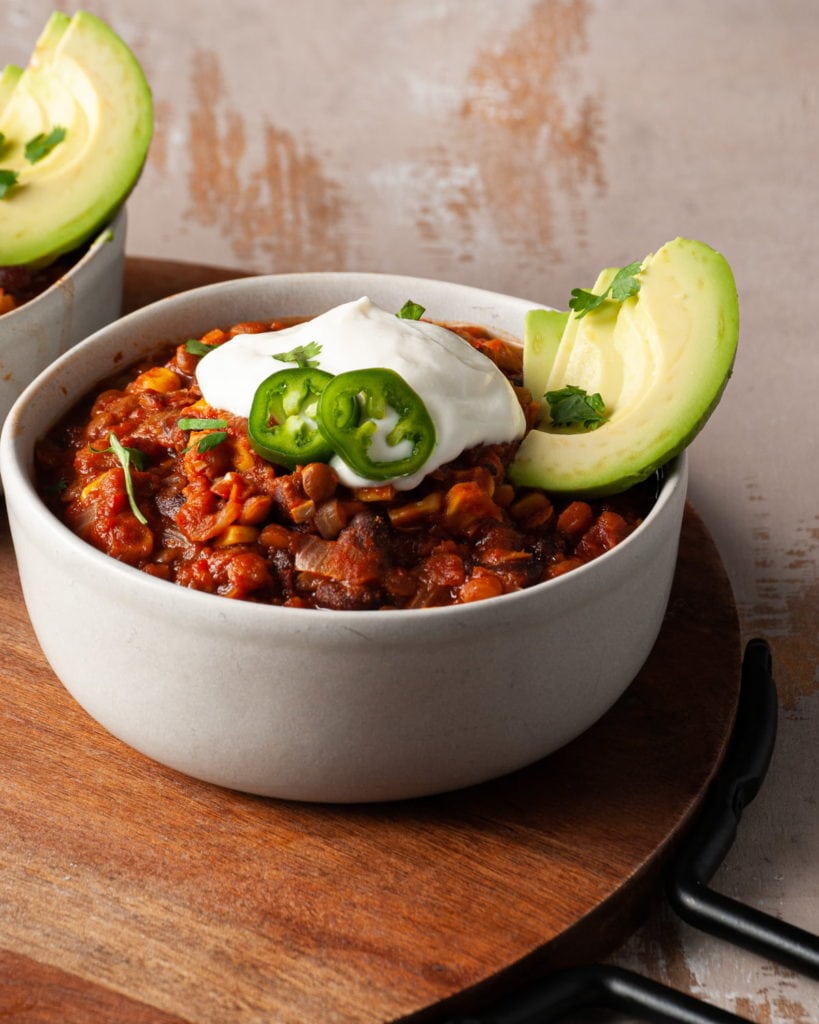 Meatless Chili with Lentils Ingredients
---
Every good chili has a mix of beans, seasoning, and a healthy amount of garlic and onion, but this chili has two unique ingredients that make it stand out.
Let's talk lentils! They are such a great plant-based protein. They have a meaty texture, absorb flavor well, and are packed with fiber and vitamin B.
They're great in veggie burgers and as a meat alternative in tacos, and you guessed it! GREAT in meatless chili! I used to make this the exact same way without the lentils and just felt something was missing.
This "beefs" it up (pun intended) and gives it that heartiness any true chili achieves.
Corn is a highly debated chili add-in, but I would never chili without the corn. While classic chili leaves it out, you will find it in most southwestern-style chili, and here's why it's an absolute YES in my book.
Between the beans, the lentils (or meat), and the warm spices, chili is a HEAVY dish.
It is begging for something slightly sweet and fresh to break up your bite. Corn can successfully stew for 2+ hours while retaining its crisp, juicy, freshness. Plus, it doesn't interrupt the texture.
For this Meatless Chili, here's everything you'll need: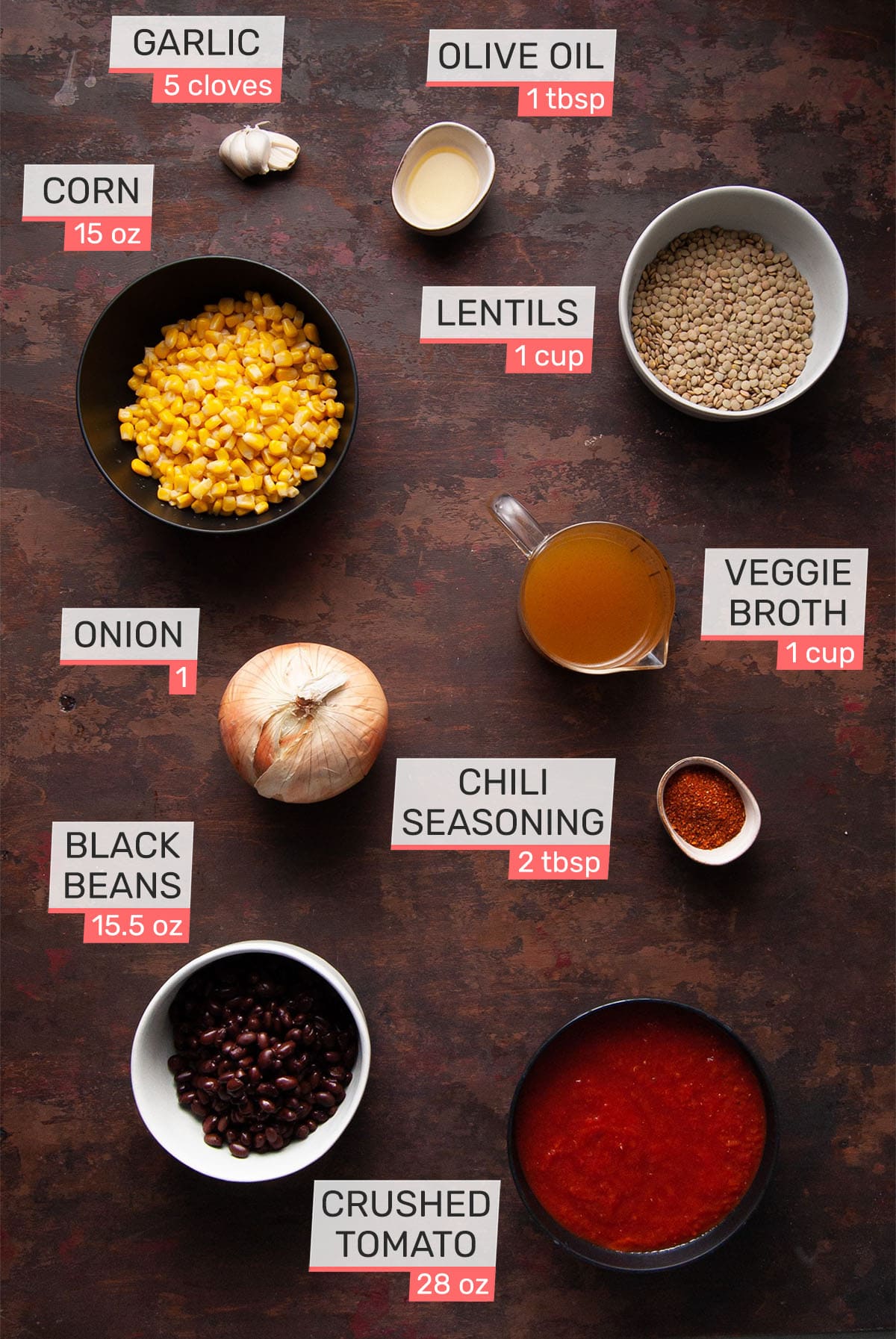 Cook Down The Onions First
Dice your onions and add them to a large pot or Dutch Oven with olive oil. Crank your heat up to medium and allow the onions to sweat.
After 5 minutes over medium, the onions should be super fragrant and start to turn translucent.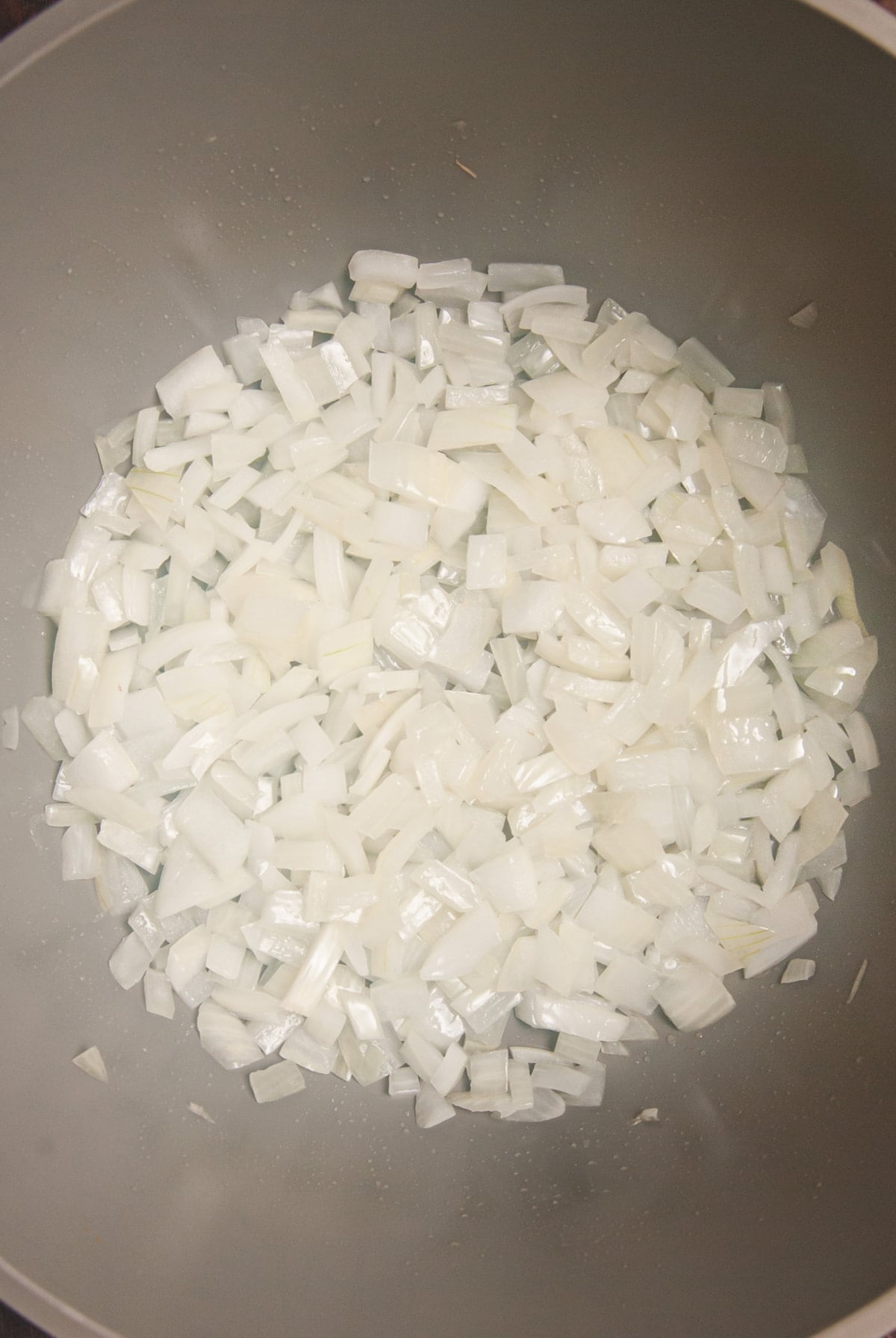 Set It and Forget It
Turn the heat down to low and add the rest of your ingredients. Give the pot a couple of stirs so everything is submerged in the vegetable broth.
Your meatless chili should be at a low simmer. Cover and cook for at least two hours.
Stir the chili with lentils every 30 minutes or so, just to ensure that nothing sticks to the bottom.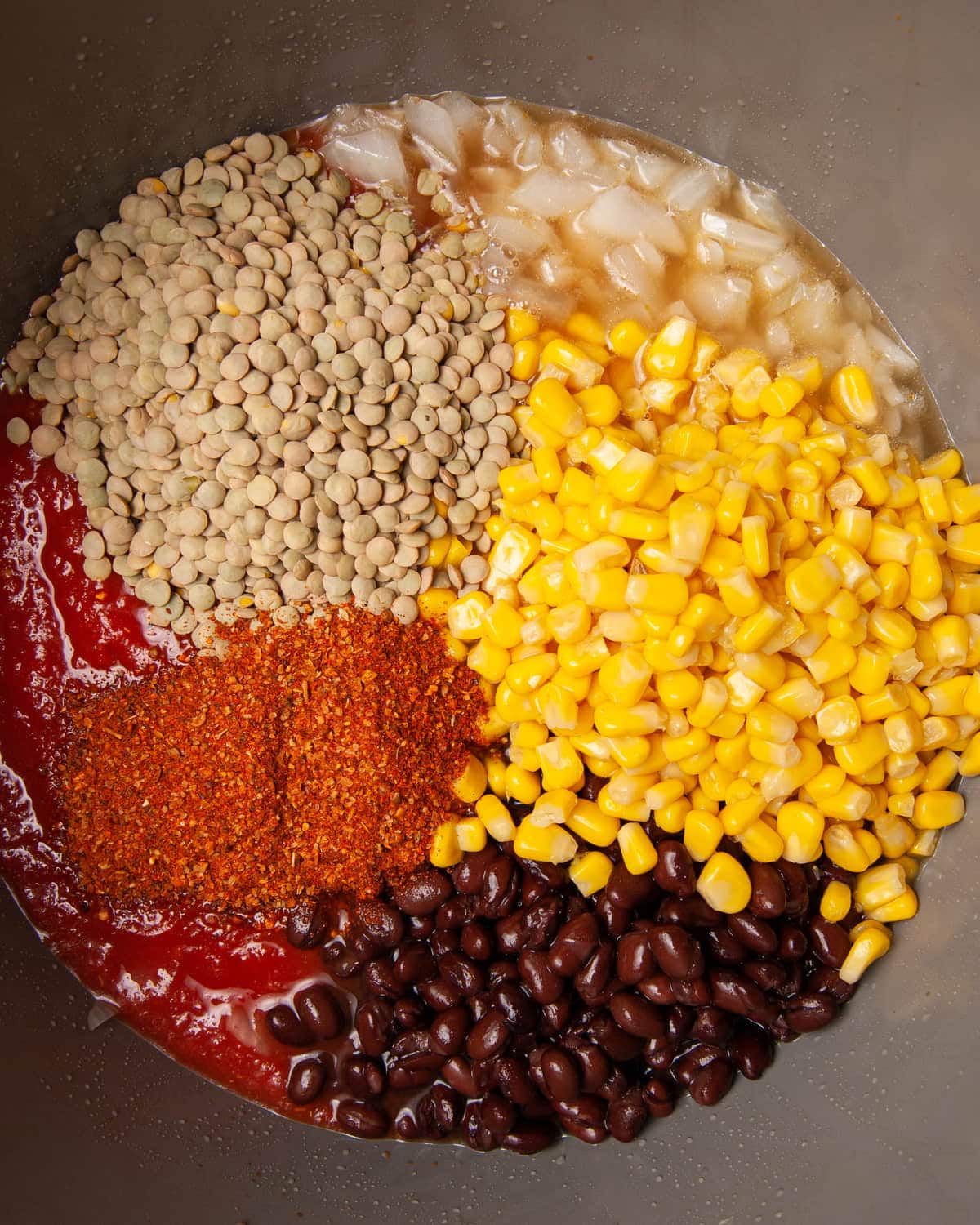 How to Serve Meatless Chili with Lentils
The short answer is with anything and everything. But, I'll share my top five faves for my wholesome meatless chili with lentils:
Smothered in cheese and served as a dip with chips. Chili makes for THE ULTIMATE dip. I like it best with cheddar cheese.
There are some really awesome vegan cheddar options that melt well, but my favorite is Violife Just Like Cheddar Shreds. Or just leave off the cheese and dive right in with the tortilla chips.
Over pasta. No, I'm not crazy. It's awesome. We had a local chili restaurant growing up that introduced me to this unlikely combo and it's A+. I like it best with penne. But I can make an argument for spaghetti, too.
On a bun. It's basically a sloppy Joe. Enough said.
Over quinoa or rice. Add some cheese and guacamole and you have the perfect Tex-Mex bowl. You can also add some veggies and red onion to bulk it up and hit every flavor note.
In a tortilla with lime. Like a taco. Or in a burrito-sized tortilla and add some rice and other fixings, too.
So, there ya have it! The easiest, most filling, ever-versatile, healthy and hearty, almost-every-diet-friendly chili recipe you never knew how much you needed. The epitome of heartiness and warmth and comfort food at its finest.
Meatless Chili Frequently Asked Questions
---
What can I substitute for beef in chili?
You can easily substitute plant-based ground beef, but my favorite substitute for beef in meatless chili is lentils. They are hearty, healthful, and have a very "meaty" texture, resembling ground beef.
Can I use black beans in chili instead of kidney beans?
This meatless chili has a southwestern flare, using black beans instead of kidney beans, and adding corn and onions.
Want to sharpen your kitchen skills?
Why You Should Make This Meatless Chili
---
It's hearty. Between the lentils, beans, and warm stewed tomatoes and corn, this is sure to keep you full and satisfied.
It's easy. Set it and forget it!
It will feed a lot of hungry mouths! This meatless chili will yield up to 8 servings.
If you're loving this Meatless Chili with Lentils and are looking for more meatless dinner ideas, check out this Meatless Lasagna and Meatless Baked Ziti.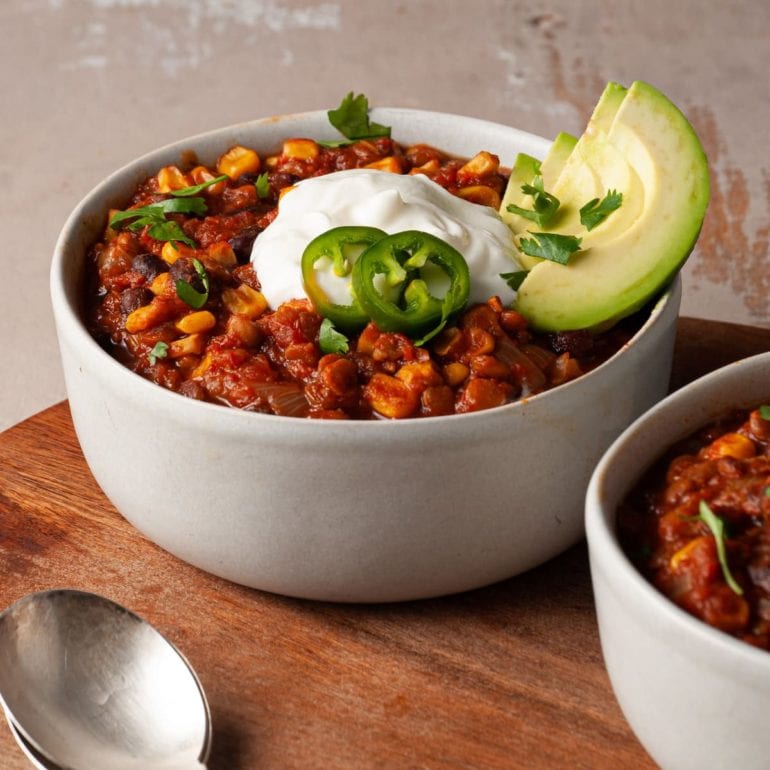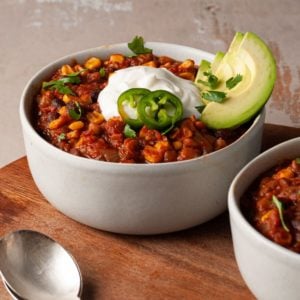 Wholesome Meatless Chili With Lentils
PRINT
PIN
RATE
The epitome of heartiness and warmth, this Wholesome Meatless Chili with Lentils is comfort food at its finest. Its subtle spice and meaty texture will keep you satisfied for hours!
Ingredients
Meatless Chili with Lentils
1

tablespoon

olive oil

1

large

yellow onion

1

cup

vegetable broth

5

cloves

garlic

28

ounces

crushed tomatoes

(no salt added)

15.5

ounces

black beans

(15.5 oz usually = 1 can)

15

ounces

white kennel corn

(canned or frozen)

1

cup

lentils

(uncooked)

2

tablespoons

taco seasoning
Optional Toppings
1

raw scallion

1

handful

cilantro

½

avocado

2

slices

jalapeno
Instructions
Dice onions and cook in a large pot or Dutch oven with a lid in olive oil for about 5 minutes, just to release some of their juices.

Add the vegetable broth, garlic, crushed tomatoes, black beans, corn, lentils, and chili seasoning. Mix well, cover, and simmer on low for about two hours, stirring occasionally.

Serve warm with toppings of choice.
Pro Tips
Try making your own seasoning. I even have a go-to chili and taco seasoning recipe for you. It's simple and let's face it—nothing is better than fresh and homemade!
You can leave it for more than two hours to simmer, just make sure you are stirring so it doesn't stick to the bottom. The longer the flavors have to meld together the better.
However, you may need to add more veggie broth if the chili starts to get dry. Just check it and stir it every 30-45 minutes or so.
Find more delicious meat-free recipes in this collection of my best meatless meals!
Did you make this recipe?
Let me know by leaving a recipe rating below, or by tagging @marleysmenu on Instagram.