Looking for a delicious, healthy, and meatless way to fill up for dinner? This Hearty Mushroom Stew with Potatoes is sure to please the whole family! It makes mushrooms the star, highlighting their earthy umami flavor and elevating them with complementary ingredients.
Oh, and did I mention it's made in just one pot? Easy to make, easy to clean, and even easier to gobble up! This dish has quickly become one of my family's favorite hearty vegan meals.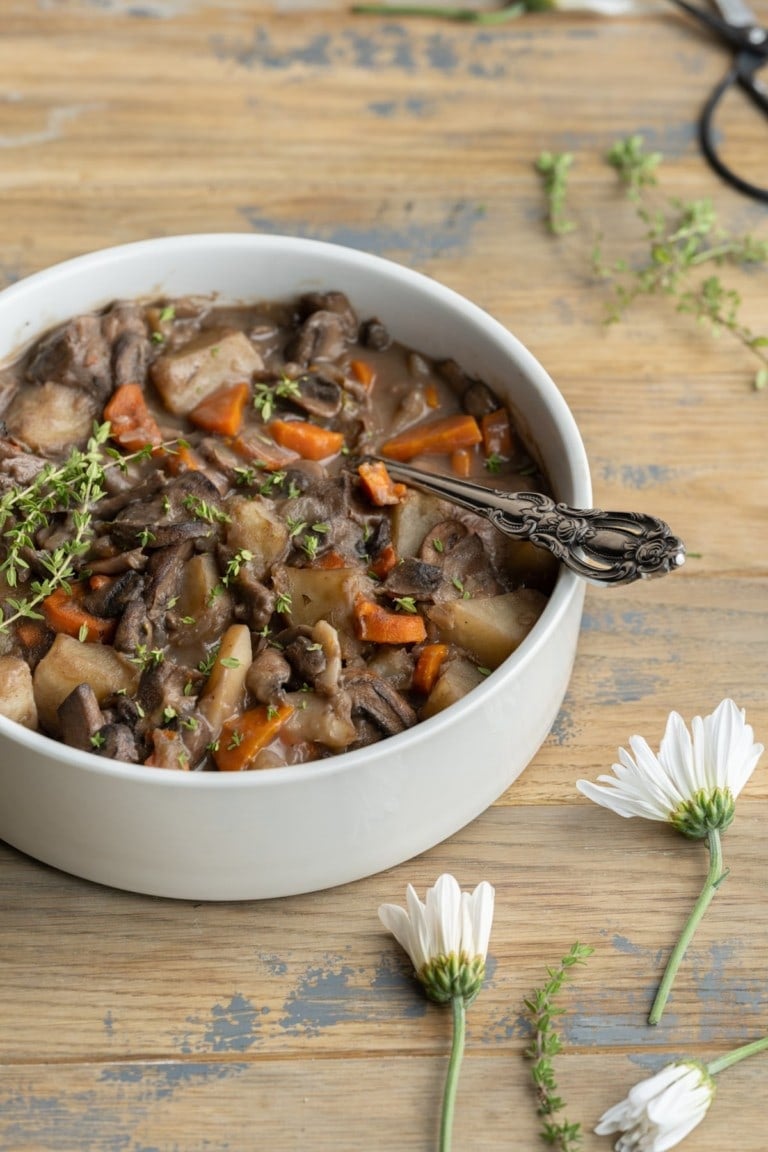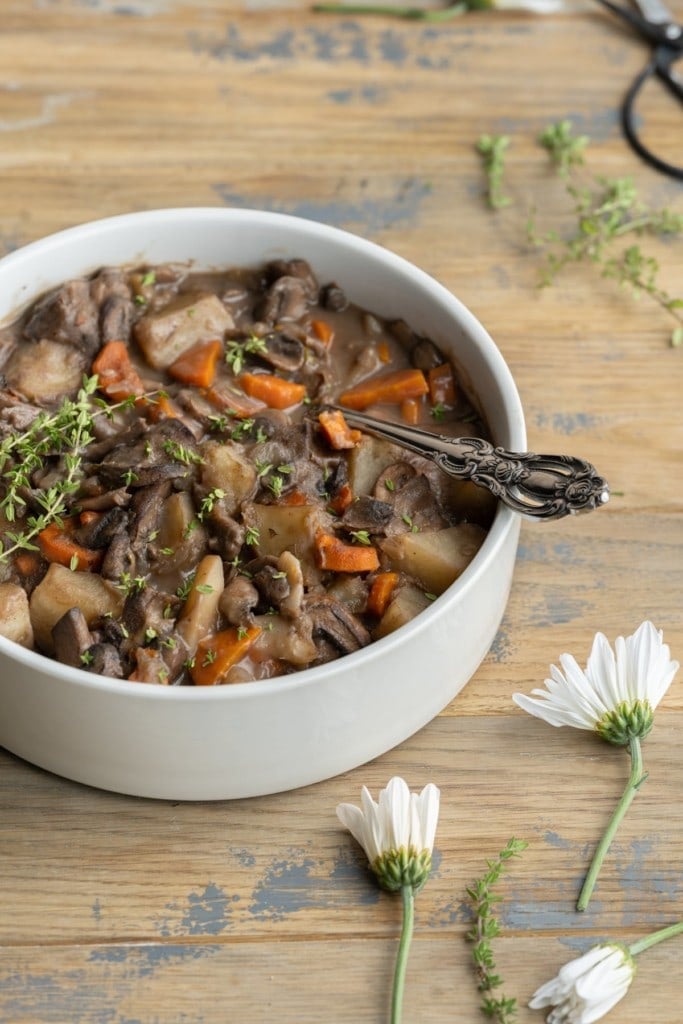 As an environmental scientist, I'm always looking for ways to make eco-friendly produce shine! Mushrooms are not only delicious but considered sustainable food.
Green tip: Mushrooms have a relatively small environmental footprint as they take little water and energy to grow and emit little CO2.
Mushroom Stew Ingredients
---
Here's everything you'll need:
Onion. Yellow or Vidalia onion preferred, but you can really use any onions.
Mushrooms. I like to use both white button and baby bella mushrooms.
Butter. Or olive oil, whichever you prefer.
Flour. To form a roux to create a thicker stew.
Red wine. If you don't want to use wine, you can sub in half water/half cranberry juice.
Red wine vinegar. Or white wine vinegar, champagne vinegar, rice vinegar, or balsamic vinegar.
Mushroom stock. Or vegetable stock.
Bay leaves. You will remove them before you dig in!
Thyme. Fresh thyme preferred.
Carrot. Any and all types of carrots work in this recipe.
Potatoes. Russet or Idaho preferred, but again, any potatoes will work (note: this may change cooking time).
Salt & pepper. To ramp up the flavor.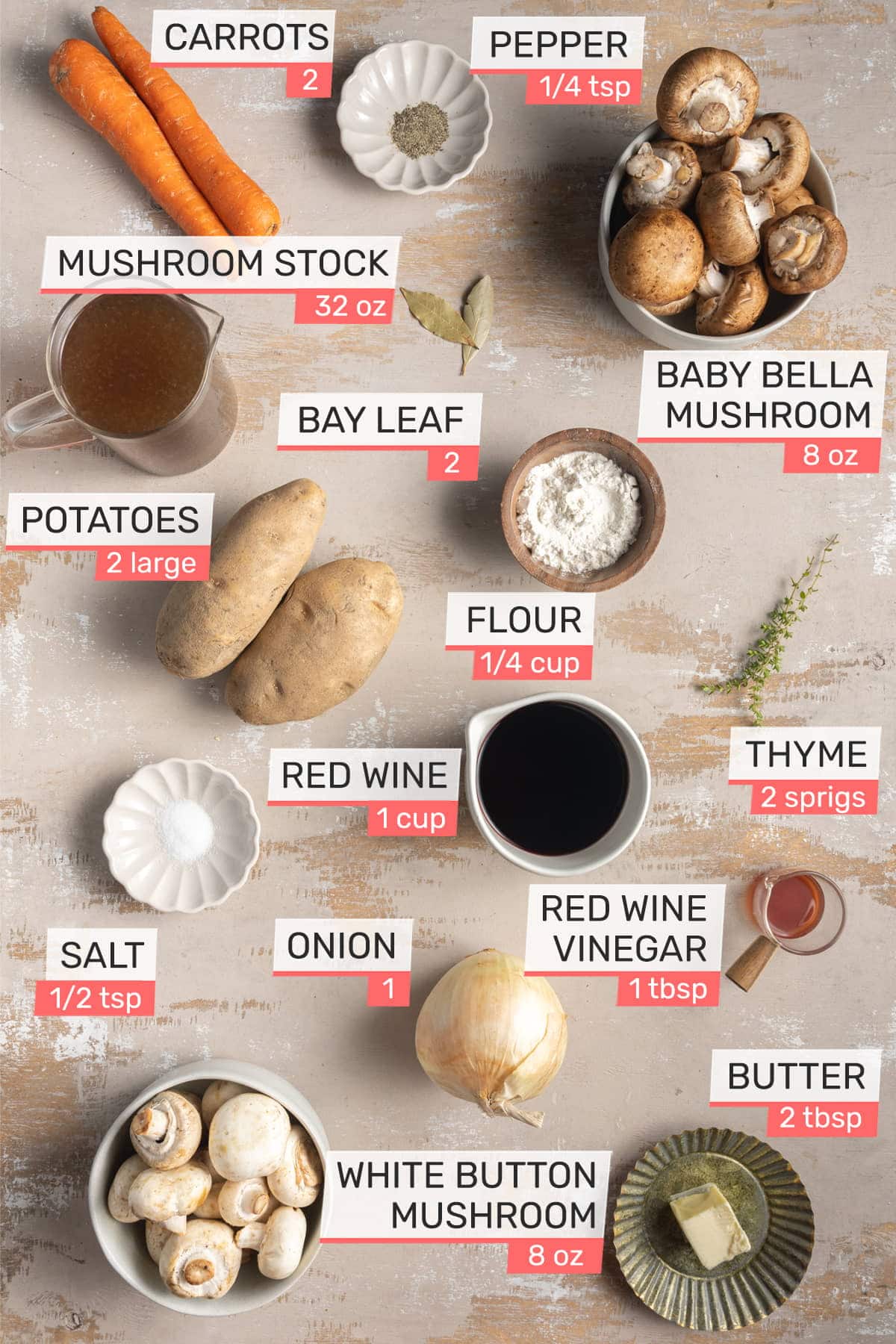 Mushroom Stew Tips and Tricks
---
---
Choosing Your Mushrooms
The mushrooms are the star of this dish! It's best to use two different kinds to really add a depth of flavor to this vegan stew. I chose baby bella and white button mushrooms because they are super common and easy to find.
You could also use morel, shitake, maitake, or even porcini. Whatever is in season, or whatever you have in your fridge!
Green tip: Try buying organic mushrooms for this recipe if you can! Organic farms rely on biodiversity to generate rich soil, avoiding the use of pesticides and fertilizers, which means no toxic runoff.
Set Yourself Up For Success
The best part about this Mushroom Stew is it's simplicity. Once you've gathered and prepped your ingredients, it's as simple as letting all the flavors meld together.
It's best to do all your peeling, chopping and measuring of ingredients ahead of time, so that everything is ready to chuck into the pot!
The onions and mushrooms cook first. Peel and dice the onion and slice the mushrooms thin. While they're cooking, you can peel and chop the potatoes and carrots.
The potatoes should be in small, roughly equal-sized chunks (cutting it into chunks will speed up the cooking time). The carrots should be chopped into smaller pieces.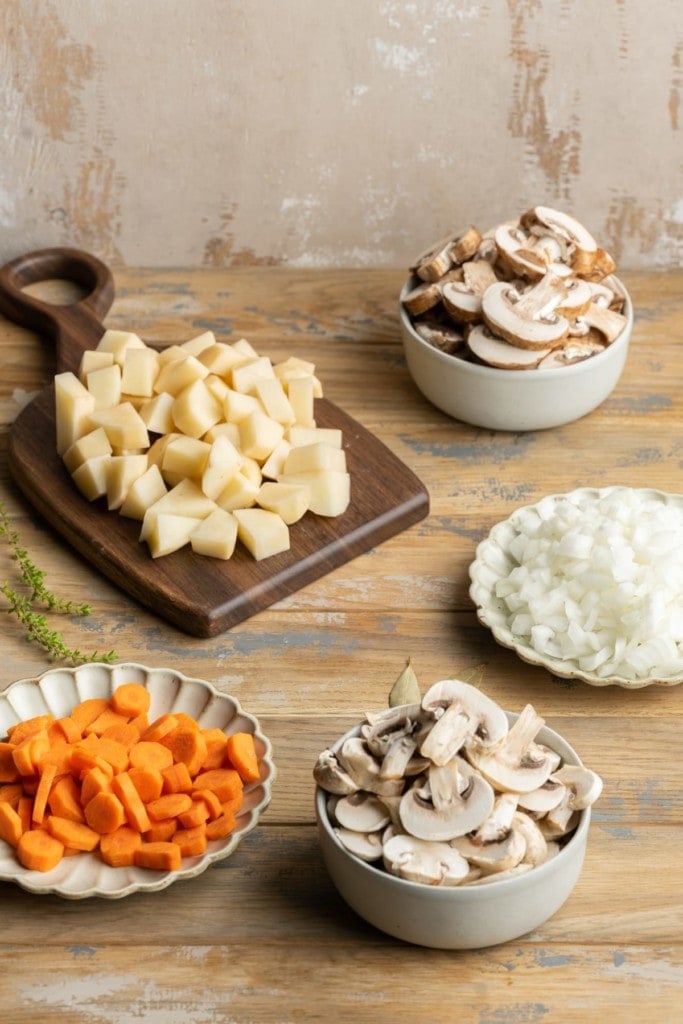 Choosing Your Wine
It's best to use a mild red wine for this recipe! I chose an affordable Cabernet Sauvignon, but you can also use Merlot or Pinot Noir. Avoid general "cooking wine" for best results.
If you don't want to use wine, you can substitute a mixture of half pure cranberry juice and half water.
Quick note: Save your top-shelf stuff for drinking! The heat from cooking will cause the wine to lose those subtle nuances.
Start Off With A Roux
Once you've chopped your onions and mushrooms, add them to a large Dutch Oven with your butter or oil and cook them down for about 5 minutes until the liquid releases from the mushrooms.
Add your flour to form a roux. This will be the base of your stew, helping it achieve the perfect consistency!
Green tip: The average shelf-life of all-purpose flour is about 8 months but freezing it can extend its life by another year and a half! Just store it in an airtight container and stick it in the freezer to avoid wasting it.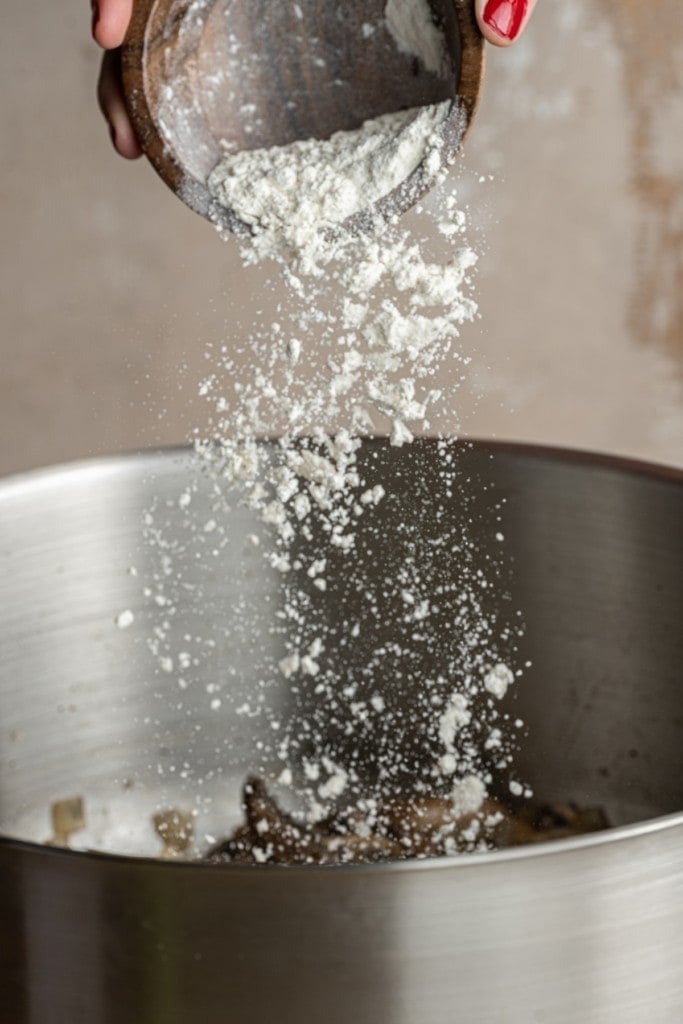 Add the Liquid
Once you've formed your roux and added your liquid, you'll simmer over high heat to reduce some of the water content and encourage the flavors to meld together. Your stew will cook like this for about 10 minutes.
Make sure to stir occasionally to ensure nothing sticks to the bottom of the pot.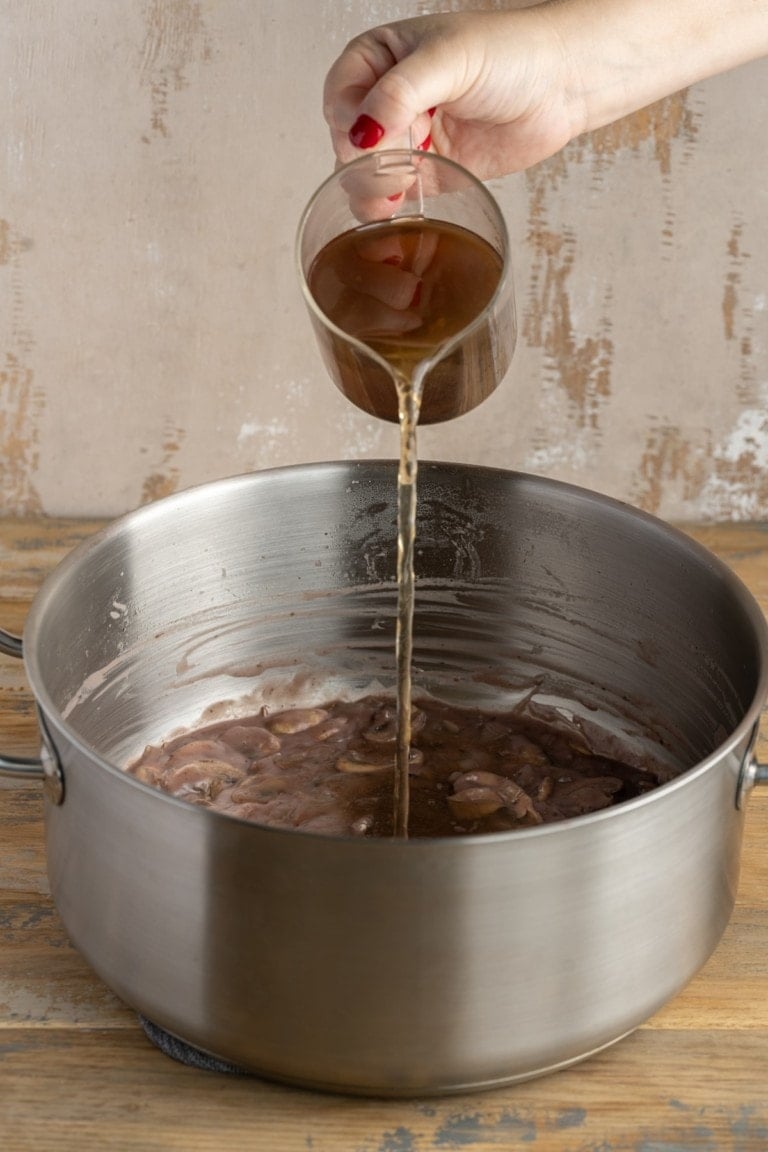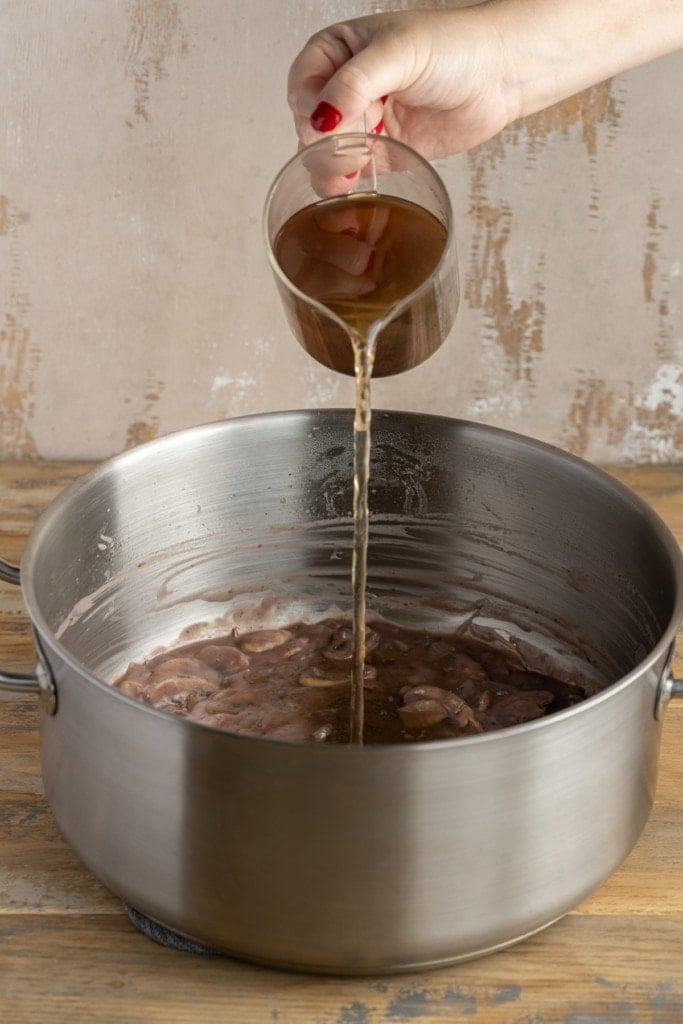 Add Your Roots
Next, add those potatoes and carrots to the pot. Then, reduce your heat to low and cover. This will encourage the carrots and potatoes to soak up all that delicious flavor you've just created.
Once again, make sure you are stirring throughout, running your spatula or wooden spoon across the bottom of the pot. This ensures that nothing sticks to the bottom of the pot as it cooks.
Both the carrots and potatoes should be perfectly tender and well-seasoned from the stew. Stick a fork in the biggest piece of potato you see, and if that one's ready, they all will be!
You'll know it's ready because your fork will easily pierce right through the potato.
Green tip: Potatoes are a great choice for a sustainable starch! They only require a small area to thrive and have a super long shelf life!
How to Store and Reheat Mushroom Stew
This stew will reheat deliciously and can be stored for 3-4 days covered in the refrigerator. You can also opt to keep it in the freezer for up to 3 months!
To reheat, just place in a microwave-safe dish and cover. Microwave on high for 3-5 minutes if thawed, or 5-7 minutes if frozen. Stop and stir every 2 minutes and taste test to make sure it's heated all the way through!
You can also reheat it in a pot, covered, over medium heat for about 15 minutes, stirring occasionally.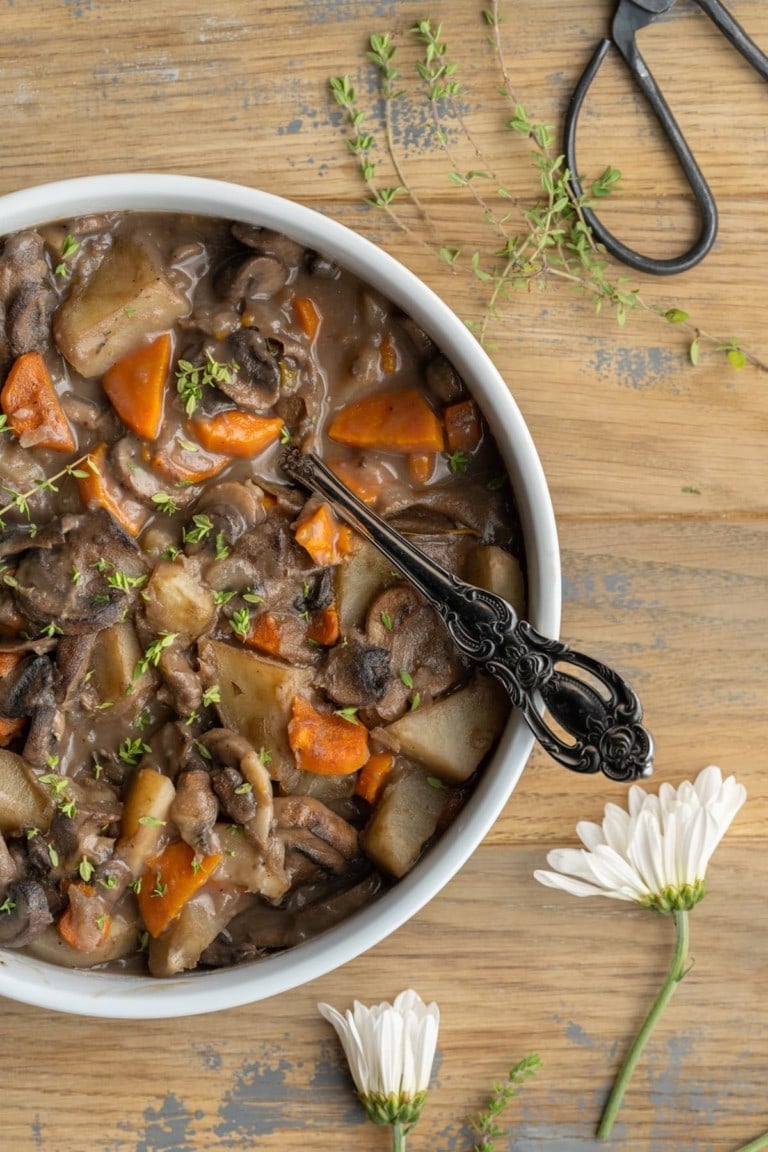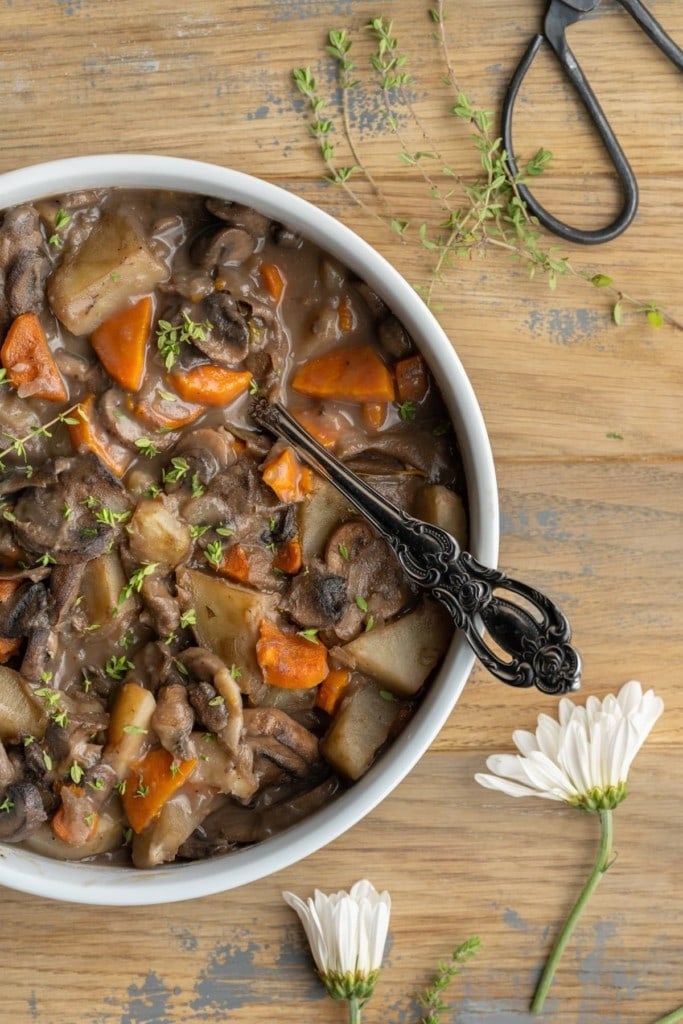 Doubling The Recipe
This is one of those crowd-pleasing meals that's great for feeding a whole family! If you have more than 4 mouths to feed, you can easily double this recipe.
In this case, you will have to add 10 minutes to your cooking time in Step 4, when you are simmer on high. You may also have to add 5 more minutes during step 6.
Test by piercing a potato with a fork. If the potato is tender, your fork should easily go through. If not, give it another 5 minutes.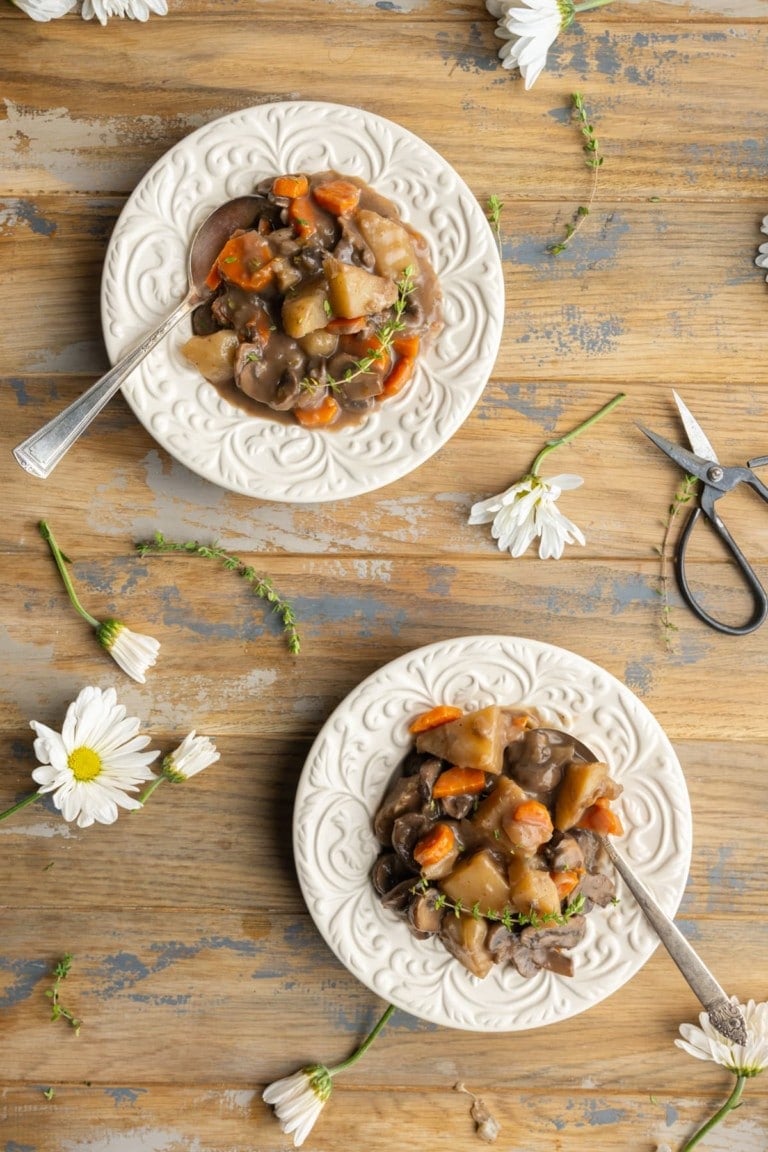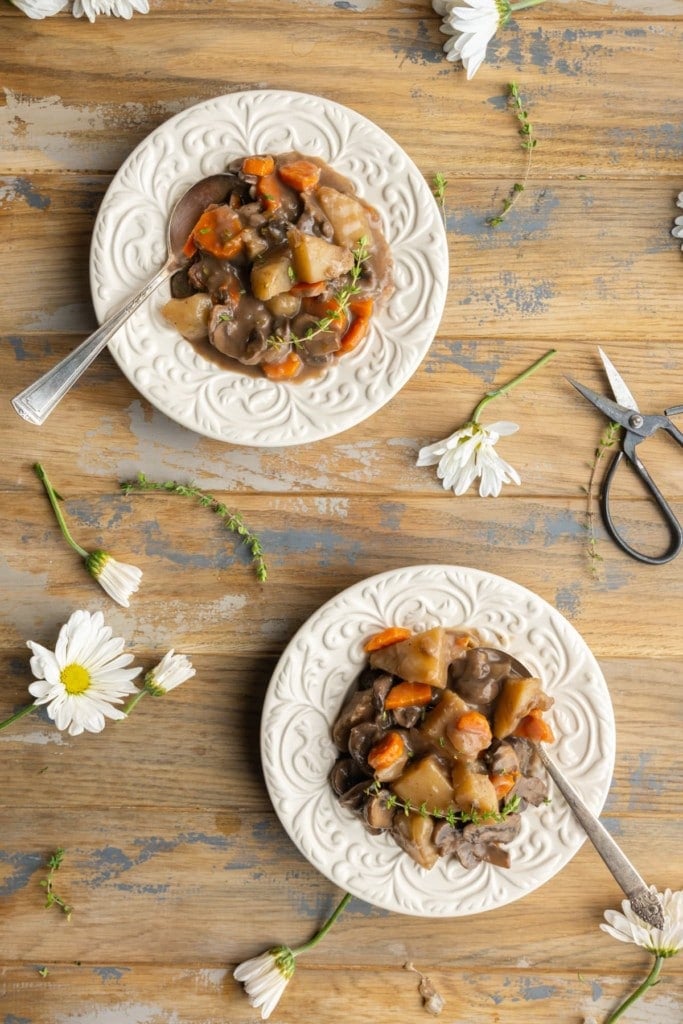 Mushroom Stew Frequently Asked Questions
---
How do you thicken mushroom stew?
It's best to start your stew with a roux, by adding flour and fat (in this case butter or oil). This will be the base of your thick and hearty stew.
However, if you forgot the roux and need to thicken it at the end, you can do so with cornstarch. Dissolve 1 tablespoon of cornstarch in 2 tablespoons of water by stirring it together in a separate, small bowl.
Add the cornstarch and water slurry to the stew and heat until it begins to thicken (cornstarch will start to thicken stew once it reaches 295°F
Can you freeze mushroom stew?
Yes! Mushroom stew can be frozen for up to 3 months. When you're ready to eat it, allow it to thaw overnight in the refrigerator before reheating as usual.
Want to sharpen your kitchen skills?
Why You Should Make This Mushroom Stew
---
It's filling! Hearty and warming to the tummy and the soul!
It's One-Pot! Easy to cook, easy to clean.
It's earthy. That umami flavor from the mushrooms really shines in this dish.
Loving this Mushroom Stew and looking for more hearty vegan dinners? Check out this Meatless Chili and Vegan Wild Rice Soup.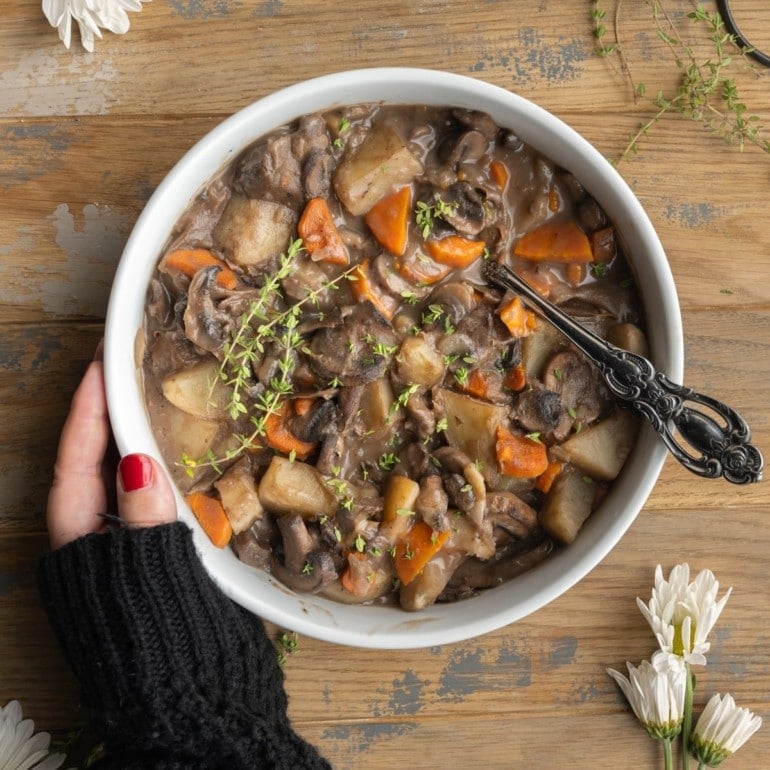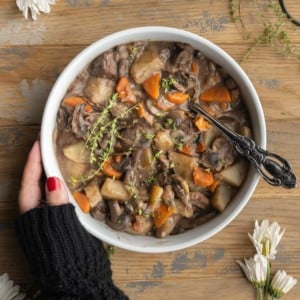 Hearty Mushroom Stew with Potatoes
PRINT
PIN
RATE
Who says hearty has to mean heavy? This Mushroom Stew is hearty and filling, but not too heavy. It's meatless, earthy, and absolutely bursting with flavor!
Ingredients
1

large

yellow onion, chopped

8

ounces

baby bella mushrooms, sliced

8

ounces

white button mushrooms, sliced

2

tablespoons

olive oil or unsalted butter

(dairy or plant-based)

¼

cup

all-purpose flour

1

cup

red wine

1

tablespoon

red wine vinegar

32

ounces

mushroom stock

(32 oz = approx 3 & ⅔ cup)

2

bay leaves

2

sprigs

fresh thyme leaves

2

large

carrots, peeled and chopped

2

large

russet potatoes

(peeled and chopped)

½

teaspoon

salt

¼

teaspoon

black pepper
Instructions
Add chopped onion and sliced mushrooms to a large pot or Dutch Oven. over medium heat with butter or oil. Cook for about 5-7 minutes until the juices of the mushroom have released and the onion is translucent and fragrant.

Add flour and stir well until there are no visible clumps to form a roux.

Add the wine and vinegar and stir, integrating the roux into the liquid. Cook for about 5 minutes to allow the alcohol to burn off.

Add stock, bay leaves, and fresh thyme. Stir and bring heat up to high. Leave uncovered and simmer for 10 minutes, stirring occasionally to make sure the bottom does not burn.

Peel the carrots and potatoes. Slice carrots and chop potatoes into chunks, about 1-inch wide. Drop them into the pot and turn heat all the way down to low. Cover and simmer on low for 30 minutes, stirring occasionally so nothing sticks to the bottom of the pot.

Test that your carrots and potatoes are tender by piercing with a fork. It should easily poke through. If ready, taste to see if any salt and pepper is needed. Serve hot and garnish with fresh thyme.
Pro Tips
You can use any two kinds of mushrooms for this recipe!
Avoid general "cooking wine". Go for an affordable Cabernet Sauvignon, Merlot, or Pinot Noir.
If you don't want to use wine, you can substitute half pure cranberry juice/half water.
I love recipes that only need one pot (less fuss and clean-up? Yes please!)—so I made a collection of my best One-Pot Meals!
Did you make this recipe?
Let me know by leaving a recipe rating below, or by tagging @marleysmenu on Instagram.