Looking for a delicious and nutritious date night dinner? Packed with rich flavor, nutrients, and "good" fats, this Roasted Garlic Salmon for Two is on heavy rotation in my household! It's super quick, minimum ingredients, and requires just one sheet pan.
With a very healthy dose of garlic, this versatile salmon recipe makes this the perfect main to whichever side dish you're serving up! Plus it's ready in 30 minutes and only uses 5 simple ingredients.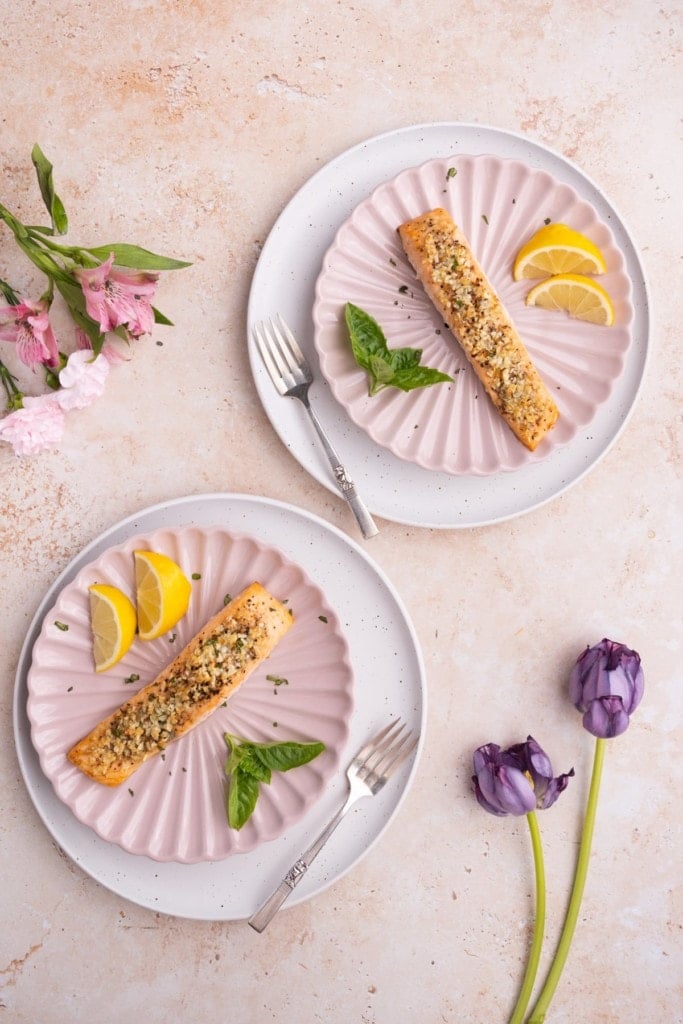 Roasted Garlic Salmon for Two Ingredients
---
Here's everything you need:
Salmon. A typical portion size of salmon is anywhere from 3-5 ounces. You can buy individual portions, or you can buy a larger, 6–10-ounce portion and divide it into two.
Garlic. Fresh garlic goes a long way in this recipe. You'll need about 4 cloves of minced garlic to completely coat your salmon.
Lemon juice. I love using a fresh lemon for this recipe. You will only need the juice from about 1/4 of a lemon to make this Garlic Roasted Salmon for Two.
Steak Seasoning. You can make your own steak seasoning or use ready-made. My favorite is Montreal Steak Seasoning.
Olive oil. To drizzle on top of your garlic to get a crispy outer layer.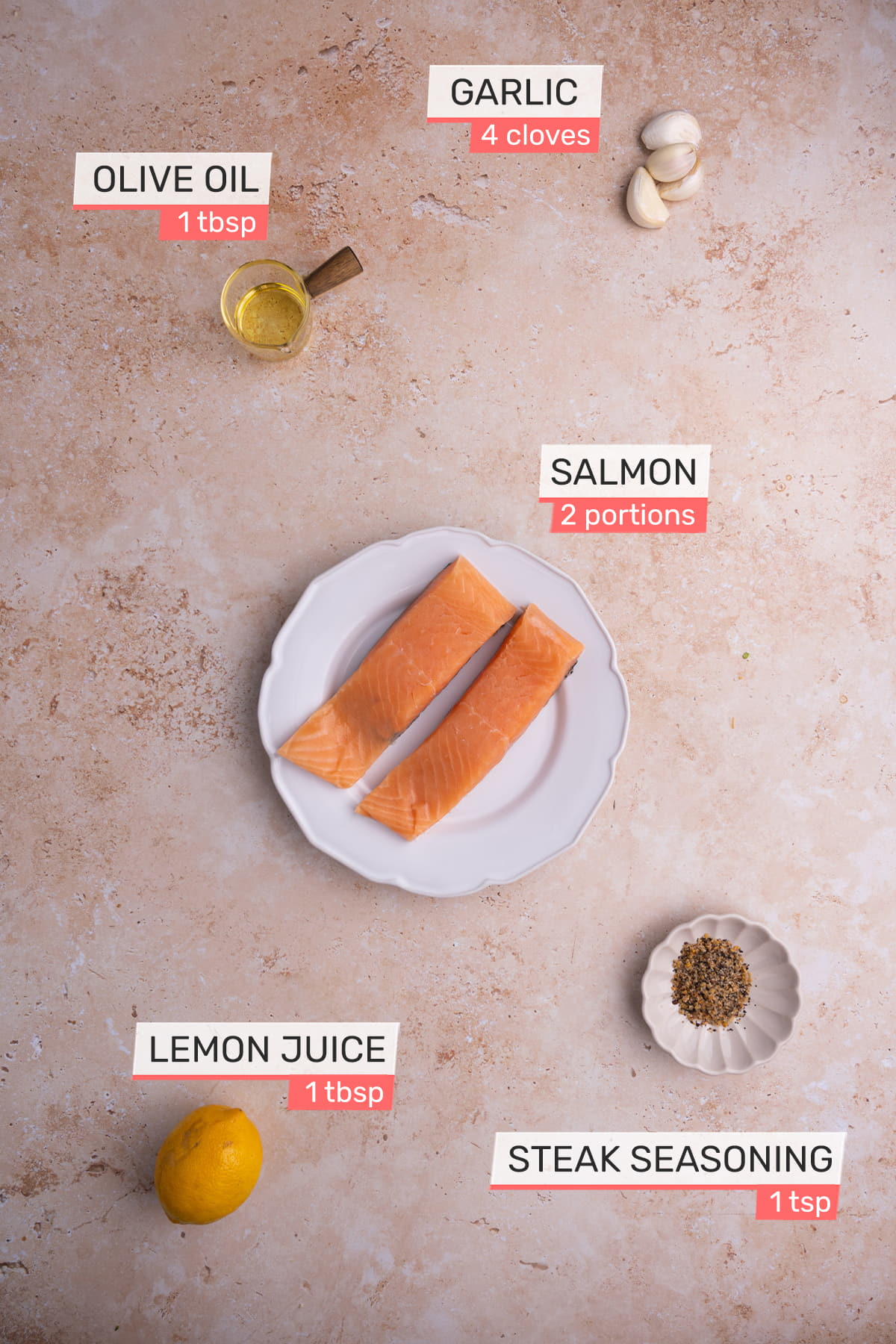 Sustainable Seafood
Salmon farming often gets a bad reputation because it can potentially pose a risk to our environment for several reasons.
This includes, but is not limited to, the antibiotics used in salmon farms that can then leach into the surrounding environment and the depletion of other wild fish harvested to feed the salmon.
However, wild-caught salmon poses other potential risks, including overfishing and bycatch. Plus, there are often issues with availability and access to wild caught salmon.
So how do we source salmon sustainably?
We have two great choices: sustainably farmed salmon, or wild-caught Alaskan salmon.
Green tip: Look for Marine Stewardship Council and Friend of the Sea labels on your fish to ensure they were harvested sustainably.
Roasted Garlic Salmon for Two Tips and Tricks
---
Prep your salmon
Before we start cooking, we have to dry our salmon to get a crispy exterior.
Green tip: Paper products contribute to deforestation. Consider these bamboo paper towels! Bamboo naturally regenerates every few months, whereas trees cannot regrow once harvested.
Place your salmon filets in between two paper towels and press down lightly to pat dry. Drying the fish will avoid a mushy texture by removing any excess moisture. This same technique is used in making this Pesto Butter Salmon as well.
This recipe was created with fresh fish, but you can also easily use frozen! Just thaw the salmon overnight in the refrigerator or add it to a plastic or reusable storage bag and submerge the bag in cold water for about 45 minutes to defrost.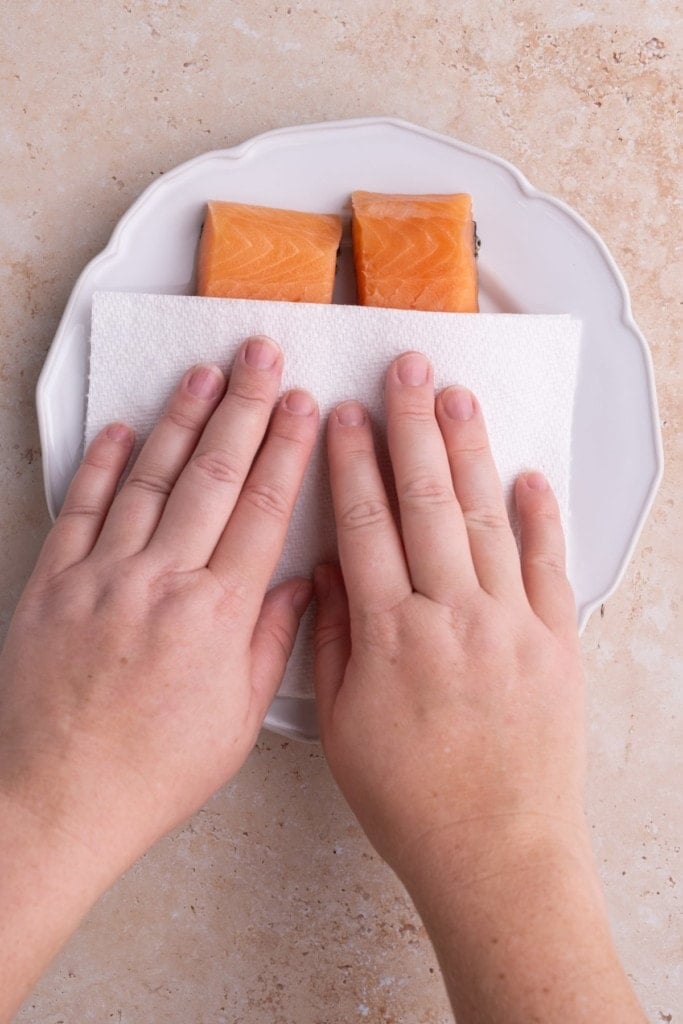 Use Fresh Lemon
This recipe utilizes only 5 ingredients, so we want each one to pack a punch. Fresh lemon will go a long way in this recipe!
You only need about 1 tablespoon of lemon juice, and a large lemon contains about 4 tablespoons. If you need ideas for what to do with your extra lemon juice, check out this Vodka Sour and Vegan Couscous Salad.
There's a lot of chemistry behind why this duo is so dynamic, but the long and short of it is, the acid in the lemon breaks down the protein in the fish to combat that notorious "fishy" smell and taste we all want to avoid.
Squeeze it directly onto the dried salmon, careful to add juice to every part of the surface.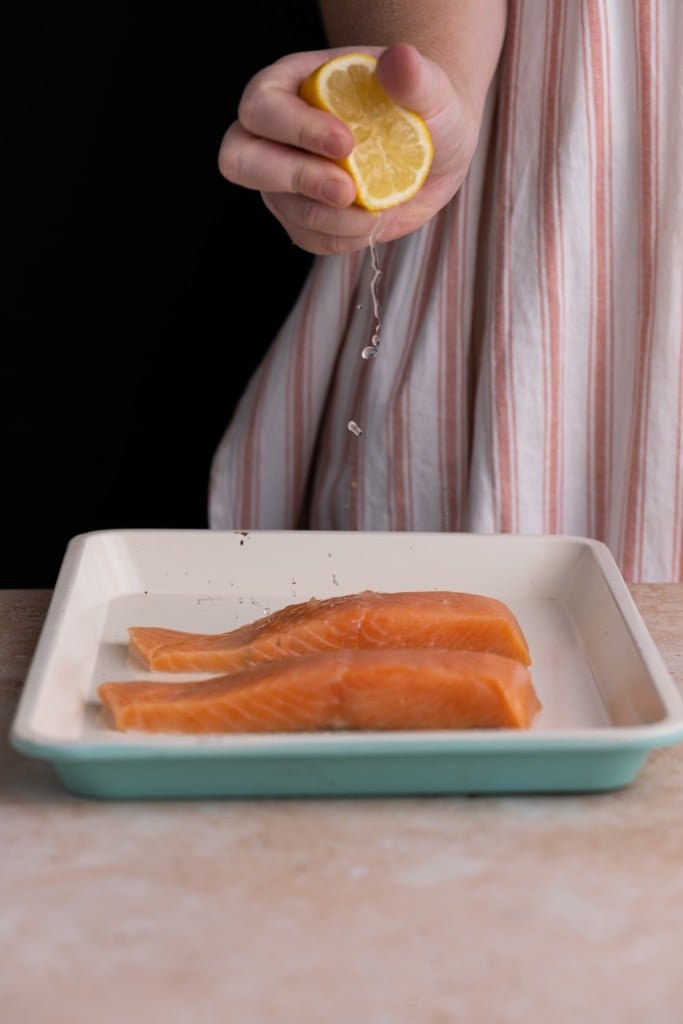 Season Your Salmon
Once you've added the lemon juice, you're ready to season your salmon. You can use any steak seasoning of your liking.
Steak seasoning can vary depending on the brand or the homemade steak seasoning recipe, but generally it contains a combination of salt, pepper, dried onion, dried garlic, and dried herbs.
It's the perfect one-stop shop for added flavor! My favorite steak seasoning to use for this recipe and many more (find it in this Garlic Lemon Asparagus!) is Montreal Steak Seasoning.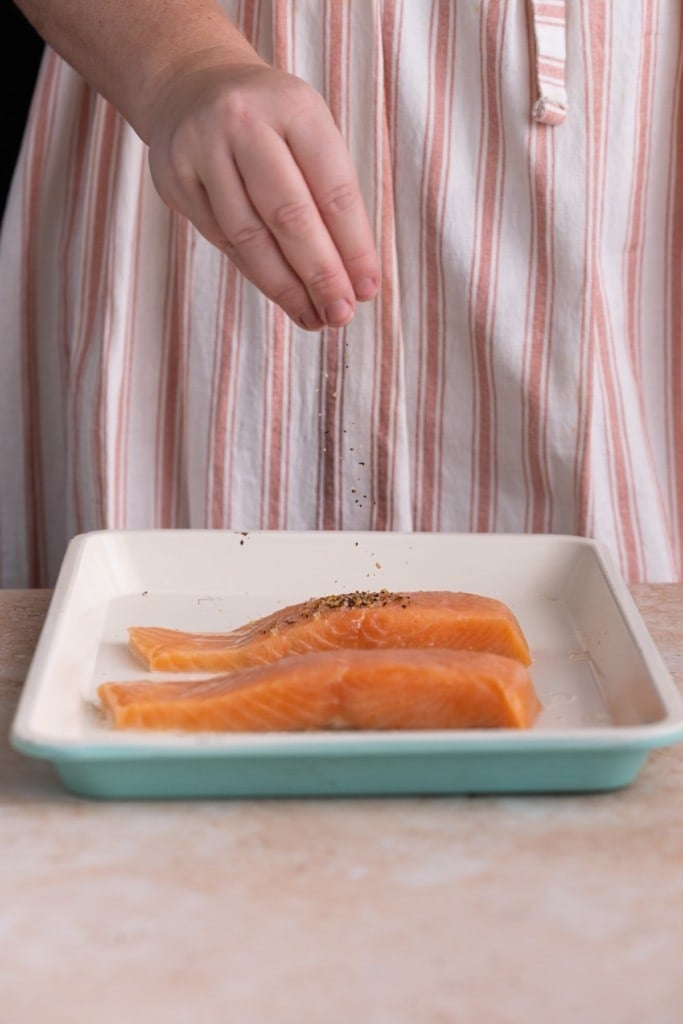 Coat It
The idea for this Roasted Garlic Salmon for Two is that the garlic acts almost as a crust. Use clean hands to press the minced garlic into the salmon on top of the seasoning in an even layer.
Then, drizzle the olive oil on top so the garlic has the fat it needs to roast and turn a golden brown.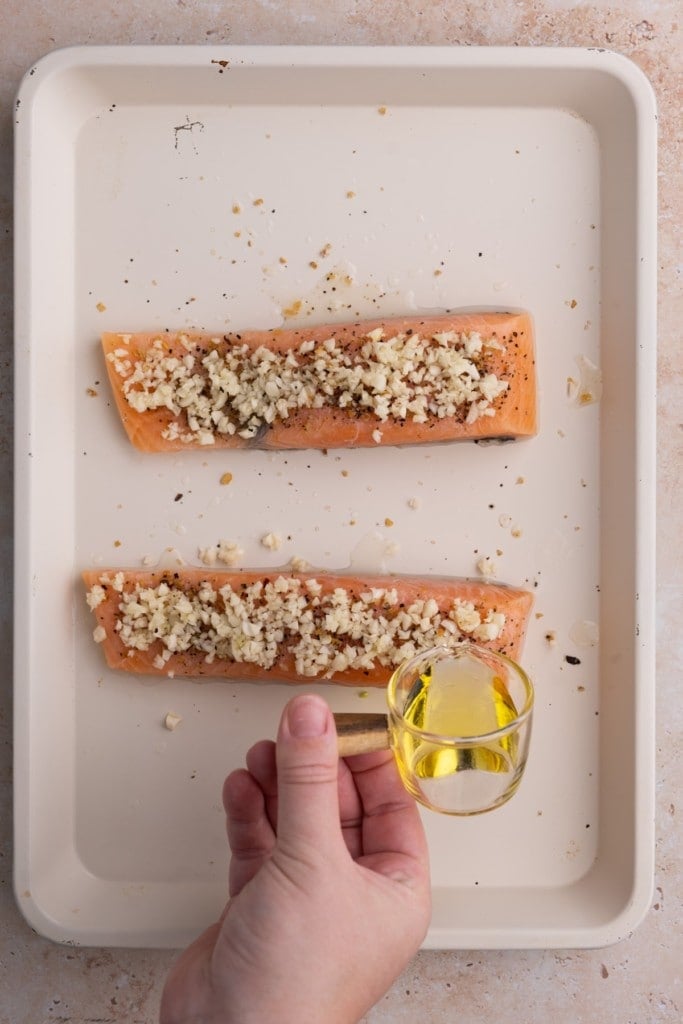 Roast it!
Arguably the best part about salmon (aside from its numerous health benefits) is its juicy, flaky, fatty texture.
Which means we do not want to overcook it. Overcooked salmon tends to be dry and less flavorful. In my oven, 20 minutes gets this salmon just right.
The first indication that your salmon is ready is that any exposed fat will form a white cloudy substance.
It should retain a light pink hue throughout. It's best to cut into it just to make sure the inside is fully cooked. Or, if you want to be certain, use a meat thermometer to ensure the internal temperature is at least 125°F.
If you think your salmon is cooked through, but your garlic isn't browned and crispy yet—have no fear! Simply remove it from the oven, bring your oven up to broil, and stick it back in.
Watch closely because you will probably only have about 30 seconds to one minute before the garlic starts to burn. Right when it's brown, take it out.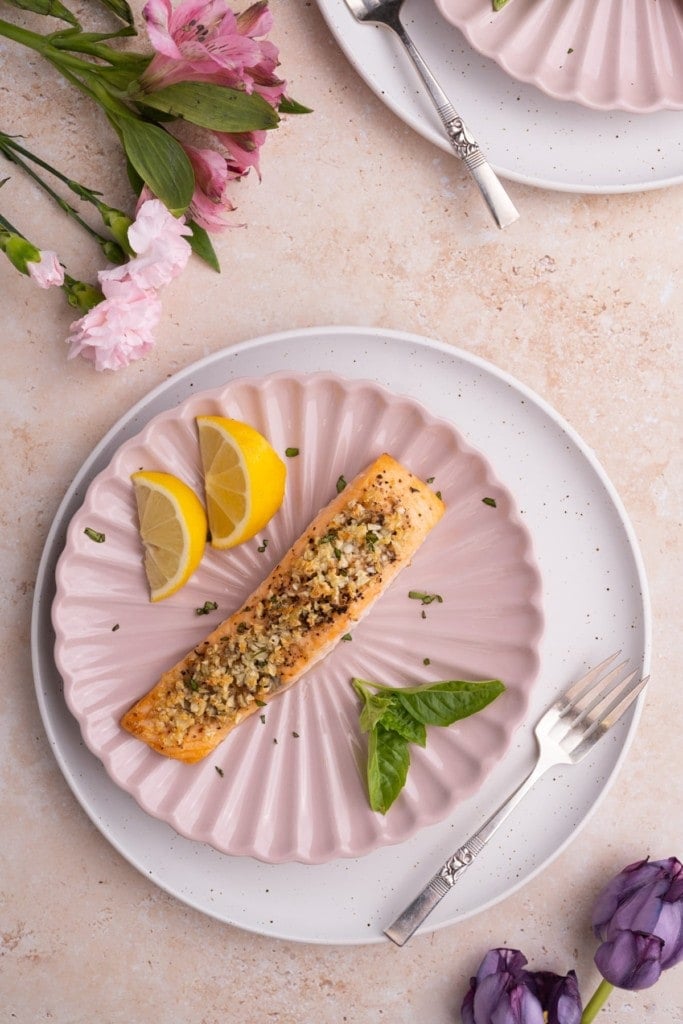 Storing and Reheating Leftover Salmon with Roasted Garlic

This Roasted Garlic Salmon for Two will last up to 4 days in an airtight container in the refrigerator. You can also freeze it for up to 6 months. Check out these detailed instructions for re-freezing cooked salmon.
To reheat your salmon dinner for two, preheat your oven to 400°F and add the salmon to a baking dish. Cover the dish with aluminum foil and bake for 15-20 minutes until the internal temperature reaches 145°F.
From frozen, thaw in the refrigerator overnight and follow the instructions above to reheat.
Green tip: Did you know that of the billions of pounds of food wasted annually, it is estimated that 50% of it happens in our homes? It's always best to avoid food waste as much as you can!
Serving Your Roasted Garlic Salmon
This salmon recipe is so versatile. Serve it atop a mixed berry salad with balsamic vinaigrette. Make a healthy quinoa bowl with this salmon and some Sweet and Salty Brussels Sprouts.
Double down on the flavor and serve it up with Purple Asparagus and Yellow Saffron Rice.
Or if you dare, make yourself the ULTIMATE Marley's Menu din-din and splurge with this salmon recipe over my Roasted Garlic and Feta Mashed Potatoes smothered in my Hearty Mushroom Gravy.
The options are endless. But no matter how you serve it, this Roasted Garlic Salmon for Two will be the anchor of your dish (I was gonna say the star of your dish, but I couldn't pass up a punny sea reference). Seriously though, this salmon shines!!
Why You Should Make This Roasted Garlic Salmon for Two
---
It's simple. Just five ingredients, a sheet pan, and 30 minutes required.
It's flavorful. The roasted garlic is the cherry on top of an already well-seasoned salmon.
The textures! Flaky, moist salmon with a crispy outer garlic crust.
If you're loving this Roasted Garlic Salmon for Two, check out these Creamy Fish and Grits and this Crispy Blackened Cod.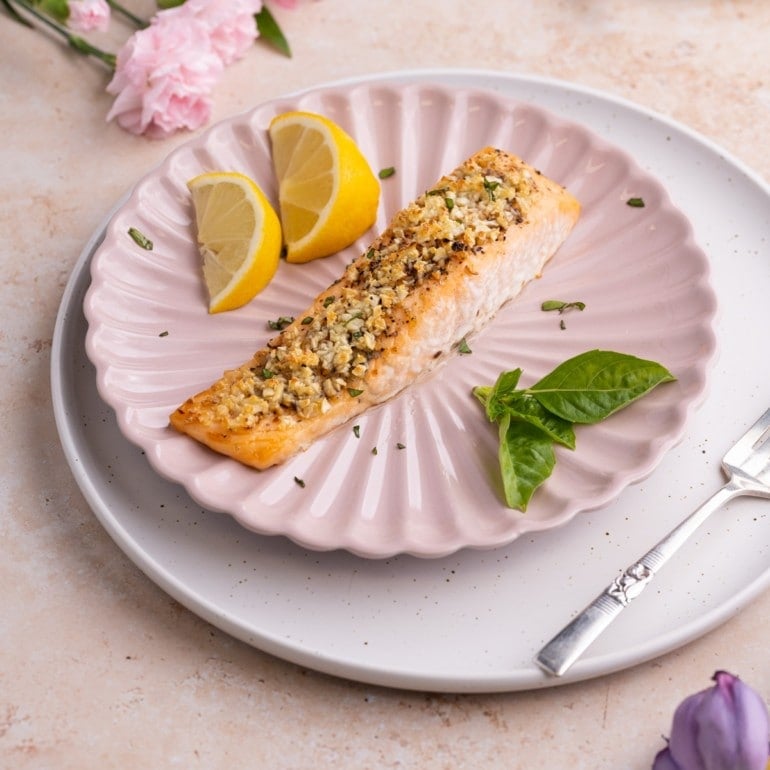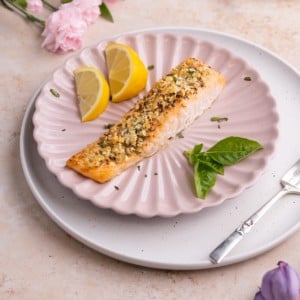 Roasted Garlic Salmon For Two
PRINT
PIN
RATE
This Roasted Garlic Salmon for two uses citrus and garlic to wake up the naturally rich flavors of the salmon for a healthy, elevated date night dish.
Ingredients
2

portions

salmon

(1 portion = approx. 3 to 5 ounces)

4

cloves

garlic

1

tablespoon

lemon juice

(1 lemon = approx 4 tablespoons juice)

1

teaspoon

steak seasoning

1

tablespoon

olive oil
Instructions
Preheat your oven to 375°F.

Mince your garlic and cut your salmon into individual portions (about 3-5 ounces each) if necessary. Pat dry the salmon with a paper towel (try these bamboo paper towels for a more sustainable option!).

Place salmon on baking sheet skin side down (option to line with aluminum foil). Squeeze the lemon juice on top.

Season each fillet generously with steak seasoning and use clean hands to press minced garlic on top to form an outer crust.

Drizzle olive oil on top of the garlic as evenly as possible.

Roast for about 20-25 minutes on the top rack until the salmon is cooked through (internal temperature should reach 125°F) and the garlic is just starting to turn golden-brown. *
Pro Tips
If you feel your salmon is cooked through but your garlic is not yet browned, turn your oven on broil and watch it closely. Usually, your garlic will roast within 30 seconds to 1 minute.
You can use any steak seasoning in this recipe.
If you like salmon, you'll love this collection of my best salmon recipes!
Did you make this recipe?
Let me know by leaving a recipe rating below, or by tagging @marleysmenu on Instagram.