My husband and I are in what I lovingly refer to as an inter-diet marriage. He LOVES chicken and red meat. I don't eat it. But (thank goodness) salmon is one protein we can both agree on.
Packed with rich flavor, nutrients, and "good" fats, it is on heavy rotation in our household dinner menu. This Roasted Garlic Salmon For Two is my number one recipe when it's salmon night in our house.
What Makes Roasted Garlic Salmon For Two So Good!?
When in doubt: Montreal Steak Seasoning. I use this seasoning for EV-ER-Y-THING. To season vegetables, to season avocado, to season fish. It is a foolproof way to add flavor to pretty much anything you wanna spruce up.
It's essentially a mix of salt, pepper, red pepper flakes, paprika, and a few other seasonings that make it an easy go-to.

I have an industrial-sized vat of it from Costco and when it gets low I literally get anxious about it. Yes, I sincerely LOVE THIS STUFF. So while I obviously highly recommend it for this recipe, if you are equally passionate about a different rub or seasoning, you can totally use that, too.
Seafood and citrus is a classic, timeless combo that truly can't be beaten.
There's a lot of chemistry behind why this duo is so dynamic, but the long and short of it is, the acid in the lemon breaks down the protein in the fish to combat that notorious "fishy" smell and taste we all want to avoid.
In other words, this key ingredient makes this fish flavorful, but not too "fishy".
If you've been following my blog, you probably know by now I am garlic's number one fan. I would absolutely have it in every meal if I could.
But even if you're not totally obsessed like me, you will definitely appreciate the flavor and texture it brings to the salmon in this recipe. It almost forms a crust on top, and because the garlic is cooked thoroughly, its subtle sweetness shines through.
How Do I Know When The Salmon Is Ready?
Arguably the best part about salmon (aside from its numerous health benefits) is its juicy, flaky, fatty texture.
Which means we DO NOT want to overcook it. Overcooked salmon tends to be dry and less flavorful. In my oven, 20 minutes gets this salmon JUST right.
The first indication that your salmon is ready is that any exposed fat will form a white cloudy substance.
It should retain a light pink hue throughout. It's best to cut into it just to make sure the inside is fully cooked. Or, if you want to be certain, use a meat thermometer to ensure the internal temperature is at least 145 degrees Fahrenheit.
Green tip: If you can, look for wild-caught Alaskan salmon. It is harvested in the most sustainable and natural way.
If you think your salmon is cooked through, but your garlic isn't browned and crispy yet—have no fear! Simply remove it from the oven, bring your oven up to broil, and stick it back in.
Watch closely because you will probably only have about 30 seconds to one minute before the garlic starts to burn. Right when it's brown, take it out.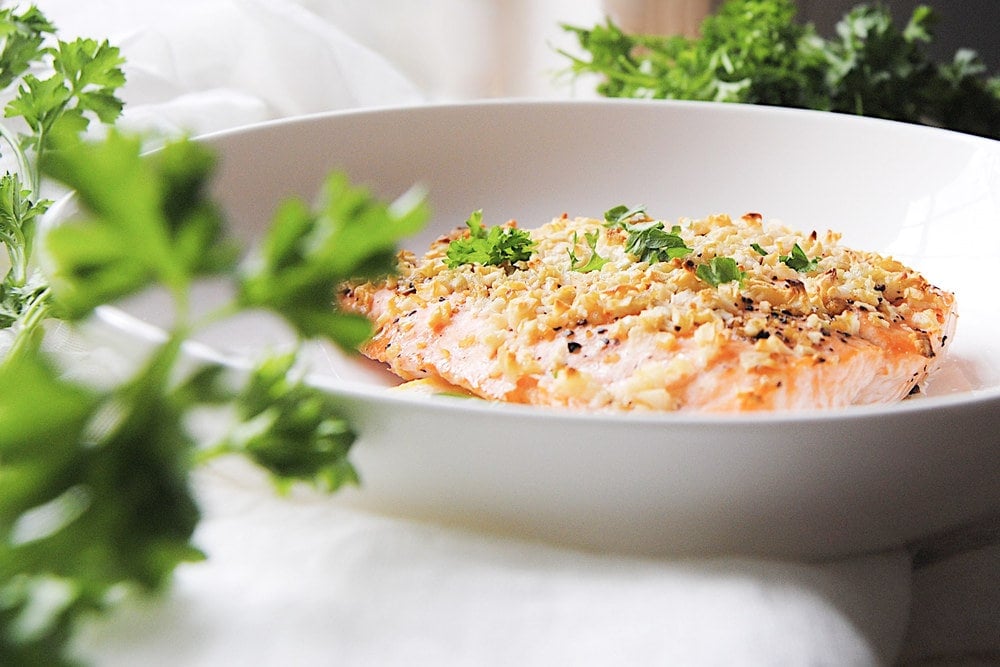 What Should I Serve It With?
This salmon recipe is SO VERSATILE. Serve it atop a mixed berry salad with balsamic vinaigrette. Make a healthy quinoa bowl with this salmon and some Sweet and Salty Brussels Sprouts.
Double down on the flavor and serve it up with Garlic Lemon Asparagus and Yellow Saffron Rice.
Or if you dare, make yourself the ULTIMATE Marley's Menu din-din and splurge with this salmon recipe over my Roasted Garlic and Feta Mashed Potatoes smothered in my Hearty Mushroom Gravy.
The options are endless. But no matter how you serve it, this Roasted Garlic Salmon for Two will be the anchor of your dish (I was gonna say the star of your dish, but I couldn't pass up a punny sea reference). Seriously though, this salmon shines!!
If you like this pescatarian recipe, check out this creamy fish and grits or these delicious fish tacos.