Looking for a flavor-punch addition to your meal? These simple Caramelized Onions and Mushrooms use a cooking technique to highlight and enhance the natural flavor of your two favorite veggies.
With just three ingredients and 30 minutes needed, you'll find yourself whipping these up to elevate every meal.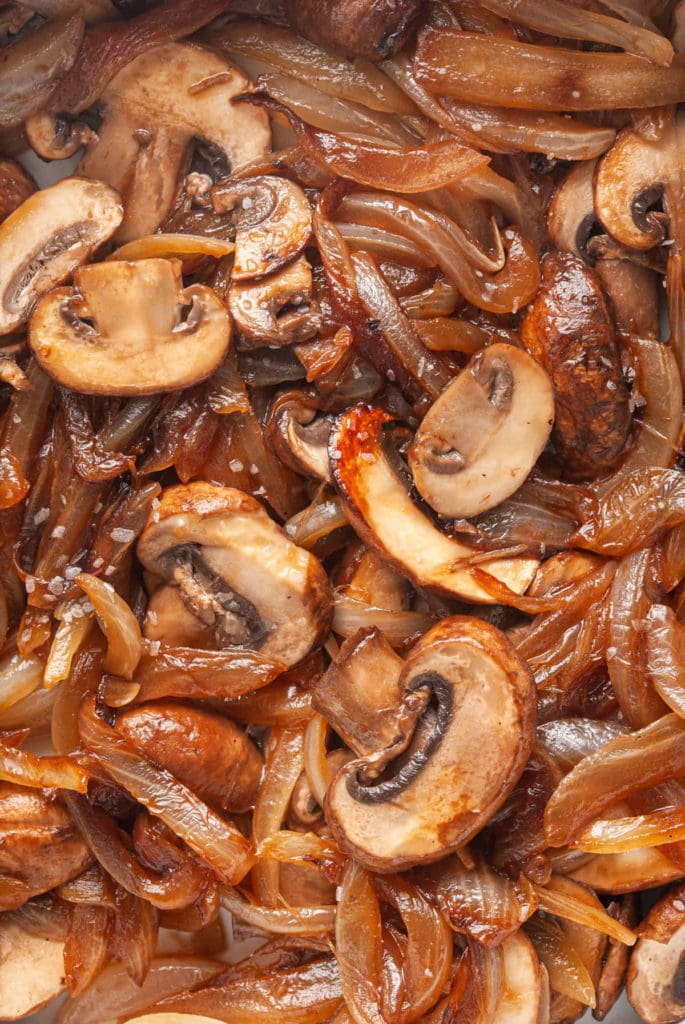 As an environmental scientist, I'm always looking for ways to make eco-friendly produce shine! Mushrooms are not only delicious but considered sustainable food. They have a relatively small environmental footprint as they take little water and energy to grow and emit little CO2.
Caramelized Onions and Mushrooms Tips and Tricks
---
---
Grab Your 3 Simple Ingredients First
When I say this recipe is simple, I mean it! 3 simple ingredients will get you a beautiful side dish or add-on to any meal.
Green tip: Organic farms rely on biodiversity to generate rich soil, avoiding the use of pesticides and fertilizers, which means no toxic runoff. Consider organic onions and mushrooms for this recipe.
It's up to you whether you use oil or butter! In this recipe, they are equally delicious in my opinion. I usually use oil just to cut back on a little saturdated fat.
Here's everything you'll need:
Slice Your Onions First
Get your tissues ready, it's time to slice those onions! We're looking for thin slices about 1-3 inches long.
If you have an onion slicing technique you know and are comfortable with, go for it! Just try to get those slices nice and thin. If you're looking for guidance on slicing your onions, I'm here for you.
Here's a step by step on how I slice mine:
Step 1: Slice the onion roughly in half, next to the bulb.
Step 2: Slice about 1/2 an inch off of the top and discard it.
Step 3: Peel back the outer layers and discard them.
Step 4: Lay the onion flat and slice it into thin strips, separating the layers from one another.
Step 5: For the other half, cut next to the bulb again and repeat steps 2-4
Step 6: Finally, cut the bulb off, discard, and repeat steps 2-4 one final time.
And if you're a visual person, see below!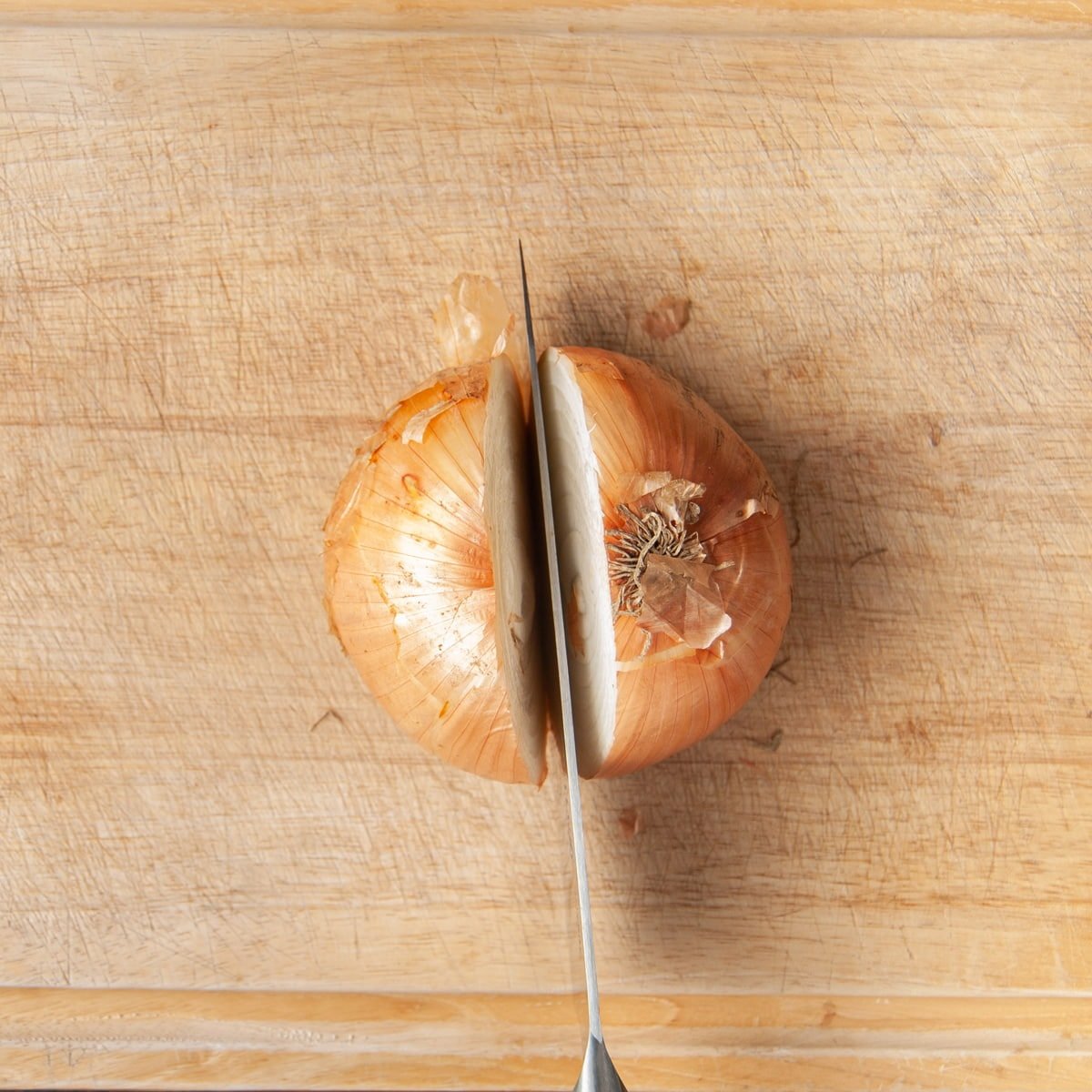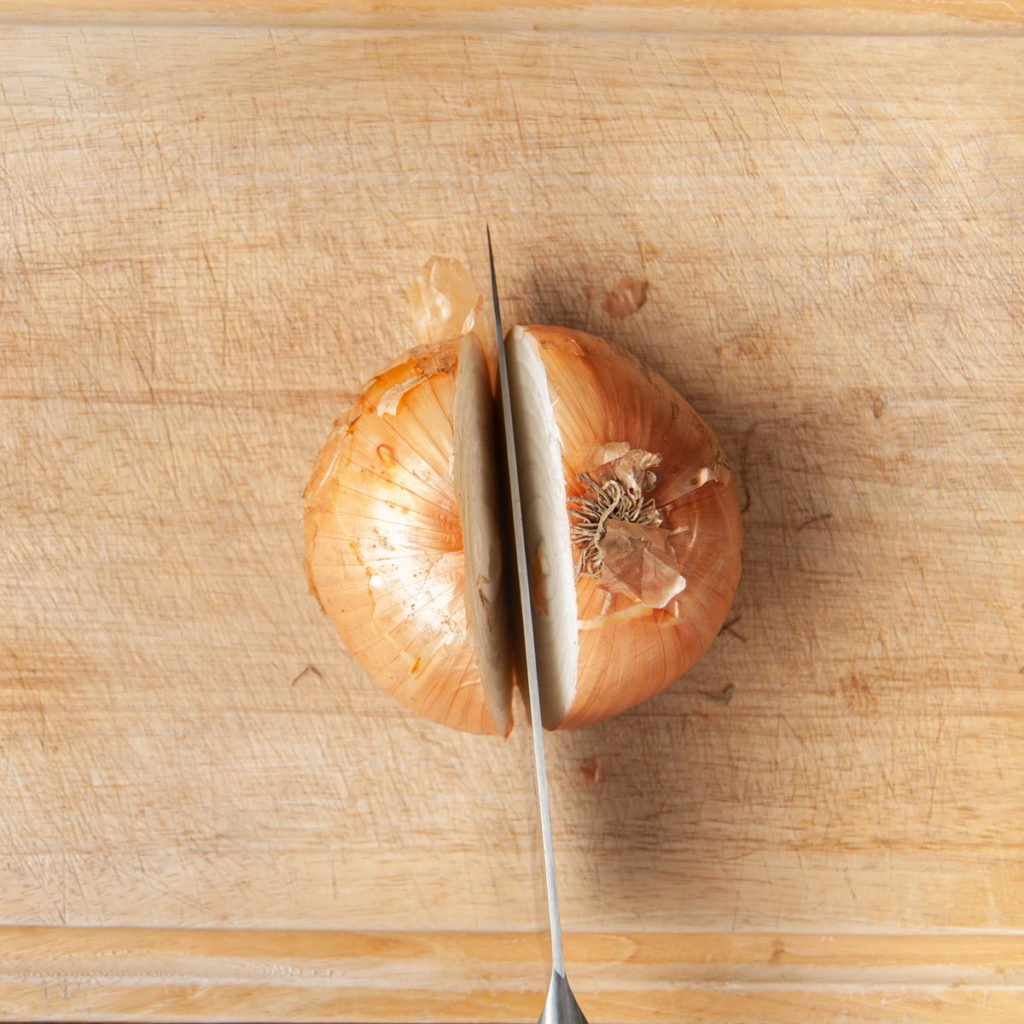 Add You Onions First
The onions need a little more time than the mushrooms. Add your sliced onions to a pan over medium heat first, before you wash and slice your mushrooms.
Add the oil or butter to the pan with the onions and let them cook for about 10 minutes until they start to brown. Stir them every 3 minutes or so just so they don't stick to the pan and burn.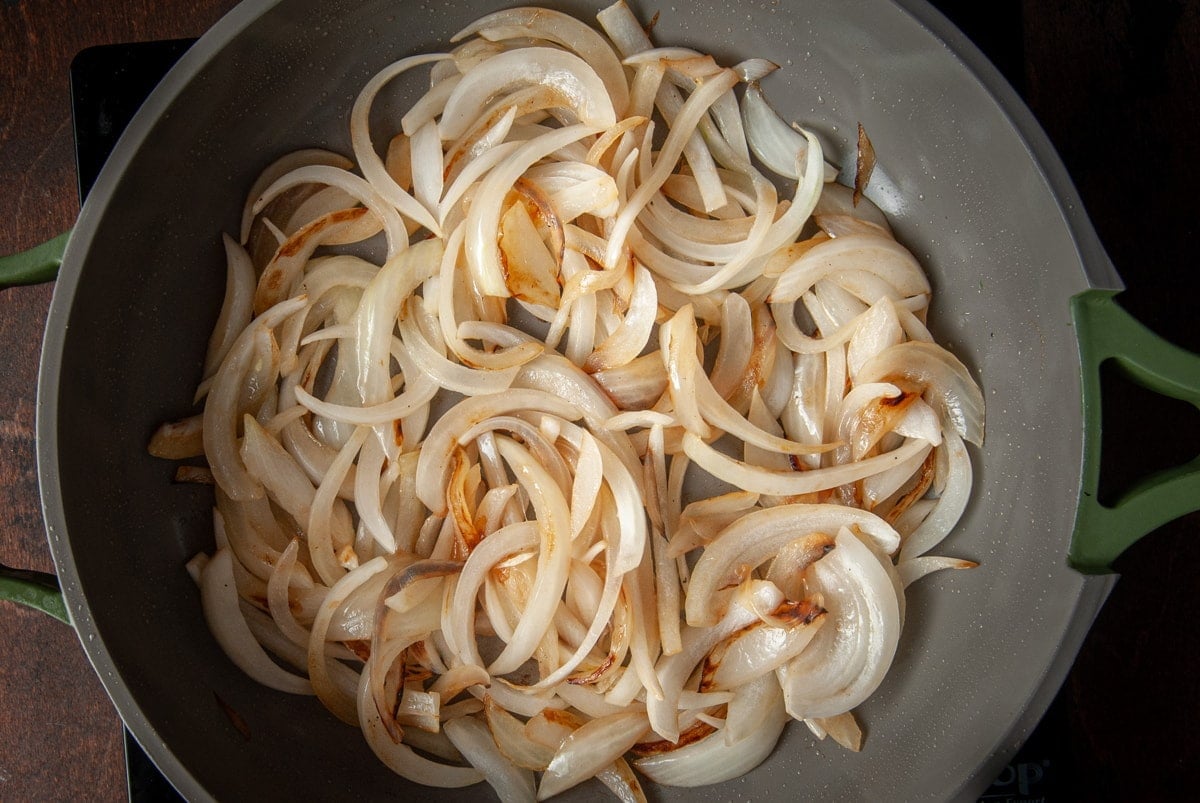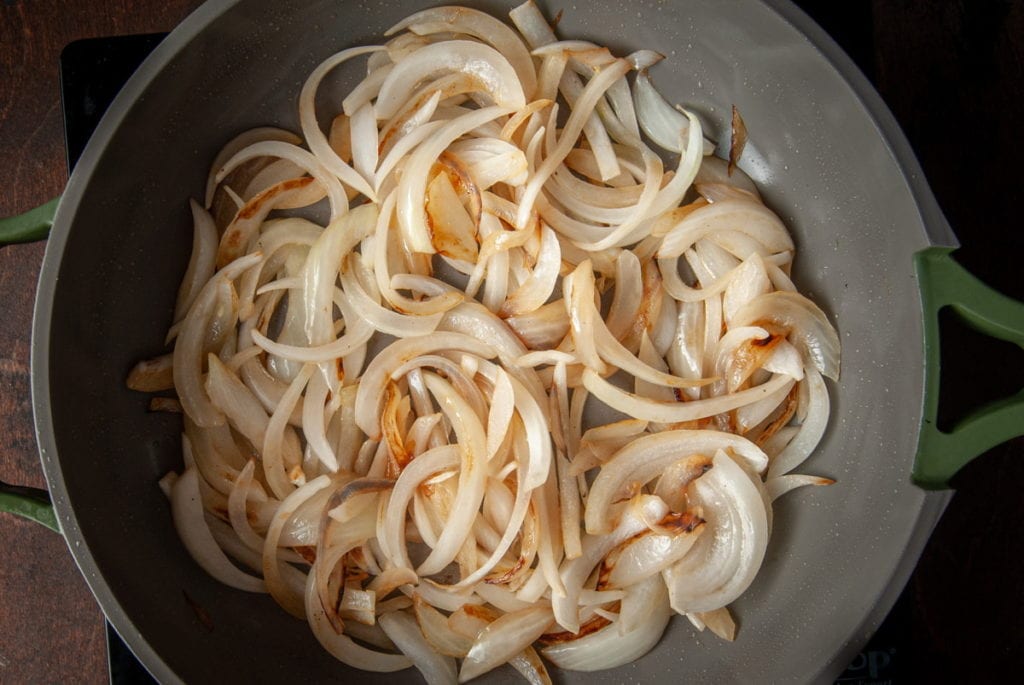 Tend To Your Mushrooms Next
Rinse your mushrooms and pat them dry. Carefully hold your mushrooms on your cutting board, stem up. Then, slice them into 3 or 4 thin pieces, as pictured below.
Mix 'Em, Then Let 'Em Sit
Once your onion starts to brown, add your sliced mushrooms and mix well, so they are evenly distributed throughout your onion slices.
Now the next step is key. Because if you're anything like me you are impatiently hovering over your food as it cooks, and, well, you may be tempted to give it a stir or two.
But, from here on out, this recipe is hands-off!
In order for the onions and mushrooms to perfectly caramelize, simply let them be! Give it a good 5-8 minutes before using a spatula to turn them to caramelize both sides.
Hot 'N Ready
You'll know your caramelized onions and mushrooms are ready when they have a nice golden brown color. I like to sprinkle mine with a little sea salt to amp up the flavor.
Green tip: Eating seasonally is one of the best (and most delicious) ways to support local and decrease your carbon footprint. Local foods have less associated transportation costs and fuel emissions. Check when onions and mushrooms are in season in your area with this Seasonal Food Guide.
Should You Have Leftovers
These Caramelized Onions and Mushrooms will stay delicious in an airtight container in your refrigerator for about 5 days.
You can also opt to freeze them to make them last longer. Store them in an airtight container in the freezer for up to 3 months.
These reheat VERY well in a pan over medium heat. Just add them directly to the pan, no need for more oil or butter. Stir frequently until heated through (about 5-8 minutes, or 10-12 from frozen).
Green tip: Did you know that of the billions of pounds of food wasted annually, it is estimated that 50% of it happens in our homes? It's always best to avoid food waste as much as you can!
What To Serve Caramelized Onions and Mushrooms With
I'm tempted to say "everything" because I'm SO IN LOVE WITH THEM. But, to be more specific, they work great on all kinds of burgers and sandwiches.
Like this Jackfruit Burger, this Black Bean Burger, and this Veggie Sandwich.
They're also outrageously delicious on these Swordfish Tacos, with this Lentil Taco Meat Alternative, and these Sheet Pan Black Bean Tacos.
You could also chuck 'em on a Homemade Pizza Crust with cheese and sauce, or as a topping on this Sourdough Discard Pizza Crust!!
The options are endless!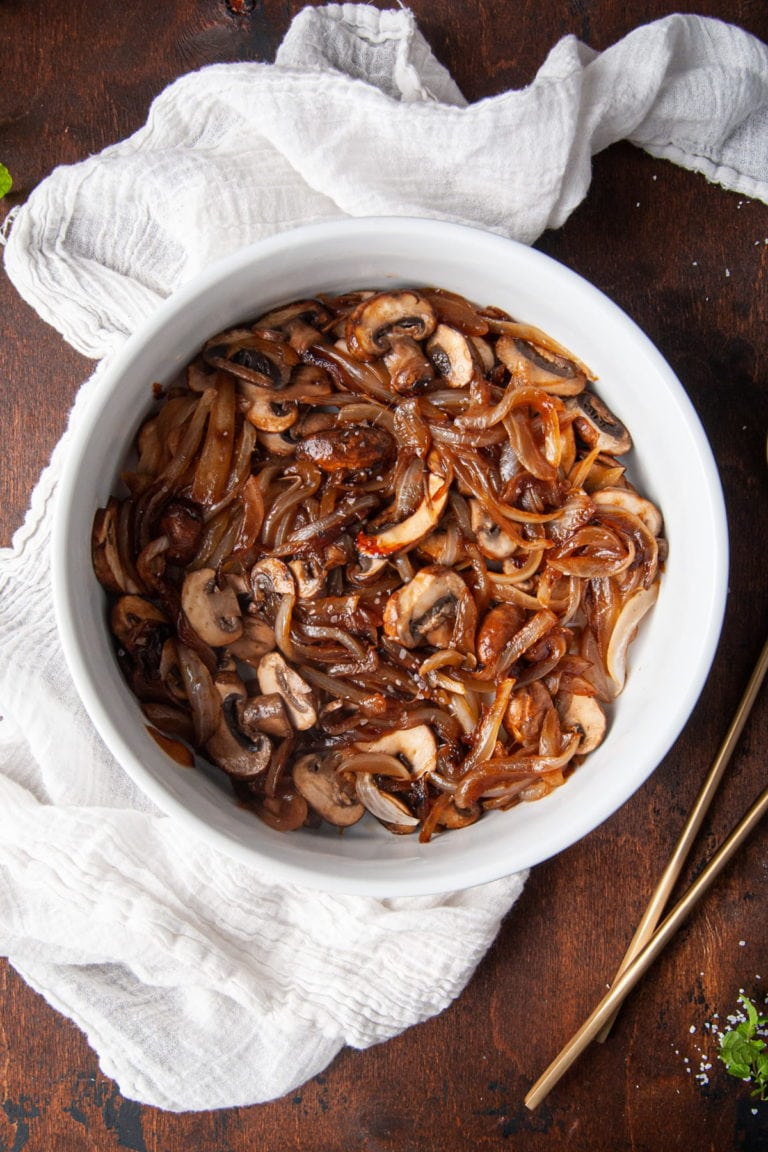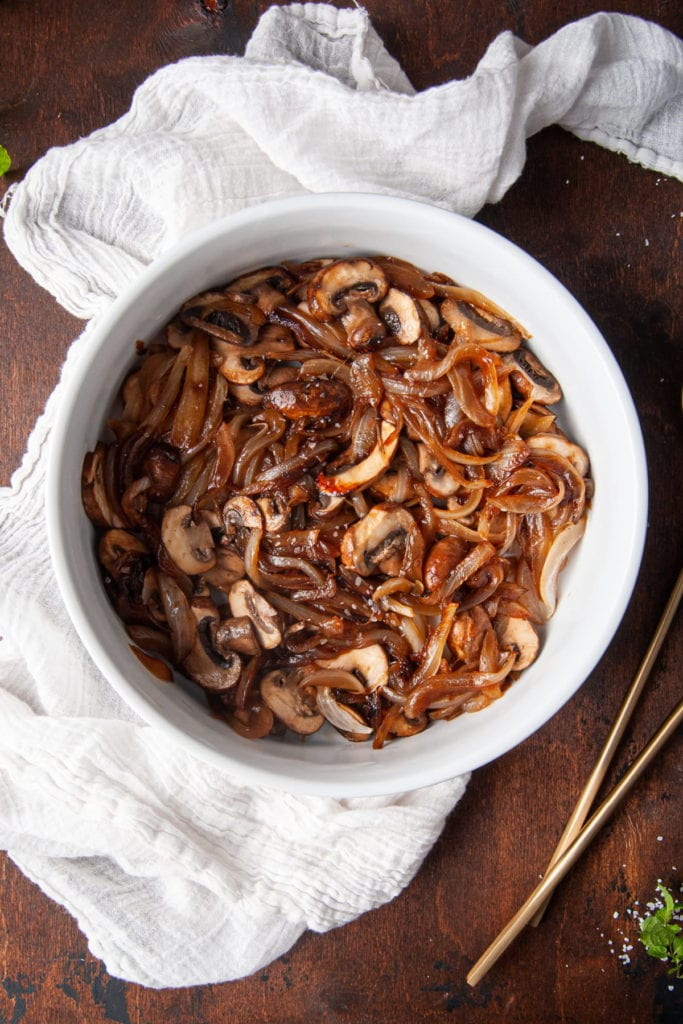 Why You Should Make these Caramelized Onions and Mushrooms
---
---
They're simple. This recipe uses a simple technique to bring out the natural flavors of the produce.
They're super flavorful. A healhty and natrual flavor-punch to any dish.
They're good on pretty much everything. I will never say no to caramelized onions and mushrooms on anything! Well, anything savory that is.
If you're loving these Caramelized Onions and Mushrooms and want even more of your favorite veggie combo, check out this Hearty Mushroom Stew and Mushroom Fried Rice.