Looking for an easy, filling side dish option for any main meal? These Pan-Fried Potatoes and Onions are sauteed to perfection, coming together in just 30 minutes or less.
Plus, they are so incredibly easy to make and ready to customize. In this simple vegetable side-dish recipe, you will learn how to best store potatoes and onions before using them and how to prep them before pan-frying.
You'll also learn a simple technique for perfectly pan-frying the potatoes and onions, so that they are both tender and golden-brown. Plus, you'll be given options for meals to serve these up with, and how to properly store and reheat leftovers.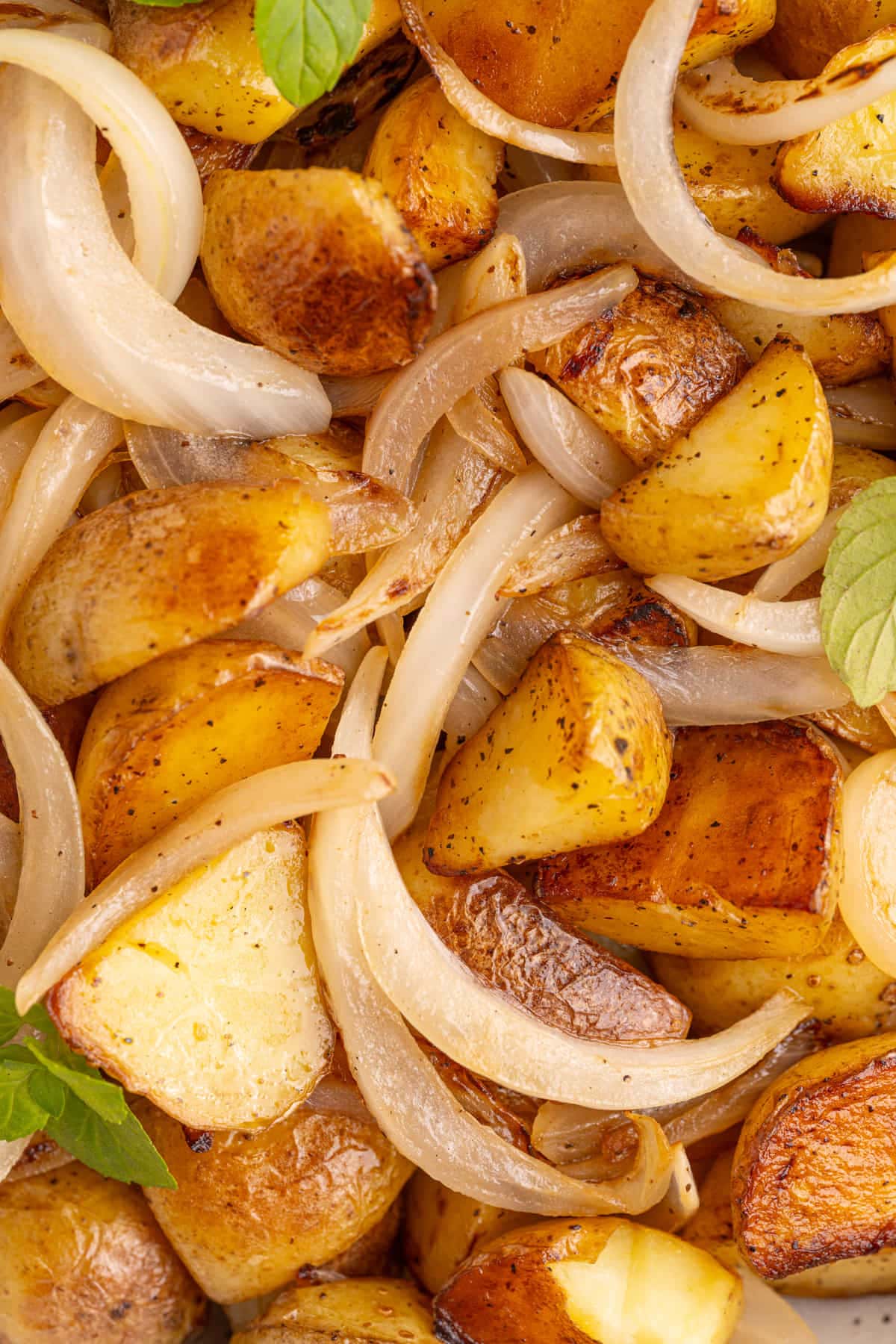 Potatoes are such a great starch option to complete any well-rounded meal!
As an environmental scientist, I absolutely love to make sustainable ingredients shine. Potatoes, especially when sourced organically, are considered a sustainable crop.
They have a relatively small environmental footprint because they only require a small amount of land to thrive and have a long shelf life, meaning you're less likely to waste them!
And the best part? Potatoes can typically be sourced locally year-round.
Green tip: Organic farms rely on biodiversity to generate rich soil, avoiding the use of pesticides and fertilizers, which means no toxic runoff. Consider organic potatoes and onions for this recipe!
Pan-fried Potatoes and Onions Ingredients
---
Here's everything you need:
Honey gold potatoes. Or Yukon gold or even red potatoes will work, but honey gold potatoes are my favorite for this dish!
Yellow onion. Or sweet onion. Red and white onion will work but won't bring as much umami flavor when cooked.
Olive oil. For frying the potatoes and onions in.
Salt & pepper. For basic seasoning to bring out the natural flavors in your veggies.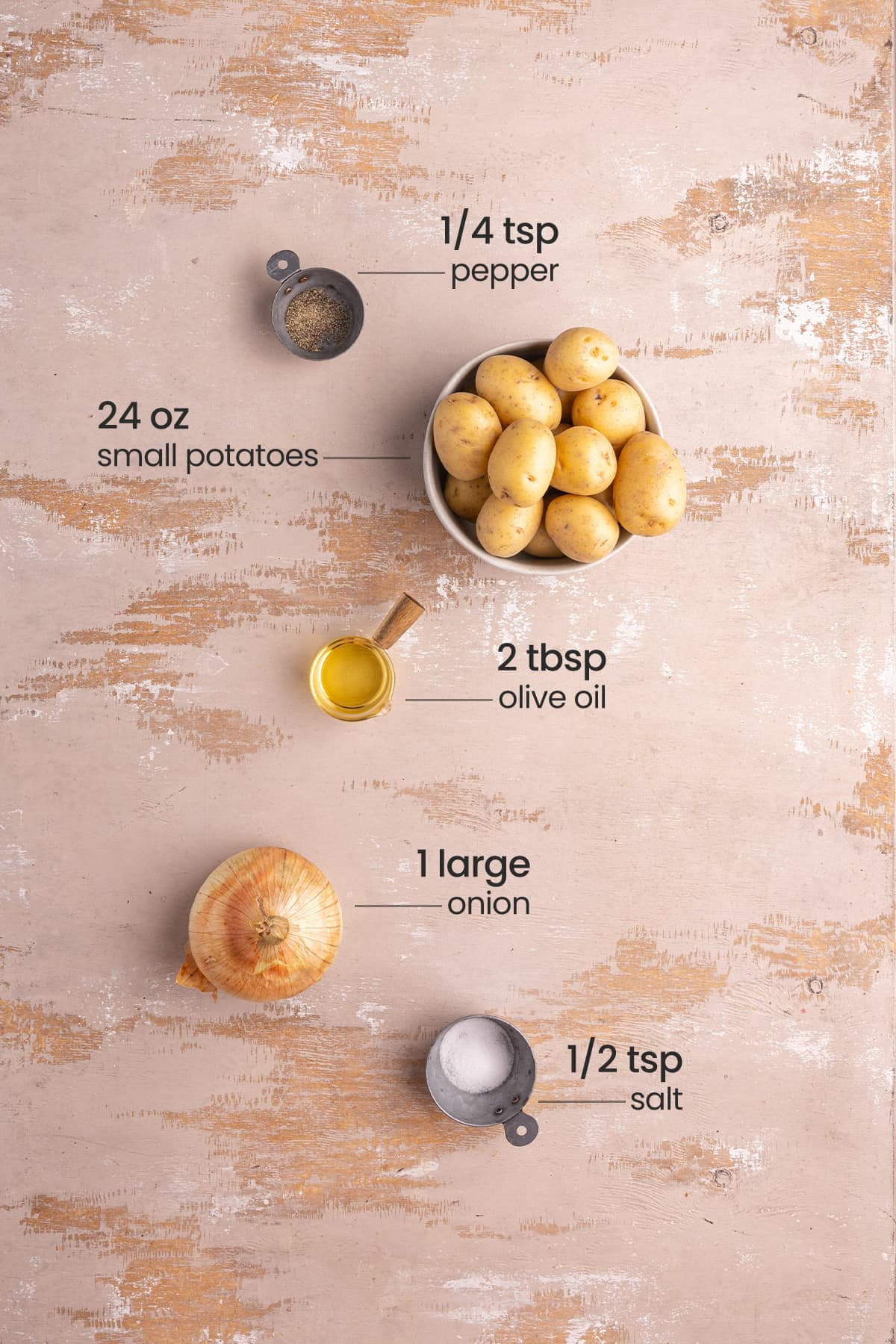 Optional flavor-boosters:
Minced garlic or garlic powder. For extra umami.
Old Bay, Cajun seasoning, or steak seasoning. Or any other of your favorite spice blends to turn up the flavor!
Fresh (or dried) herbs. Like rosemary, thyme, basil, dill, parsley, or oregano.
Crushed red pepper or cayenne pepper. If you're seeking a little bit of spice.
Grated or shaved Parmesan cheese, or Nutritional Yeast. For a hint of cheesiness and a little extra salt.
Pan-fried Onions and Potatoes Tips and Tricks
---
How to Store Onions and Potatoes Before Use
Potatoes have a long shelf life and can stay fresh for several months when they are stored unpeeled and whole in a cool, dry place.
You can store them in the refrigerator to get the longest shelf-life (we're talking months!), but they'll also keep well for roughly 2 weeks at room temperature.
Similarly, onions thrive when they are stored in a cool, dry place. When uncut and still in their natural peel, they can last for months. They can also be stored in the refrigerator, though they tend to taste better when stored at room temperature.
Green tip: Did you know that of the billions of pounds of food wasted annually, it is estimated that 50% of it happens in our homes? Properly storing your food and using things up before they go bad is a great way to reduce food waste!
How to Prep Potatoes for Pan-Frying
Rinse and dry the potatoes and chop them into bite-sized wedges. There's no need to peel these potatoes, just keep the peel on!
It's important to chop the potatoes pretty small so that they get nice and tender rather quickly on the stovetop. I find it easier to chop them in half longways first, then cut those two pieces into 2-3 pieces, depending on their size.
While they certainly do not have to be perfectly uniform, the more equal in size you can get them, the more evenly they will cook.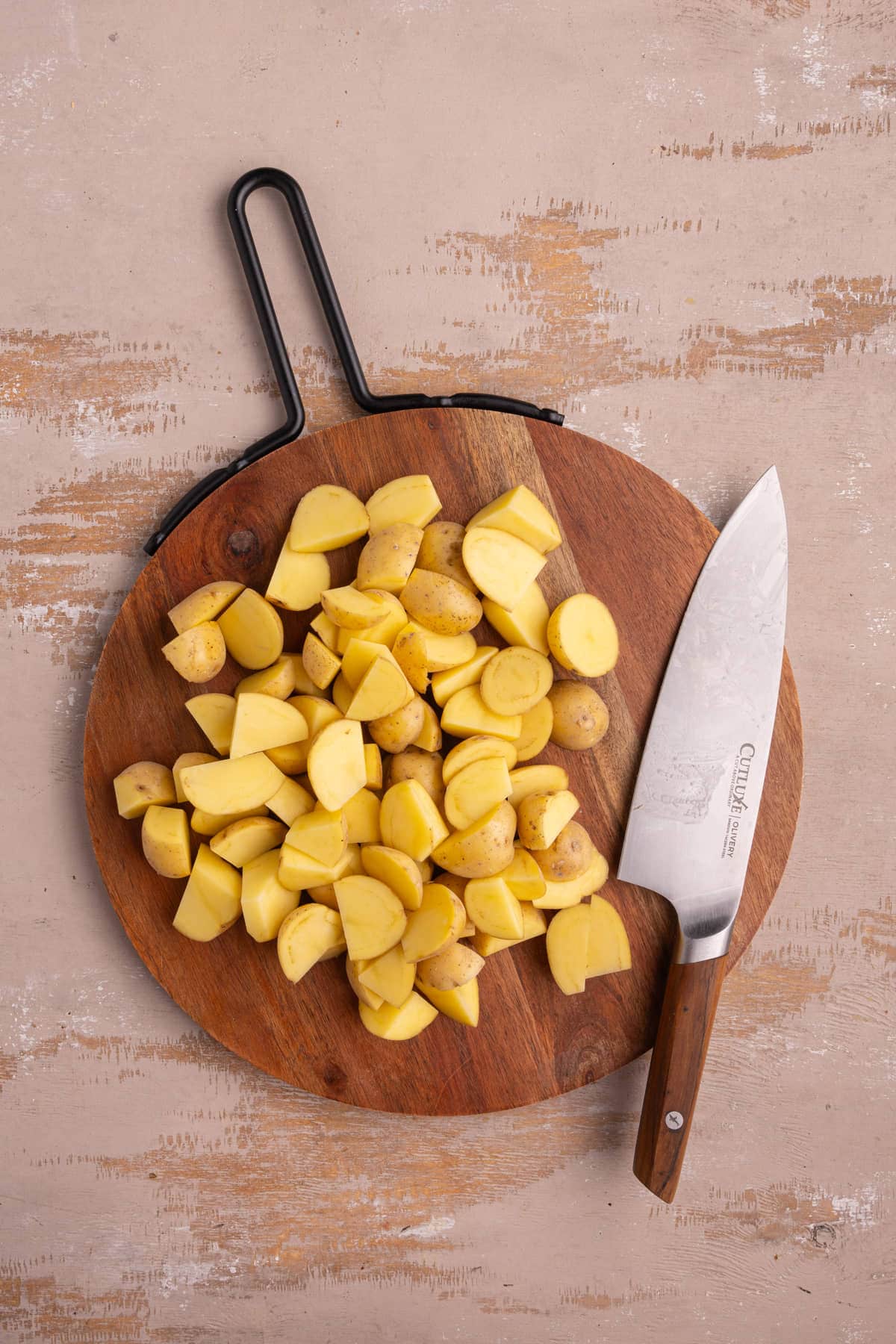 How to Prep Onions for Pan-Frying
For this pan-fried veggie side dish, we want thinly sliced onion. To do so, you first have to peel and core it.
Start by chopping the onion into 3 or 4 parts right around the core. We won't be using the core in this recipe, but it can be saved in a freezer bag with other veggie scraps to make your own vegetable broth, or it can be easily composted along with the peel.
Once you've cut out your core, you will be able to easily remove the outer layer of the onion. Then, you can place each piece flat on your cutting board so you can easily slice them into thin strips.
Finally, use your hands to separate the layers.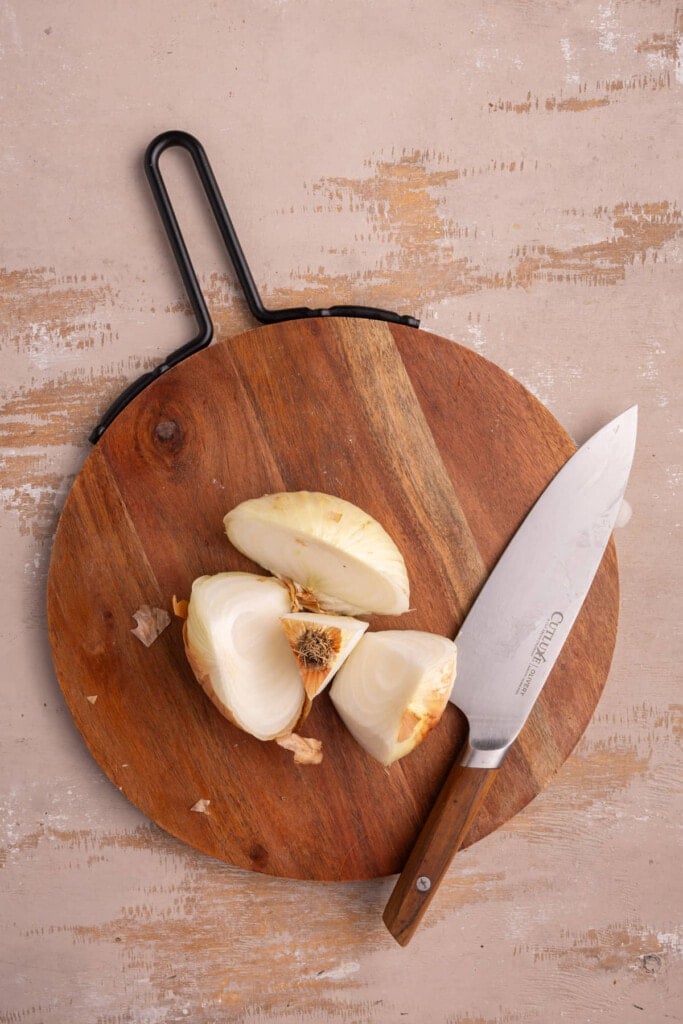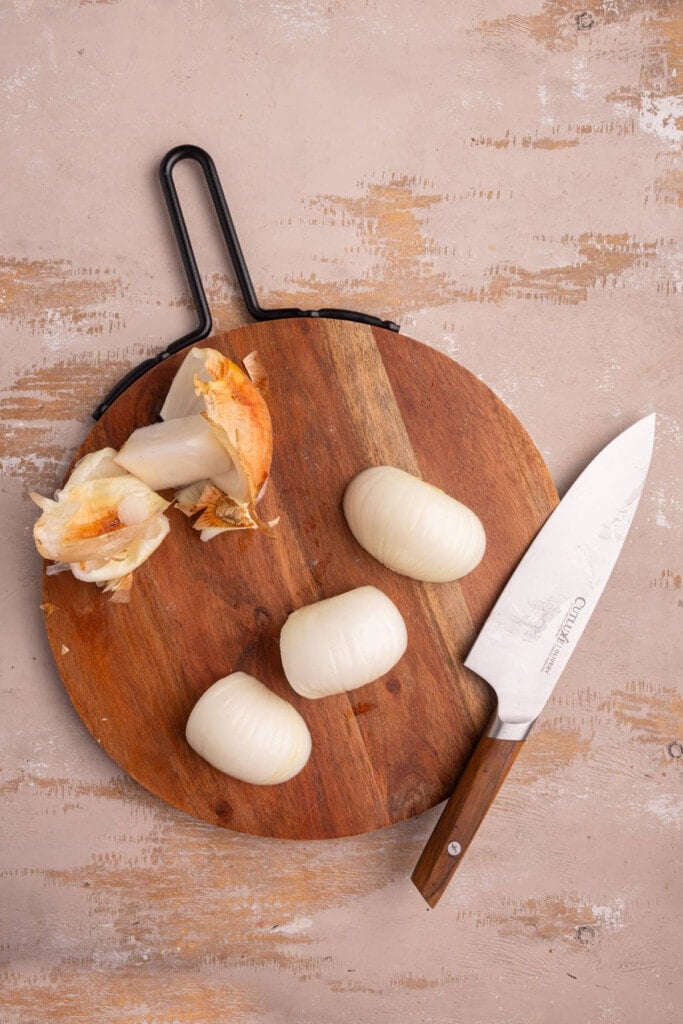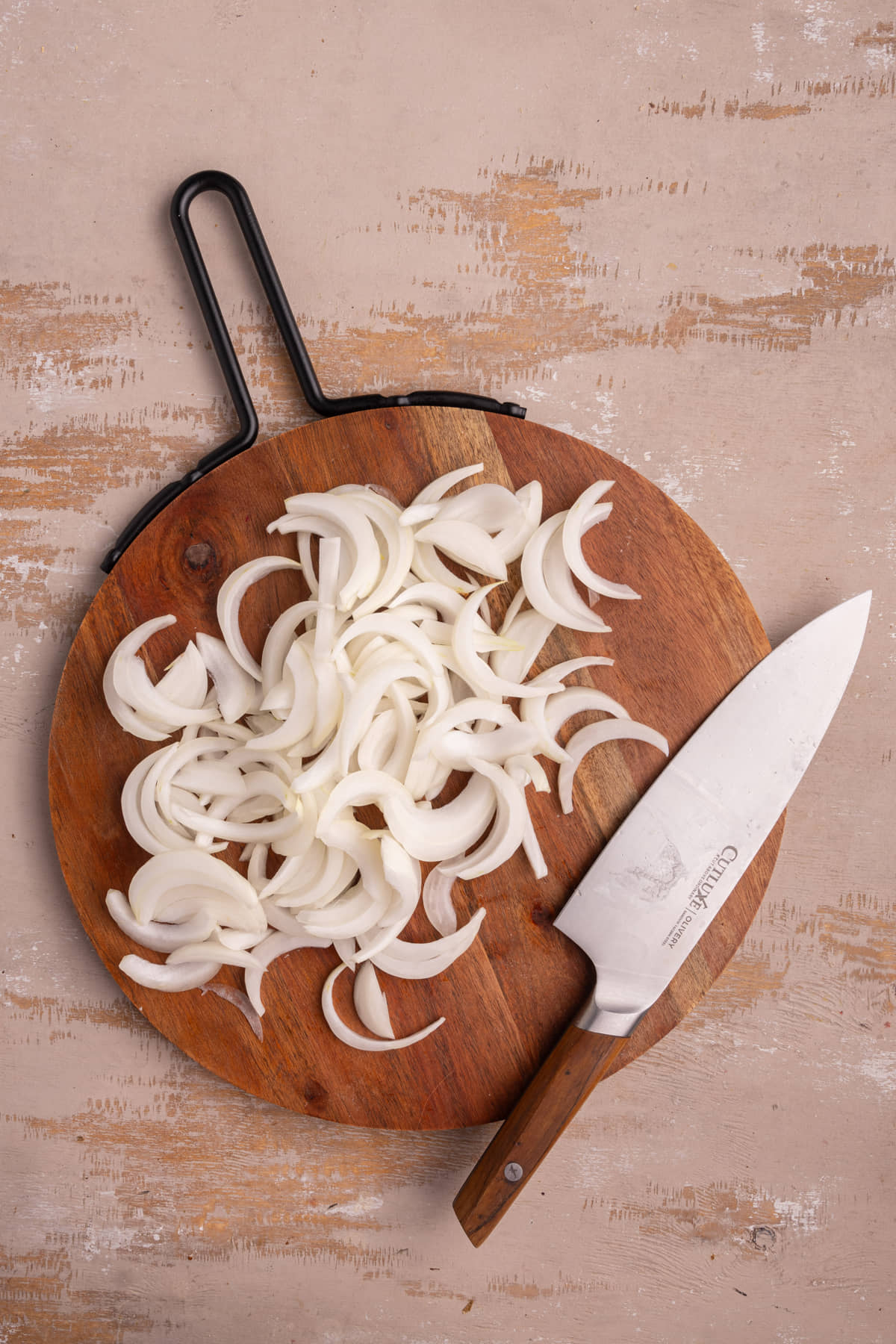 Get the Oil Hot in the Frying Pan First
Add the olive oil to a large frying pan or cast-iron skillet over high heat and allow it to get hot for about 2-3 minutes before adding your potatoes.
It's important to get the oil hot in the pan first before adding your potatoes or onions. Getting the oil hot first will avoid the oil being soaked up by the potatoes and onions and giving them a way-too-oily and soggy texture.
If the oil is hot when you add the potatoes, it will immediately start to cook and crisp up the outside of the potatoes, creating a barrier so the potatoes don't absorb too much oil.
Add the Potatoes and Seasoning Next
Once the oil is hot, add the potatoes, salt, and pepper to the pan. Don't add the onions yet! The potatoes will take a little longer to cook than the onions.
We will be cooking everything over high heat, and we don't want the onions to burn while we are trying to get the potatoes tender and golden brown.
If you're adding any other optional seasonings or garlic add those now, too.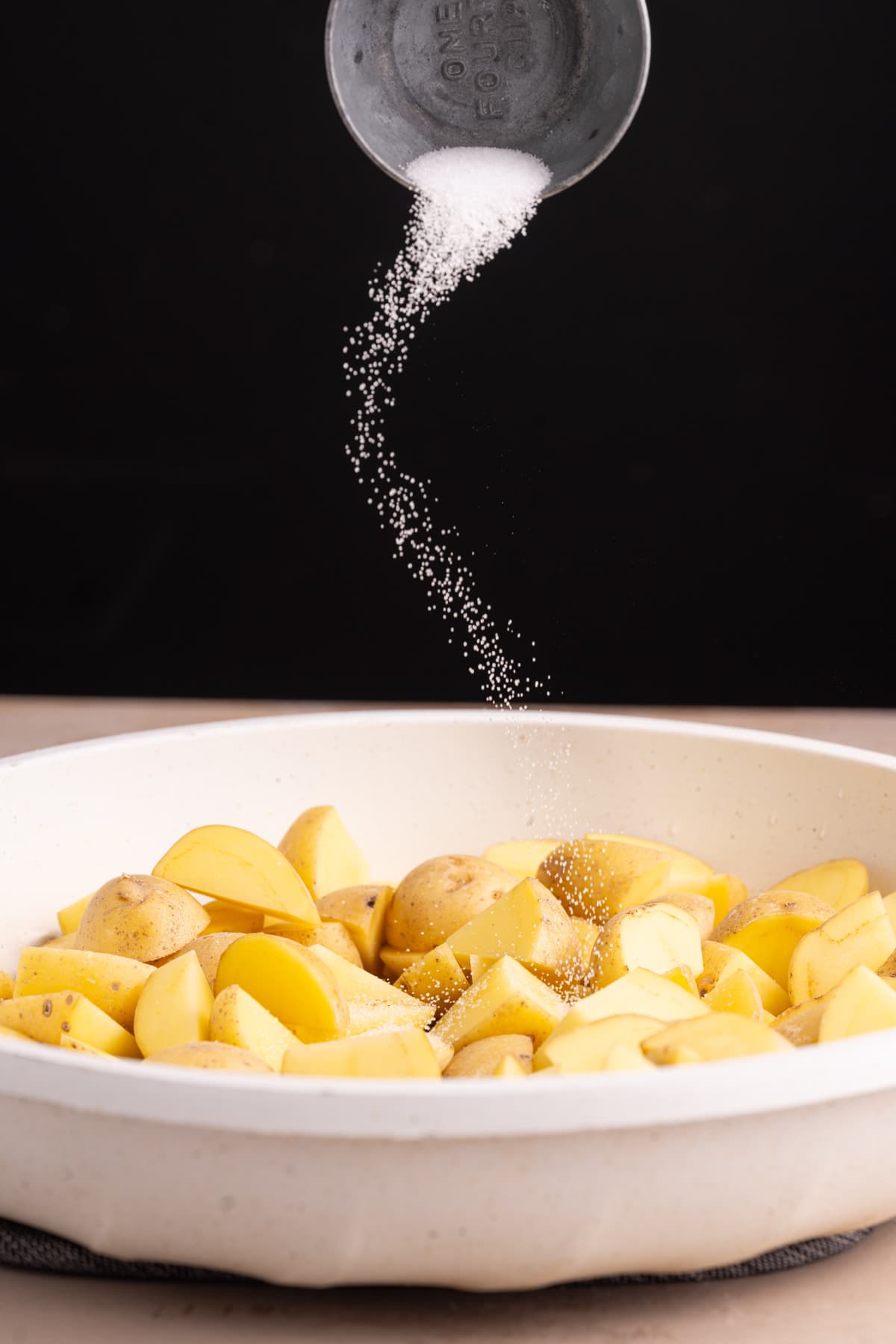 Cook the Potatoes Over High Heat First
Once the potatoes, salt, pepper, and hot oil is all in the pan, use a wooden spoon or spatula to toss everything together, coating the potatoes in a layer of hot oil and evenly distributing the seasoning.
Fry over high heat, stirring frequently as the potatoes cook and brown. Continue to cook and toss for about 10 minutes, until you achieve a golden brown tone on some of the potato wedges.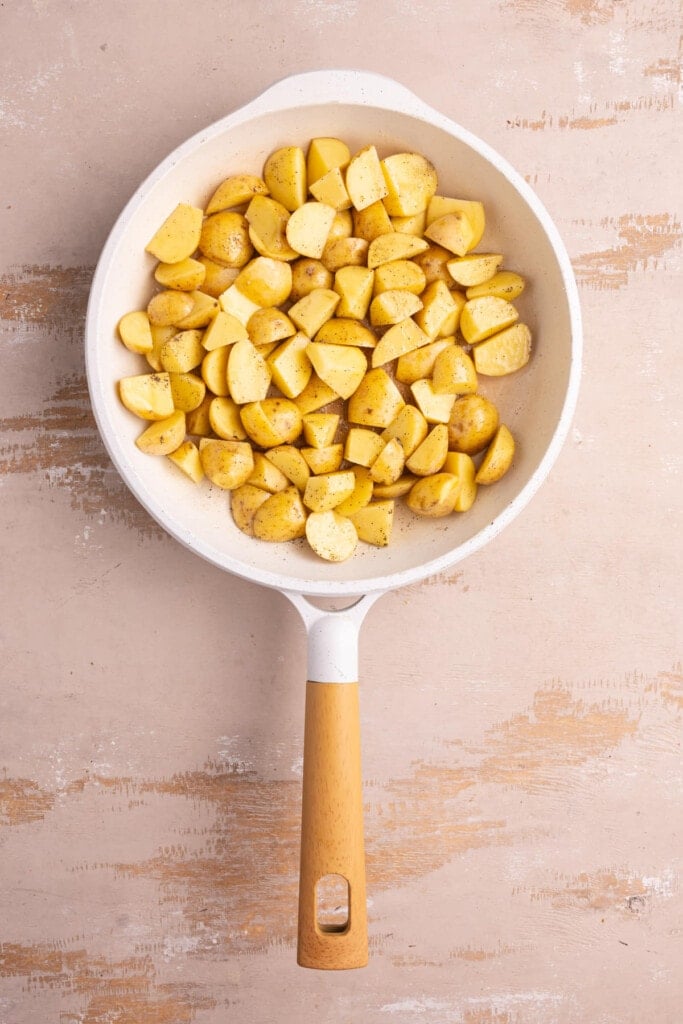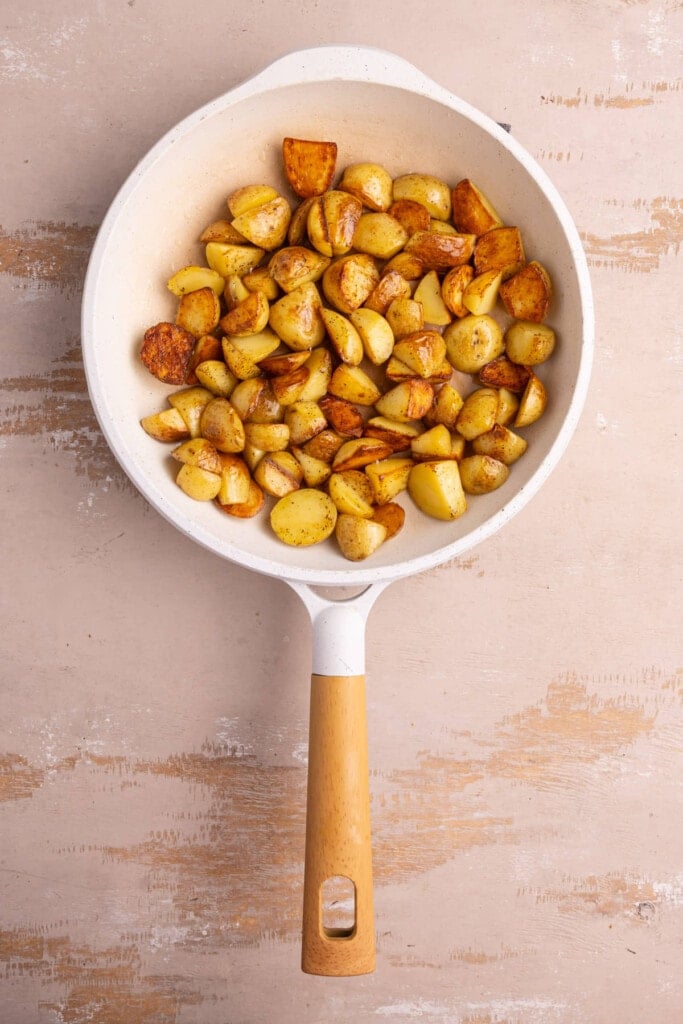 Add the Onion to the Pan Last
After 10 minutes and you've achieved some browning, add the sliced onions. Toss to coat the onions in the oil and seasoning.
Continue to pan-fry over high heat until the potatoes are fork-tender and you can see and smell caramelized onions in your pan.
If you're adding Parmesan cheese or optional herbs, add them after you take the potatoes and onions off the heat.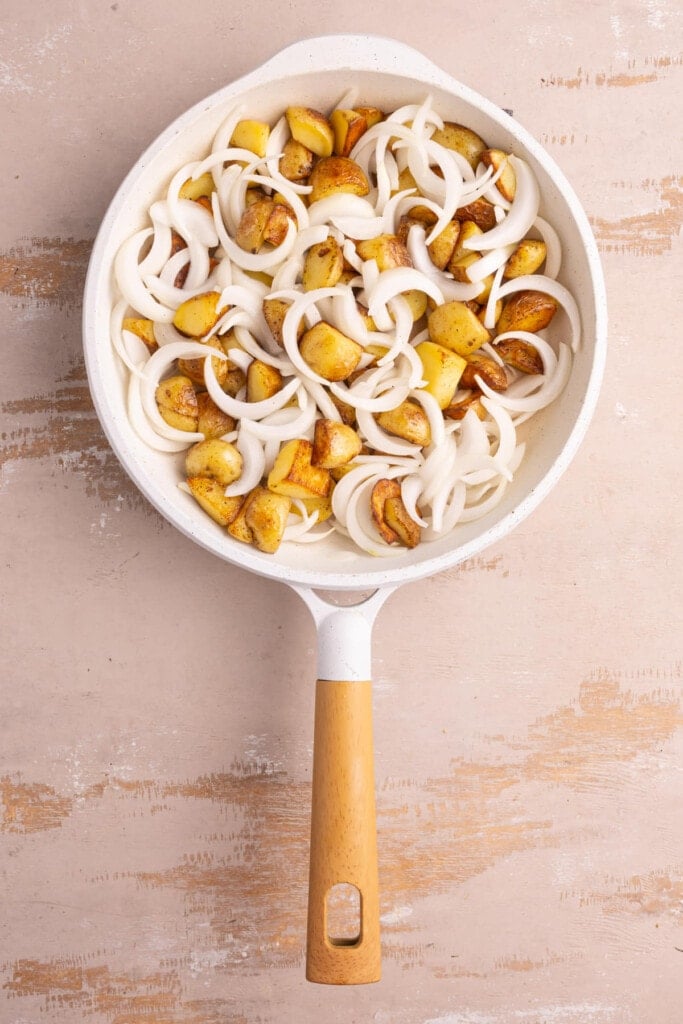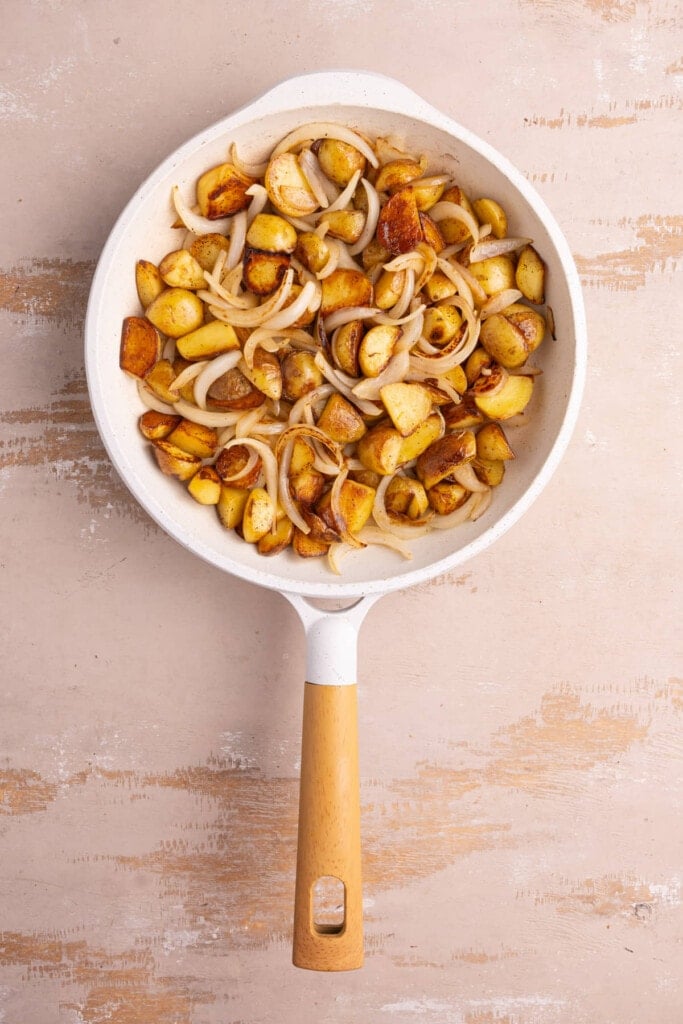 How to Serve Pan-Fried Potatoes and Onions
The simplicity of this delicious side dish makes it complementary to almost any main you throw its way! If you want to spruce it up with a sauce or gravy, try this Hearty Mushroom Gravy or Shallot Cream Sauce over top.
If you're looking for some inspiration for main dishes to serve this with, check out some of my faves: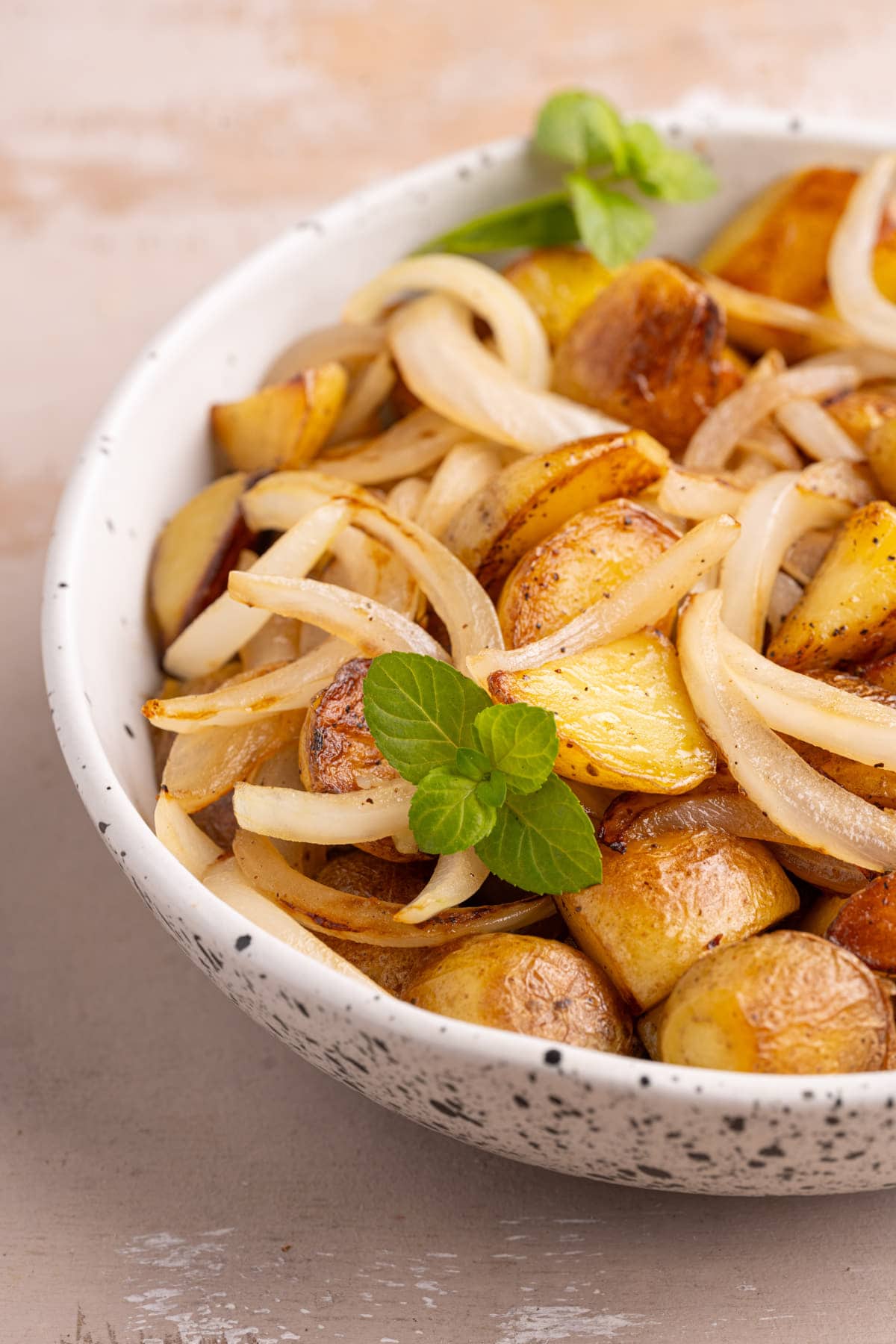 How to Properly Store and Reheat Pan-Fried Onions and Potatoes
Leftovers of these Potatoes and Onions in a Frying Pan will last in the refrigerator for up to 5 days in an airtight container. Alternatively, they can be frozen for up to a year.
To thaw them from the freezer, transfer the frozen onions and potatoes from the freezer to the refrigerator and let them rest there overnight. You can also reheat them right out of the freezer.
To reheat, bring your oven up to 350°F and roast them as is (no need to add any extra oil or seasonings) for about 8-10 minutes until they are heated thoroughly.
Otherwise, you can just place them right back in a frying pan over medium heat, tossing while you cook until they are heated all the way through.
Green tip: Properly storing, reheating, and enjoying your leftovers is another great way to reduce your food waste!
Cooking Potatoes and Onions in a Frying Pan Frequently Asked Questions
---
Is it better to boil potatoes before frying?
When using honey gold, Yukon gold, or red potatoes cut into small wedges, there is no need to boil them before frying them. You can get a nice and tender potato with just a frying pan.
Should you soak potatoes in water before pan frying?
Soaking potatoes in water is a great way to remove excess starch and a great technique to use for making homemade French fries from russet potatoes. However, that step is completely unnecessary if you are pan-frying honey gold, Yukon gold, or red potatoes
Want to sharpen your kitchen skills?
Why You Should Make these 30-Minute Pan-fried Potatoes and Onions
---
They're quick! These potatoes and onions come together in just 30 minutes.
They're easy. Minimal ingredients and all you need is a frying pan!
They're versatile. These pan-fried onions and potatoes can be easily tailored to your taste and go with everything!
If you're loving these Pan-Fried Potatoes and Onions and want more simple, veggie-forward side dishes, check out these Roasted Broccoli and Carrots and Roasted Asparagus and Brussels Sprouts.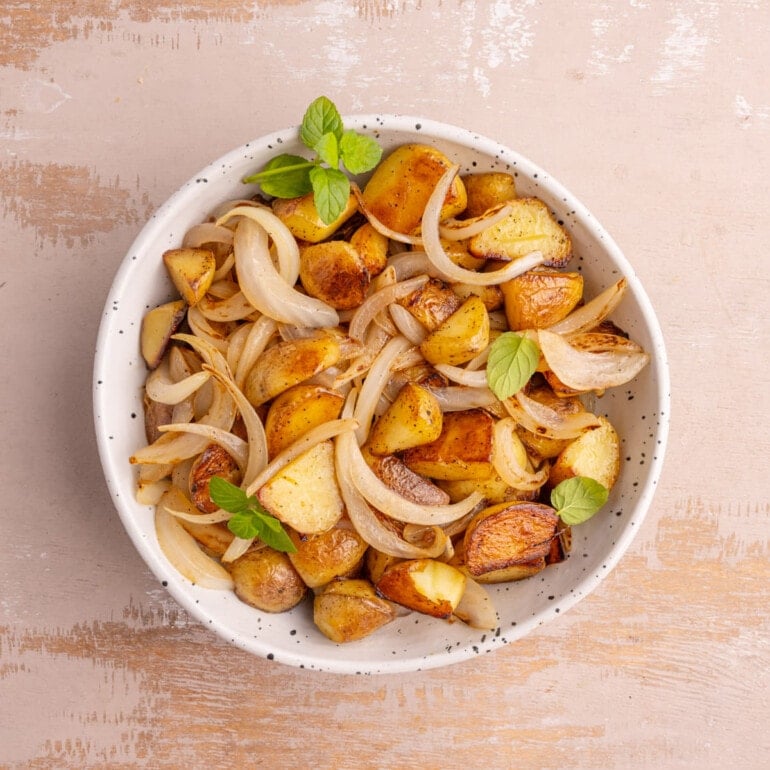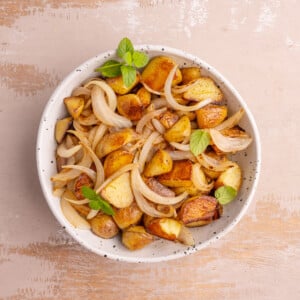 30-Minute Pan-Fried Potatoes and Onions
PRINT
PIN
RATE
These Pan-Fried Potatoes and Onions are perfectly tender and golden-brown, and require just a frying pan and 30 minutes!
Ingredients
Pan-Fried Potatoes and Onions
24

ounces

honey gold potatoes

(or Yukon gold or red potatoes)

2

tablespoons

olive oil

½

teaspoon

salt

¼

teaspoon

black pepper

1

large

sweet onion

(or yellow onion)
Optional Flavor-Boosting Add-ins
2

cloves

garlic

(minced)

½

teaspoon

Old Bay Seasoning

(or Cajun seasoning or Steak Seasoning)

½

teaspoon

garlic or onion powder

¼

teaspoon

crushed red pepper flakes

(or cayenne pepper)

½

ounce

chopped fresh herbs

(like basil, rosemary, thyme, or oregano)

2

tablespoons

grated Parmesan cheese

(or nutritional yeast)
Instructions
Use a sharp knife to chop your potatoes into bite-sized wedges that are roughly equal in size.

To a large frying pan over high heat, add the olive oil, allowing it to get hot for about 2 minutes before adding the potatoes.

Carefully add the potato wedges, salt, and pepper to the hot oil. If you are adding any additional optional seasonings or garlic, add those now, too.

Fry the potatoes in the olive oil over high heat, tossing frequently so they don't burn. Fry for about ten minutes, until the potatoes start to brown.

Meanwhile, slice the onions into thin strips.

After about ten minutes of the potatoes frying on their own, add the sliced onion and toss to coat it in olive oil.

Pan-fry the potatoes and onions together over high heat, tossing frequently, until the potato wedges are fork-tender, and the onions start to brown. If you are adding Parmesan cheese or fresh herbs, add them after removing the potatoes and onions from heat. Enjoy hot.
Did you make this recipe?
Let me know by leaving a recipe rating below, or by tagging @marleysmenu on Instagram.