Looking for a simple, delicious way to prepare your sweet potatoes? This 5-Ingredient Maple Sweet Potato Casserole is the quickest, most delicious way to serve up your sweet potatoes on Thanksgiving and beyond.
The soft, pillowy clouds of whipped sweet potato laced with maple syrup are only made more delicious by topping them with ooey gooey toasted marshmallows. I mean, who doesn't love a vegetable that can pass as a dessert?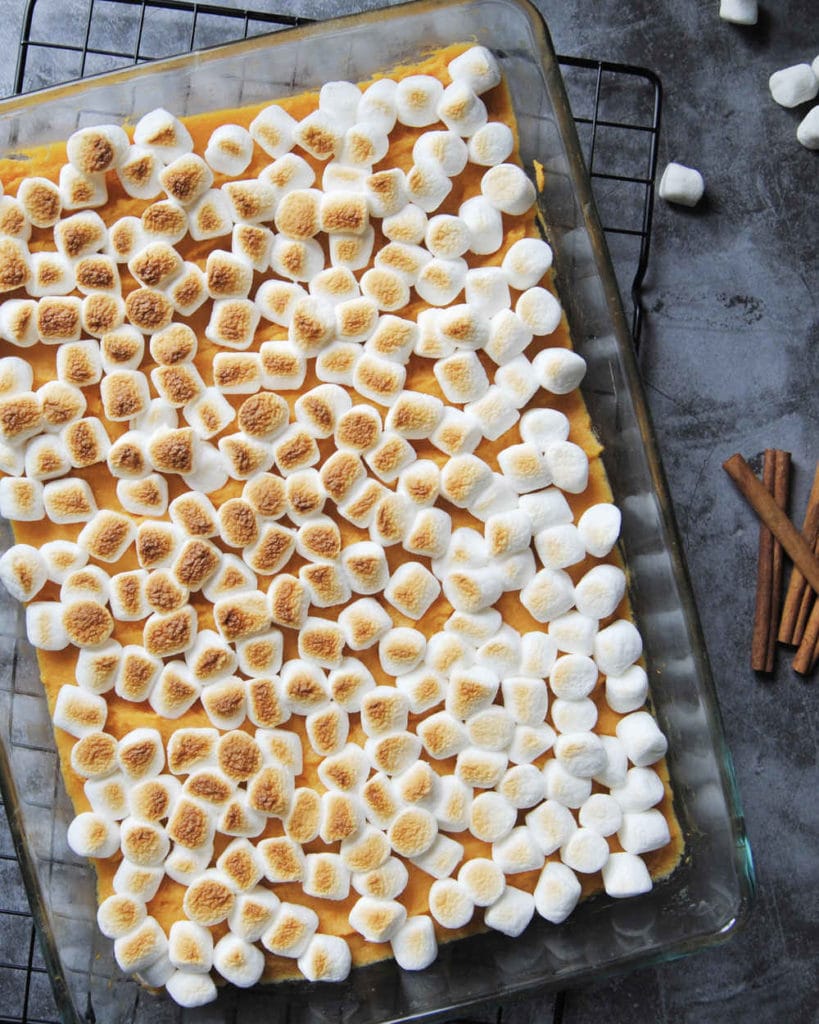 5-Ingredient Maple Sweet Potato Casserole Tips & Tricks
---
---
Get 'Em Soft as Silk…
After peeling your sweet potatoes, chop them into 3 or 4 chunks before dropping them into your boiling water. This will help them cook faster and soften all the way through. They are usually fully cooked in 25-30 minutes.
Always test that they are ready before removing them from your heat and draining the water. Take a fork and poke your biggest chunk of sweet potato. Your fork should easily pierce straight through. If you feel any resistance, give them a couple more minutes.
Green tip: Reducing your dairy consumption is one great way to reduce your ecological footprint. Try making this recipe with nondairy milk and butter!
…And Silky Smooth
Once your potatoes are nice and soft, you should be able to whip them without using a potato masher. Just drain them and put them in a large mixing bowl. While they are still piping hot, add the butter and milk, and use a hand mixer on high to whip them into that perfect consistency.
Mix in your maple syrup, and add salt to taste. I like to add cinnamon to mine, too, but this casserole is delicious with or without.
Check for any lumps. If you find any, just use a fork to mash them down. Once you are confident that your sweet potatoes are silky smooth, transfer them to a glass baking dish.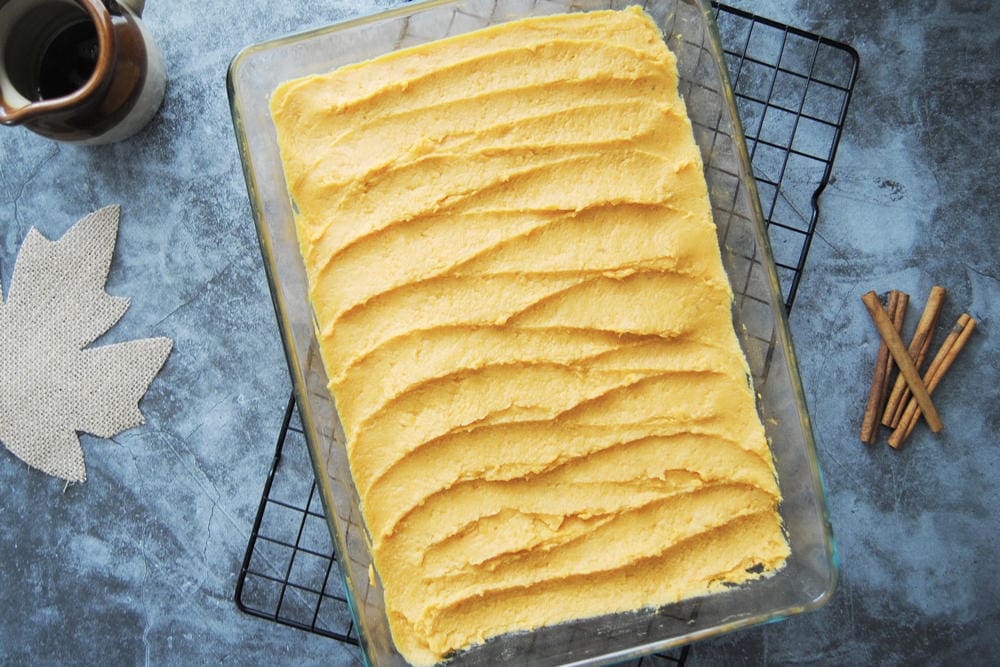 Keep A Close Watch on Those 'Mallows
This is my favorite part. Once your oven is hot, spread an even layer of mini marshmallows over the top of your sweet potato.
Stick your casserole in the oven and watch closely! It only takes about 30 seconds to 1 minute for those marshmallows to toast. Once they are golden brown on top, remove them from the oven.
Added bring-a-smile-to-your-face-bonus: close your eyes, take a big whiff, and be reminded of toasting marshmallows for s'mores over a campfire. 😊
5-Ingredient Maple Sweet Potato Casserole FAQ's
---
---
Can I make sweet potato casserole vegan?
Absolutely!! This 5 -ingredient maple sweet potato casserole is equally delicious with nondairy butter and milk alternatives. I use Earth Balance and coconut milk, but there are TONS of options for substitutes. Use your favorite butter and cow's milk alternative.

There are actually a lot of vegan marshmallow options, too! They toast just like any other marshmallow and work perfect as a topper!
How long does this sweet potato casserole keep?
Covered and refrigerated, this casserole will last 3-5 days.
What's the best way to reheat the sweet potato casserole?
The easiest way to reheat a portion of this 5-ingredient maple sweet potato casserole is covered in the microwave for 3-5 minutes, stirring a couple of times in between. This will, however, melt your marshmallows and mix them into the sweet potatoes. I actually quite like it!

But if you want to keep the integrity of those toasty marshmallows on top, the only way to reheat it is in it's original casserole dish at 350 degrees Fahrenheit for 20-30 minutes.
Can I prepare the sweet potato casserole ahead of time?
Yes! Just wait to broil those marshmallows until you're ready to serve! I usually do steps 1-5 beforehand and store it in the refrigerator in a microwave-safe bowl covered with saran wrap.

When I'm ready to serve the casserole, I stick the prepared potatoes in the microwave for 4-5 minutes before transferring it to a glass baking dish, adding the marshmallows, and sticking it under the broiler!
Why You Should Make This 5-Ingredient Maple Sweet Potato Casserole
---
---
It's just the right amount of sweet. Sweet, but not too sweet, it's the perfect balance to all the savory on your dinner plate.
The maple syrup. The notes of vanilla and caramel play perfectly with the natural sweetness of the sweet potato.
The texture. That creme de la creme fluffy potato and sticky marshmallow topping.
The toasted marshmallow topping. Think campfire meets Thanksgiving plate!
If you love this 5-ingredient maple sweet potato casserole and you're looking for other Thanksgiving sides, check out these Garlic and Feta Mashed Potatoes, Green Bean Casserole with Secret Ingredient, and these Sweet and Salty Brussels Sprouts.