Looking for a simple, delicious way to prepare your sweet potatoes? This 5-Ingredient Maple Sweet Potato Casserole is the quickest, most delicious way to serve up your sweet potatoes on Thanksgiving and beyond.
The soft, pillowy clouds of whipped sweet potato laced with maple syrup are only made more delicious by topping them with ooey gooey toasted marshmallows. I mean, who doesn't love a vegetable that can pass as a dessert?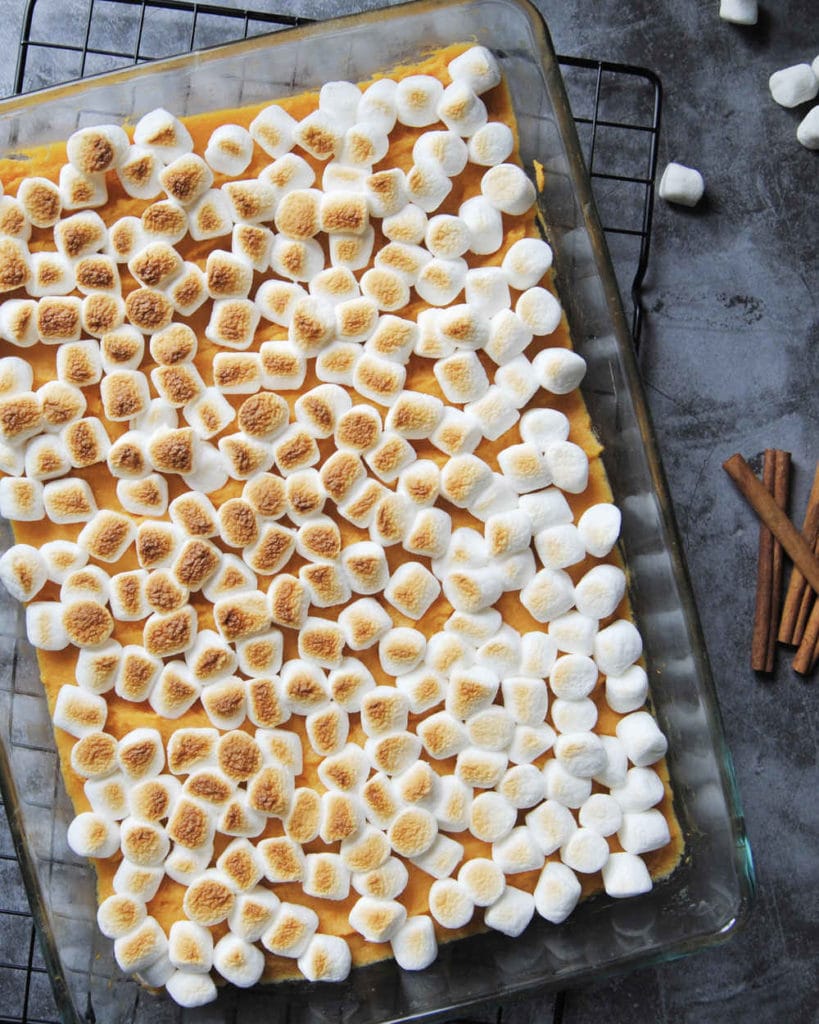 As an environmental scientist, eating seasonally is something I try to prioritize. I love sweet potato season because they are just so versatile and delicious in so many dishes, including Sweet Potato Hummus and this 5-Ingredient Maple Sweet Potato Casserole.
Green tip: Eating seasonally is one of the best ways to live more sustainably, Local produce has less associated transportation costs and fuel emissions. Check when sweet potatoes are in season in your area with this Seasonal Food Guide.
5-Ingredient Maple Sweet Potato Casserole Ingredients
---
Here's everything you need:
Sweet potatoes. The main event!
Milk. for that creamy texture.
Butter. For taste and more creaminess.
Maple syrup. To bring out the natural sweetness of the sweet potatoes.
Marshmallows. To taste on top for the perfect sticky sweet finish.
Salt to taste and optional cinnamon. Taste as you go!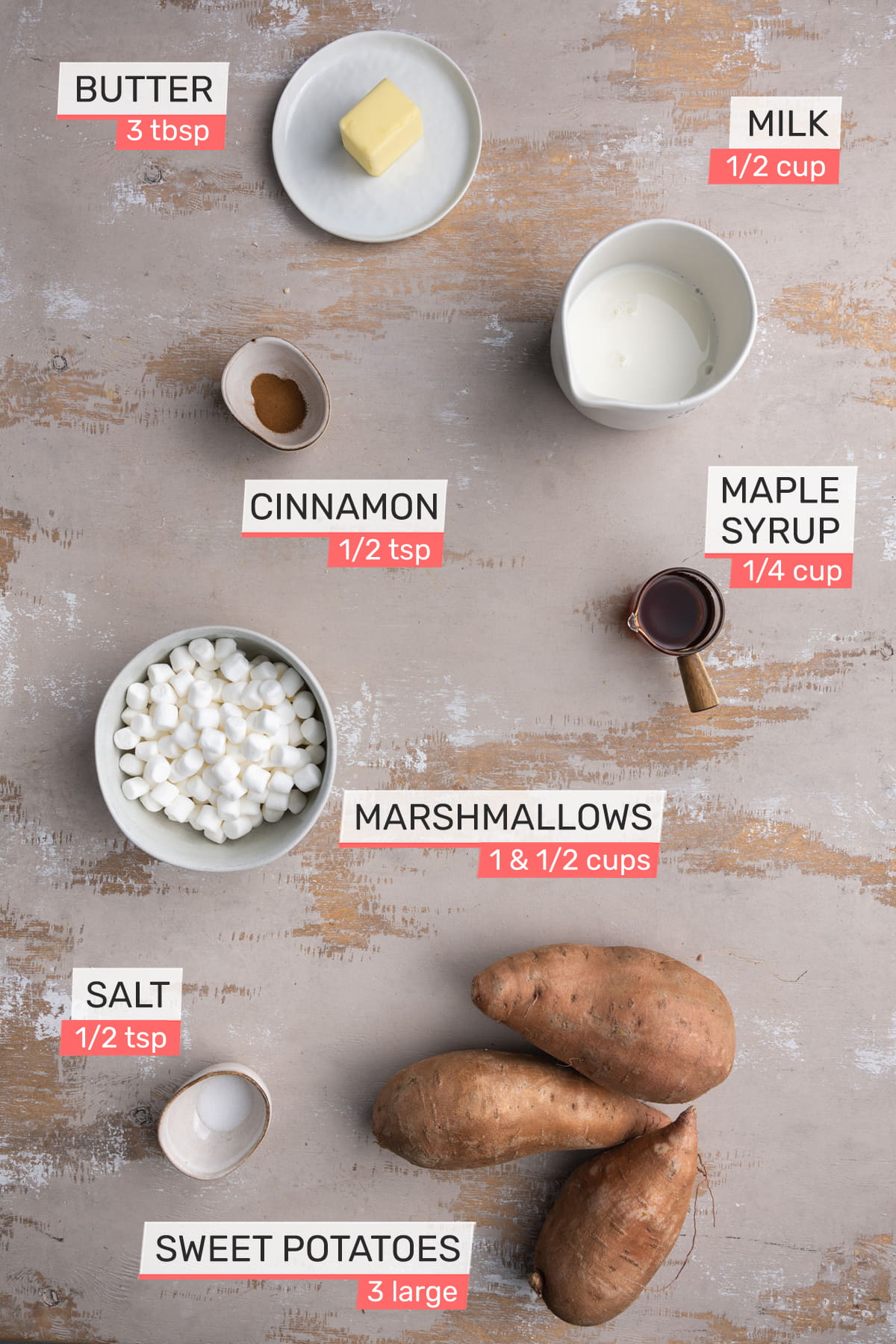 5-Ingredient Maple Sweet Potato Casserole Tips & Tricks
---
Prep Your Sweet Potatoes
Start by peeling your sweet potatoes and removing any discoloration or bumps and lumps.
Green tip: Billions of tons of food is wasted annually in the United States alone! Don't toss your sweet potato skins! Consider saving them to make these Sweet Potato Skin Fries or save the scraps to make your own vegetable broth!
Then, chop them into smaller chunks, about 2 inches in diameter before dropping them into your boiling water. This will help them cook faster and soften all the way through.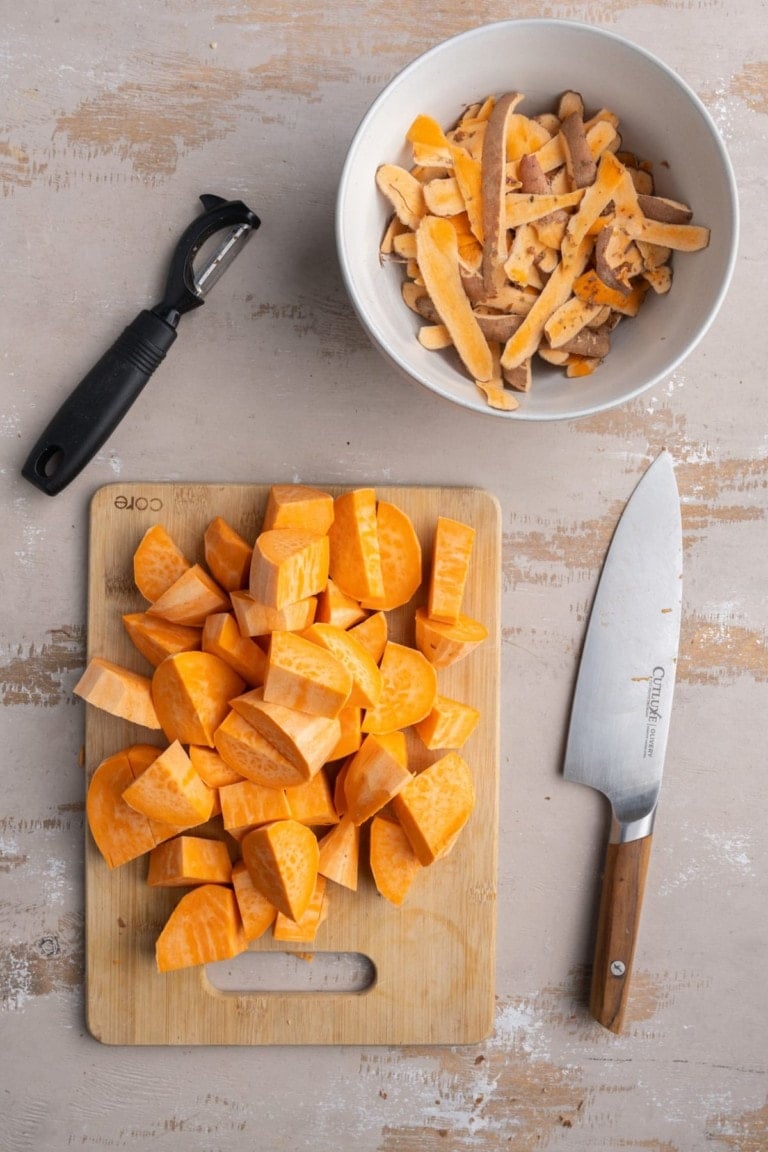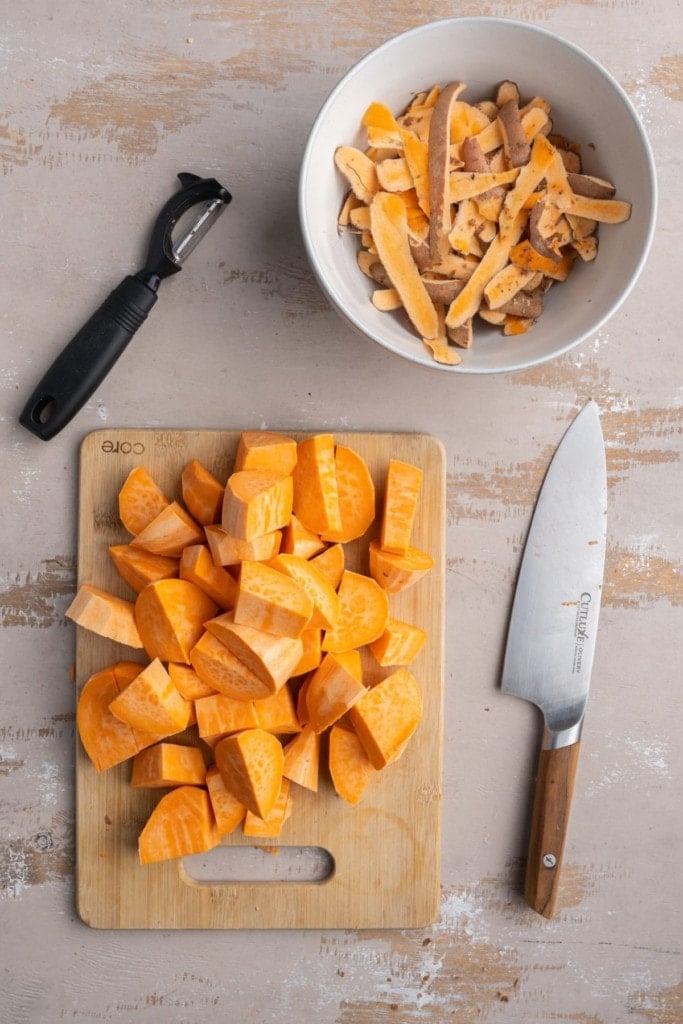 Boil and Mash 'Em
Boil your sweet potato chunks in 10 cups of water until they are fork-tender. Depending on the size of your chunks, this will generally take anywhere from 25-35 minutes.
Once you can easily pierce the sweet potato with a fork, strain your water and transfer the sweet potato to a large mixing bowl.
Green tip: Don't waste your sweet potato water, use it to water your plants! The starchy water helps fertilize plants and help them grow and helps with water conservation.
For the smoothest maple sweet potato casserole, consider using a potato masher to ensure there are no lumps left behind.
If you don't have a potato masher, you can use a fork or you can leave your tender potatoes whole at this point and rely on your hand mixer to break them down.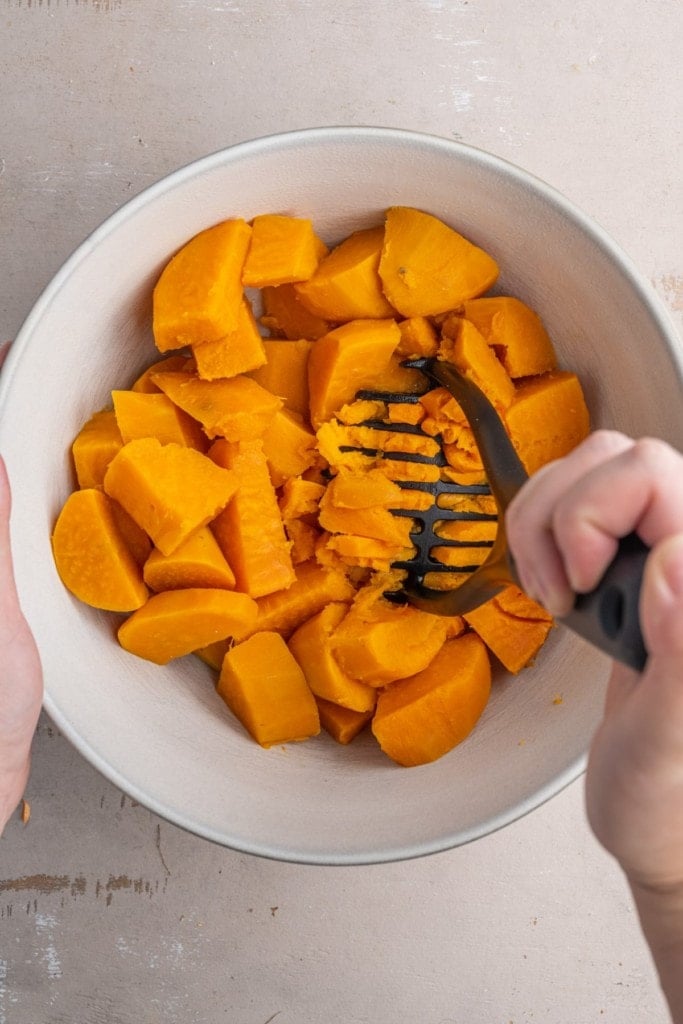 Use a Hand Mixer
A hand mixer is the easiest way to whip your sweet potatoes, butter, and milk together. It's even easier if you've already mashed your sweet potatoes with a potato masher or fork.
Using the hand mixer on high will allow you to whip and aerate your potatoes, getting you a light and pillowy texture.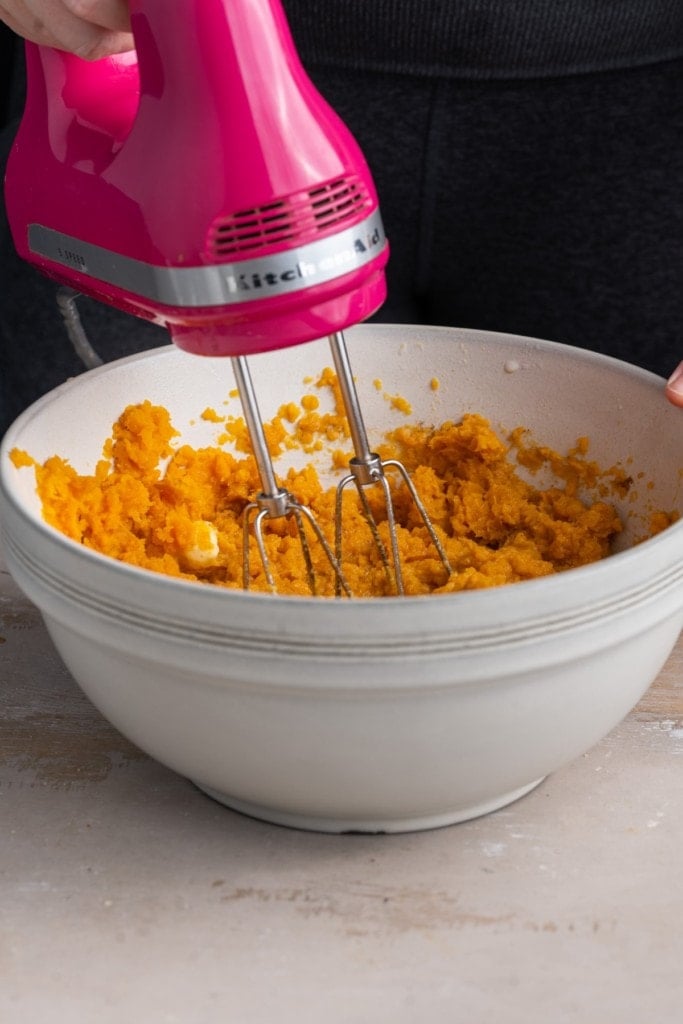 You May Not Need All the Milk
The exact amount of milk required for this recipe is hard to predict because the size and tenderness of your sweet potatoes may vary. In all my years making this recipe, I have never needed less than 1/4 cup or more than 1/2 cup of milk.
Start by adding 1/4 cup and whipping, then asses the consistency. We want soft and pillowy, like mashed potatoes. If 1/4 cup doesn't seem like enough moisture, continue to add more milk, about 1 tablespoon at a time, whipping in between, until desired consistency is achieved.
Again, you shouldn't need more than 1/2 cup of milk.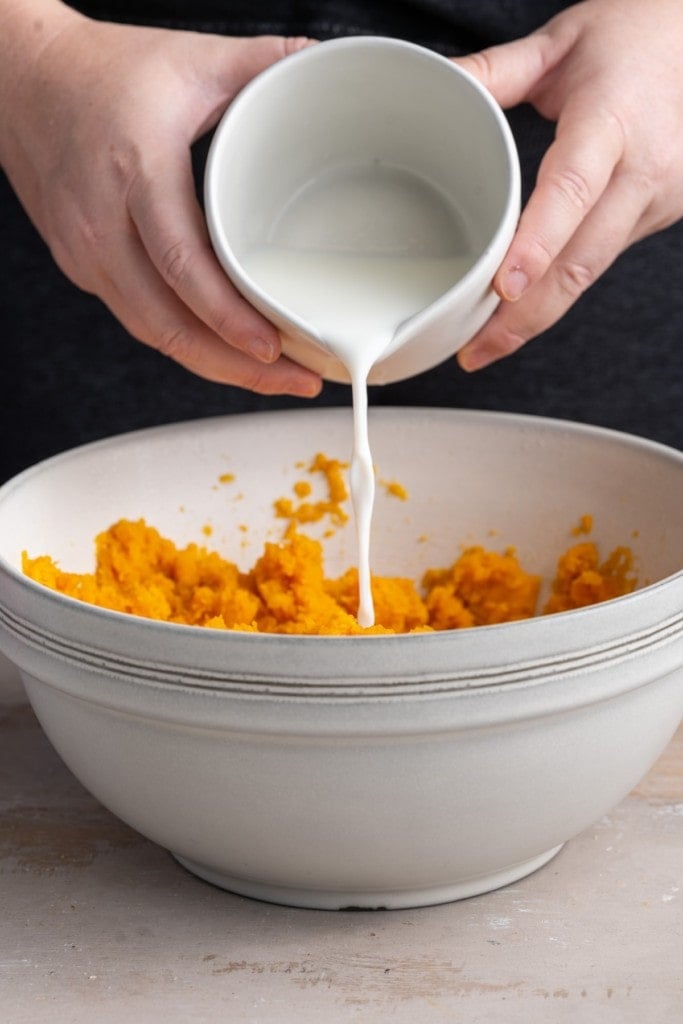 Season Your Potatoes
Once you're happy with your consistency with the butter, milk, and sweet potato mixture, add your maple syrup and salt to taste. I usually go with about 1/2 teaspoon salt.
I like to add cinnamon to mine, too, but this casserole is delicious with or without. You can also jazz it up with a dash of all-spice, ground ginger, and nutmeg if you'd like.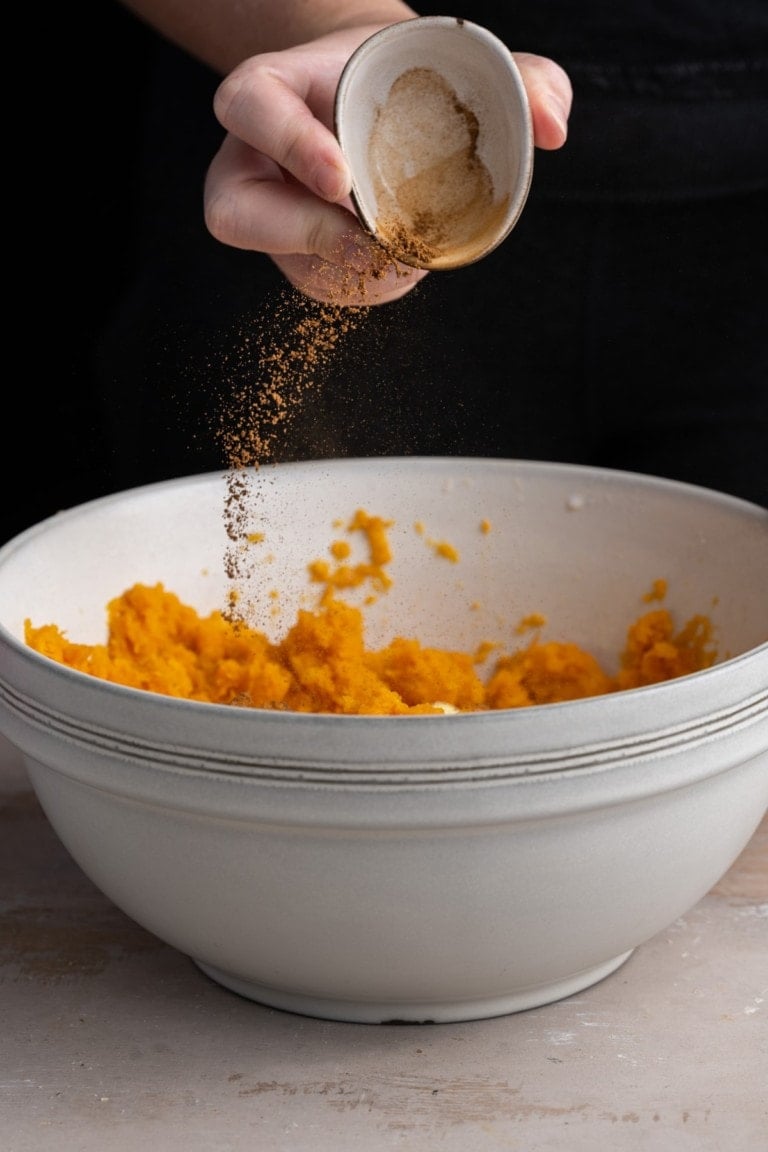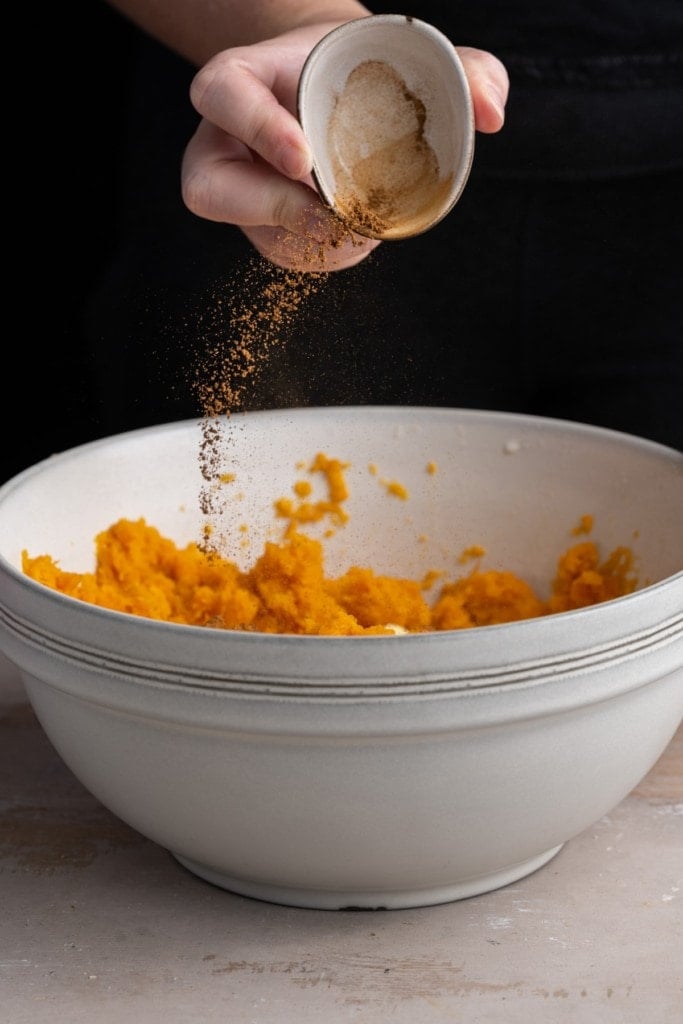 Transfer to a Casserole Dish
Next, transfer your fluffy sweet potato to a 9 x 13-inch casserole dish and use a spatula to smooth it out, until it is spread evenly throughout your dish.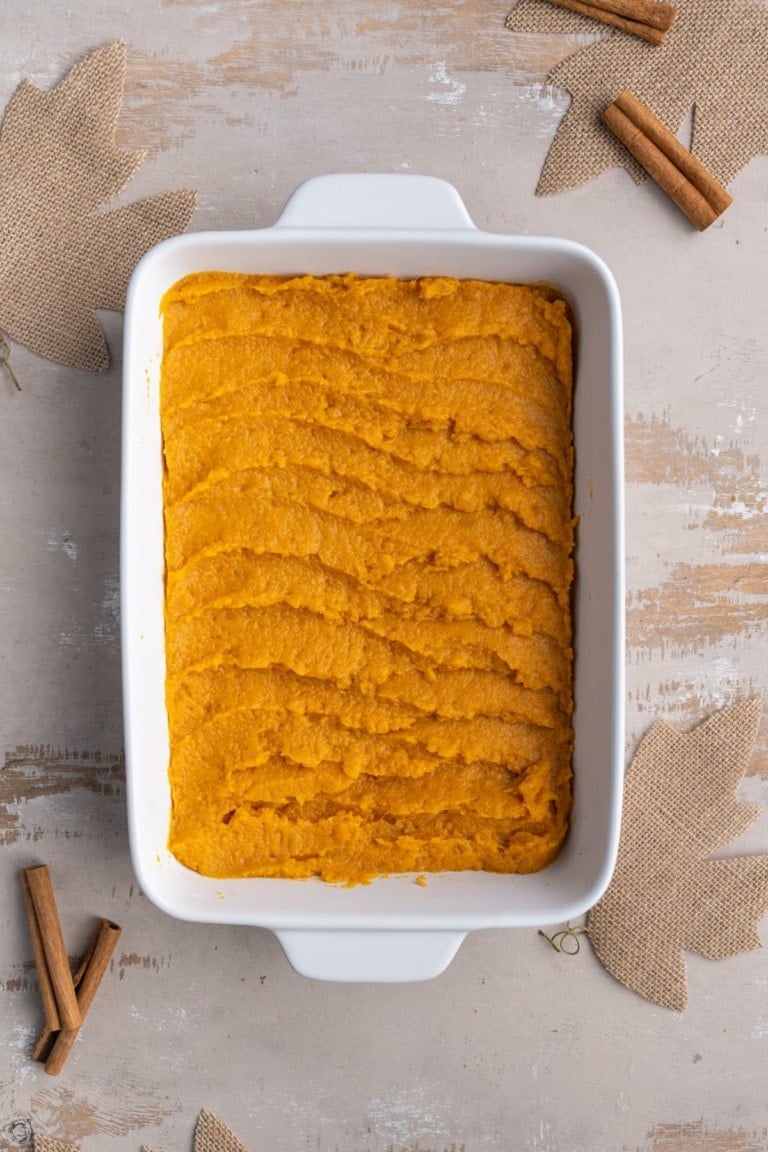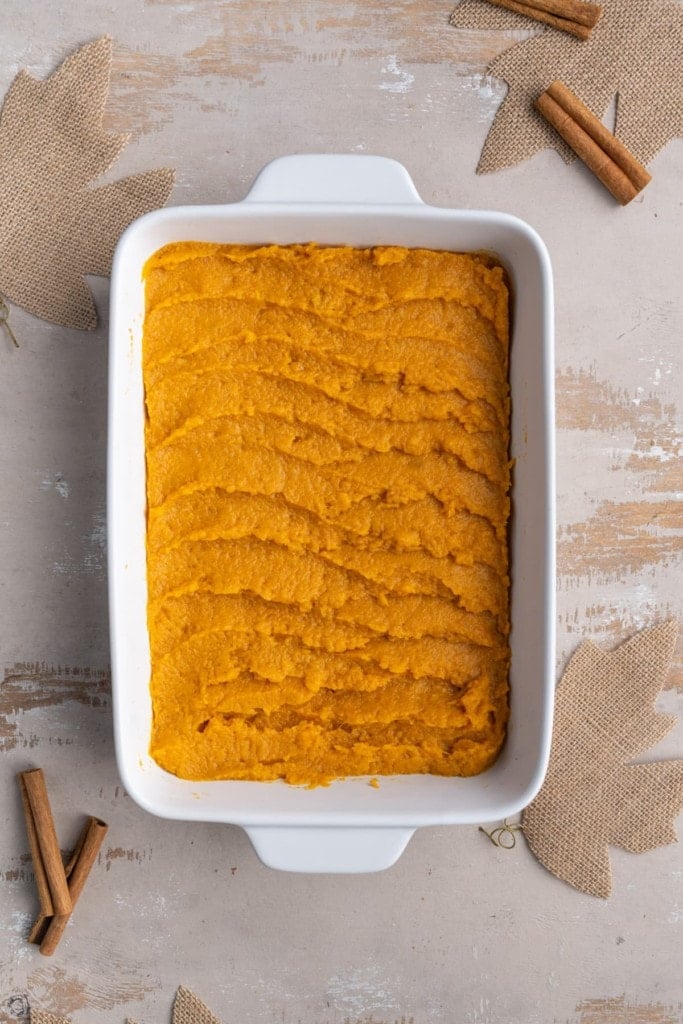 Add Your Marshmallows
Now this is my favorite part. Once your oven is hot, spread an even layer of mini marshmallows over the top of your sweet potato.
Stick your casserole in the oven and watch closely! It only takes about 30 seconds to 1 minute for those marshmallows to toast. Once they are golden brown on top, remove them from the oven.
Added bring-a-smile-to-your-face-bonus: close your eyes, take a big whiff, and be reminded of toasting marshmallows for s'mores over a campfire. 😊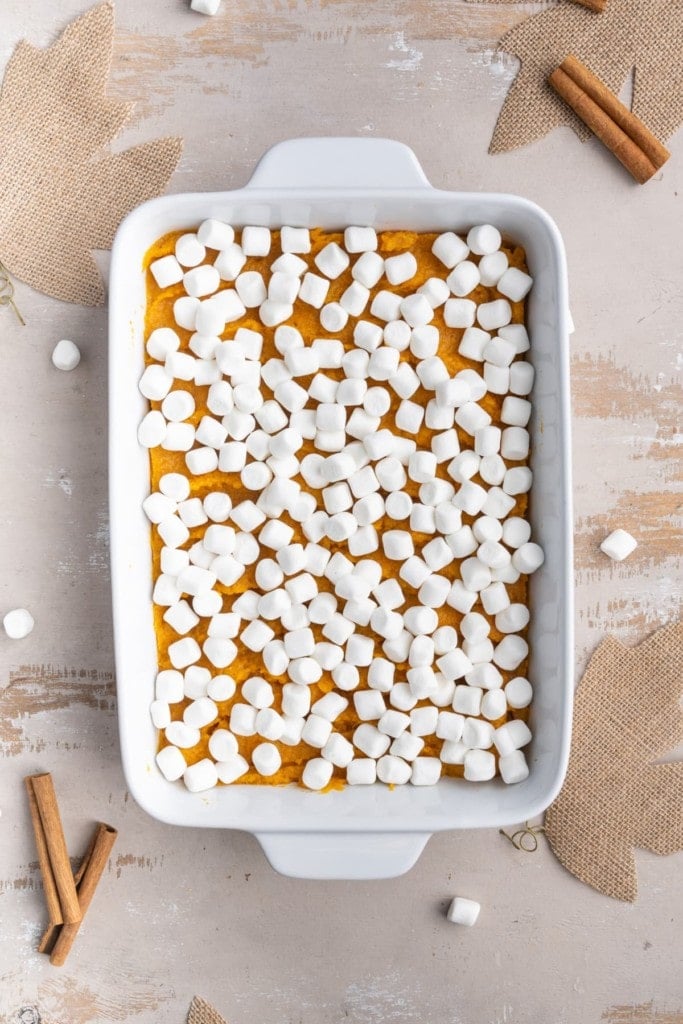 Should You Have Leftovers
Covered and refrigerated, this casserole will last 3-5 days. You can also freeze it for up to 6 months.
The easiest way to reheat a portion of this 5-ingredient maple sweet potato casserole is in the microwave, covered, for 3-5 minutes, stirring a couple of times in between. This will, however, melt your marshmallows and mix them into the sweet potatoes.
But if you want to keep the integrity of those toasty marshmallows on top, the only way to reheat it is in its original casserole dish at 350°F for 20-30 minutes.
Green tip: Did you know that of the billions of pounds of food wasted annually, it is estimated that 50% of it happens in our homes? It's always best to avoid food waste as much as you can by properly storing and reheating leftovers.
Prepping this Maple Sweet Potato Casserole Ahead
You can absolutely prep this 5-Ingredient Maple Sweet Potato Casserole ahead of time!
Just wait to broil those marshmallows until you're ready to serve! I usually do steps 1-5 beforehand and store it in the refrigerator in a microwave-safe bowl covered with saran wrap.
When I'm ready to serve the casserole, I stick the prepared potatoes in the microwave for 4-5 minutes before transferring it to a glass baking dish, adding the marshmallows, and sticking it under the broiler!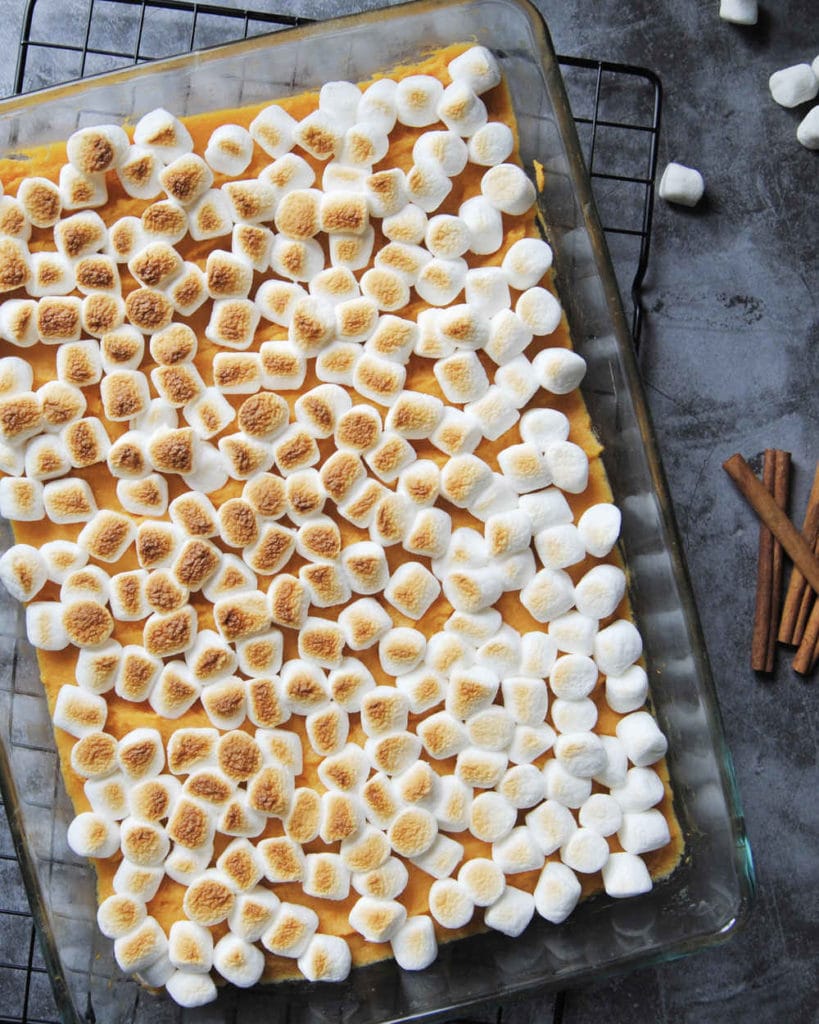 5-Ingredient Maple Sweet Potato Casserole FAQs
---
Should I put eggs in my sweet potato casserole?
While a lot of potato casseroles call for eggs to add some structure to it, this pared-down minimal ingredient casserole does not require eggs.
Instead, it relies on a hand mixer to whip and aerate the potatoes to give it height. Plus, this casserole calls for just 30-seconds of oven time to toast the marshmallows, so it doesn't get liquid-y and mushy.
How do you make sweet potato casserole not runny?
Avoid excess baking time. Only add the casserole under the broiler to toast the marshmallows just before serving. Otherwise, keep your sweet potatoes warm or reheat them in the microwave and whip them before serving.
Want to sharpen your kitchen skills?
Why You Should Make This 5-Ingredient Maple Sweet Potato Casserole
---
It's just the right amount of sweet. Sweet, but not too sweet, it's the perfect balance to all the savory on your dinner plate.
The maple syrup. The notes of vanilla and caramel play perfectly with the natural sweetness of the sweet potato.
The texture. That creme de la creme fluffy potato and sticky marshmallow topping.
The toasted marshmallow topping. Think campfire meets Thanksgiving plate!
If you love this 5-ingredient maple sweet potato casserole and you're looking for more savory and sweet side dishes, check out this Carrot Pumpkin Soup and these Sweet and Salty Brussels Sprouts.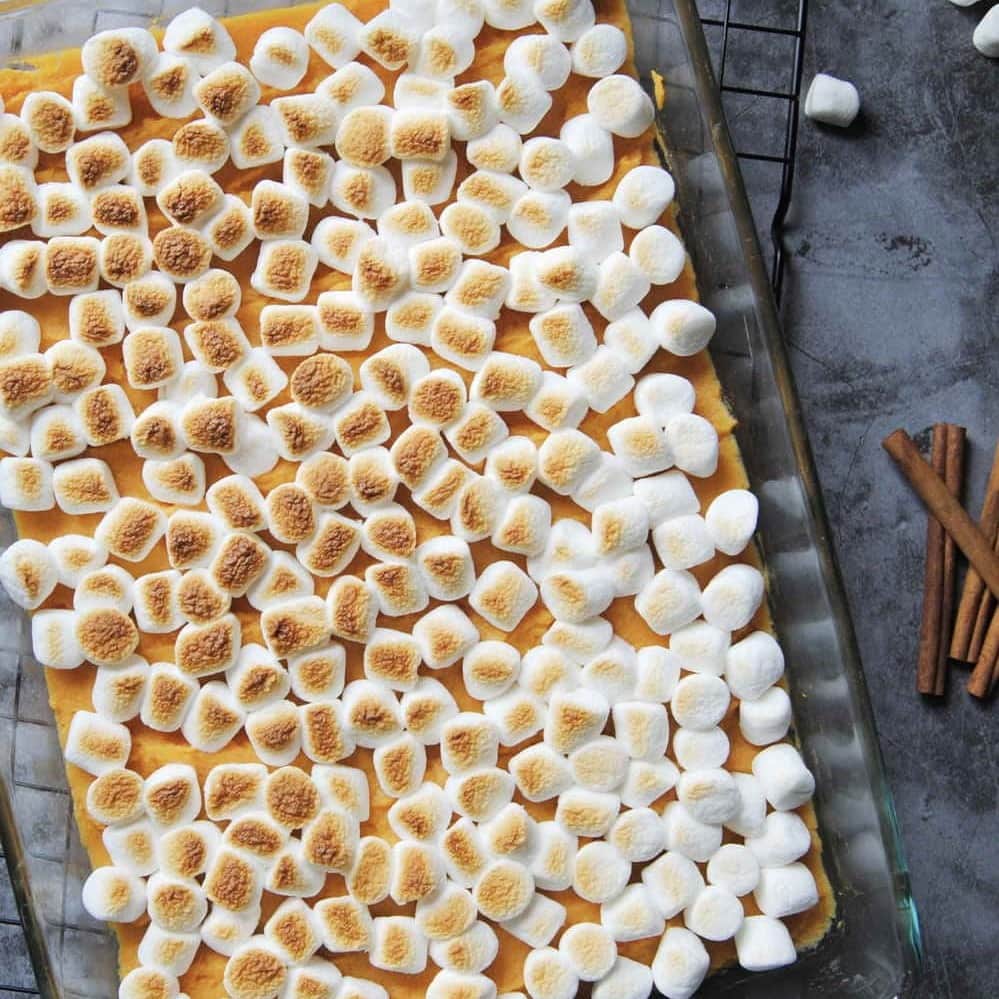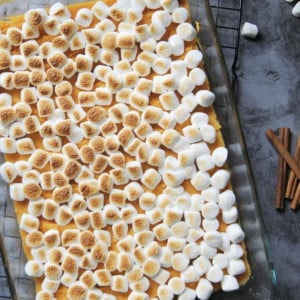 5-Ingredient Maple Sweet Potato Casserole
PRINT
PIN
RATE
This 5-Ingredient Maple Sweet Potato Casserole maximizes the caramel and vanilla flavors of maple syrup and the natural sweetness of the potatoes to bring bold taste with just a few ingredients!
Ingredients
3

large

sweet potatoes

3

tablespoons

unsalted butter

(or nondairy subs)

½

cup

milk

(cows or unsweetened nondairy)

¼

cup

maple syrup

½

teaspoon

salt

½

teaspoon

cinnamon

(optional)

1 ½

cups

mini marshmallows
Instructions
In a large pot, bring 10 cups of water to a rolling boil.

Peel your sweet potatoes and remove any discoloration or lumps. Then, chop them into small chunks, about 2 inches in diameter to speed up their cooking time.

Boil sweet potatoes until fork-tender (usually 25-35 minutes).

Drain potatoes and add them to a large mixing bowl. For best results, use a potato masher or fork to mash sweet potatoes and remove any lumps.

Preheat your oven to broil (500°F).

Add butter and ¼ cup milk and use your hand mixer on high to mix until smooth. Assess consistency. We are aiming for light and airy (think mashed potatoes). Add more milk if necessary (up to ½ cup total).

Add maple syrup, salt, and cinnamon (optional) and mix to combine.

Transfer sweet potatoes to a 9" x 13" glass baking dish and top with mini marshmallows. Stick your sweet potatoes under the broiler for 30 seconds – 1 minute, until marshmallows brown on top.
Pro Tips
Make sure your sweet potato is super soft before removing it from the boiling water. You want to avoid any lumps!
Watch your marshmallows closely under the broiler. They go from golden brown to burnt very quickly!

This dish is a classic holiday recipe. For more like this, check out my comprehensive list of

best Thanksgiving recipes

.
Did you make this recipe?
Let me know by leaving a recipe rating below, or by tagging @marleysmenu on Instagram.