Craving an old favorite but want a plant-based nutrient-packed version? This Vegan Truffle Mac and Cheese takes the comfort food dish to a whole other level with a drizzle of truffle oil.
And what's more, this Vegan Truffle Mac and Cheese uses no artificial cheese. Just plant-based, all-natural ingredients that look and taste like the real deal!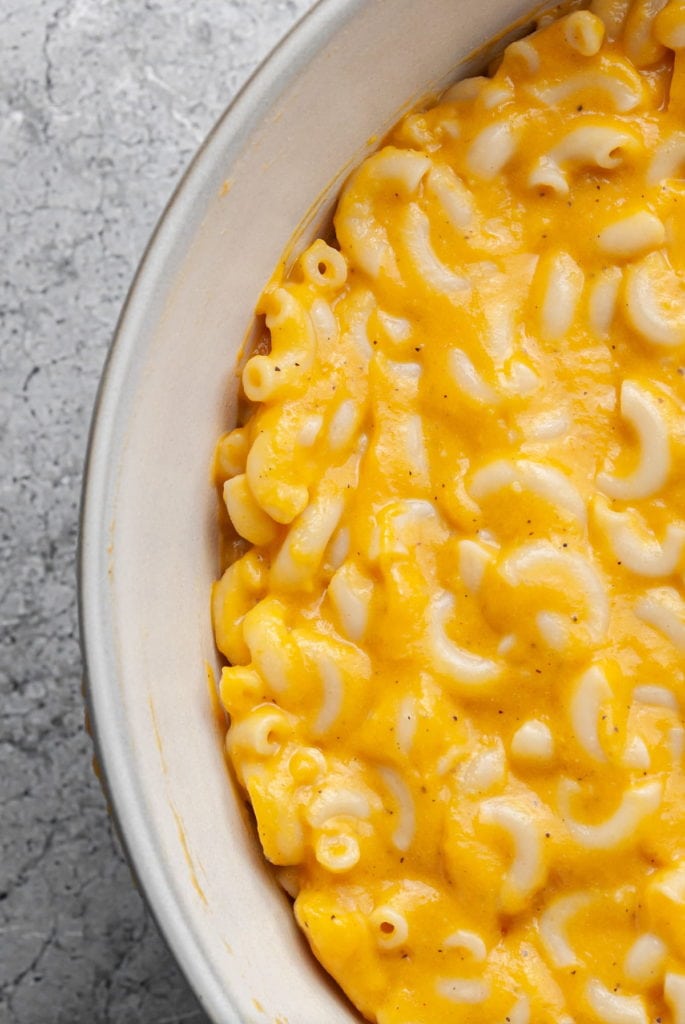 As an environmental scientist and self-proclaimed cheese-aholic, I'm always looking for delicious alternatives to help me lower my ecological footprint, and this Truffle Mac and Cheese recipe gives me all the "cheesy" comfort-food feelings without any cheese!
And despite the fact that it doesn't use any cheese or cheese alternatives, this mac and cheese recipe stands up to the real thing!
Green tip: Like meat, dairy contributes largely to climate change. It's best enjoyed in moderation.
Sign-up for the Meatless Monday Challenge
Get access to the 4-week-long Meatless Monday Challenge, with accompanying meal plans, grocery shopping lists, and more, sent right to your inbox!
Vegan Truffle Mac and Cheese Ingredients
---
---
Here's everything you'll need:
Potato. To thicken the sauce.
Onion. To infuse flavor.
Carrots. For color.
Celery. To enhance the other savory flavors.
Nutritional Yeast. For "cheesiness".
Garlic. For even more flavor.
Vegan Butter. For consistency.
Macaroni. Or really any other short pasta of your choosing.
Truffle Oil. To get that earthy, umami finish.
Salt and Pepper. To amp up all the flavors in this dish.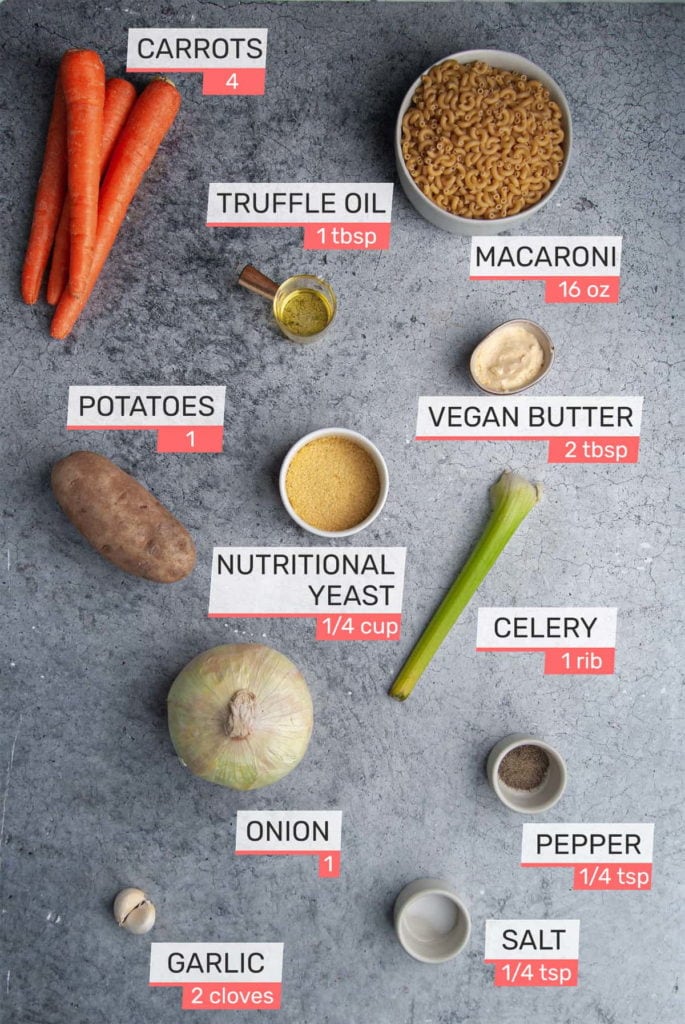 Vegan Truffle Mac and Cheese Tips and Tricks
---
---
Prep and Boil the Veggies
Prep your veggies by peeling the potatoes, onions, and carrots.
Chop the potatoes, carrots, onions, and celery into smaller fragments to speed up their cooking time. Add the chopped veggies to boiling water for about 30 minutes or until a fork can easily pierce the carrots and potatoes.
You can keep the garlic whole, as it will be added to the food processor raw.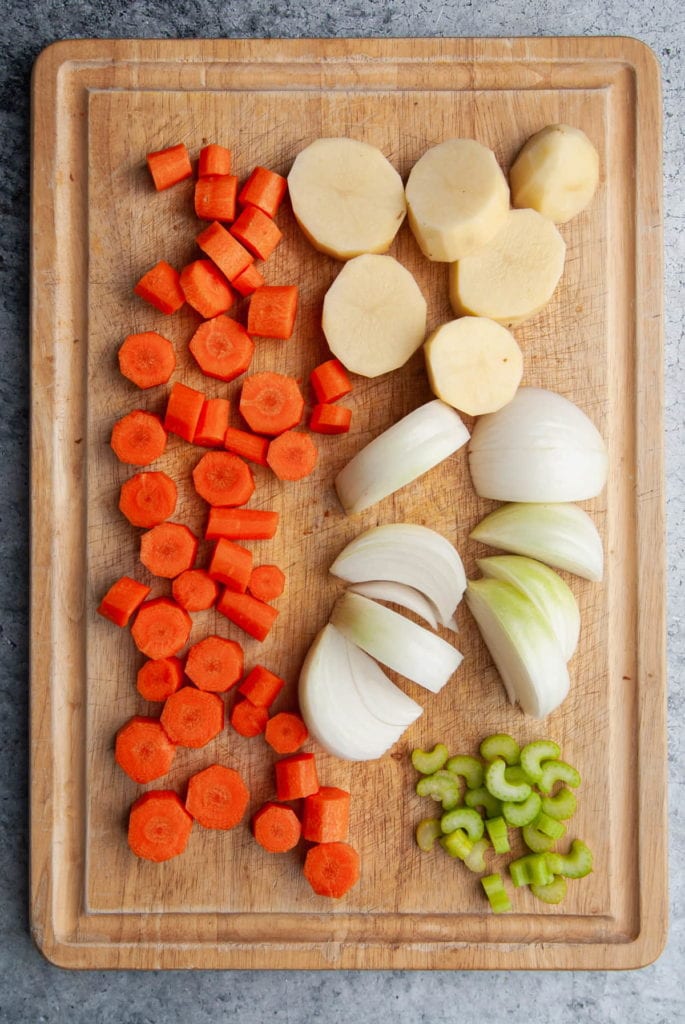 Add it all to the Food Processor or Blender
Once your potatoes, carrots, onion, and celery are tender, drain the water and add them to the blender or food processor. Be careful of the hot steam!
Add your nutritional yeast, garlic, vegan butter, salt, and pepper to create a flavorful sauce.
If you're unfamiliar with nutritional yeast, it is derived from the same yeast that's used to bake most bread and to brew beer. It is deactivated and turned into granules, flakes, or powder.
It has a "cheesy" taste and is often used to add umami flavor to plant-based dishes like this one!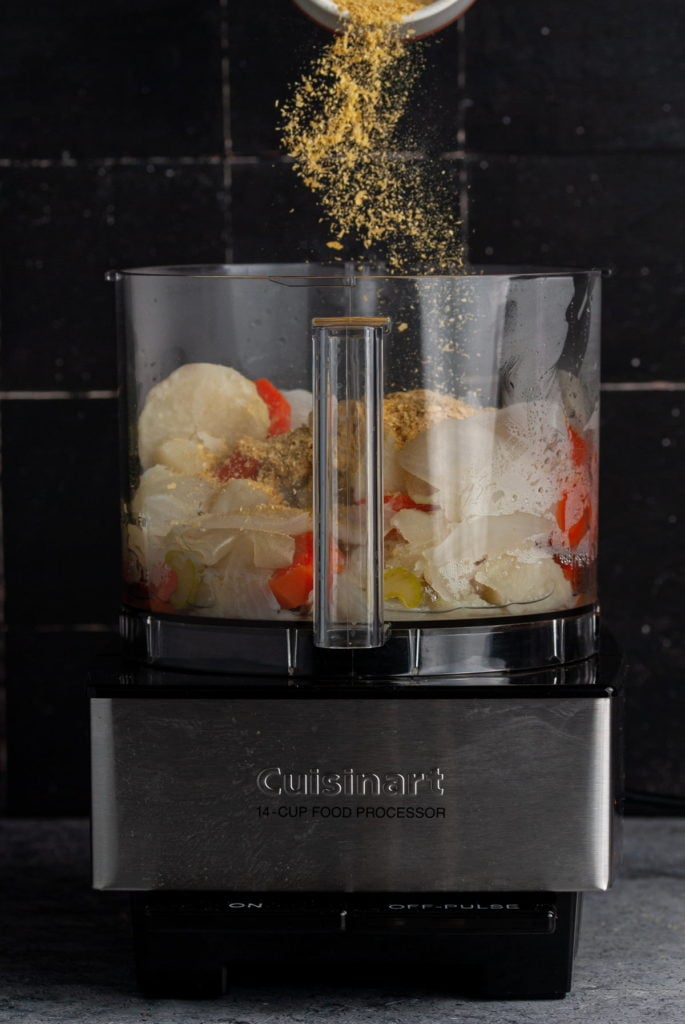 Blend on High
Allow your vegetables to cool for just a couple of minutes before blending everything together until smooth.
This process may take up to a couple of minutes. Once your sauce comes together, remove the lid and use a spoon or spatula to move things around before blending again to ensure no lumps are left behind.
At this point, it should resemble a thick cheese sauce.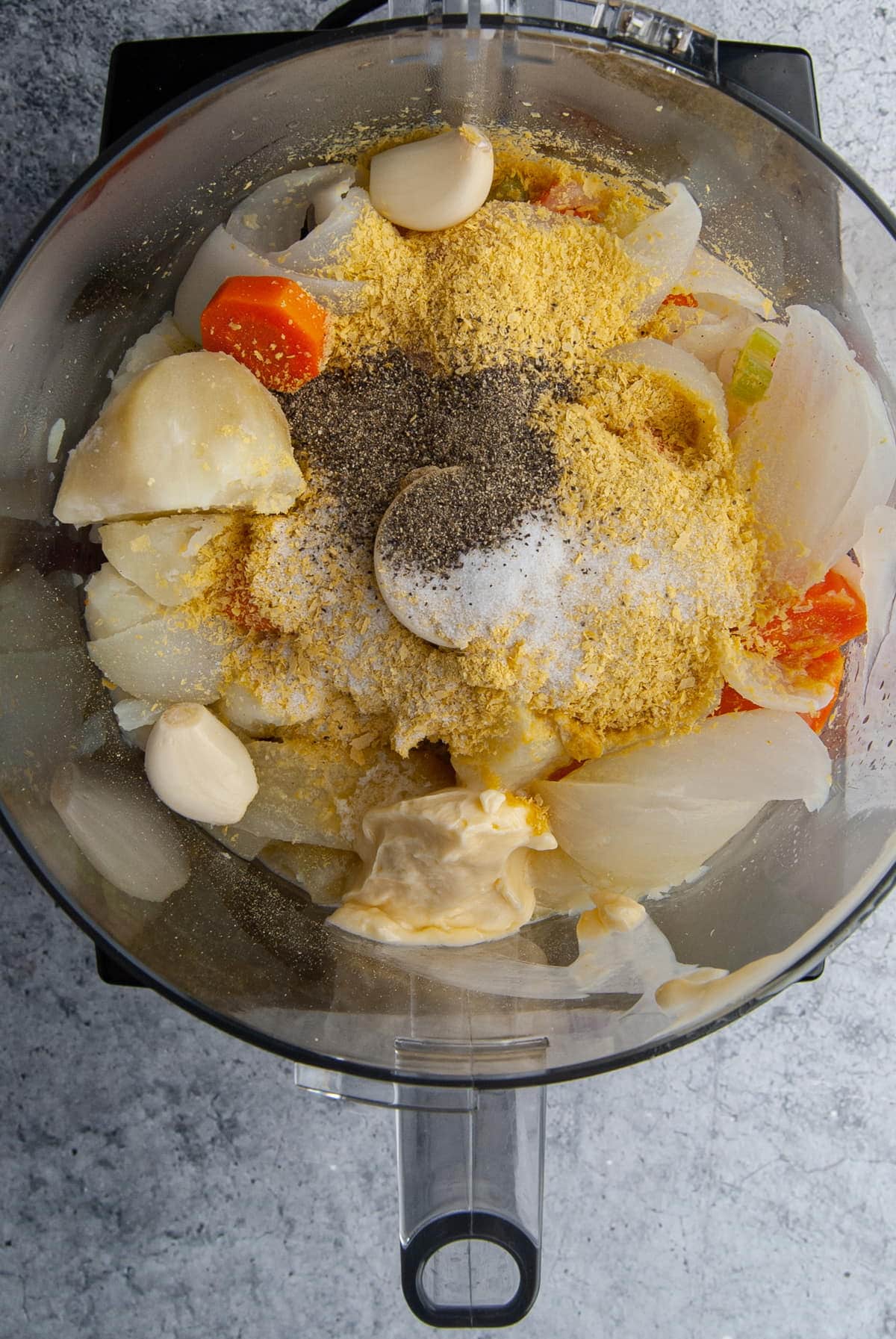 Add It To Your Pasta
Cook your pasta al dente and drain the water. Pour your "cheese" sauce over the pasta and stir to coat.
This recipe should yield enough sauce to generously coat 16 ounces of pasta.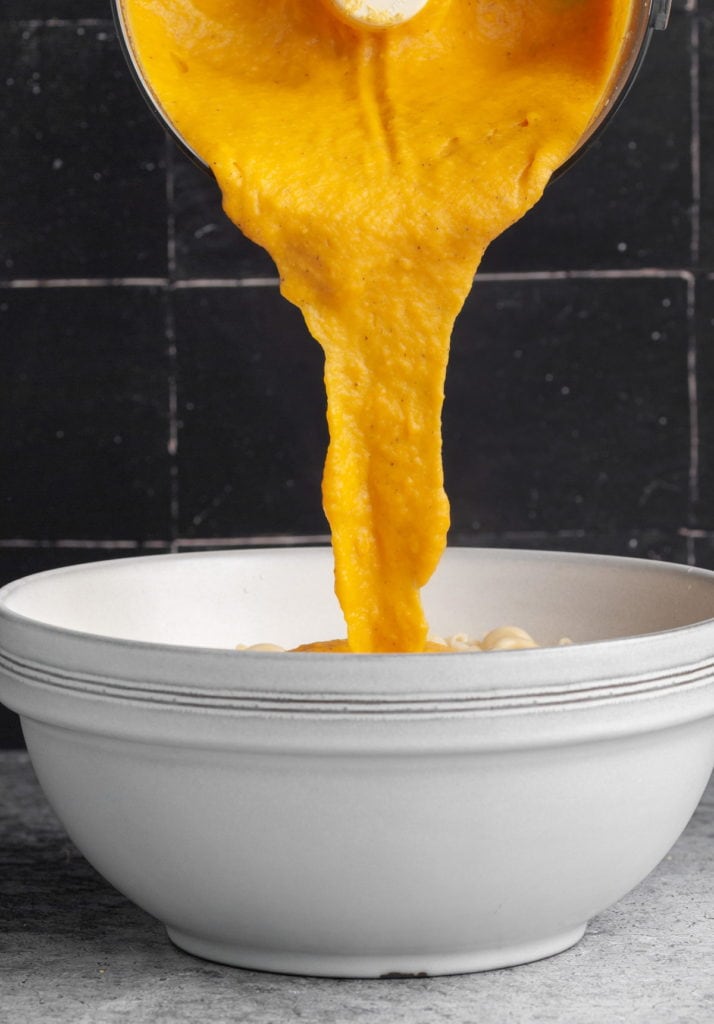 Add Your Truffle Oil Last
Truffle oil is a finishing oil, meaning it is meant to enhance the flavor by adding to a dish, rather than cooking the dish in it.
For this Vegan Truffle Mac and Cheese, you want to add the truffle oil last to get the most out of its gourmet flavor. Heating truffle oil actually makes it less potent, and heating it too much can make it undetectable.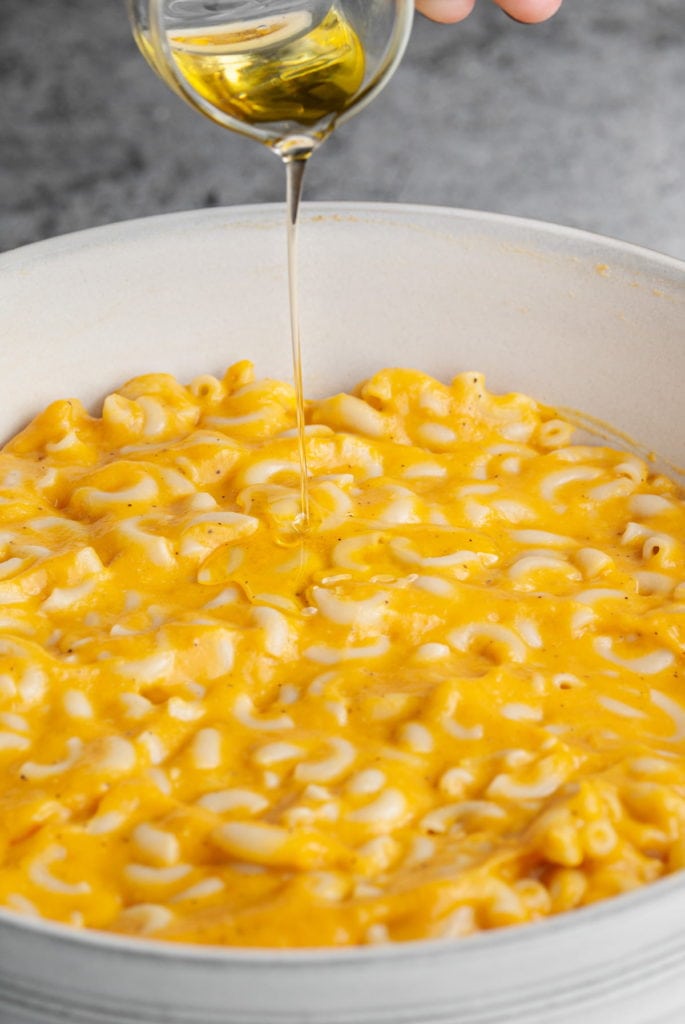 Should You Have Leftovers
This Vegan Truffle Mac and Cheese will last up to four days in an airtight container.
Reheat in the microwave for 1-2 minutes, stirring halfway between until fully heated through. If it seems dry, add a little extra vegan butter or unsweetened non-dairy milk.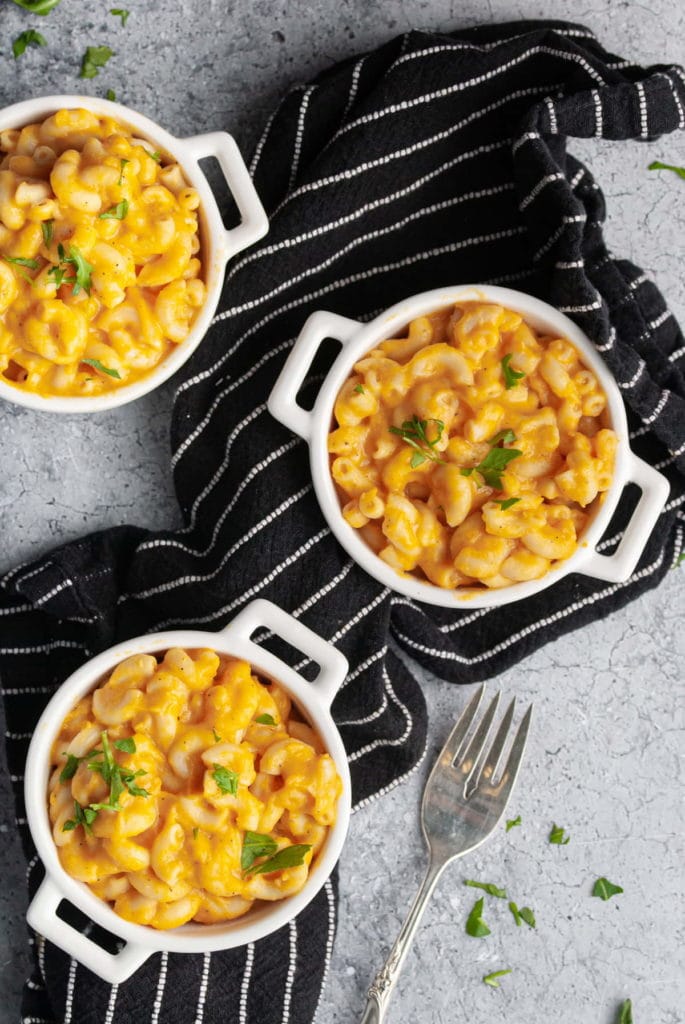 ---
Why You Should Make this Vegan Truffle Mac and Cheese
---
---
It's nutritious. Loaded with veggies, this dish brings so much fiber and nutrients to every single bite!
It's so creamy. The thick texture of that sauce is the best consistency and even reheats very well!
The TRUFFLE! The easiest way to make anything gourmet!!
If you're loving this Vegan Truffle Mac and Cheese and want more recipes with truffle oil, check out these Parmesan Truffle Fries and Truffle Mushroom Risotto!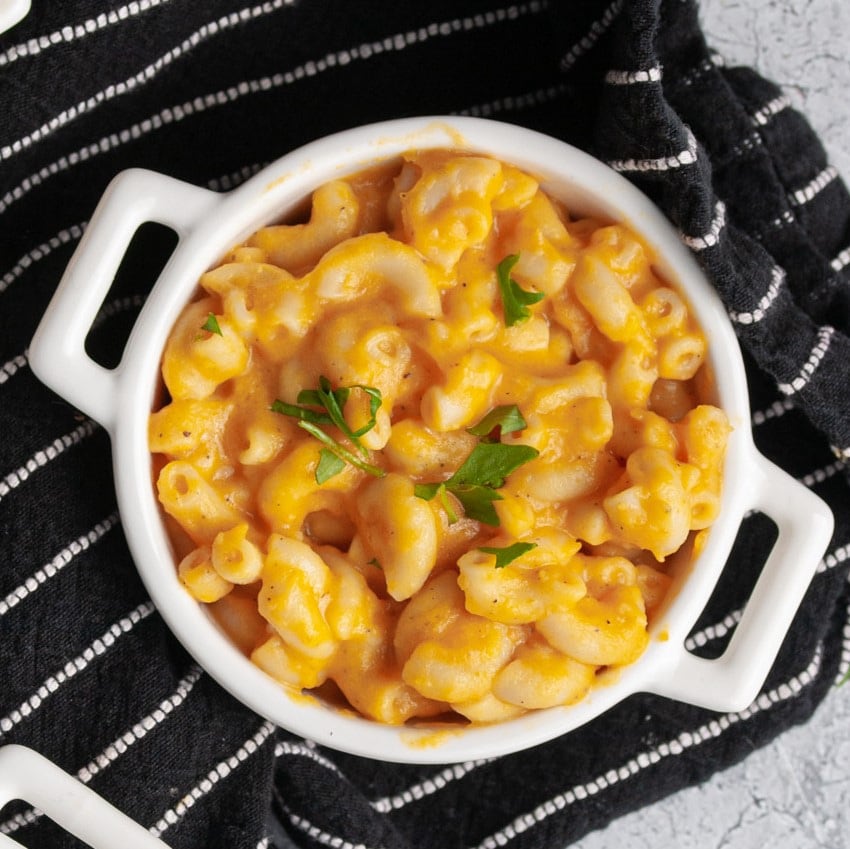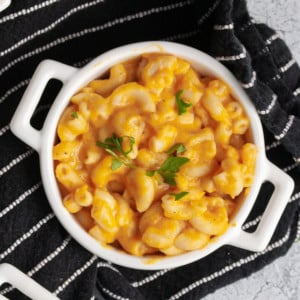 Vegan Truffle Mac and Cheese
PRINT
PIN
RATE
Comfort food has a whole new meaning when it's vegan and packed with nutrients! This Vegan Truffle Mac and Cheese is elevated, creamy as ever, and downright delicious.
Ingredients
1

large

potato

1

large

onion

4

large

carrots

1

rib

celery

16

ounces

elbow macaroni

¼

cup

nutritional yeast

2

tablespoons

plant-based butter

2

cloves

garlic, peeled

1

teaspoon

salt

¼

teaspoon

pepper

1

tablespoon

truffle oil
Instructions
Fill two large pots with 10 cups of water and get them boiling over high heat.

Peel your potatoes, onions, and carrots. Chop the potatoes, onions, carrots, and celery into small pieces to speed up their cooking time. Add them to the boiling water and cook until fork-tender (about 30 minutes).

Meanwhile, in the second pot, cook your pasta to al dente, strain, and set aside in a large serving bowl.

Once your veggies are ready, strain the water and add them to a blender or food processor. Allow them to cool for a couple of minutes to avoid too much steam while blending.

Add your nutritional yeast, vegan butter, garlic, salt, and pepper to the food processor or blender and blend on high until smooth (about 2-3 minutes).

Add your sauce to your pasta and stir to coat.

Drizzle on your truffle oil and enjoy!
Pro Tips
Truffle oil is a finishing oil, so it's best to add it last!
Reducing your meat consumption significantly reduces your carbon footprint. Be kind to the planet (as well as your tastebuds!) with more of these delicious meatless pasta meals.
Did you make this recipe?
Let me know by leaving a recipe rating below, or by tagging @marleysmenu on Instagram.