Looking for a vegetarian lunch wrap that's bursting with flavor? These hot and melty Herbed Cheese Portobello Mushroom Wraps give you juicy, cheesy, fresh deliciousness in under 30 minutes.
With quick marinated and roasted portobello mushrooms and onions, plus fresh ingredients and two types of cheeses, all pressed in a tasty wrap, this is by far one of the best vegetarian lunch recipes!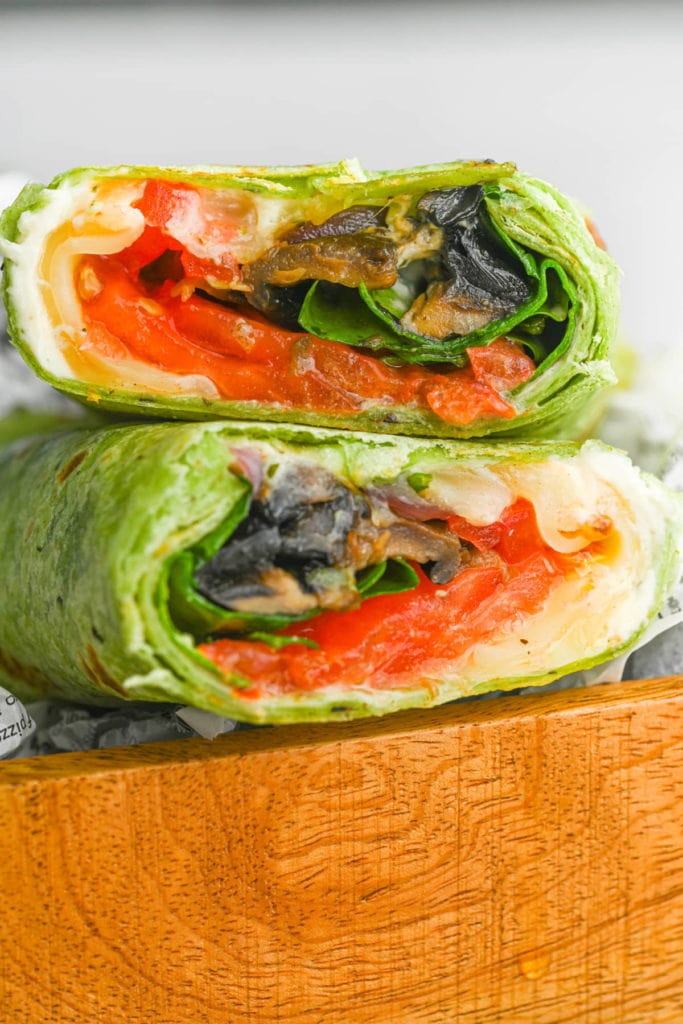 As an environmental scientist, I'm always looking for delicious meat alternatives to help me lower my ecological footprint, and the mushrooms in this Portobello Mushroom Wrap recipe is an incredible replacement for steak!
Just like in this Vegetarian Philly Cheesesteak recipe, the "meaty" texture of the portobello mushrooms lends itself to the flavorful marinade and compliments the cheese and other fresh flavors in this vegetarian lunch wrap!
Green tip: Industrial meat production has a huge impact on the environment, especially because of the amount of land it takes to sustain and its high amount of greenhouse gas emissions. Reducing your meat consumption is one great way to reduce your ecological footprint.
Portobello Mushroom Wraps Ingredients
---
Here's everything you need:
Portobello mushroom. The star of this wrap!
Red onion. You'll roast it in your marinade with the portobellos.
Olive oil. To help get the perfect texture on those mushrooms and onions.
Soy Sauce. For salinity and umami.
Maple Syrup. For a little bit of sweetness and to bring out the natural sweetness of the red onion.
Salt & pepper. To amp up the deliciousness.
Herbed Cheese. This really brings a depth of flavor to your wrap. I used Boursin.
Provolone. It melts wonderfully and adds that gooey texture.
Tomato. For freshness, color, and sweetness. The tomato is optional here (it's delish with and without it!).
Spinach. Or any other greens your have at home to give it some crunch.
Wrap. I used a spinach wrap, but you can also opt for a tortilla or any other wrap that you love!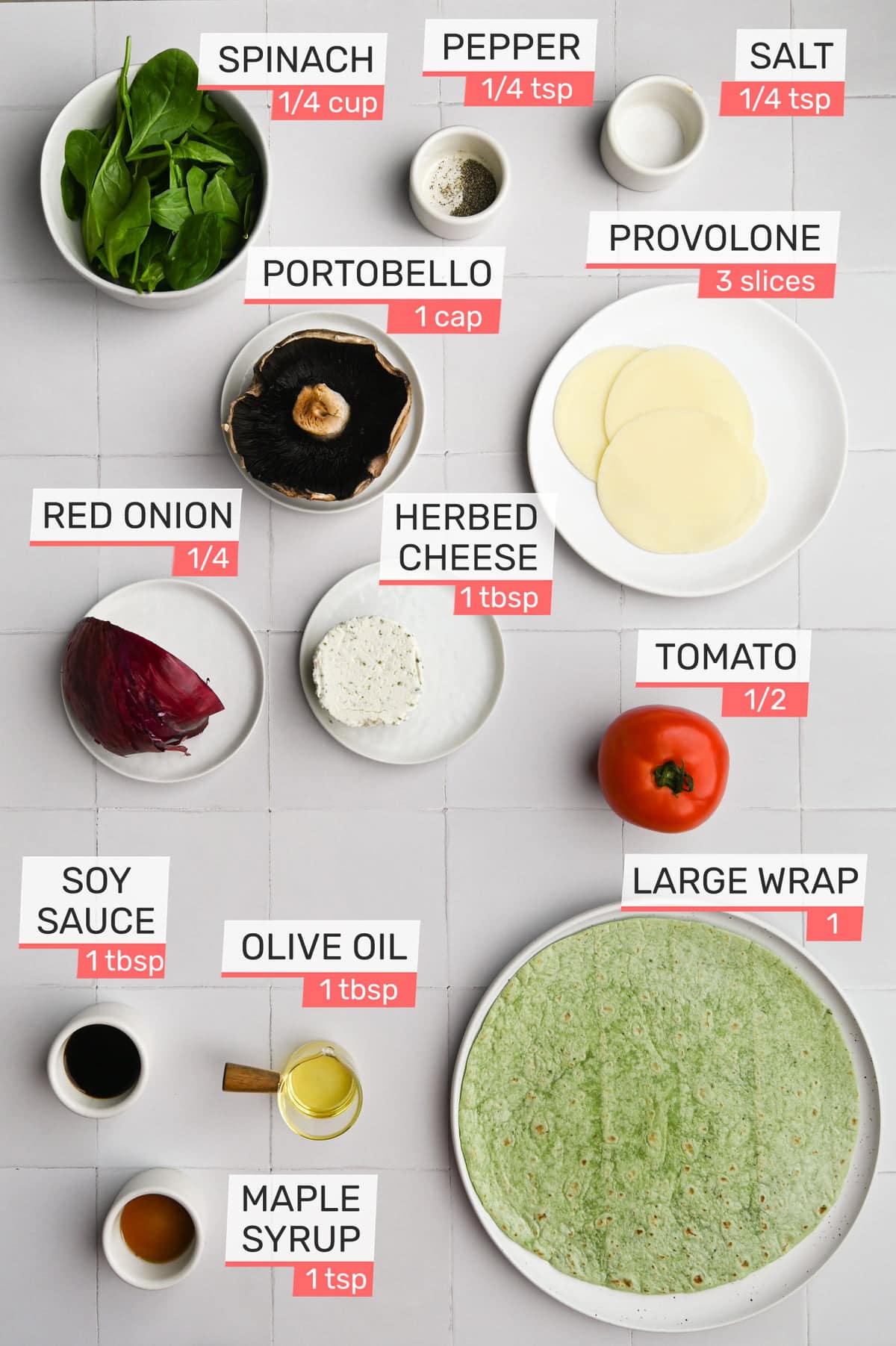 Portobello Mushroom Wraps Tips and Tricks
---
Prep Your Mushrooms and Onions
First, slice your mushrooms and onions so that you are left with long, thin pieces as pictured below. Spread them out evenly on a baking sheet, trying not to overcrowd the pan.
Green tip: Organic farms rely on biodiversity to generate rich soil, avoiding the use of pesticides and fertilizers, which means no toxic runoff. Consider organic mushrooms and onions for this recipe!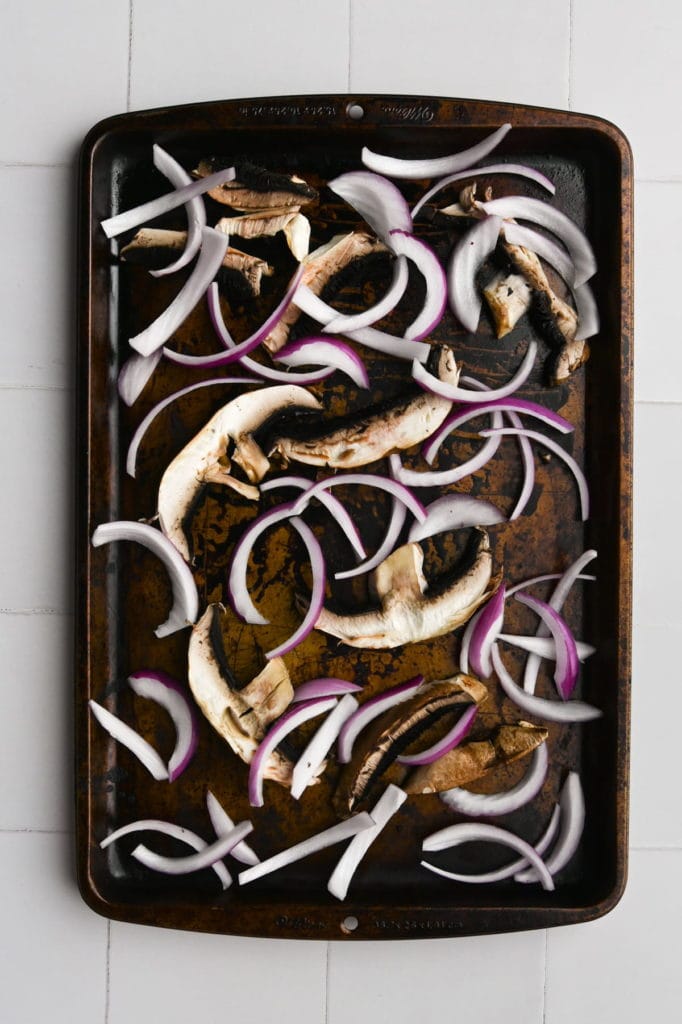 Season and Roast Your Mushrooms and Onions
Next, add your olive oil, soy sauce, maple syrup, salt, and pepper, and use two spoons or clean hands to toss, ensuring each mushroom and onion is coated in the marinade.
Stick it in your oven at 425°F to roast for 15 minutes.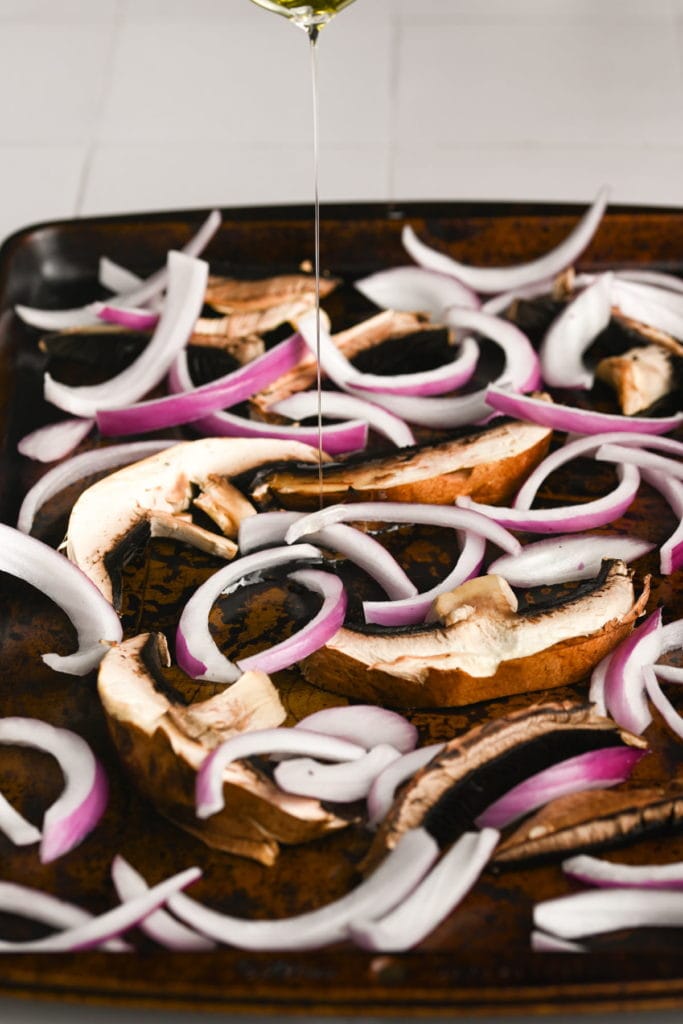 Add Your Cheese First
Meanwhile, you can start to form your delicious vegetarian lunch wrap!
The first step is to spread a generous amount of herbed cheese onto the wrap, leaving some space around the edges.
Then, you can pile your provolone slices on top, right in the center of your wrap.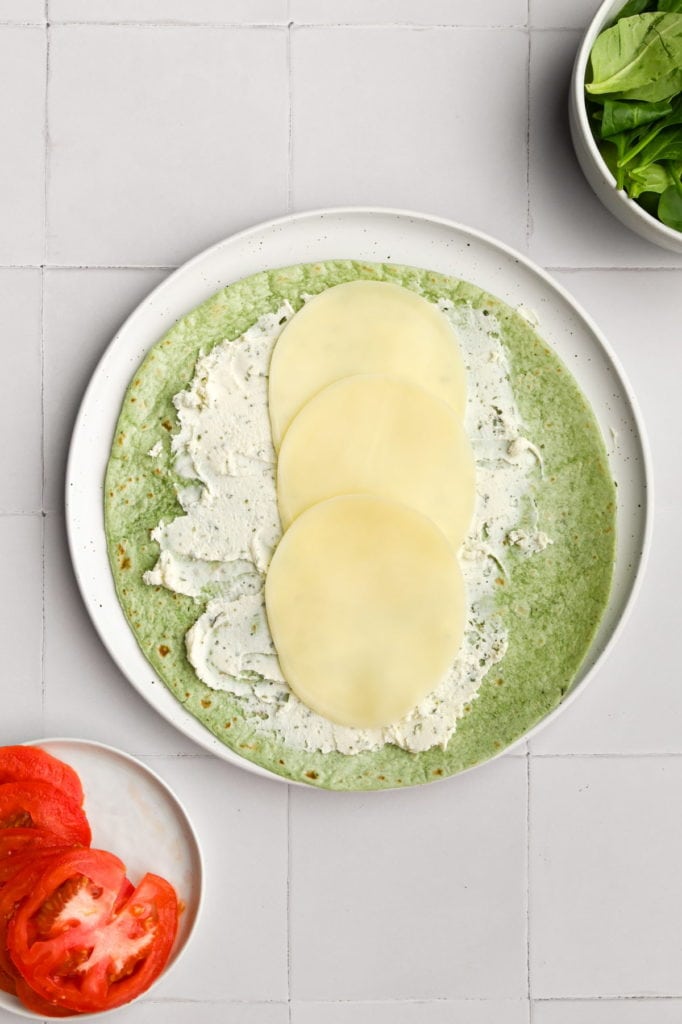 Add Your Fresh Ingredients
Now, it's time to add your fresh ingredients! I love tomato and spinach in this wrap, but these ingredients can easily be tailored to your taste! If you're not a tomato fan, consider peppers, shredded carrots, or cucumbers.
Instead of spinach, you can opt for any greens or sprouts. Arugula, lettuce, and watercress are some of my favorite options.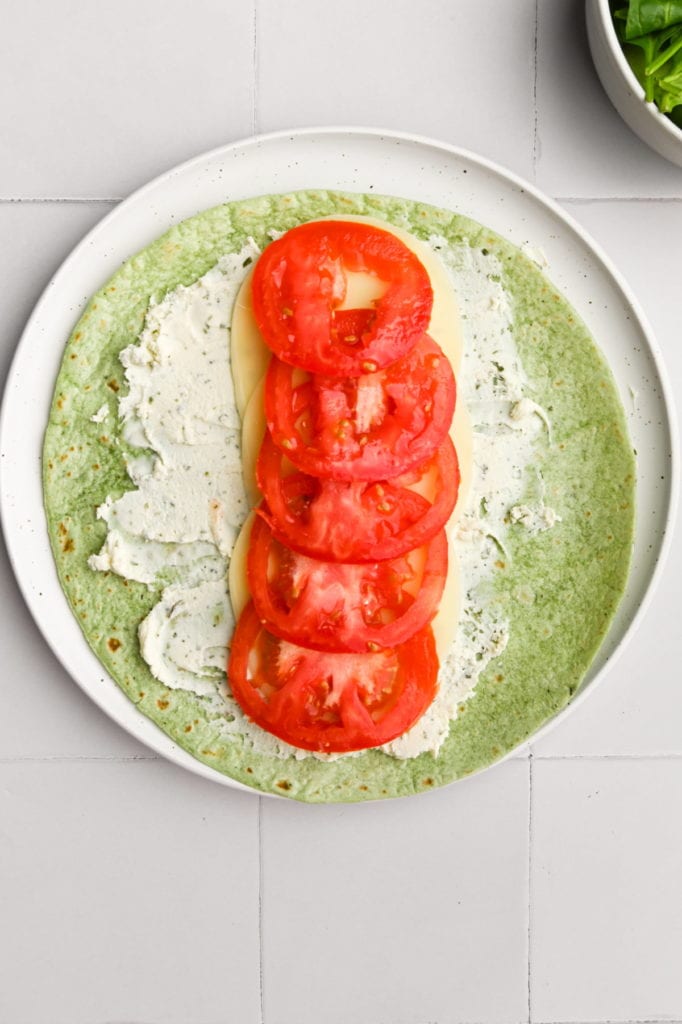 Pile the Mushrooms On Top and Roll
Finally, you can add your roasted mushrooms and onions on top, and you're ready to roll!
Rotate your plate so that the filling stretches horizontally across the wrap, from side to side. Next, fold the sides over your filling first, before tucking the side of the wrap closest to you underneath the filling.
Then, continue to roll away from you, until your filling is completely encased by the wrap.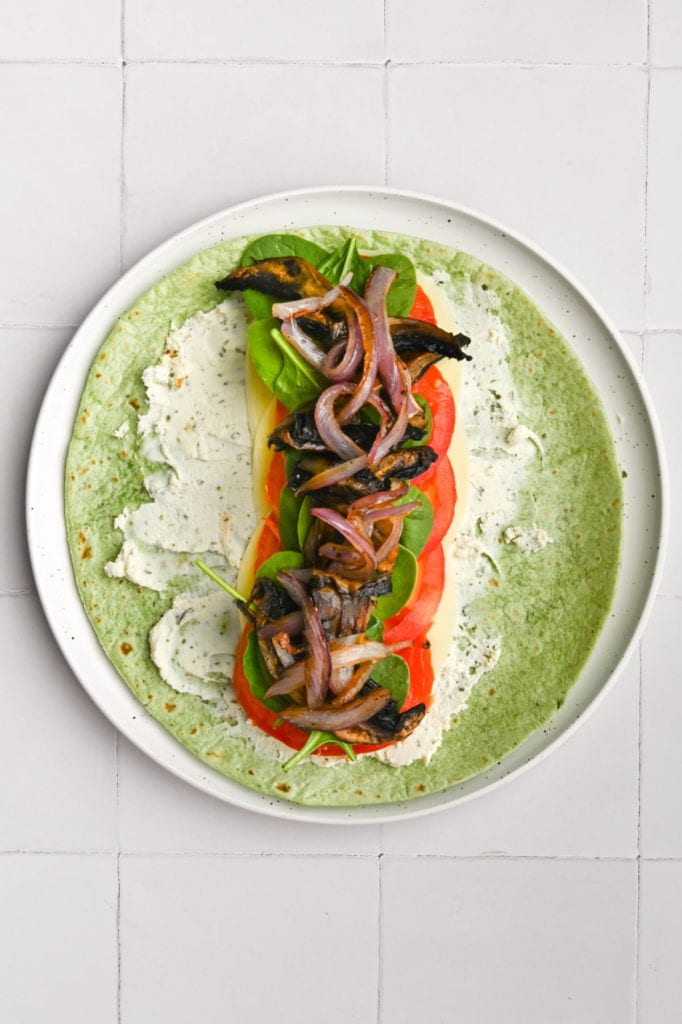 Melt the Cheese
You have two options here! If you have a panini press—use it! A panini press is exactly how I got those yummy grill marks on the portobello mushroom wraps pictured.
If you don't have a panini press, stick your wrap back in the oven at 425°F for 5 more minutes, until the cheese is melted and the wrap is warmed.
Green tip: Mushrooms are not only delicious but considered a sustainable food. They have a relatively small environmental footprint as they take little water and energy to grow and emit little CO2.
Should You Have Leftovers
This wrap will stay fresh and covered in the refrigerator for 2 to 3 days. You can reheat it in the oven or on a frying pan fit with a lid.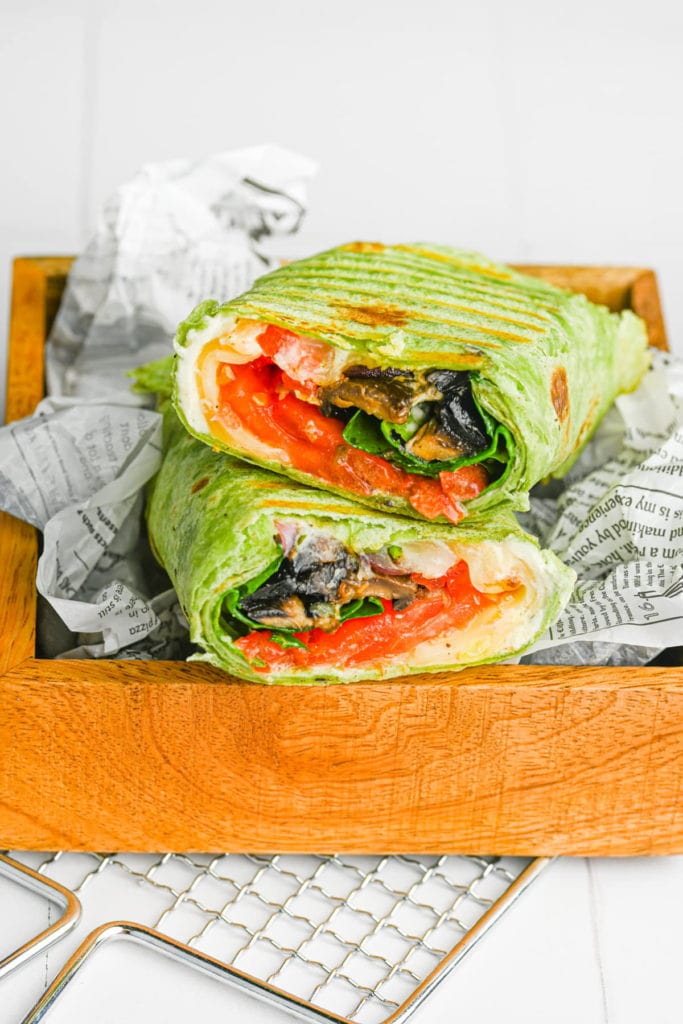 Portobello Mushroom Wraps Frequently Asked Questions
---
How do I make my portobello not soggy?
It's best not to rinse your portobellos with water to clean them. Simply take a paper towel or clean hands, and rub off any visible dirt.
Are you supposed to eat the gills of a portobello mushrooms?
All parts of the mushroom are edible, and I encourage you to eat it all to avoid food waste! It's important to note, however, that depending on how you cook your portobellos, the stems can be a bit fibrous, and the gills may turn your food a dark color.
In this portobello mushroom wrap, all parts of the mushroom should be used.
Want to sharpen your kitchen skills?
Why You Should Make These Portobello Mushroom Wraps
---
It's hot and melty. With two types of cheese!
It's filling. Between the hearty veggies and deep flavors, you'll feel full and satisfied.
It's packed with flavor. The quick marinade gives your mushrooms and onions tons of flavor, and the herbed cheese rounds out this wrap.
If you're loving these Portobello Mushroom Wraps and want more vegetarian mushroom dishes, check out this Hearty Mushroom Stew and these Crispy Fried Oyster Mushrooms.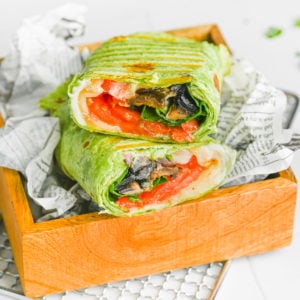 Herbed Cheese Portobello Mushroom Wraps
PRINT
PIN
RATE
These Portobello Mushroom Wraps are packed with flavor between the marinated mushrooms and onions, fresh toppings, and two types of cheese.
Ingredients
1

large

portobello mushroom

¼

large

red onion

1

tablespoon

olive oil

1

tablespoon

soy sauce

1

teaspoon

maple syrup

¼

teaspoon

salt

¼

teaspoon

pepper

1

large

wrap of choice

2

tablespoons

herbed cheese (such as boursin—any flavor)

3

slices

provolone cheese

½

large

tomato or other fresh toppings like shredded carrots or peppers

¼

cup

spinach or other greens or sprouts
Instructions
Preheat your oven to 425°F and slice your mushrooms and onions and spread them out on a baking sheet.

Pour olive oil, soy sauce, maple syrup, salt, and pepper over mushrooms and onions and use two spoons or clean hands to toss, ensuring all of the mushrooms and onions are coated in the marinade.

Roast the mushrooms and onions for 15 minutes. Meanwhile, start to assemble your wrap.

Spread your herbed cheese over the wrap first. Then, stack the provolone slices, tomato, and spinach (or any other toppings of choice) in the center of your wrap.

After 15 minutes, remove your mushrooms and onions, but keep your oven on. Stack the roasted mushrooms and onions on top of your other fillings and roll your wrap.

To roll, rotate your plate so the fillings are horizontal, reaching from one side to the other.

Then, fold the sides of the wrap over the fillings with two hands.

Lastly, fold the side of the wrap closest to you over the fillings. Continue to roll away from you until your left with a tidy wrap.

Stick the wrap back in the oven for 5 minutes until the cheese is melted and the whole wrap is warm. Alternatively, you can use a panini press to finish off your wrap. Enjoy hot!
Pro Tips
I love adding tomato and spinach to this wrap for some freshness, but use what you have! Shredded carrots, bell peppers, cabbage, sprouts, lettuce, and arugula are all delicious alternatives.
I used the Garlic & Fine Herbs flavor of Boursin, but you can use any flavor of your choosing.
I love a quick wrap or burrito I can throw together! After you've tried this one, you check out this delicious Vegetarian Breakfast Burrito with Salsa.
Did you make this recipe?
Let me know by leaving a recipe rating below, or by tagging @marleysmenu on Instagram.