In search of a next-level breakfast creation? This Oreo French Toast can only be described as epic.
With a pillowy-soft center and crispy, buttery cookie crust, this unique french toast is only made better by an airy whipped cream cheese glaze.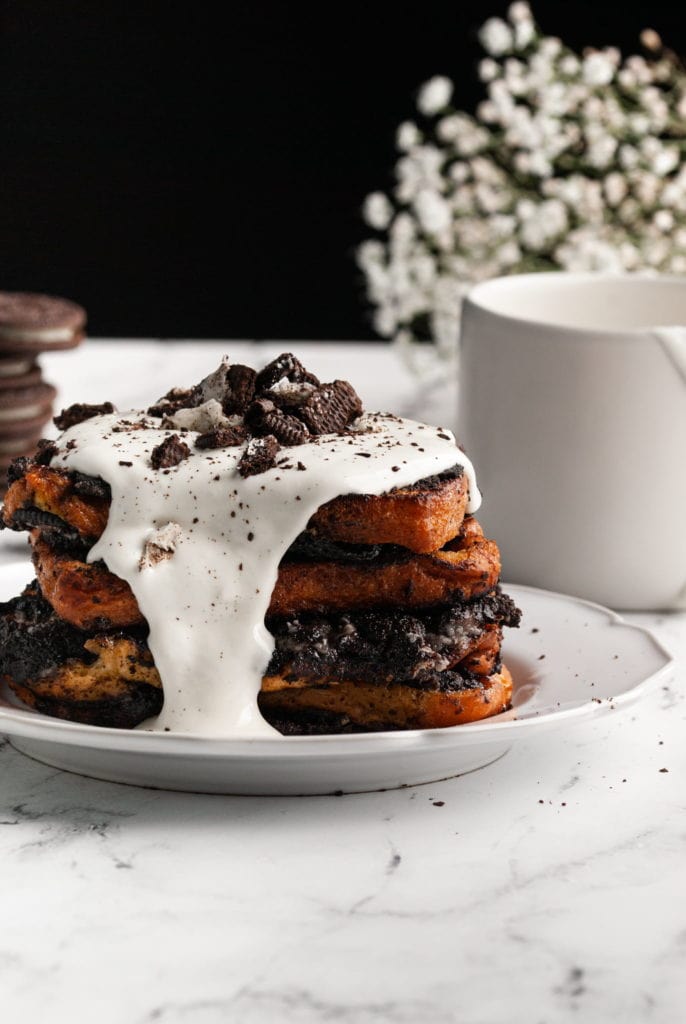 And aside from being out-of-this-world delicious, this Oreo French Toast is a great way to breathe new life into stale bread!
As an environmental scientist, I am always trying to find ways to combat food waste.
Green tip: Bread is one of the most wasted food products in the U.S. because of our tendency to throw it out as soon as it's stale. Reduce your contribution to food waste by revitalizing your stale bread with this Sourdough French Toast!
Want to sharpen your kitchen skills?
Oreo French Toast Ingredients
---
Here's everything you'll need:
Oreo French Toast
Bread. Brioche or Challah will give you the fluffiest center, but really any bread will work. And the best part? It can totally be stale!
Eggs. An eggwash is critical to any French toast.
Milk. For moisture.
Vanilla extract. For flavor.
Oreos. The best crispy, crunchy exterior!
Butter. To fry your French toast in.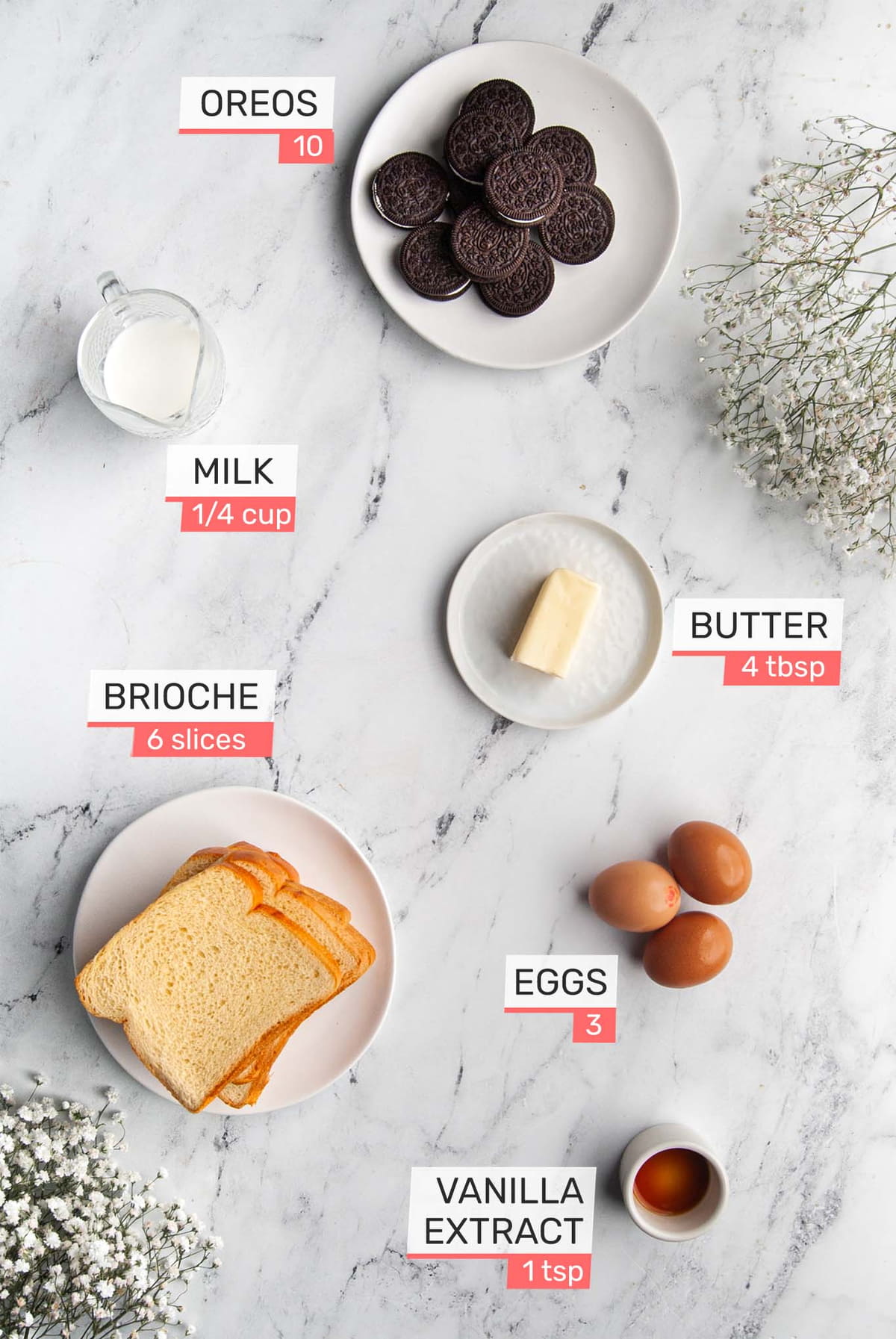 Cream Cheese Glaze (optional, but highly recommended!)
Cream Cheese. The greatest flavor compliment to this oreo crusted french toast.
Powdered Sugar (aka Confectioner's Sugar). For sweetness and texture.
Milk. To achieve the right consistency.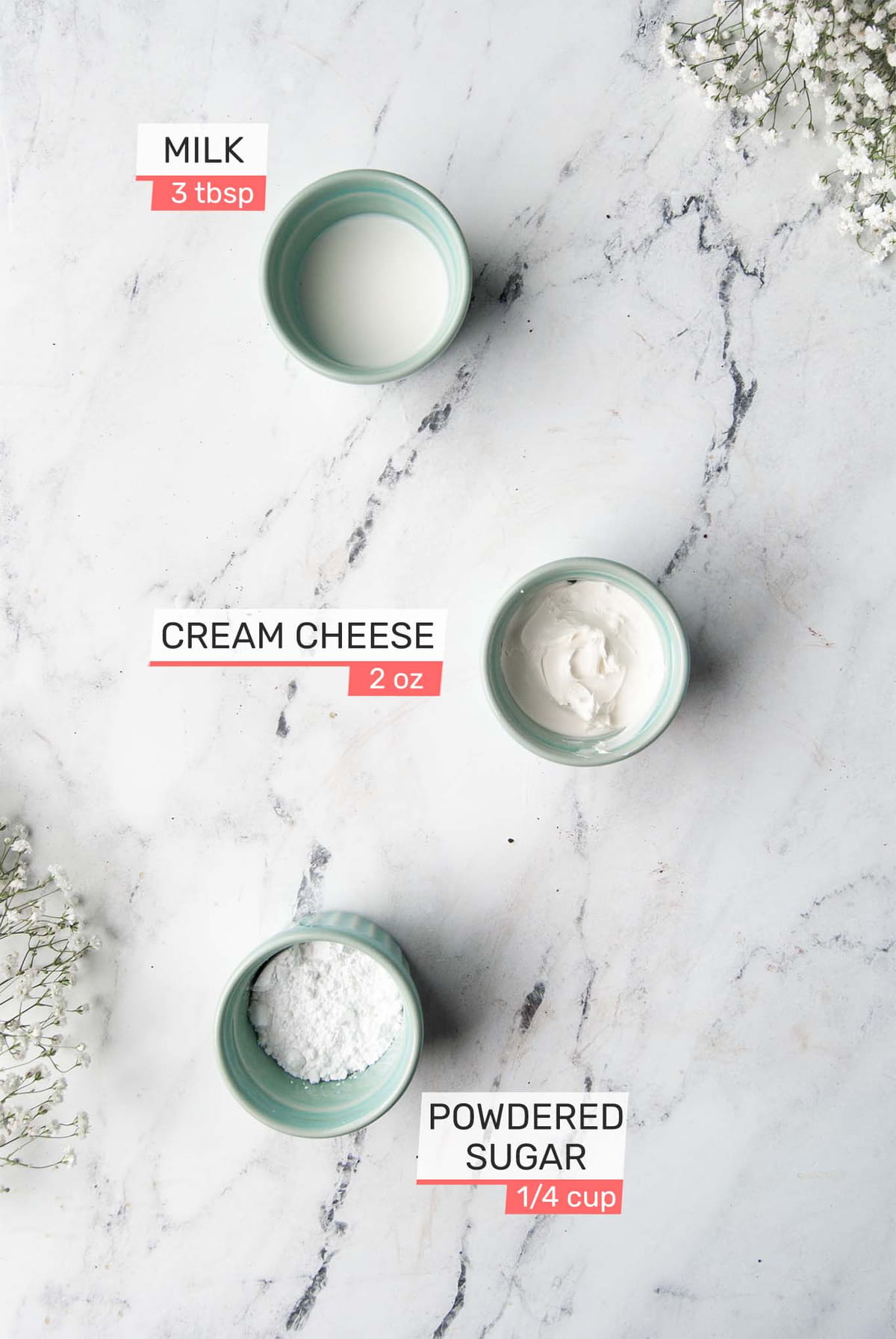 Oreo French Toast Tips and Tricks
---
Crack the Eggs First
In this (and all recipes, really), cracking your eggs in a separate bowl or into your bowl first is the best practice! It ensures you avoid eggshells in your food.
Green tip: Did you know you can compost eggshells? Read all about it in this article on composting eggshells!
It also eliminates any risk of the rare but dreadful bloody egg.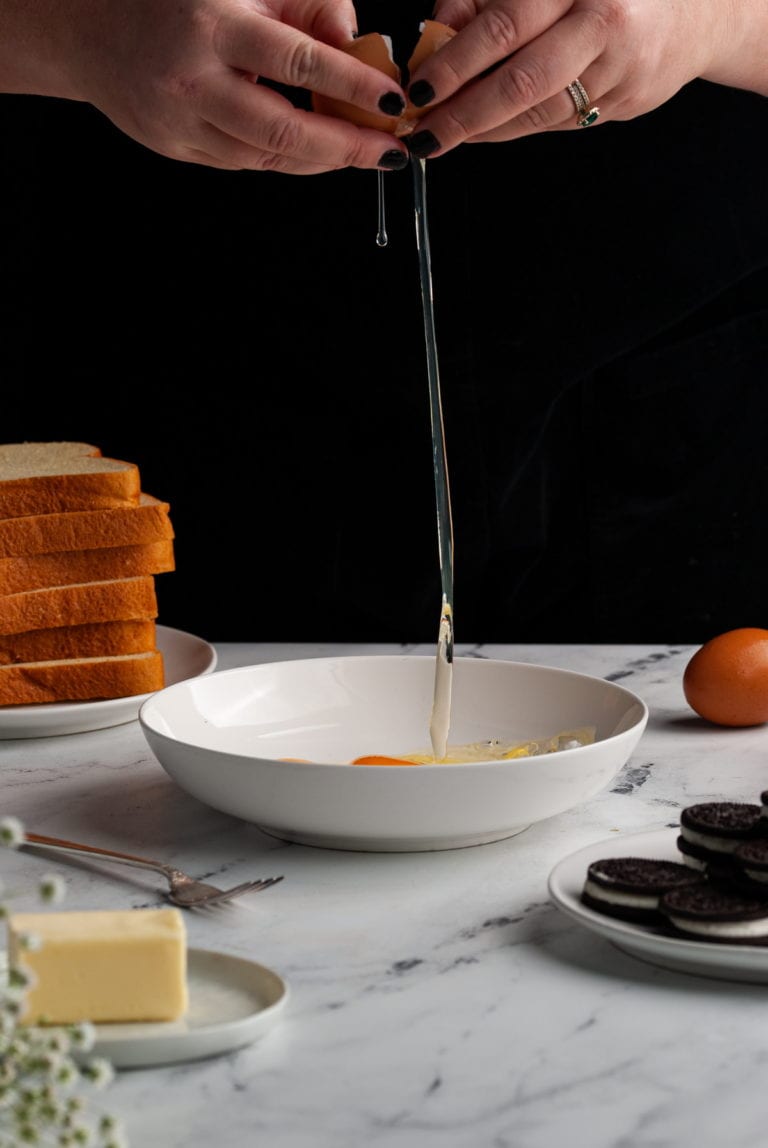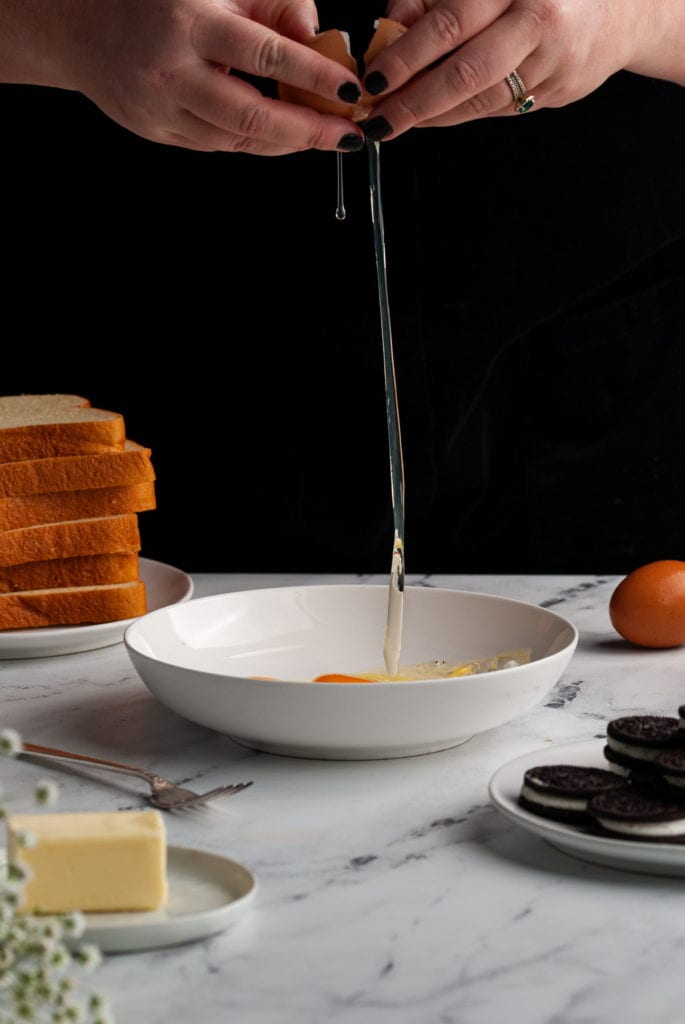 Flavor Your Egg Wash
Once your eggs are cracked, add moisture to your egg wash with milk, and add flavor to your egg wash with vanilla extract.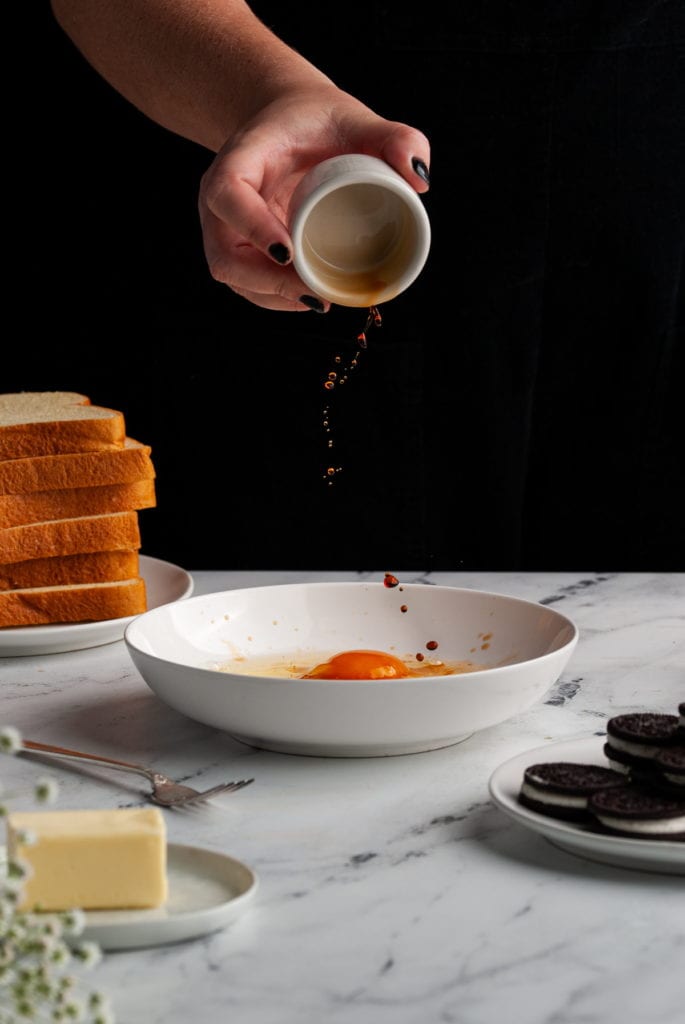 Whisk it Up!
Use a whisk or a fork to mix your eggs, milk, and vanilla extract together until silky smooth. The whisk or fork will aerate your eggwash.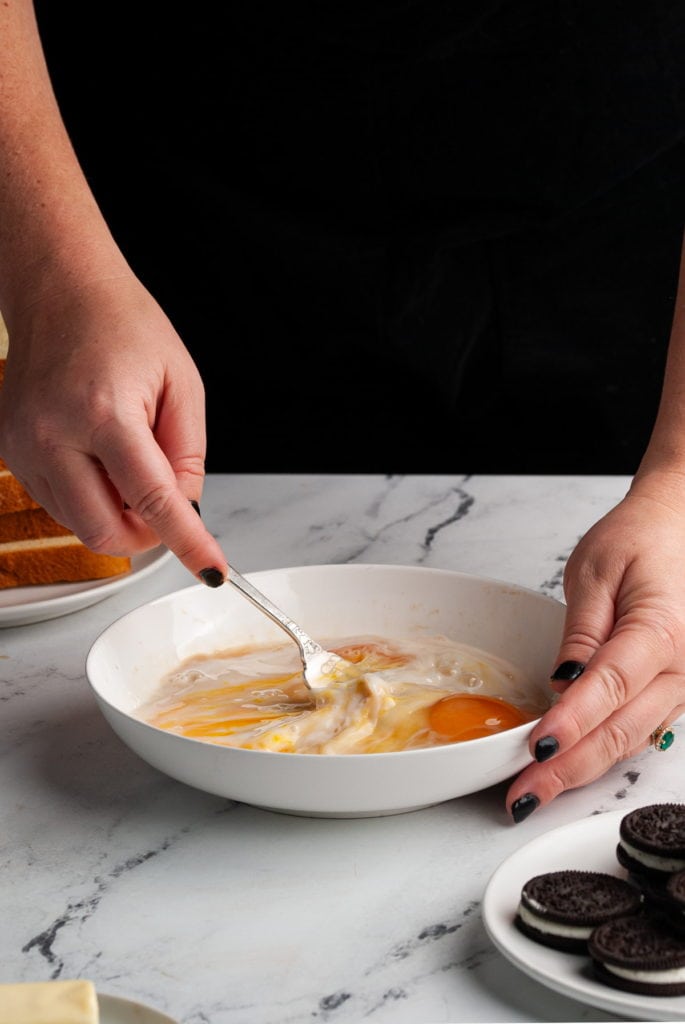 Crush Your Oreos
The Oreos need to be crushed so you can coat your French toast with them. Ideally, you will have some remaining larger chunks and some that break down into fine dust.
I like to use my pestle and mortar to crush the Oreos, but you can also add your cookies to a large storage bag and use a rolling pin to crush them.
You can use a blender or food processor, but you may find that all of your cookies break down completely, and it's best to keep some larger pieces!
Alternatively, you can use any cookies and cream cookies of your choosing. Or you can even make your own!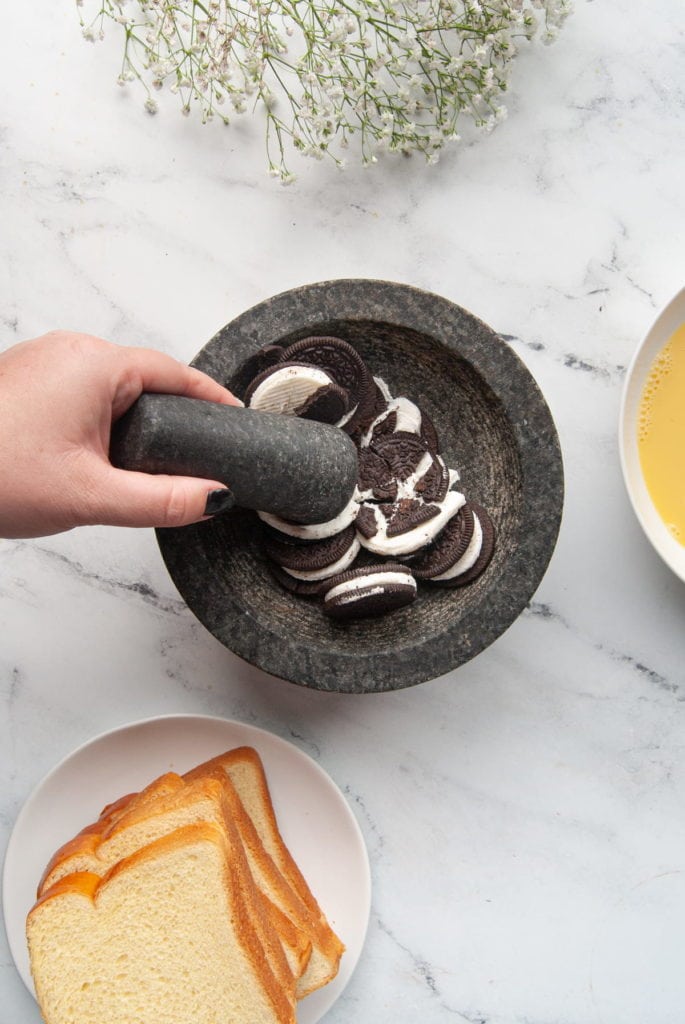 Set Up an Assembly Line
To get the best texture, it's important to work quickly.
Get a pan hot over medium heat and add the butter. Then, set up a little assembly line. The egg wash, the crushed Oreo, and your hot pan.
You want to make it easy to swiftly dip your bread into the egg wash, then the crushed Oreo, and then transfer it to your pan.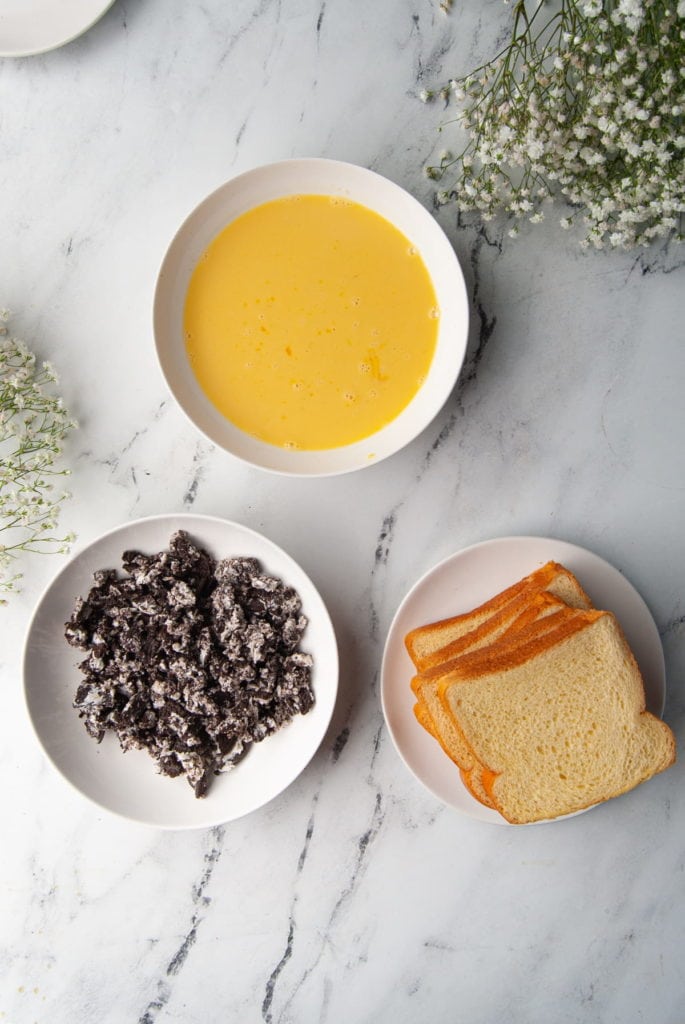 Dip, Don't Soak
To avoid your French toast getting too soggy, don't leave your bread in the egg wash to soak.
Just give it a quick dunk on both sides and then transfer it to your bowl with crushed Oreo.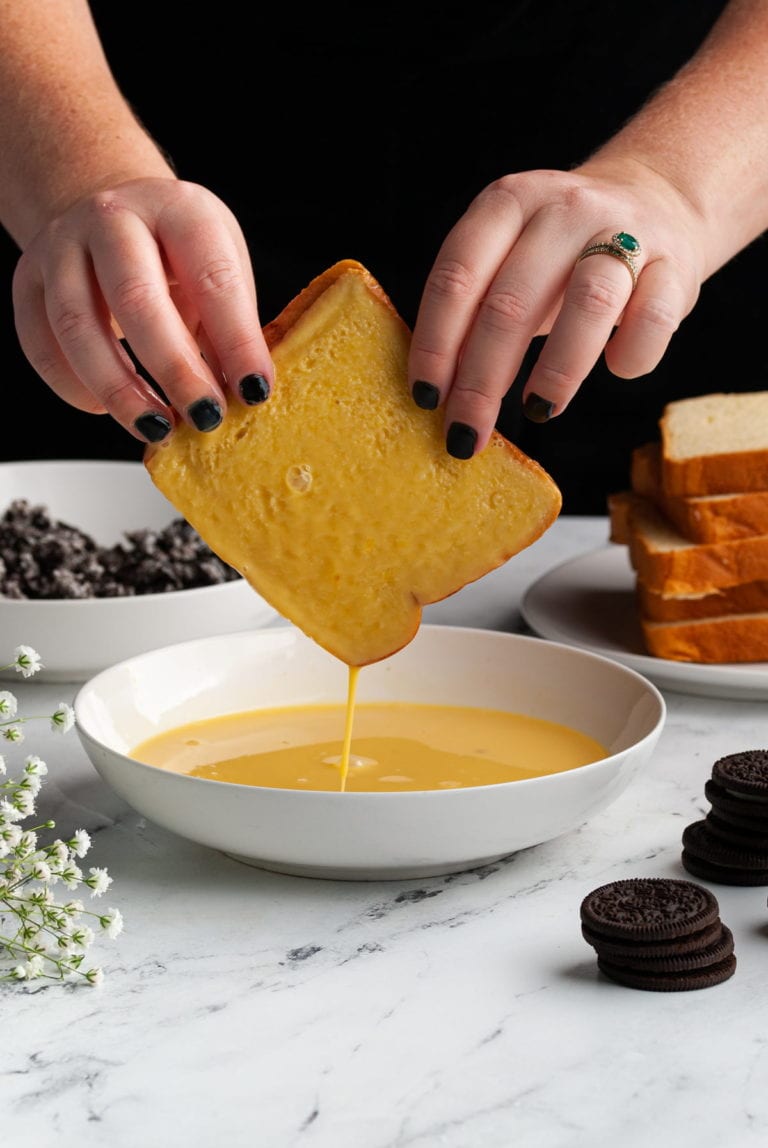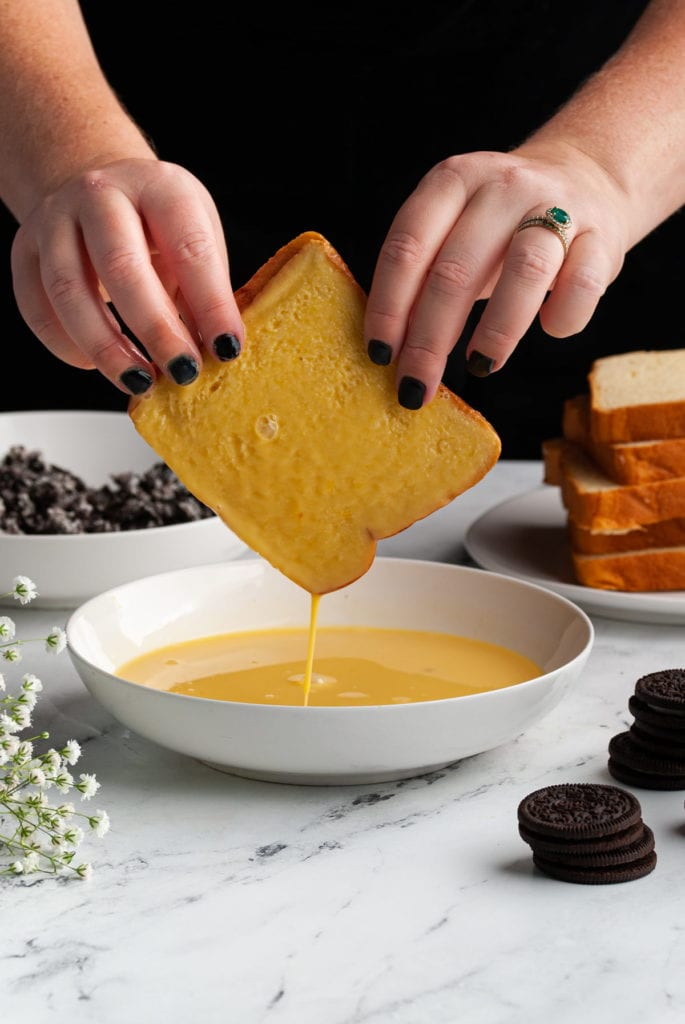 Use Your Hands to Coat
When you add your egg wash-dipped bread to the bowl with crushed Oreo, the finer-crushed Oreo should stick, but the bigger pieces probably won't.
Use your hands to press some bigger pieces of Oreo to the outside of your bread for the optimal texture and flavor.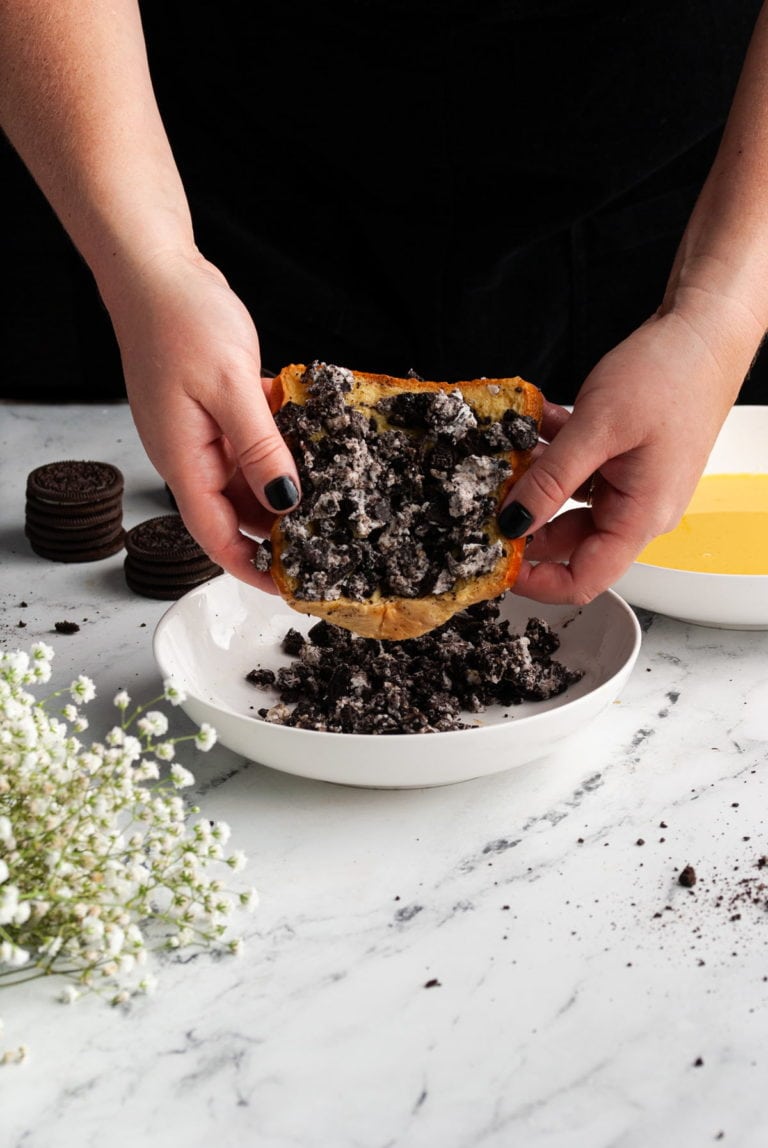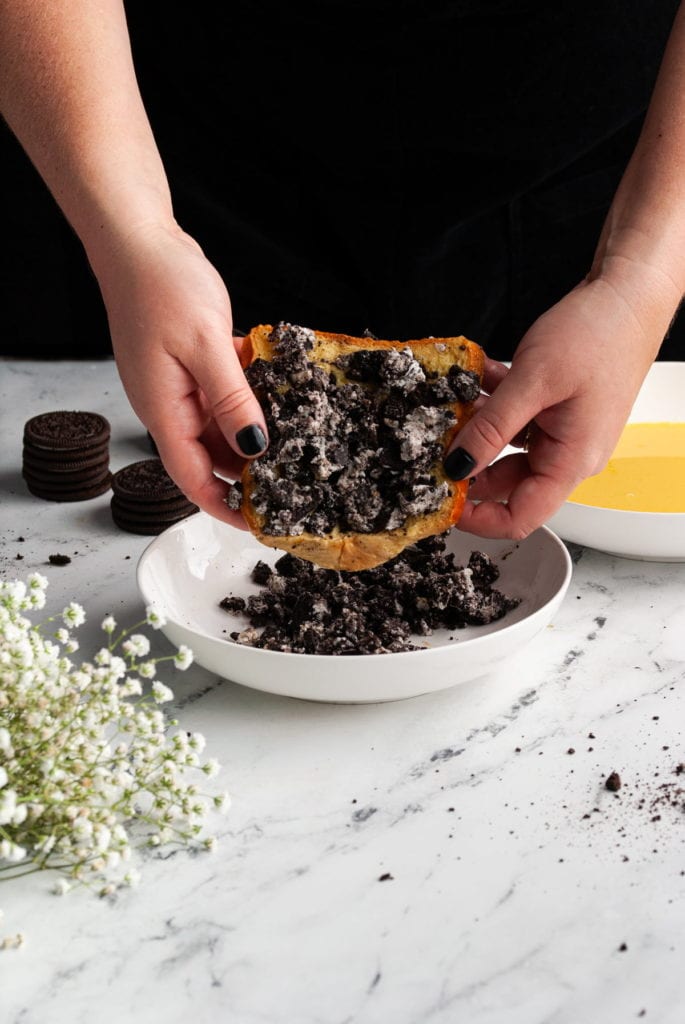 Whip Up Your Glaze
When making your glaze, it's important to whip your cream cheese first to loosen it. This will make it easier to integrate powdered sugar.
Then, add the powdered sugar and whisk again until smooth. Add the milk, a little at a time, whisking in between. You may not need all 3 tablespoons.
Once your glaze starts to easily drip off your whisk, stop adding milk. You don't want it to be too thin.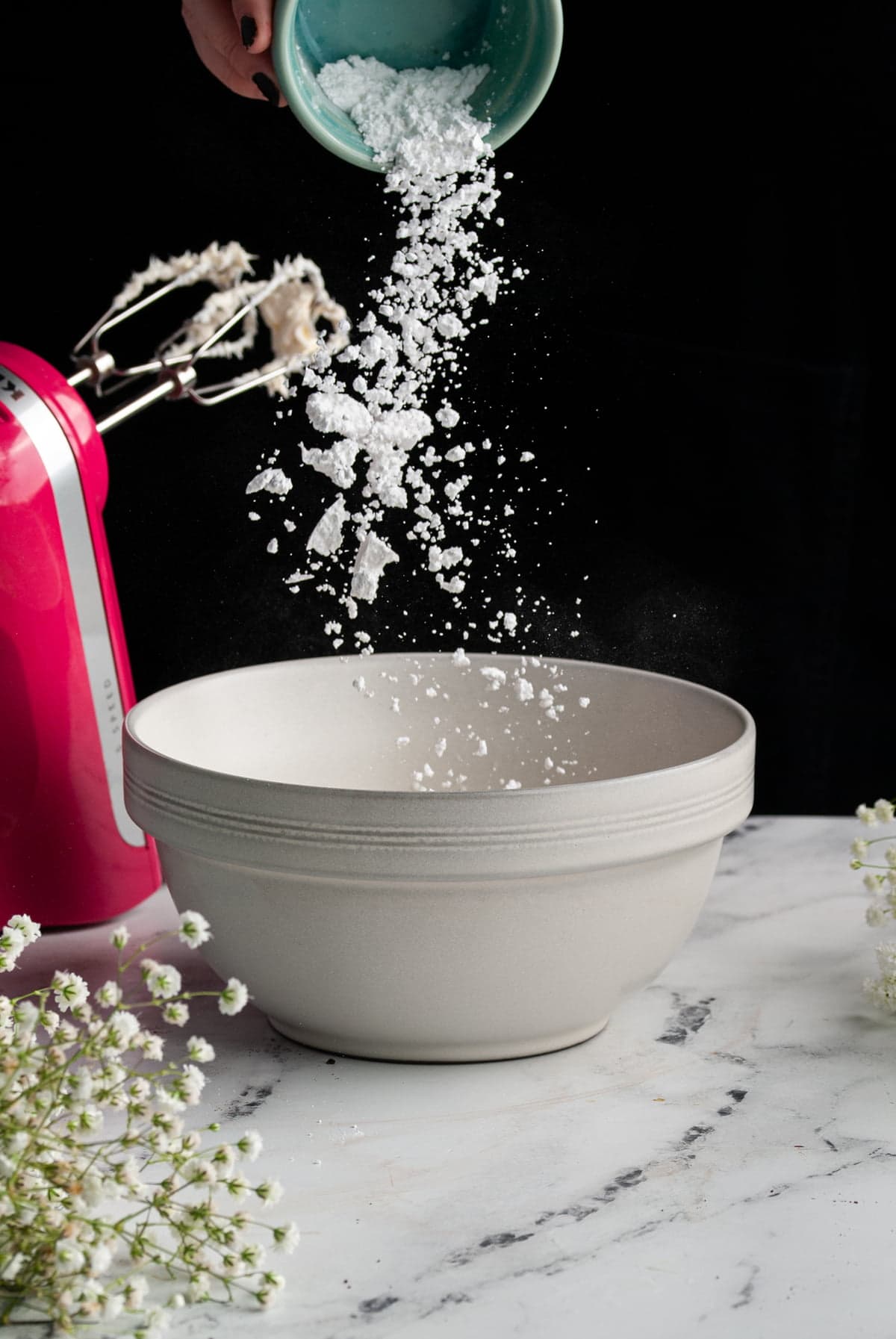 Keep it Warm in the Oven
If you are not serving the French toast right away, preheat your oven to 200°F. Lay each slice on a baking sheet lined with parchment paper or a reusable baking mat and keep it warm in the oven.
When the French toast starts to cool, the Oreo solidifies to form a crust. If you stack the French toast right out of the pan, it will stick together.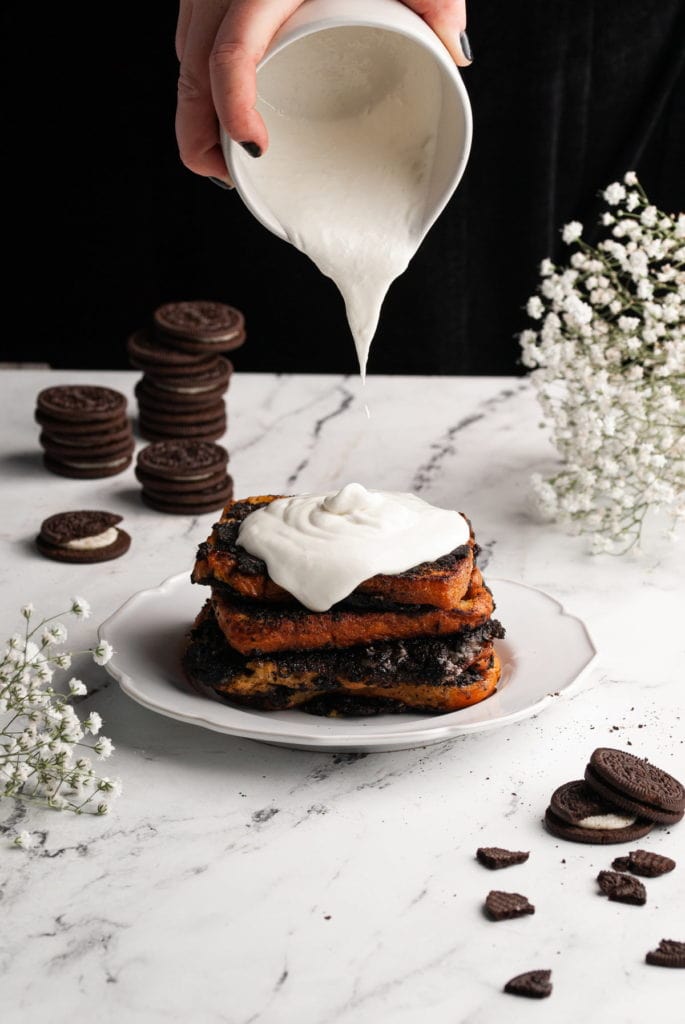 How to Store and Reheat Oreo French Toast

French toast will stay delicious for 5-7 days in an airtight container in the refrigerator after preparing it. You can also freeze it for up to a month!
From the fridge, reheat on a frying pan for about 5 minutes on each side, until thoroughly heated. You can also reheat French toast in the toaster oven or the oven at 375°F for 10 minutes from the refrigerator or 15 minutes from frozen.
The microwave will work in a pinch, but it does tend to make it a little soggy.
If you have extra egg wash, you can save that, too. Store it in an airtight container in the refrigerator to make more French toast (Oreo or not!) over the next 2-3 days.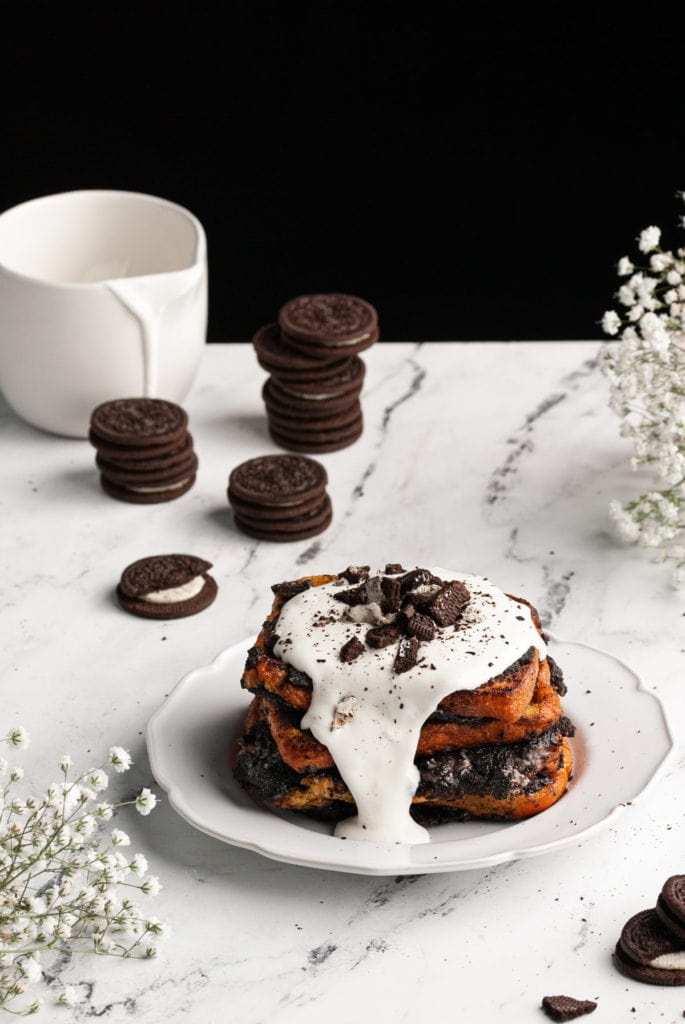 Why You Should Make This Oreo French Toast
---
The texture. Soft and pillowy on the inside with a crispy crunchy cookie exterior.
It's fun! What's more fun than cookies for breakfast?
It's a real treat! Is it brunch? Is it dessert? Whatever meal you choose to have this for, it can only be described as epic!
If you're loving this Oreo French Toast and want more fun Oreo recipes, check out this 3-Ingredient Strawberry Oreo Milkshake and Chocolate Mint Pie with Oreo Crust.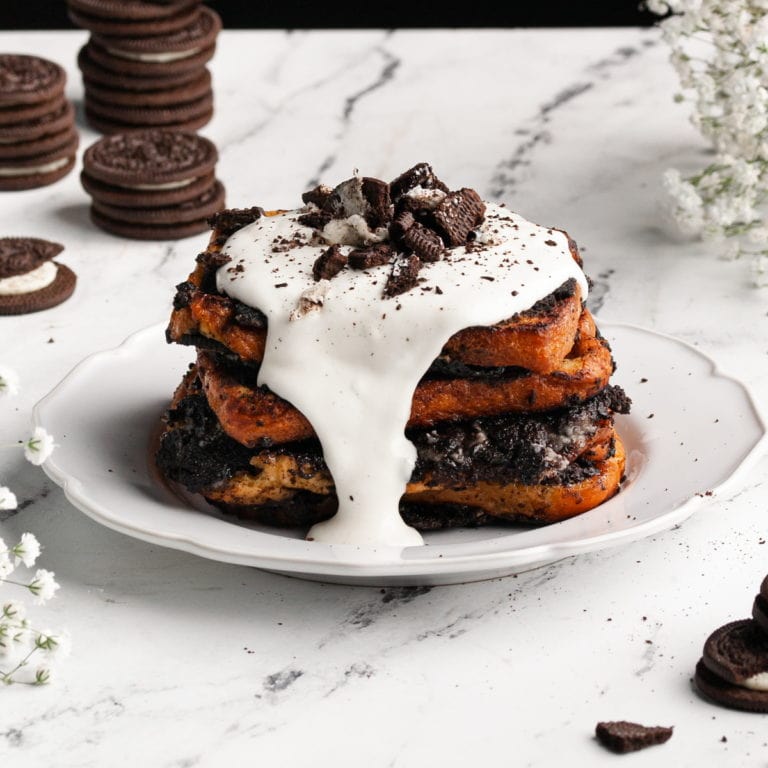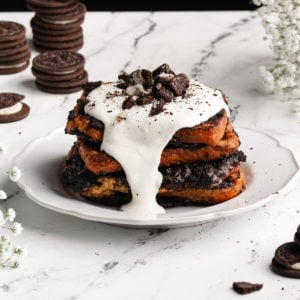 Epic Oreo French Toast
PRINT
PIN
RATE
This next-level Oreo French Toast is outrageously delicious with a soft center and crispy cookie outer crunch.
Ingredients
Oreo French Toast
3

large

eggs

¼

cup

milk

1

teaspoon

vanilla extract

10

Oreos, crushed

6

slices

bread

(Brioche or Challah preferred)

4

tablespoons

unsalted butter, for frying
Cream Cheese Glaze (optional)
2

ounces

cream cheese

¼

cup

powdered sugar

3

tablespoons

milk

(cows or unsweetened non-dairy)
Instructions
Oreo French Toast
Crack your eggs into a shallow bowl and add the milk and vanilla extract. Whisk until smooth and set aside.

Crush your Oreos (with a mortar and pestle or by adding them to a bag and crushing with a rolling pin) and add them to a second shallow bowl. Ideally, you will have some Oreos crushed into fine dust with some larger chunks remaining.

Add about 2 tablespoons of butter to a large frying pan and get it hot over medium heat.

Working quickly, dip one slice of bread at a time in the egg wash, coating both sides, and then move it to your bowl with crushed Oreo. You may have to use your hands to press in the larger chunks to get an outer Oreo crust. Make sure to cover both sides.

Then, transfer the coated bread to your hot pan, frying for about 3 minutes on each side. Repeat for all 6 slices of bread, adding butter to the pan as needed.

Rest French toast to a baking sheet lined with parchment paper or a reusable baking mat and keep warm in the oven at 200°F until ready to serve.
Cream Cheese Glaze (Optional)
Add cream cheese to a mixing bowl and use a hand mixer on high to whip cream cheese until smooth (about 1 minute).

Add the powdered sugar and whip again until completely integrated.

Slowly add milk, about 1 tablespoon at a time, whisking in between. Once the glaze starts to easily fall off the whisk, stop adding the milk. Please note: you may not need all 3 tablespoons!

Serve over warm Oreo French Toast and enjoy!
Pro Tips
Depending on the size of your eggs, there will be enough egg wash for 4-6 slices of French toast.
Don't overcrowd the pan—it will make your French toast harder to flip.
It's best just to dip the bread in the egg wash, rather than letting it soak. This will help you avoid soggy French toast.
Can't get enough French Toast? Check out this list of my best French Toast Recipes—Ouh là là!
Did you make this recipe?
Let me know by leaving a recipe rating below, or by tagging @marleysmenu on Instagram.