Lox and Schmear. I'm either speaking your language or you're utterly confused. Lox and Schmear is the Yiddish way to describe a bagel topped with smoked salmon and cream cheese—a staple in Jewish American cuisine.
I know, YUM. And this Lox and Schmear Omelet is just that.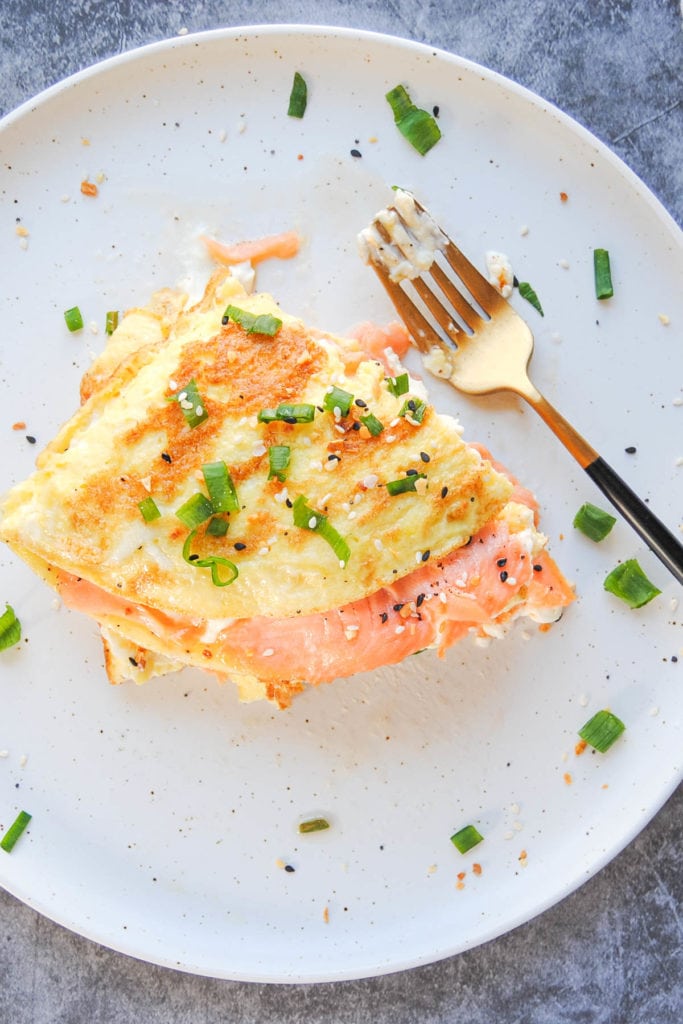 Tradition, to me, means Sunday bagels piled high with toppings and a steaming hot coffee.
Usually with some kind of sporting event commentary blasting from the living room (which, because of my British husband, is soccer 99% of the time) and sunlight streaming into the kitchen while the toaster pops up and makes that satisfying "ding" sound.
Are you getting a cozy, delicious-smelling picture yet?
I mean, c'mon, who doesn't love bagels? My favorite breakfast is undoubtedly an everything bagel with lox and schmear.
So classic.
But there are those (rare) moments where you are just on carb overload and want all the flavoring of a bagel without the huge hunk of bread. This lox and schmear omelet is for those times.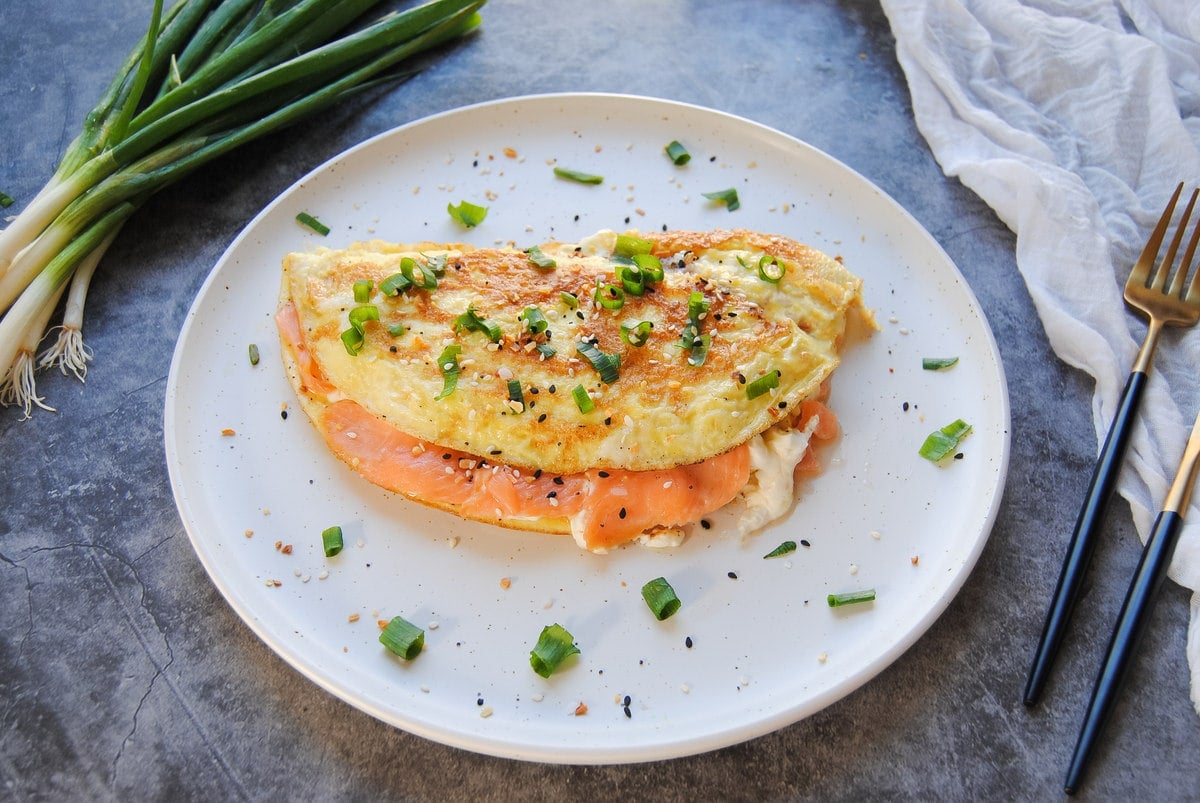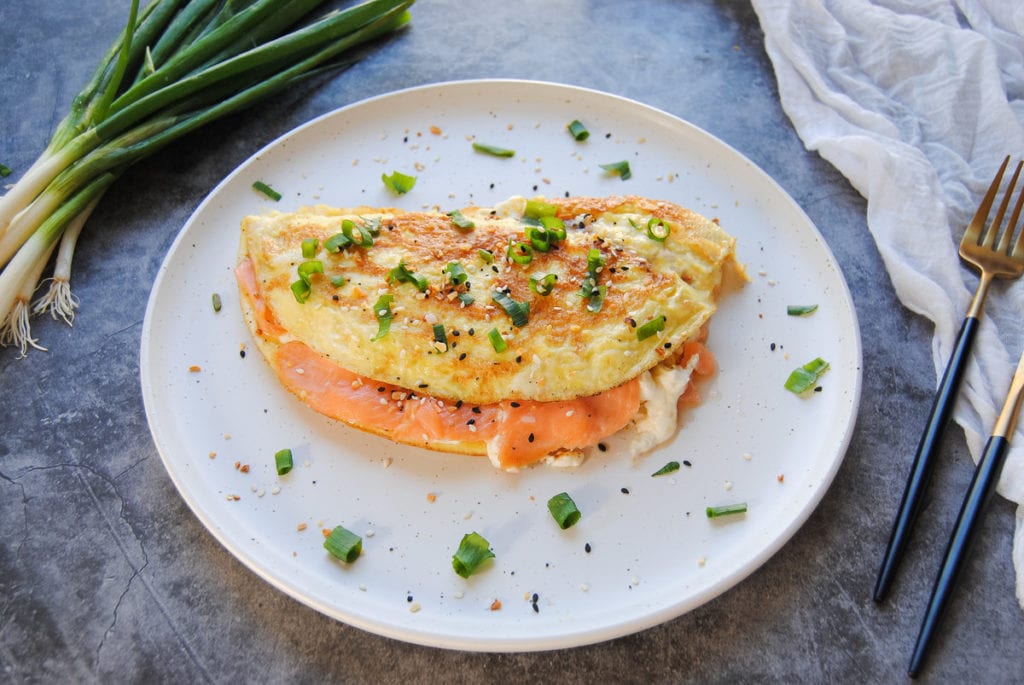 Lox and Schmear Omelet Main Ingredients
---
You can buy bagel seasoning or even make your own (just combine poppy seeds, sesame seeds, and dried onion and garlic).
…Or you can do it the thrifty way.
You know when you bring home your everything bagels and it feels like half the goodness has fallen off and is sitting at the bottom of the bag?
SAVE THOSE CRUMBS. I use them for all kinds of recipes! Including my Baked Soft Pretzels.
As far as the cream cheese goes, you can use a block, whipped, or cream cheese spread – they all work! I always have blocks of cream cheese in my house, so it's usually what I use.
If that's the case for you, too, you'll have one extra step to thin out the cream cheese. It just makes it easier to dollop onto the omelet.
There are tons of options for smoked salmon. The two most common you'll generally find are Nova and Lox. While both absolutely work for this recipe, lox will give you a more authentic bagel taste. Keep in mind, lox is very salty!
It's cured in a super-salty brine. While I'm usually a huge proponent of salting your eggs, I would resist the urge to do so here.
Green tip: Look for pasture-raised eggs (over free-range or cage-free) to support agriculture that is less reliant on chemicals and fossil fuels.
The Chopstick Method
---
The best-kept secret to fluffy eggs. It's as simple as it sounds. Use a chopstick to whisk your eggs while they are cooking in the pan.
The thin chopsticks break up the eggs and create a fine curd, which fluffs your eggs like a cloud of cotton candy. Fluff over flat any day. You can totally use this method for scrambled eggs, too!
For other yummy breakfast ideas, check out this blog post on 5 Creative Avocado Toasts, this Captain Crunch French Toast, and this Spicy Feta Shakshuka.
Lox and Schmear Omelet
PRINT
PIN
RATE
This is an everything-but-the-bagel Lox and Schmear Omelet for when you're craving your breakfast favorite, but don't want all the carbs. Salty, creamy, delicious.
Ingredients
4

large

eggs

2

tablespoons

milk

1

pinch

of pepper

2

ounces

smoked salmon

2

tablespoons

cream cheese

1

tablespoon

butter or olive oil

1

scallion

(optional)

1

pinch

of bagel seasoning

(optional)
Instructions
Whisk eggs with 1 tablespoon milk and add a pinch of pepper.

Prep your lox by slicing it into pieces, and chop your scallion. If you're using a block of cream cheese, add 1 tablespoon of milk and whip to loosen. Melt your butter or oil in a large pan over medium heat.

Add eggs to the pan and use a chopstick to stir quickly until it starts to scramble.

Add a thin layer of cream cheese mixture to one half of egg in little dollops.

Heat until the egg is almost completely cooked through. Then, add a thin layer of smoked salmon on top of your layer of cream cheese.

Fold in half to form an omelet and move to the middle of your pan. Cook for another 30 seconds and then flip. It should be golden brown on the bottom.

Cut in half and serve hot with scallions and pinch of bagel seasoning on top.
Pro Tips
You can buy bagel seasoning, make your own (just combine poppy seeds, sesame seeds, and dried onion and garlic), or simply save the extra toppings that fall off your bagel.
I use the "chopstick method" every time I make eggs. It whips air into the eggs while their cooking and makes them oh so fluffy. If you don't have chopsticks, don't fret! You can use other small utensils with the same success. I just use chopsticks because they don't seem to destroy my nonstick pan.
While I usually always recommend salting your eggs, I would urge you not to for this recipe. The lox and bagel seasoning are both salty components that add enough salinity to the dish.
Did you make this recipe?
Let me know by leaving a recipe rating below, or by tagging @marleysmenu on Instagram.