It doesn't have to be Chanukah to enjoy Great Grandma's Traditional Potato Latkes. This simple, delicious recipe has been in our family for four generations, and never fails to impress- there's no way we could only have them eight nights out of the year!
The tradition is based on the miracle of Chanukah where a ration of oil meant for one day lasted eight days and nights. And I fully embrace eating oily fried foods… all for the sake of Chanukah, of course.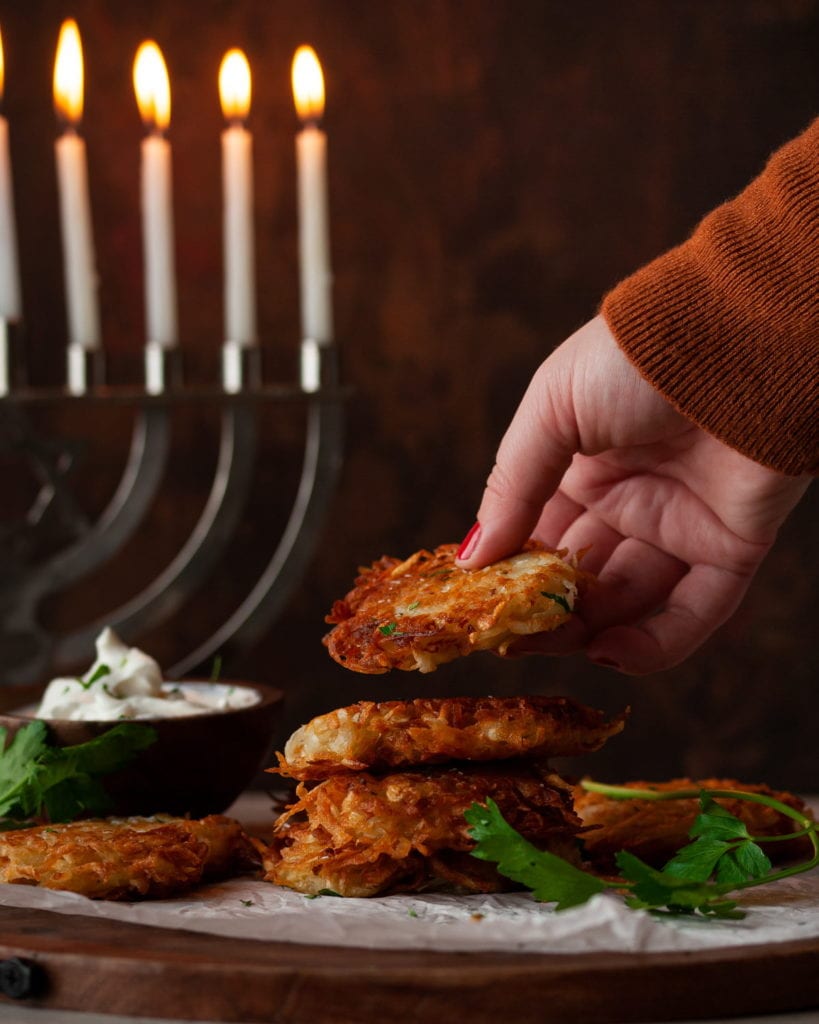 Traditional Potato Latkes Tips and Tricks
---
Don't Cut The Cheese…
…but do grab your cheese grater and cheese cloth.
Despite the fact that there is no cheese in this recipe, both of these tools are super useful!
You will use your cheese grater to shred both your potatoes and onions once they are peeled.
Using a cheesecloth is the most efficient way to remove any extra liquid from the potatoes and onions. If you don't have a cheese cloth, you can simply use your hands to squeeze the shredded potatoes and onions over the sink to release the extra liquid.
Get the mixture as dry as you can before adding the egg and flour to get the crispiest possible exterior and to avoid too much hot oil splattering out of your pan!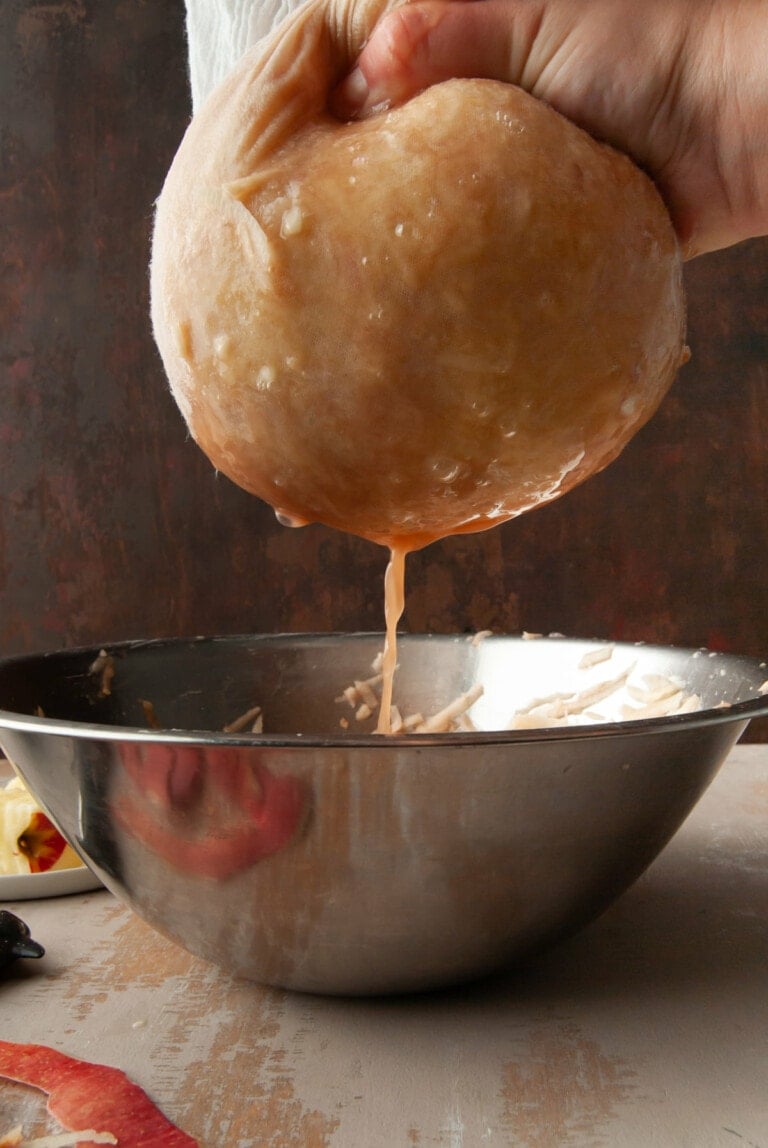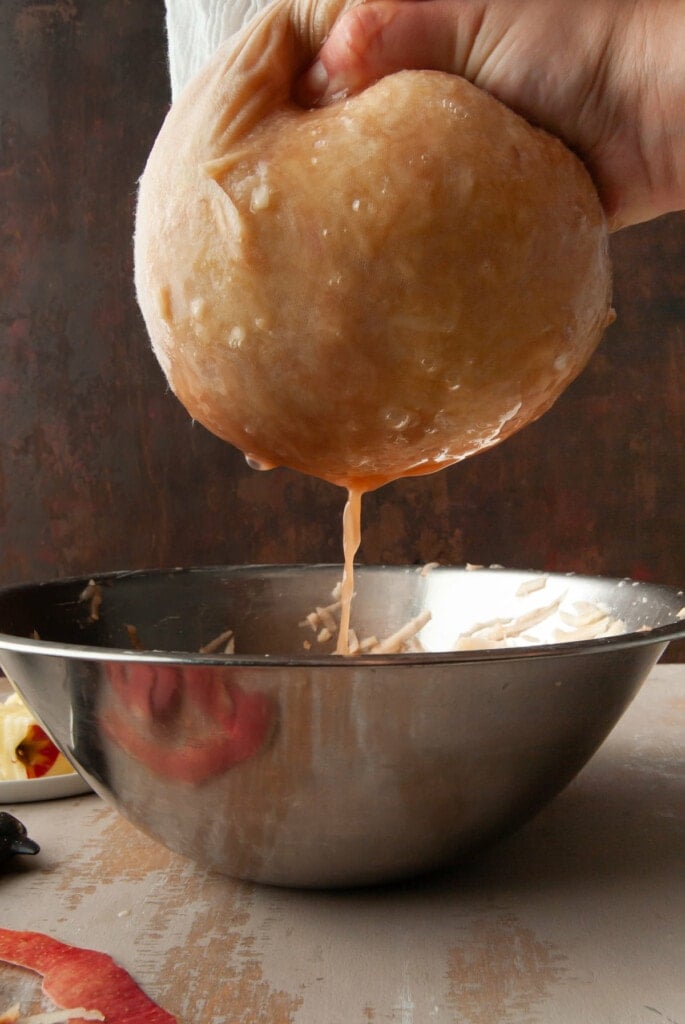 You'll Need Binders
Not the organizational kind. The keep your latkes from falling apart kind.
You'll need an egg and some flour to help bind these together. For four medium-sized potatoes, one egg and one and a half tablespoons of all-purpose flour is just right.
Adding too much of your binders will make your latkes cakier. This recipe yields about 14 latkes. If you need more, I would highly recommend doubling the recipe instead of just chucking in some extra potatoes. I've been making these for YEARS and find the ratio of potato to egg and flour is critical to getting that perfect latke.
Green tip: Look for pasture-raised eggs (over free-range or cage-free) and organic flour to support agriculture that is less reliant on fossil fuels and chemical fertilizers and pesticides.
In Love with the Shape of You
Though latkes are most likely not the subject of Ed Sheeran's worldwide hit song, it still applies here.
Shaping the latkes is as simple as using two hands to form your mixture into a ball, dropping it into your hot oil, and then using a spatula to flatten it out! The flatter you get 'em, the crispier that crunchy exterior there will be. Don't be shy with the spatula!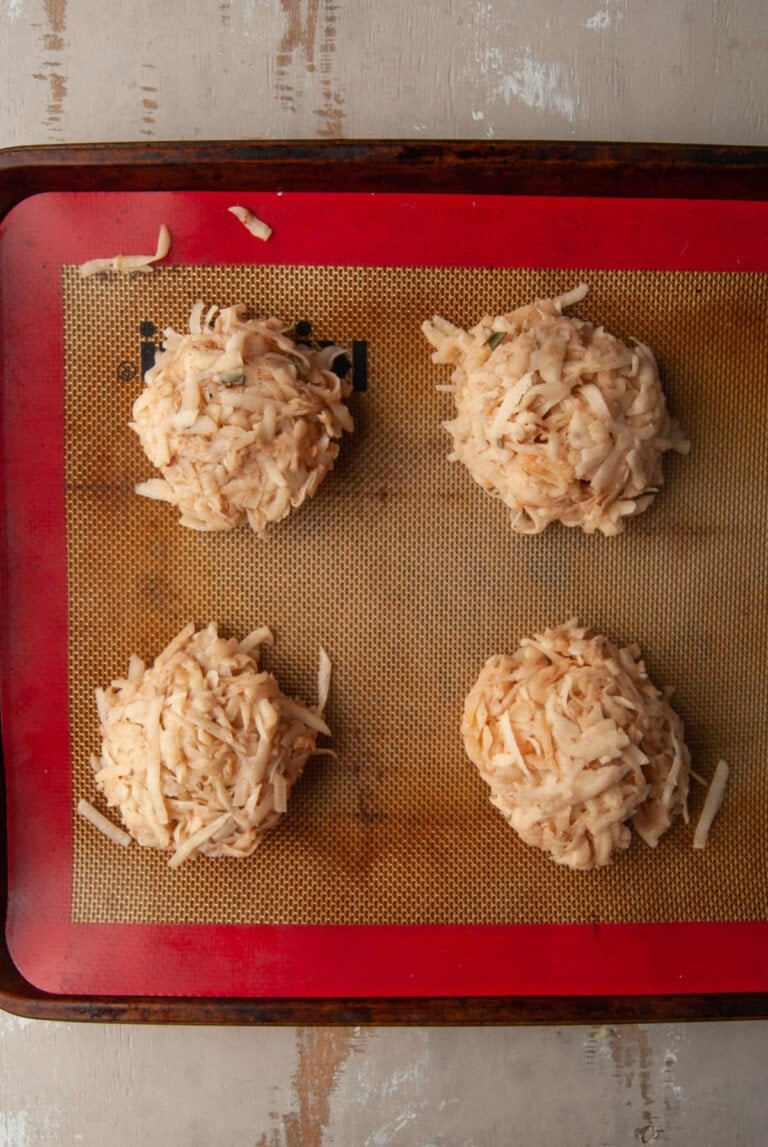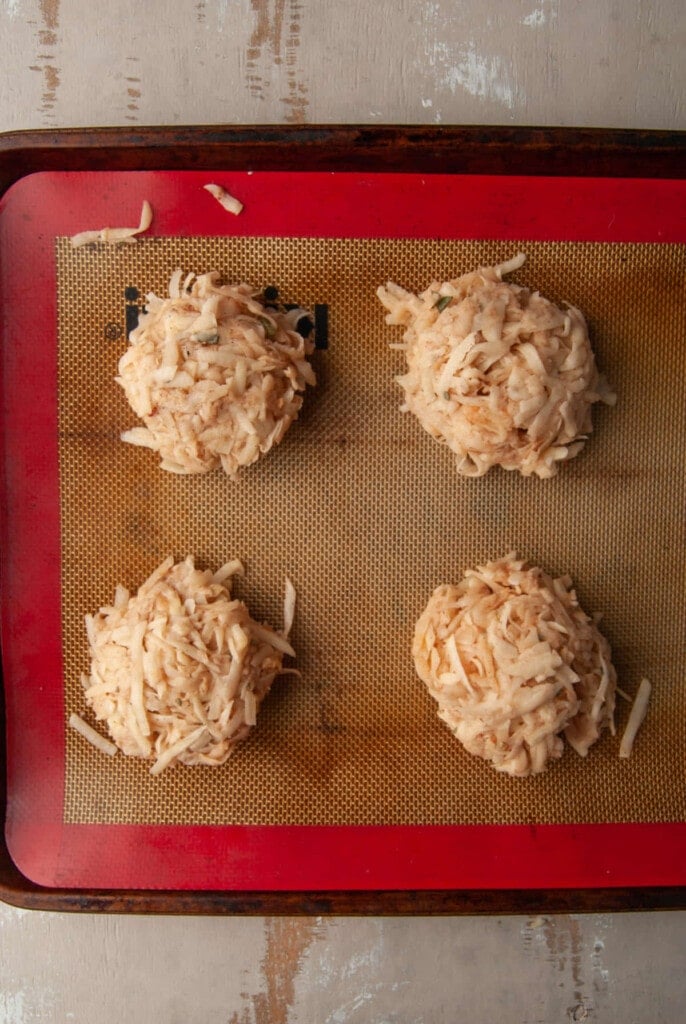 Dip Your Toes In Before You Cannonball
Always test that your oil is hot before dropping your latkes in. I find that five minutes over medium heat does the trick. You should have about an inch of oil in your pan.
Drop a shred of potato in and if it sizzles right away, adult swim is over! Your latkes are ready to dive right in!
Fry them up until they are golden brown on both sides.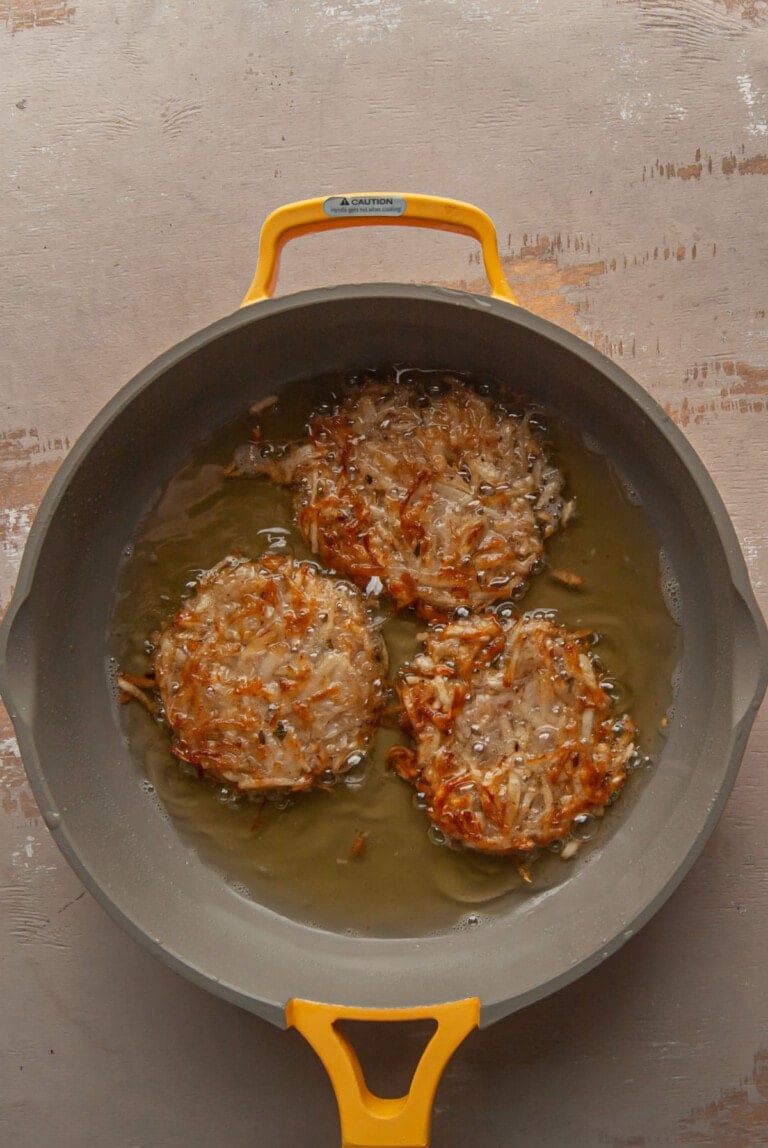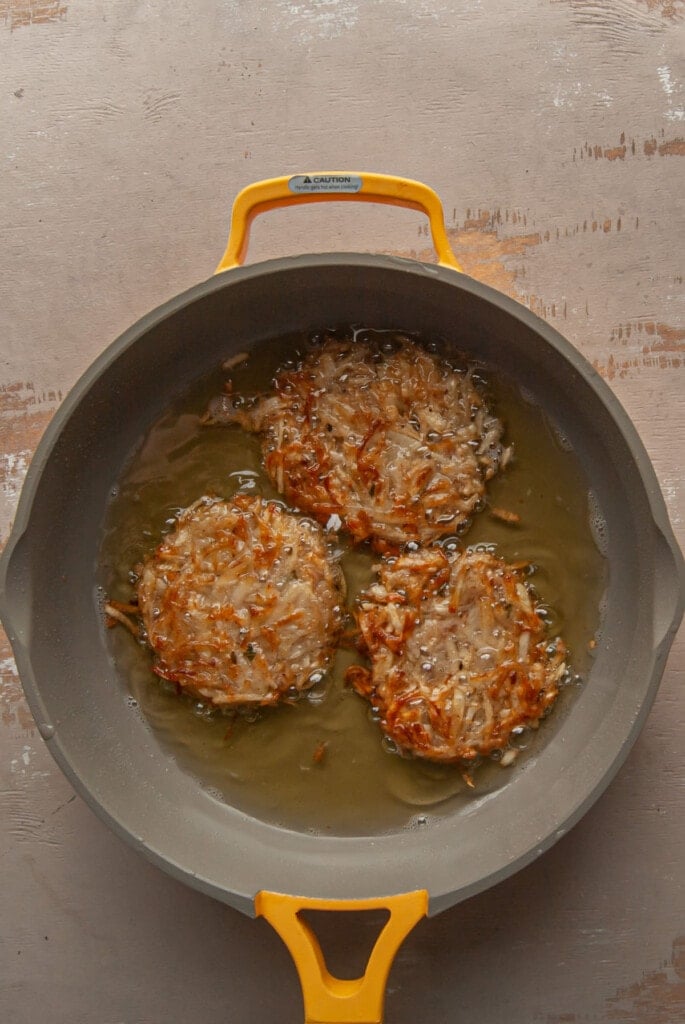 Soak Up the Excess Oil
When your latkes are done frying in the pan, transfer them to a double layer of paper towels to soak up excess oil.
Green tip: Paper products contribute to deforestation. Consider these bamboo paper towels! Bamboo naturally regenerates every few months, whereas trees cannot regrow once harvested.
As you're cooking the potato latkes, continue to add more oil as needed to ensure they are always submerged.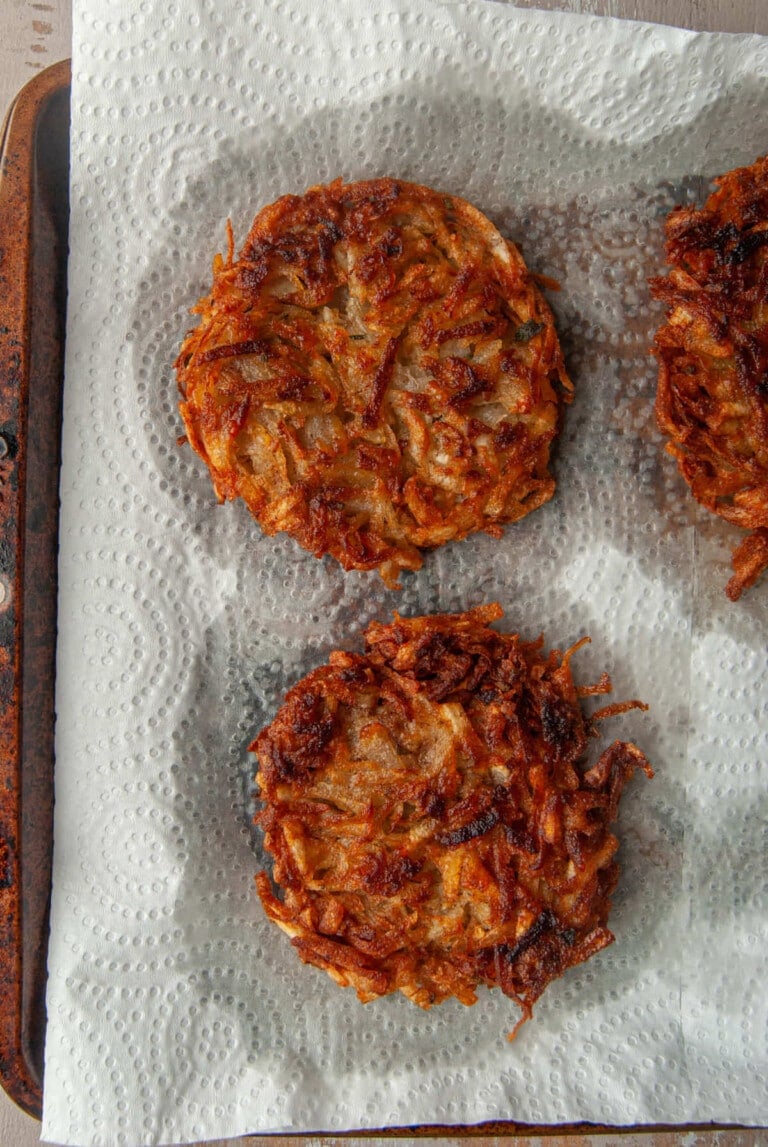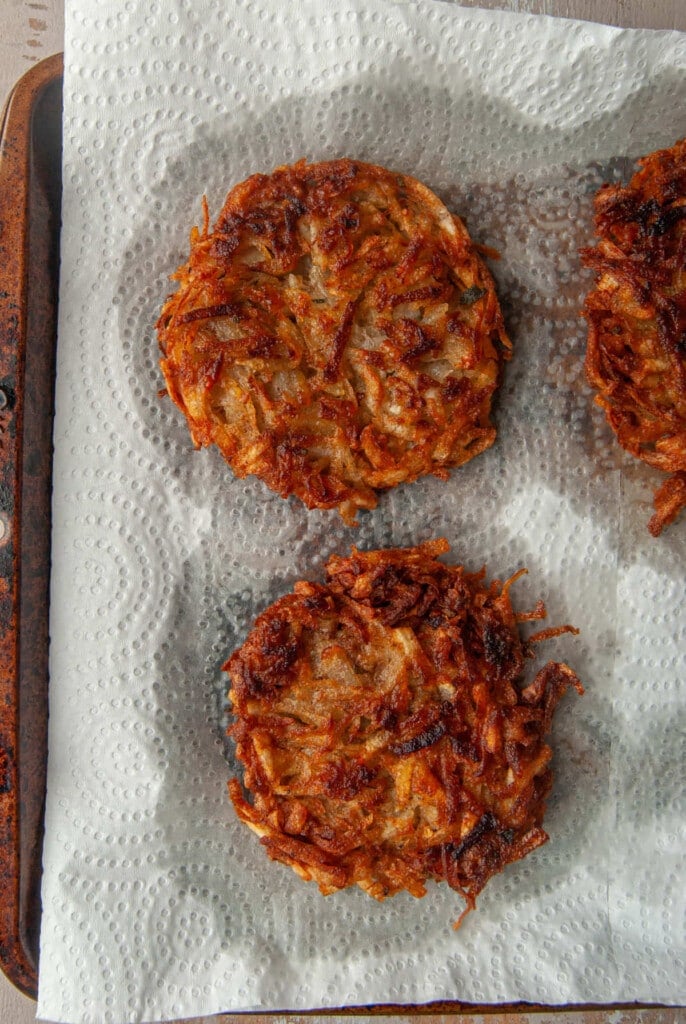 Grab Your Crew!
I have the best memories growing up of making these with my family. We would all be in the kitchen with music on, rolling up our sleeves, and forming an assembly line to make enough latkes for our annual Chanukah party!
We had a potato peeler (the most coveted position), an onion chopper and peeler, a grater, and a flipper.
You may have to flip a coin to decide who has to cry over the onions, but it makes for a wonderful family activity and the best memories.
Want to sharpen your kitchen skills?
The Swiss Army Knife of Appetizers
These golden brown beauties are the swiss army knife of appetizers because they can be served so many different ways.
The most traditional savory way to serve them is with sour cream. I like to crack on some salt and pepper, garnish with fresh parsley or scallions, and finish with a dollop of sour cream.
My dad controversially eats them with ketchup, and I have been known to dip them in honey mustard or ranch on occasion, too.
The traditional sweet way to serve these up is with applesauce. I like to garnish with a little sugar and cinnamon and dip them into some unsweetened apple sauce.
Basically, these Traditional Potato Latkes are a sauce-lovers' dream because I can't really think of a dip that wouldn't taste amazing with these latkes!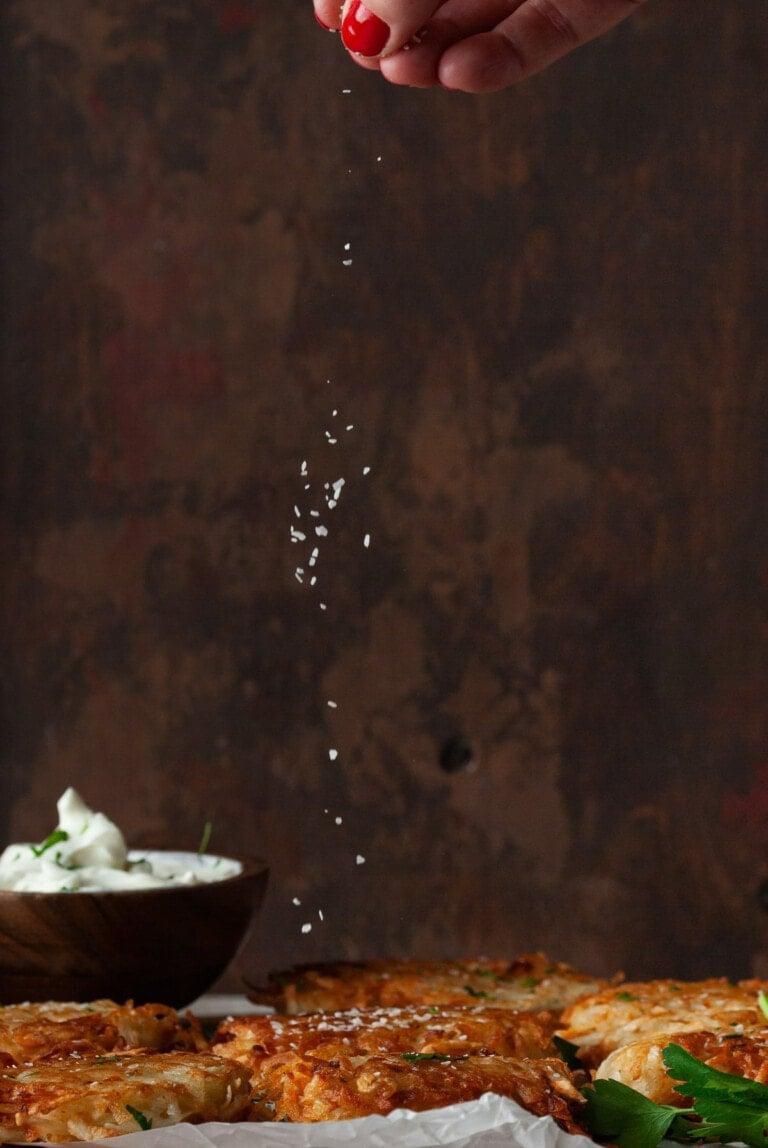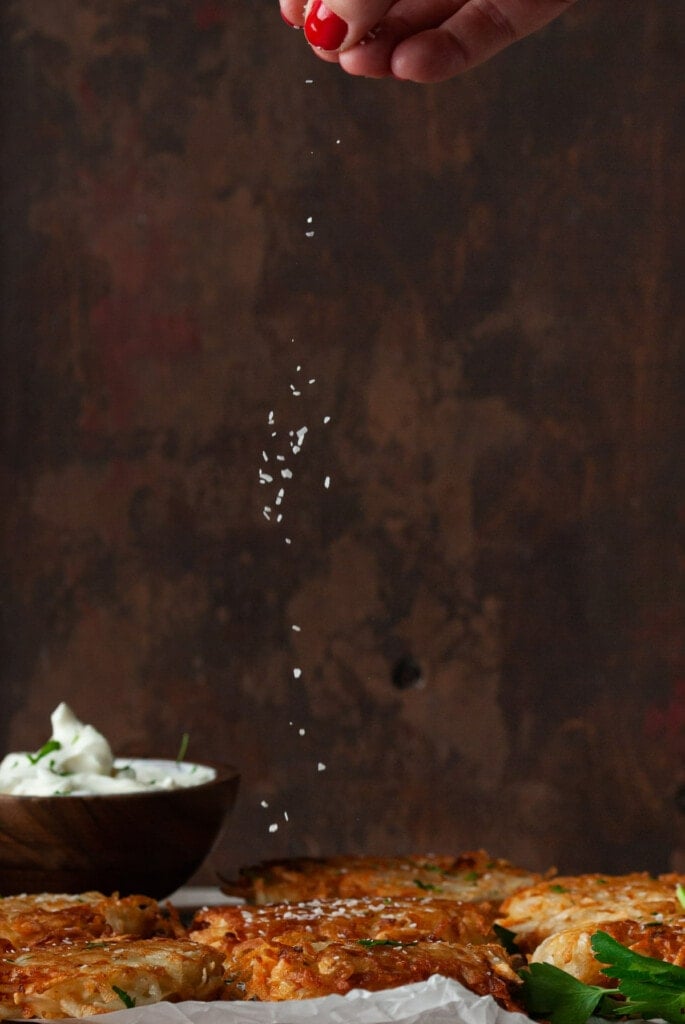 How to Store and Reheat Potato Latkes
First of all, you deserve a self-control award, because these are gone sooner than I can flip 'em in my house!
But in the rare occasion that you do have leftover Traditional Potato Latkes, they are super easy to reheat! 400°F in the oven until they are nice and crispy will have them tasting as delicious as ever. They are usually perfect after about 8-10 minutes.
Resist the urge to reheat them in the microwave, they will come out hot and soggy. Womp, womp.
Green tip: Did you know that of the billions of pounds of food wasted annually, it is estimated that 50% of it happens in our homes. It's always best to avoid food waste as much as you can by eating up those yummy leftovers!
Why You Should Make Great Grandma's Traditional Potato Latkes
---
They're classic. Nothing more traditional than a recipe passed down 3 generations!
They're crunchy. That crispy exterior is everything you want from a fried potato!
They're versatile! Enjoy them savory with a dollop of sour cream or sweet with apple sauce.
If you're loving Great Grandma's traditional potato latkes and want more delicious appetizers, check out this Whipped Ricotta Crostini and Sweet Potato Hummus!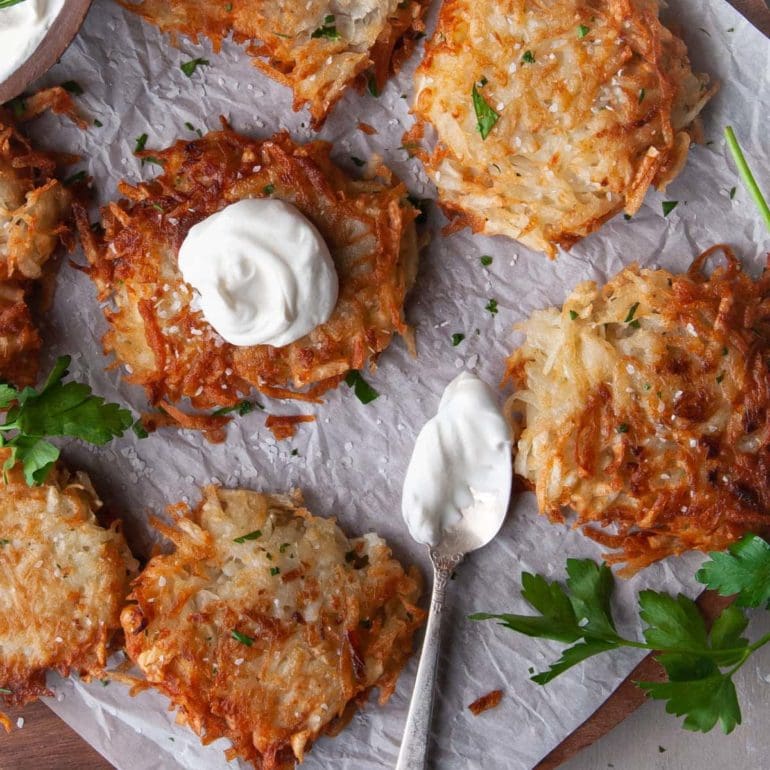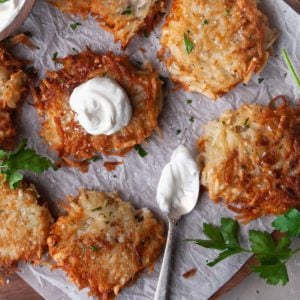 Great Grandma's Traditional Potato Latkes
PRINT
PIN
RATE
Great Grandma's Traditional Potato Latkes are the tastiest part of Chanukah with their crispy golden brown exterior and hint of salt and onion.
Ingredients
2

lbs

russet potatoes

(shredded | 2lb usually = 4 medium-sized potatoes)

1

large

yellow onion

(shredded)

1

large

egg

1 ½

tablespoons

all-purpose flour

½ – 1 ½

cups

mild olive or vegetable oil

salt and pepper to taste

fresh parsley or cinnamon for garnish

(optional)
Instructions
Peel your potatoes and shred them with a cheese grater.

Chop onions, remove outer layers, and shred them with a cheese grater, too.

Mix the shredded potatoes and onions and use a cheesecloth to drain excess liquid.

Add the egg, the flour, and a crack of salt and pepper and use your hand to mix well.

Warm oil on the stove over medium heat. You should have about 1 inch of oil in your pan. After a couple of minutes, make sure your oil is hot by tossing a piece of potato in. If it starts sizzling right away, your oil is ready!

Shape latkes with your hands by grabbing a handful and forming round balls.

Carefully drop the latkes into the hot oil and use a spatula to press down to flatten them. When you see the edges starting to brown, flip and cook until crispy and golden brown on both sides (about 5 minutes each side). As you continue to cook more latkes, add more oil as needed.

When the latkes are ready, transfer them onto a paper towel to soak up excess oil.

Add salt and pepper to taste, garnish with parsley and serve with sour cream or garnish with cinnamon and serve with apple sauce.
Pro Tips
Always make sure your oil is hot before adding your latkes!
Keep adding oil as needed
Reheating these is easy! Just put them in the oven at 400°F until crispy and warm all the way through- usually 8-10 minutes.
Consider these bamboo paper towels for a more sustainable paper towel option.
Potatoes are the perfect anchor to any meal! Check out the collection of my best potato recipes.
Did you make this recipe?
Let me know by leaving a recipe rating below, or by tagging @marleysmenu on Instagram.