Have some day-old bread and egg whites to use up? Turn them into this outrageously delicious, crispy, and easy Egg White French Toast.
You won't even miss the yolks (or the extra cholesterol)! The cinnamon and brown sugar help to caramelize the outside of your bread to give you that perfect, fragrant, golden brown exterior.
As an environmental scientist, I am always trying to find ways to combat food waste.
Green tip: Bread is one of the most wasted food products in the U.S. because of our tendency to throw it out as soon as it's stale. Reduce your contribution to food waste by revitalizing your stale bread with this Egg White French Toast!
This is also my go-to dish when I make recipes that require only egg yolks, leaving me with extra egg whites!
Egg White French Toast Ingredients
---
---
Here's everything you need:
Day-old Bread. Truly any type of bread works, but a sweeter bread (like brioche or Challah) or mild-tasting (like white bread) is preferred.
Egg whites. Eggwash is critical to making any kind of french toast.
Milk. Cows or non-dairy. Or half 'n half or even heavy cream for moisture.
Brown Sugar. For a little bit of sweetness.
Vanilla Extract. For flavor.
Cinnamon. For warmth and spice.
Butter. To fry your bread in.
Maple Syrup. To serve your egg white french toast with.
Egg White French Toast Tips and Tricks
---
---
Separating Your Yolks and Whites
This recipe is great for using up egg whites if you are making something that only requires a yolk. It's also great to use all-whites liquid (egg whites that are sold already separate from their yolks).
But if you are planning to separate the whites from the yolks just for this recipe, it's very easy to do so!
To separate the egg white from the yolk is easily achieved by cracking your eggshell in half over a bowl and transferring the egg yolk back and forth between either half of the shell, allowing the egg white to fall into the bowl.
Save the egg yolk for these Margarita Cookies with Tequila Lime Glaze.
Green tip: Look for pasture-raised eggs (over free-range or cage-free) to support agriculture that is less reliant on chemicals and fossil fuels.
Whisk Your Eggwash Well
Add your milk, brown sugar, and cinnamon to the egg whites. Whisk your egg wash thoroughly to distribute your sugar and cinnamon, and to aerate it.
We want a smooth, creamy egg wash to dunk our bread in for a delectable French toast.
You may notice that the cinnamon clumps together and does not as easily combine with your egg whites, and that's okay! So long as your sugar is distributed evenly throughout the eggwash, you'll be able to get a nice caramelized golden brown on your egg white french toast.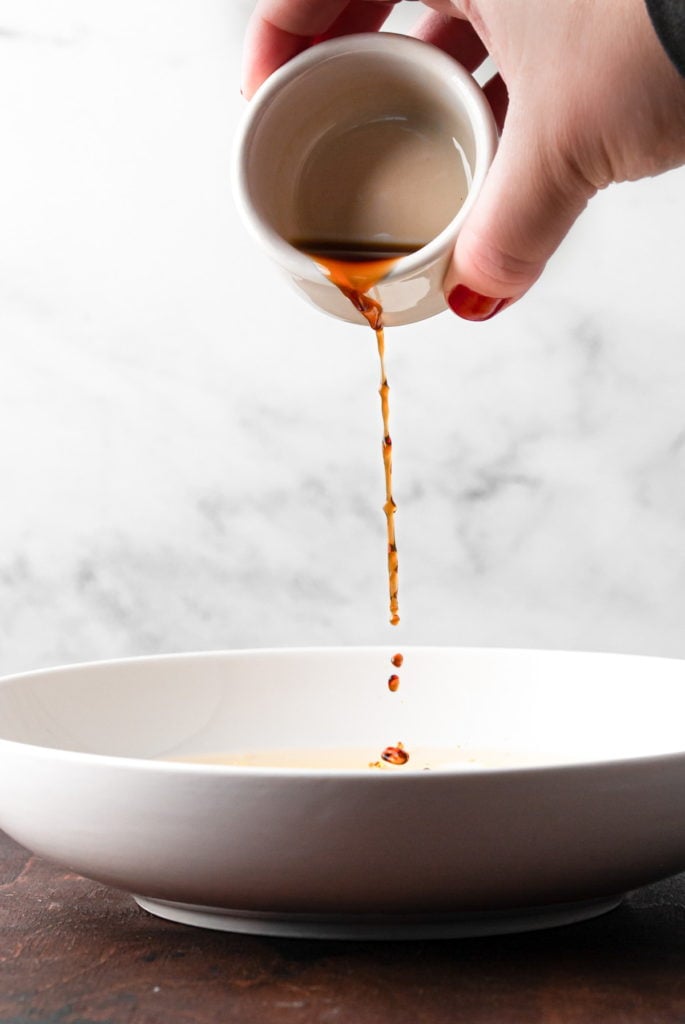 Get Your Pan Hot
Melt about a tablespoon of butter in a nonstick pan over medium heat. You want your French Toast to sizzle when it hits the melted butter.
This will just ensure you get a crispy exterior rather than a soggy toast.
Green tip: If you have an electric range, use a pan that both sits flat on and matches the size of your burner to make sure you are not wasting energy.
Do the Dip
For the best texture, you want to work fairly quickly. Just dunk your bread in the flavored egg whites, coating it on both sides, rather than letting it sit and soak.
Over-soaking the bread in the egg wash will likely lead to an overall mushy French toast.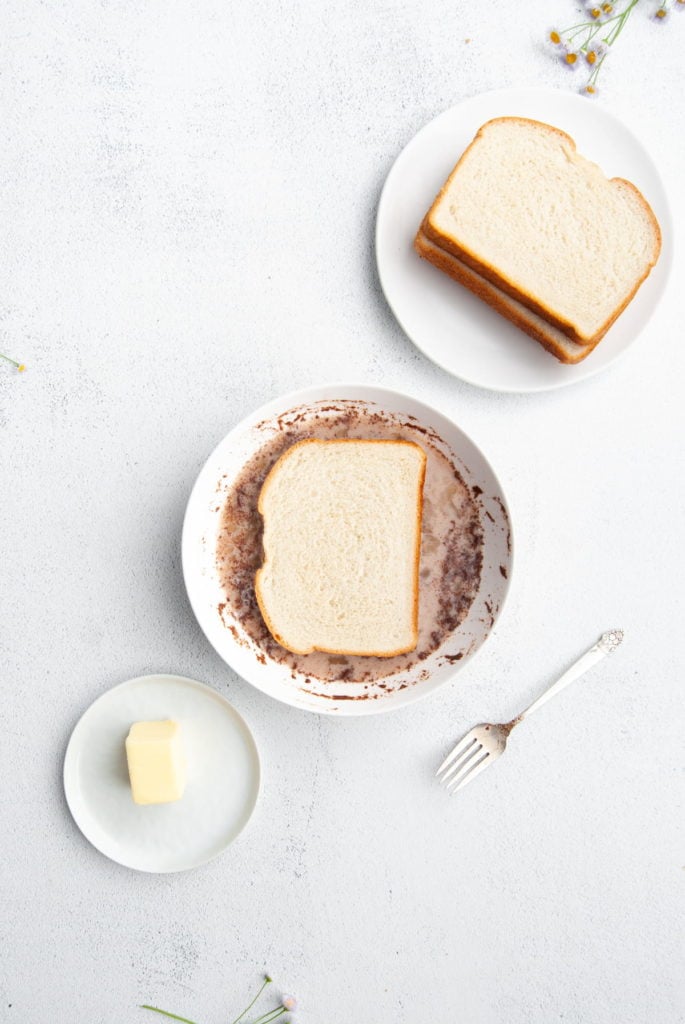 Get it Golden Brown
Your butter is already hot, so you should hear a nice sizzle sound as soon as you place your bread with egg whites in it.
Give your toast about 5 minutes before peeking underneath. If it's golden brown, then you know it is time to flip!
It's best to avoid overcrowding your pan to make it easier to flip. I usually just cook two slices of bread at a time.
Once you flip your Egg White French Toast, allow it to cook on the second side until both sides are golden brown. Again, this should take just about 5 minutes with your pan over medium heat.
Continue to add butter as needed, you should always have some on your pan for your french toast to fry in.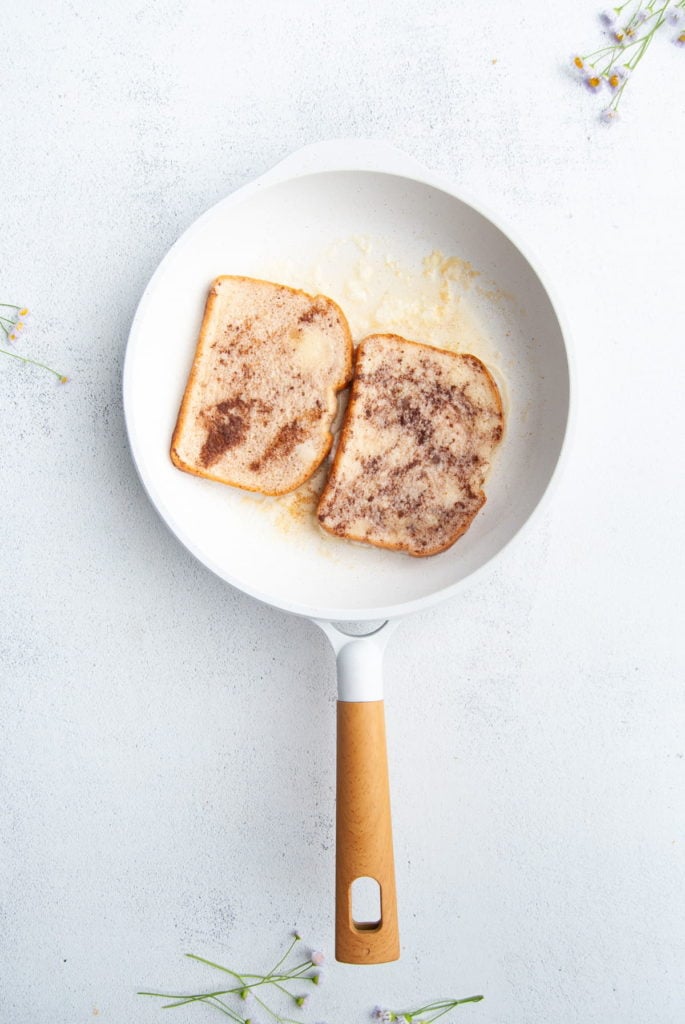 Should You Have Leftovers
French toast stays fresh and delicious for 5-7 days when it's wrapped and sealed and kept in the refrigerator. You can also choose to freeze it to make it last for up to a month!
To reheat from the fridge, place on a pre-heated frying pan for about 5 minutes over medium heat on each side. You can also reheat it in the oven or the toaster oven at 375°F for about 10 minutes from the refrigerator or 15 minutes from frozen.
The microwave will work in a pinch but it does tend to make your french toast a little soggy.
If you have extra egg white wash, you can save that, too. Store it in an airtight container in the refrigerator to make more Egg White French toast over the next 2-3 days.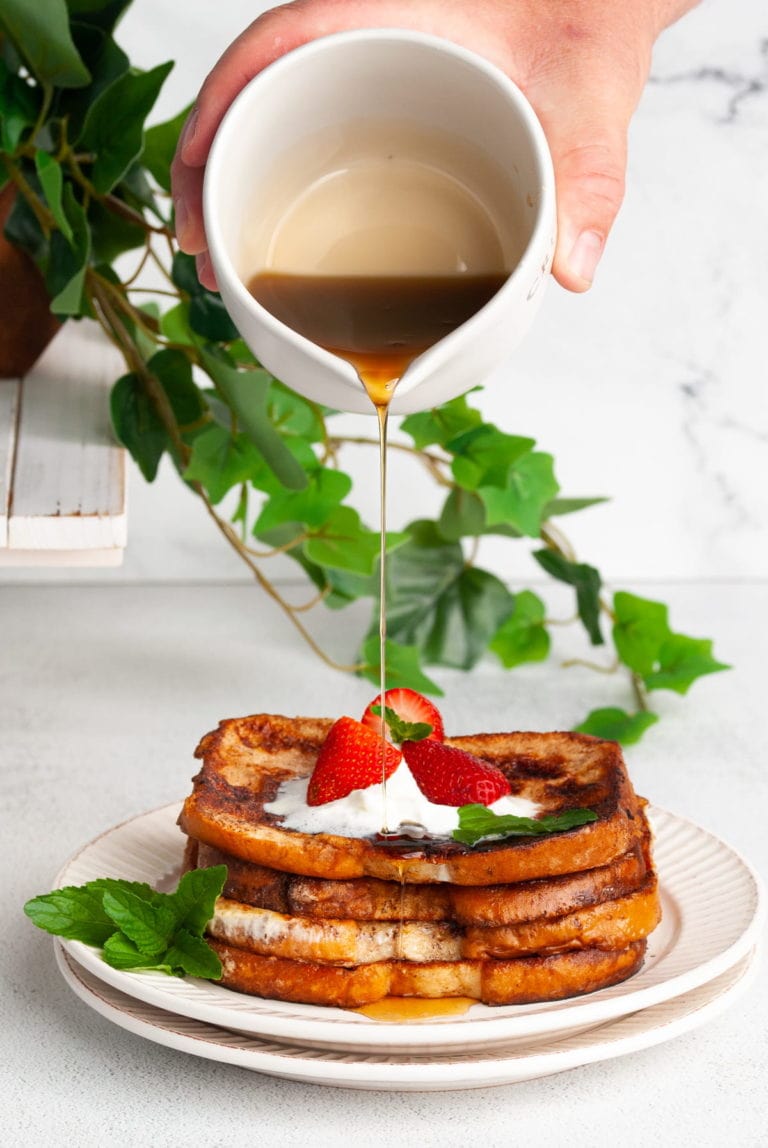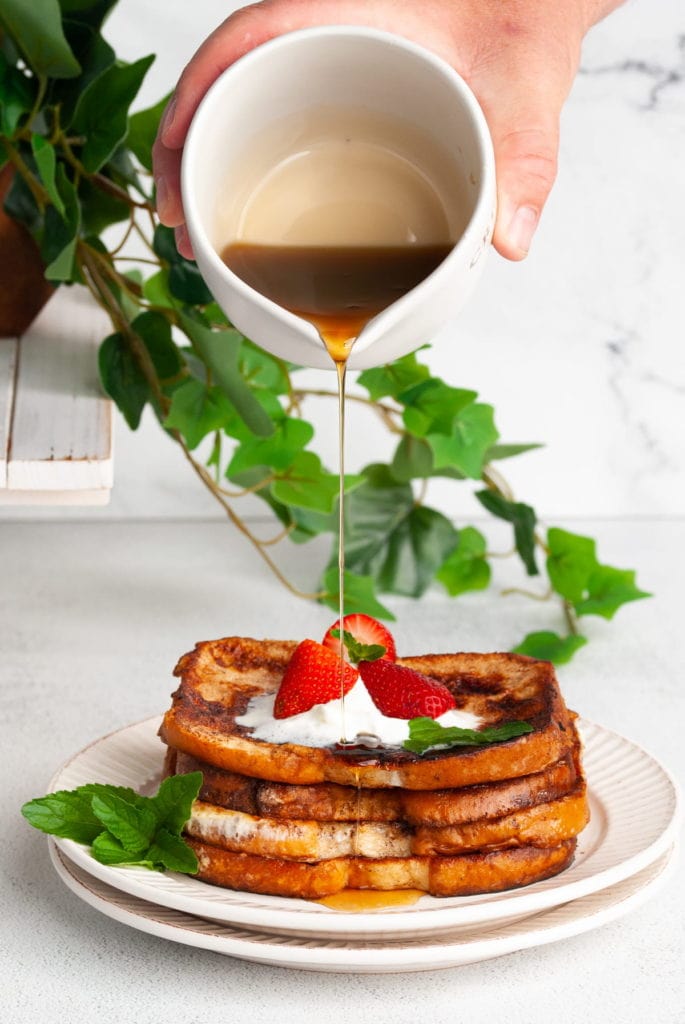 Egg White French Toast Frequently Asked Questions
---
---
Why add milk to eggs for French Toast?
It's always best to add milk to your eggwash for extra moisture!
How do you make French Toast not taste eggy?
The easiest way is to omit the yolks! This egg white french toast still gets you that perfect golden brown, but with a less "eggy" taste!
Want to sharpen your kitchen skills?
Why You Should Make
---
---
It's healthier. Less cholesterol without those yolks!
It helps reduce waste. Revamp your stale bread, and use up egg whites if you're making a recipe that only requires yolks.
The texture! The caramelization on the outside gives you a crispy golden brown exterior.
If you're loving this Egg White French toast, check out this list of Unique French Toasts! And if you need to use up egg yolks after using the whites for this recipe, check out this Smoked Salmon Eggs Benedict!