Looking for a fun and fruity way to elevate your pancakes? These Strawberry Banana Pancakes add fresh flavor and extra moisture to already fluffy whole wheat pancakes, making them the ultimate breakfast treat.
Just when you thought banana pancakes couldn't get any better, you add strawberries and realize that this fresh addition is just what you needed to bring them up a level.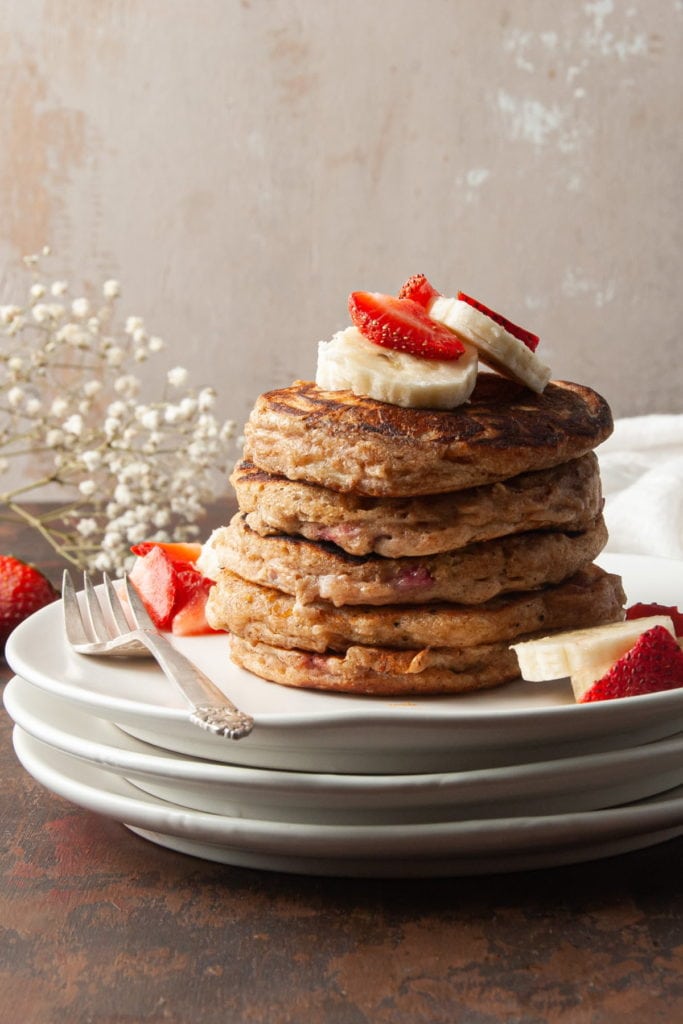 Strawberry and banana is a classic pairing and for good reason! It's used in milkshakes and smoothies, and now pancakes!! They're quick, delicious, and bursting with complementary flavors.
Strawberry Banana Pancakes Tips and Tricks
---
---
Don't Chuck Your Overripe Bananas
As an environmental scientist, I am always looking for ways to reduce food waste. Bananas are one of those produce items that go from perfect to entirely overripe seemingly overnight.
Green tip: Did you know that of the billions of pounds of food wasted annually, it is estimated that 50% of it happens in our homes? It's always best to avoid food waste as much as you can!
But the good news is, the riper the banana, the more flavorful! As a banana ripens it gets sweeter and sweeter, which means it becomes even better to fry into pancakes.
So grab that overripe banana and a couple of other essentials and you're on your way to a delicious breakfast! Here's what you'll need:
Mash That Nanner and Whip It With Egg
For the strawberry banana pancakes, we want to infuse banana flavor into the batter by mashing the banana first. With a ripe banana, you should easily be able to mash it up with a fork.
Just press the fork down on the banana and press it into the bottom of your mixing bowl until the banana is completely mashed.
The banana also provides moisture to these pancakes. For the perfect pancake, aerate the egg by whipping it with the banana, to form a light and airy base for your batter.
Dice Those Strawberries
We get the strawberry flavor from little chunks of strawberries that we add to the batter last. I like to dice them small so you get little bits of strawberry bursting in every bite.
We add them last, once the batter is already smooth so that we can keep the strawberry chunks whole. Try not to mash them by stirring too hard. Carefully fold them in so you get that burst of juice and flavor when you bite into your pancakes.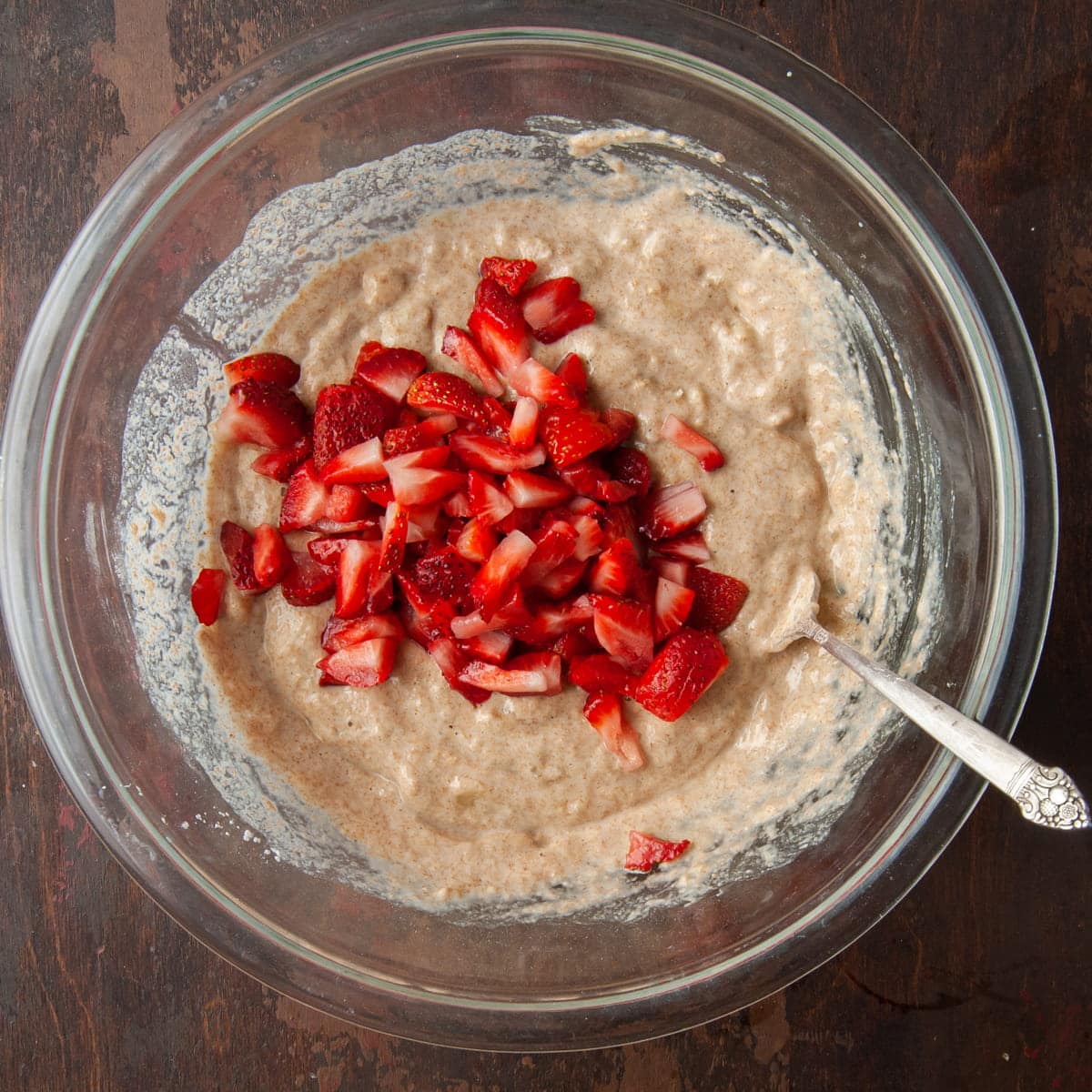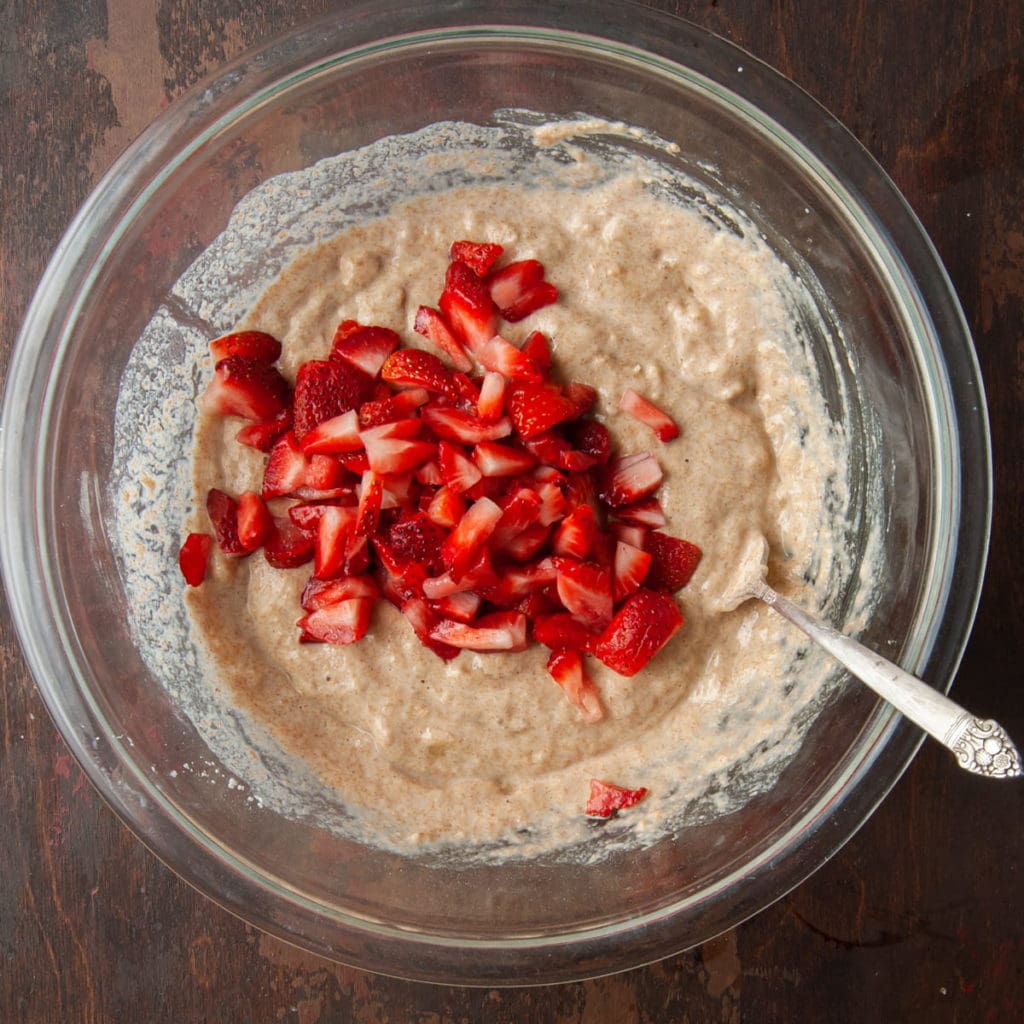 Keep Your Pancakes Warm
If you are making a big batch to serve at once or want to keep them warm for the late sleepers in the family, just preheat your oven to 200 °F and add your strawberry banana pancakes to a large baking sheet.
Keep them in the oven until you are ready to serve them.
Green tip: Organic farms rely on biodiversity to generate rich soil, avoiding the use of pesticides and fertilizers, which means no toxic runoff. Consider organic bananas, strawberries, and/or eggs for this recipe!
Tested Substitutions
Make this dish dairy-free with plant-based milk and butter. Both dairy and non-dairy milk and butter work beautifully in this recipe.
You can use all-purpose flour in place of whole wheat flour in these pancakes. Just add an extra 2 tablespoons of all-purpose flour.
If you want to make these refined sugar-free, coconut sugar works great in place of brown sugar.
For a vegan version, use these Whole Wheat Pancakes for your base, and add diced strawberries!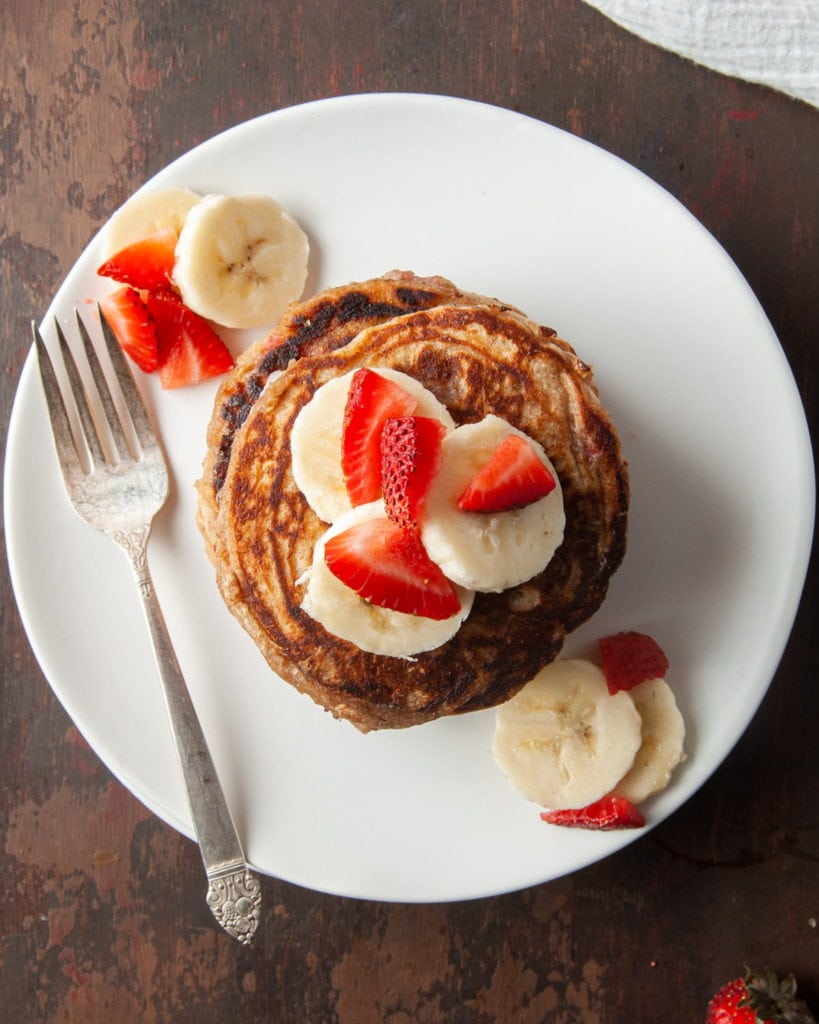 Should You Have Leftovers
These delicious strawberry banana pancakes will last for 4-5 days covered in the refrigerator. You can also opt to freeze them for a couple of months.
Just make sure they are completely cool before sticking them in the freezer and are stored in a freezer-safe bag.
To reheat, thaw first if frozen. Then, reheat in the oven at 350°F for about 15-20 minutes until heated through. Make sure to spread them out on a large baking sheet, so they are not stacked on top of each other.
Reheating them in a frying pan is also an option. You don't need any butter, just plop them directly onto your hot pan over medium heat. Flip after about 3 minutes. Continue to flip every few minutes until heated through.
You can also opt to reheat them in the microwave, they'll just be a little less airy. Spread them out on a large plate (don't stack them on top of each other) and start with 45 seconds on high.
If they aren't hot all the way through, keep heating in twenty-second intervals until heated thoroughly.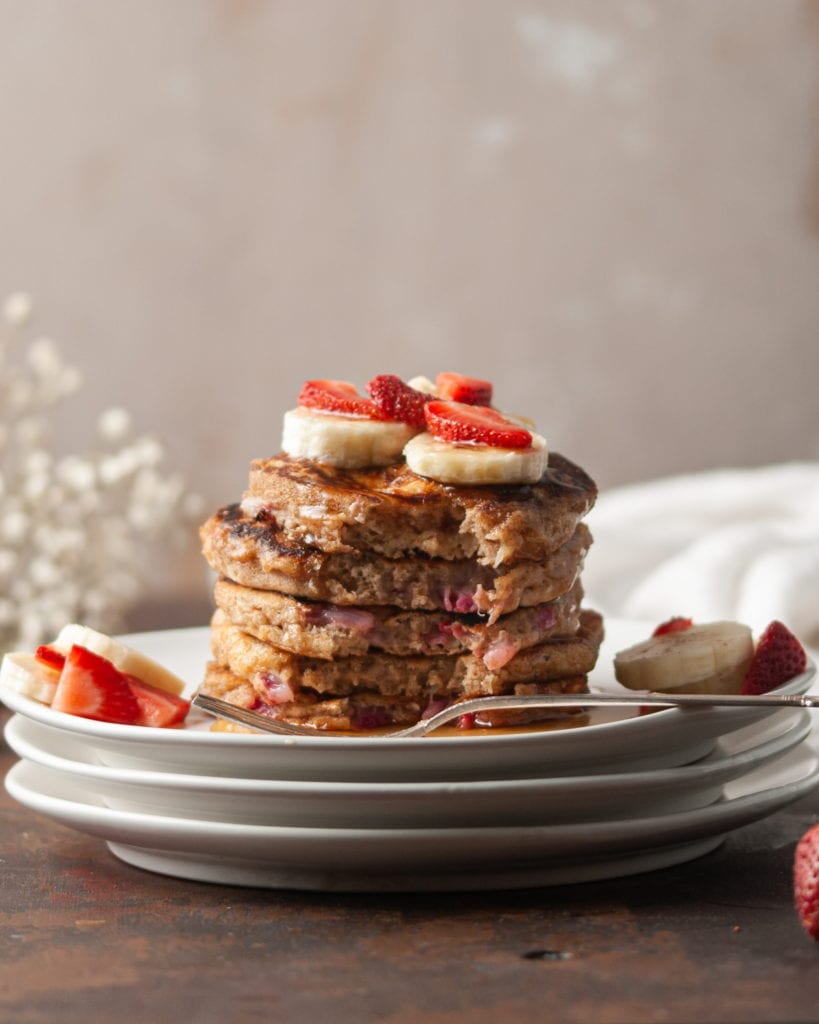 Why You Should Make These Strawberry Banana Pancakes
---
---
They're fresh. The addition of fresh fruit makes these pancakes extra special.
They're moist. The extra moisture from the fresh fruit makes the texture so perfect.
They're delicious and nutricious. Filled with fruit and whole wheat—the best way to start your day.
If you're loving these Strawberry Banana Pancakes and looking for more delicious ways to use up overripe bananas, check out this list of Ripened Banana Recipes.