Looking for a fun and fruity way to elevate your breakfast pancakes? These strawberry banana pancakes are made with whole wheat flour, and are incredibly easy to whip up!
Just when you thought banana pancakes couldn't get any better, you add strawberries and realize that the addition of fresh fruit is just what you needed to bring them up a level.
Strawberry and banana is a classic pairing and for good reason! It's used in milkshakes and smoothies, and now whole wheat pancakes!! They're quick, delicious, and bursting with complementary flavors.
As an environmental scientist, I try my very best to eat seasonally. I love strawberry season because the fruit is just so versatile and delicious in a number of dishes, including these homemade pancakes!
Green tip: Eating seasonally is one of the best ways to live more sustainably, Local foods have less associated transportation costs and fuel emissions. Check when strawberries are in season in your area with this Seasonal Food Guide.
Strawberry Banana Pancakes Ingredients
---
Here's everything you need:
Bananas and strawberries. To add tons of moisture and flavor to these homemade pancakes.
Egg. To bind the pancakes together.
Whole wheat flour. For a hearty base for your pancake batter.
Brown sugar. For a little sweetness and caramelization on the outside.
Baking powder. For a little lift.
Milk. For moisture.
Vanilla extract. For flavor.
Butter for frying. To get that golden brown exterior and crispy golden edges.
Maple syrup for serving. For the most classic breakfast combo of pancakes and syrup.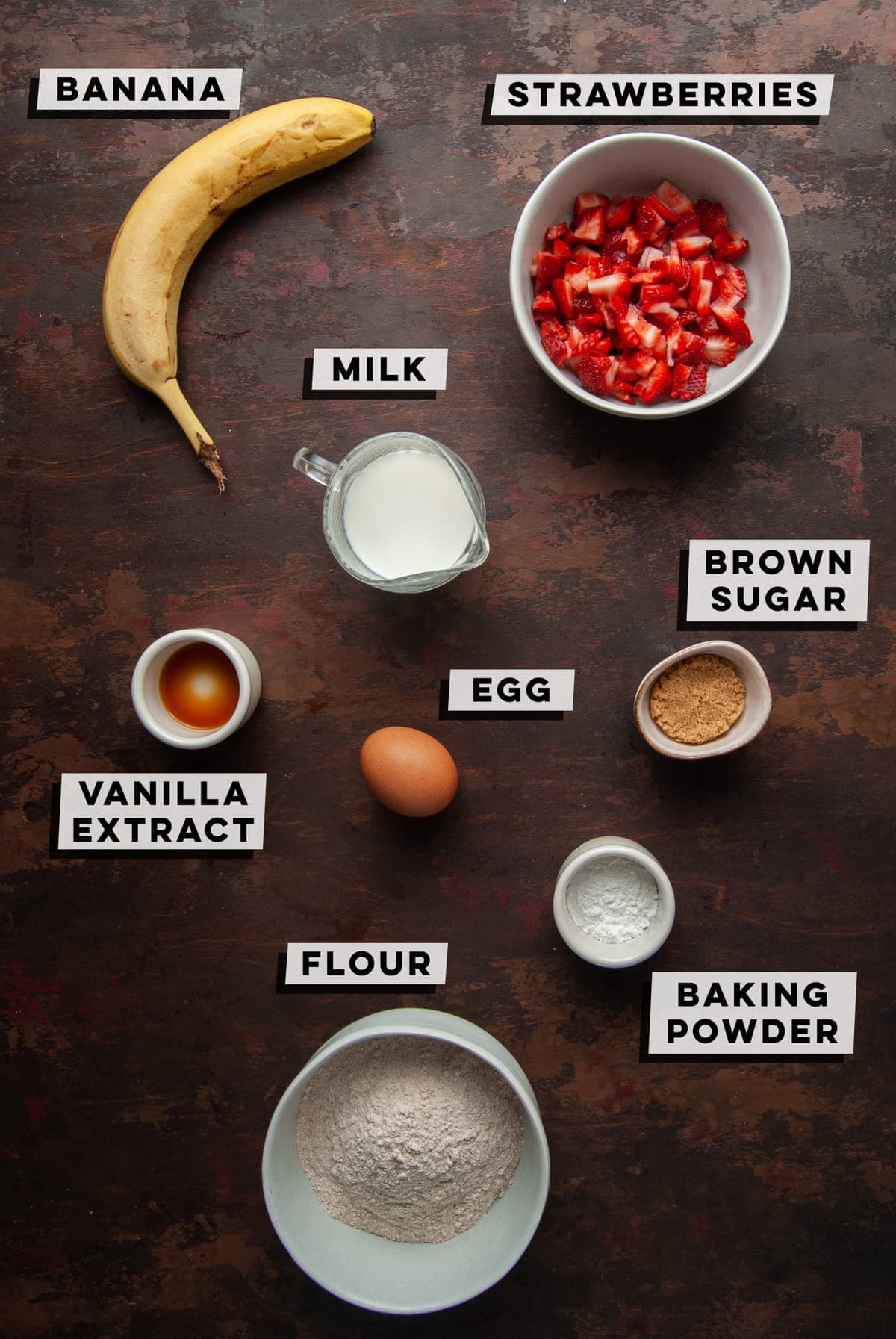 Strawberry Banana Pancakes Tips and Tricks
---
Don't Chuck Your Overripe Bananas
As an environmental scientist, I am always looking for ways to reduce food waste. Bananas are one of those produce items that go from perfect to entirely overripe seemingly overnight.
But the good news is, the riper the banana, the more flavorful! As a banana ripens it gets sweeter and sweeter, which means it becomes even better to fry into pancakes and to use in other ripened banana recipes!
So grab that overripe banana and a couple of other essentials and you're on your way to a delicious breakfast!
Green tip: Did you know that of the billions of pounds of food wasted annually, it is estimated that 50% of it happens in our homes? It's always best to avoid food waste as much as you can!
Mash That Nanner and Whip It With Egg
For the strawberry banana pancakes, we want to infuse banana flavor into the batter by mashing the banana first. With a ripe banana, you should easily be able to mash it up with a fork.
Just press the fork down on the banana and press it into the bottom of your mixing bowl until the banana is completely mashed.
The banana also provides moisture to these pancakes. For the perfect pancake, aerate the egg by whipping it with the banana, to form a light and airy base for your batter.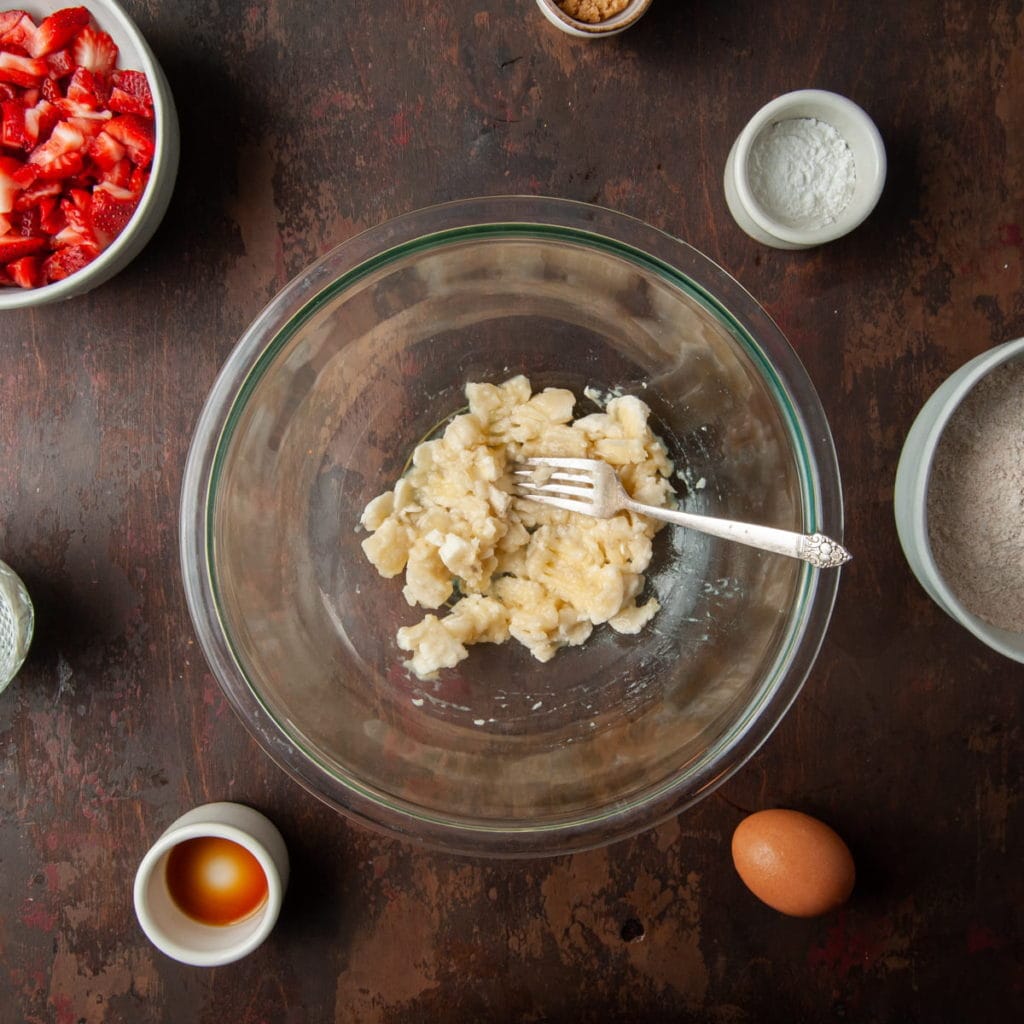 Dice Those Strawberries
We get the strawberry flavor from little chunks of strawberries that we add to the batter last. I like to dice them small so you get little bits of strawberry bursting in every bite.
We add them last, once the batter is already smooth so that we can keep the strawberry chunks whole. Try not to mash them by stirring too hard. Carefully fold them in so you get that burst of juice and flavor when you bite into your pancakes.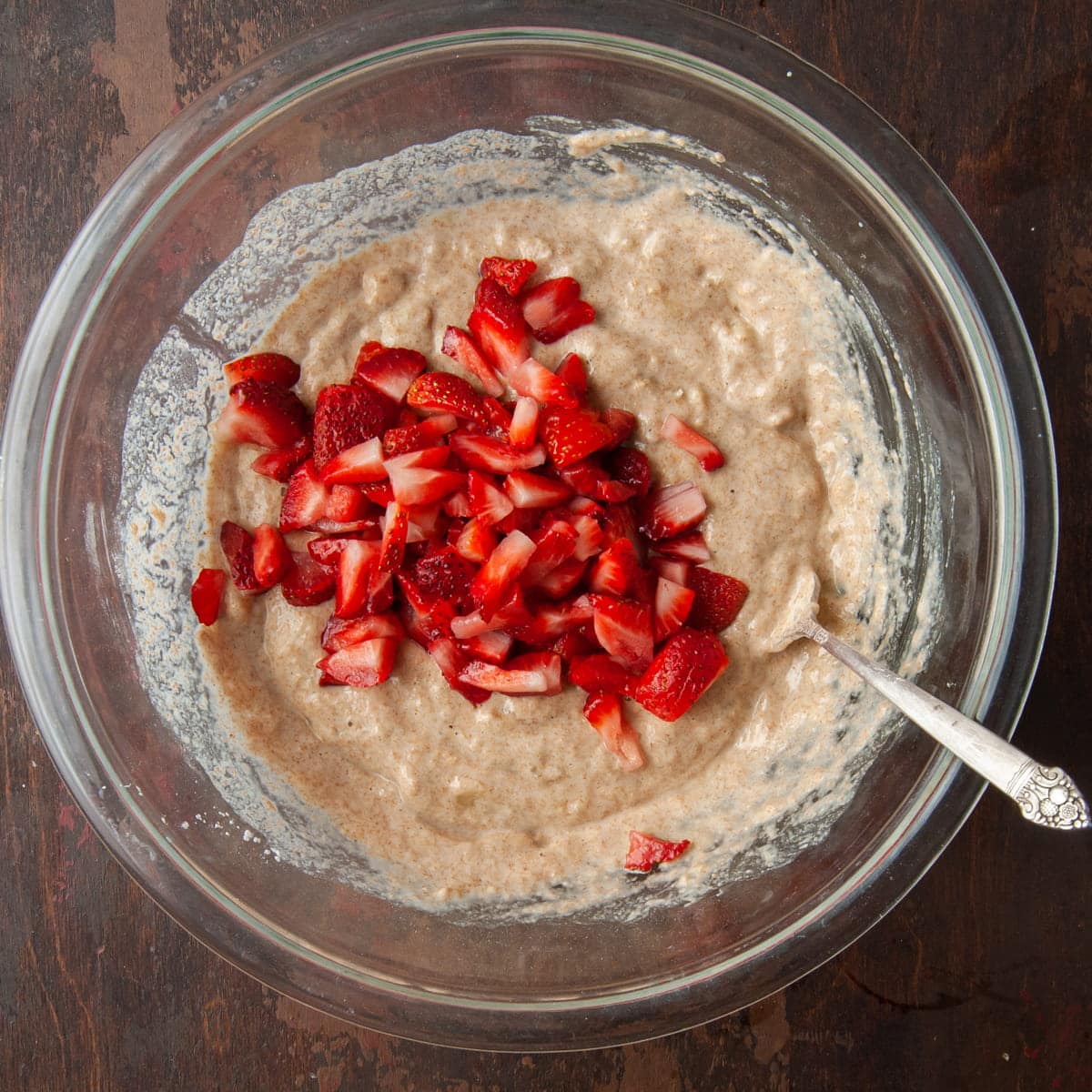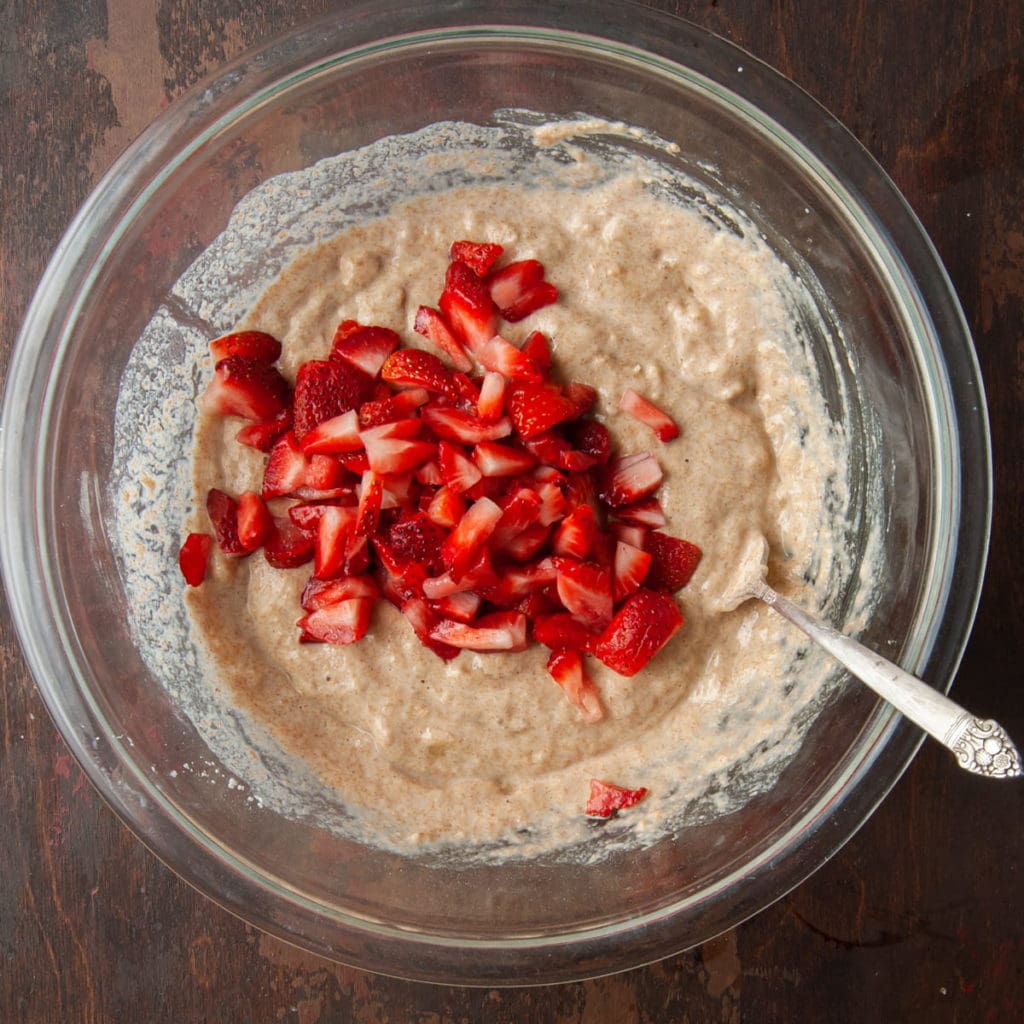 Keep Your Pancakes Warm
If you are making a big batch to serve at once or want to keep them warm for the late sleepers in the family, just preheat your oven to 200°F and add your strawberry banana pancakes to a large baking sheet.
Keep them in the oven until you are ready to serve them. I use this same technique for homemade French toast!
Green tip: Organic farms rely on biodiversity to generate rich soil, avoiding the use of pesticides and fertilizers, which means no toxic runoff. Consider organic bananas, strawberries, and/or eggs for this recipe!
Tested Substitutions
Make this dish dairy-free with plant-based milk and butter. Both dairy and non-dairy milk and butter work beautifully in this recipe.
You can use all-purpose flour in place of whole wheat flour in these pancakes. Just add an extra 2 tablespoons of all-purpose flour.
If you want to make these refined sugar-free, coconut sugar works great in place of brown sugar.
For a vegan version, use these Whole Wheat Pancakes for your base, and add diced strawberries!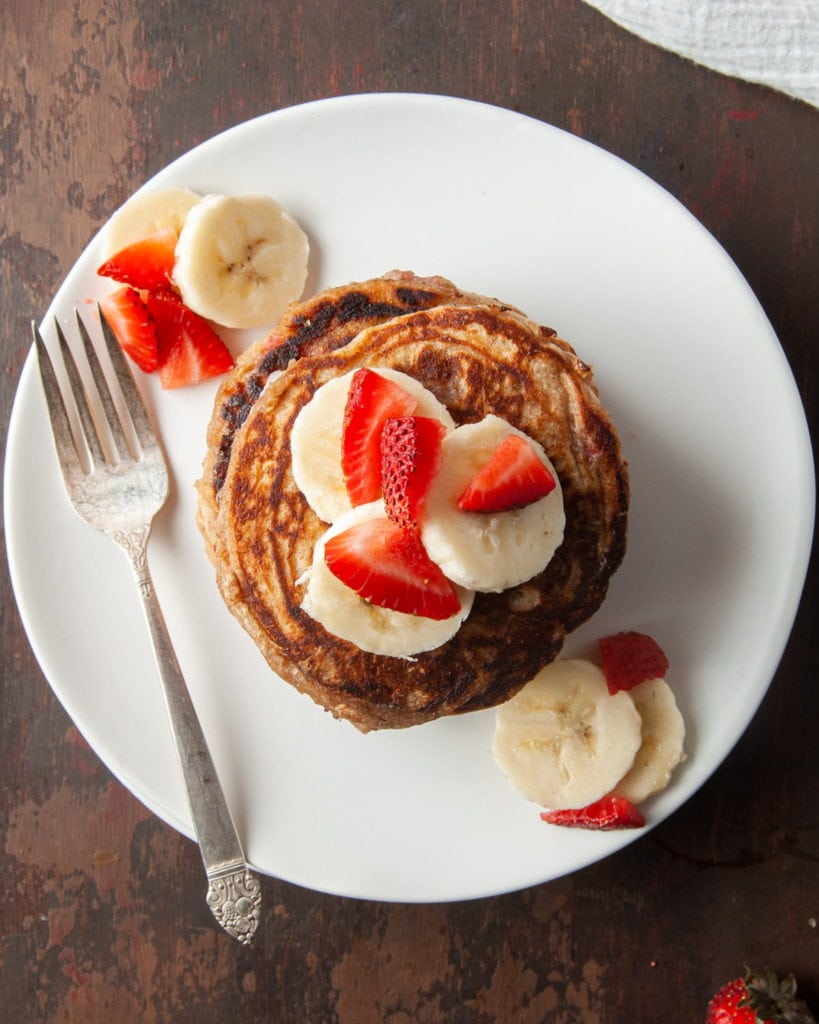 Storing and Reheating Leftover Strawberry Banana Pancakes
These delicious strawberry banana pancakes will last for 4-5 days covered in the refrigerator. You can also opt to freeze them for a couple of months.
Just make sure they are completely cool before sticking them in the freezer and are stored in a freezer-safe bag.
To reheat, thaw first if frozen. Then, reheat in the oven at 350°F for about 15-20 minutes until heated through. Make sure to spread them out on a large baking sheet, so they are not stacked on top of each other.
Reheating them in a frying pan is also an option. You don't need any butter, just plop them directly onto your hot pan over medium heat. Flip after about 3 minutes. Continue to flip every few minutes until heated through.
You can also opt to reheat them in the microwave, they'll just be a little less airy. Spread them out on a large plate (don't stack them on top of each other) and start with 45 seconds on high.
If they aren't hot all the way through, keep heating in twenty-second intervals until heated thoroughly.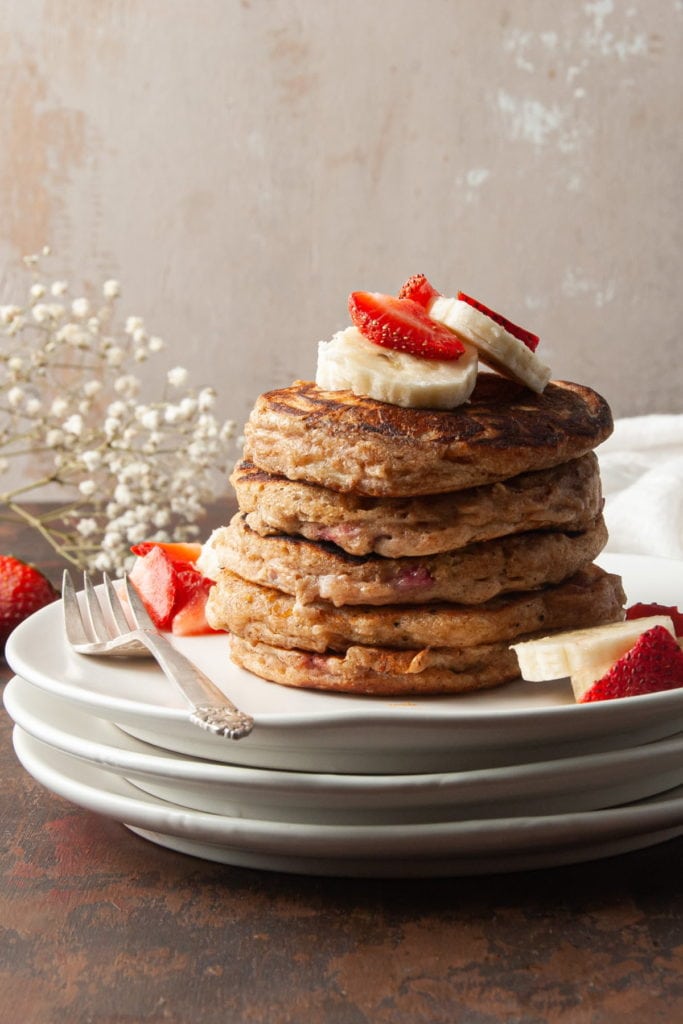 How to Serve Strawberry Banana Pancakes
These Strawberry Banana Pancakes hold their own with some maple syrup and maybe a touch of whipped cream if you're feeling decadent! But if you want a complete meal, here are some breakfast sides to serve up with your flapjacks: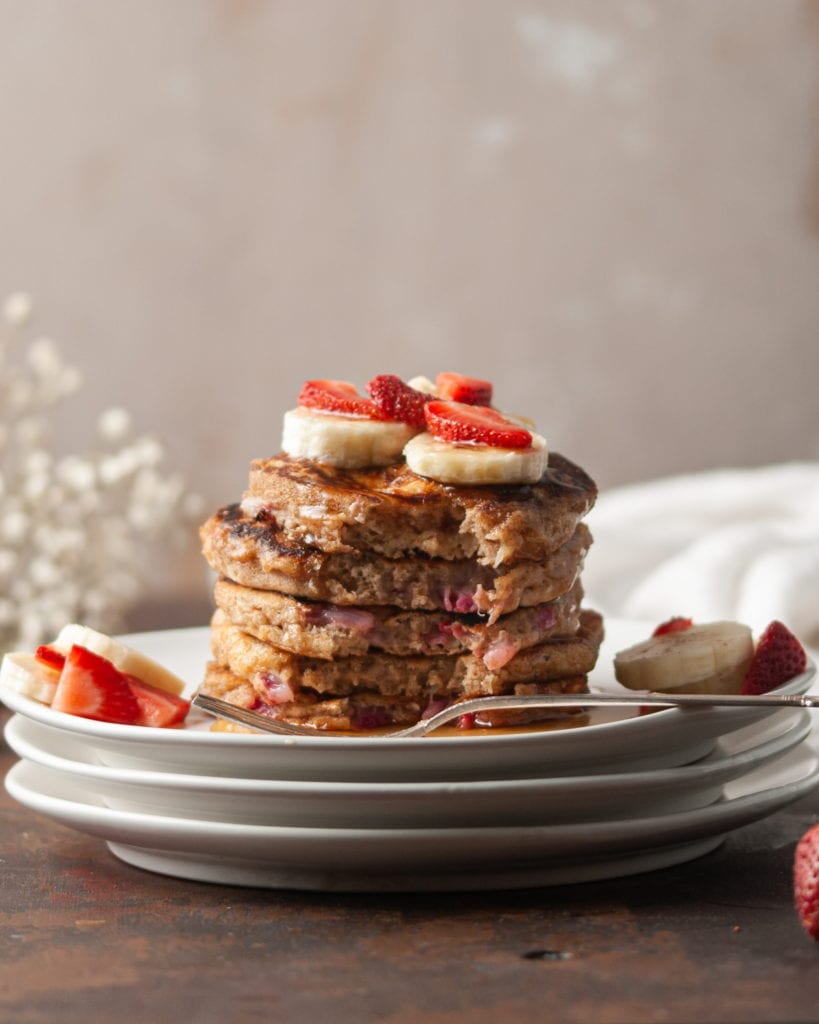 Strawberry Banana Pancakes Frequently Asked Questions
---
Why do my banana pancakes fall apart?
If your banana pancakes are falling apart, there are likely large chunks of bananas left in your batter.
Make sure to mash your banana first, ensuring it is broken down. Small pieces are okay, but big chunks will be weighty and break up your batter.
Can bananas replace eggs in pancakes?
Yes, you can use bananas to replace eggs in pancakes. Bananas act as a great binder in your pancake batter. However, replacing eggs with pancakes will not yield a pancake with banana-y flavor.
If you want your pancakes to have a banana flavor, I highly recommend using both eggs and bananas in your batter, like in this Strawberry Banana Pancake recipe!
How to cook pancakes?
The best way to get a perfectly golden brown pancake is to fry it in butter.
Get a medium-large frying pan hot on the stove over medium heat. Add about a tablespoon of butter and allow it to melt. Then, add your pancake batter to the hot pan with butter.
How long to cook pancakes on the stove?
Over medium heat, pancakes will cook for anywhere from 2-3 minutes on each side, depending on their size. Once they are golden brown on both sides, they are ready to eat!
Why You Should Make These Strawberry Banana Pancakes
---
They're fresh. The addition of fresh fruit makes these pancakes extra special.
They're moist. The extra moisture from the fresh fruit makes the texture so perfect.
They're delicious and nutritious. Filled with fruit and whole wheat—the best way to start your day.
If you're loving these Strawberry Banana Pancakes and looking for more delicious ways to use up overripe bananas, check out this list of Ripened Banana Recipes.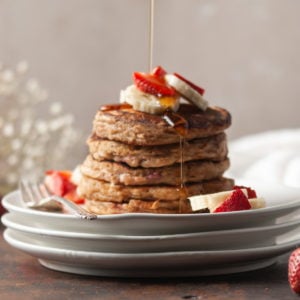 Strawberry Banana Whole Wheat Pancakes
PRINT
PIN
RATE
This strawberry banana pancake recipe is light and fluffy. Made with whole wheat flour, top these tasty breakfast pancakes with fresh fruit and syrup!
Ingredients
1

large

banana

(ripe)

1

large

egg

¾

cup

whole wheat flour

1

tablespoon

brown sugar

2

teaspoons

baking powder

½

cup

milk

(cows or non-dairy)

½

teaspoon

vanilla extract

1

cup

strawberries, chopped

2 to 3

tablespoons

unsalted butter for frying
Instructions
Peel your banana, add it to a large mixing bowl, and use a fork to smash it.

Add the egg to the mashed banana and whisk until combined.

Add the flour, sugar, baking powder, milk, and vanilla extract and whisk until combined and there are no lumps of flour or sugar.

Fold in the strawberries until evenly distributed in the batter.

Add about 1 tablespoon of butter to a frying pan over medium heat. Once the butter starts to sizzle, pour the batter onto the hot pan, aiming for pancakes about 4 inches in diameter.

If the size of the pan allows, you can pour more than one pancake at a time, just leave a little room in between each pancake so they are easier to flip.

Allow the pancakes to fry for a couple of minutes. When it's ready to flip, the batter on the uncooked side will start to form little air bubbles. Use a spatula to flip the pancakes, and allow them to cook on the other side for 2-3 minutes.

Repeat steps 5 and 6 until pancake batter is used up, continuously adding butter to keep your griddle greased. Enjoy warm with fresh fruit and syrup!
Pro Tips
You can use all-purpose flour in place of whole wheat flour in these pancakes. Just add an extra 2 tablespoons of all-purpose flour.
If you want to make these refined sugar-free, coconut sugar works great in place of brown sugar.
Bananas for bananas? Hate waste? You'll love this collection of the best ripened banana recipes!
If you're like me and love starting your day with pancakes, you're gonna need to check out the collection of my best pancake recipes!
Did you make this recipe?
Let me know by leaving a recipe rating below, or by tagging @marleysmenu on Instagram.